100 Pool Design Ideas To Take The Plunge
Planning to have a pool at home? Take a look at this collection of great pool designs to help you get inspired!
Having a great exterior and interior design for your home is already fulfilling. But it would even be more satisfying if you have your own pool. A good pool with a great pool design!
Every one of us would like to have everything in our homes. We want the theater to be there. That is why we have entertainment rooms or we sometimes turn our living rooms into home theaters.
We want delicious meals in our homes just like those from our favorite restaurants. That is why we make sure we cook the most mouth watering meals in the kitchen and serve it in an inviting dining room.
Having everything in the house, gives us the reason to love home more especially if we have our own pools to dive in when we want to relax and exercise.
It means that you are only steps away to amusement. You will surely feel like all your worries and stress are washed away when you get in the water every time you feel drained from all the day's work.
The pool will not only be a sanctuary for stress but will also be an added beauty. It also adds a cool and tranquil environment to your home especially if you add flowing water features to it.
Pools can also add beauty to one's yard apart from a good landscaping. It can somehow be costly, but the happiness and fun the owners and their friends get from them is priceless.
For people who are looking into having a pool at home, we have a good resource of ideas and inspiration for you! Check it here!
Things to Consider When Designing a Pool
Getting a pool for your home needs to be planned well. It's not just about digging a wide space, putting tiles and filling it with water.
You will be considering certain factors in order to build one and make it effective and efficient. And be just the right pool for your home.
To help you get started, we have this helpful guide on the things you need to consider when designing a pool!
Have a budget.
You need to know your budget so that you could decide how big your pool could be.
This includes the construction and other unexpected expenses that will arrive.
Then, look for a contractor who can do the work for you with the design you like and the budget you have.
Consider the users.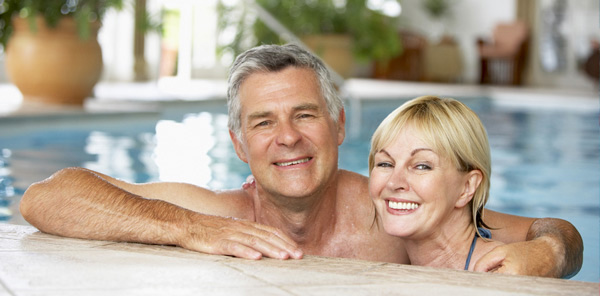 The users are important especially if there are kids.
With kids around, you can make a separate pool for them or you can have a pool with different levels of depth so the kids can enjoy on the shallower part. Well, that still depends on the space you have for the pool. Other pool features will also depend on the users.
Review how you intend to use it.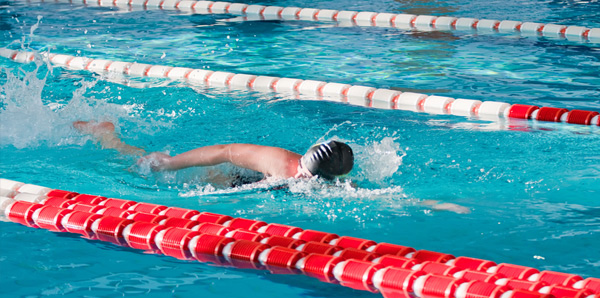 Are you a swimmer?
If you are and you intend to practice your swimming skills at home, then a lap pool is right for you. But if you just want a pool for the family's recreation, then you can choose a different type and style of pool.
You can also add a spa if you want if you want to get more relaxation from it.
Choose your pool type and styles.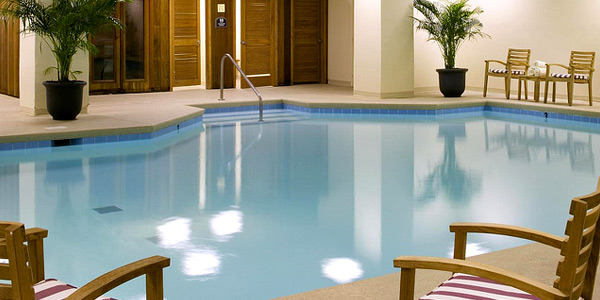 Based on your budget and style preference, choose the type of pool design you want. You may have a concrete pool, fibreglass pool or vinyl liner pool.
If we speak of the length of time in construction, concrete pools are constructed the longest time. While fibreglass pools and vinyl-tile pools has short construction periods.
Concrete pools can allow you to choose the design you like. They can be finished with colored plaster, marble, ceramic tiles and glass bead.
Fiberglass pools are specially made for your design. It consists of fibreglass shell and will just be brought in your area for installation.
Vinyl-liner pools also allow you to have different designs for your pool wherein the vinyl lining has various colors and patterns.
Consider colors.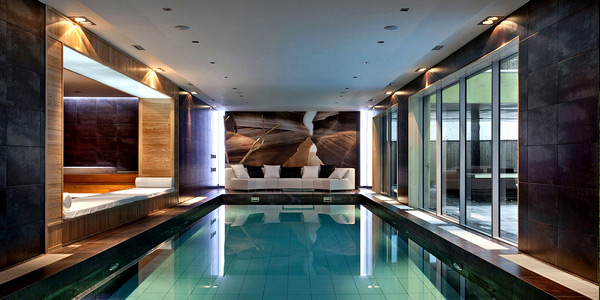 If you think that color is no longer important in designing a pool, you are wrong.
You still have to consider it in choosing your tile colors, your surfaces like bricks, accent tiles and even other accessories that you will include.
Choose a shape.
Traditional rectangle-style pool might look boring for you.
So, you can choose the shape that appeals to you and fits your budget. You can also incorporate existing landscape and building features.
You can use a rectangle-shaped pool if your area has angular shapes. And you may use many curves in the shape of the pool if you would like to utilize your area without taking away anything that are existing.
Determine your space.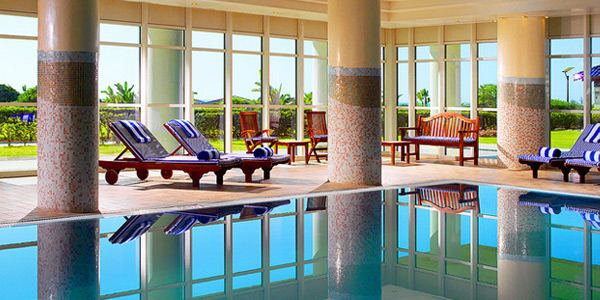 Look at your available lot area. If you think there is enough space for a pool, then go get one.
Your available space can also tell you what shape and size of pool would be right for your area.
This is the first thing that you need to consider before you even start checking out pool designs that you want.
It is important to consider your available space for pool construction. This will help you to determine your pool design and dimensions.
This way, you do not have to redo your design or waste any materials that you have already bought.
You should also designate a space for your hot tub, patio, deck and other structures that you would like to have.
Allocate space around the pool.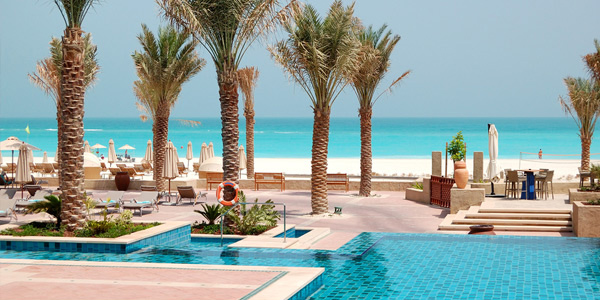 It doesn't meant that just because you want a pool that you will use all of the space as a pool. There needs to be space around the pool so people can go around it.
Traffic has to be considered on how people will use it. Also, design according to the pool's usage especially if you intend to put slides, furniture and other stuff around the pool.
Choose pool features.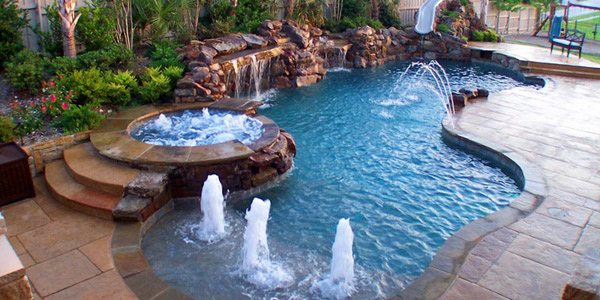 There are different pool features that you can add.
You can have a fountain, ponds, waterfalls and many others. There are also some items that are made exclusively for the pools like the pool handrails, pool ladders, slides and many others.
Now, think of how you want your pool to look like and which of the items you want to add. This will also be needed for your budgeting.
Place pool accessories.
After completing the design of your pool, you can now think of certain accessories you would like to use.
You may want to places slides especially if there are children in your home.
You can also add boulders and water features that will not only make your pool look good but will also make it more fun.
You may also do some landscaping around the pool to make it look more appealing.
Choose outdoor furniture.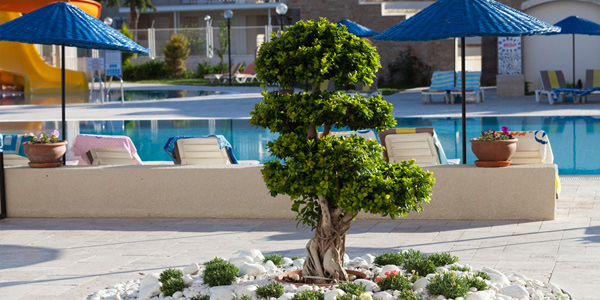 You can get outdoor lounges for your pool or you can also provide a seating area where you can also dine.
Some people really like to eat near the pool area especially that it feels refreshing to be sitting near the water.
Some even place a pergola near the pool where they can put up their own kitchens, bars and dining areas.
Well, this goes back to item number one, it again depends on your available space.
Add a water feature.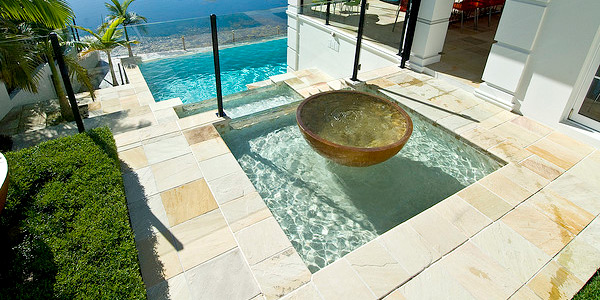 Bring the outdoors in by using water features.
This is perfect when you cannot go out to swim since the sun is too brisk. You merely open your windows and you will feel the coldness of the air through water features. It also adds beauty to your pool.
You can use a waterfall that tumbles into the pool, an urn pouring water into a basin, a tropical waterfall oasis, bubblers, spillway of stone, artistic statuaries, laminar jets and spring jets.
Choose a water feature that suits your design and your budget.
Have good landscaping.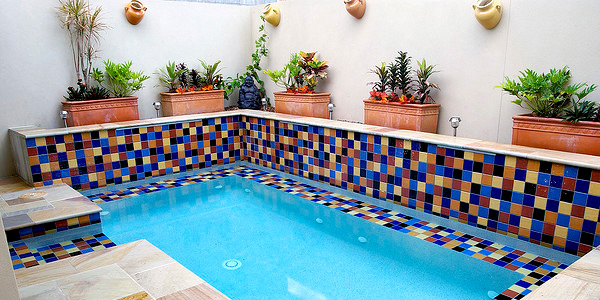 You also need to consider your landscape setting. Let your pool design complement with it.
This is the case if your landscaping were fixed first before you had your pool. But if your pool is designed first before the landscaping, then you will have more freedom to decide on the design of the pool.
Whatever comes first, make sure that the landscape and the pool will jive well together.
You can bring nature by the pool through good landscaping. Use larges rocks or boulders on the sides of the pool giving it an effect of being a remote canyon.
You can have some plants around them, too. You may also have a cabana from rustic logs. Be creative in landscaping to make your pool a truly happy place.
Put dramatic lighting.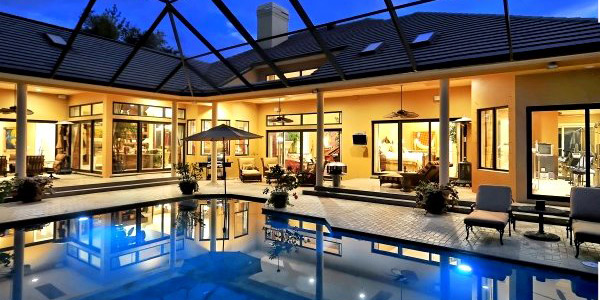 There are many pool lights that you can use.
Choose in-ground pool lights, above ground pool lights, fiber optics, laminar fountain, spa lighting, lighted floating fountains, and others.
You can place uplights under bushes and place spotlights to highlight focal points.
Consider your safety.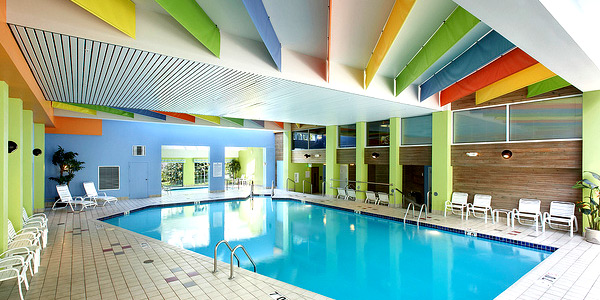 Of course, a well –designed pool is useless if it can create a safety hazard.
If you have children at home, you should see to it that your pool is safe for them. Especially that they will be spending more time in the water.
You can have a separate pool for kids. Make it simple so that it won't be slippery. Also, do not place decors in kid's pool to avoid danger.
But even if there are no kids, you should still see to it that everyone using it observe safety pool rules.
When kids are swimming, someone must be watching them. Do not let them go near the drains, too.
Do not bring glass or anything breakable in the pool especially with kids around.
If possible, you can place a fence around your pool. You can even put in some alarms if someone intends to use it without your permission.
Swimming Pool Designs and Ideas
We have already discussed the basic things you need to consider when making a pool. Now, let us look at one of the most important thing: pool designs.
Architectural Pool
An architectural pool centres on providing a not just a regular pool but a functional swimming pool with great style as well. It also help improve the overall aesthetic of your home.
Below are some gorgeous examples of architectural pool you can have in your home!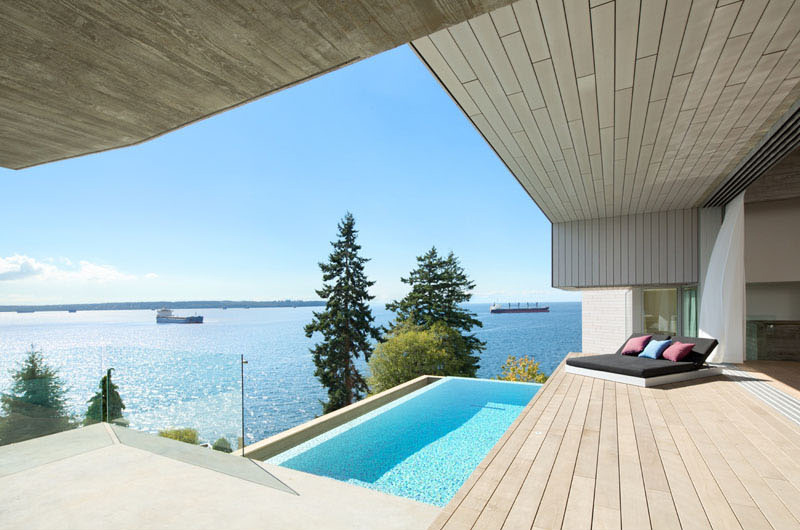 This pool at a Split-Level Home in Vancouver is quite relaxing with its blue tiles and gorgeous views of the ocean.
The pool at this Secret Garden House in Singapore has a relaxing and peaceful ambiance. The area is beautifully landscaped with trees around. It would be amazing to swim here.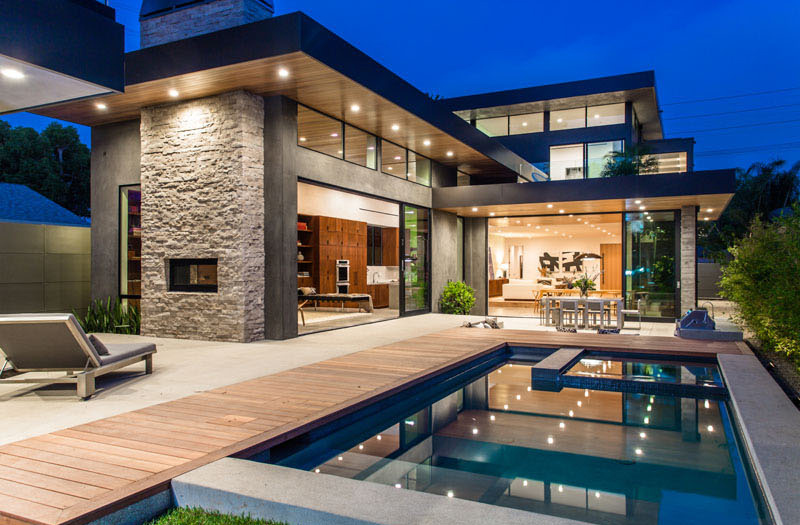 This pool at a Mid-Century Modern Palms Residence is impressive with its wood and concrete materials.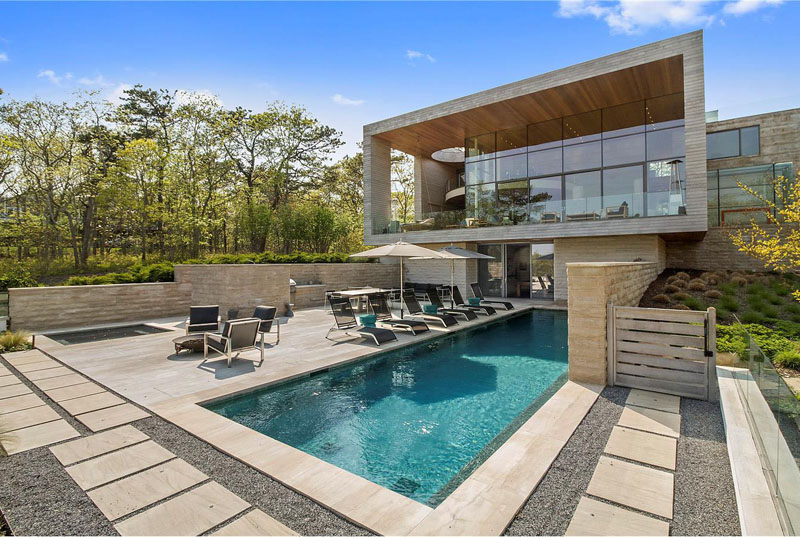 Hamptons Residence's pool is stands out with its blue-green tiles that reflects the light outside. It is surrounded by several lounge chairs for people to be lazy outside.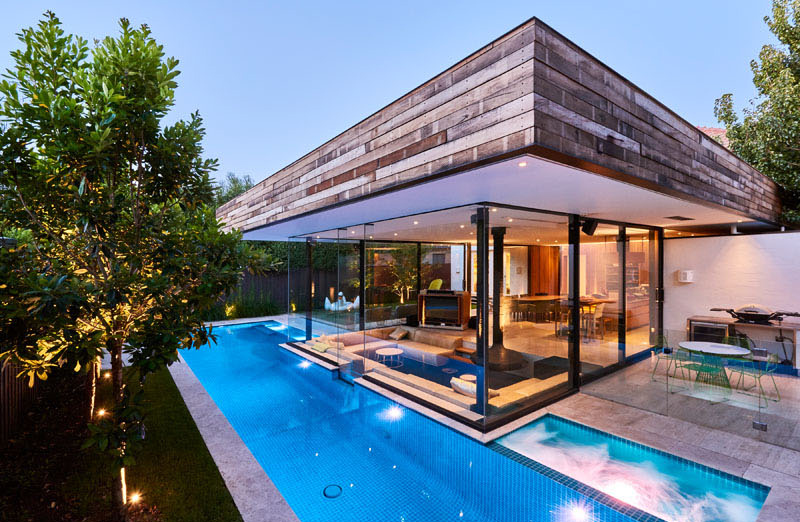 This pool looks gorgeous with its bright blue tiles. The designer has also created a sunken living room just facing the pool. This gives the illusion of being submerged in the water.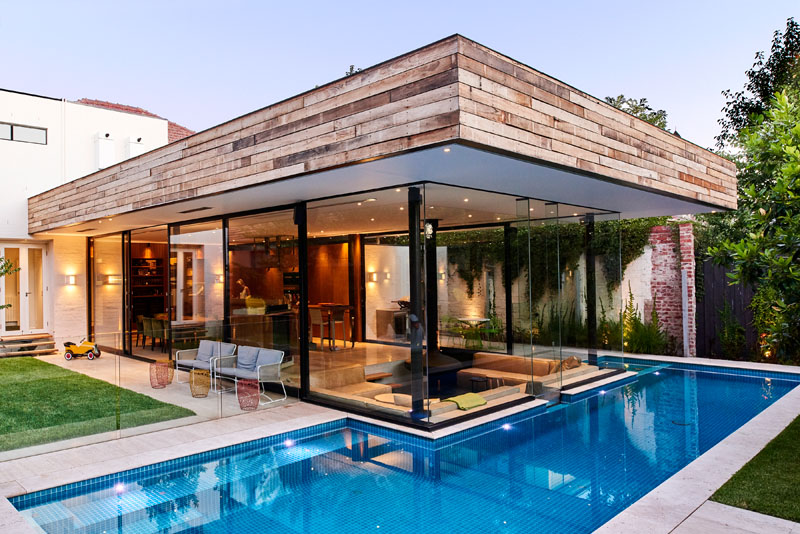 Here is another view of the pool from a different angle.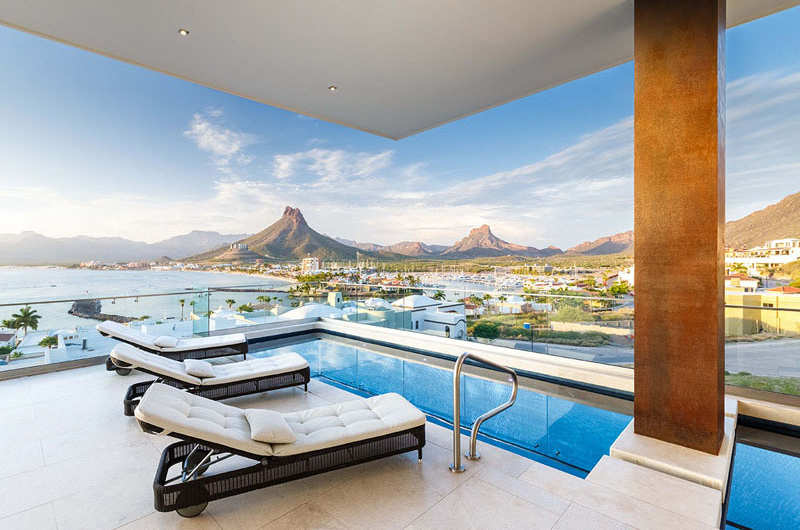 Casa Sal's pool may be small and simple but the views make up for its size. It certainly does not steal your attention from the gorgeous view outside.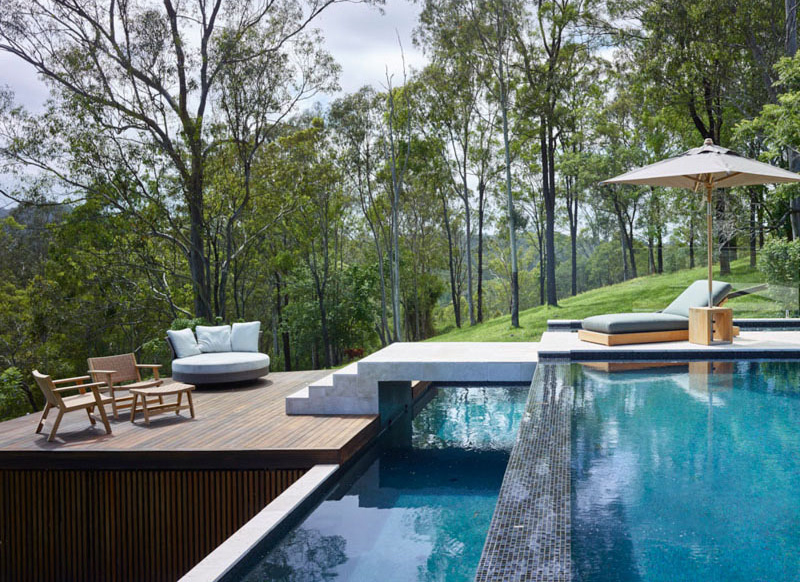 The pool at the Deerhurst House looks relaxing with the tall trees as its backdrop. It had mosaic tiled flooring and a wooden decking that blends well with the surrounding.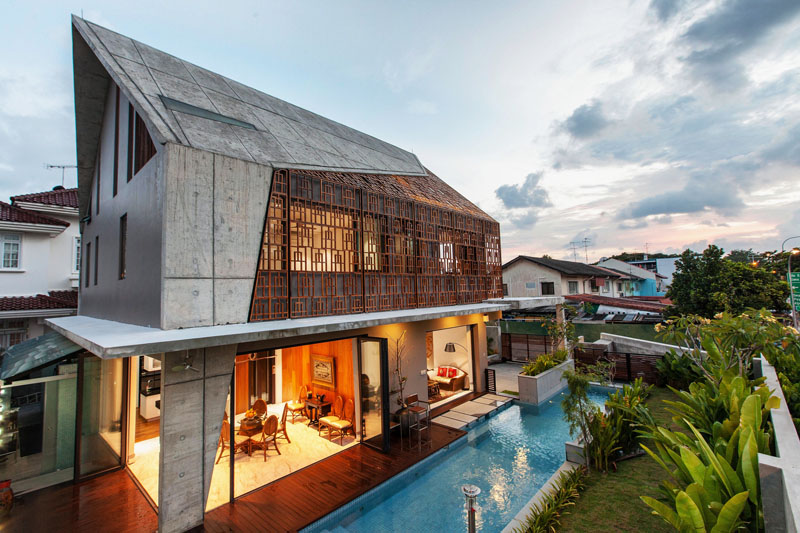 This Contemporary Home's pool looks Clea and neat next to this unique house facade. It is surrounded by a combination of concrete and wood.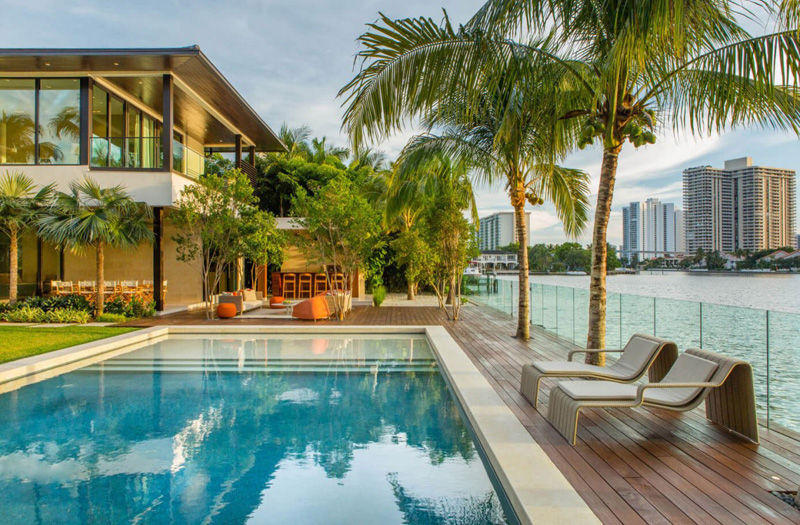 Floating Eaves Residence's pool in Miami looks elegant and compliments the view of the beach from outside. The pool is surrounded by treed and faces the beach.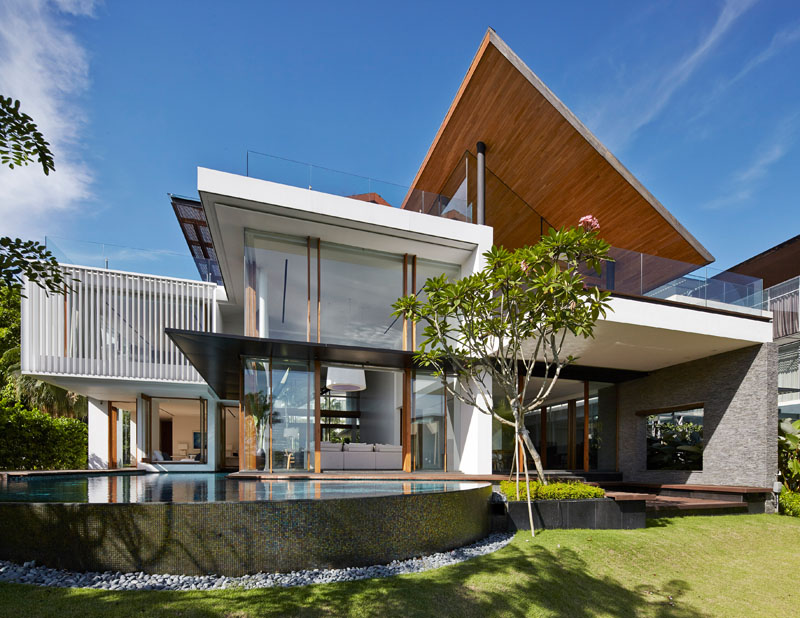 This pool from a Home in Sentosa Cove is slightly elevated and faces a part of the living room.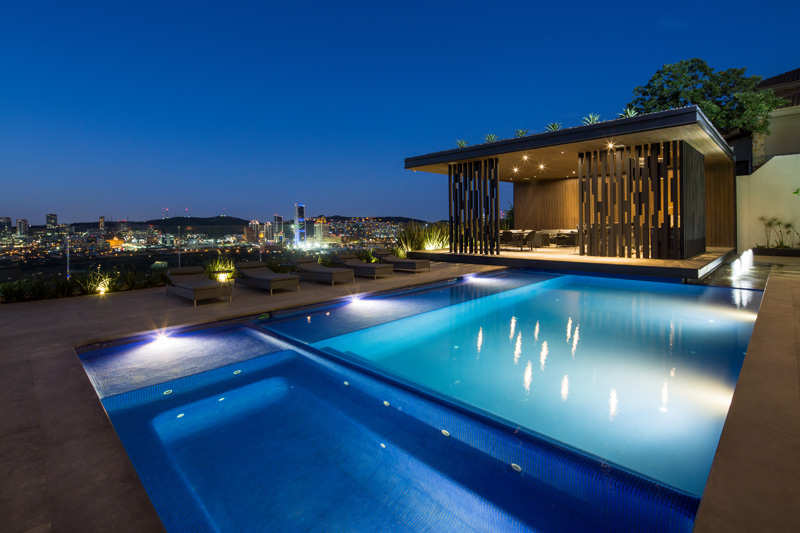 MT House's pool is made of blue tiles and has an amazing view of the city. Its simple geometric design is quite minimalist.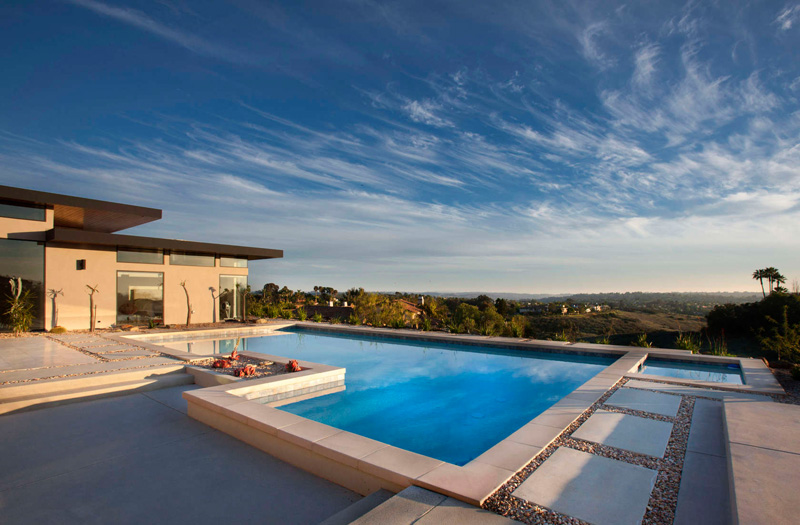 Contemporary Mid-Century Modern Family Home looks quite sturdy with its concrete pool. There is also a fire pit near the pool.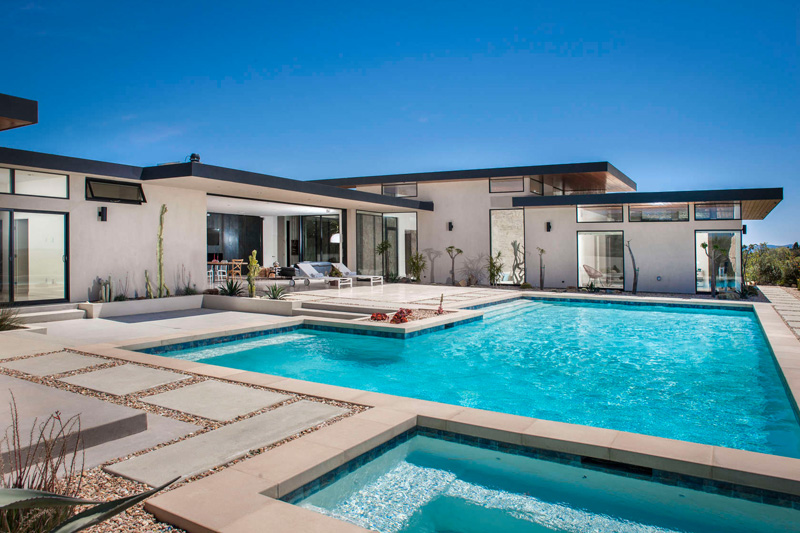 Another angle of the pool.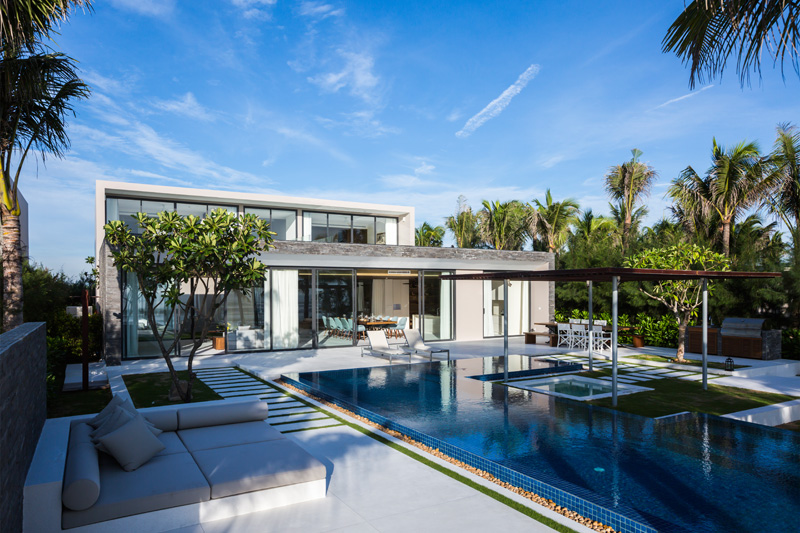 Naman Residence's pool has a nice ambiance with pebbles on the side. The wide sofa near the pool adds a nice touch to the deco as a whole.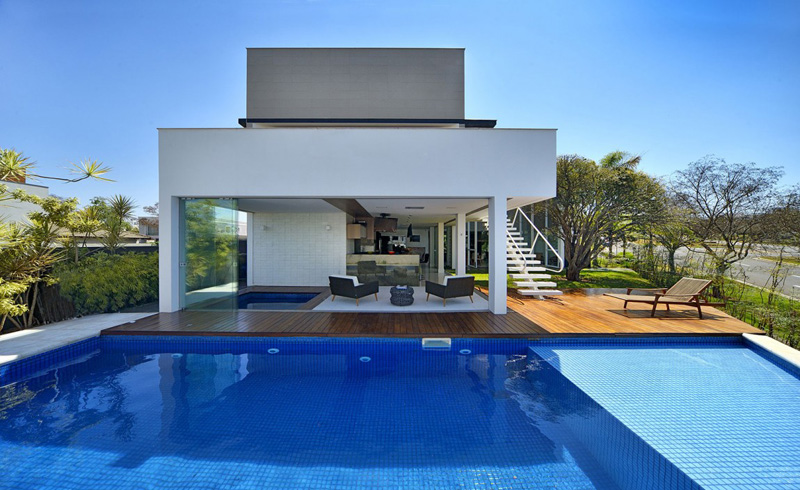 The pool at the Casa Jabuticaba is also designed with bright blue tiles. It is rather wide with open views.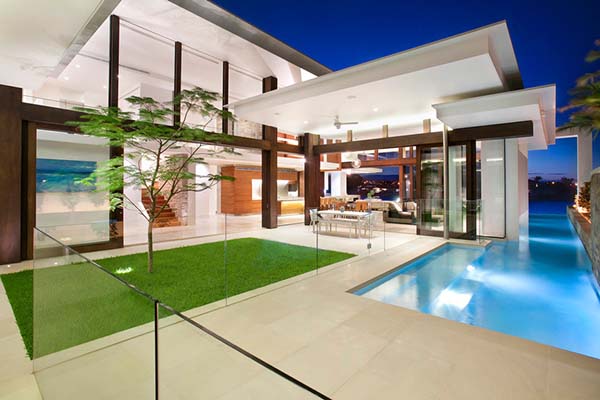 This Riverhouse's pool looks elegant and compliments the clean and crisp design of the home. The bright blue of the tiles looks great and compliments well with the home.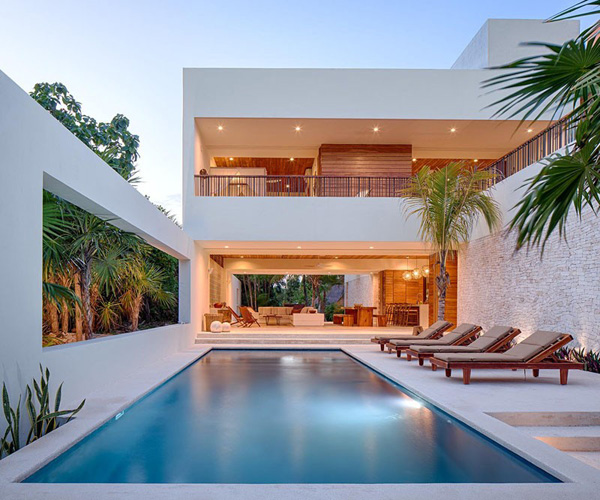 Casa Xixim's pool is modern and elegant with its blue tiles.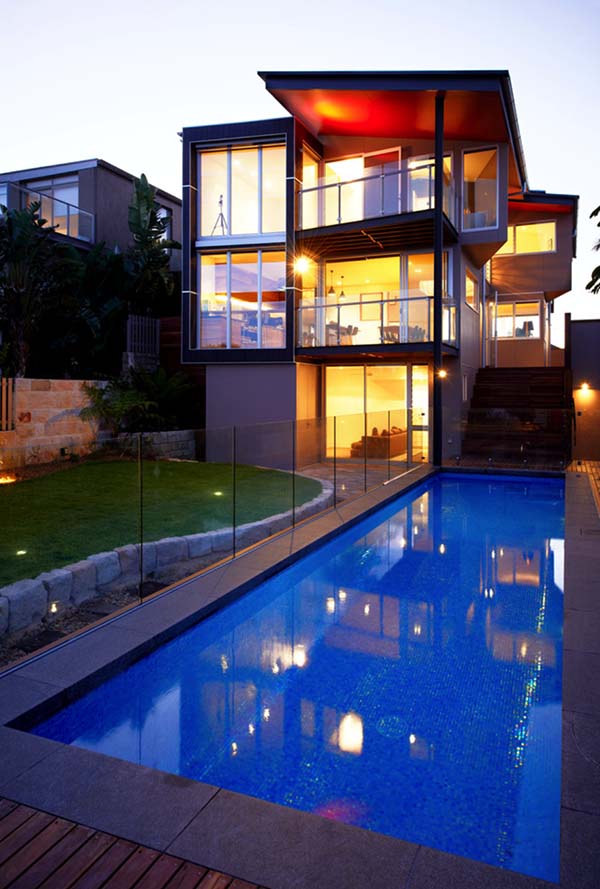 This pool at the Seaview Beach House is a nice touch to the landscape of the house. The designer has enclosed the are with glass wall.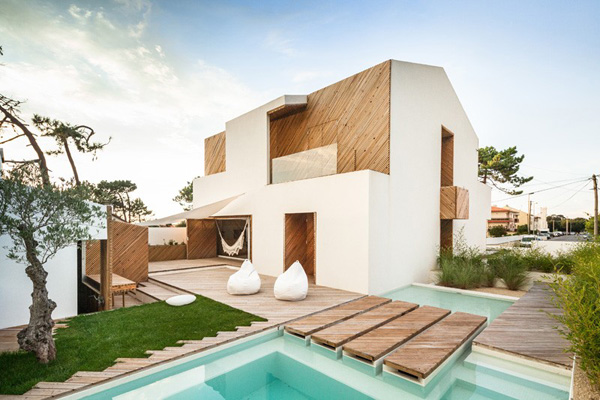 Silver Wood House's pool looks chic and sophisticated with the light brown flooring and light green tiles. The colour combination is quite refreshing too.
Above-Ground Pool
Another type of pool that you can also consider is the above-ground pool. This type of pool is considered to be, one of the most least expensive option for a pool. Above-ground pools are also mostly used in areas where it is cooler.
If you think this is right for your home, below are some examples you might like to check out.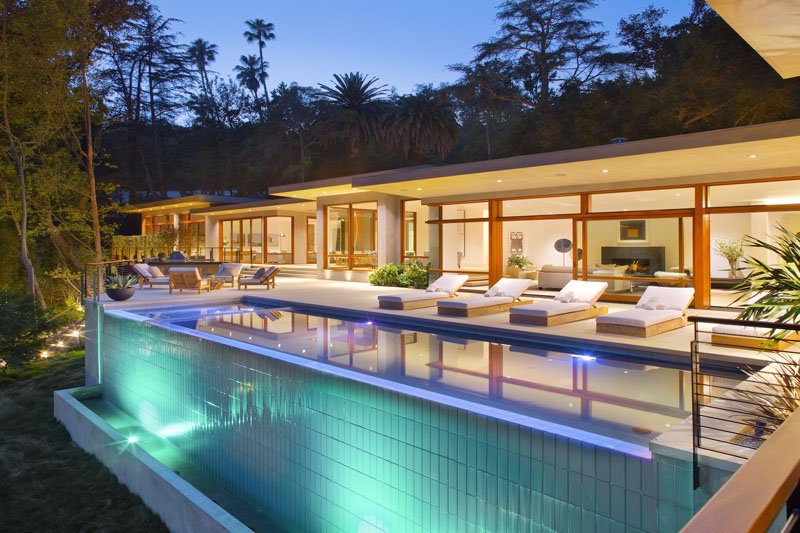 This pool at the Feldman House looks lavish and elegant. The lighting of the pool brightens up the entire space.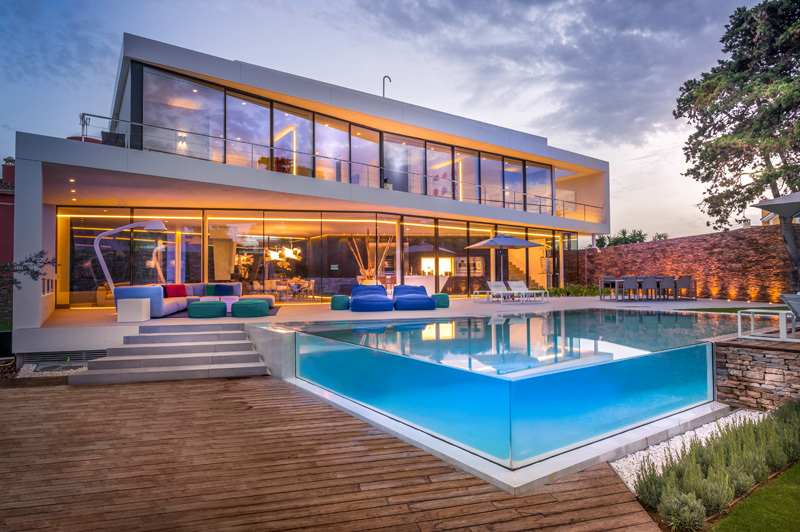 Cool Blue Villa's looks cute with a portion of the pool made out of glass. From this angle. It looks like a gorgeous crystal with its bright blue tiles reflection.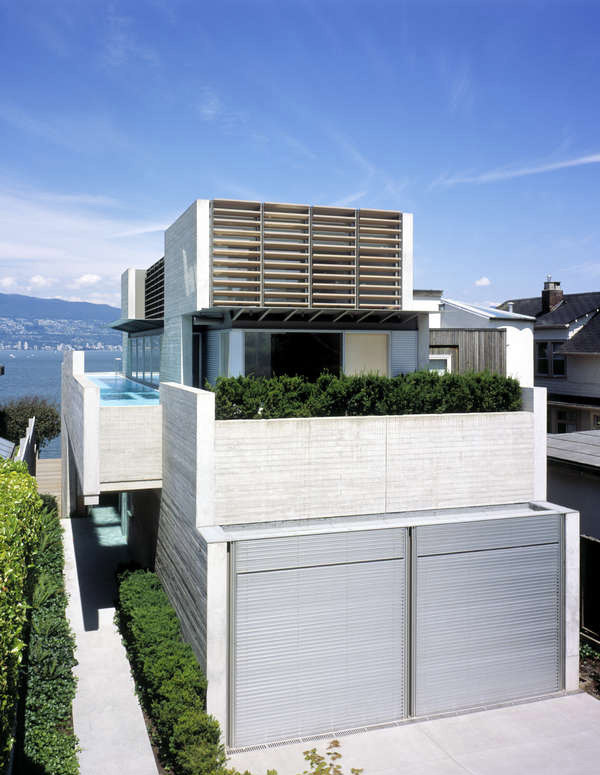 Shaw House' pool is located at the second floor with a glass bottom.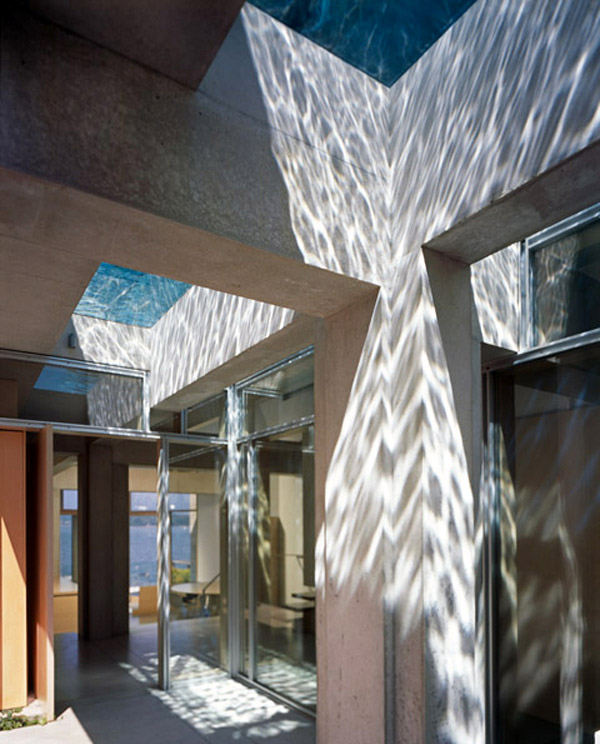 Here is also another angle of the pool. The reflection of the water is seen from below. This gives an illusion of also being under water.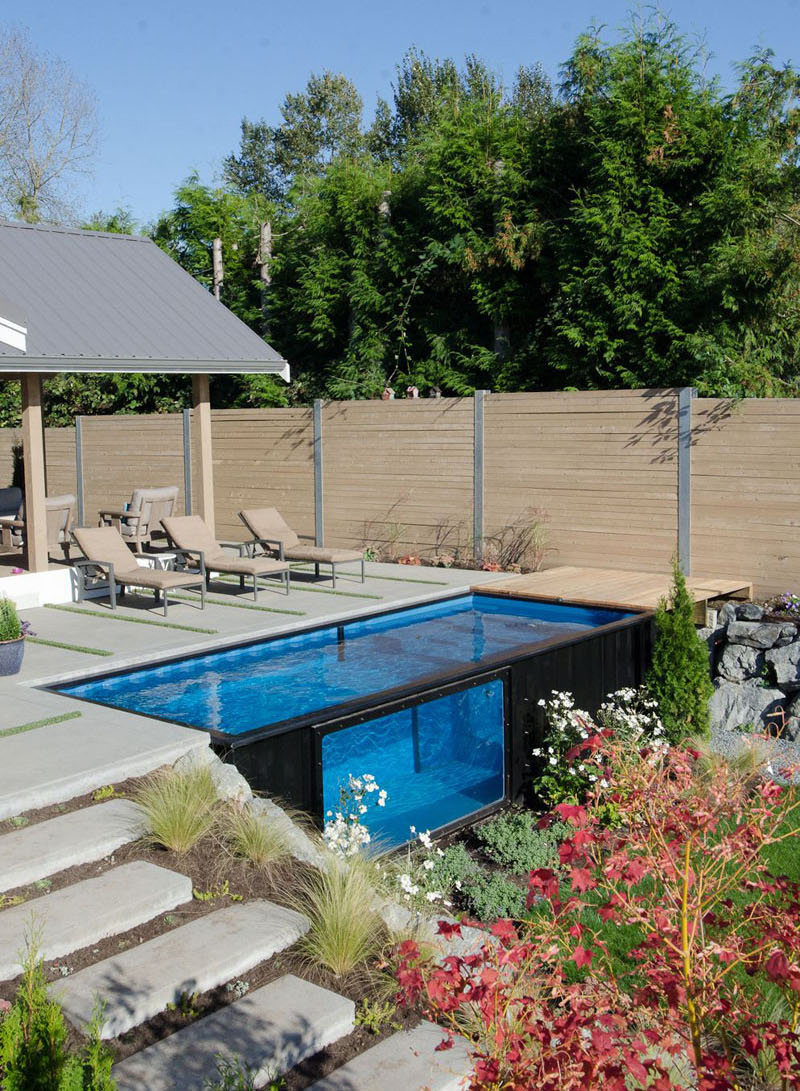 This Shipping Container Swimming Pool's is well, made out of a shipping container. The design is ingenious and rather unique.
This is from another angle of the pool. The designer has opened this side to make it appear bigger, especially when you are already swimming on it.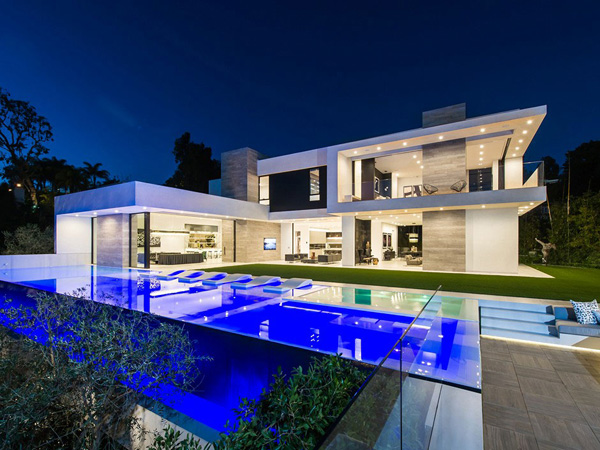 This Beverly Grove Residence's pool looks classy and elegant with its glass wall. Its lighting is also lovely that it brightens the exterior.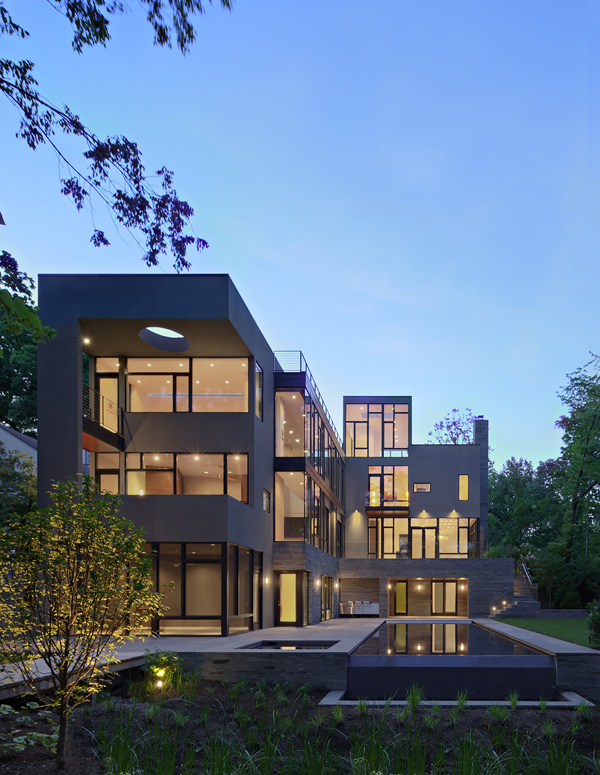 Brandywine House's blends well with the geometric facade of the house. The colour of the pool and the concrete also compliments the earth tones of the area.
Infinity Pool
An infinity pool is a type of pool that gives you the impression that it merges into its surrounding landscape especially the beach. This type of pool can be popularly seen in resorts or properties with a nice beach front.
Fancy an infinity pool? Here are some interesting pool designs for you!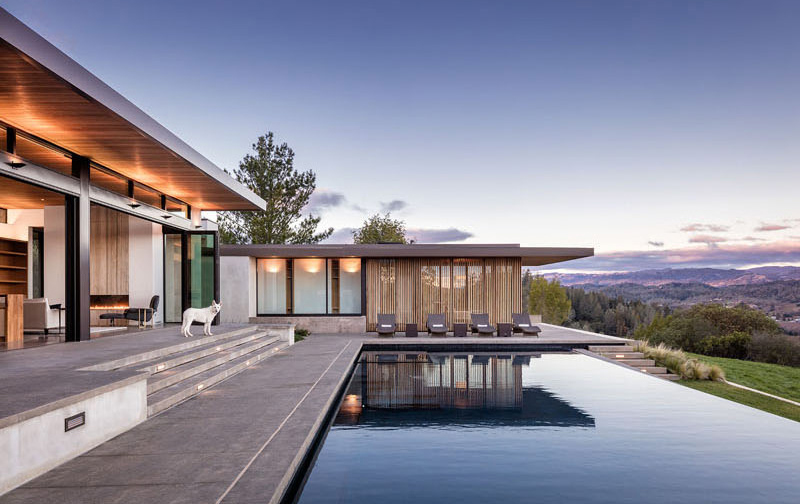 The pool at this Dry Creek Residence overlooks the valley. Its earth tones make the entire area inviting and relaxing.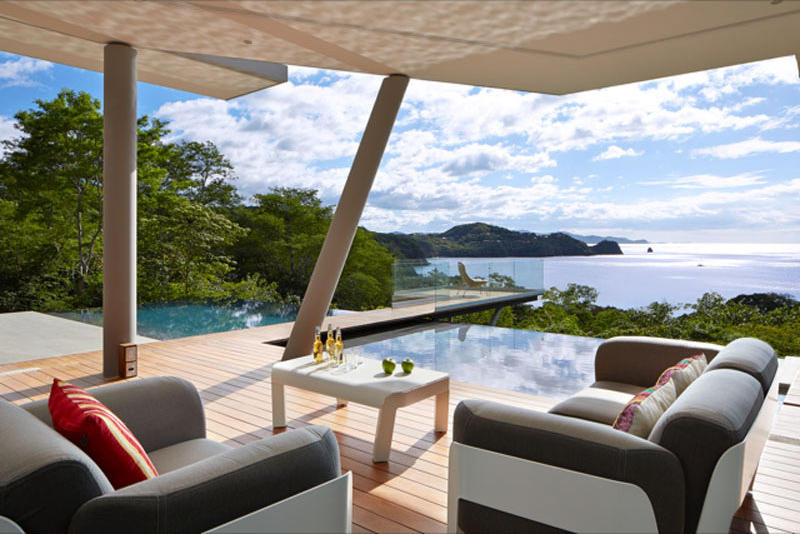 Casa Indios Desnudos's pool is rather inviting with its infinity edge pool. It has a cool walkway that leads out to the deck, away from the house.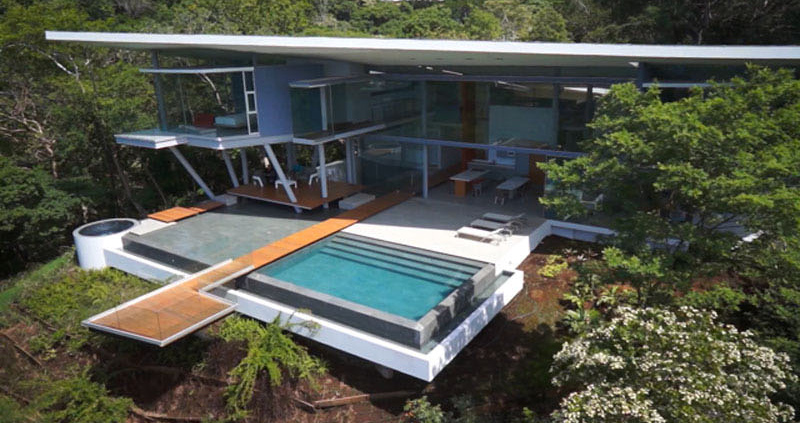 Here is aerial view of the property. It looks amazing!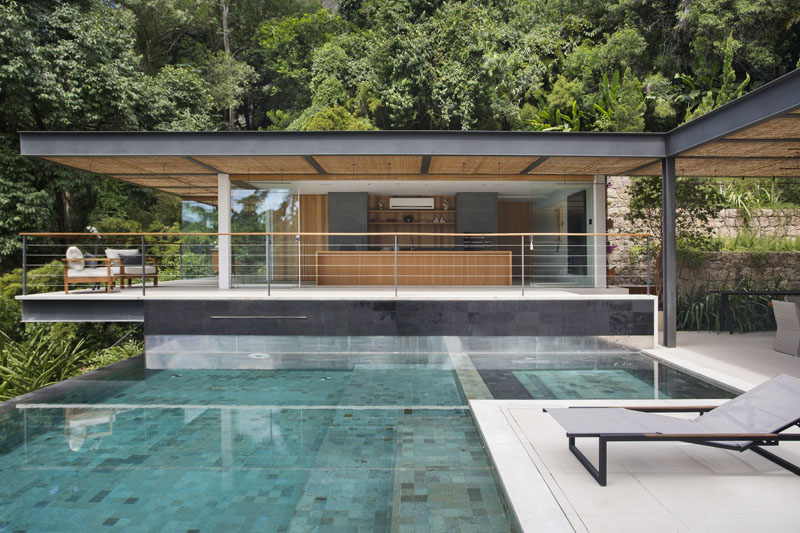 This Pool House in Rio de Janeiro has an industrial design to it. The pool is overlooking the mountains and has mosaic tiles.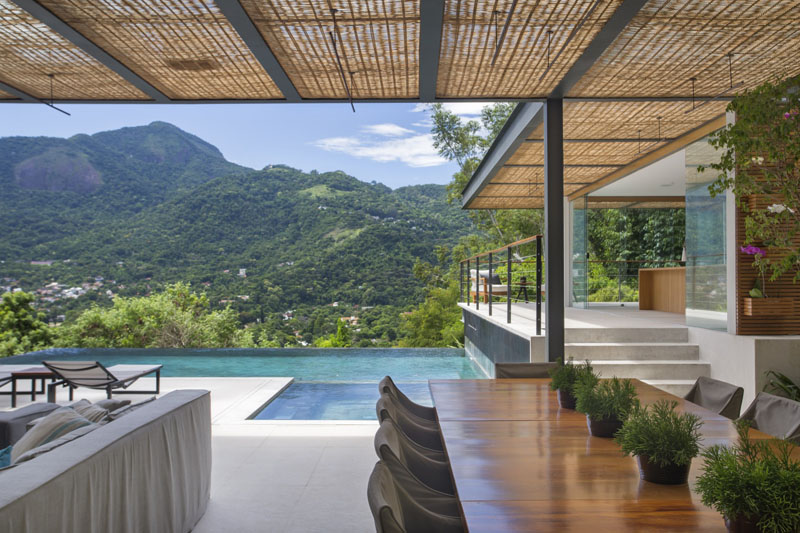 Another angle of the pool and the property where you can see the view from the pool.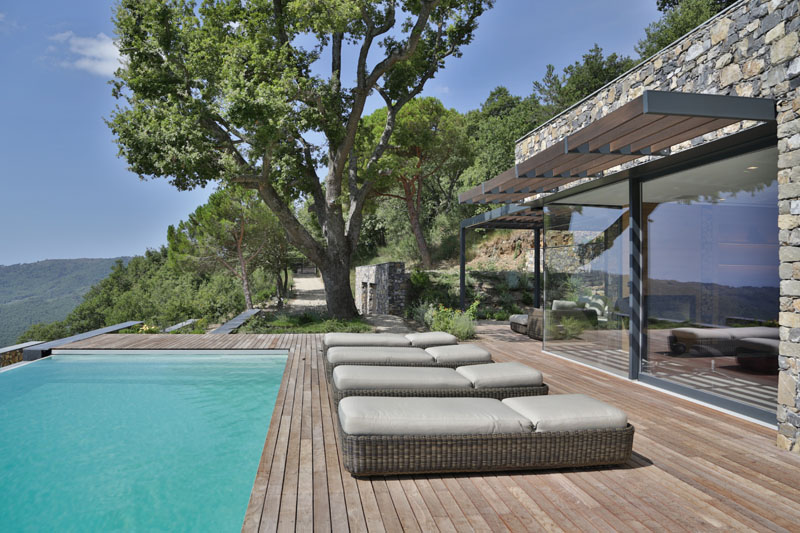 Villa N's pool is has wooden flooring that blends with the outdoors.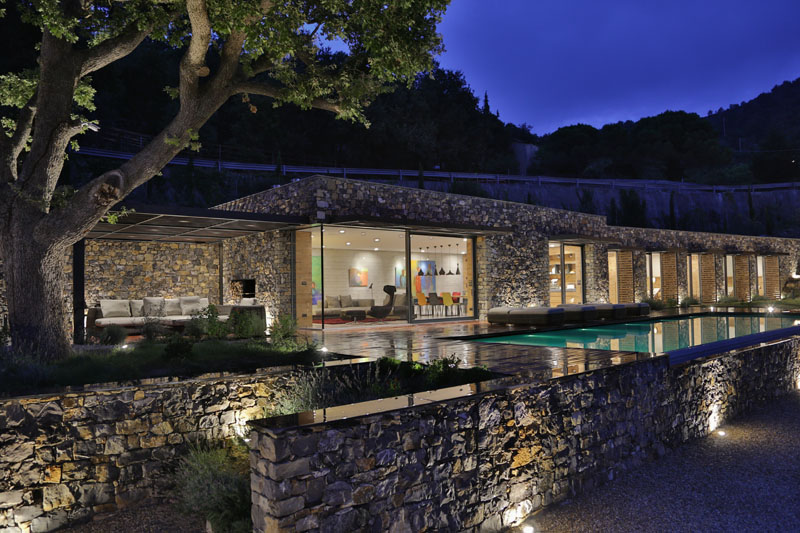 This is another view of the pool area. As you can see, the walls of the facade are made out of rough stones.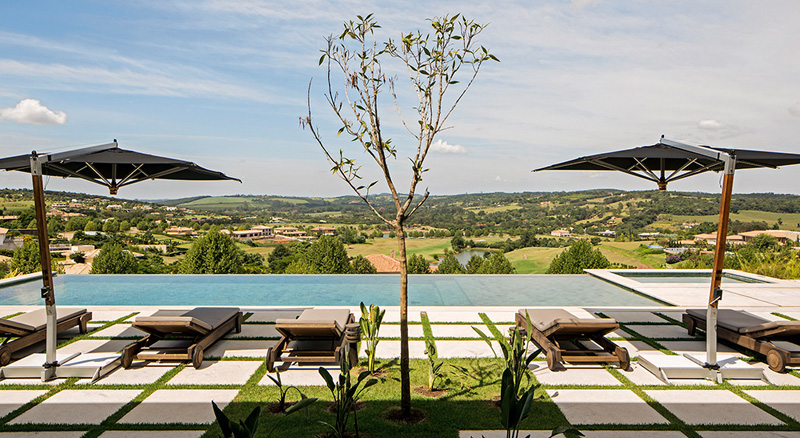 A-House's infinity pool looks over gorgeous green fields. A dip here will be relaxing with such gorgeous panoramic views. The furnitures around the pool blends well with the view.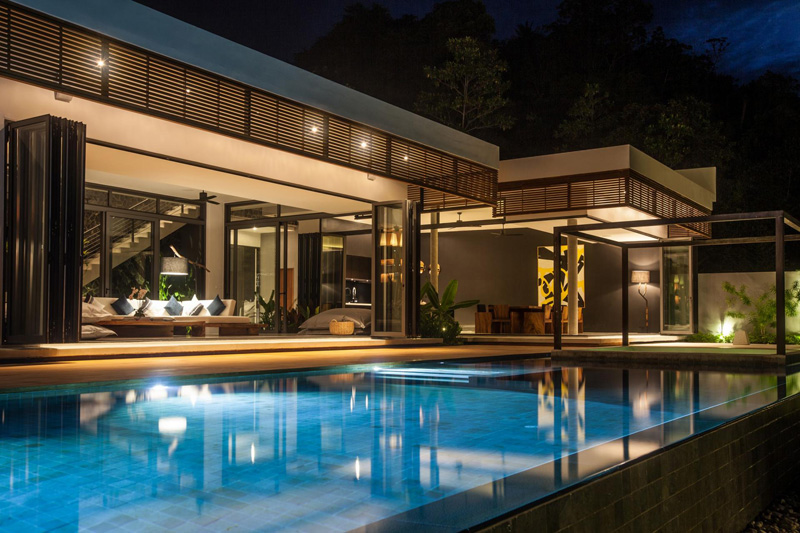 Malouna Villa's infinity pool is bathed in the warm glow of the pool area' lighting.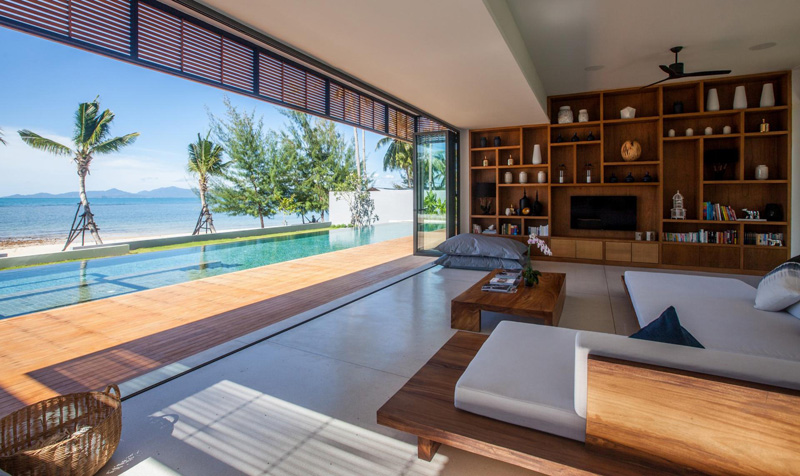 Here's another view of this gorgeous pool! It opens up to the beach. A dip here will give you the impression of swimming in the sea too!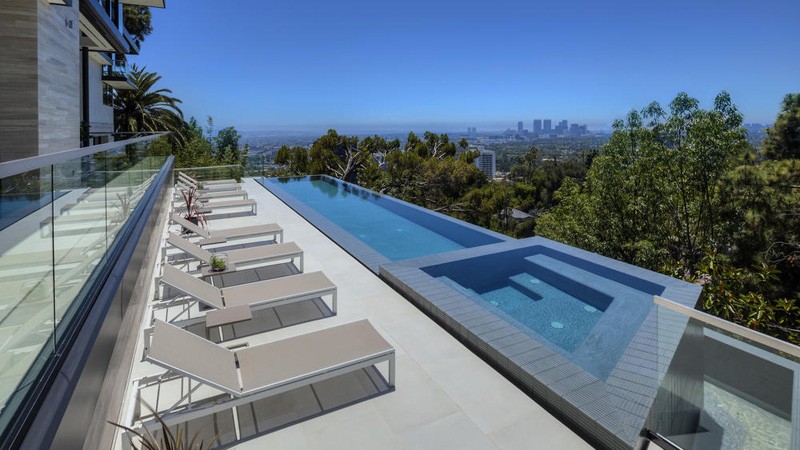 The pool at this Hollywood Hills Home is classy and elegant with its geometric shape and gorgeous views of the city.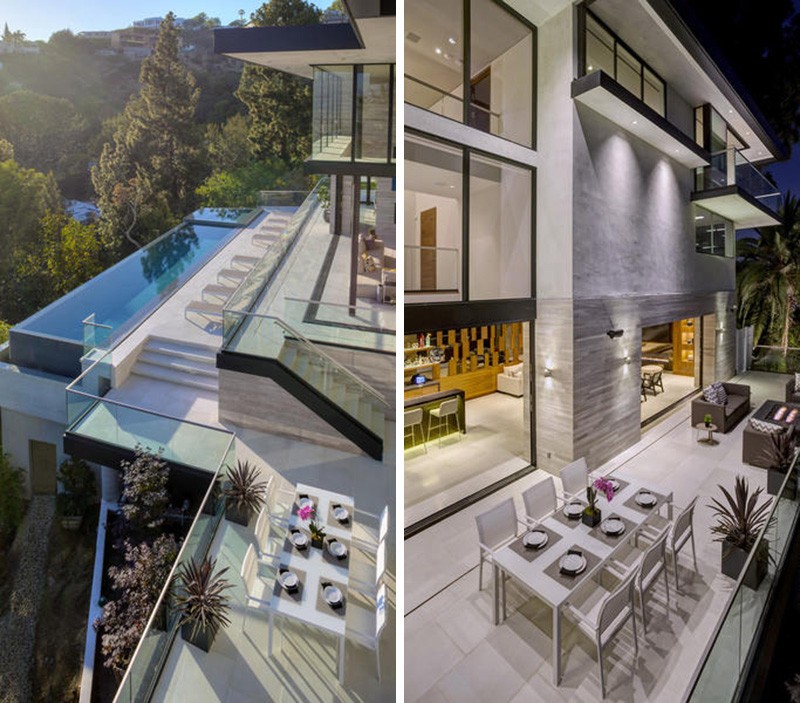 The pool is located in the upper potion of the house.s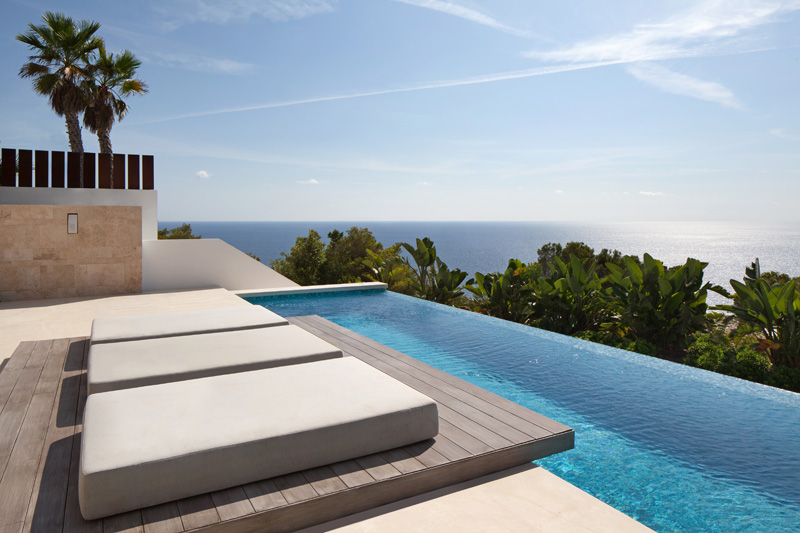 Roca Llisa's infinity pool has a gorgeous view of the ocean. The wooden deck with the lounge bed looks minimal with only the beds as furniture.
This pool in this Southwestern House looks aesthetically pleasing and velds well with the surrounding area. It was designed to compliment with the rough stone facade of the building.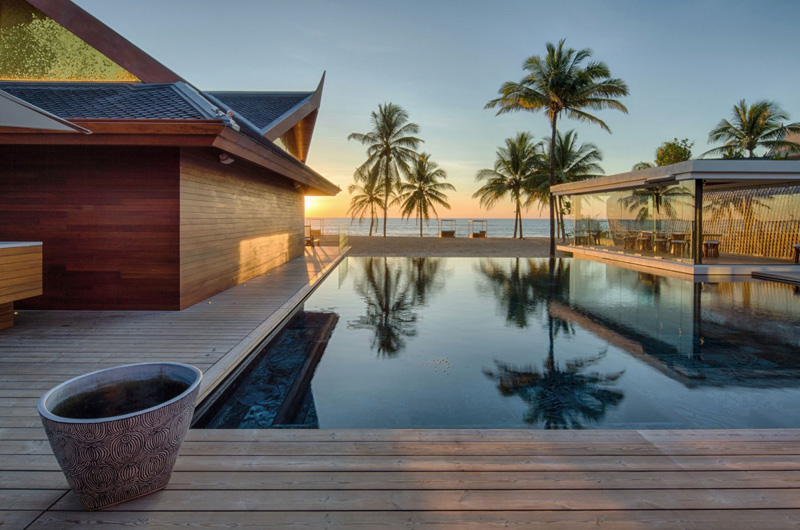 The pool at this Collector's Villa is relaxing and quite spacious too. The view of the beach adds a relaxing ambiance and tropical feel to the pool.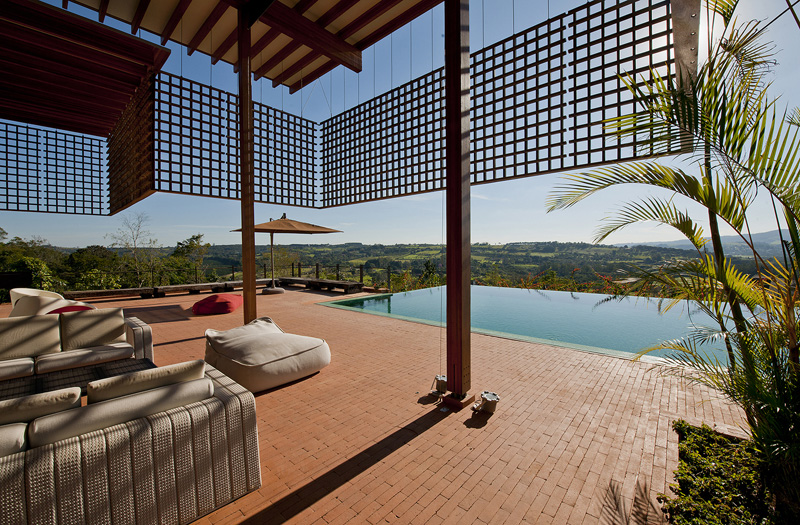 Quinta da Baroneza House's pool los overlooks the countryside. The flooring near the pool are made out of red bricks with comfortable chais near it.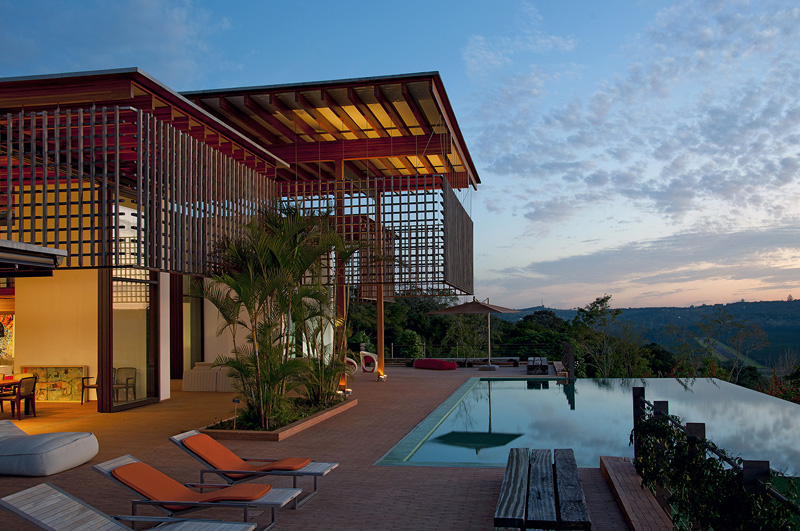 Here's another view of the pool. The house itself adds a nice touch to the entire exterior with its wooden lattice.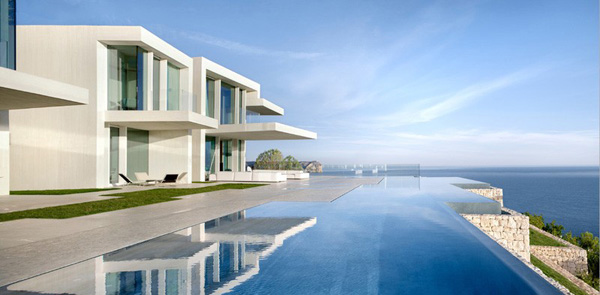 Sardinera House's pool has smooth texture that blends well with the home facade. It also overlooks the ocean and has stone walls.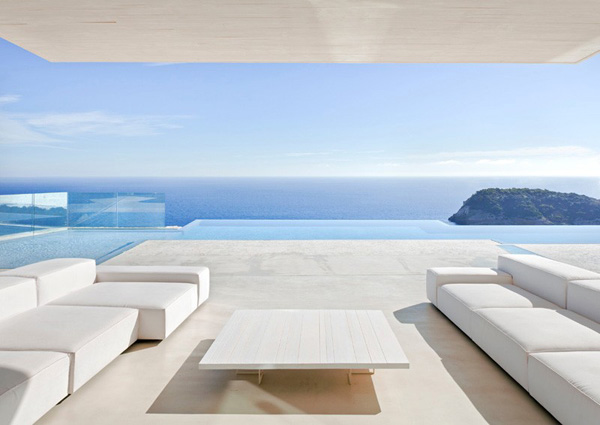 Here's another view of the pool. It looks like it is one with the ocean, don't you think?
Lap Pool
A lap pool is a favorite type of pool for health and fitness buffs. It is usually long and narrow and is designed for swimming laps.
For home-owners who loves to have a lap pool, here are a few examples and inspiration for you.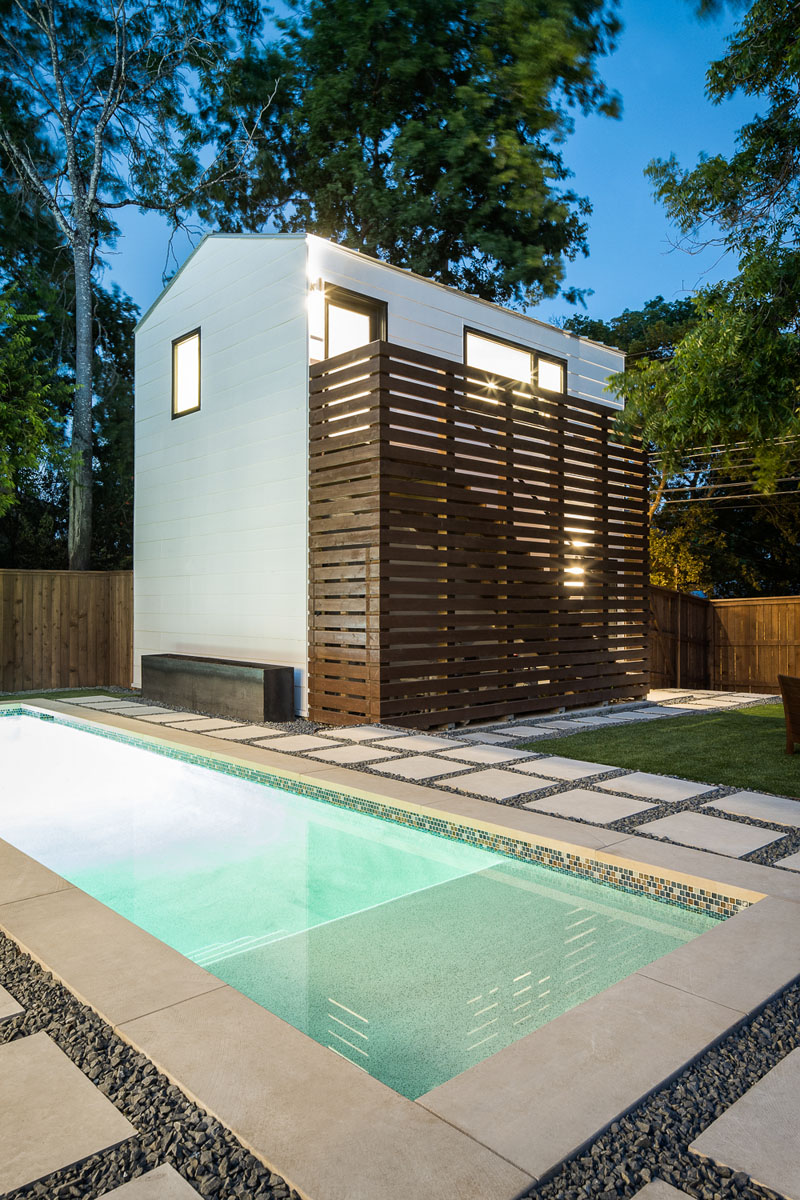 This pool at the Avenue F looks quite simple and inviting. There is an elevated area for the kids and a stone pathway going down.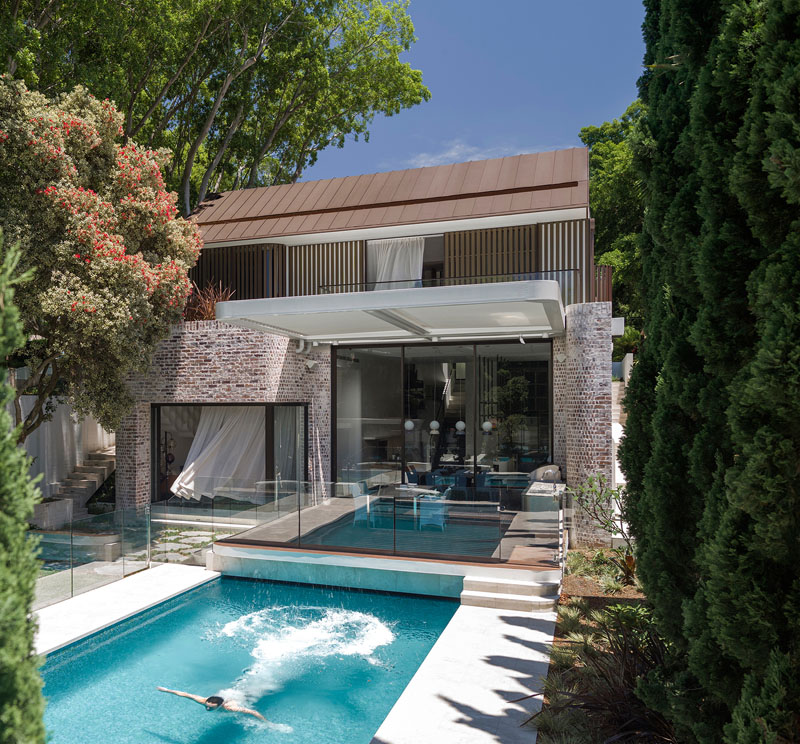 This pool at the New Twin Peaks lap pool is relaxing with glass enclosure.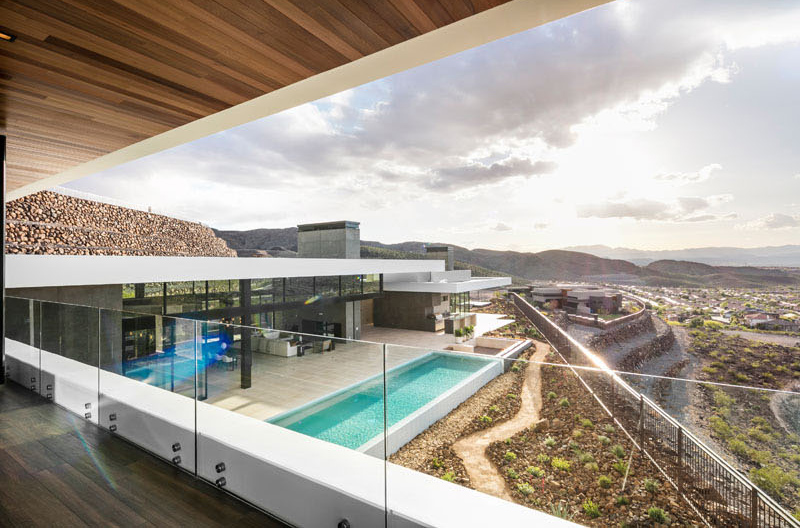 Foothill Home's lap pool great with its green tiles. The pool's wall is also painted white to blend in with the rest of the home exterior.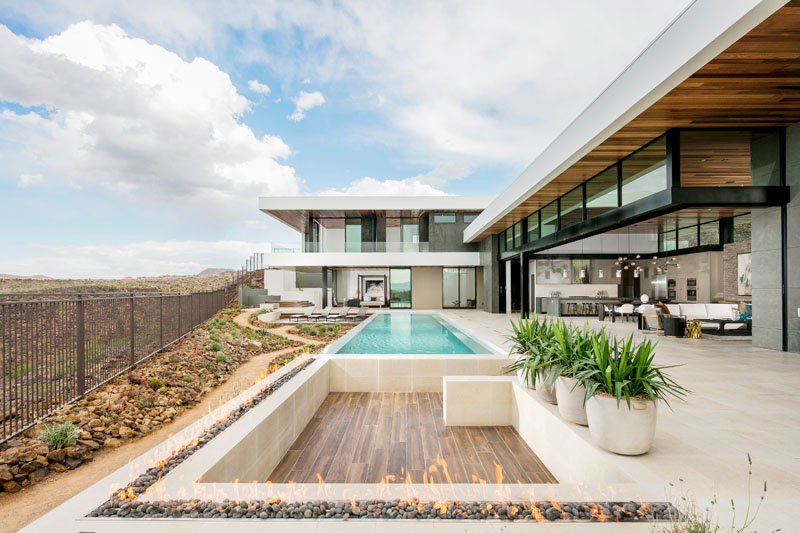 Here is another view of the pool that you might like to see.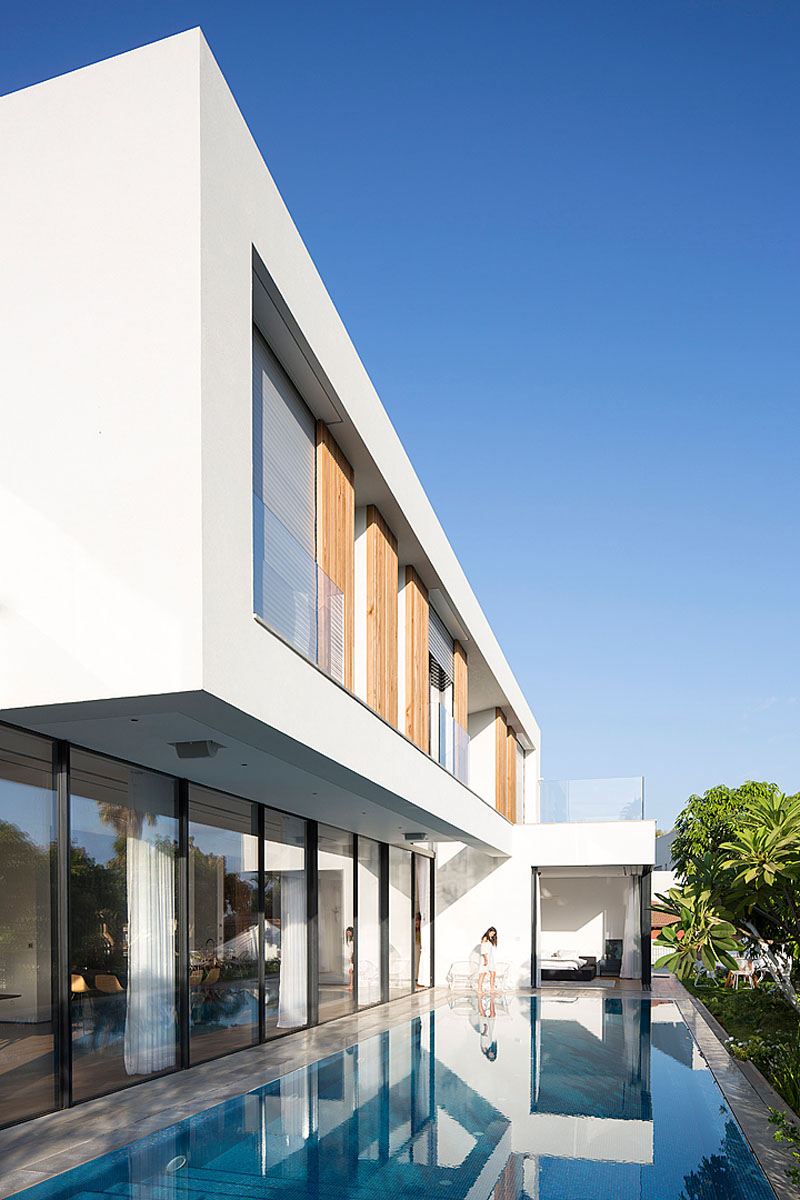 The pool at this home is spacious and quite elegant looking. The pool rather compliments the facade of the house.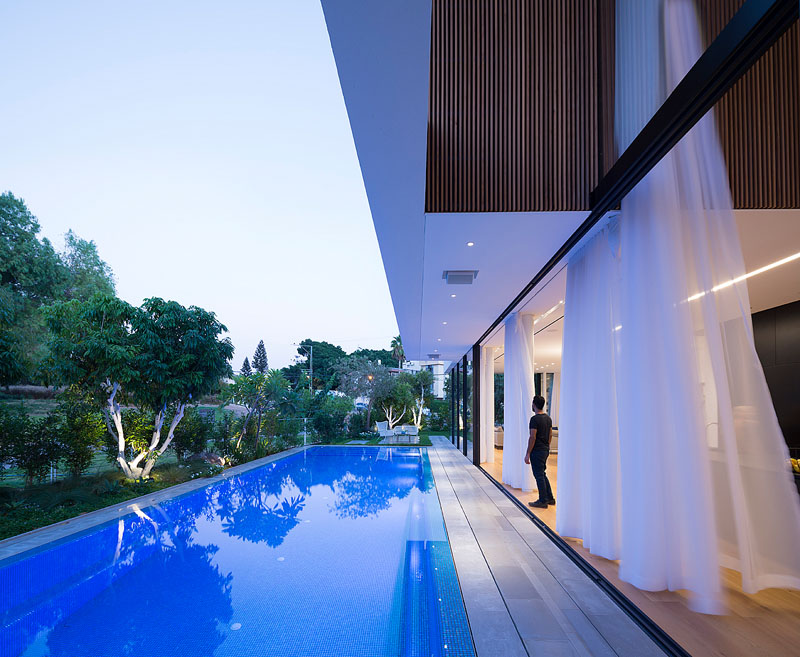 Another angle of the pool. The house has open walls with large white curtains.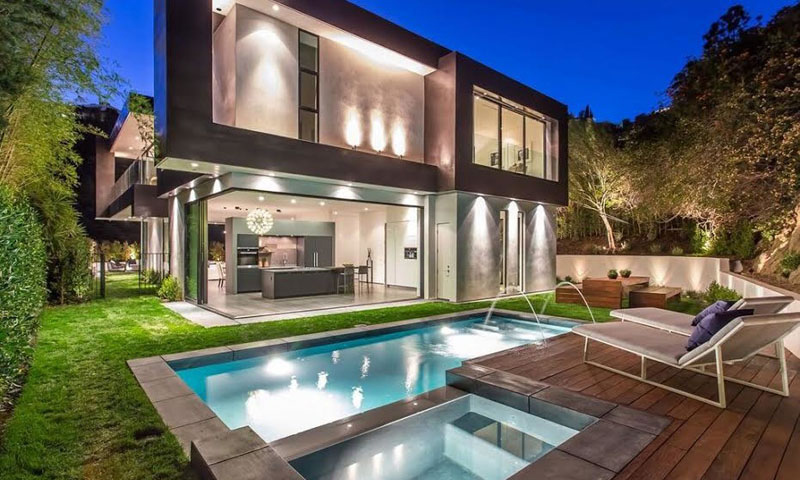 Rising Glen's lap pool is charming with its small fountain at the edge of the pool. The concrete edges of th pool blends well with the facade of the house too.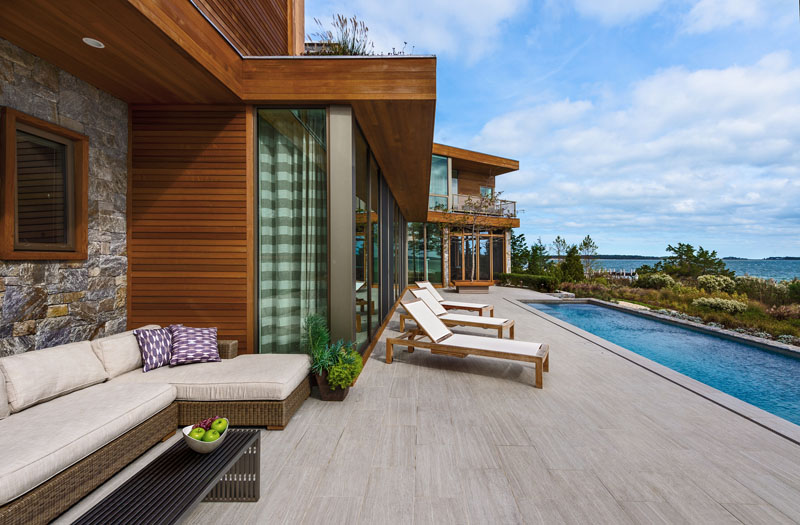 The pool at this Wood and Stone House in Long Island compliments well with the view of the ocean. The house' wooden exterior is complimented by the earth-toned furniture on the patio.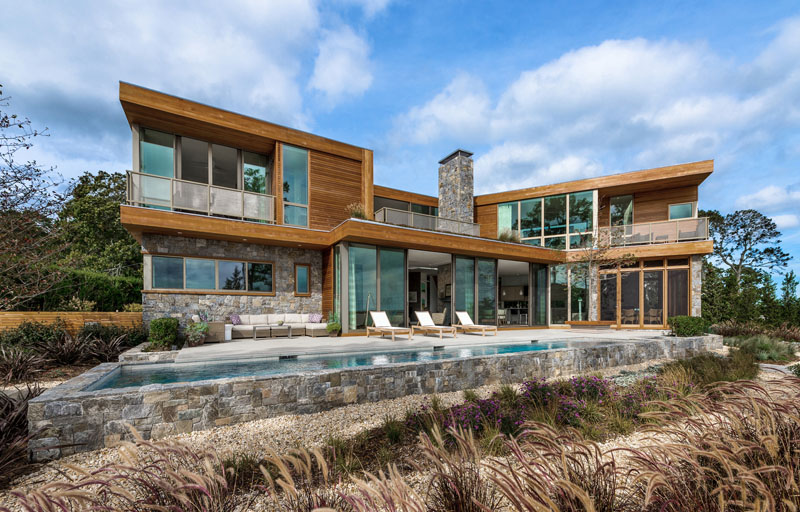 Here is another angle of the house and the pool. The edges of the pool is designed with rough stones.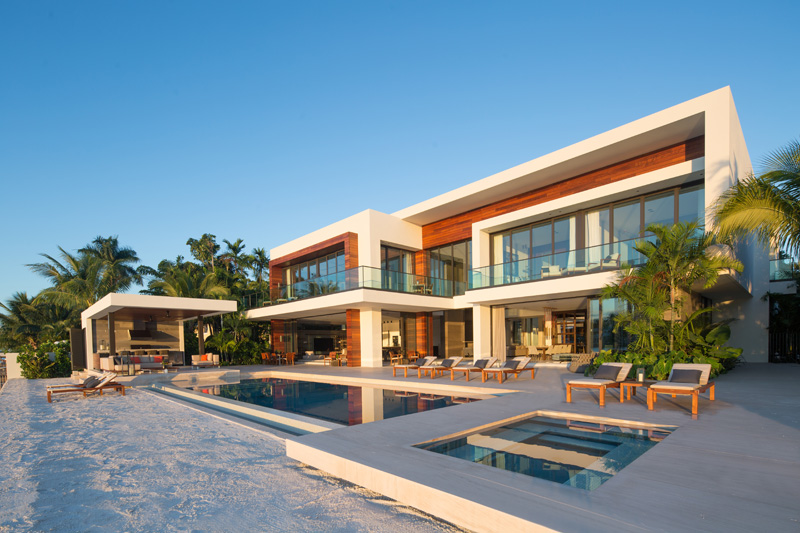 Casa Clara's lap pool is modern and sleek.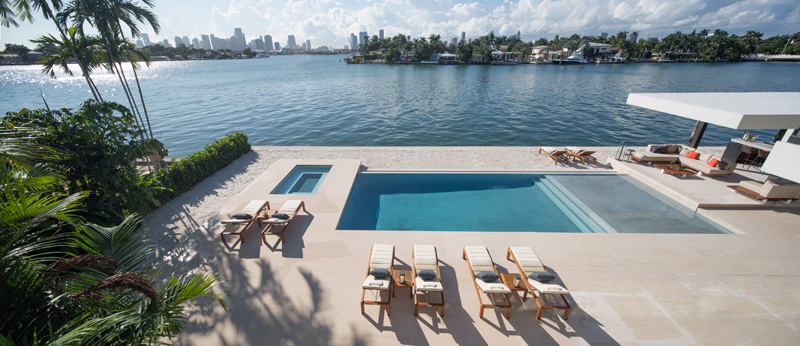 This is another angle of the pool and the house. It faces the beach and offers stunning views of the city.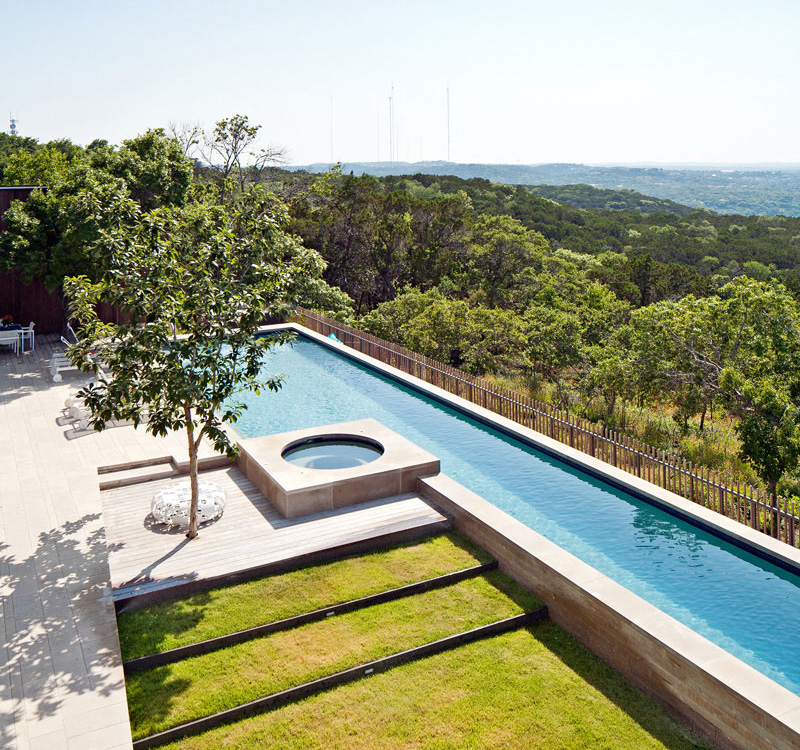 Lakeview Residence's lap pool looks amazing with its wood pathways. The pool is long and has great views of the mountain. There is also a fence along the edge to keep the privacy.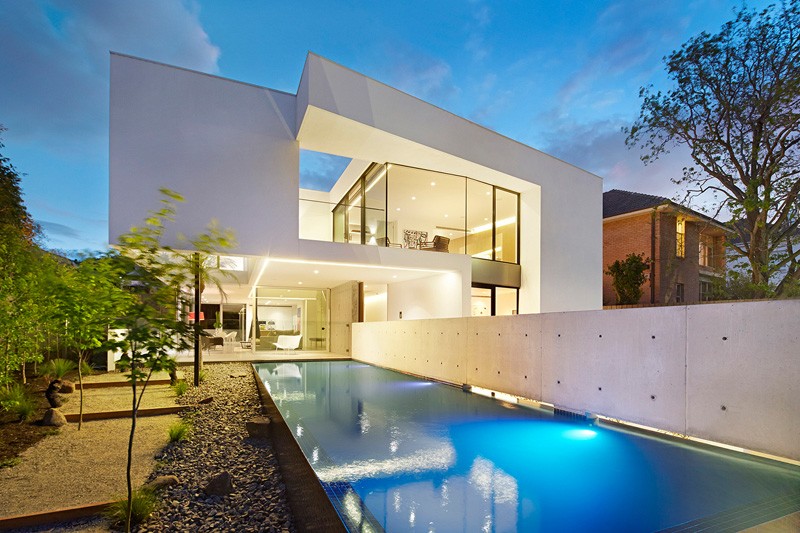 The pool at this Home in Australia looks ultra modern and sleek.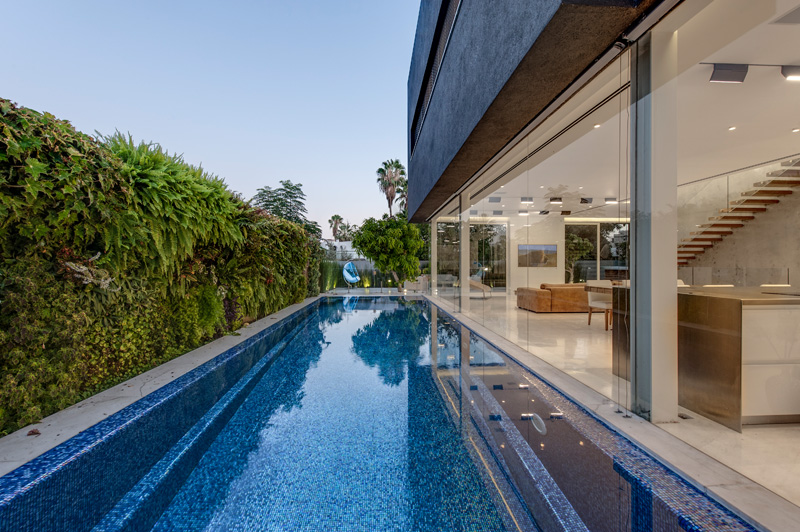 Hidden House's has gorgeous blue mosaic tiles. The leaves-covered wall gives a refreshing feeling to the area.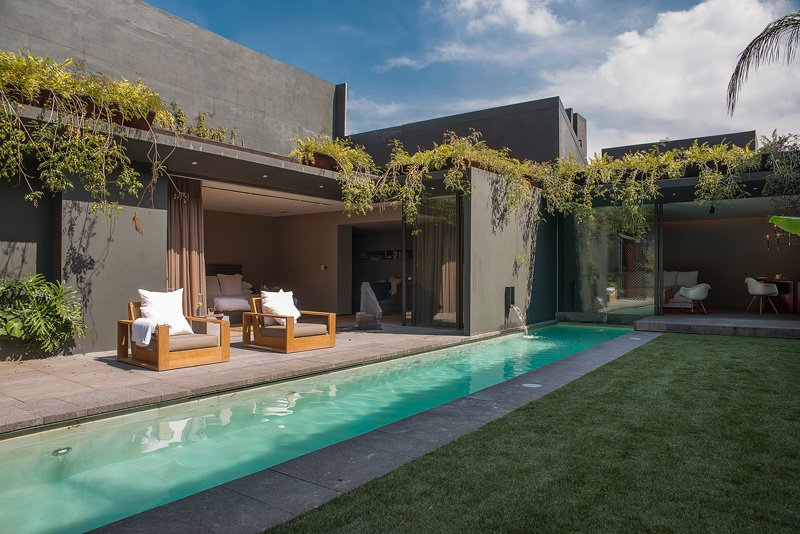 The pool at this Barrancas House looks refreshing with its green tiles. The designers also places some plants with hanging stems at the rood to add a more fresh feeling to the area.
Natural Pool
A natural pool is a unique type of pool that is intended to be maintained without the usual chemical or devices that we commonly use for other types of pool. This type of pool uses only hydraulic and biological processes to filter, clean and clarify the bathing water.
If you are thinking of something more unique, consider getting natural pool. Here are some gorgeous examples.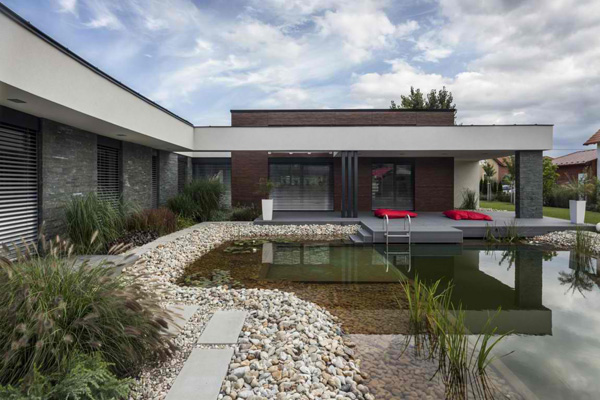 This natural pool looks pretty great with its pebbled-lined wall. The designer has even added some plants on the pool to add more character.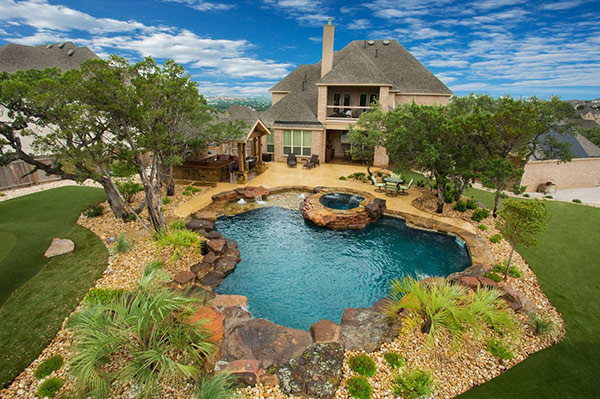 The design of this Natural Pool Stone is very unique with its free form. The designers has used big rocks as its wall with pebbles and trees near the edge.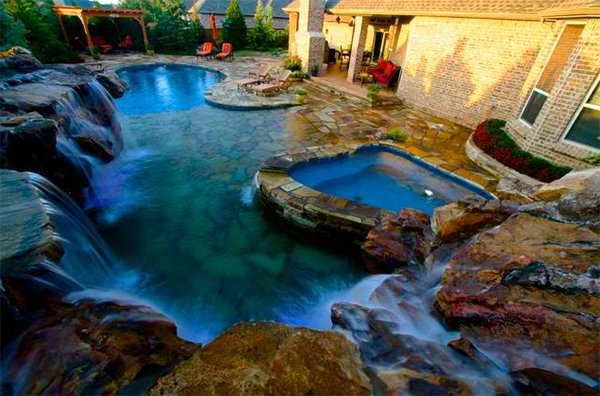 This pool looks stunning and refreshing with the small waterfall design at the edge. The designer has captured a natural landscape with this design.
Plunge Pool
The plunge pool is the exact opposite of a lap pool, in terms of usage, that is. A plunge pool is usually a small and shallow pool that is built solely for lounging, wading and cooling off.
If you are into plunge pool, here are some great examples you can check out.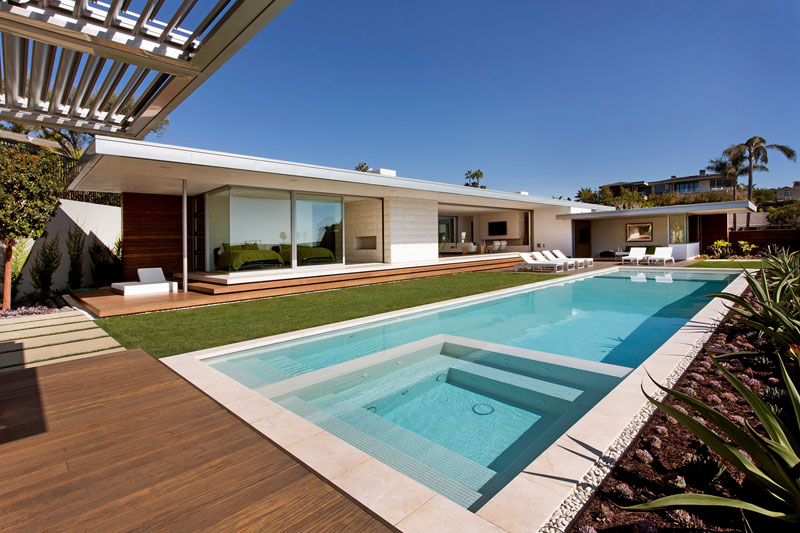 McLeroy Residence's plunge pool is simple yet spacious. The pool has a lovely jacuzzi too with wooden flooring at some area and some with green patches.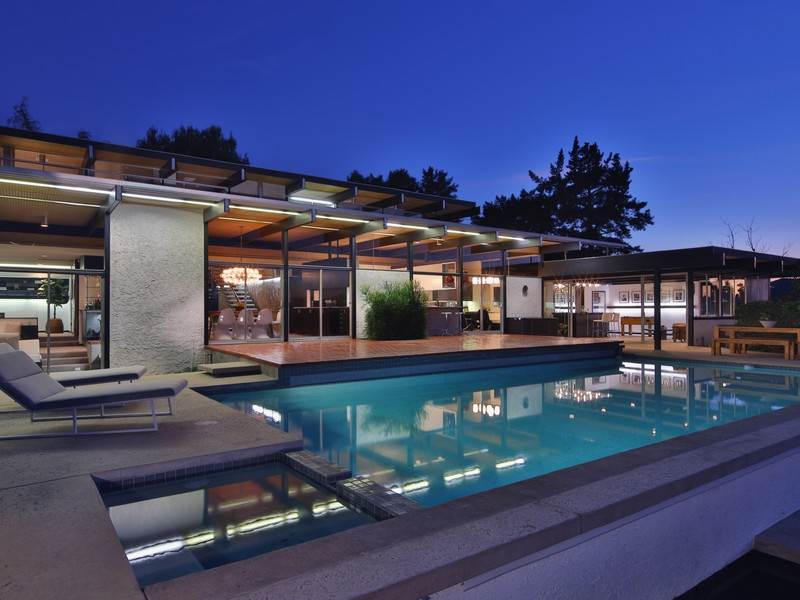 The pool at the La Montana Place looks great with the concrete flooring and wooden table and chair at the side.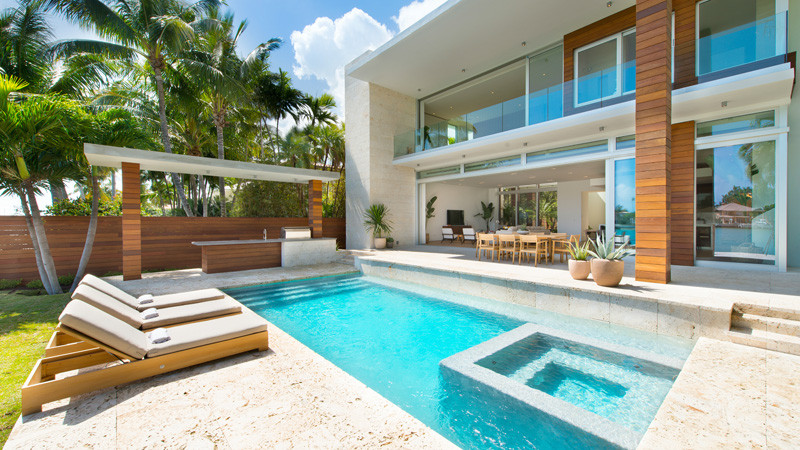 This home at the Di Lido Island has a gorgeous plunge pool. The flooring of the pool blends well with the marble-like floor of the house.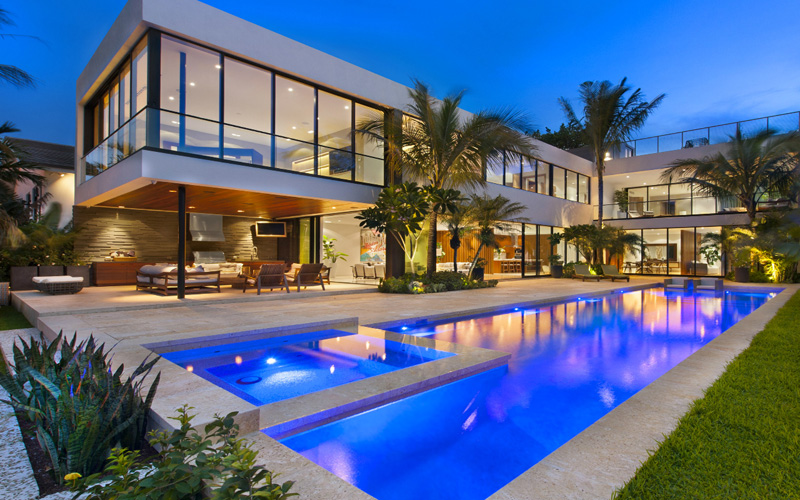 This Miami Beach House has an interesting and classy pool with marble floor surrounded by trees and grass. The subtle lighting of the pool illuminates the area.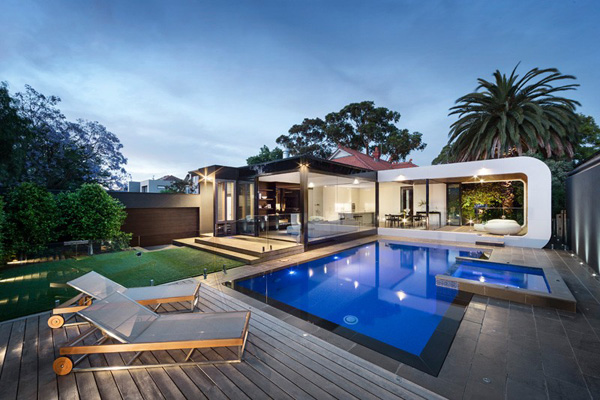 The pool at this Renovated Heritage Home is classy and edgy with its black lining and bright blue tiles.
More Swimming Pool Ideas
Need more design inspiration? Here's a look at another set of swimming pools for your home!
Cat Mountain Residence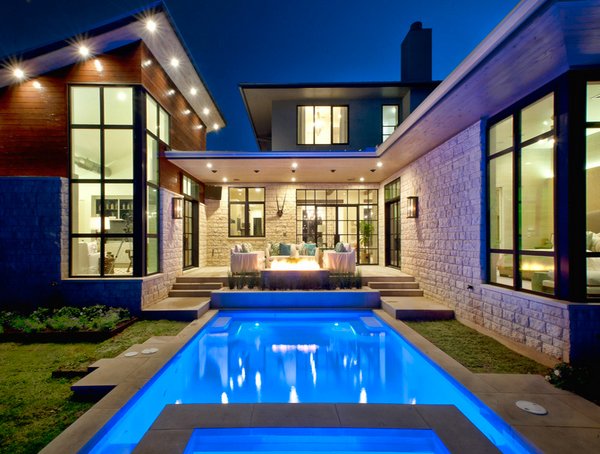 The overall floor plan design centers on maximizing the views, while extensive glazing is carefully placed to frame and enhance them.
You will be amazed at how the pool looks great with it being connected to the house and a covered patio.
Compound in the Dunes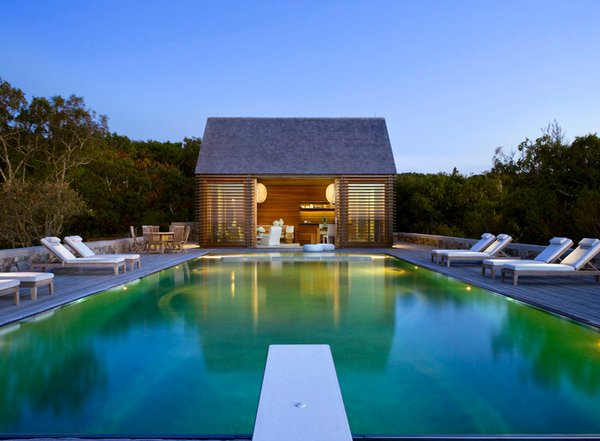 This louvered pool house is pretty simple and really modern. The color of the structure complements how the sky plays with the color of the water in the swimming pool.
Herron Residence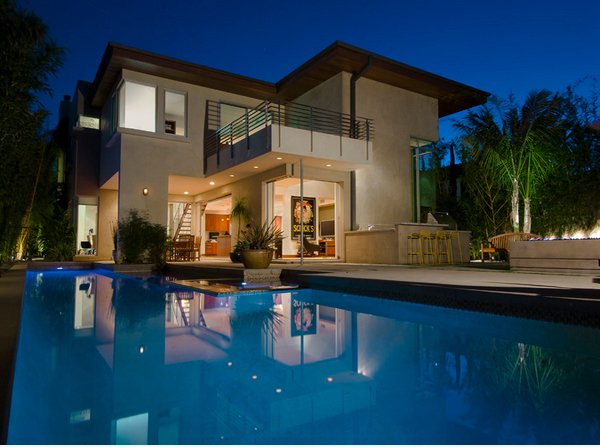 We like the proximity of the pool to house. A deeper overhang to protect swimmers from sun. Lounges on the outside of pool for sun worshipers.
Highland Park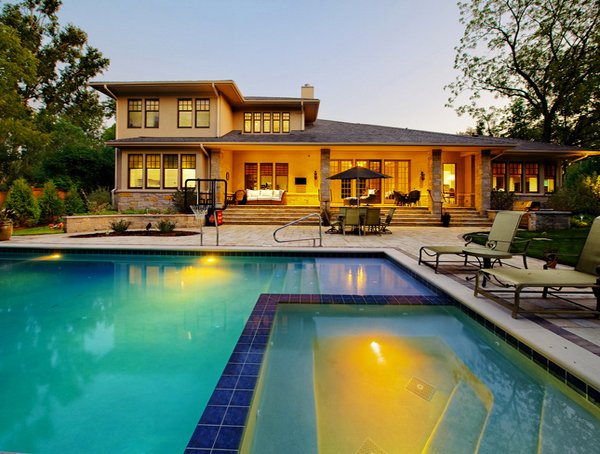 The windows of the swimming pool house beside this gorgeous pool and Jacuzzi is really interesting. It looks like the windows you will typically find in tropical countries.
Lima Residence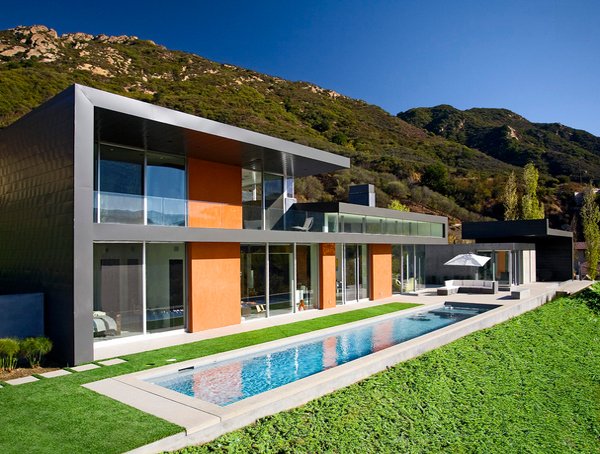 Straight and sleek lines. This pool's clean, simple lines mimic the architecture of the home without overpowering its style.
Small grassy spaces in a minimalist design add to the modern look.
Lookout Residence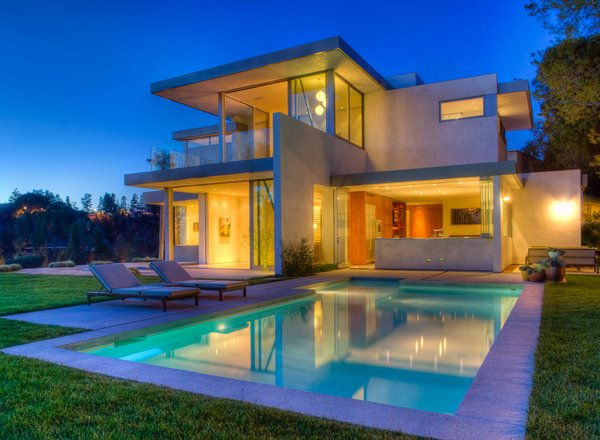 Modern architecture paired with fab swimming pool layout – this home is definitely stunning, thanks to the astounding lay-out.
Los Angeles Modern Exterior
This home has clean and sleek lines that use beautiful materials that connects to the swimming pool area. The covered patio and the greens look great with the material for the walls.
Los Angeles Pool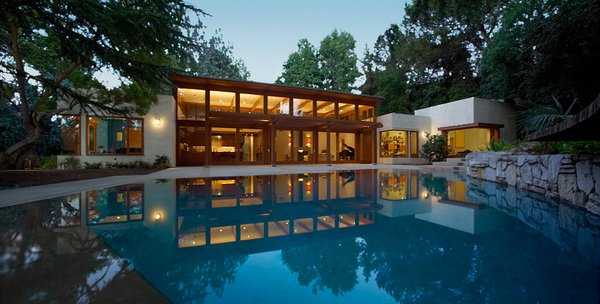 This may be the best time to take photos of this California home. Dusk brings out the reflection of the house to the pool and still remains as stunning as it is.
This infinity pool is blessed to have great lighting and different textures around it.
Menlo Park Residence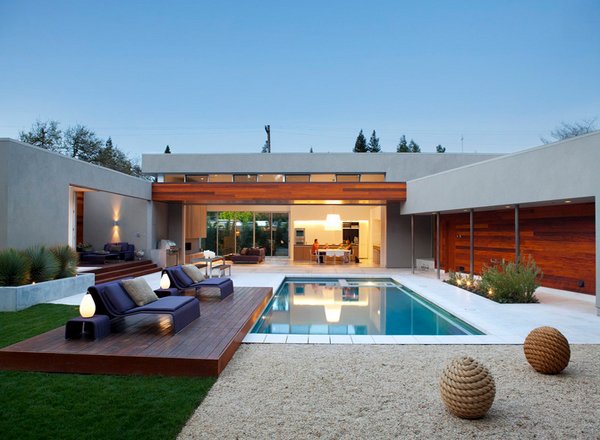 If you don't have a view, then create your own. The architecture of the home, the ball sculptures and the pool are all absolutely beautiful surroundings for this simple deck in a courtyard-style home.
Pecos Pool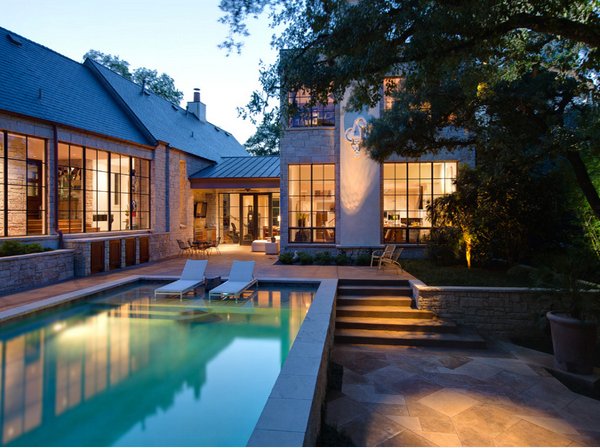 Pools are often the reason for using the L-shape concept. Living and sleeping spaces are allowed direct access and views, and the pool is protected and made private by the configuration of the home.
Saratoga Creek House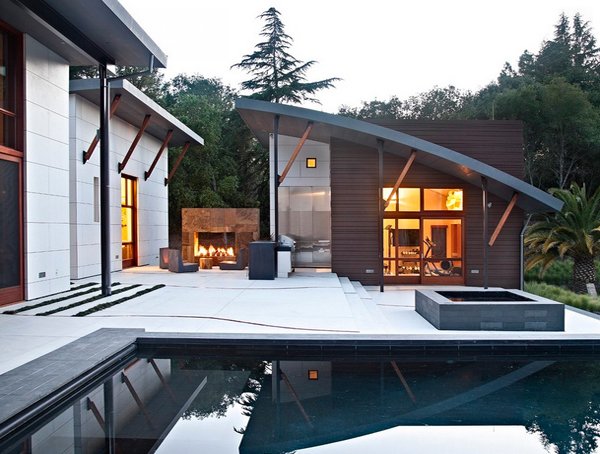 The pool above has a black Pebble Tec finish that gives the pool water an elegant, dark blue look. But notice how it complements the light colored flooring and walls close to it. Works all the time!
Split Oaks Farm Poolhouse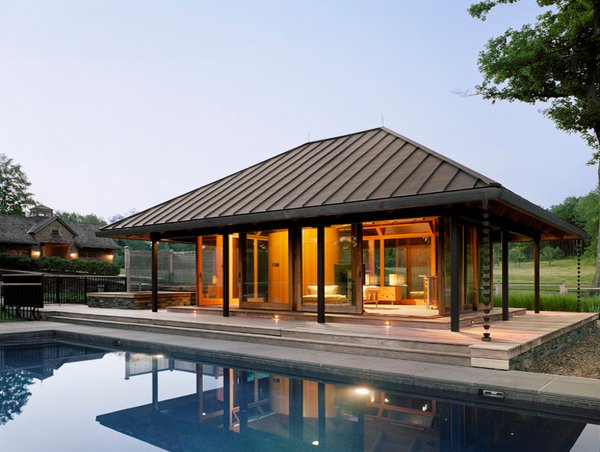 Just by looking at the shape of the roof, you can say that it has a bit of an Asian touch which is great because it looks refreshing to the eyes and the play of colors of the interior is nice too.
Swimming Pools Chicago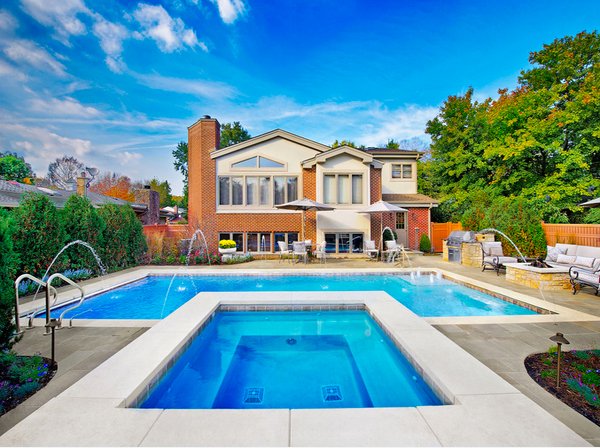 This house in Chicago is definitely a huge home with a stunning swimming pool – layout and all; and the design of the pool house is rather simple but real pretty.
Villa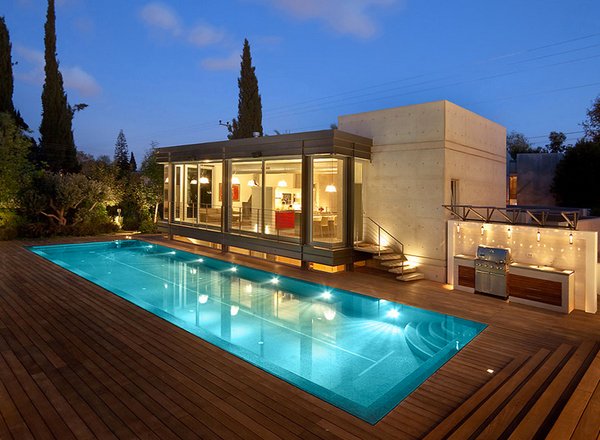 We love how this decking makes the entire exterior of this home look incredibly modern and sophisticated. The lighting is really stunning!
Zen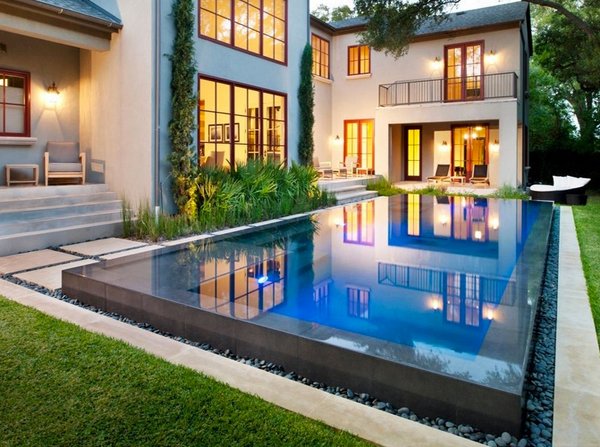 According to the designers, the modern lines and materials continue the design sense of the home's interior. This was done to mimic the high end boutique hotels the homeowners frequent in their travels.
If and when you decide to construct a swimming pool in your backyard, the photos we have shown above may be a source of inspiration for you guys!
The above list is but a few of the sample homes with great swimming pools and some simple to fabulous homes with these water features.
We hoped you have found this article interesting. And by the way, you can also check How to Choose Swimming Pool Tiles for some tips on how you can get the right pool tiles.
Bonus Video: Making a Modern Swimming Pool