A Wood and Stone House Featuring Stunning Views of the New York Coastline
You will be surprised how lovely wood and stone would look together!
It is not rare to see homes by the sea. We have seen many of homes like this already and we have been captivated by their beauty. Each house that overlooks the ocean has a stunning view of it and would always have a unique design. Aside from the architecture and interior design, what adds to a home's uniqueness is how it puts together various materials just like this home that we will feature today.
A house on Long Island in New York use wood and stone in its exterior. It also overlooks the New York coastline and has views of Sag Harbor Bay, Northwest Harbor and Shelter Island. This house is designed by Architecture firm Blaze Makoid, who added glass doors and windows into it to offer views around the area. Aside from that, it has a beautiful interior which also has some wooden and stone features. It also has a pool area where one can look around its surrounding natural views from the landscape to the ocean. Scroll down below to get a glimpse of this house in Long Island.
Location: Long Island in New York
Designer: Blaze Makoid
Style: Contemporary
Number of Levels: Two-storey
Unique feature: A two-storey residence that uses wood, stone and glass in it. It also has a pool area with a deck overlooking the ocean.
Similar House: Coastlands House: A Coastal Home Made of Glass and Stone in California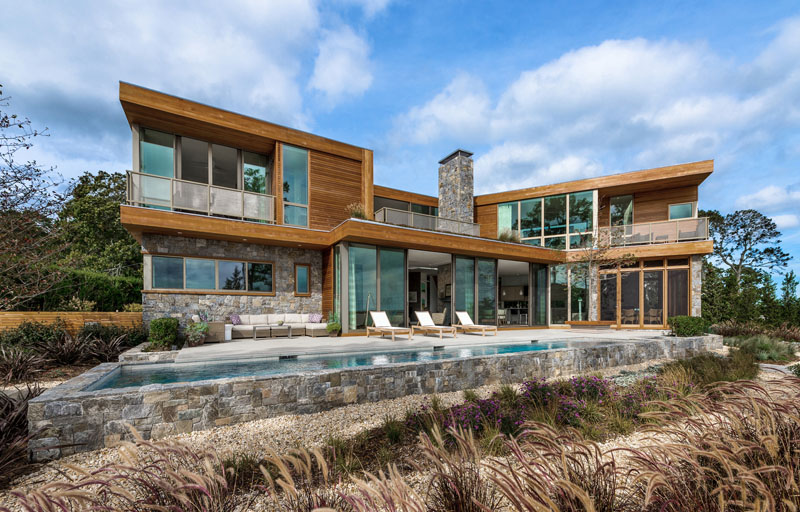 The house makes use a combination of materials like wood, stone and glass. It also has a natural landscaping around it. Another good way to see the lovely views in the area is through the balconies on the second level.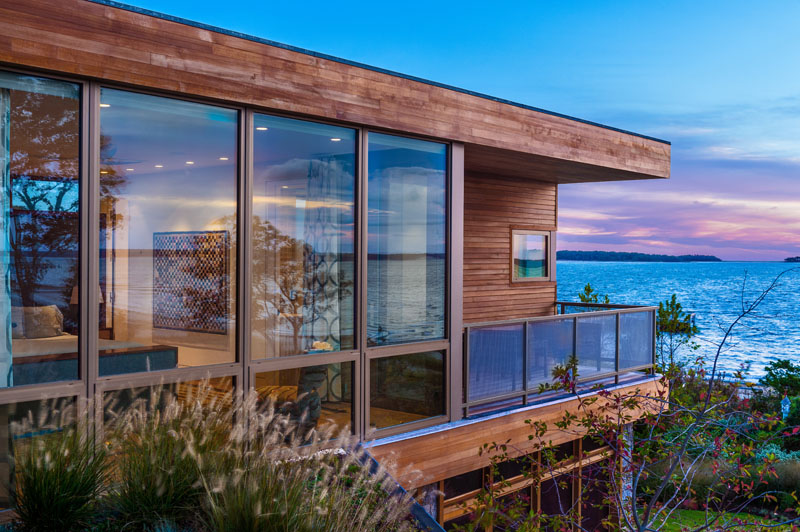 The house which also has balconies on some areas and features floor to ceiling windows has a breathtaking view of the ocean and the skies. You can see here a bedroom in the upper area of the house.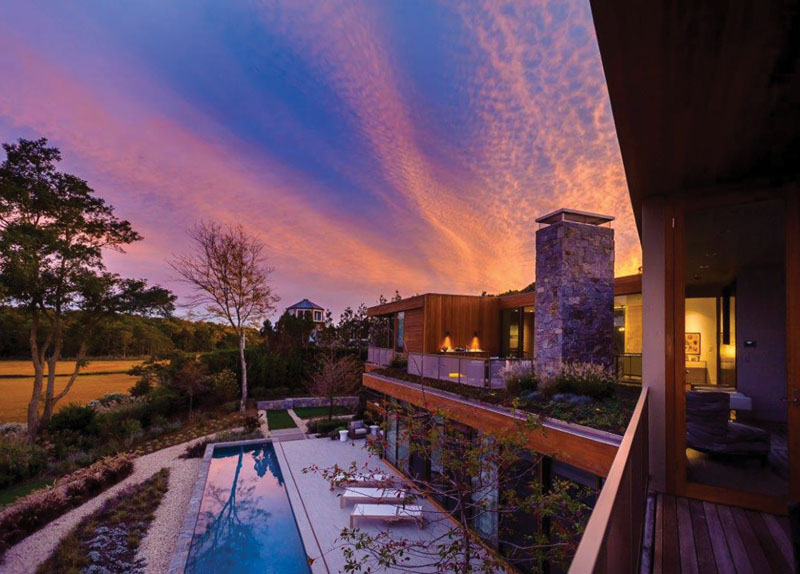 The two-storey home features a pool and deck that directly look out to the nearby salt marsh. It would surely be very relaxing to get into this cool blue water while under the lovely sky. You can also see here that the house is surrounded by bushes and trees, adding to its beauty and serenity.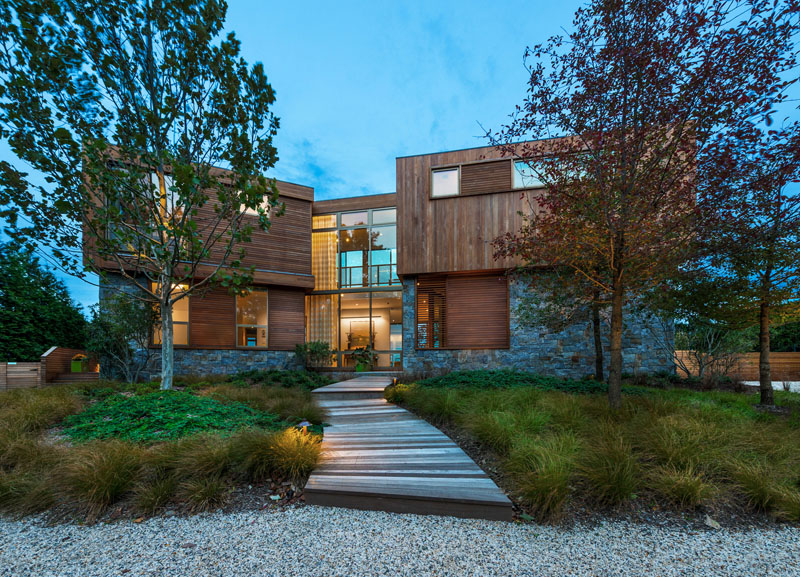 When one reaches the home, a wooden pathway surrounded by greenery would welcome guests. From here, you can already see and feel the home's sophistication. In the middle part of the home's facade, you will see that it is covered with glass instead of wood and stone.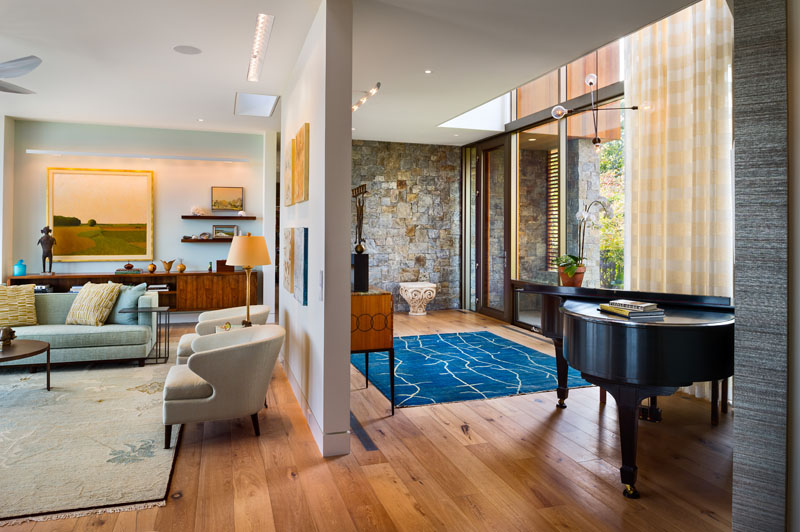 The small foyer of the house doesn't just welcome guests but it also has a space for a piano. On the other side of the dividing wall is a living room with beautiful furniture design and simple decors. This is a good way to separate the foyer and the living area.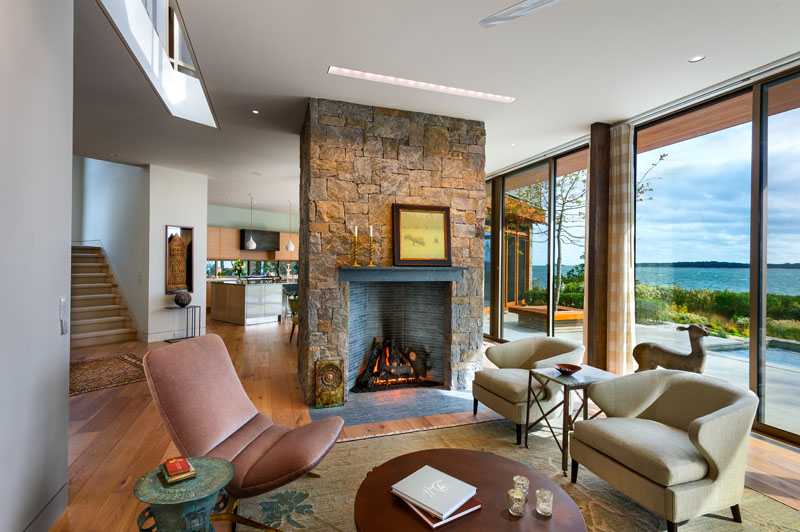 The home features a stone fireplace that separates a sitting area from the kitchen. If you feel cold, you can just curl up with a book in this area. Notice that there are some vintage items in the house placed on some spots just like that side table.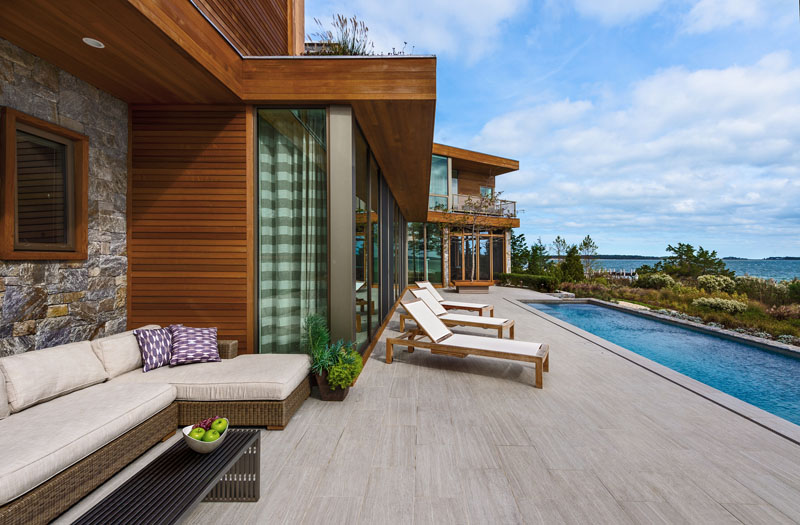 Outside the house is the pool deck with an outdoor lounge area including a wicker sofa. For sure, one would love to stay here since the views are very breathtaking and the breeze would be very refreshing for sure.
Read Also: Stonington Residence: A Contemporary Home Update With a Large Stone Wall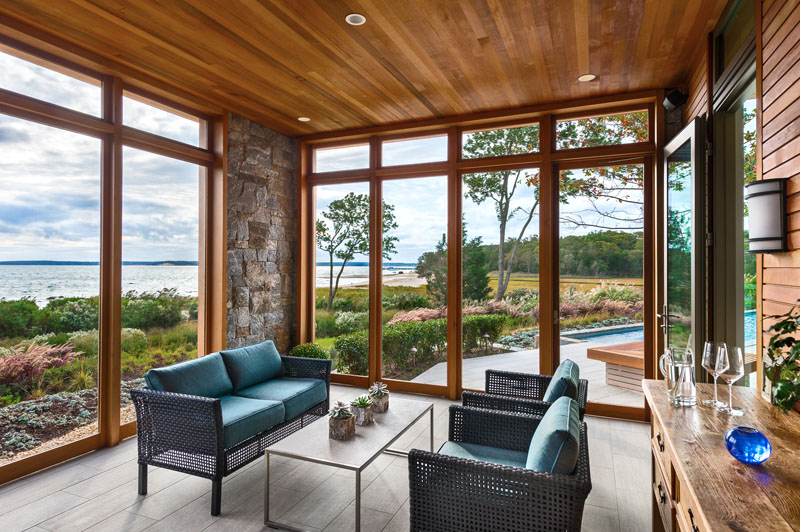 Off the pool deck, there is a glass enclosed room that offers picturesque views because of the floor to ceiling windows. It is also a sunroom using wicker furniture in it. A glass door opens up to the pool area.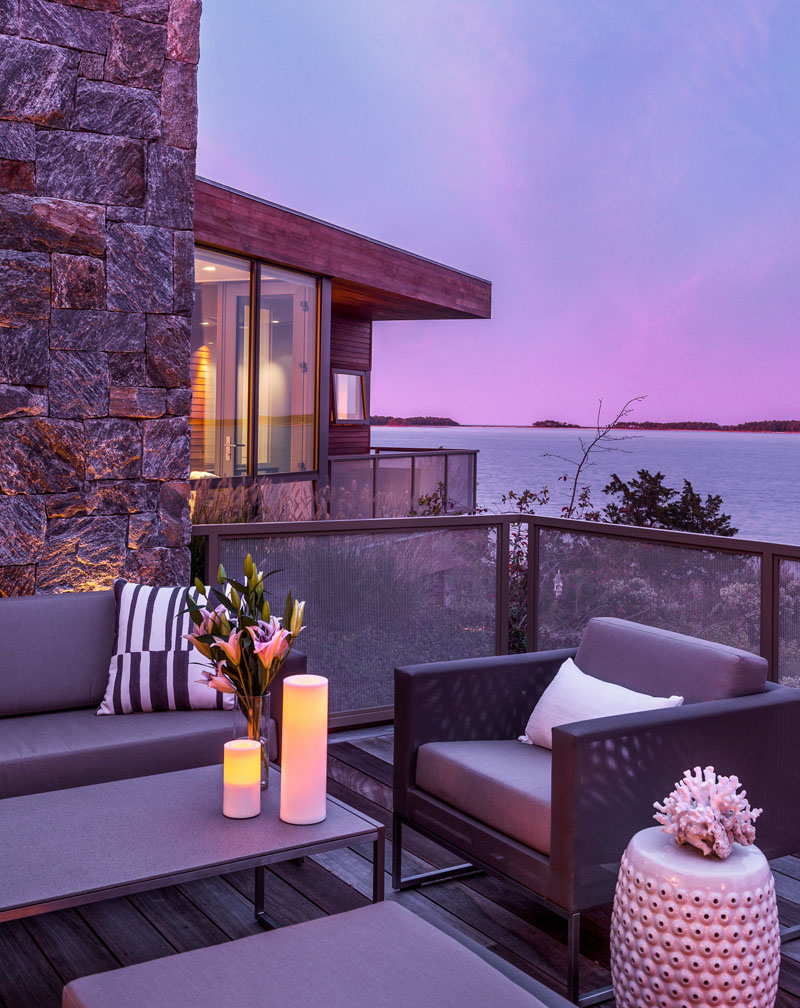 The house has a second floor roof deck that is embedded within a green roof perimeter. This allows an almost unending view of nature around it and is the perfect spot to unwind both day and night.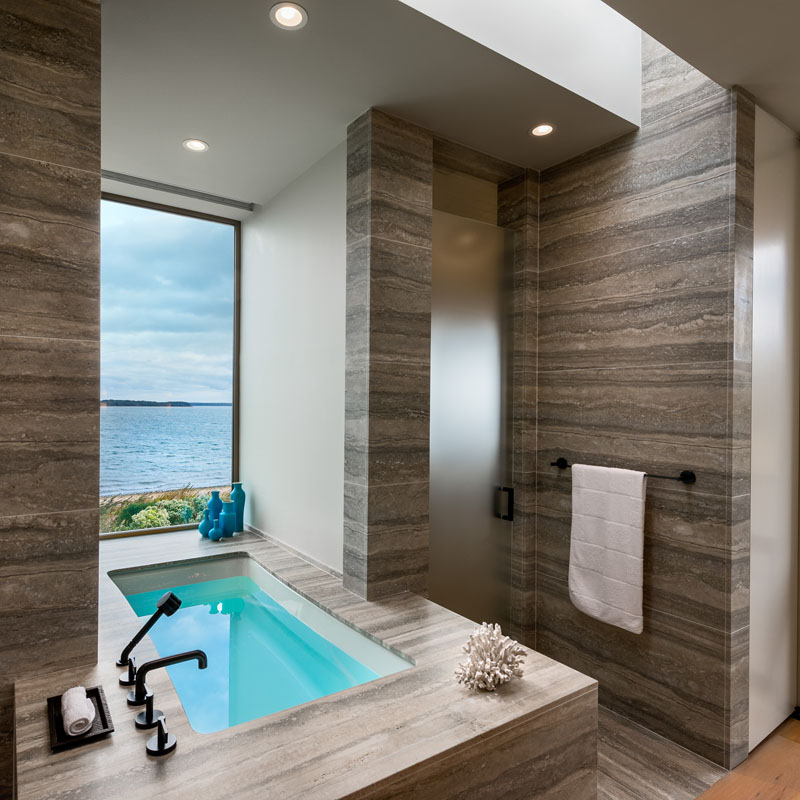 This is the master bathroom featuring ceramic tiles that seem to extend the look and feel of the ocean. It also has picture window with views of the water. It also has an enclosed shower area.
Well, anyone would love to live in a house like this one especially that it has stunning views of the ocean. This house is designed by Blaze Makoid and apparently, the firm did an amazing job for its design. We have seen how it nicely combined the materials and how the interior was designed. It is indeed a stunning home, right? It sure is! I also like it that the house has its own pool and has a beautiful natural landscaping.