Gorgeous Blackbird House in Aspen Clad in Metal and Vertical Boards
You'd seldom see a black house and when you do, it is this breathtaking!
We are going to show you another unique home today. This house has a black interior with spectacular 30-degree views around it from the main ski lift in downtown Aspen. The house is a head turner because of its unique modern design. In a neighborhood with modest mid-century modern houses and apartments, this home definitely fits it. This gorgeous residence is called the Blackbird House located in Aspen, Colorado
The architecture's floor plan and section were done in a manner that it would fit in the town's urban form-based zoning codes. This project "respects a building scale complimentary to the community's historic fabric of wood-sided one bedroom miner's cabins and delicately detailed 19th Century Victorian homes". According to the designer, the homes "plan geometry is shaped by the arch of the cul de sac's center point and the radial north and south edges of the home's 0.21 acre site". Its height is just right for the area and sensitively responds to the desire of the town in maintaining a comfortable small town human scale. Vertical charred Shou-Sugi-Ban Cypress boards and custom formed standing seam anthra-zinc metal cladding were used for its modest cul de sac facing entry. To capture the views around the area, generous windows were added where shadows of aspen and conifer trees are seen.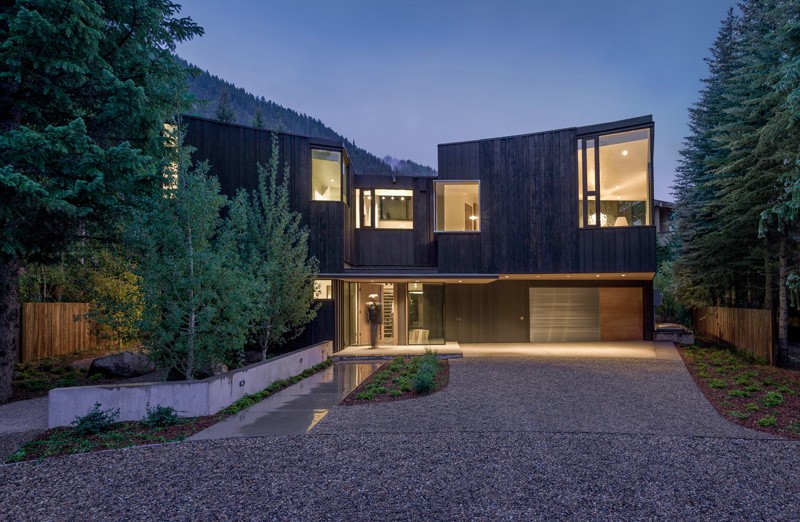 At first glance, the house already looks interesting and intriguing not just because of its design but because of its color and materials used. It isn't common to zinc metal cladding for the exterior. That is why this is indeed something that will turn heads!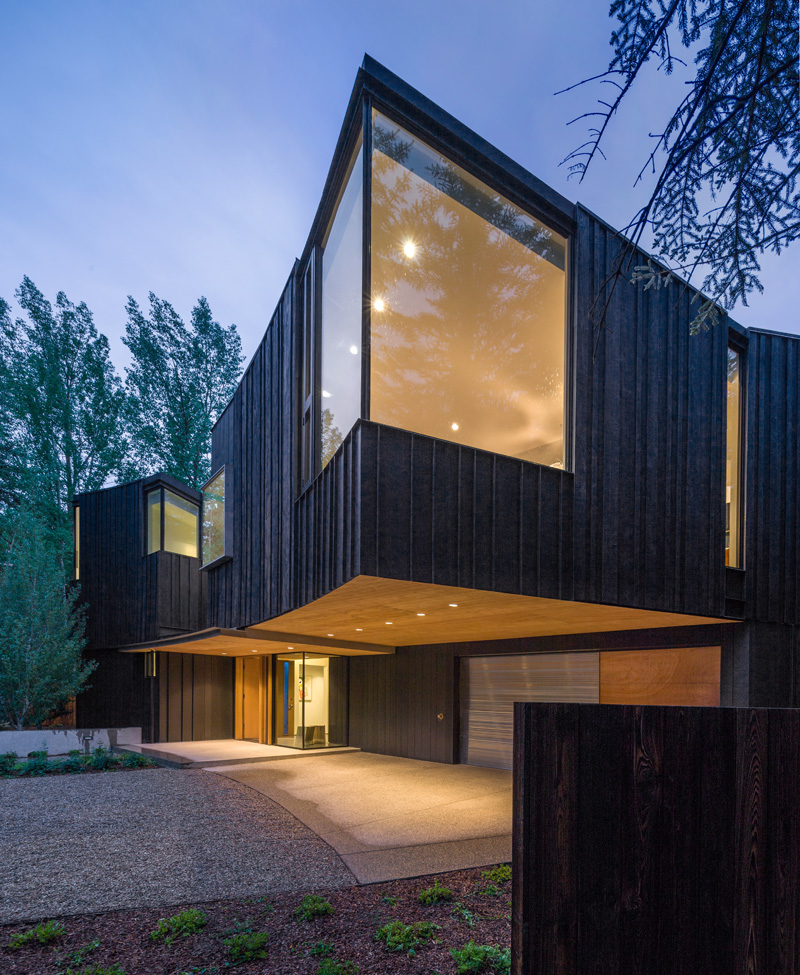 The house has three first level bedroom suites and generously scaled day lit lower level fourth bedroom suite and a flex room for media and exercise. This way, a dynamic plinth for the home's main upper level pavilion is being created.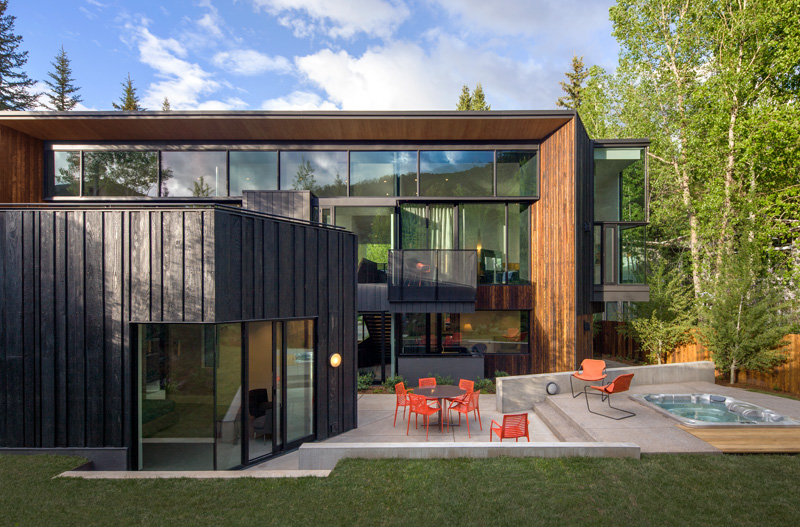 Who wouldn't want to spend their time in an outdoor space like this? For sure, you would love to have your own Jacuzzi like this one too and an outdoor seating that isn't just comfortable but also very inviting and aesthetically pleasing.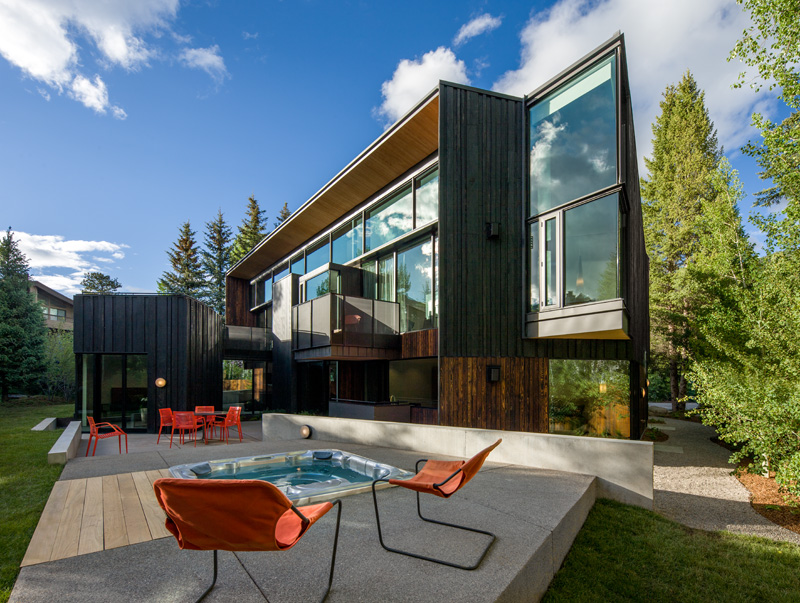 Take note of the home's exterior design in this area. It is comprised of various geometrical planes and shapes that go well together to complete the home. Yes, it is indeed like a fusion of industrial and modern design while actually sporting that mid-century modern architecture.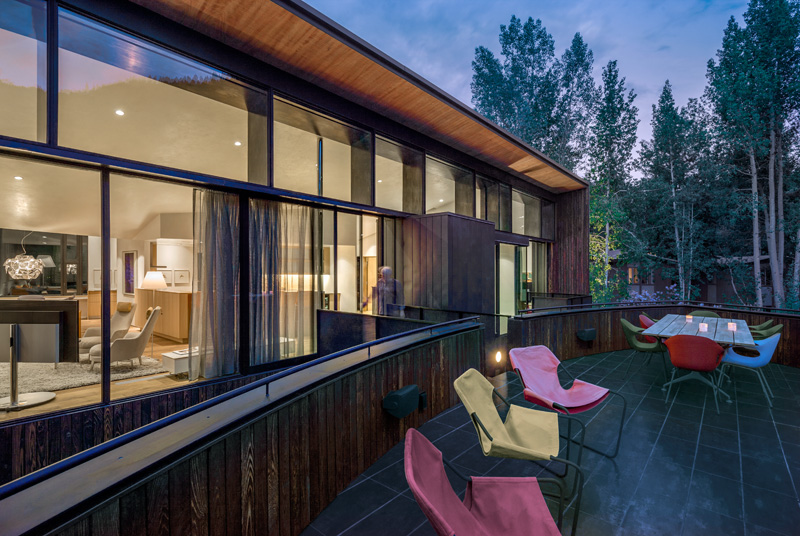 The deck is covered with black stone that adds some warmth to the area. You can see here that a bridge connects this deck to the house. Glass is well used for the exterior too wherein light can enter it both day and night- natural light during the day and artificial light during the night.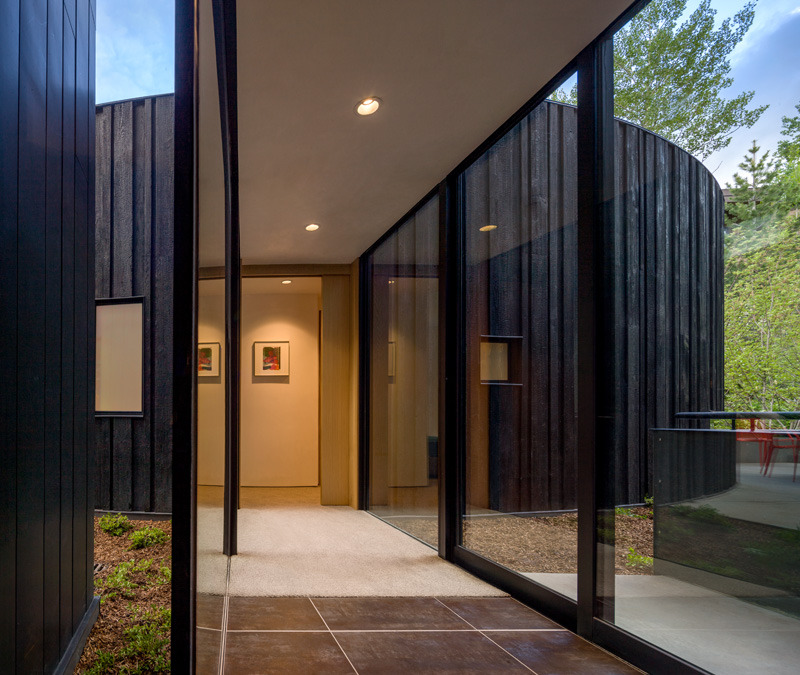 All areas of the house are well-designed and make use of a mix of materials. Upon entry a dramatically sky lit stair of hot-rolled oiled steel plates and perforated sheet will lead you toward a grand window view of Aspen Mountain famed ski-lift.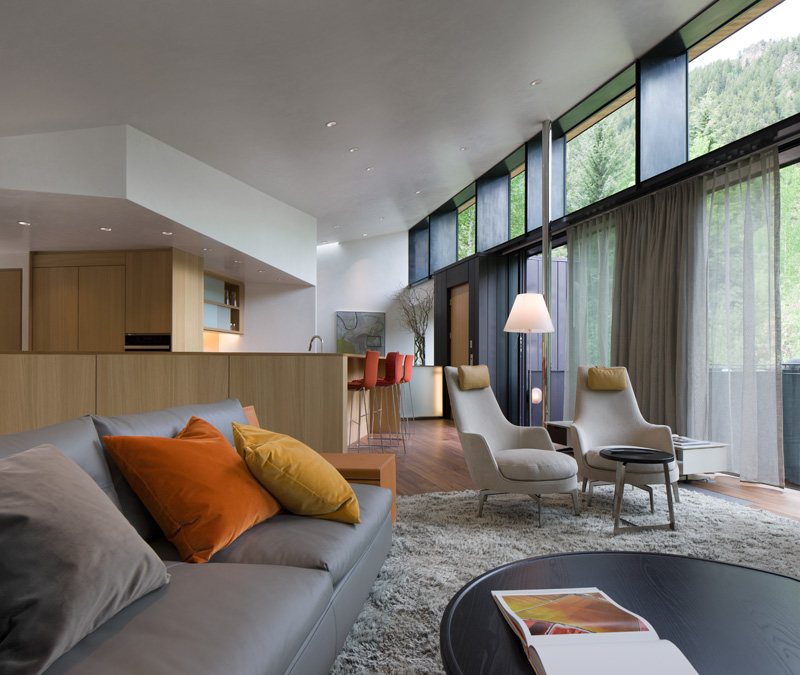 Aside from the beautiful design of the exterior, the interior is equally breathtaking too. Comfortable high-quality furniture was added to the space. You can also see the variety of textures here as well as subtle pops of colors too. A shaggy carpet is used here with light gray color that defines the living area. Clerestory windows in black frames bring in more light to the interior.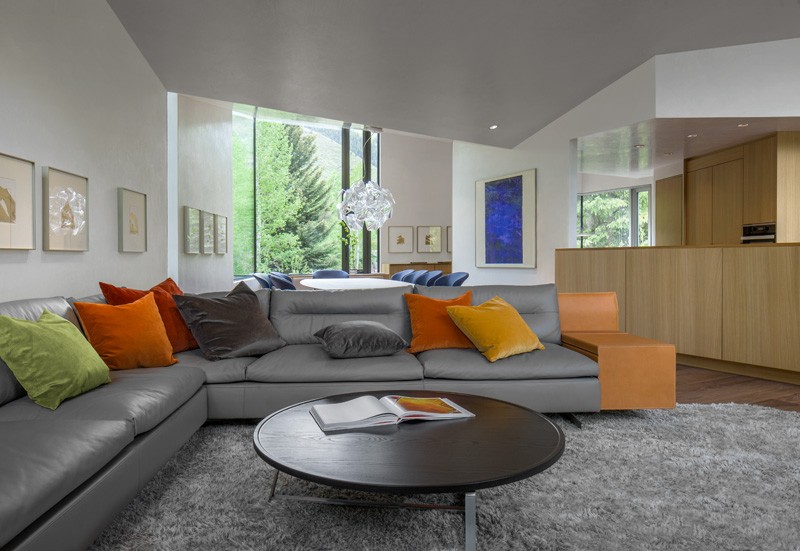 Wall decors are seen around the walls as well as creative and decorative lightings. You can also see different lively colors that are scattered all over the interior.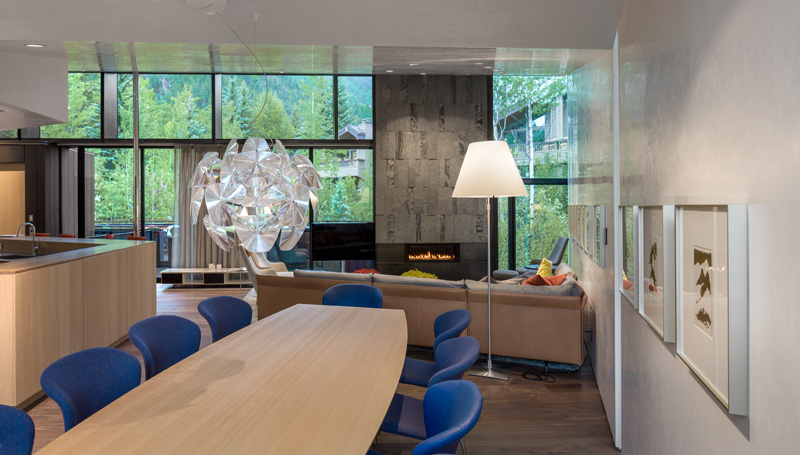 The dining area utilized blue chairs for its wooden dining table. For the interior finishes, it used polished reflective white diamond toweled plaster walls and ceilings, white rift sawn oak for doors and cabinets, engineered walnut flooring, large format porcelain tile or carpet, and fireplaces and bathing chambers clad in thin stone.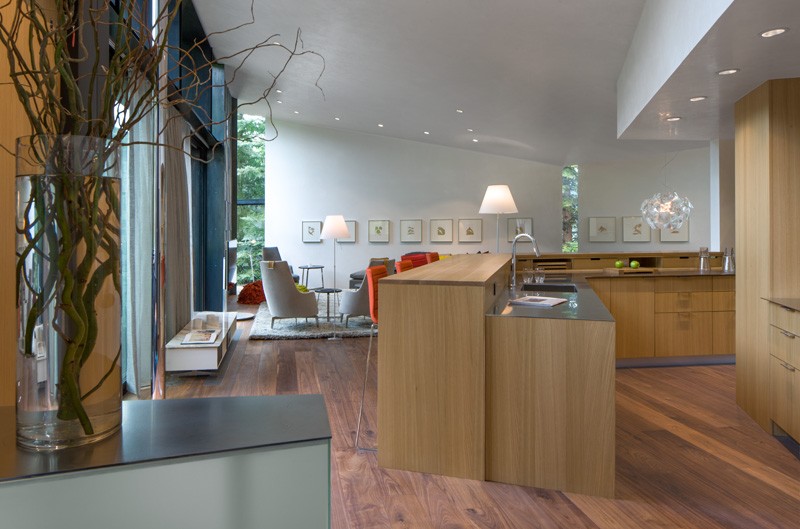 The kitchen is right off the living area with a beautiful mix of wood and stainless steel. Take note of this kitchen island that is slanted in position and complements with the rest of the kitchen cabinets and modular system. I love how this wooden kitchen adds more mid-century appeal to the home.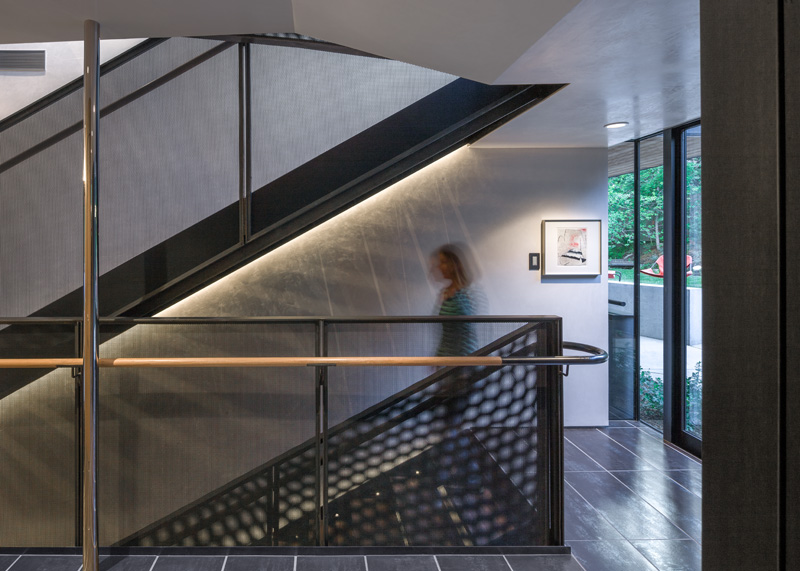 This flight of stairs leads to the different areas of the house. It also used steel as well as stainless too with a screen on the railings.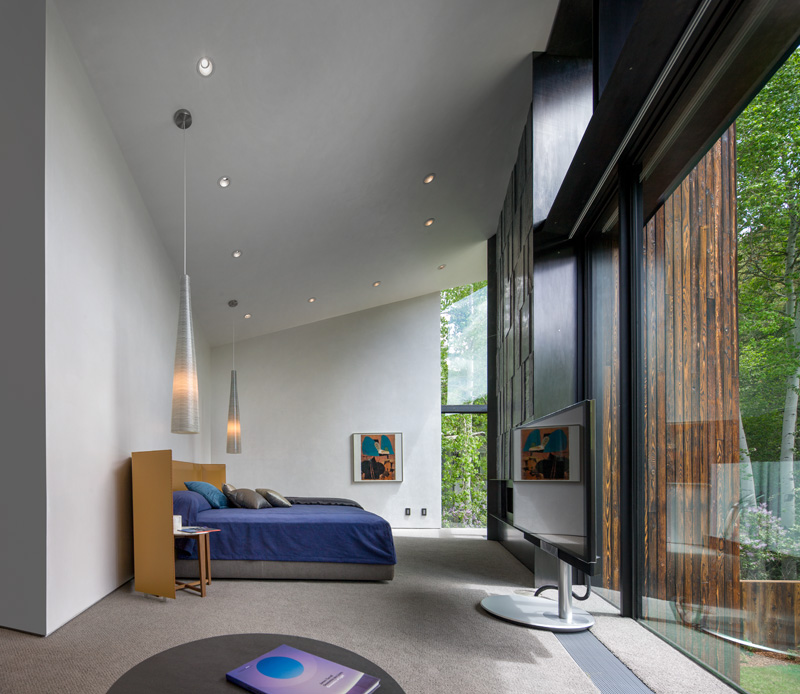 The core of this house is the main master bedroom suite as well as the great room where the living, dining and kitchen areas are located. The interior is energized by the 'origami-like' folded planes of the main floors lofty ceiling, dynamic plan shifts and vast vistas.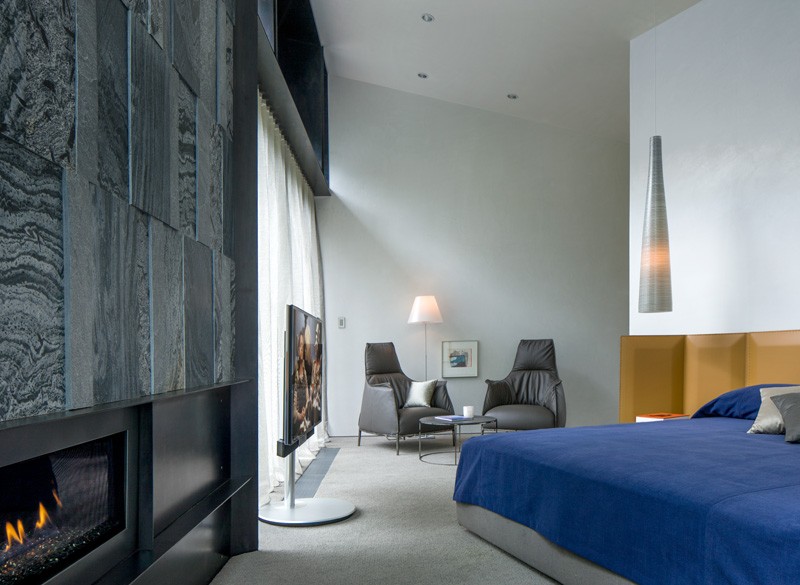 Love those chairs in this bedroom lounge which looks very comfortable ad beautiful too! This hotel-like bedroom is something that we would all dream of owning. Take a look at the finish of the fireplace area. Isn't it very sophisticated?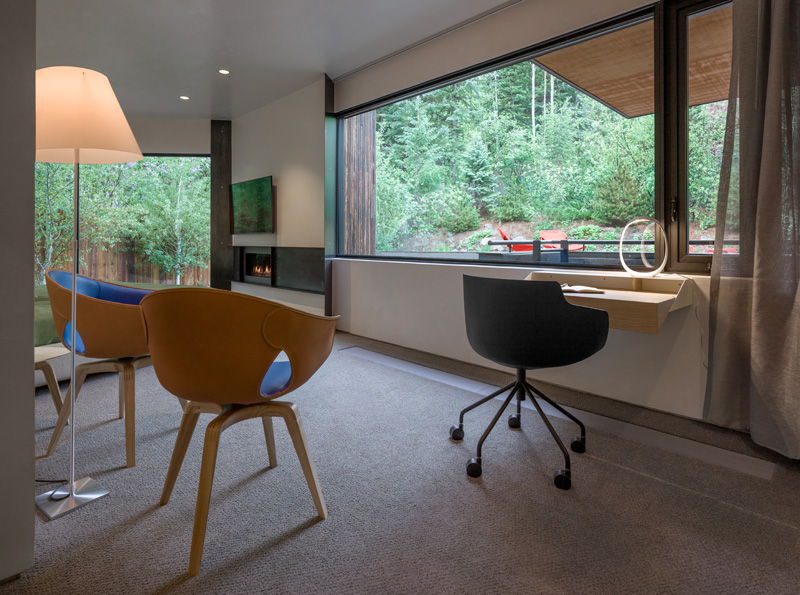 This one is a working area that faces the window. It sure is a perfect way to work with a view of the trees outside and the outdoor gathering area. Seen here are unique chair designs that bring in some modern touch to the interior.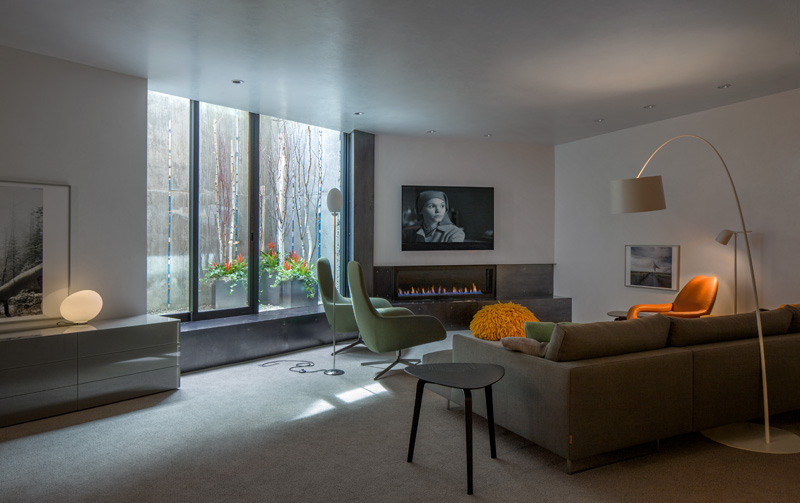 Guess this one is the family room that also has some pop of lively colors in it while maintaining the neutral palette for the rest of the elements. Aside from the wall-mounted television, there is also a modern fireplace seen here. Also, take note of the glass wall and sliding door that leads to the outdoors.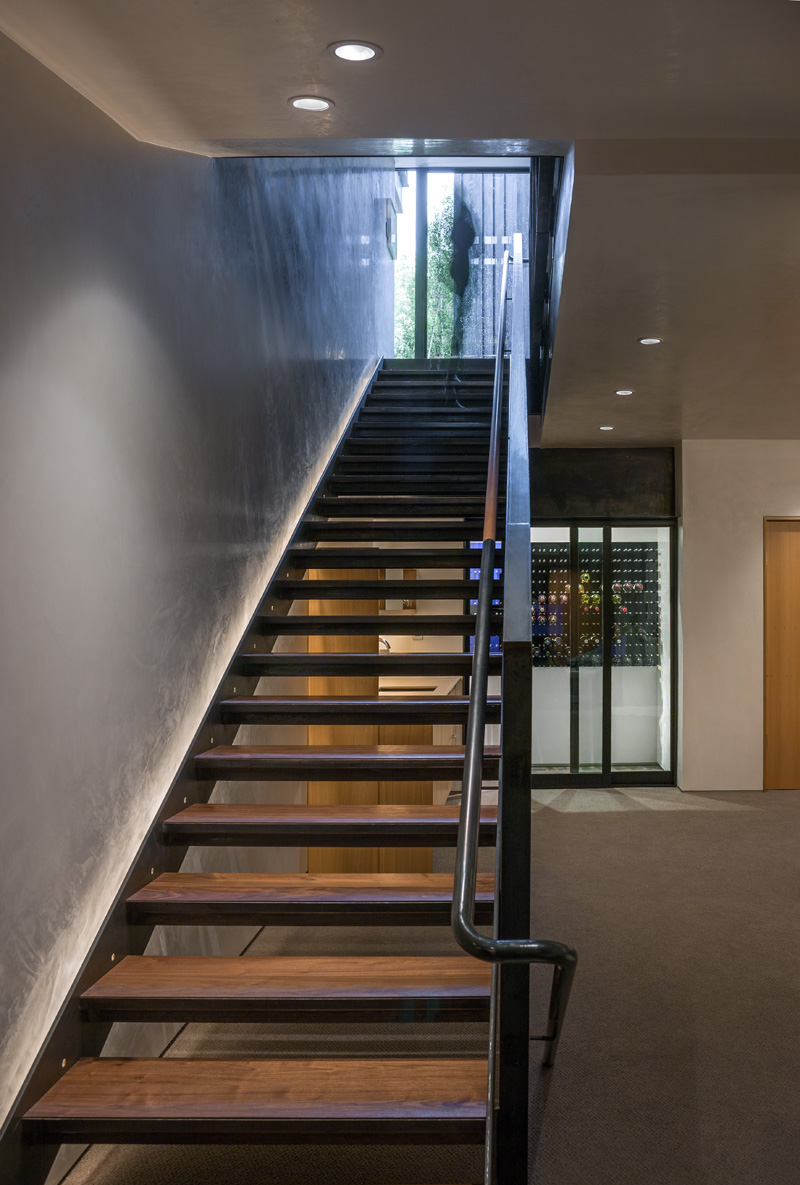 Another look at the home's staircase wherein this one is located at the lower area or basement I would say. You can also see here a wine cellar with sliding glass door. And it has its own bar in this area too. I could say this is more like a caveman!
The architecture of the Blackbird house is designed to be 'rustically' refined with a stunning backdrop for a sophisticated, indoor/outdoor contemporary lifestyle. As you can see in both the interior and exterior areas, "all of one's senses are engaged and enhanced throughout the seasons of Aspen". And it is a nice way to design a house in that manner! This lovely home is from the brilliant minds of Will Bruder Architects who have successfully brought together the variety of materials used in the house while creating a breathtaking environment even in the outdoor area. For sure, this is one house that you anyone would love to own!