Contemporary Mid-Century Modern Family Home in California Focused on Family Living & Entertainment
A mix of contemporary and mid-century modern design results into a stunning family home.
Every family needs to have a home of their own- whether it is just a rented space or something that they have really built from scratch. It would be fulfilling and very convenient if you have your own space to live. This way, you are free to do what you want and also get the design you want for the area too. Apparently, this is what a young family of four wanted to achieve- their own home in San Diego after transferring from Belgium.
This home in Encinitas, California is designed with some touches of Belgium's culture because that is how the family wants it to look. According to the designers, the owners wanted "a residence focused on family living and entertaining, with certain traditional Belgian elements encased in a contemporary American design." They want to blend both the indoor and outdoor spaces in order to take advantage of the lot, the landscape, as well as San Diego's exceptional weather. The family has two daughters and they want their home to accommodate a lifestyle that creates a balance in family activities with frequent and generous hospitality. Aside from that, they also want to have privacy and to maintain a close relationship with nature by giving the home a good view of nature outside. The house is elevated from the natural ground level which is what the family desires for. The mother and daughters of the client are ardent riders that is why they chose a property in Encinitas' equestrian-oriented Olivenhain neighborhood. The designers were given full freedom for the design of the house where they came up with a spacious, one-story residence that is inspired by the distinctly American style which was popularized in the 1950s. Let us take a look at the home below.
Location: San Diego, California
Designer: Nakhshab Development & Design
Style: Contemporary/ Mid-Century Modern
Number of Levels: One-storey
Unique feature: A spacious contemporary home sits in a lot that was once a blank canvass. It features a pool and a connection to both the indoor and outdoor areas.
Similar House: Dexter Residence: A Lovely Mid-century Modern Home in Texas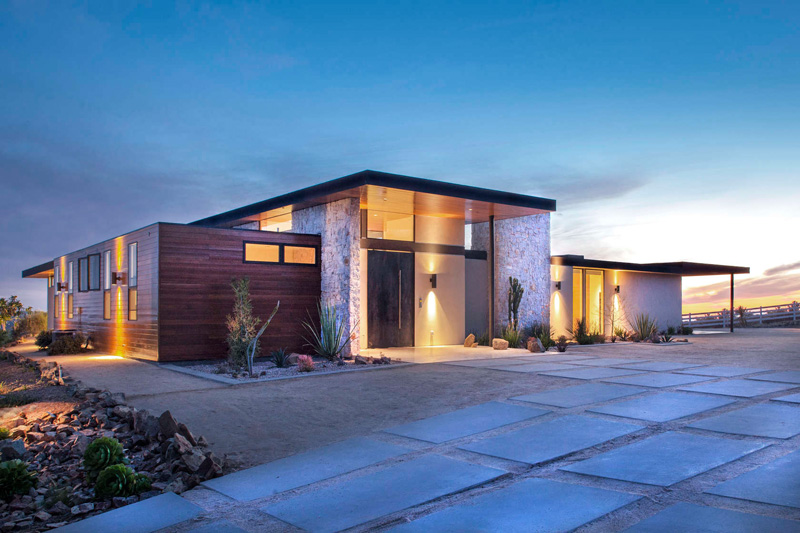 The designer of this unique property focused not just on the family's European background but also on professional sophistication, giving the home a beautiful version of the Southern California lifestyle. Don't you just love the lighting used here?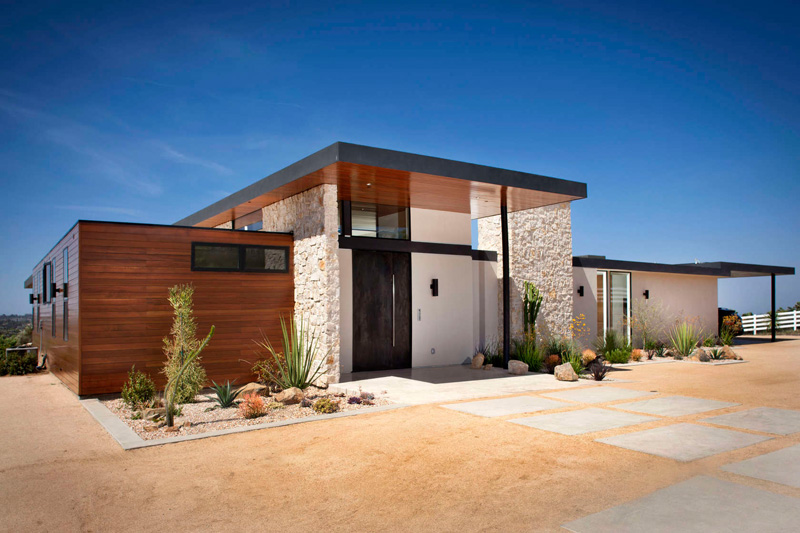 The home has a Mid-Century Modern style in a rural but upscale community. In this location, ocean breezes cool the rolling hills and even if the home isn't typical in the area, it perfectly fits the location. You can see here the mix of materials used for the exterior of the house.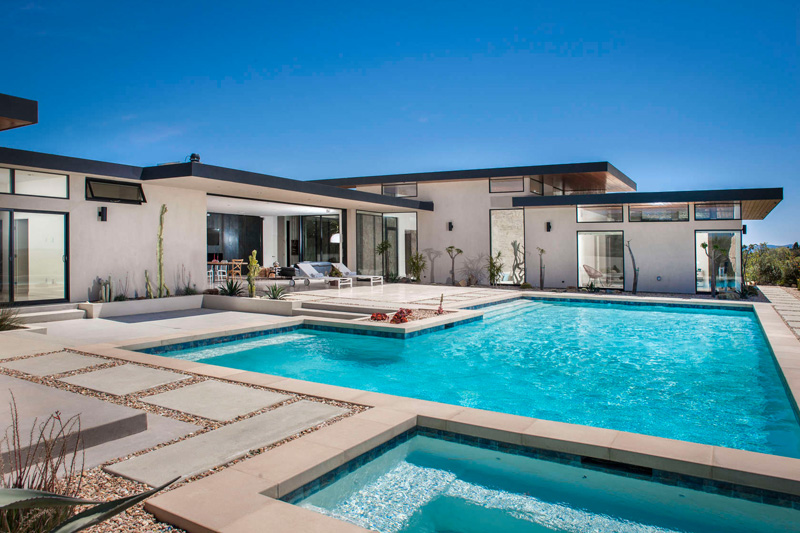 When you get inside, you will be treated with a refreshing view of the pool area. This home is indeed spacious because it was able to accommodate a pool area as large as this one. It has geometric pools in here with a fire pit.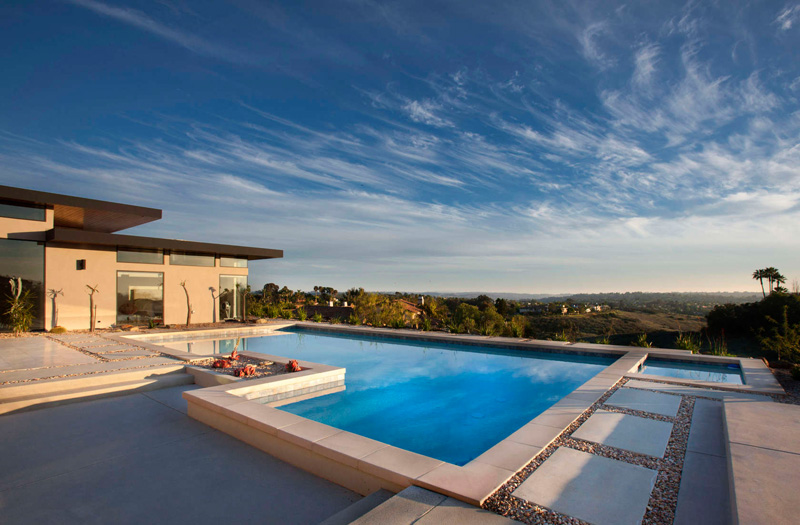 Look at that view! It is indeed very breathtaking! Anyone would love to take a dip of the waters while seeing this view of nature. I can imagine how relaxing it would be to spend time in a place like this.
The interior is equally relaxing as well. It has an eclectic mix of furniture in the living area and dining area featuring wooden chairs. The shaggy area rug in the living area adds a soft texture to the interior. And look at the view from its glass walls- very breathtaking indeed!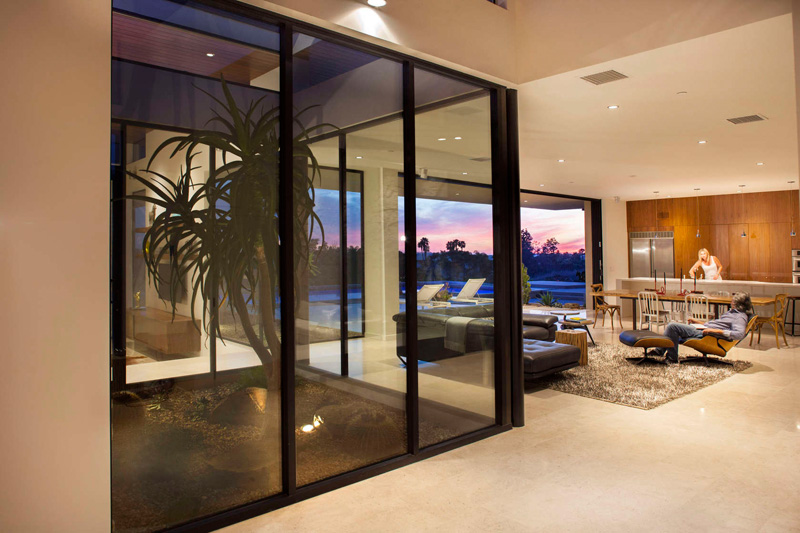 Inside the house is an interior garden that is being separated from the rest of the space using glass. Looks really nice, right? And it is a beautiful way to bring nature inside.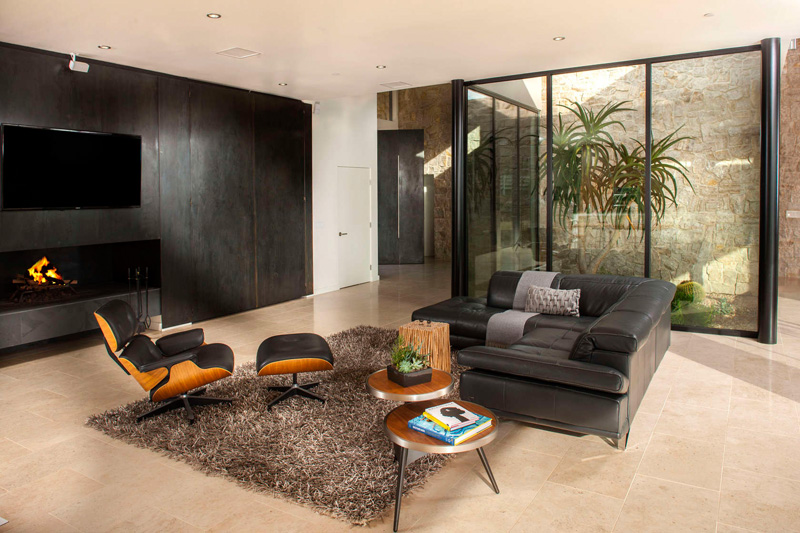 You can get a better look of the garden on this angle. Above it is open to the sky so that the plants can get the right amount of sunlight. You can also see here the living area which occupied a small space but looks really very comfortable.
Read Also: New Canaan Residence: A Modern Home in Nature's Nest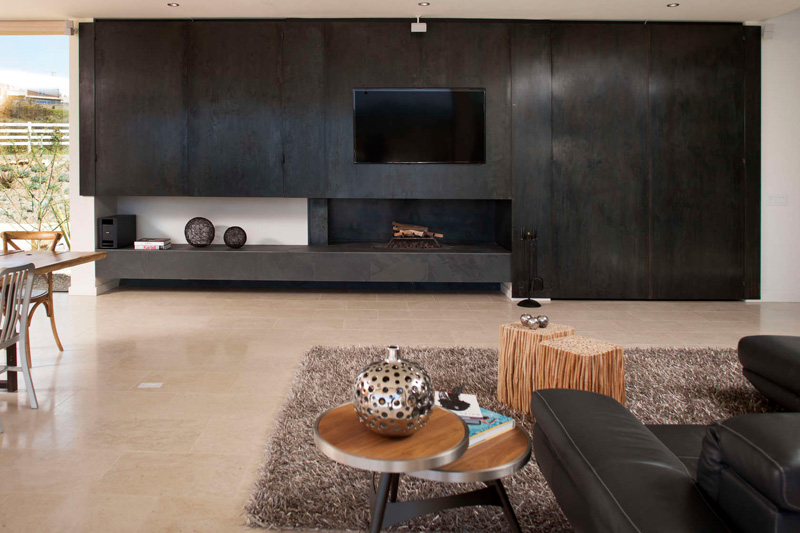 One highlight of the interior is this black wall system that holds the television and the fireplace as well as a storage cabinet. Looking good, right? It does look very nice indeed!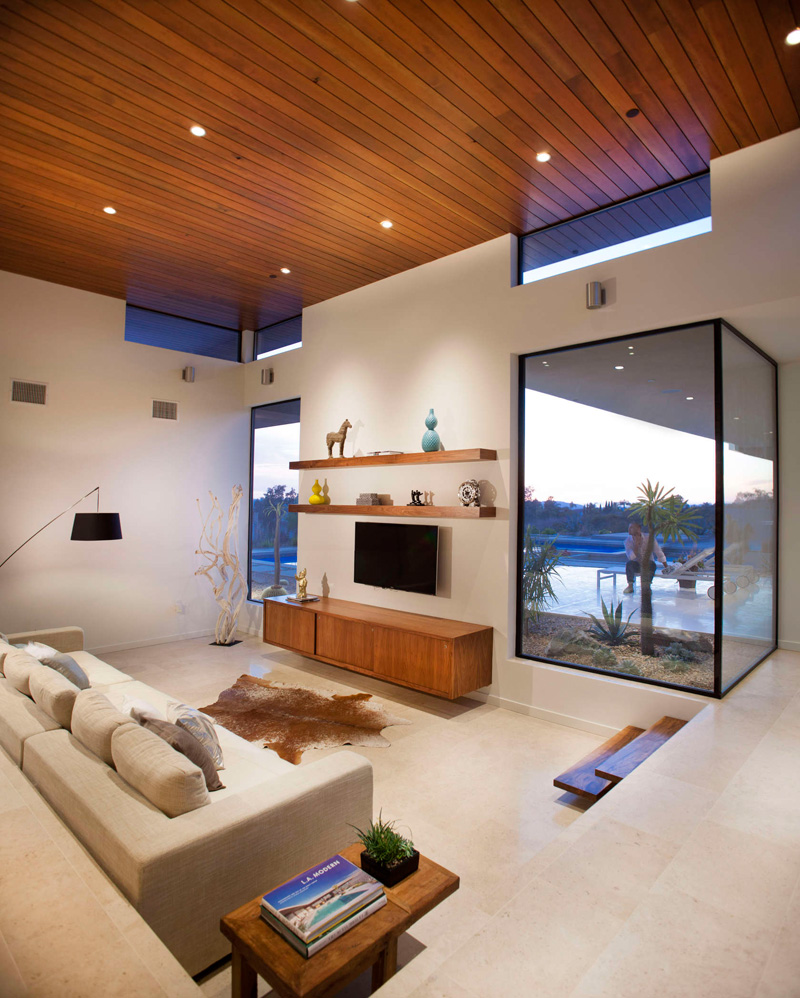 In this family room, there are windows that allow a good view outside too. Right outside it is a garden with white stones on the ground. Going back inside, it features a floating console and shelves.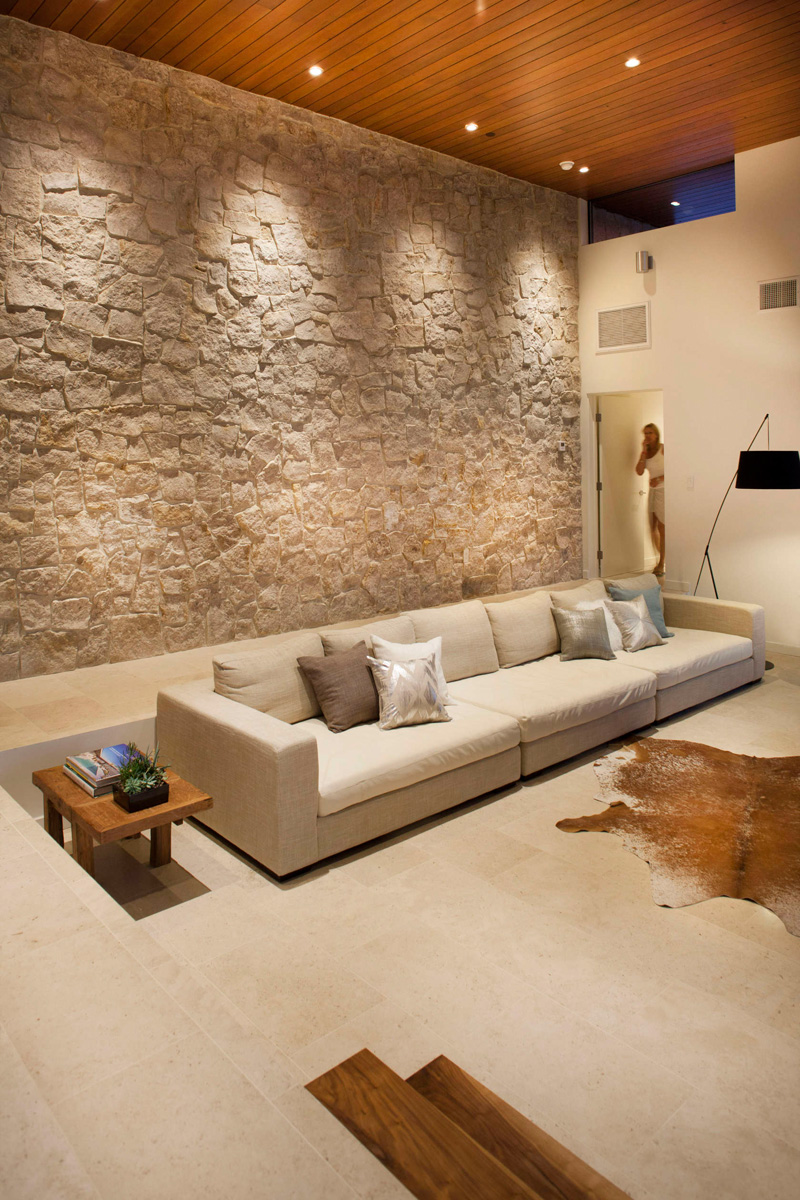 The wall of this family room is covered with stones which is a good way to give it a touch of nature. Notice how the colors here blend well together. On the ground is a cowhide that has a color that fits the space really well.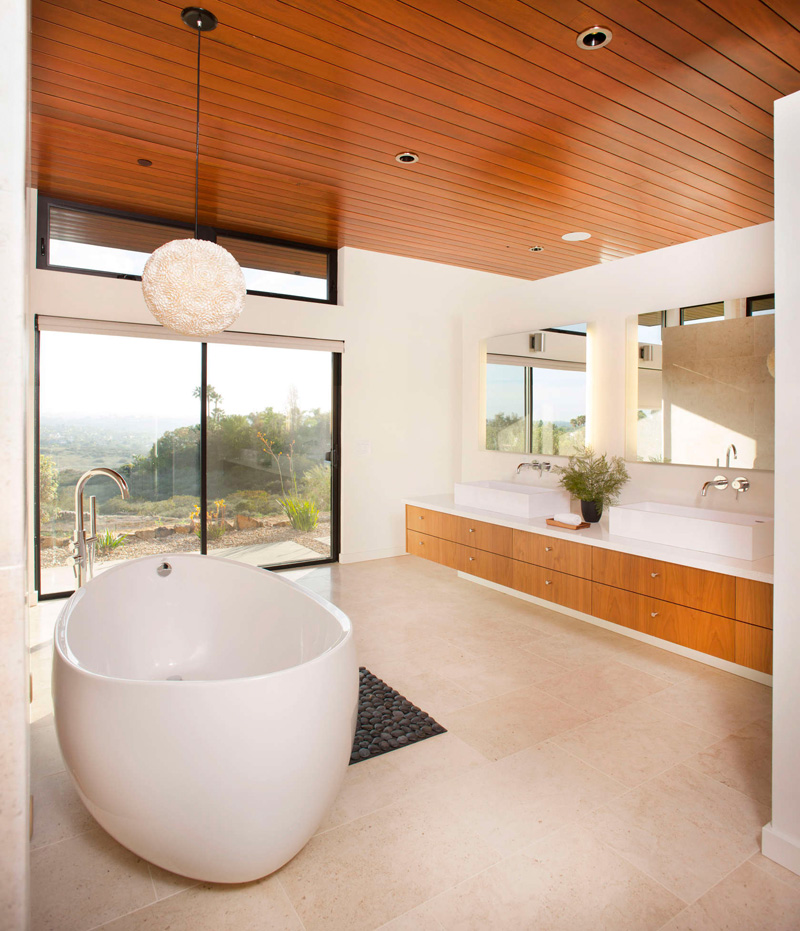 That pendant light above the bath tub is indeed very stunning! I'd love to have that in my bedroom. Seen in this bathroom is a mix of wood and white finish for the vanity. You can also see wood for the ceiling too and notice that stone covered rug which could be a good idea for a DIY.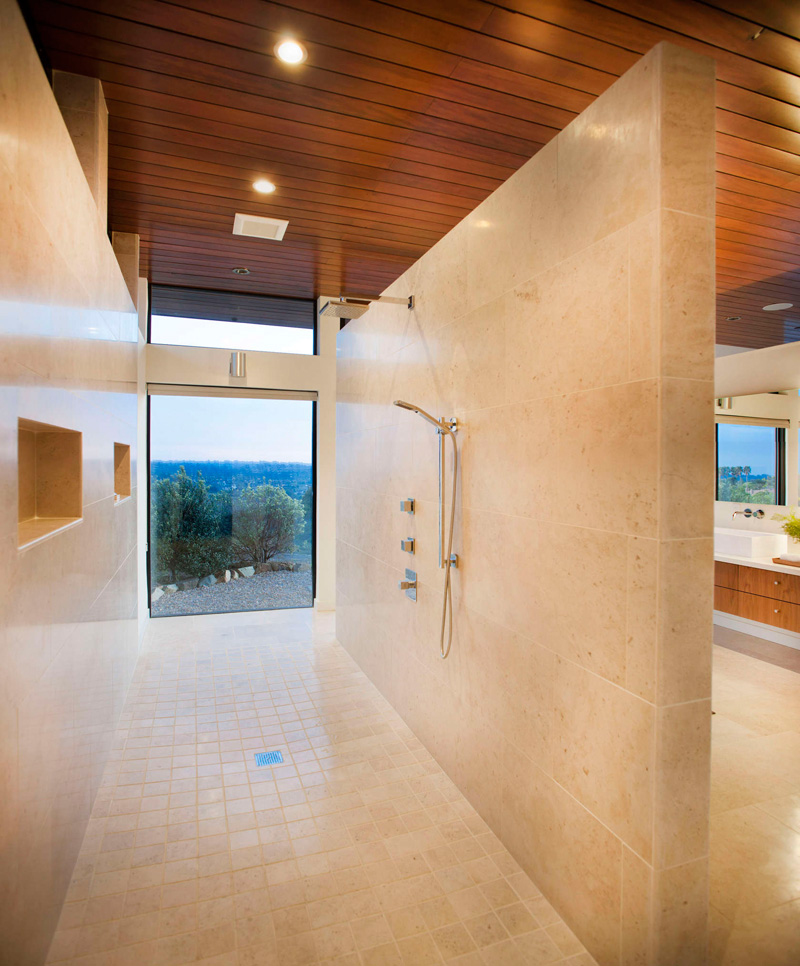 At the back of the bath tub is the shower area. It is very spacious indeed! I can imagine kids taking a shower here while having fun. It also has a glass window too but you can notice that it has blinds rolled up which you can close while having a shower.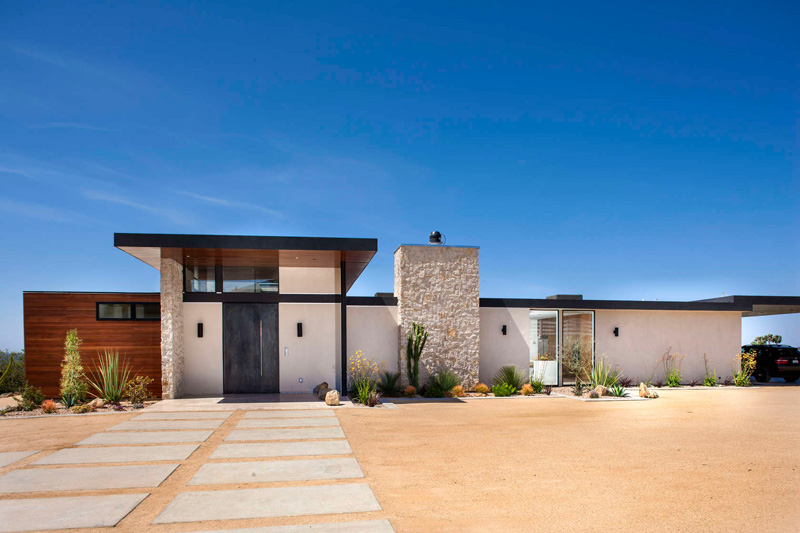 Another look at the exterior of the house featuring stones and wood as well as glass. You can see here that the entrance door is gray in color and concrete paths lead to the area.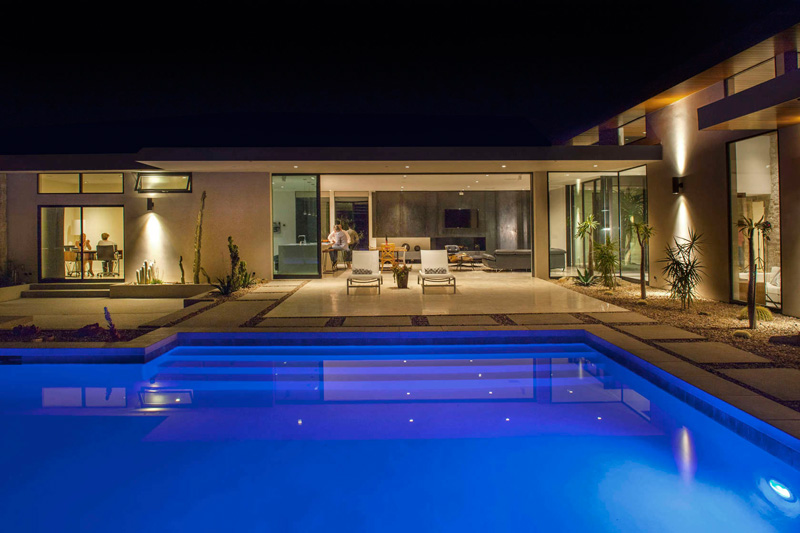 At night, this is how the pool looks like when lighted. What adds beauty here are the lights and the design of the landscape of the garden.
Nice home, right? I actually love the exterior because it looks very sleek with straight lines and the mix of materials used is very impressive too. No doubt, Nakhshab Development & Design were able to give the homeowners the kind of home they want. As a matter of fact, it might have surpassed the look that they want. Aside from the exterior, the pool area, landscaping as well as the interior is stunning too. But it isn't just focused on aesthetics but it also has eye for function and usability as well. What can you say about this house?