Dexter Residence: A Lovely Mid-century Modern Home in Texas
If you are not familiar with what a Mid-century modern home is, allow me to give you some idea. For a Mid-century modern style, its emphasis is on pared-down forms, contemporary patterns, and natural materials. You can also observe that it would have a seamless flow between indoors and outdoors combining function, comfort and chic style. Organic and the man-made items are combined together in the house which we will see the house we will feature today.
Dexter Residence is located in Austin, Texas that has a warm and inviting mid-century modern design. The look of this house connects the past with the present with simple volumes, clean lines and a tastefully selected palette using stucco, concrete and glass. This single story residence has a flat roof and clerestory windows. It also features a clean concrete walkway leads up to the home and adds to a great curb appeal. The interior of the house demonstrate beautiful forms and functional design. There is a great harmony in the living, kitchen and dining areas.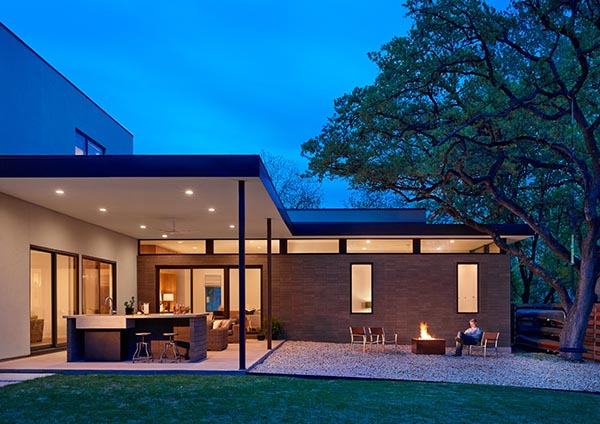 The house has an outdoor kitchen with a sitting area that is covered with gravel.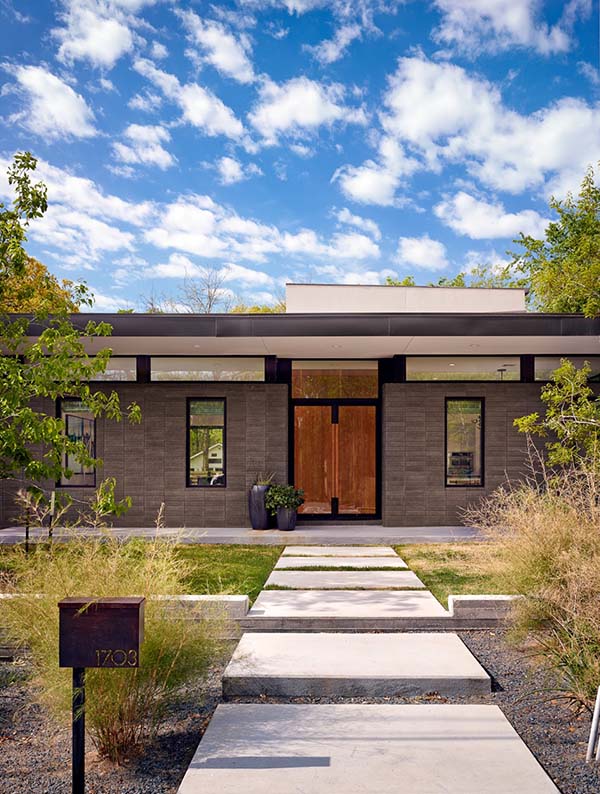 Note that the house has windows and doors with a modern design.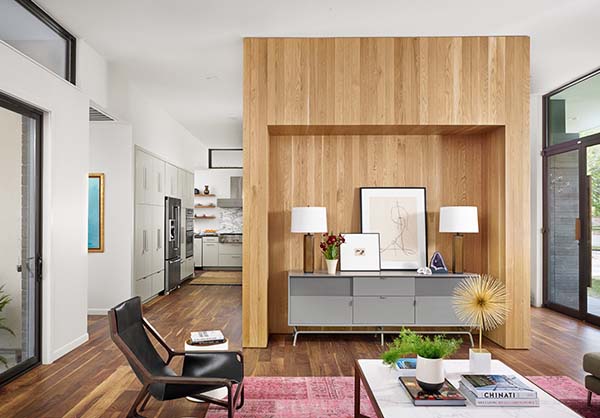 The living room and kitchen is separated by a wooden cube that is a storage space on the other side.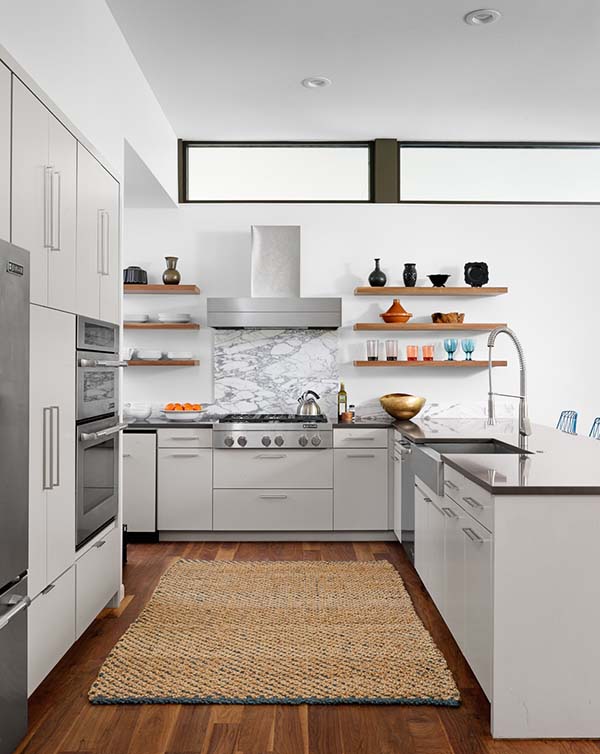 The kitchen has a modern design too with sleek lines and gray colors.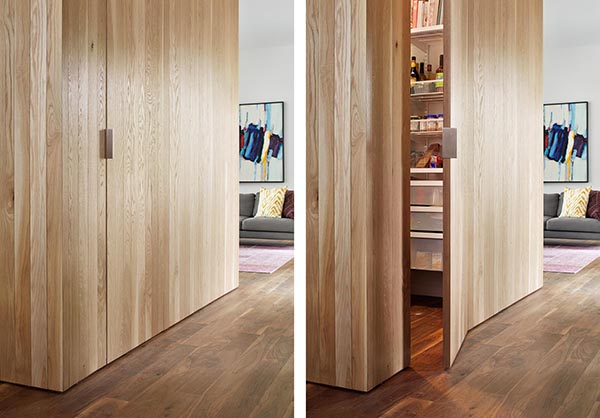 The cube is actually a place where some home items are kept and stored.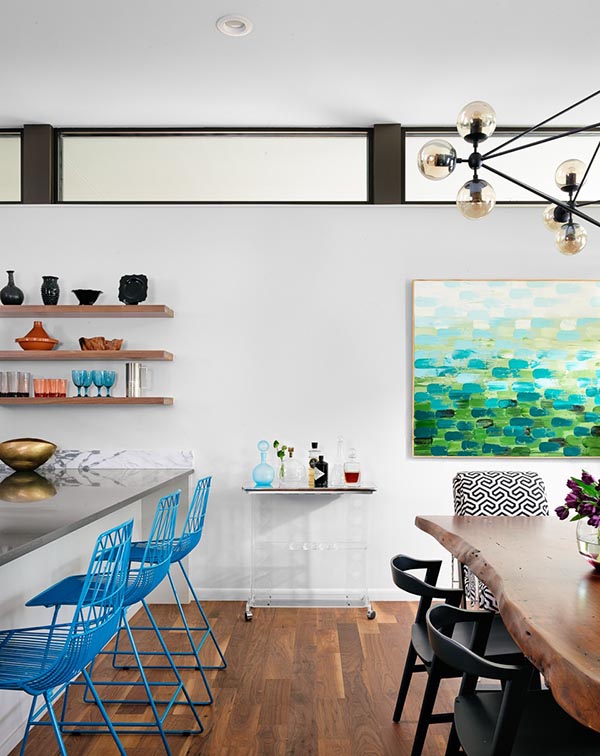 A natural dining table is paired by a black chair and a patterned end dining chairs.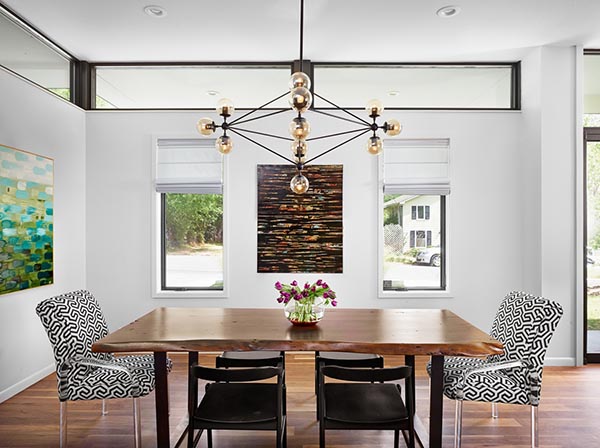 I love the design of the chair's patterns that adds a modern touch to this mid-century interior.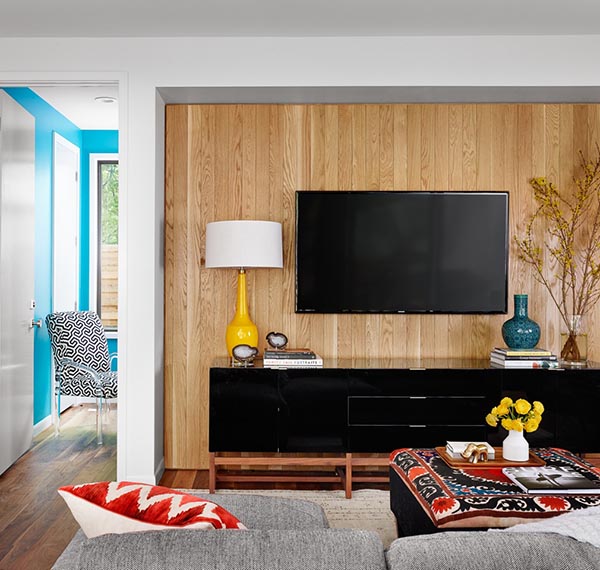 Pops of red and yellow can be seen in this living area. Isn't it pretty?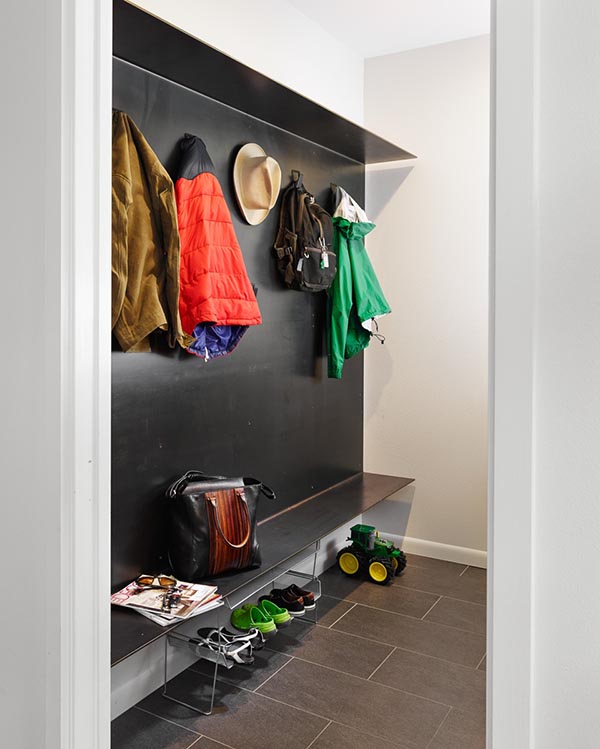 This is the mudroom of the house in black colors and a built-in bench.
The interior has a bright and airy feel with its sun-drenched spaces flooding with light since it used white walls and clerestory windows. The exterior of the house has a sleek line with geometric design. This house is designed by Stuart Sampley Architect who did an amazing job for this project. I like how they did the exterior as well as that wooden cube that separates the living and dining areas while functioning as a storage space. How about you, what do you love most about this house? You can share that in the comment section below.