Pool Chairs in 26 Contemporary Settings
Look at how stunning pool chairs are in contemporary pool areas!
Summer never ends; it is one mantra created by people who loves to travel and visit the beach or hit the public pools in the city. For people who have their own pools in their homes sure are enjoying summers every day! Of course except if it's really cold out! Haha!
Below is a list of Pool Chairs in 26 Contemporary Settings that are quite fancy and really fascinating – they may not look like your everyday pool, but what can I say? There are just some people who has enough money to spend for a wonderful pool just outside their backyard and adding stylish and contemporary chairs for function and aesthetics.
1. Hidden Valley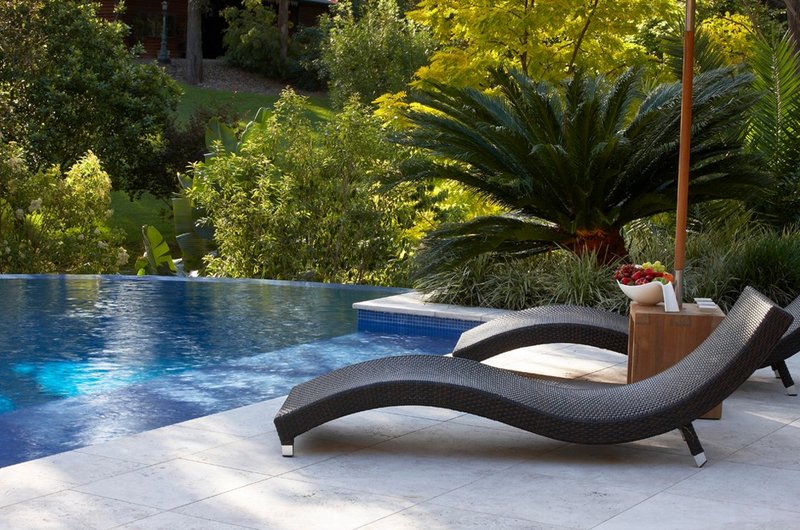 This is one gorgeous lounge chair you can use for your pool side. The sleek design and contemporary black color used for this one does not only complement any pool set up but it sure is easy to maintain too!
2. Lakewood Luxury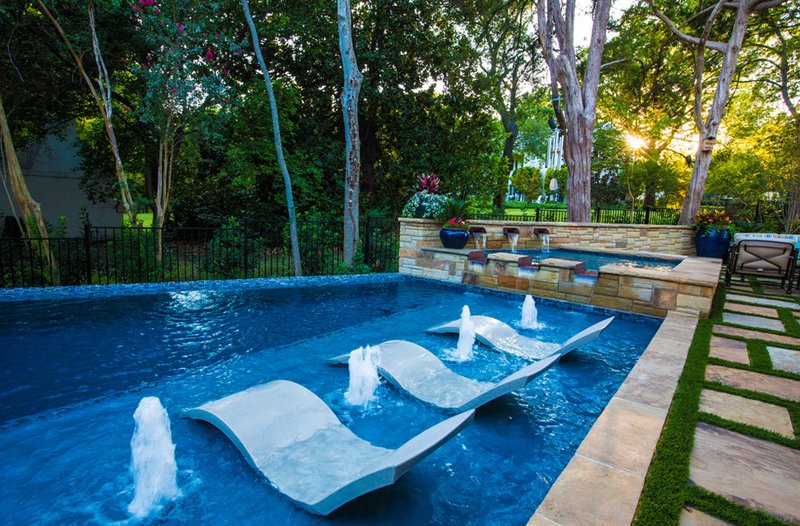 How about that? A modern pool lounge chairs in the pool itself! I'm not sure if I am up to hanging out in a chair that is soaking me in cold water! Haha. Well, that's just me! Look at how gorgeous the fountains are beside the chairs too!
3. La Mesa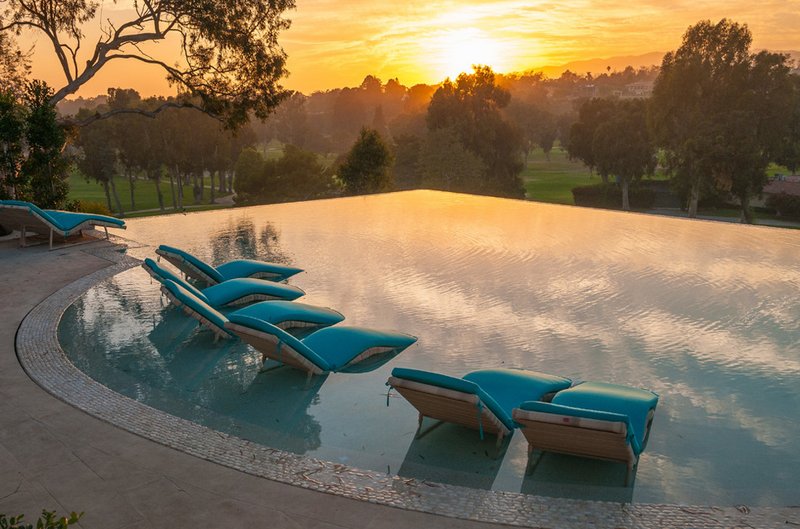 If I have a view like this one with an infinity pool too, I guess I'll be all dark! Haha. With a lovely view and a pleasant space to think and lay down in – problems and stress can just stay in the closet!
4. Miami Contemporary Pool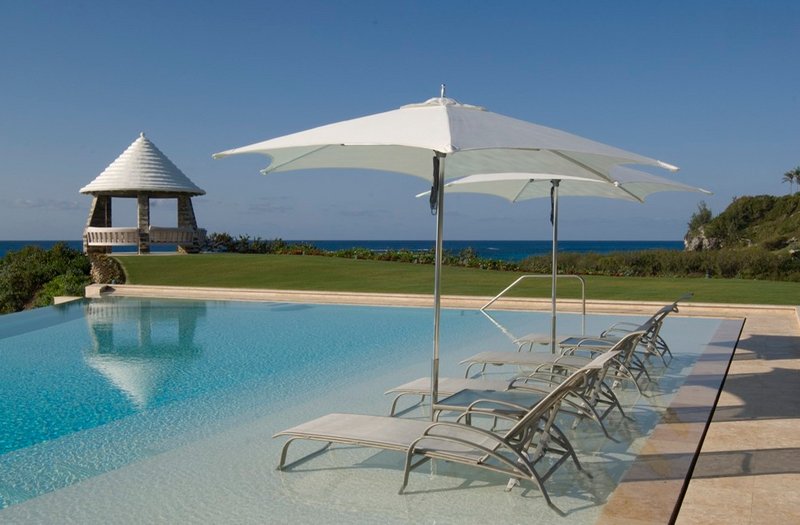 I was so happy when I got to see this beautiful setting! The chairs paired with the umbrellas and an infinity pool to match sure makes this space rather ravishing! The pergola at the end of the lot sure completes the look of this Miami outdoor.
5. Modern Danville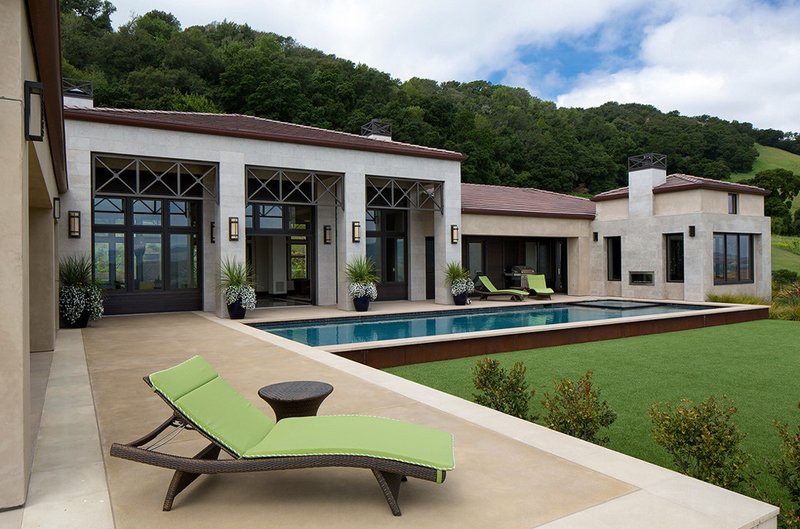 This stunning pool chair sure is just placed away from the pool to show off how cute it is. I personally love the color it is in and if you look further, you will see two of this three-chair set near the pool side. Notice how it actually stands out?
6. Phoenix Contemporary Pool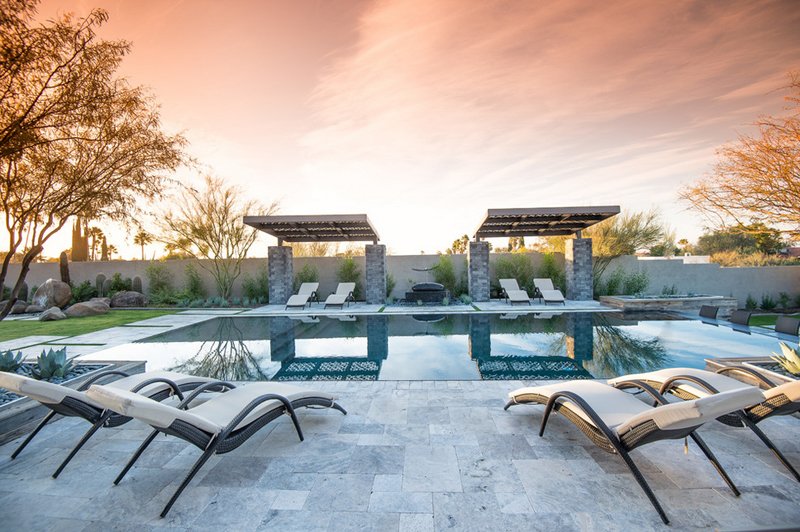 I can't say if the sky in this picture is edited to look this pretty, but whether it is edited or not, you know there is always a chance for lovely skies every time you're out and about. The slender pool lounge chairs add a bit of attractiveness to this space though, what do you think?
7. Radnor Street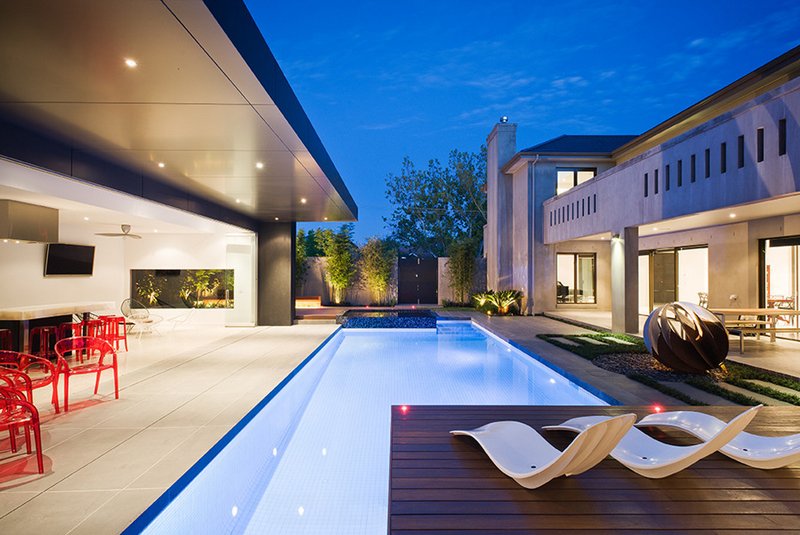 These pool chairs that is basically laid on the floor sure complements well with the wooden portion of this pool side. When you look at this picture, you can even think that the pool chairs were actually made for this space itself.
8. Tresarca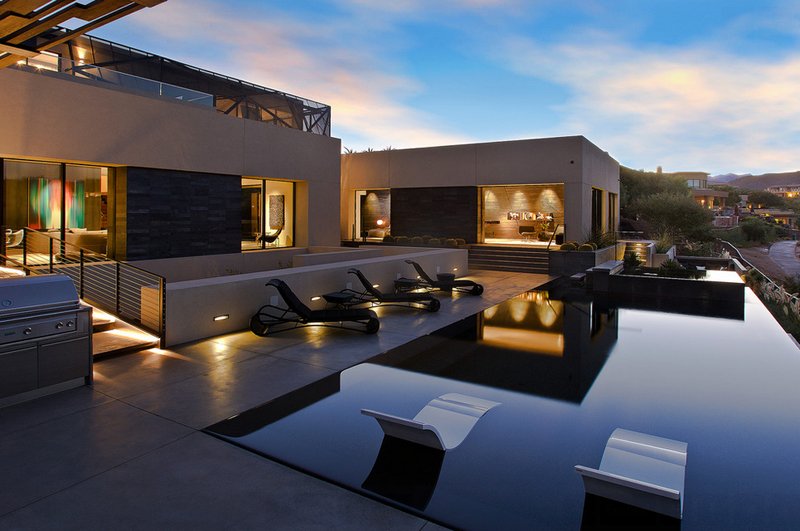 You can actually see two different designs of lounge chairs in this pool setting. First of which is those white slender chairs directly on the pool and the other set are those black ones on the left part of the picture. Neat contrast, right?
9. Xave in Belgium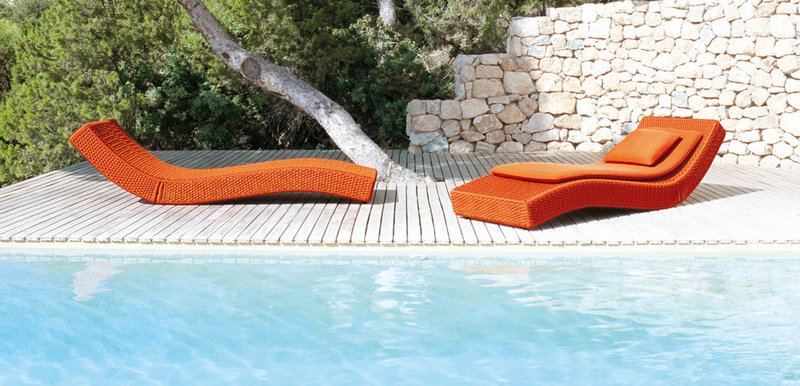 Escale Design sure created an awesome lounge chair design fit for people who practically lives within water! Haha. Of course, that is just an expression used for people who love being in water and being around it. The color of this lounge chair sure will captivate you; like it did to me.
10. Azure Penthouse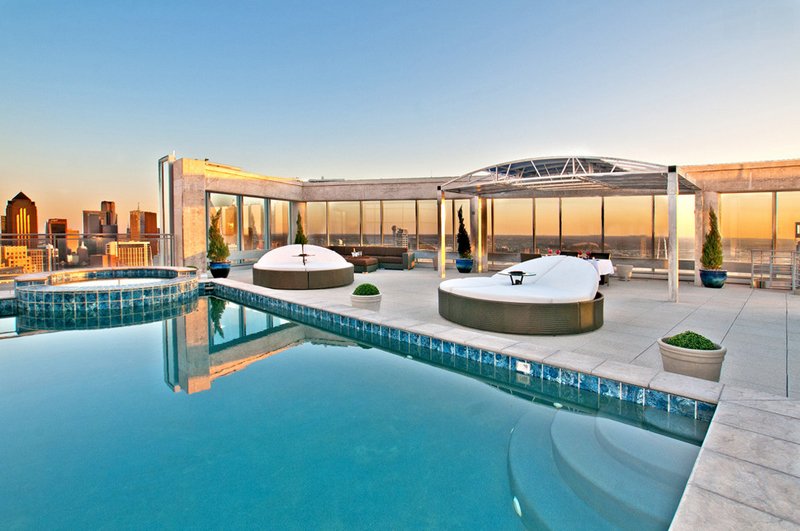 This is one large swimming pool in the penthouse! The lounge chairs are just as big as the space. I'm sure glad that proportion was really thought of in this space; adding smaller or slender chairs would still look great, but I guess you'd need to put more than two large pool chairs, right?
11. Brisbane Residence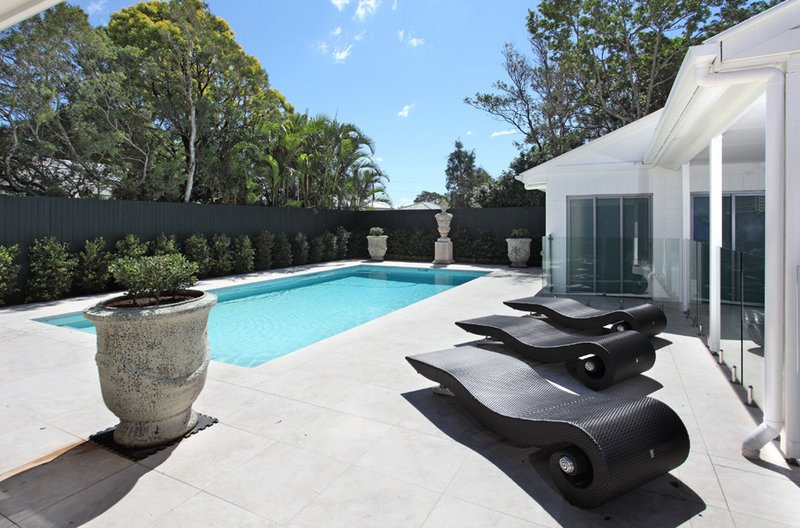 The curves on these pool chairs sure looks Roman – am I right? With curves like that, who wouldn't turn their heads? Pun intended.
12. Marquis Seven Hills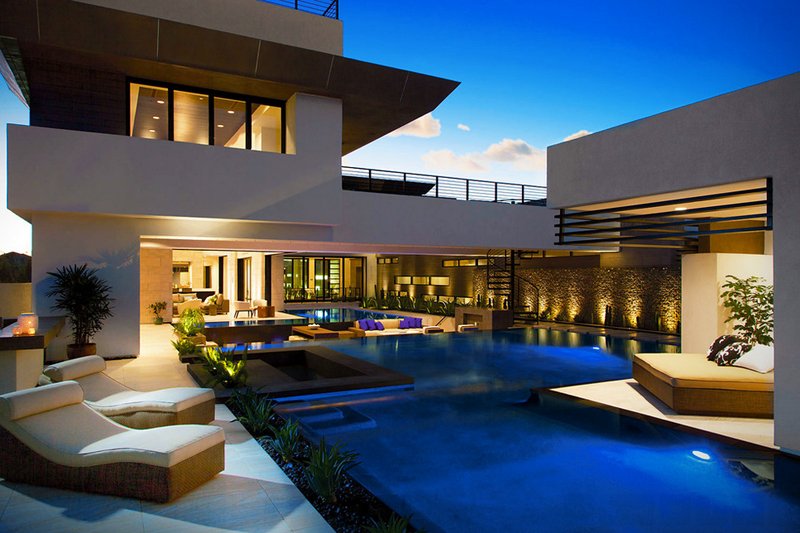 A contemporary home like this one in Marquis Seven Hills should require pools as fabulous as this one because it not only gives justice for the area but it sure makes the space complete in a way that a designer would deem complete. The lighting did great for the space too!
13. Miami New Model Home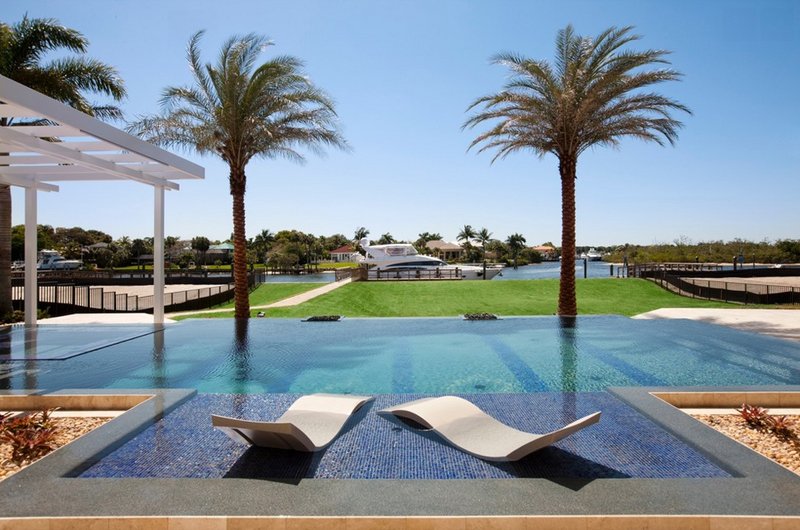 Now that is what modern pool chairs should look like – slender, fashionable and really sleek! The design may seem simple, but the way it brings the look of the space, it looks really splendid! The trees at the end of the pool are just way fabulous!
14. New Leaf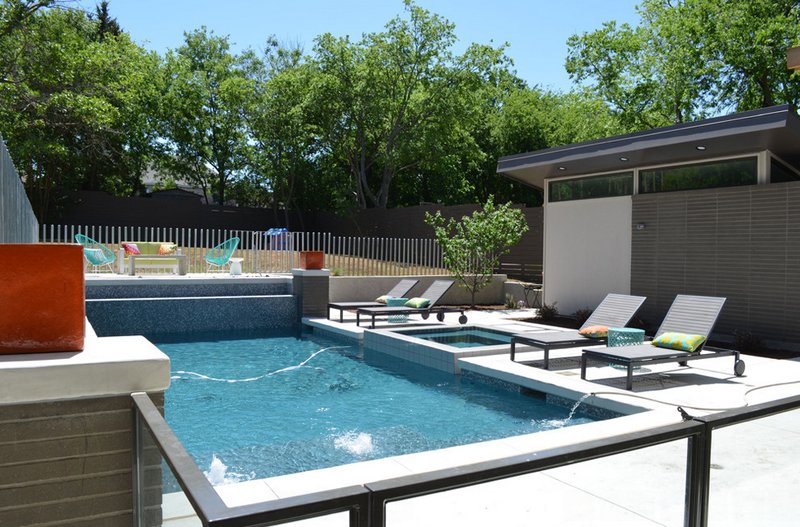 Sarah Greenman sure makes your regular-looking backyard into one contemporary play-relaxation-hangout space for your family. The play on concrete and tiles always plays out well.
15. Pool house-Sonoma Coast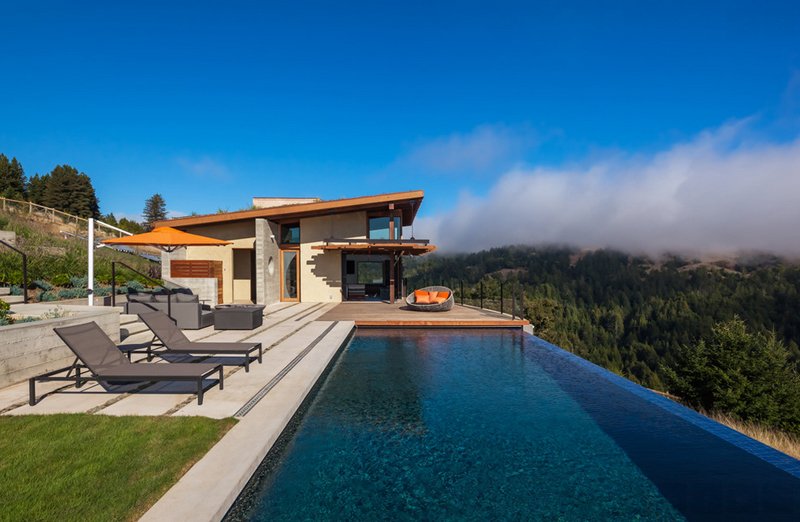 Stainless seating for the pool area is not as bad as you'd think, but with that, you might need cushion to make sure you don't get marks of the chair – I mean, the design might stick to your back. Right?
16. Bermuda Colonial Residence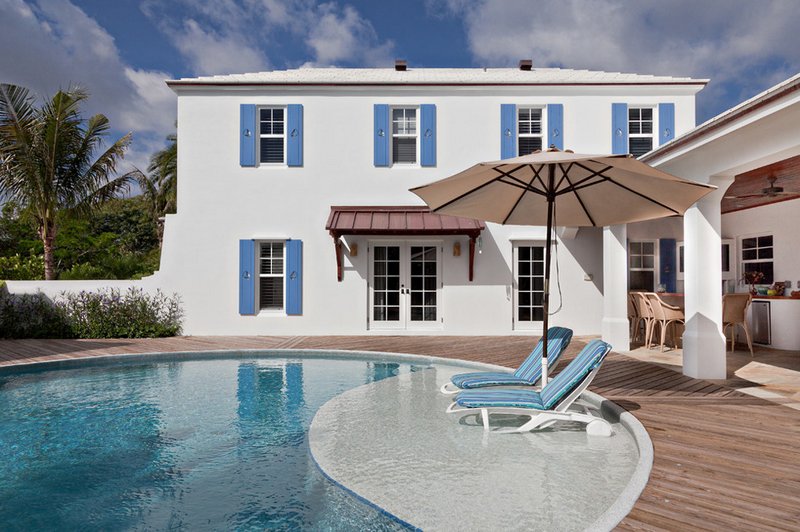 Umbrellas like this one is optional of course because most of the time people really want to hang out by the pool area because they actually want to get a tan without going to the beach. The shade of blue on the chairs is quite common but still refreshing to see.
17. Canterbury 1 Custom Home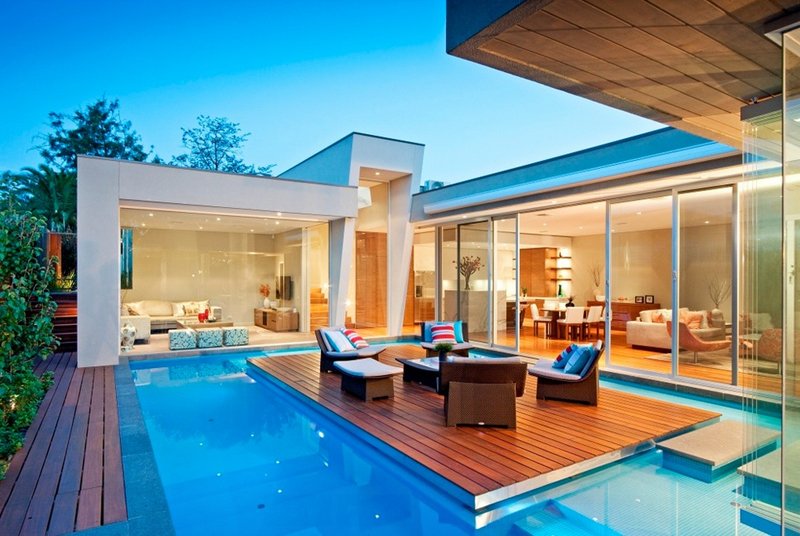 Well, if you are planning to add pool chairs or seating by your swimming pool, why not consider putting up an entire seating area where you and your friends can hang out; even you and your family too – just like what you see in this pool area.
18. Glen Iris Deck Pool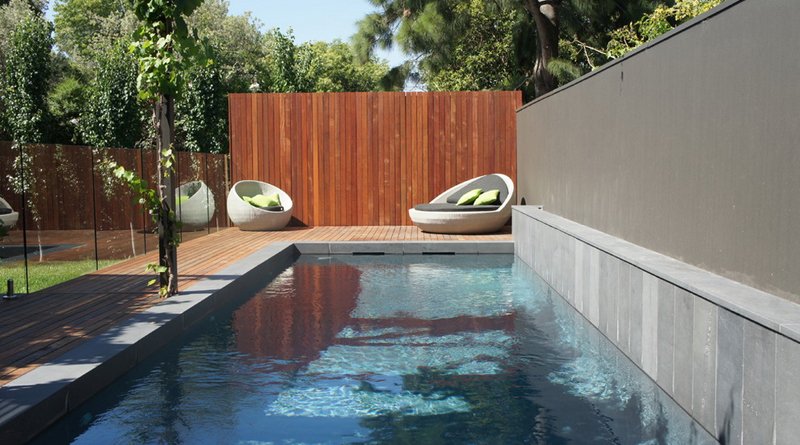 Egg-type chairs like these ones are always crazy beautiful because they showcase not only craftsmanship but an awesome look that tell you that they are stunning piece of furniture – something you do not really see every day, right?
19. Harcourt Avenue Project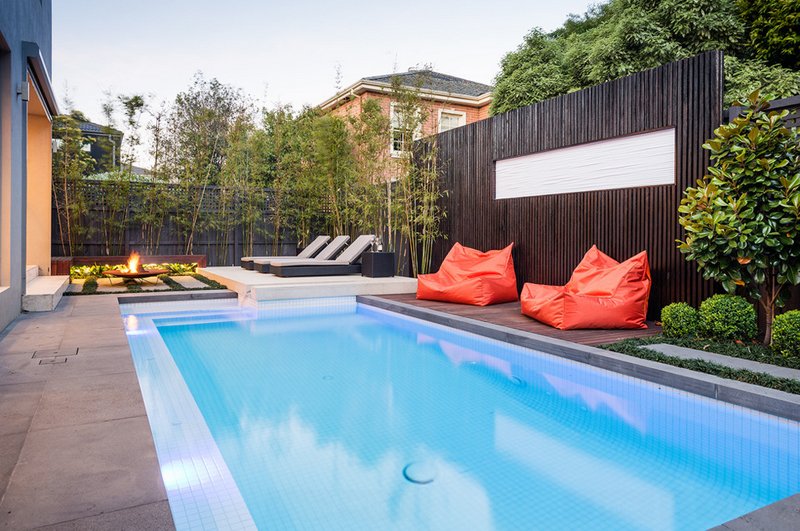 Who said that bean bags can just be used inside the house? Well, take a look at these bright-colored bean bags that serves as seating for this pool. You can also see the ones on the far left placed there for sun bathing purposes!
20. NY Contemporary House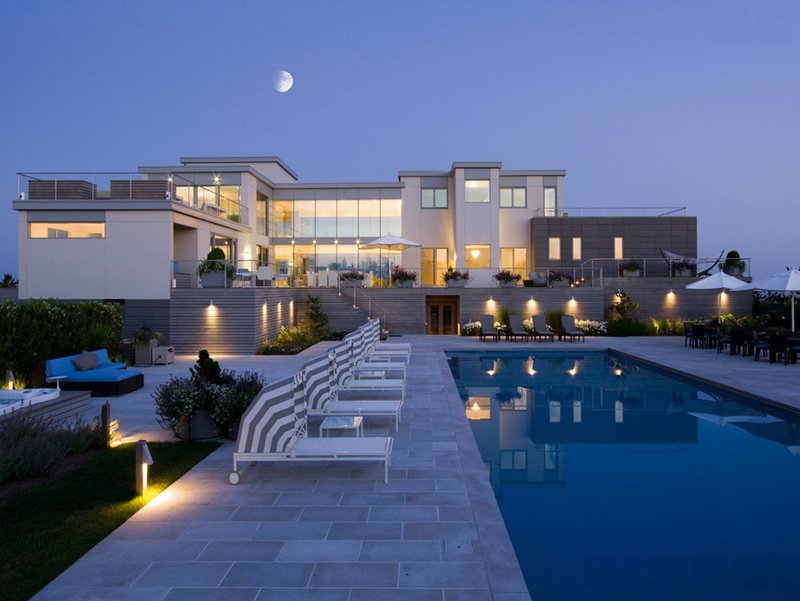 This is one New York home designed by Austin Patterson Disston Architects that showcase this quite large mansion that serves as home to this awesome and large swimming pool. The pool chairs are quaint with their convertible type covers.
21. Soda Canyon Residence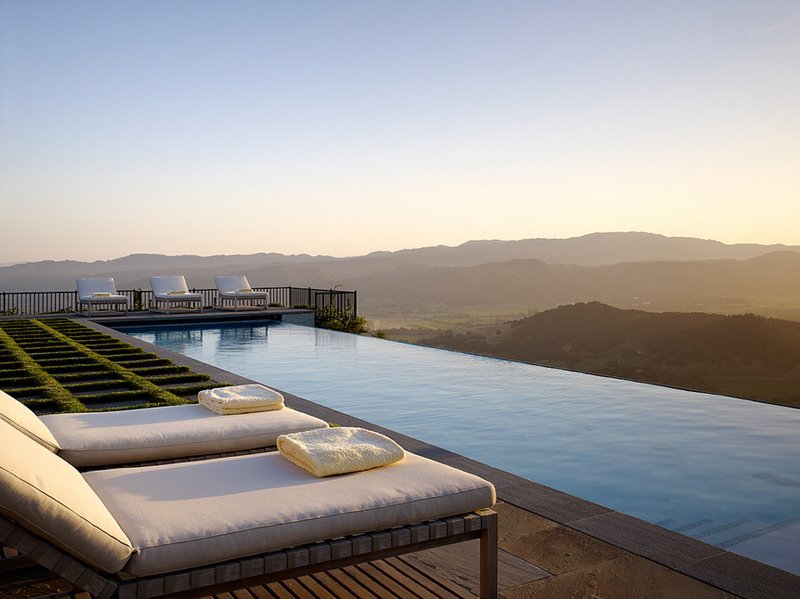 What a splendid view! I have never seen such a beautiful and contemporary swimming pool in my life. An infinity pool like this one may be expensive or costly due to maintenance, but it sure looks worth it.
22. The Mountaintop Pool Project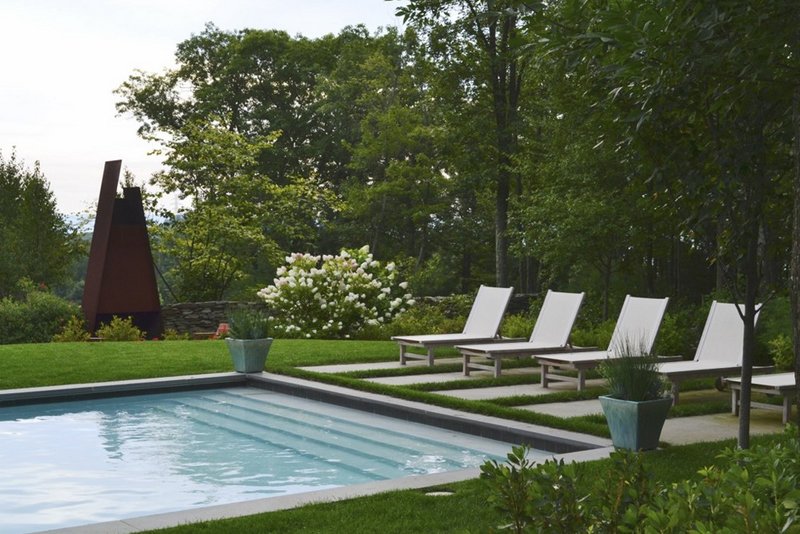 Simple chairs like the ones in this picture are a classic. Basically, we just need something to sit in or lay down in when we want to sun bathe or just want to chill. I can't say what exactly is that triangular thing on the far left, but it sure creates a mysterious drama to this space.
23. Tradewinds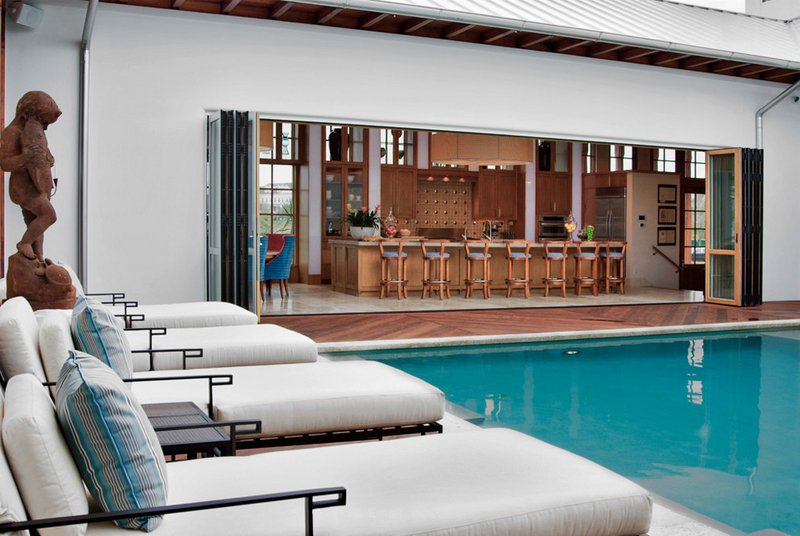 The pool chairs in this space are pearly whites! I'm not sure how I can maintain such stunning chairs every time I will be using a pool but I think it is not the best choice for pool chairs – but white surely makes luxury readily present in anything.
24. Desert Contemporary 131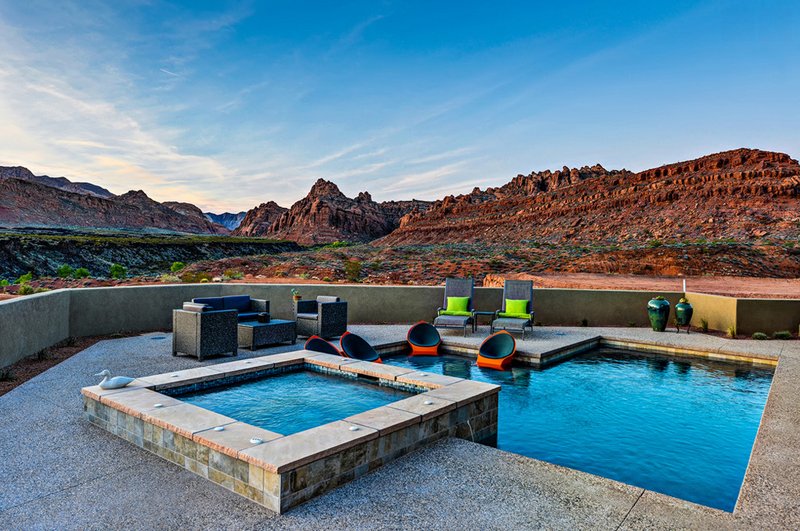 A Jacuzzi is not always present in pools for homes – but this home sure has one and if I have one at home, I'm thinking that parties will always be happening every weekend! Haha! Notice how the colors added to the chairs create a more fun aspect to this space!
25. Estancia Elegance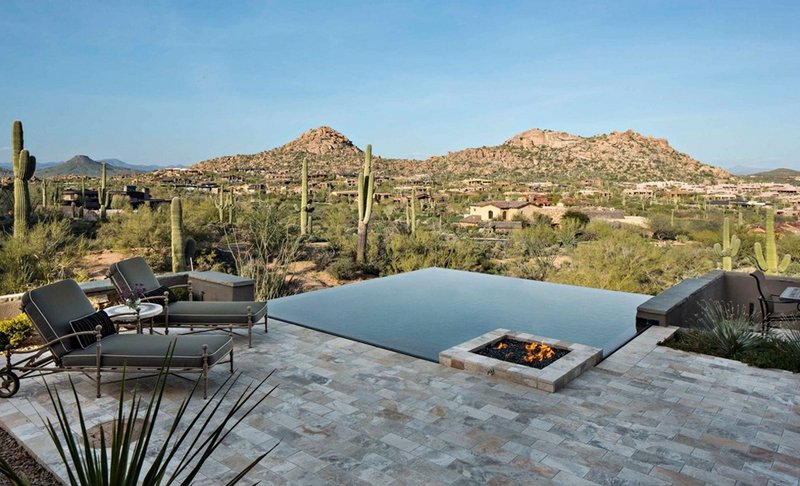 Infinity pools are so great especially when a view like this is a bonus. Take a look at the pool chairs that somehow complement the tiles. Having a mini fireplace in this area completes the look.
26. Mountaintop Residence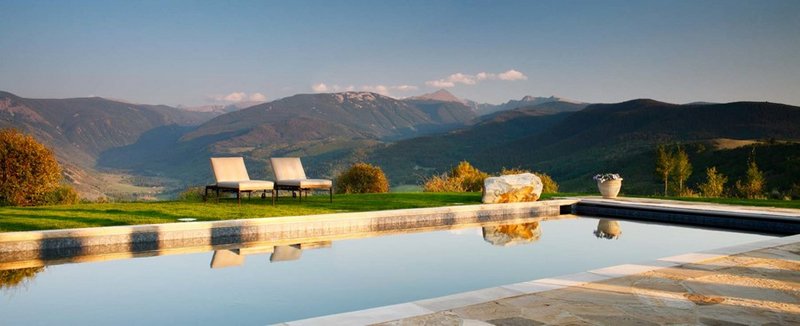 Pierce + Frye designed this wonderful space for the home owners' pool side and with a view like that, I guess the pool and the lounge chairs are just the toppings of the cupcake.
Call it what you will, but having swimming pools in homes is just way cool and fab! If given the chance, I would have wanted to have one in our house because I really like soaking myself in water – but we couldn't afford it – so, we just go to hotels or resorts to enjoy the waters – whether it is in the beach or in the pool. The chairs add more function and fun in pools since we usually want to lie down and hang out under the sun, right? Let me end this list with a suggested link for you to check out – the 20 Ideas for Wicker Pool Lounge Chairs with Cushions. Thanks guys!