15 Gorgeous Swimming Pool Slides
Ever considered adding a pool slide to your swimming pool at home? Today, we will be showing you a couple of designs that famous pool makers and contractors have thought of adding to the swimming pool their clients asked them to work on. You will see slides from stunning stone-designed slides to concrete and even plastic. Let us go ahead and be in awe with the lovely designs they have created to inspire and encourage pool owners to have the swimming pool slides they deserve at home.
But before we go any further about the 15 Gorgeous Swimming Pool Slides that we will be showing you today, let us determine first what requisites do we actually want to be added to our pools and who will use the said slide. Is this a slide for the kids or for the general public – like friends and colleagues? If we have determined the end users, we will then be able to know what make or maybe model we can ask our designer to add to our pools. With that in mind, take a look at the pictures we have below.
Aquarius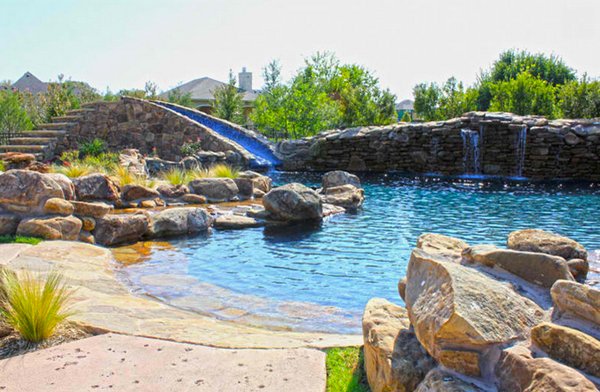 The pool is definitely stunning – but note how gorgeous the slide is!
Cabo Style
Who wouldn't want to live in a house with a swimming pool and a spa area with a swim-up bar and a water slide? Because this home has all that and more!
Eads Natural Pool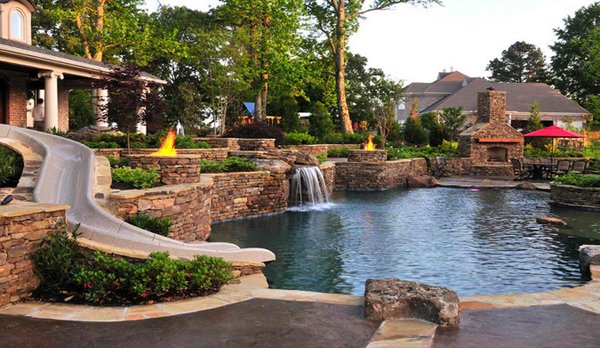 Isn't it lovely to see a swimming pool with a water slide and a fireplace all in one? The slide is specifically made for this home in the most traditional way but when you think about it, it sure is one spectacular view.
Howard County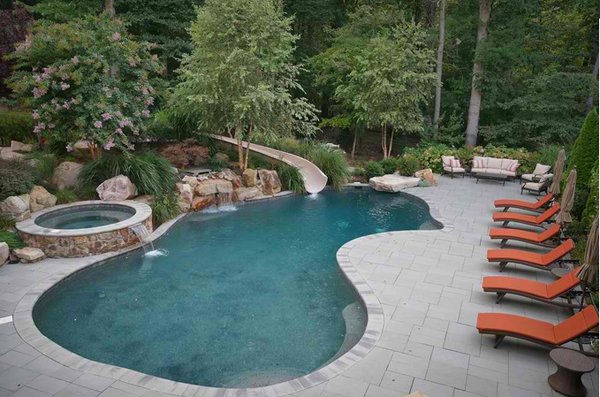 We love the simple deck, stone accent walls, landscape lush greenery & touches of color that this space has to offer.
Los Angeles Tropical Pool
This custom home in the Santa Monica Mountains. It is approximately 11,000 square feet under roof and the family couldn't be happier with it. It's a great party house.
Northport Drive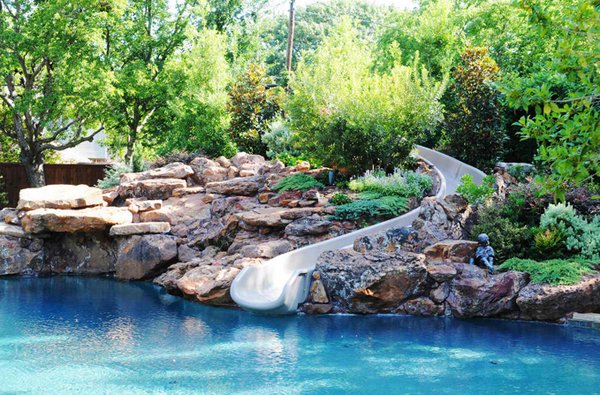 The rustic elements and feel of this swimming pool area with the slide is ravishing. The greeneries on the background seem to hug the area with much love.
Park Lake Project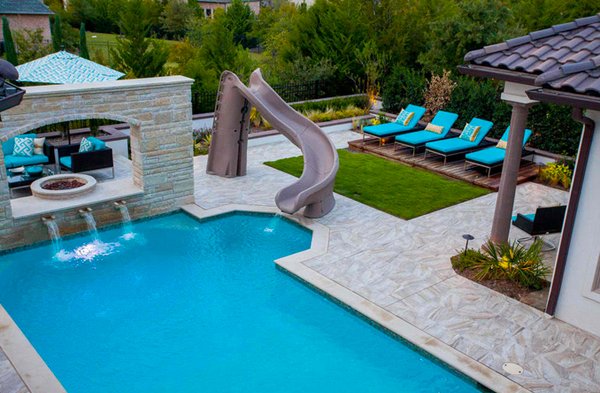 Outdoor living area incorporates a custom slide, sun deck, divider wall with water feature, fire pit and multiple sitting areas.
Slide and Precast Rock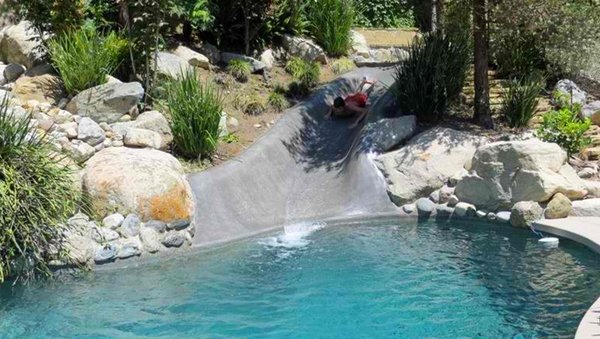 Look at the kid who is engrossed in using the newly added water slide to this Los Angeles home.
Slide Pool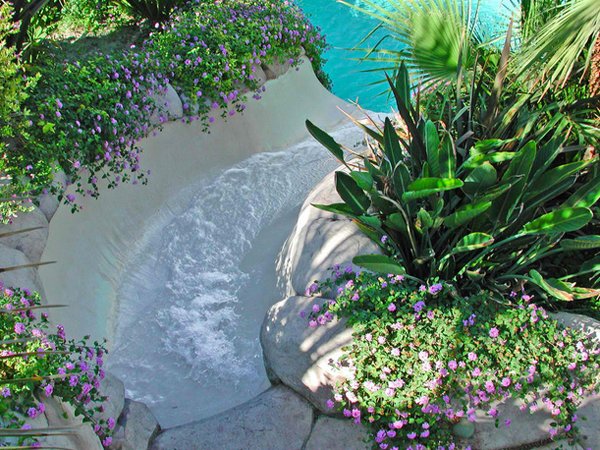 Adding flora and fauna in your swimming pool area may be a chore to clean and take care in the long run, but the beauty and shade it can give you while enjoying the pool is something you can never replace.
Swan Pools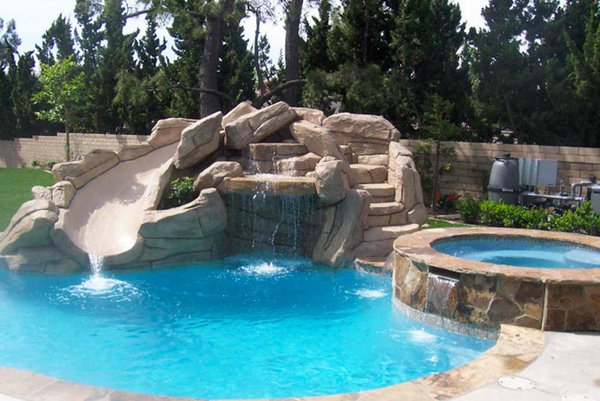 We love all the rock formation added to this stunning swimming pool. The hot tub on the side is a great way to just relax your way through a long day.
Traditional Swimming Pool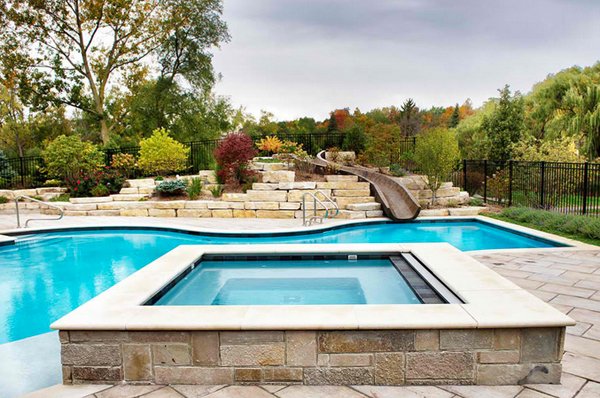 Who said that adding a slide on your swimming pool will not be as lovely when you had it installed after a long time of having the pool on your backyard? The newly added slide looks like it has always been there.
Travertine Geometric Pool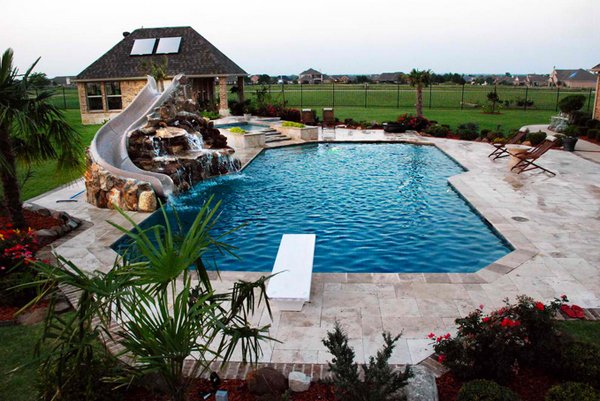 The travertine geometric slide was actually site built, so that the client would be able to add inputs as to how they wanted the slide to look like.
Upper Saucon Pool with Waterslide and Swim Up Bar
This salt water pool was built by Monogram Custom Pools in Lehigh county PA, Upper Saucon Township. Don't you just love the shape of the swimming pool and the accent created by the slide and the waterfalls on the side?
Water Slide and Fountain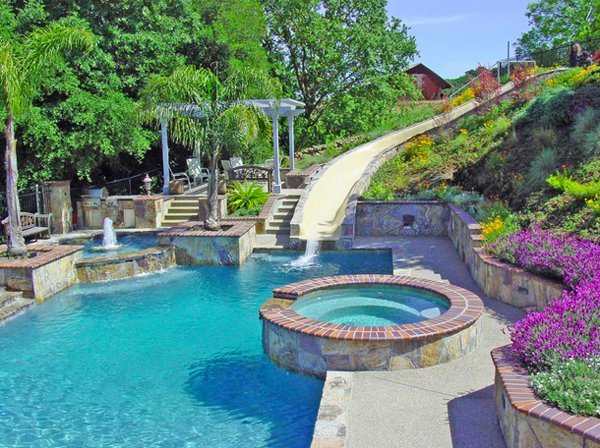 The slide that was added to this swimming pool made all the difference in function and aesthetics.
White Project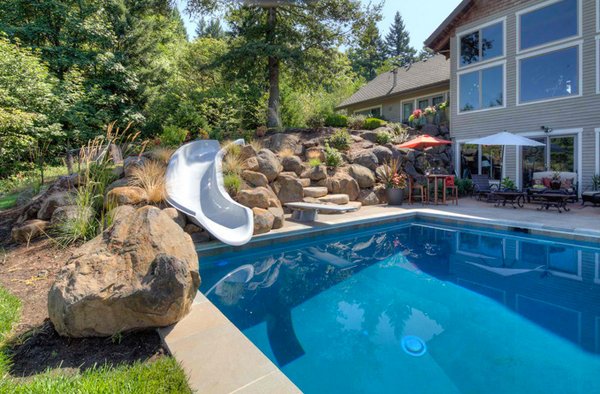 Swimming pool, Hot tub, Swimming pool slide, stone steps, paver hardscaping, Bluestone coping, Diving board, Boulder settings, landscaping on a slope – what more were you looking for?
All in all, the list we have today about the 15 Gorgeous Swimming Pool Slides is indeed a list we can always aim for – especially when we already have the swimming pool and we are still in the look out as to the design and concept that we want to work on for the water slide. It may be a choice we make because we have kids who loves to swim and bring friends over or even just for our own family. There are tons of choices and designs we can always ask about through our designers or pool contractors. Also, if you have the chance, check out the 15 Lovely Oval Pool Designs we collated before for you guys! Have fun!