Beautiful Mid-century Pool House in Toronto
A pool house is restored into a contemporary space with many lovely surprises!
When you have a pool in your home, you would surely be excited to spend time in it but you would also like to rest and do other things while near the cool waters. That is why some homeowners add a pool area in it. This way, they are able to do a lot of things while in the pool. With a pool house, one can't just relax but could also watch movies or even sleep when one feels tired from swimming. Well, if you are looking for an idea of a pool house, we have one for your today.
Homeowners who have their own pool and pool house are indeed blessed! Just like the owners of this house located in Toronto, Canada. In their backyard, the pool and the pool house are situated which has a mid-century design. The renovation is done by design firm +tongtong which are just one of the many renovations done in the pool house. But +tongtong did something amazing to the pool house that made it really beautiful. They didn't just bring it back to its original glory but they added a few contemporary touches into it. Once you will see the pool house, you will surely feel envious about the space. Take a look at the images below.
Location: Toronto, Canada
Designer: +tongtong
Style: Contemporary
Type of Space: Pool House
Unique feature: A beautiful contemporary pool house which is located just beside the pool of course, surrounded by lush gardens and has everything one needs to be entertained and to relax.
Similar House: A Curved Concrete Contemporary Pool House in India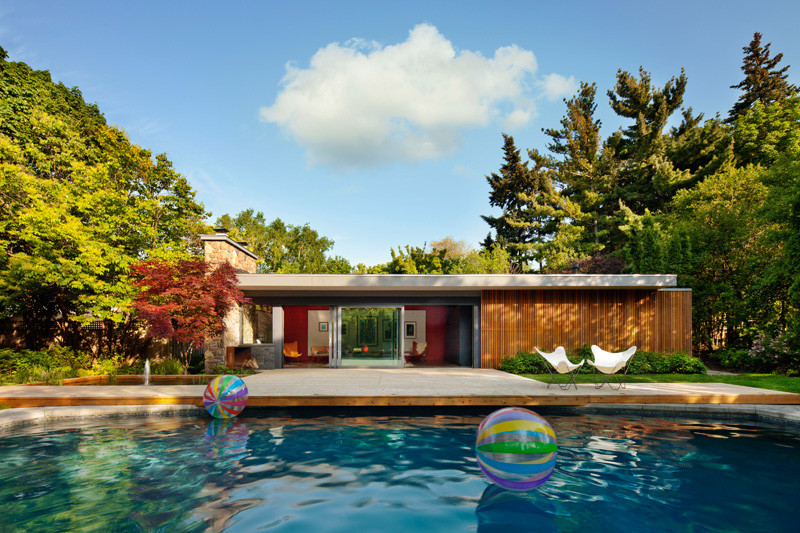 You might think that this area is a house where you can find the complete parts of a home but you are wrong. This is just a pool house but it is like designed in a way where you can live in it. The swimming pool is inviting while the pool house is very attractive. I am certain that you are curious of what this pool house can offer because with the looks of it, it really is a gorgeous space!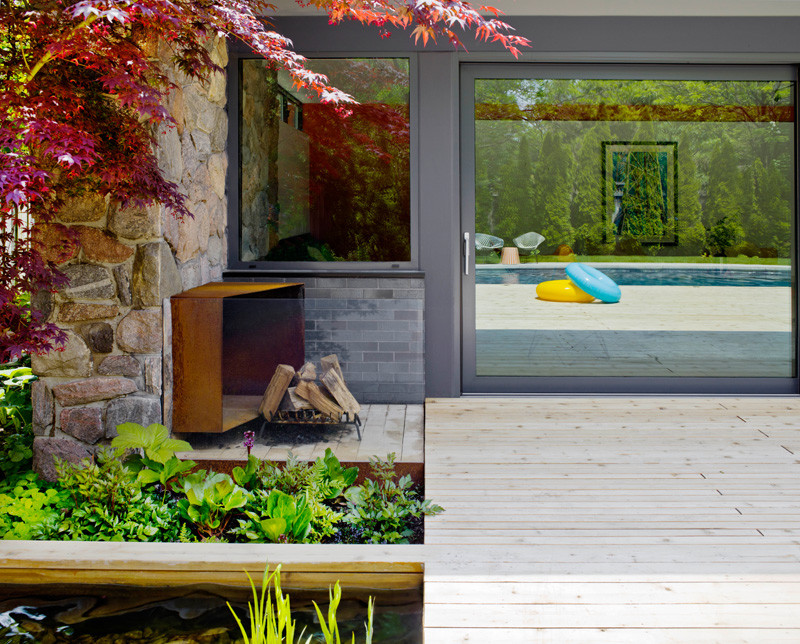 Seen here is the deck of the pool and the main house. Just beside the pool area is the pool house with a distinct design. It also looks very inviting as well. The pool house is connected to the pool area with a wooden deck. Notice the succulents around the corner of the pool house. Isn't it lovely? The pool house has glass doors and windows to allow natural light to get into the area.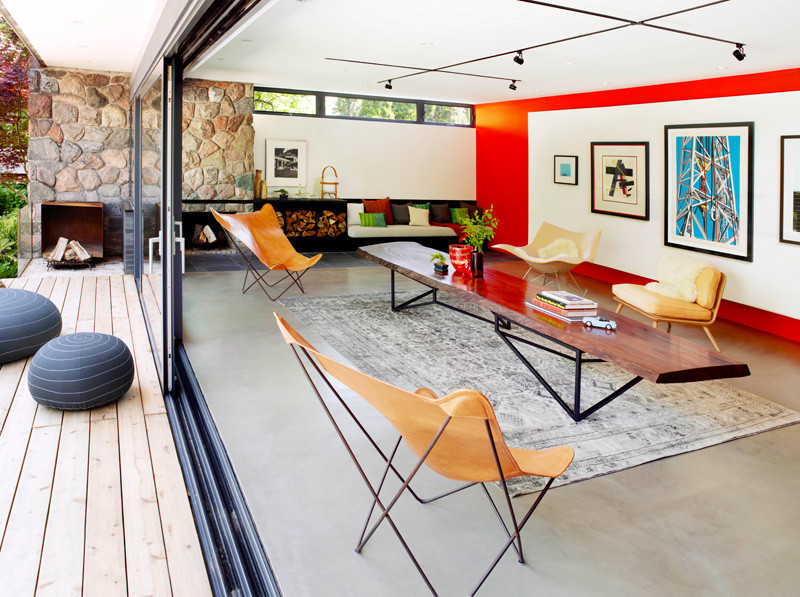 In the interior, there is a bold orange wall that seems to frame the white wall which holds different artworks on it. You can also see here a stone wall that also has a modern fireplace in it. The seating area has a long wooden table surrounded by comfy chairs.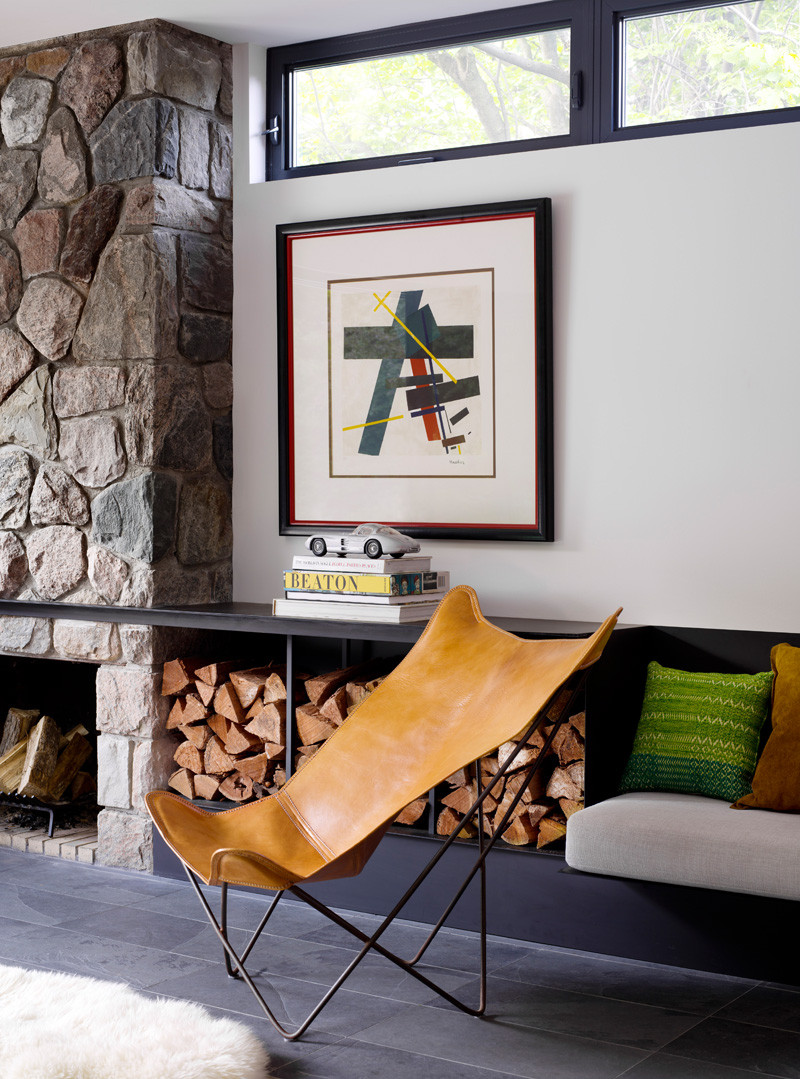 According to the designer, "all of the windows in the pool house were pushed flush to the ceiling to follow the line of the roof, and offer sunlight while providing privacy for guests." You can see clerestory windows here which brings light to the space.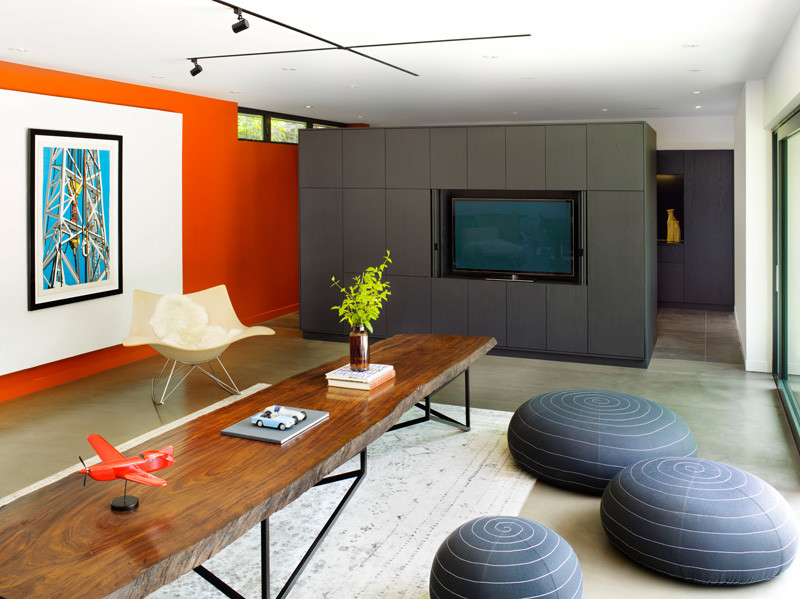 Different chair designs are added inside the pool house. You can also see in this large open-concept space a freestanding block of cabinets which defines the open and private spaces.
Read Also: Impressive Design of a Modern Glass and Concrete Pool House in Belgium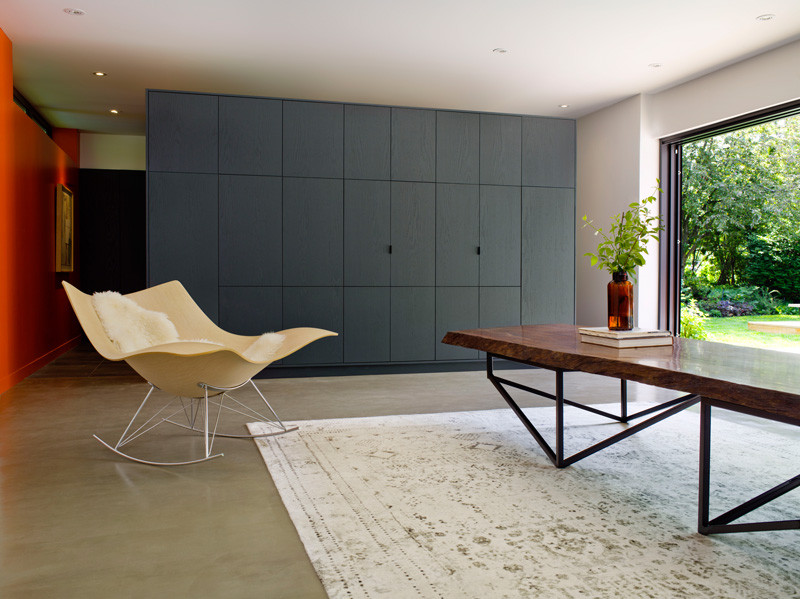 More black floor-to-ceiling cabinets are used in the interior of the house where one can keep some important stuff. You can also get a closer look of the area rug here which has some interesting details on it.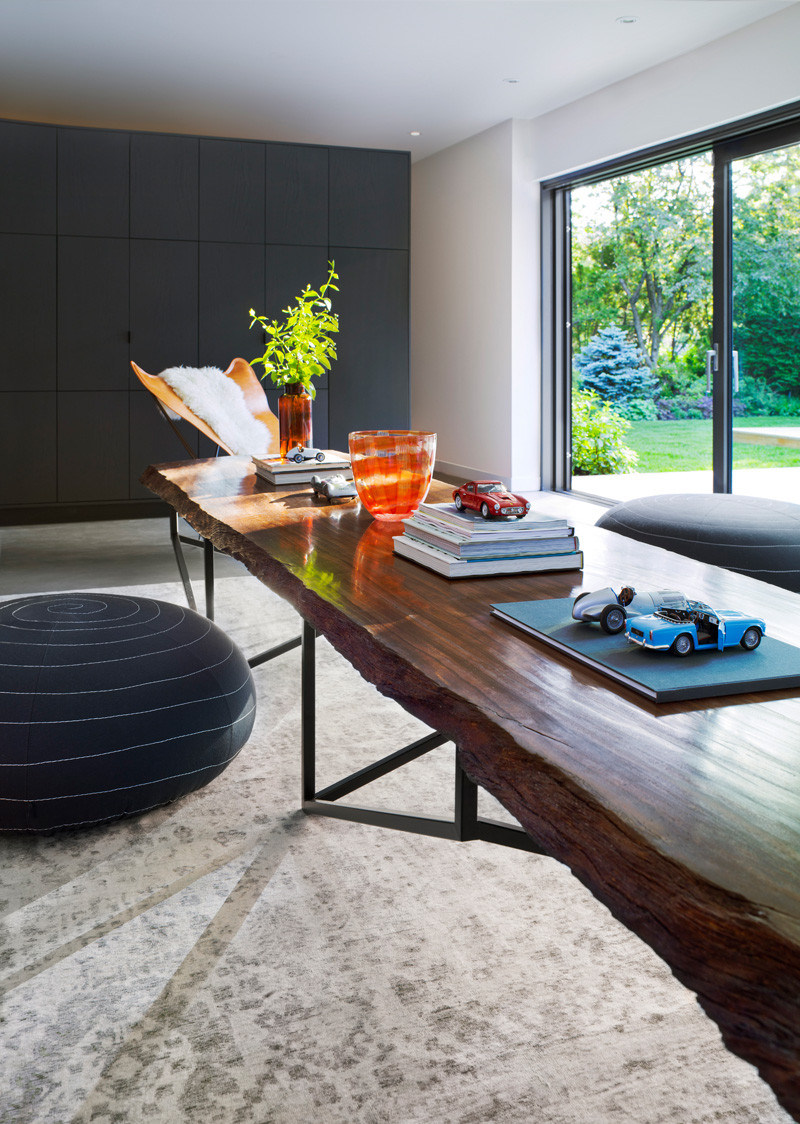 The large wooden table, designed by +tongtong is the focal point of the living space. It is made of exotic wood which is salvaged from the Panama Canal and it features a geometric steel-frame base. On top of it, you can see lovely vintage toy car designs as well as coffee table books.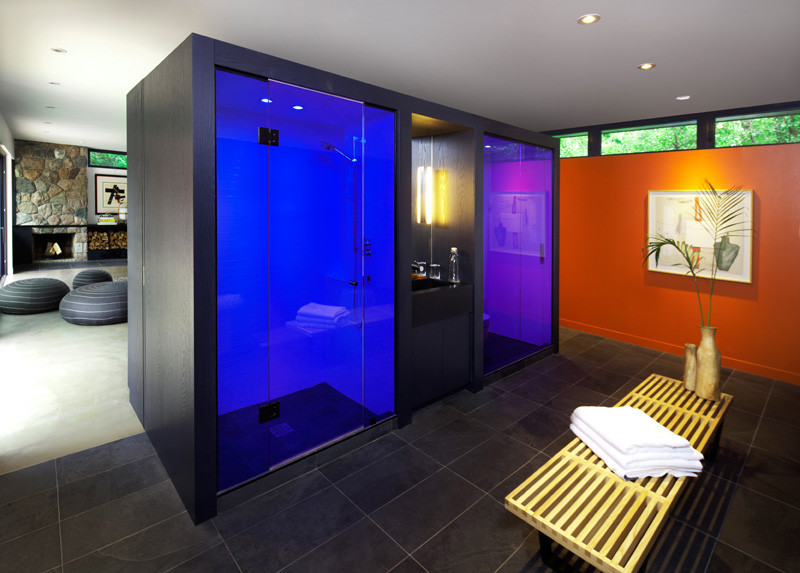 This is the private side of the pool house which has cabinets and it is also a perfect place for guests to change and shower. There is a shower area on side and a toilet on the other. In the middle is a lavatory.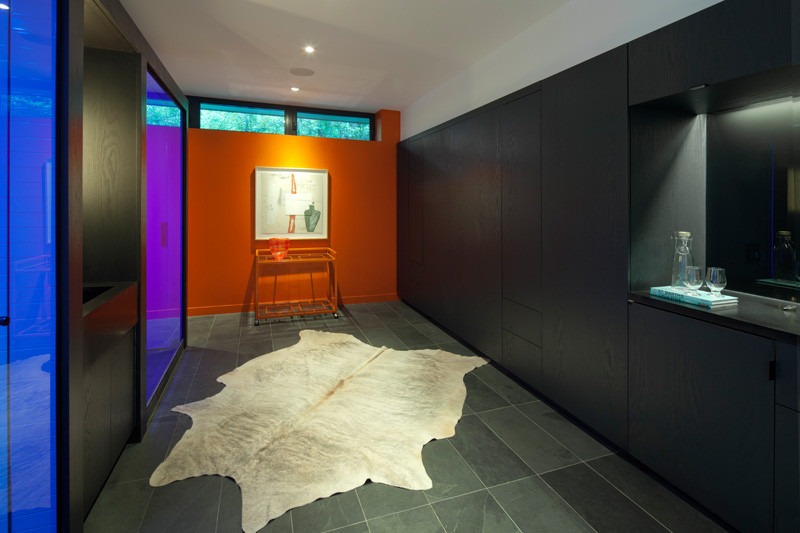 What made this area look more interesting are the colors. Aside from the orange wall, the blue lights of the shower area and the purple lights of the toilet area add colors to the pool house. And that cowhide adds a lovely detail to it too.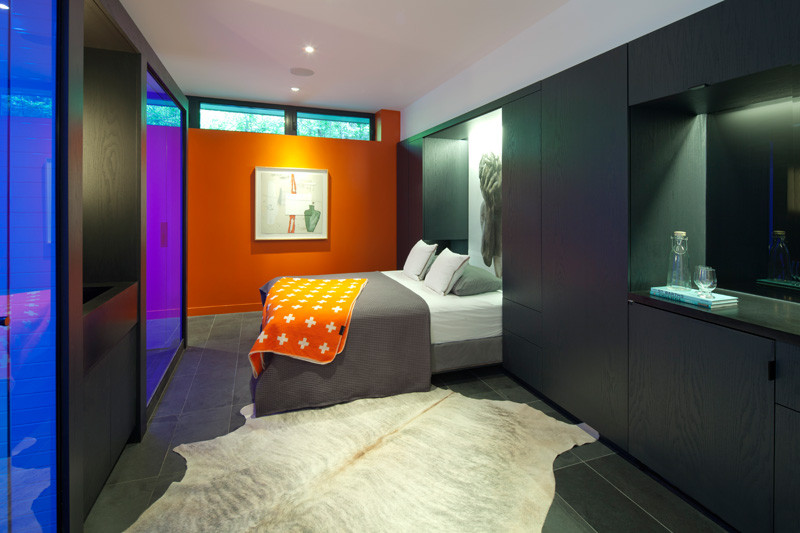 The space can also be transformed into a guest suite with a Murphy bed that could fold out of the wall. So, if the homeowners have visitors in the house and they need an extra guest space, this will surely work well. Lovely lovely lovely!
This is indeed a very beautiful pool house! Anyone who would set eyes on this would love to own it. Just imagine having a seating area where one can watch TV and get the entertainment he wants. Apart from that, there is also a private space too to shower and even sleep in a Murphy bed! Such a gorgeous pool house design done by +tongtong who didn't just restore the space but also enhanced it with a contemporary design. Well, if I'd be blessed with a pool too, I would love to get a space like this. How about you? What are your thoughts about this pool area?