20 Modern Contemporary Rectangular Pools With Wooden Decking
Want some pool design inspiration? Pools with wooden decking would be nice for your home!
Swimming pools for residential areas vary in sizes. It would depend on the available space in the home as well as the size that the homeowners want. There are pools that come in unique forms while most of the time, it would just be a simple rectangular one. A rectangular pool is mostly chosen because it could save the materials used in constructing it and it doesn't waste space.
Since the pool is already simple, most homeowners would prefer to add beautiful landscaping and hardscapes to add more appeal to it. When it comes to decking, the materials used would also vary. But today, we are going to show you rectangular pools with wooden decking. By using wood, it wouldn't be that slippery and it gives the area a natural feel. Let us take a look at the modern contemporary pools below.
1. Montreal Pool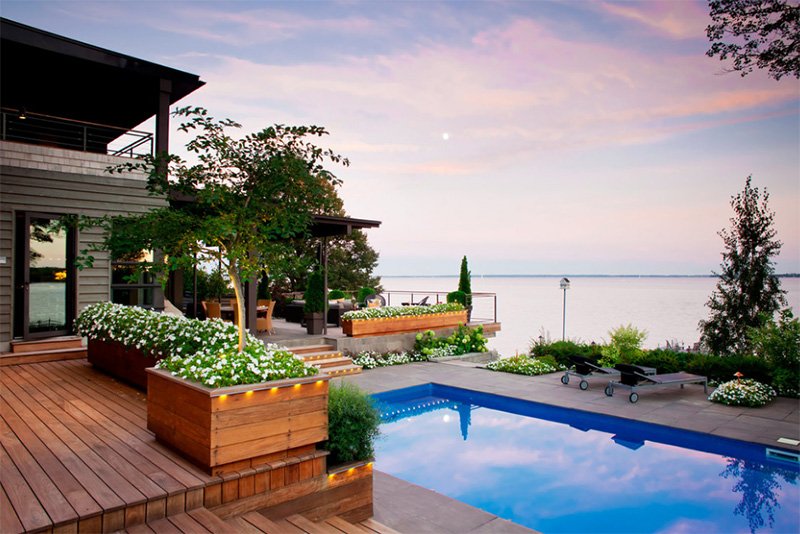 For sure everyone would love this trendy pool with wooden deck. One can also get such a nice view!
2. Paper Dreidel Garland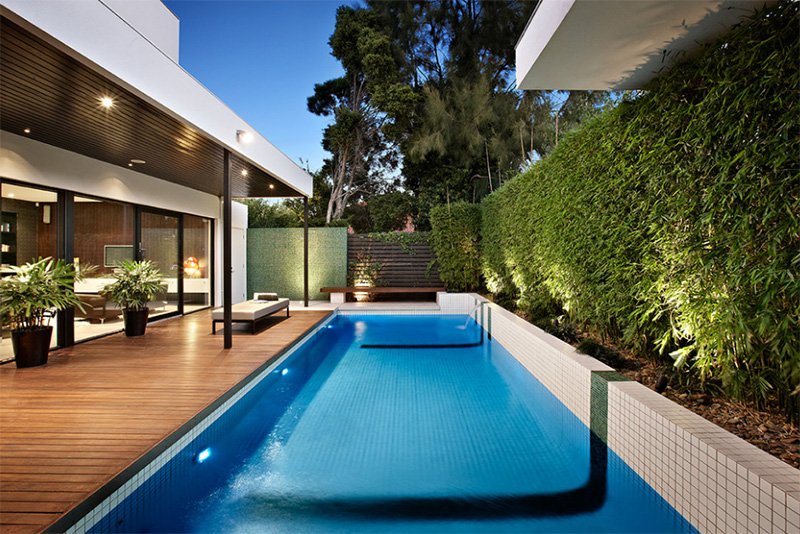 This pool is very gorgeous especially with the green wall on the side and the wooden decking on the other. Such a nice contrast of texture and a lovely combination of natural elements.
3. Los Alamos Home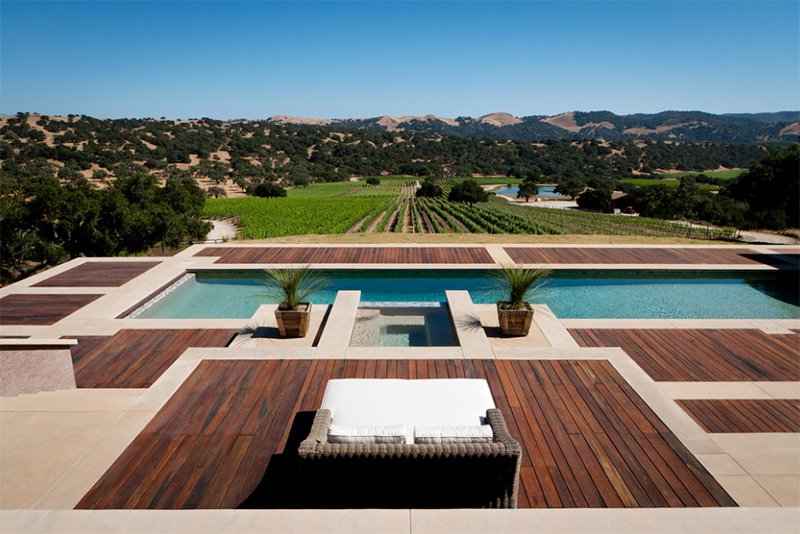 The wood that surrounds this beautiful pool is a recycled 50-year-old Red Wood. No wonder that the area looks really very stunning!
4. Modern Pool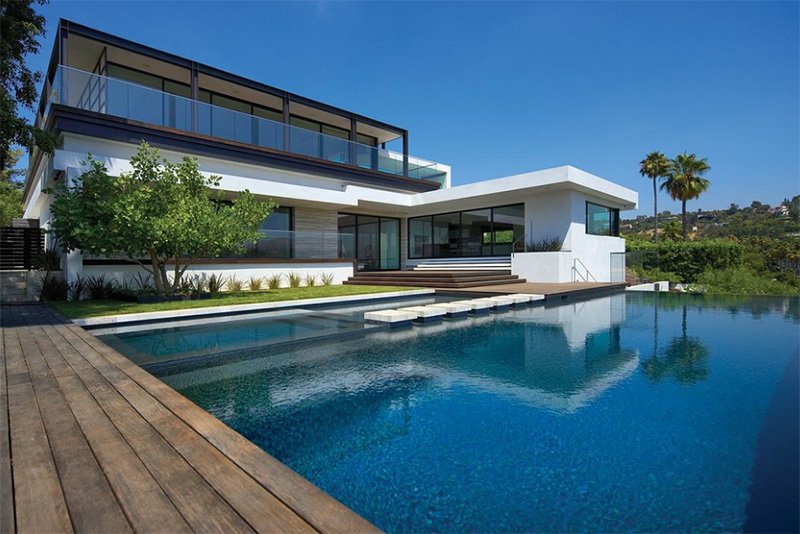 For this pool, it used an Ipe deck which had a Penofin Hardwood oil as its finish. Aside from the wooden deck, for sure you love it that this home has an infinity edge pool.
5. Balaclava Road Project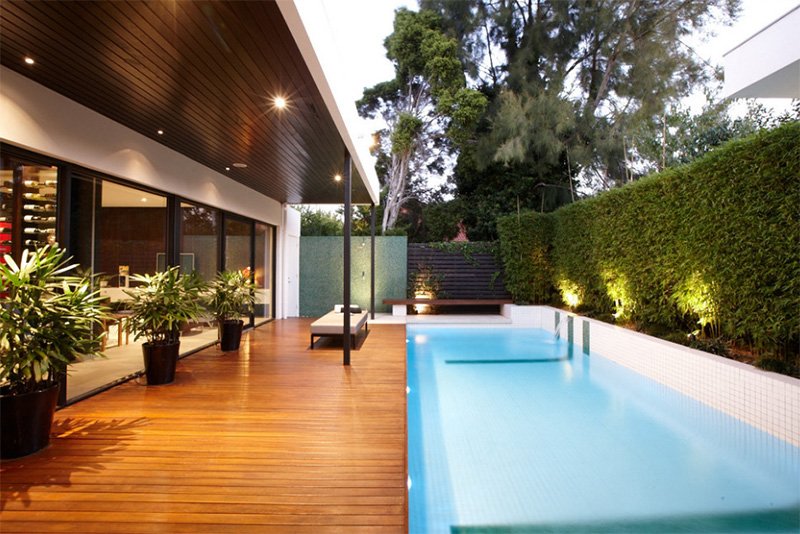 A contemporary lap pool remodel with decking which features a bamboo behind the pool with outdoor lighting.
6. Casa Moru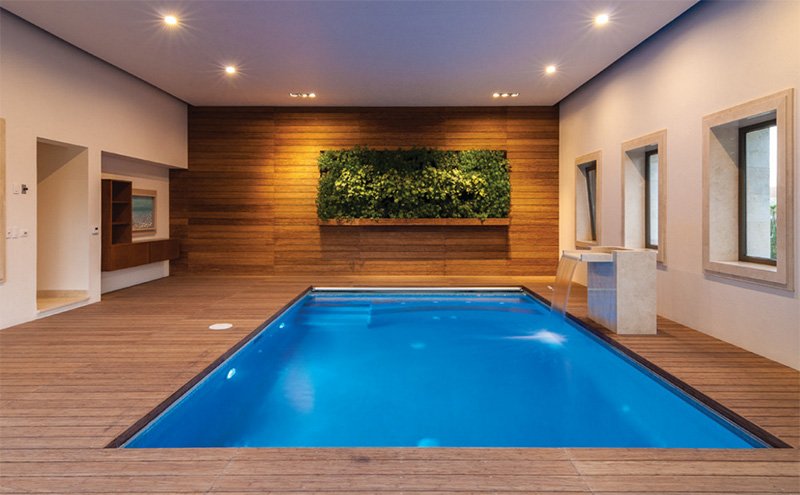 This indoor pool area features a neat vertical garden inset into polished wood. Apart from that, there is a waterfall that brings more appeal to the area.
7. Simbithi 06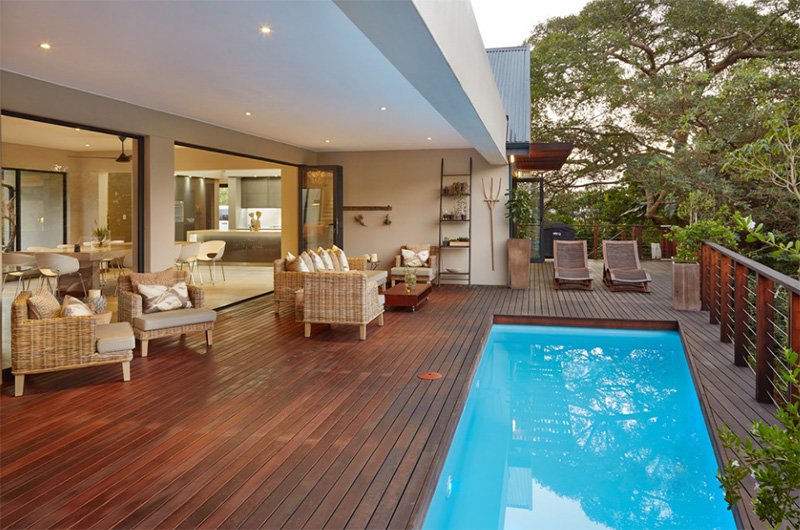 A spacious deck with outdoor seating areas and a rectangular pool. There is also a good view from this wooden deck with trees surrounding it.
8. Modern Kansas Pool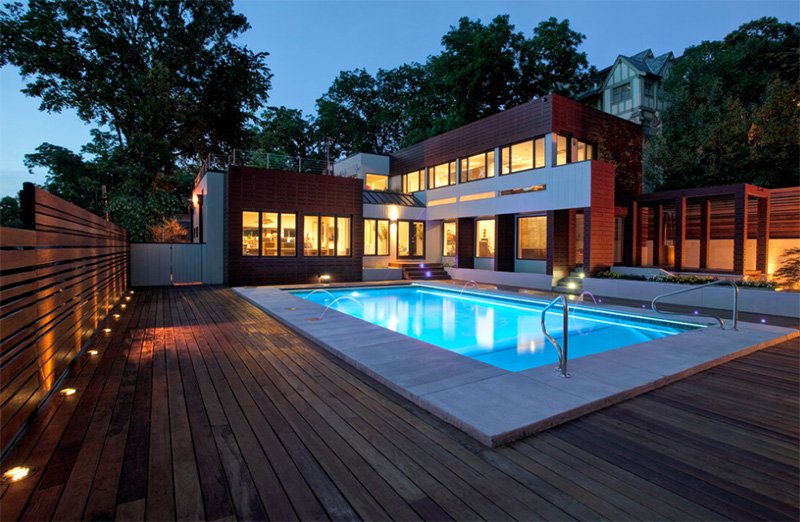 The pool is framed out in modernized material that matched to the architecture of the house. It also has a wooden fencing with horizontal lines which fits the minimalist courtyard.
9. Tribeca Pool Garden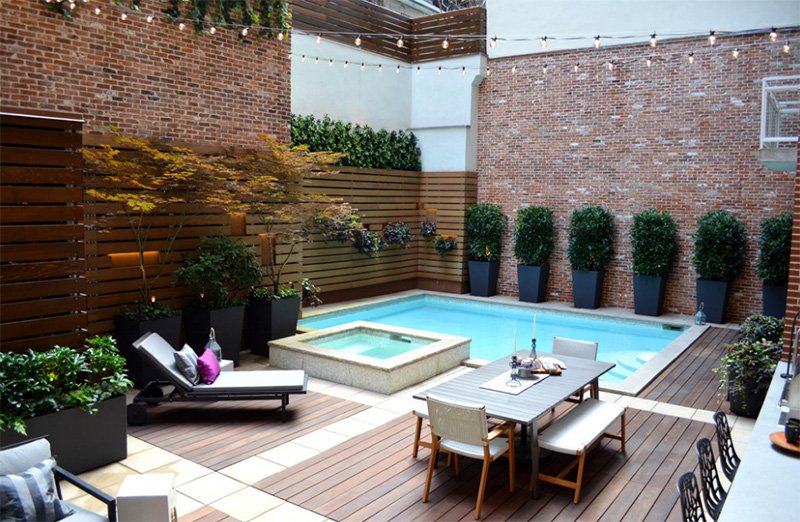 A small contemporary courtyard with a rectangular lap pool. This is a nice idea for homes in the city. It is like having your own paradise at home.
10. Betz Custom Lap Pool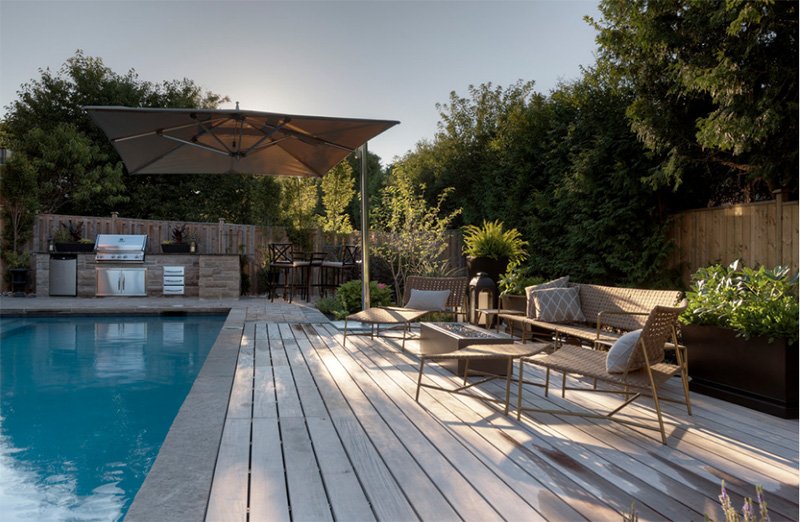 The wooden deck also works well when combined with concrete as seen in this pool area with outdoor kitchen and dining area.
11. Viewbank Project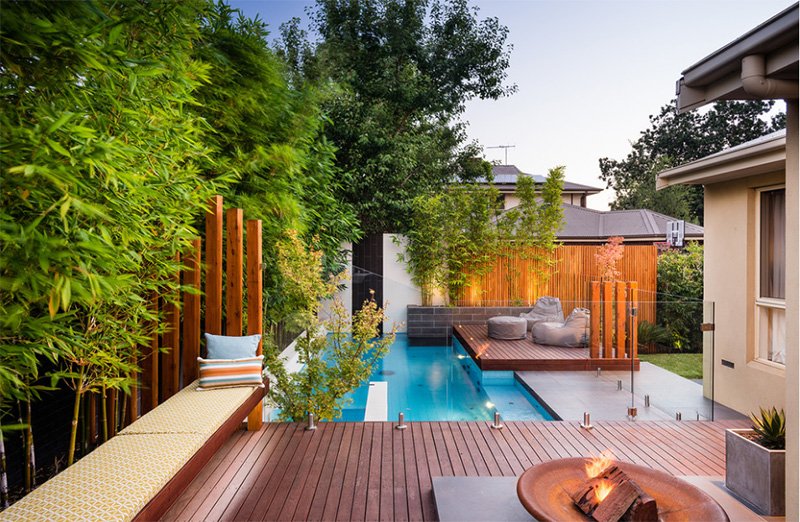 This is such a lovely pool area with timber decking materials. Notice that this part with a fire pit is elevated from the pool. Isn't this a nice idea for a modern pool?
12. North Litchfield Beach House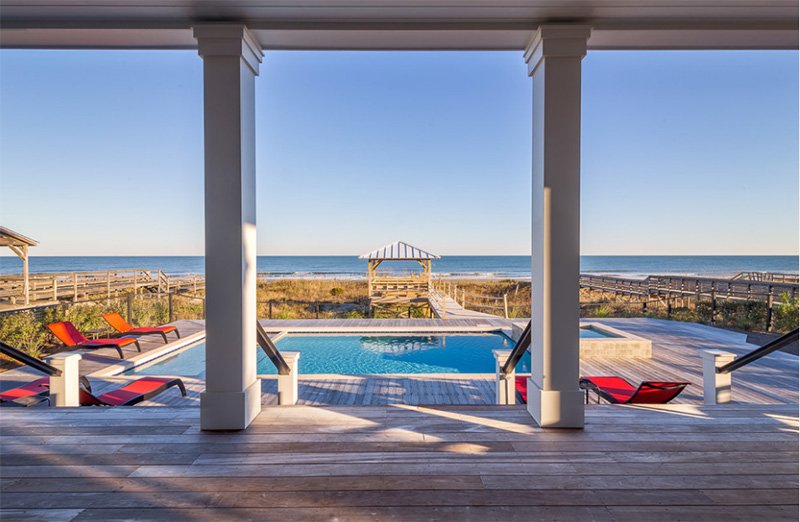 This wooden deck has a beachy feel especially that a view of the beach can actually be seen here. There are red lounge chairs around the area.
13. Kauai Lake Front Estate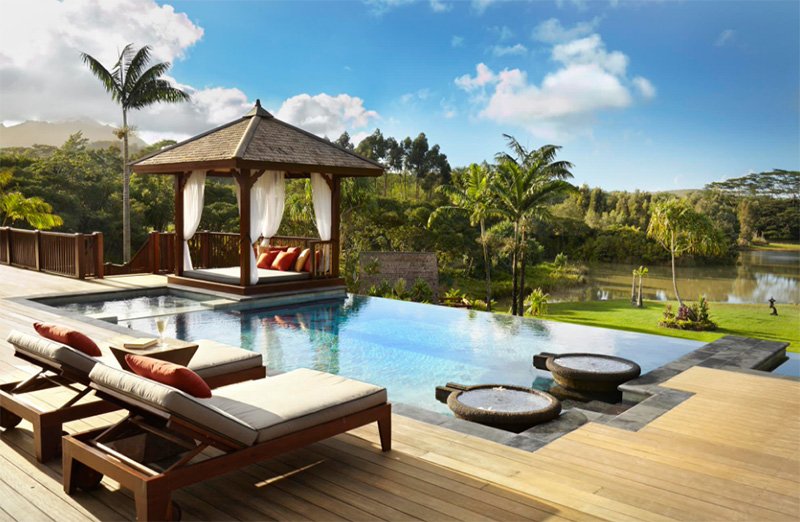 The recliners see here simply roll back under the cover of the Lanai. Everything looked romantic in this outdoor space with an island style infinity pool.
14. Santa Lucia Preserve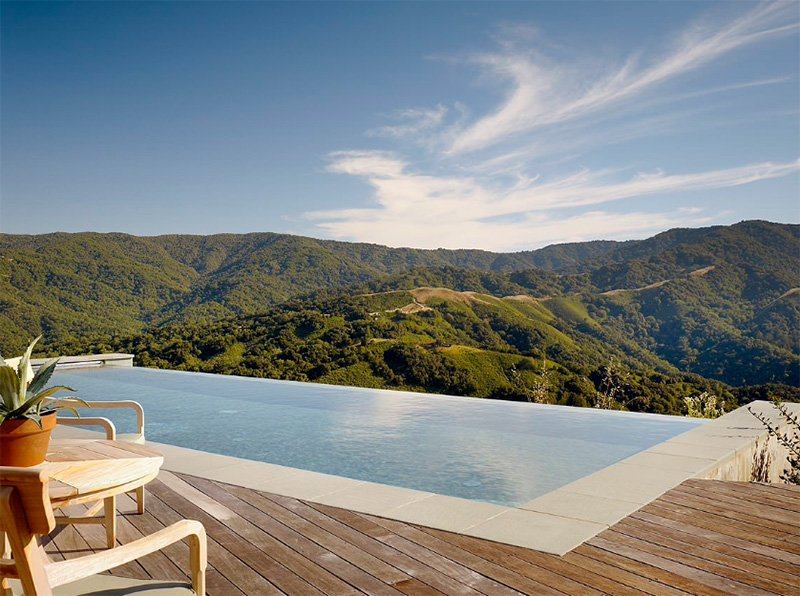 What a stunning view! While in the cold waters, one can get the chance to see the lush greenery on the mountains.
15. Modern Country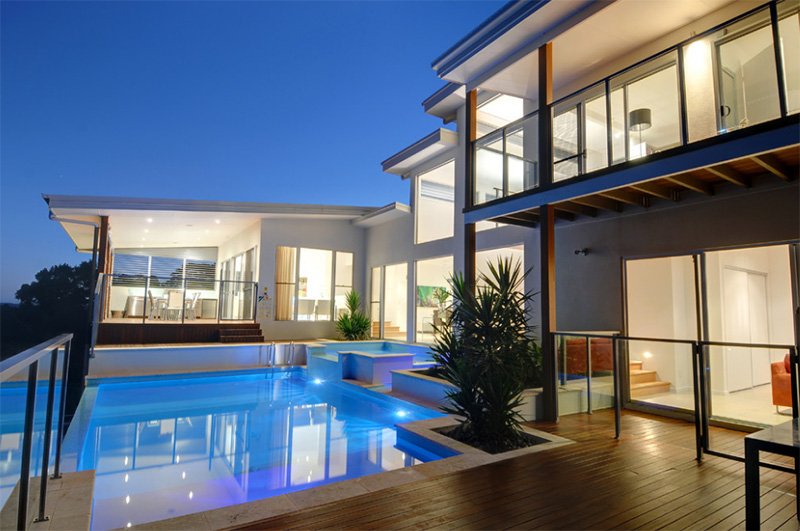 A large minimalist courtyard custom-shaped infinity pool with a decking and a fountain. It looks very relaxing and compliments with the architecture of the home.
16.South Miami Townhouse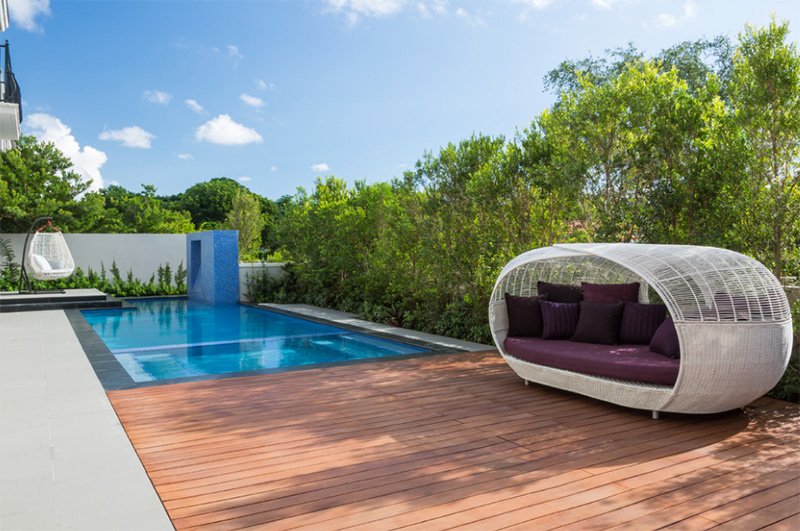 Another stunning pool area with many interesting furniture on it that brings color to the area. And there is also a waterfall on one part of the home.
17. Sant' Agostino Porcelain Wood Look Tile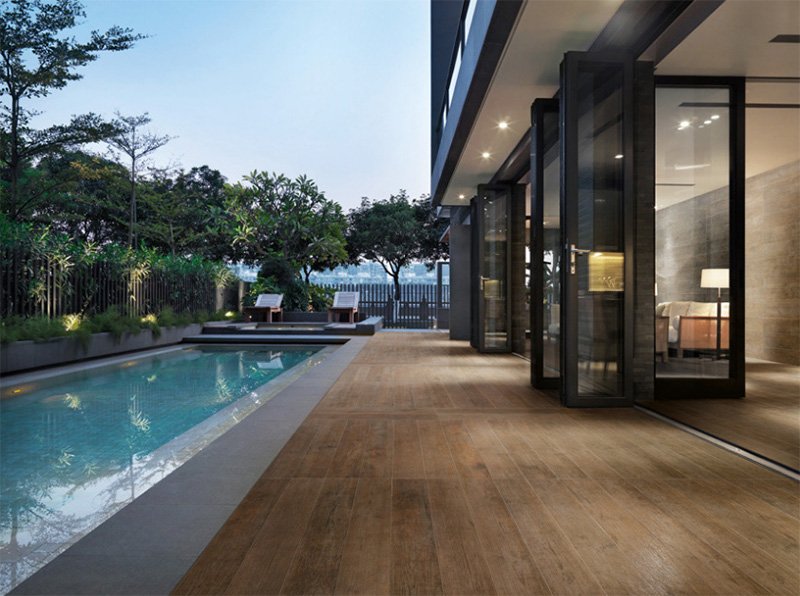 Get that rich hard wood look with a natural hard wood for your deck. This pool area has plants around it and an elevated portion where you can find the lounge chairs.
18. Glen Iris deck pool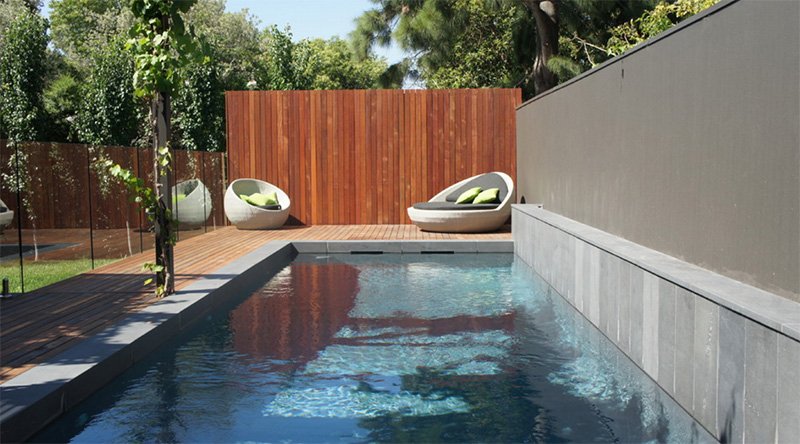 A courtyard pool constructed out of ground in deck with timber screen. This geometric pool area has wooden walls and a combination of concrete and wood for the pool.
19. Avalon Residence, Avalon, New Jersey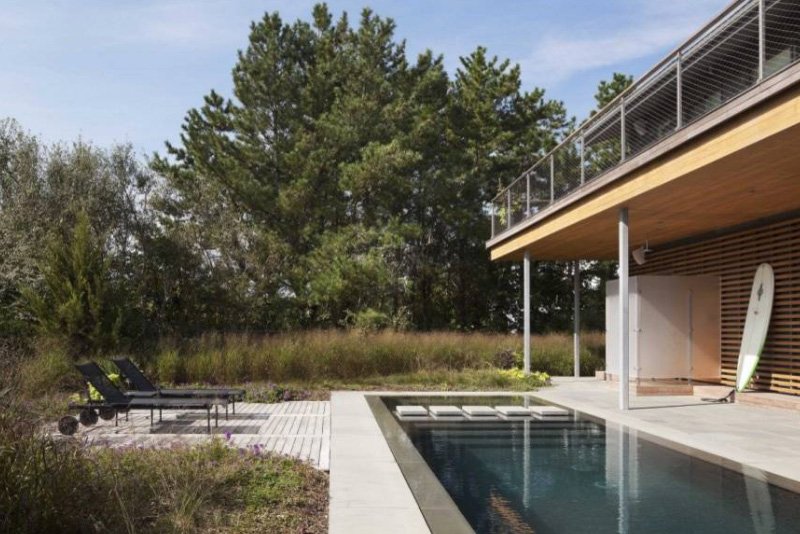 A home located in the middle of the woods has a rectangular pool area with wooden decking. And while here, you'd feel like you are in a natural pool because of the views around you.
20. Queens Park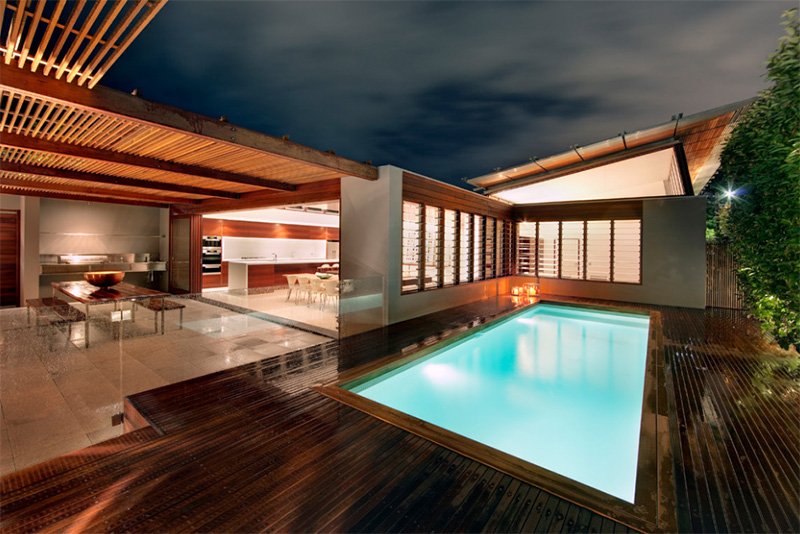 This pool is indeed very spacious. Notice that the pool area is elevated with wooden decking while the outdoor dining area used ceramic tiles for the flooring.
Isn't this a lovely list? It sure is! If you want to have your own modern pool, this list would be a nice inspiration. Take note that the beauty of the pool area doesn't merely rely on the pool itself but it also on its hardscape and landscaping. The pool landscape has a huge impact to your pool's appeal. I like it that the swimming pools here are just simple and rectangular. I like it even more that they utilized wooden decking. This sure is the kind of pool that I want in my home. How about you?