20 Different Designs of Rattan Pool Chairs
Rattan pool chairs could add a different twist to your pool area.
If you might have noticed – there has been a couple of lists here in Home Design Lover that focus on rattan furniture. As much as this is one building material readily available in our country, we know that it is one flexible material ideal for furniture and design. This material is so easy to handle and manipulate that we even have a popular furniture designer from our country that is making rattan and other local material popular by the minute.
For today, we would be showing you a list wherein rattan was made into different, unique and wonderfully-designed chairs; these chairs vary in design and detail, color and style. Some of the chairs in here are pretty much your regular arm chairs, a lovely lounge chair and even a bit of a day bed – let us go ahead and marvel in the beauty and sophistication that rattan can actually offer home owners like you.
1. Knight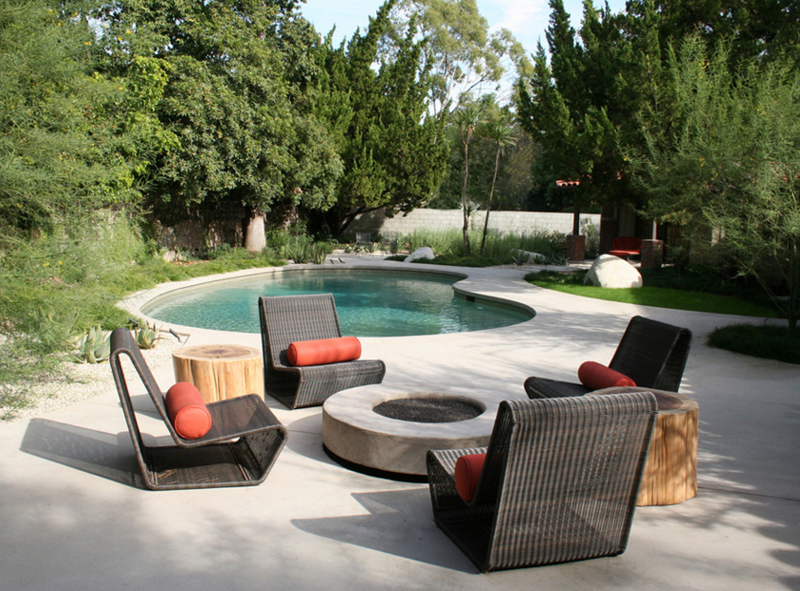 This rattan furniture set is actually awesome! The design is your regular pool chair ideal for lounging with a modified base. The color and texture is common for rattan but the curves of this chair is just intriguing.
2. Mantel Street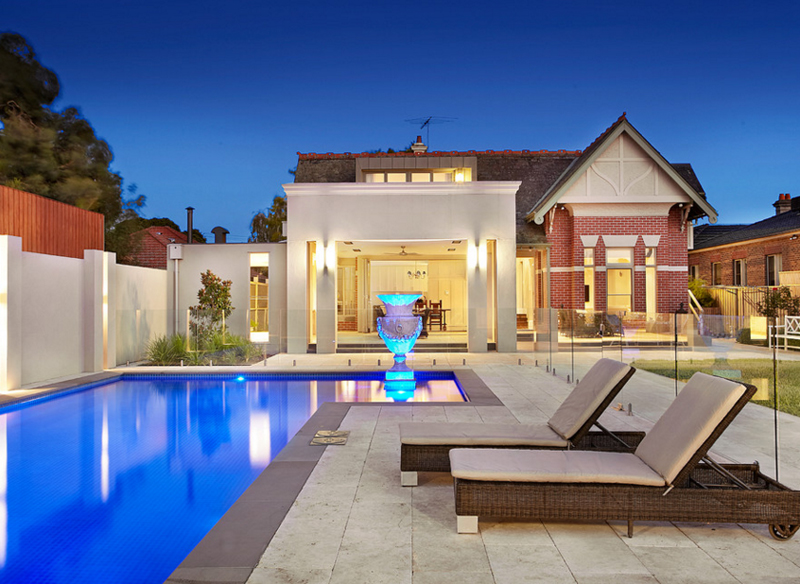 This is one beautiful home with a lovely swimming pool that is made prettier because of that large vase that somehow shines. Haha. I think that the rattan pool chairs does not really go well with the location or the theme in here but we know that rattan is actually a great choice for more outdoor settings – but I still think that this space could have gotten a modern chair.
3. Menlo Park Residence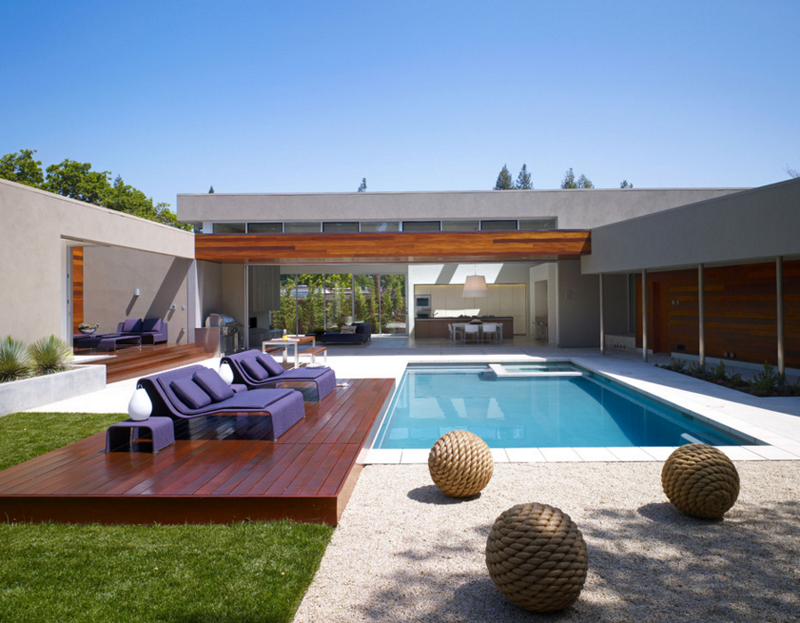 If you might have noticed or will notice further on in this list is that we have a lot of homes in here that are more box-inspired or something; these are very contemporary-modern designed homes from awesome Architects and group of designers that definitely maximized the available lot area. Decorating the outdoors sometimes is tricky, but this space is just stunning!
4. River Oaks Residence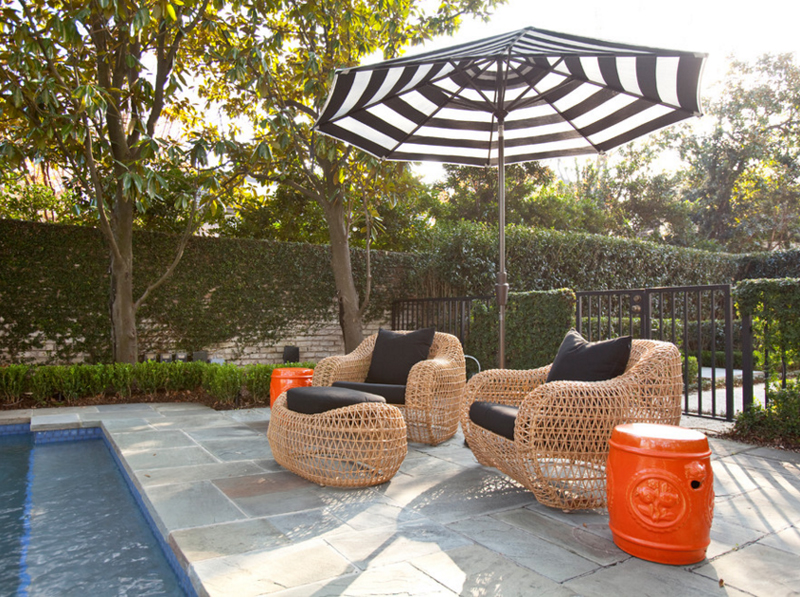 These rattan arm chairs by far are the best and obvious ones in this list; also, their design is quite pretty. The designer of these chairs made sure to incorporate its traditional look with a modern twist. Adding the black and white striped umbrella also added drama to this pool area.
5. Shellcove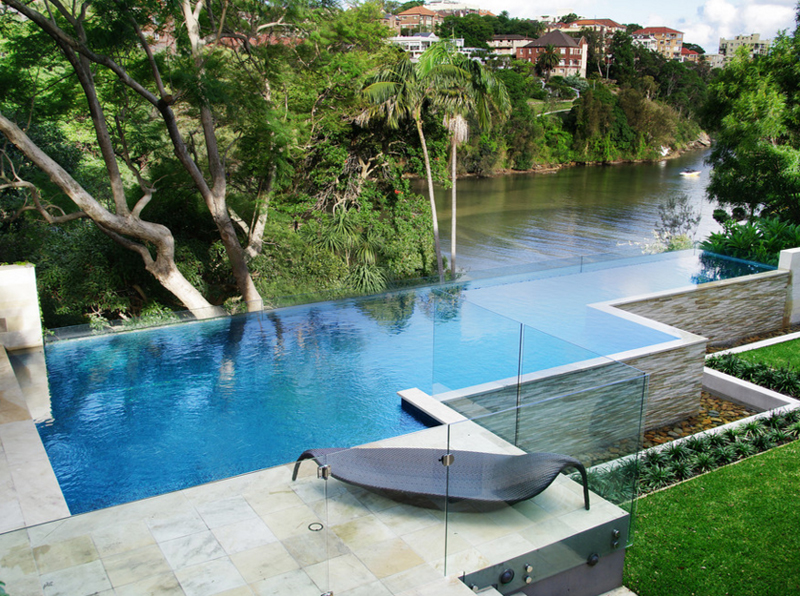 Well, look at what we have in here! A lovely lounge chair that is ideal for relaxation and recreation. Staying by the infinity pool that has a view of the lake is just perfect during those times that you want to chill and read a book or simply go for a swim.
6. Smithcliffs
Another beautiful outdoor with the perks of a park – trees, a basketball court, a swimming pool and the best rattan pool chairs. I like how this place seems like a forest of some sort that enchants you whenever you're actually out there. The addition of pool chairs allows people to sun bathe every now and then.
7. South Miami Townhouse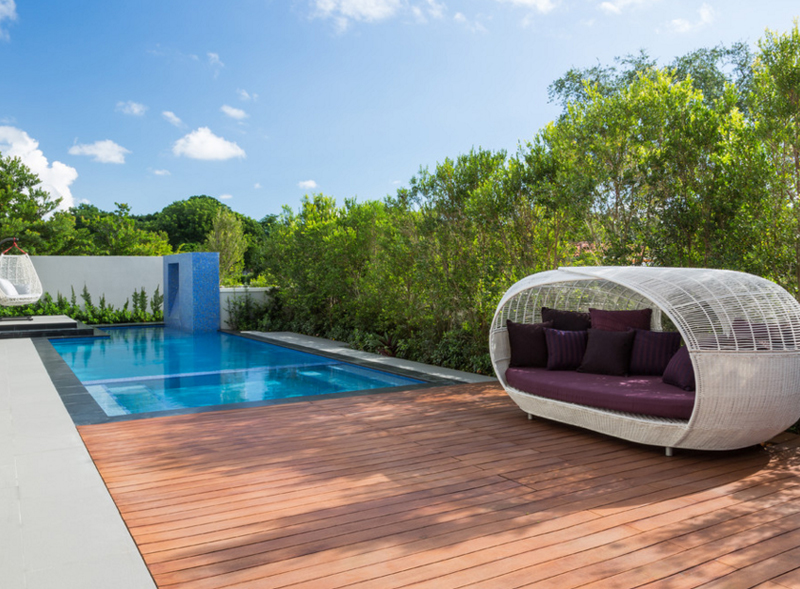 This rattan daybed serves both as a daybed and a lounge seat every time you are in here and just basking in the sun. The design of this rattan furniture is fascinating because you can see how much potential rattan has and you think to yourself, 'how many other building material can beat that?'
8. Yu Residence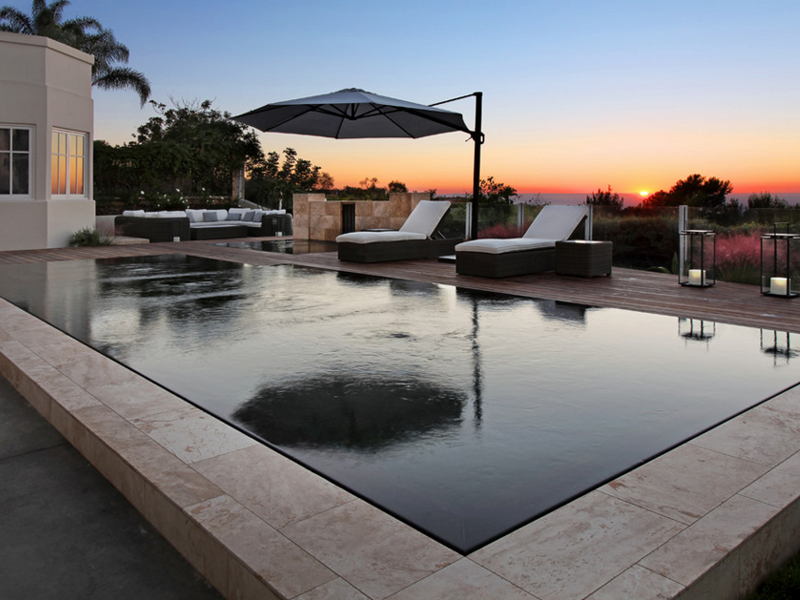 The beautiful seen in this home is beyond words. Today, it's not all the time that we see homes with fascinating views like that; people who live in the city sees other buildings whenever they go out of their houses, but in here, we see that they have this spectacular view to be thankful of, every single day.
9. Contemporary Pool & Yard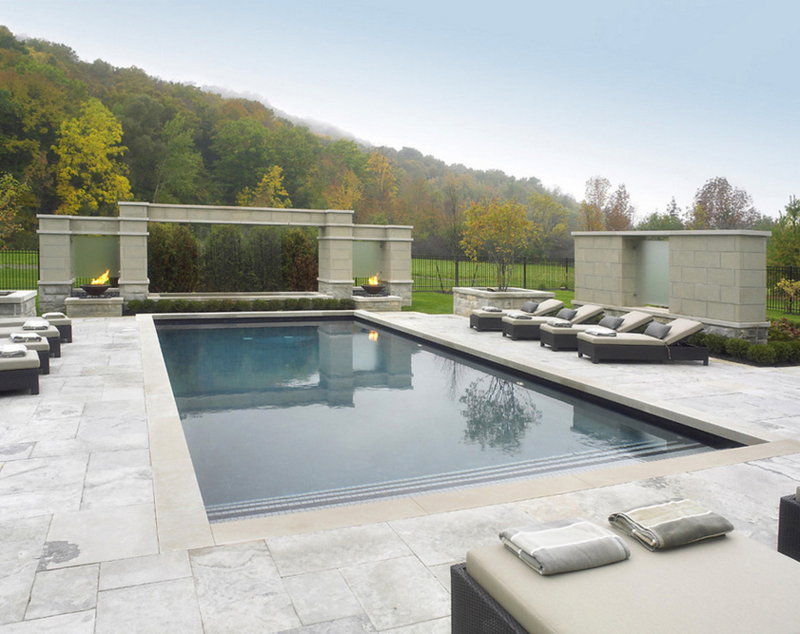 This is one large swimming area! The vast mountains as your witness to your parties and get-togethers; the trees adorn your gatherings. Seeing this location, reminds me of Roman events where there are a lot of happenings with tons of booze and merriment. The added seating in this pool area is made of rattan and it sure looks fascinating.
10. Contemporary Pool in Vancouver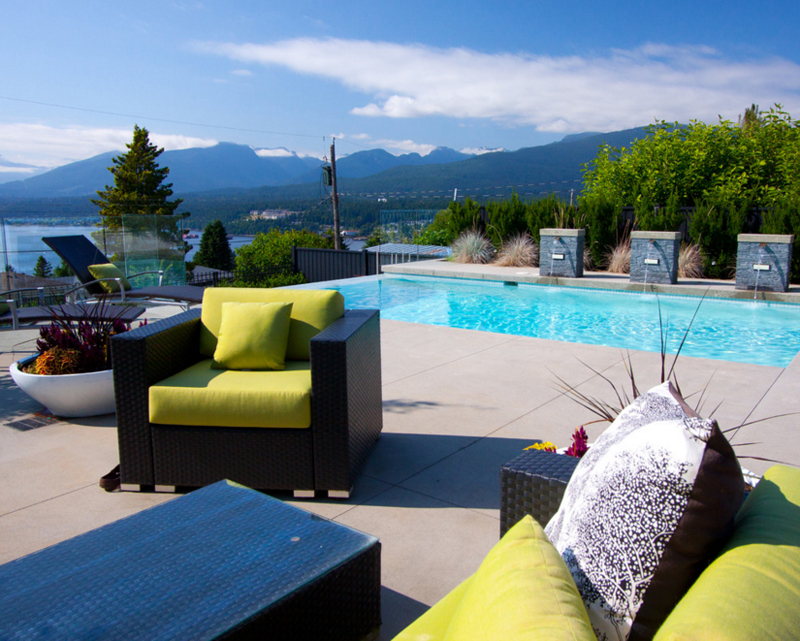 I heard that summers in Vancouver is lovely – and if you have a swimming pool at home, I bet that you'd be hosting tons of swimming parties and cocktails! Aside from having a beautiful swimming pool in here, the furniture chosen sure is perfect for the outdoors since they are exposed to sun and rain.
11. Florence Coffee House Renovation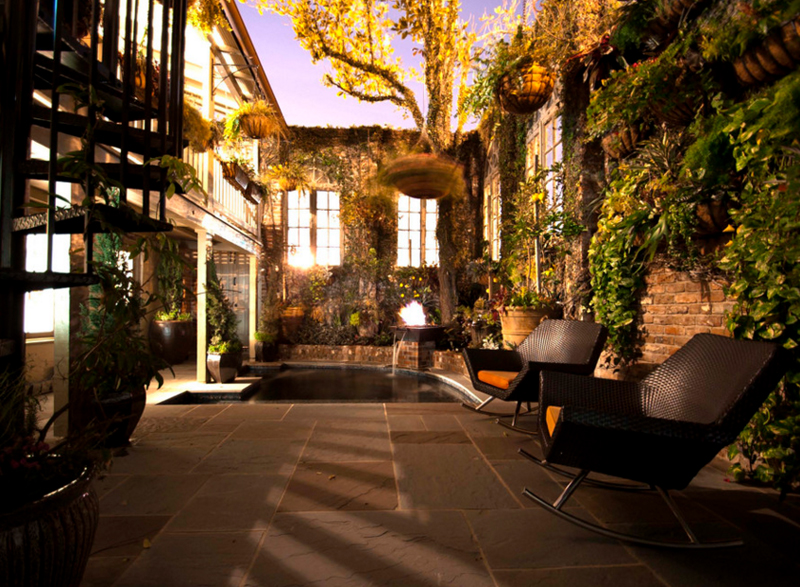 I know that this place looks a bit eerie, but honestly this a good because we are able to see a different perspective as to outdoor swimming pools. The additional rattan rocking chairs on the side is a nice feature if you want to lounge before going for a night swim.
12. Glen Iris Deck Pool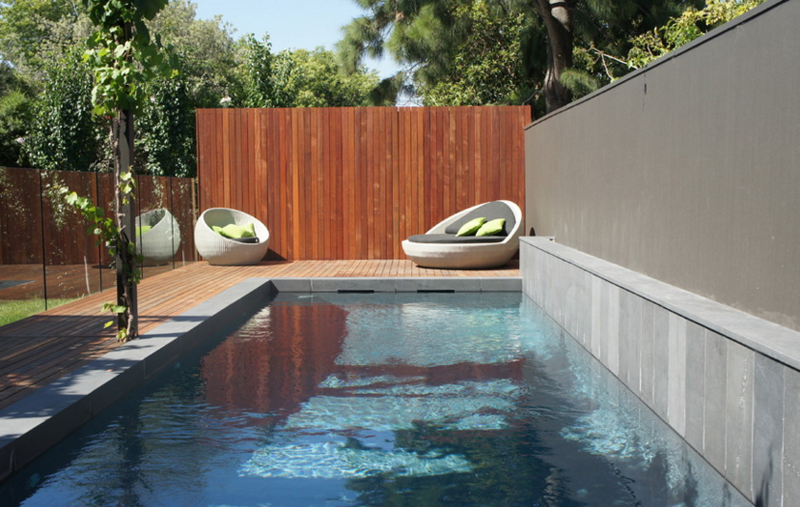 The large chairs at the end of this long swimming pool look comfortable and rather cuddly. Haha! Can you even call furniture cuddly? Although these chairs are not the best for sun bathing, you can always get a towel and lie on the wooden floor.
13. Harrisdale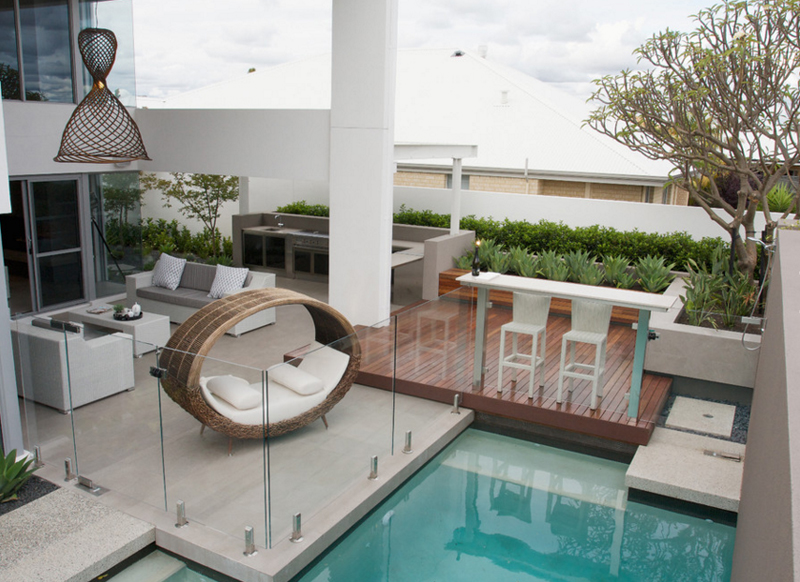 Earlier today, I saw a morning talk show wherein the host was touring a couple of guests in her house – amazingly, this outdoor area and swimming pool somehow has similarities with her outdoor area too. There is a small bar for times when she wants to have snacks or drinks; a sala area for entertaining guests and one large rattan chair that is easily the conversational piece in this entire outdoor space.
14. House 10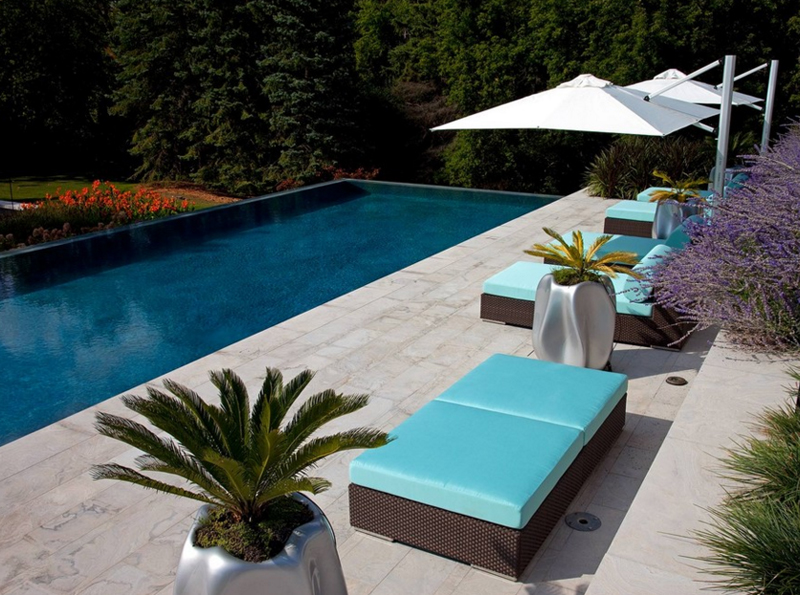 The color of the cushions on the rattan lounge chairs and ottoman is really nice. It stands out because of its bright color that you do not always see in outdoor spaces since what we usually see are earth colors and greens! Also, I think what's wonderful in here is that the designer/owner added lounge chairs as well as ottomans – so either you really want to lounge or sun bathe or simply sit down and take in the fresh air.
15. Kush Villa
Well this is one cute space that showcases an island-inspired pool area from Class Apart! Look at the hanging rattan chair beside the lounge chairs, doesn't it look really cute and Bali-like? I saw one like that in one of those French restaurants that I've been to that encourage lounging while sipping wine and eating cheese, and I sure think it's cute and really artistic.
16. Parade Home #7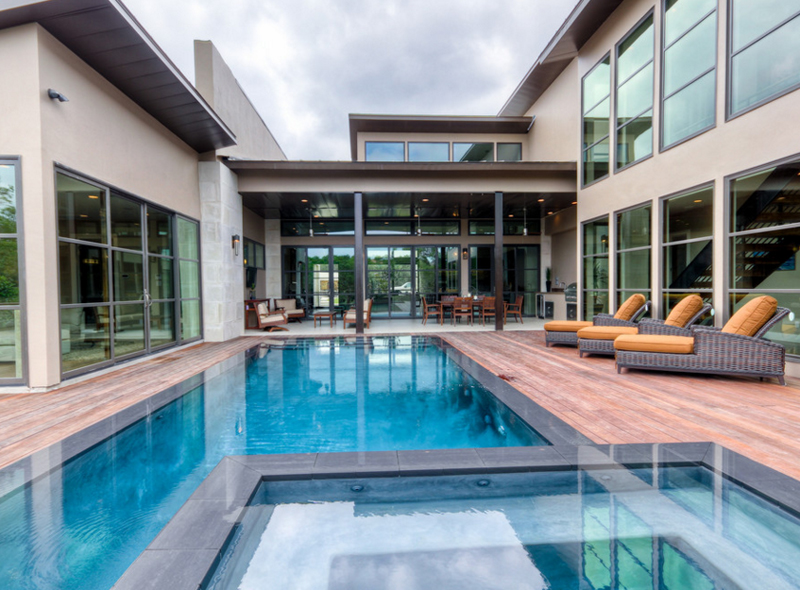 This is one large home! Tons of glass for windows and doors were used that allows the light and ventilation to work effectively in favor to the home owners – as much as this has cost the owners much, in the long run, the home owners can surely save more and definitely help Mother Nature.
17. Pool with Mosaic Wall and Fountain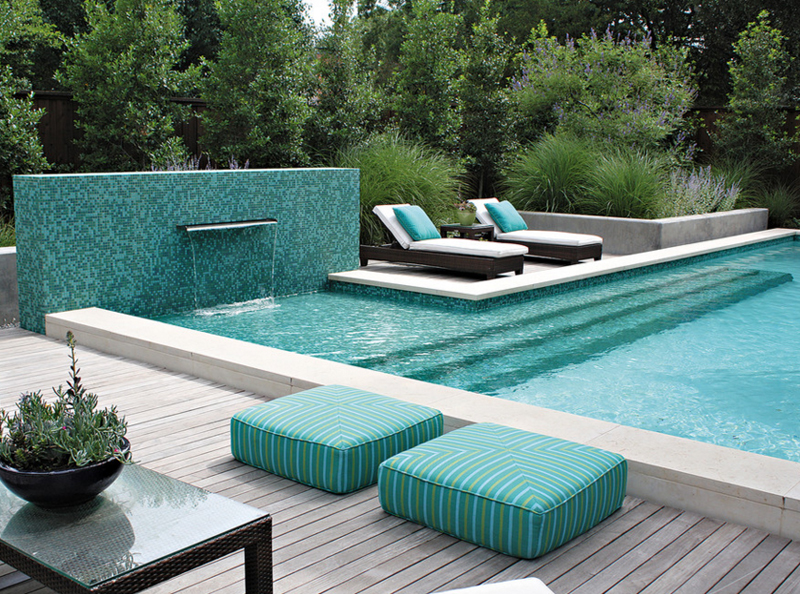 I love the color chosen to be highlighted in this pool area. Bonick Landscaping did a great job obviously with this one; the tiles used in here are lovely and very much appealing to the eyes. The furniture seen in here looks simple but really pretty.
18. Resort Style Living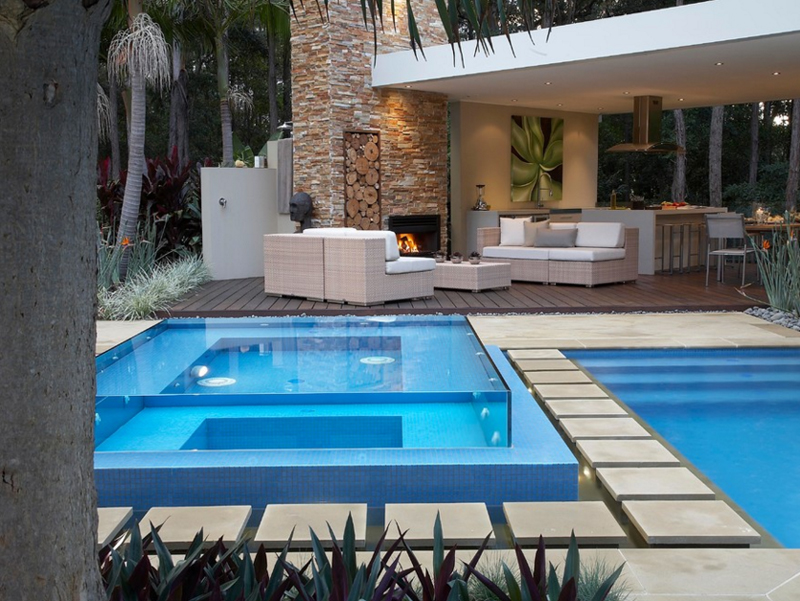 This pool area is quite close to the modern ways that swimming pools are designed. Incorporating glass and walkways in your pool not only adds beauty to your outdoor space but it also gives off a wonderful feeling of comfort while enjoying the beauty of your surroundings.
19. Simbithi 06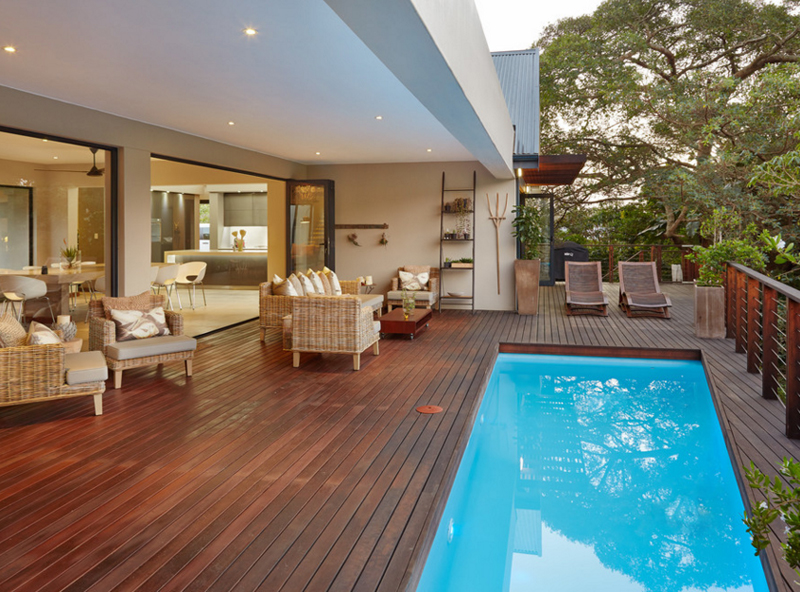 I love the wooden panels used in this pool area. The wooden and earthy feel that this area has is quite appealing for me – it makes me feel like, whenever you are lounging in this area, you know that you are far away from the city when in fact you are just home. Such a great feeling.
20. Tampa Outdoors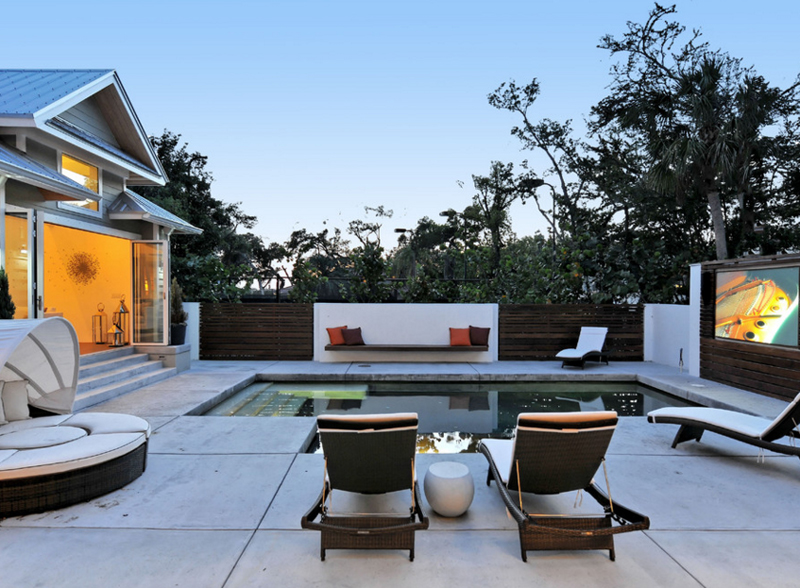 This outdoor area really has a lot of seats that can accommodate a couple of people for pool parties and gatherings. Although the designs of the chairs differ from one another, you can definitely see the variety of designs wherein rattan can be used.
There you have it guys! The list of 20 Different Designs of Rattan Pool Chairs that surely showcase a ton of ways how rattan can be used. The pool chairs above were chosen for us to really see the extent as to how rattan is actually used – ottoman chairs, arm chairs, rocking chairs, lounge chairs and even daybeds! This list can go on and on. If you like, you can also check out the Pool Chairs in 26 Contemporary Settings and see more photos of awesome pool chairs!