La Montana Place: A Home in California Built 44 Years Ago
A 44 years old house? It doesn't look like THAT old! Check it out below.
We are aware that some homes are built years ago and most of them either renovated or demolished. If it has a good foundation and its structural condition is good, then it can be transformed into a modern home and might even be capable of having an extension or addition. But if a home is really dilapidated and is already dangerous to live in, then it has to be totally demolished and build a new structure from scratch. But then again, there are some materials from the demolished home that can still be used to make the new home. Reclaimed materials can actually add some historical value to the home and it can also save a lot of money. Although most homes look really classic, you will be surprised with this house that we are going to feature today which is already 44 years old.
A home located in Tarzana, California was originally designed by architect father and son Richard and Dion Neutra back in 1972. If you look at it, it appears like it was just built yesterday. The house is considered as one of the "most significant architectural offerings in the U.S." especially that Richard Neutra is known for his work in integrating architectural to the natural surroundings. The 18918 La Montana Place is located on an expansive, nearly 3-acre promontory which provides a breathtaking 360-degree views around it. It is comprised of four bedrooms, five bathrooms, and also an incredible outdoor space that features a sparkling swimming pool, a hot tub and even unique designer water features that are seamlessly flowing through the house. According to Sotheby's Realty where the home is currently listed, it is "truly an architectural masterpiece."
Location: Tarzana, California
Designer: Richard and Dion Neutra
Style: Modern
Number of Levels: Two-storey
Unique feature: A home which has a modern contemporary design and has retained its lovely features despite being 44 years old. Amazing, right?
Similar House: The Extraordinary Glass House in Lakefield Ontario
Who would think that this house is actually 44 years old? I didn't expect that because just look at this beauty! And its design looks like a modern house that are commonly built these days.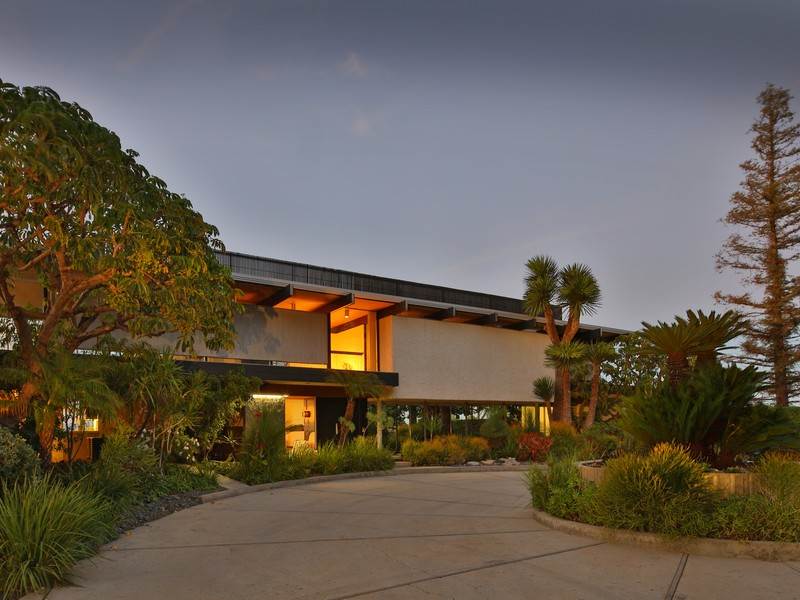 The house sits on a large lot area with a pool and a beautiful garden featuring various trees and bushes. It has a concrete path that leads to the garage of the house as what we can see in this image.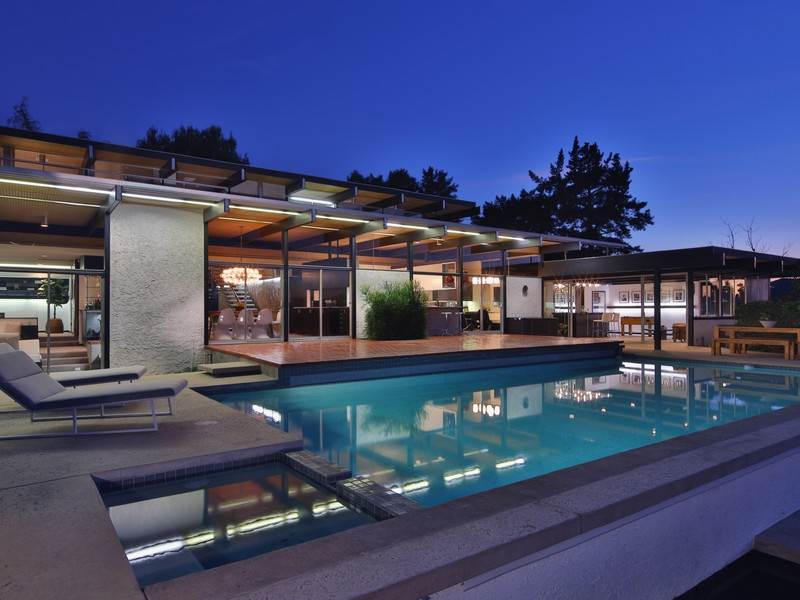 This is the pool area of the house. Yup, it does look really modern even if it is designed by in 1972. I like it that the interior and exterior are seamlessly connected to each other. Such a lovely outdoor area too with lounge chairs and all!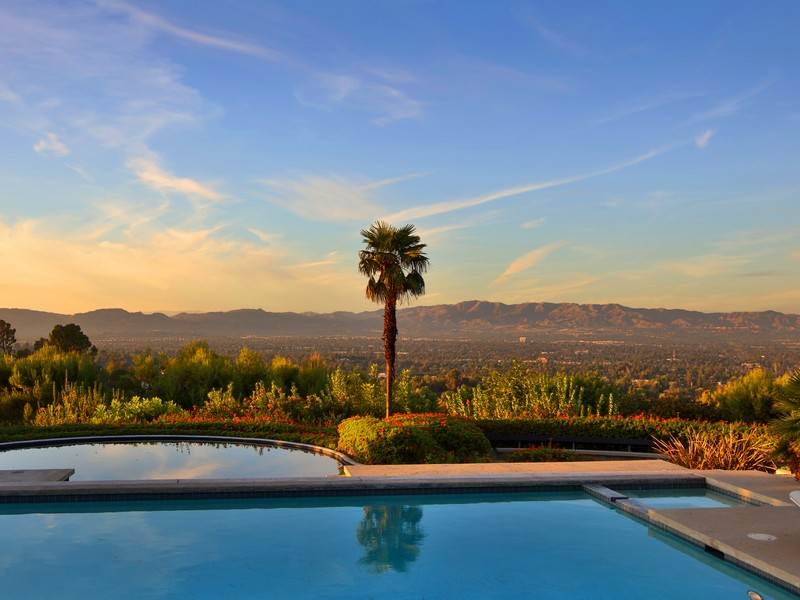 The house has a panoramic 360 degrees view of nature and you can see that in the image above. I really think that it is very nice to stay on the pool area both day and night.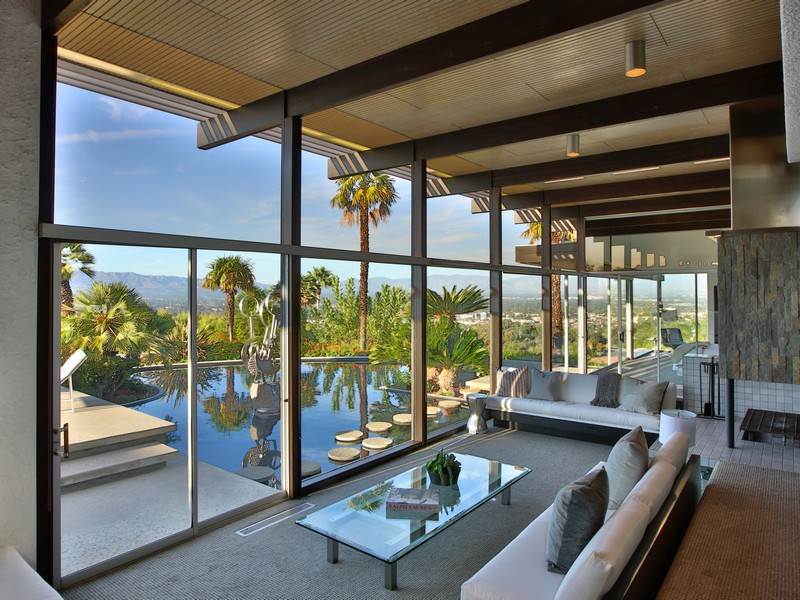 Seen here is the interior of the house. Notice that it has floor-to-ceiling glass windows around it and it has aluminum frames as well. Also, there are exposed beams for the ceiling all around the house. The interior looks really luxurious and yes, modern too.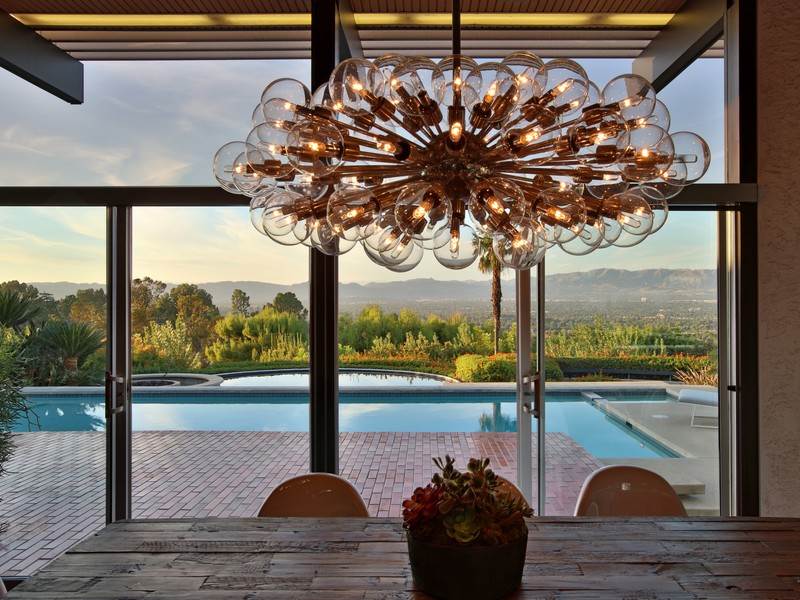 The dining area features a grand chandelier that is comprised of so many bulbs. From this area, the pool can be accessed through sliding glass doors and the view can be seen through the glass windows.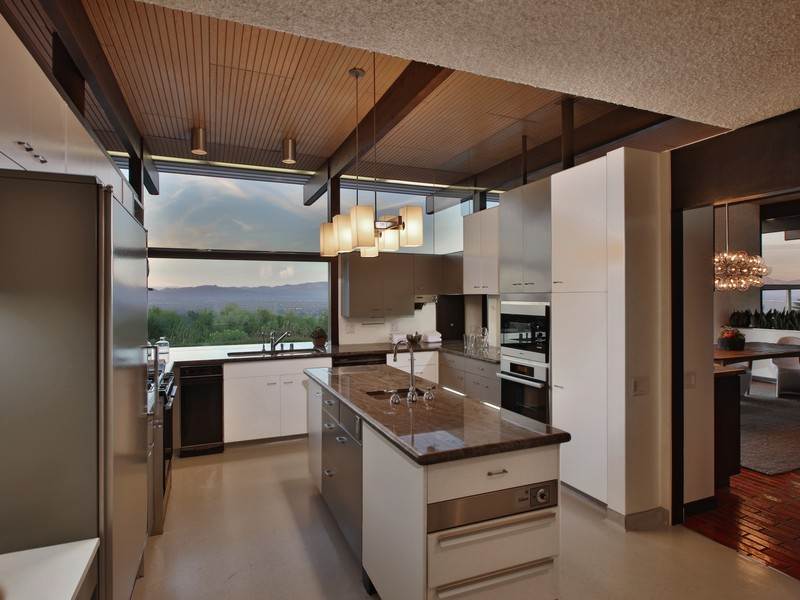 This is the kitchen with a picture window and exposed beams like the rest of the house. It is complete with storage areas, steel finishes, and stone countertop. The lighting in here looks really nice too.
Read Also: Cliff House in New Zealand: Beautiful Glass House Overlooking a Gulf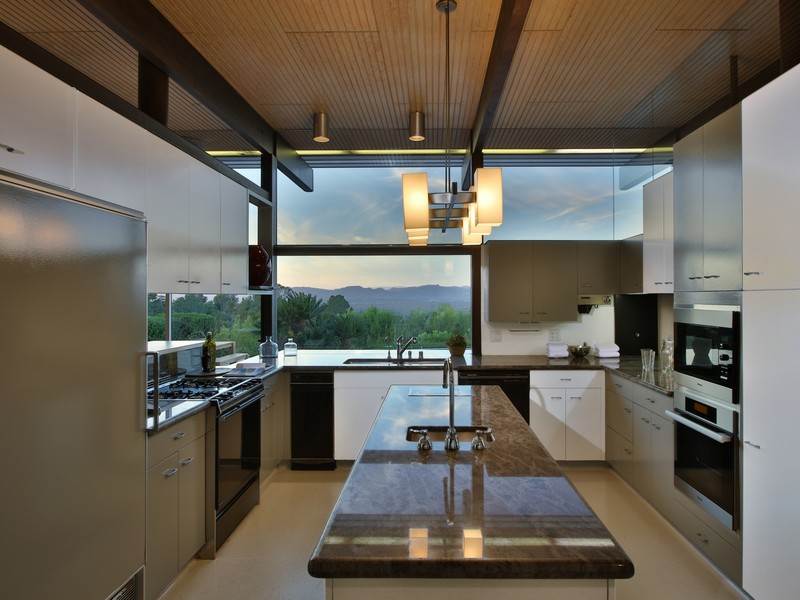 Above the kitchen island is a modern lighting that illuminates the space. Apart from that, natural light also gets into the area through the glass windows in it. The kitchen has everything one needs to prepare food.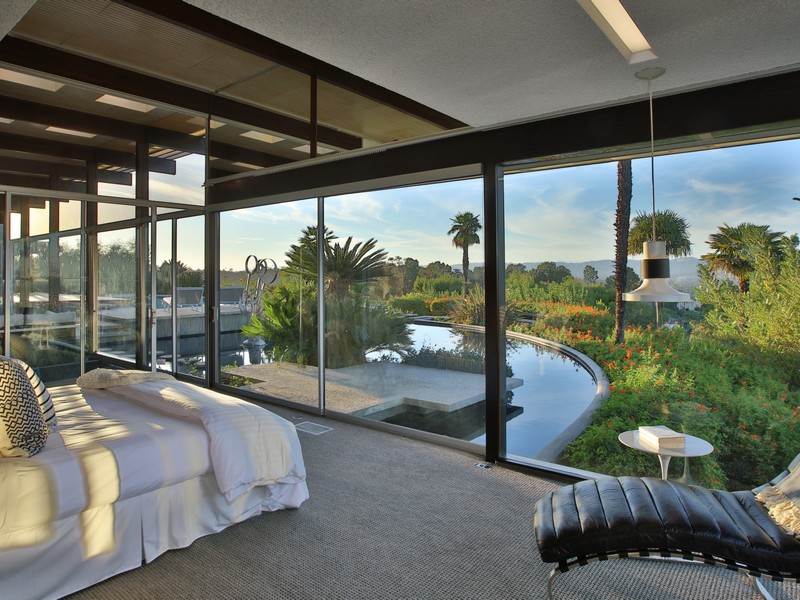 This is the bedroom of the house with a comfy white bed. It is also surrounded with glass walls and is actually transparent. But when privacy is needed, the shades can just be pulled down. Isn't this a lovely bedroom? You can even sleep with the moon's light if you want to by not drawing the shades down.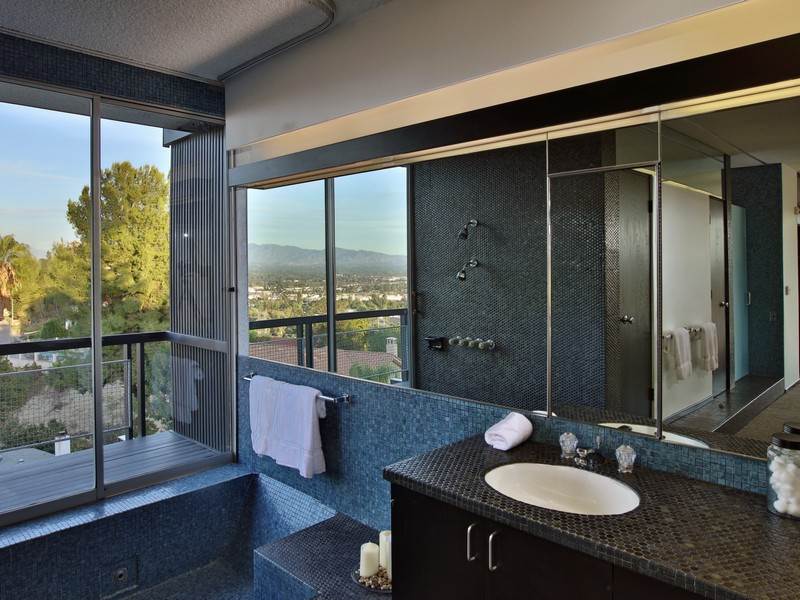 Just like the rest of the house, the bathroom is also surrounded with glass. Notice here the mosaic tiles on the tub as well as on the countertop of the vanity. What added to its spacious appeal is the glass around it.
This 5,500 square meters residence sits on a 2.885 acres of land and has a stunning home which doesn't appear old despite its age. I could tell that the house is really well-taken cared of through the years. This home proves that architecture can actually last that long and even longer as long as the structure is built with the proper standards. Also, its design is timeless both in the interior and exterior. This home is currently listed under Sotheby's Realty for $5.5 million. And yes, it sure is worth its price. I wonder who would be the lucky new owner of this gorgeous residence.