McLeroy Residence Features A Pool, Central Courtyard & Seamless Indoor-Outdoor Spaces
A stunning modern home which seamlessly connects the interior and outdoor spaces.
All of us want to live in a house which will bring us near to nature. This way, we are able to relax in our very own homes. That is why, we can see that many homes are really trying to integrate a garden no matter how small the space is. Some would just have an indoor garden but still others make sure that they have a small pool area or courtyard under the skies. Well, we consider homeowners who have spacious lot areas to be truly blessed because they are able to integrate a garden, a pool and other lovely outdoor spaces to enjoy. And one example of that is the house that we will feature today.
The McLeroy Residence is designed by Ehrlich Yanai Rhee Chaney Architects. This home has a restrictive 11-foot height limit imposed by the homeowner's association. With that, the designers created a series of horizontally expansive spaces underneath a floating horizontal plane that are supported on stone masses, wood walls and slender steel columns. This resulted into a gorgeous modern home that is nestled at the end of a cul-de-sac in a private southern California beach community. The McLeroy Residence occupies a site with spectacular views of the Pacific Ocean. The compound is entered along a fifty-foot long sustainable-growth hardwood (ipe) wall which gives the home's facade a stunning appeal. One will see oversized sliding glass doors that pocket completely away to dissolve the physical boundaries between the interior and exterior spaces. With this, an uninterrupted flow from the rear courtyard through the main living space to the pool area is being created, all against the backdrop of the Pacific Ocean. Merely reading the description will make you appreciate the home. How much more if you actually see the different spaces? Go ahead and take a look at it below.
Location: Long Beach, California
Designer: Ehrlich Architects
Style: Modern
Number of Levels: One-storey
Unique feature: A modern home featuring a pool and a central courtyard which are seamlessly connected to the interior of the house.
Similar House: Half Walls Divide Spaces in Apartment Huber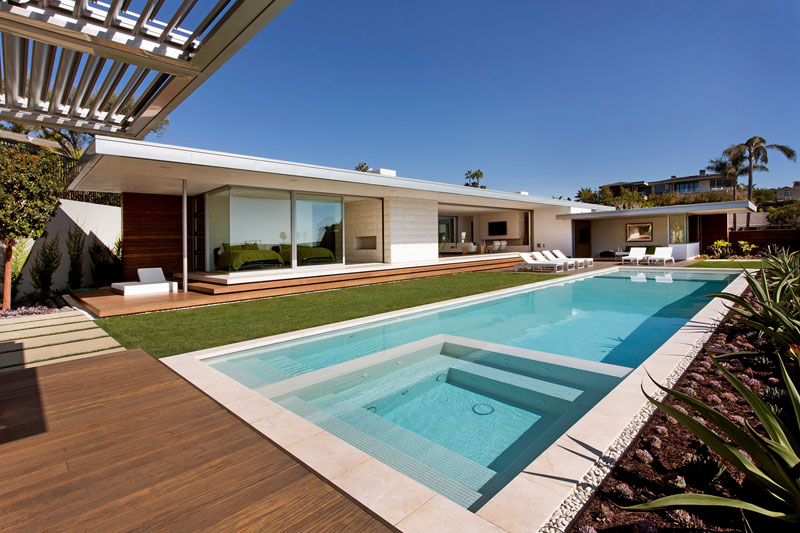 Obviously, the owners of the house wanted to have a dwelling that will not only provide them shelter but also a space where they can rest under the sun and spend time while watching the birds and the sunset. You can see here the beautiful yet simple pool area of the home.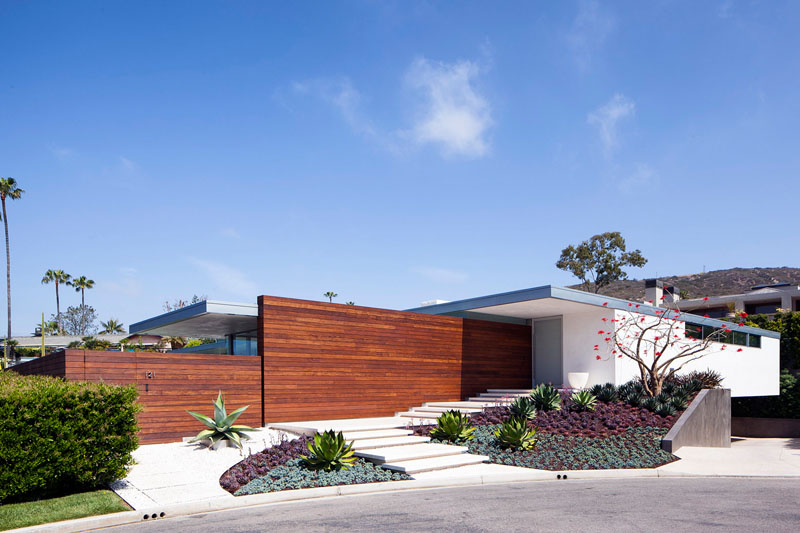 This is the facade of the house. Isn't it lovely? It may look simple but there is more to the house than what you can see. I like the idea that some parts are elevated and protruding while the rest is being protected by a tall fence covered in wood. Lovely, right?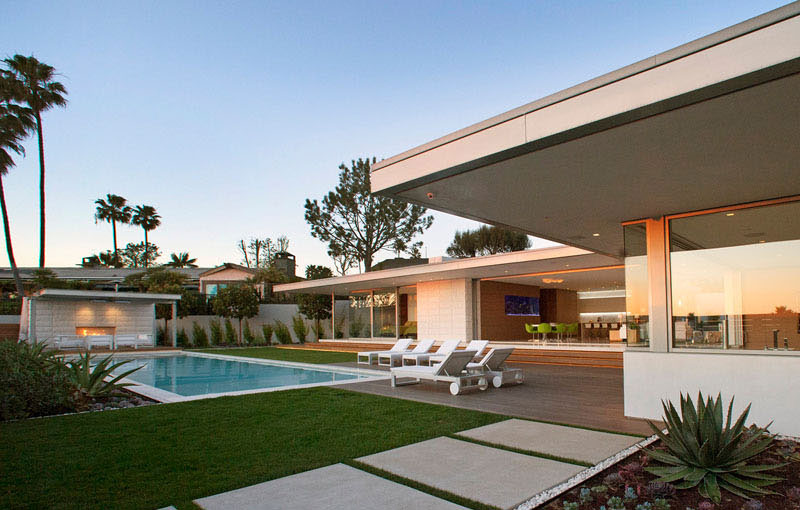 Notice how the house used sleek lines for its architecture. This is also seen in the outdoor area too. Indeed, nothing beats a home with a garden and a pool!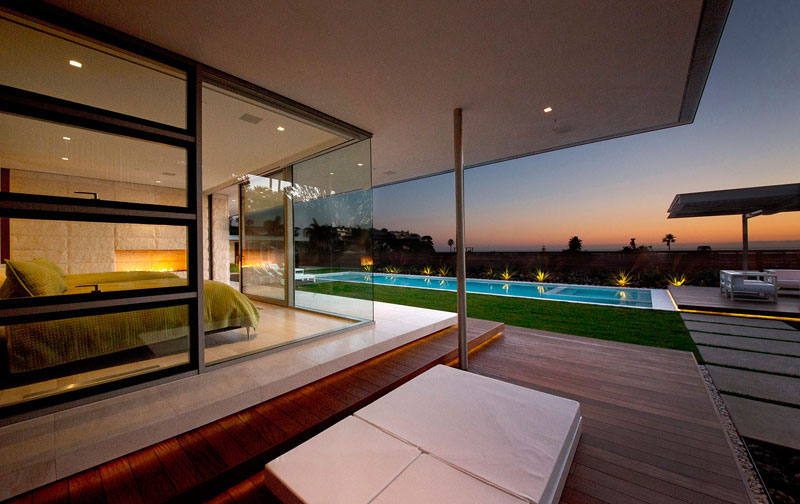 Since the owners wanted their home to be seamless to the outdoor area, it has oversized sliding glass doors which are used to open throughout the house. This helps in creating an indoor/outdoor living space. In the photo above, the master suite is high enough to have a view over the swimming pool and of the ocean.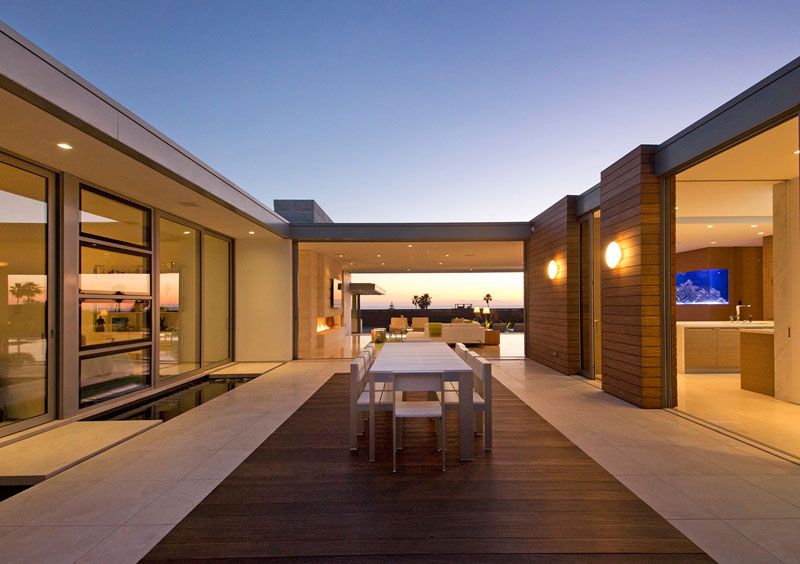 There is also a central courtyard which includes an outdoor kitchen, dining area and Koi pond. This part of the house can be accessed from the home office, guest, and children's bedrooms.
Read Also: GH Mild Apartment Divides Interior Spaces Without Using Solid Walls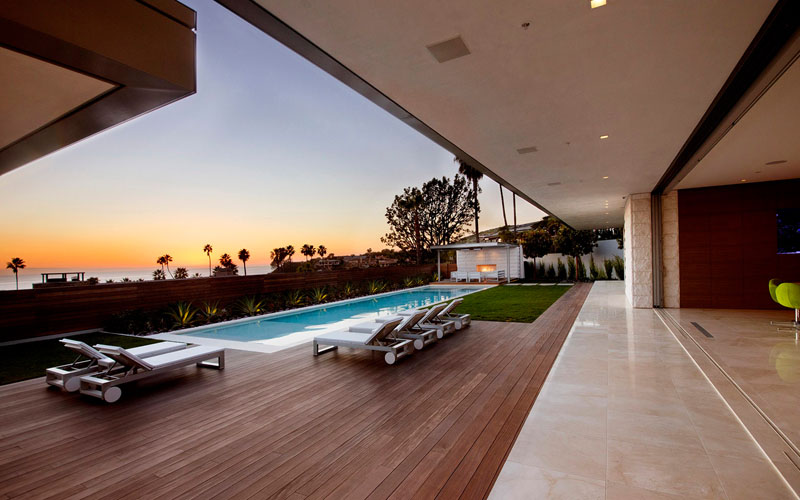 The backyard where the swimming pool is located has a couple of small grassy areas. It also offers lots of room for relaxing in the sun and an outdoor lounge area with fireplace. The owners of the home doesn't have to go far just to relax.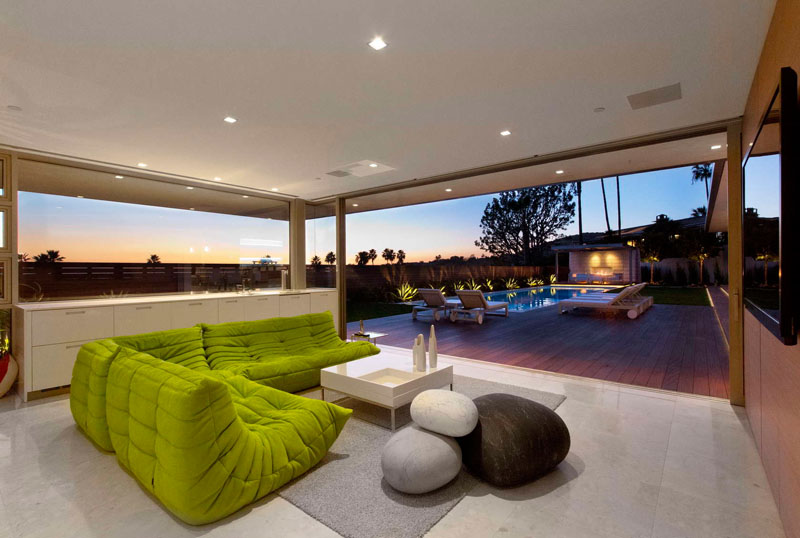 The living room of the house has a splash of color with the lime green sofa. It is like the color of nature is being brought indoors. It also opens up for a view of the swimming pool which looks really great both day and night.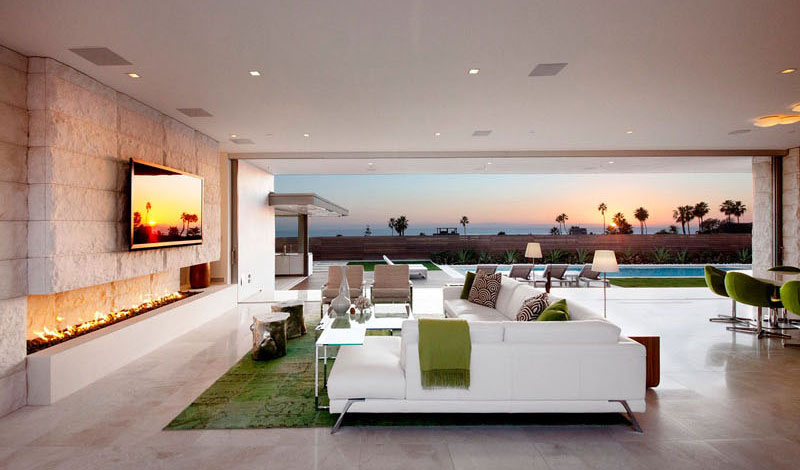 What made some parts of the interior unique are the massive walls of stacked limestone that are a counterpoint to the structure's strong horizontality. It also holds fireplaces indoors. The combination of limestone and fire is just so dramatic that you'll surely fall in love with it!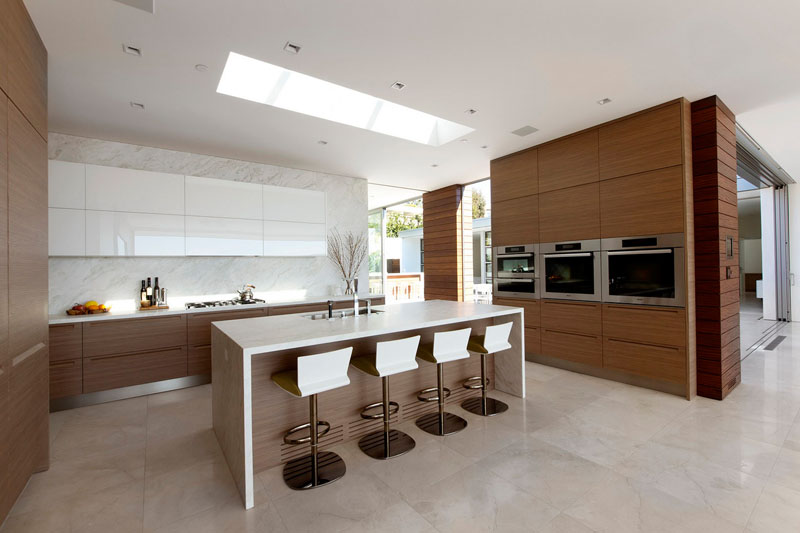 In the kitchen, upper cabinets are colored white which matches with the island. All of the other cabinets are made from wood. As usual, when white and wood are used together, the result is always stunning. You can also see here white counter height stools with a modern design that is just perfect for the kitchen.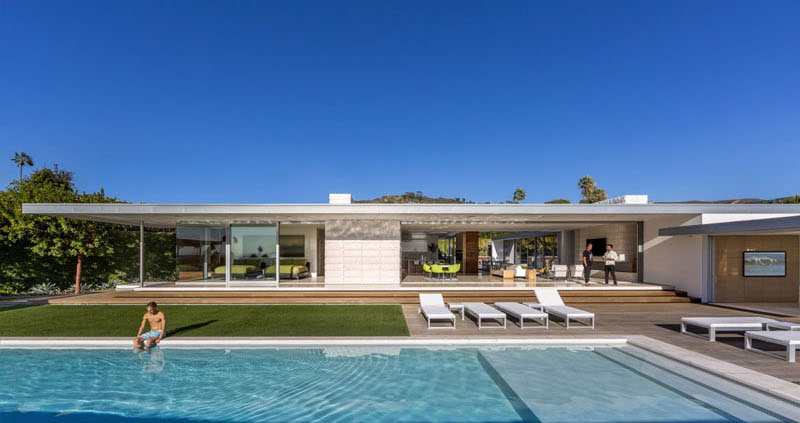 The house features a variety of outdoor living and entertaining spaces that are formed by stone floors which extend outside, in composition with ipe decks, concrete and landscaping. The main garden space features a pool as well as sitting areas with a fireplace that under a roof canopy. It is indeed nice to allocate some space for a pool and other outdoor features.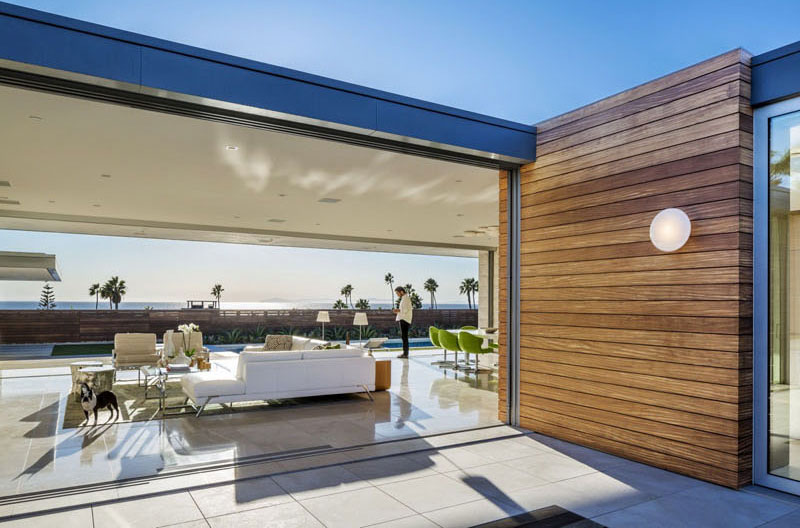 You can see how open the second living area and the dining area are to the outdoor spaces on both sides. This way, there is a seamless connection between the spaces. It will also be very easy to access the indoor and outdoor areas too.
This is indeed a relaxing home, right? Aside from the interior, you'd surely love how everything is designed from the exterior as well as the outdoor area. It is nice that there is a lovely connection between the indoor area and he outdoor area of the house. And this is also a great example of how a modern home could be designed without sacrificing the beauty of nature because we all know that we want to have a home that connects to the environment. This way, we are able to create a dwelling that will make us love to stay in it especially if we have stressful days. It becomes an abode where you can relax while spending time with the family. This project is designed by Ehrlich Architects who were able to give the family the kind of home that they love. And we won't be surprised if you also consider this as your dream home because of its beautiful design. Yes, you can always use this as an inspiration for your future home or maybe even for renovations and additions. What do you think? Can you tell us which features of the house do you like best?