Before and After: The Reuse Everything Experiment of a House Renovation in Oregon
Recycling and reusing is amazing. We have seen so many home items that are made from recycled stuffs especially that DIYs are a trend in the internet these days. But it would even be more awesome if an entire house is made by reusing and repurposing materials. Yes, everything was done in that matter with second hand furniture and others. I was actually amazed about this house which we are going to feature today.
Couple Shannon Quimby and Glenn Hoffinger wanted to make a house by not wasting anything. They tore down a 1920s home in the Sellwood neighborhood of Portland, Oregon and called the renovation project as R.E.X which stands for Reuse Everything Experiment. They said that they saved everything by fixing those that are broken. While those that can no longer be fixed were reused in a different manner. I know you find this pretty interesting. Let us take a look at what they have done to their New Portland House.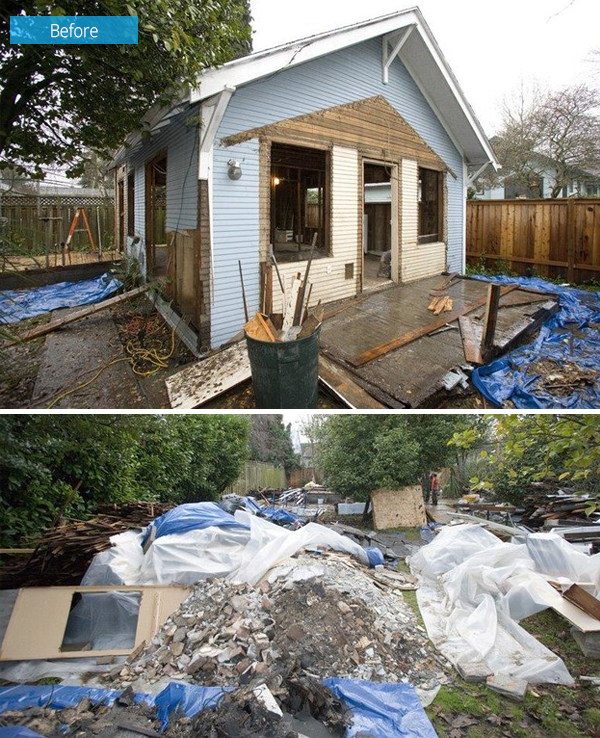 This was the place where a new house will be built but the materials from this old house will be used for it. Even nails and bottles found in the area were used too. When the demolition was done, they rented a two containers to store everything.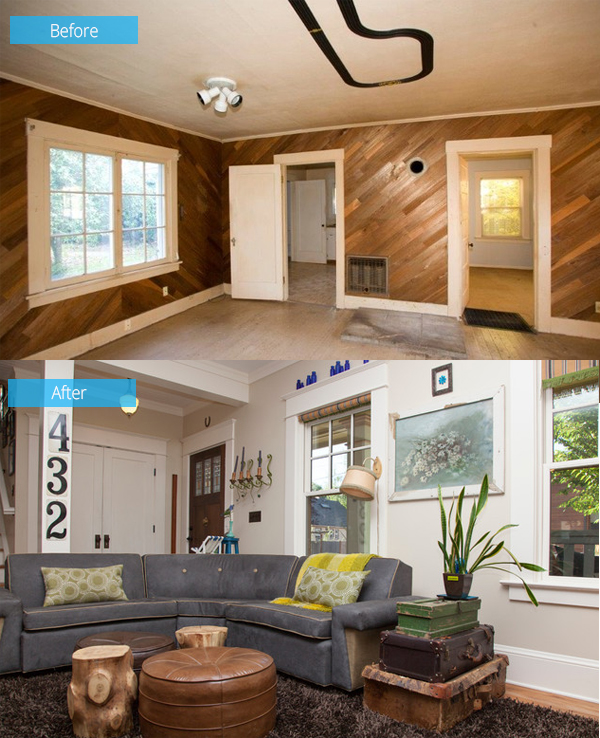 Now is how the living area turned out. It has a mix of different furniture and decors it. The floor grate of the old living room was used for the front door boot scraper while the flooring was used for the two bathrooms and as base for the window beds of the playroom.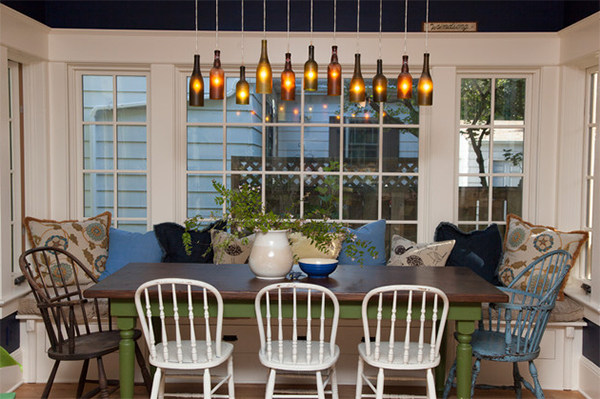 For the dining area, the bottles found around the house were turned into a lovely lighting.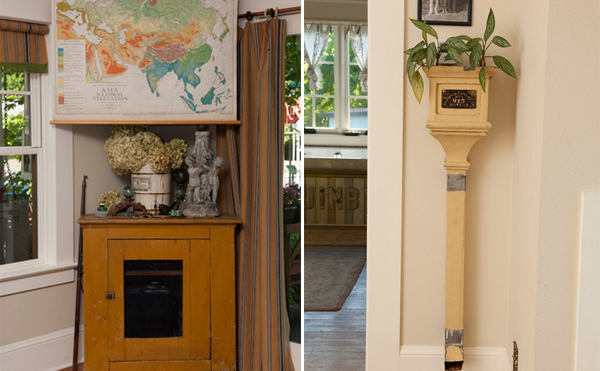 The couple turned a cabinet into cupboard and used it to store electronics. A map covers the wall-mounted television. The other image shows an old drain pipe turned into a flowerpot.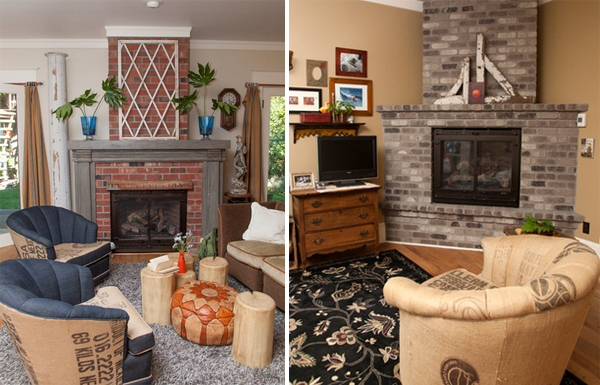 The two swivel chairs in the living room was re-upholstered with jeans and coffee sac while the other chair on the right was covered with burlap and coffee bean sacks.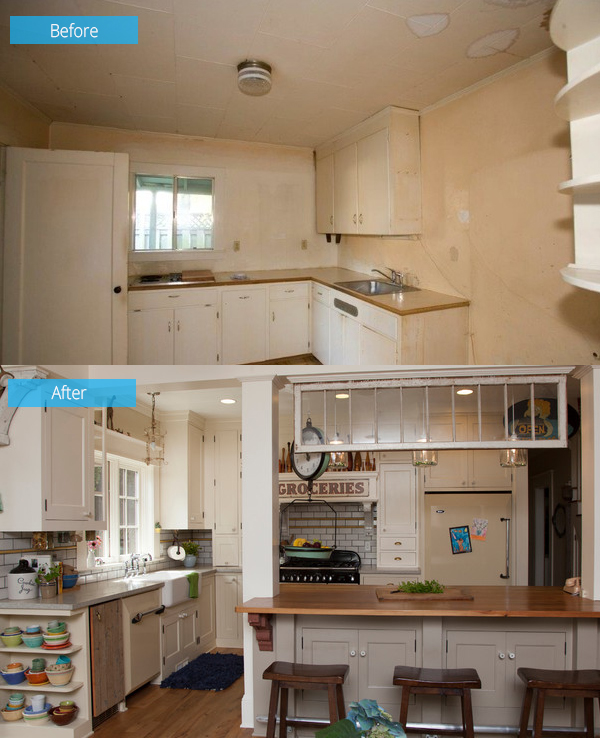 The sink and cabinetry that you can see from the original kitchen are now being used in Quimby and Hoffinger's workshop. Below is the new look of the kitchen which sure is better than the original design.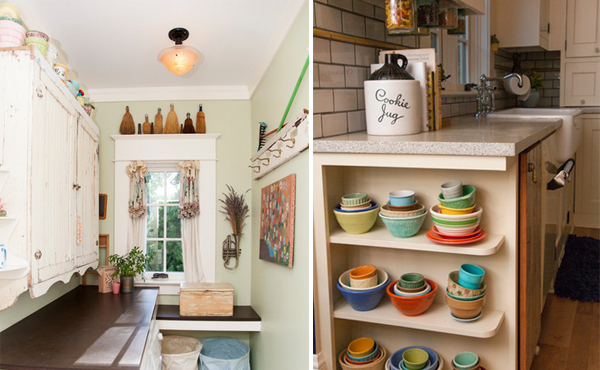 The kitchen countertop are made from recycled broken bottles and low-carbon concrete.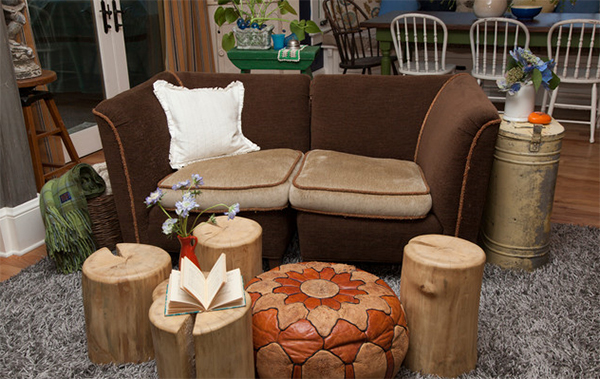 Holly trees were used as stools for the living room while an old mailbox was used as a side table.
What you can see here is the seating area of the guest bedroom. This armoire is an antique purchase while a drum-clock from a garage sale was used to decorate a repurposed lattice.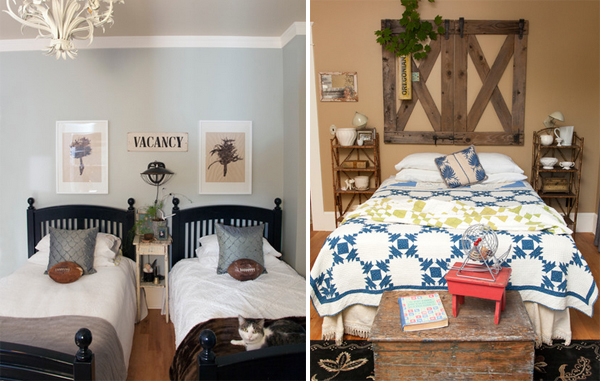 Walls in the home including the guest bedroom with two beds are done with low-VOC paint. Meanwhile, the headboard of the master's bedroom is an old gate which was used as an equestrian jump many years ago.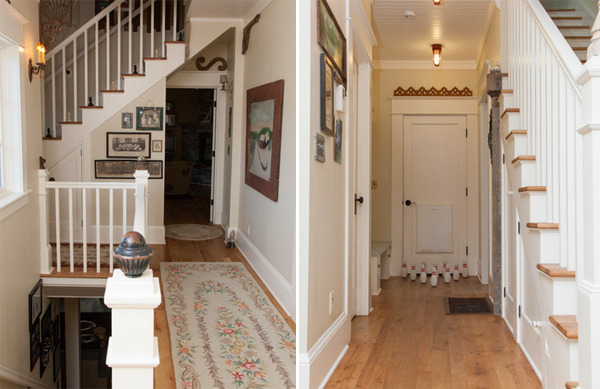 Old newel posts from the former house was used for the railings while on the other image it shows recycled chestnut flooring to create a lovely hallway and a bowling alley.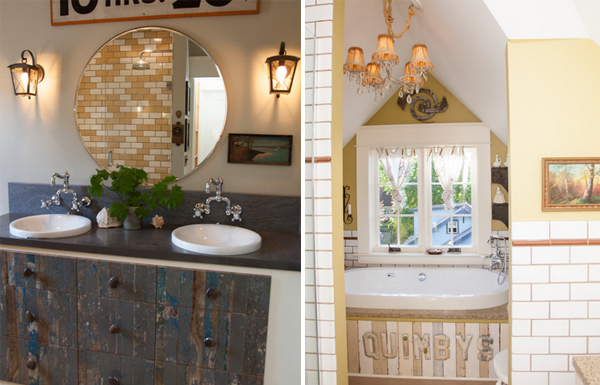 The door of this vanity looks beautiful which is actually a result of years of painting. The wall sconces are salvaged outdoor lightings. Meanwhile in the bathroom, in the bath tub's apron, you can see letters that was given by Quimby's friends and lined it with window trim and salvaged door.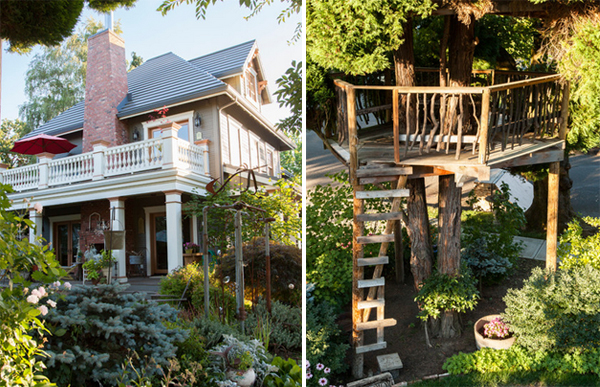 And this is the exterior of the house as well as a tree house built in the same area.
Of course, when you are doing a renovation like this, expect for an eclectic home. I really love how this turned out! Who would think that you can actually make a home from salvaged and repurposed materials? And it isn't just a simple house but one that is beautiful, functional and cozy! I salute Shannon Quimby and Glenn Hoffinger for a job well done! I'm sure their son as well as their cats who live with them are very much happy about the result of their house renovation. So, what can you say about this?