HoF Residence: A Contemporary Home with Interior Industrial Features
For some, an industrial home looks grungy or messy.
Do you think the same way?
Well, these days, many homeowners adapt the industrial look for their interior. It allows them to use a mix of wood, steel, metal and concrete.
The result?
Totally stunning! You can appreciate it more once you see industrial interiors like the living rooms we have featured before. Even industrial dining areas look really beautiful despite its strong masculine features.
Today, we are going to show you a home that has a contemporary exterior but it has impressive usage of industrial features. If you want a home with subtle industrial touches, then this is what you need to see.
Take a look at the HoF Residence below:
Location: Atlantic Beach, Florida
Designer: dig Architecture
Style: Contemporary
Number of Level: Two-storey
Unique feature: This contemporary home may look simple but if you take a closer look at it, you will see that it has many amazing features like its exterior and its industrial-themed interior.
Similar House: Modern Industrial Loft Apartment in Ukraine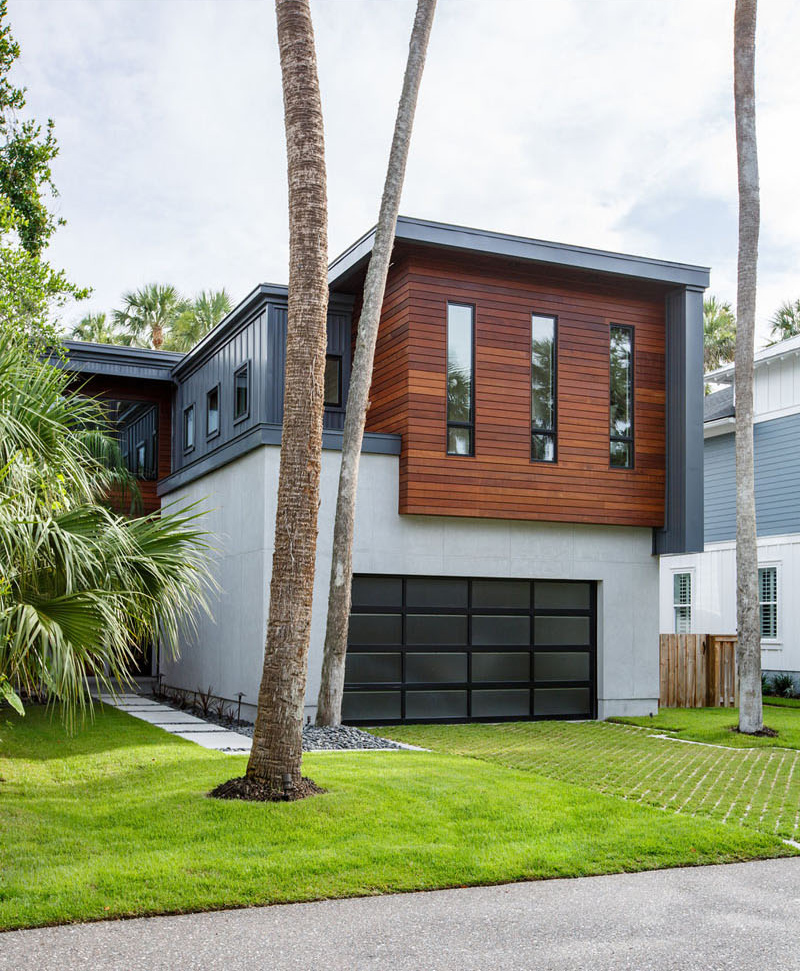 This new home is located in Atlantic Beach, Florida. Its interior combines a contemporary and industrial feel.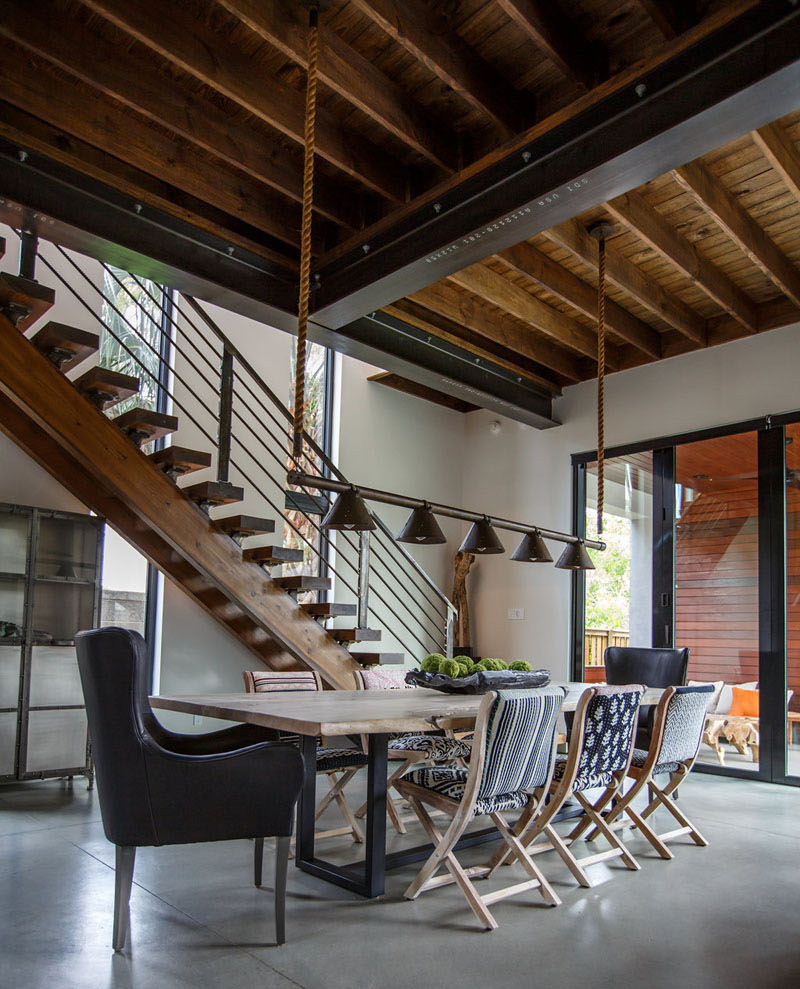 The dining room, which is behind the living room, features a wood table with a steel base. Above the table, you can see an industrial-inspired lighting that hangs from a rope attached to the ceiling. The house also features wooden stairs combined with metal accents and handrails to bring an industrial touch to the interior.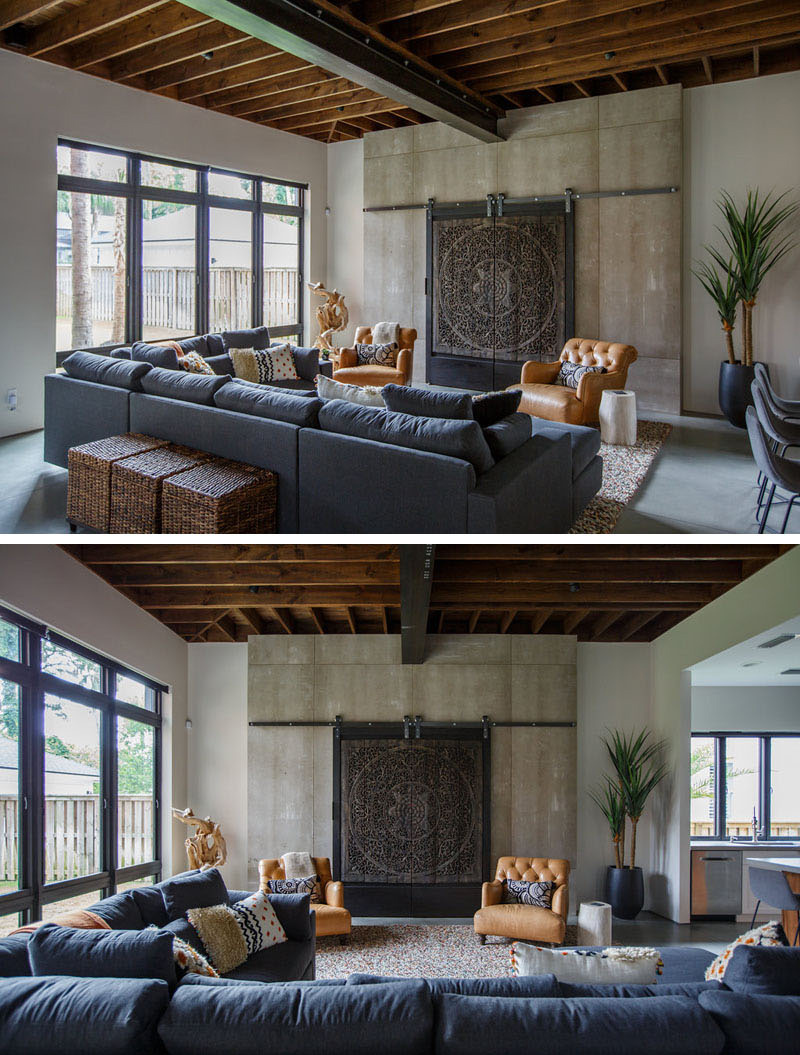 The living area has a warm feel in it. Aside from the blue sofa, it has throw pillows of different prints that add an artistic vibe to the home. It is also bright because of the sunlight that gets into the window.
The main living, dining, and kitchen area are in the same open space as you can see in the image above. Exposed wood and steel beams draw the eye upwards which make the room feel larger and more spacious.
Read Also: An Industrial Apartment In An Old Shoe Factory In London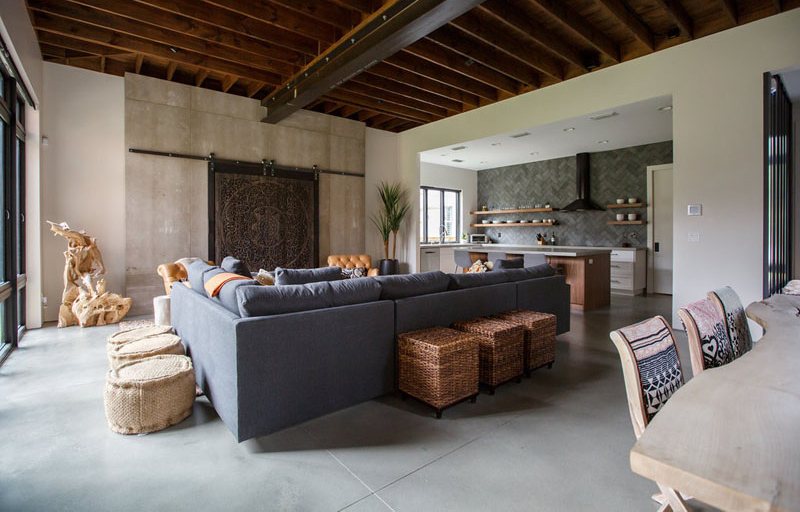 Another look at the living area which has different kinds of ottomans in it. You can see that there are some covered in fabric while there are also rattan ottomans.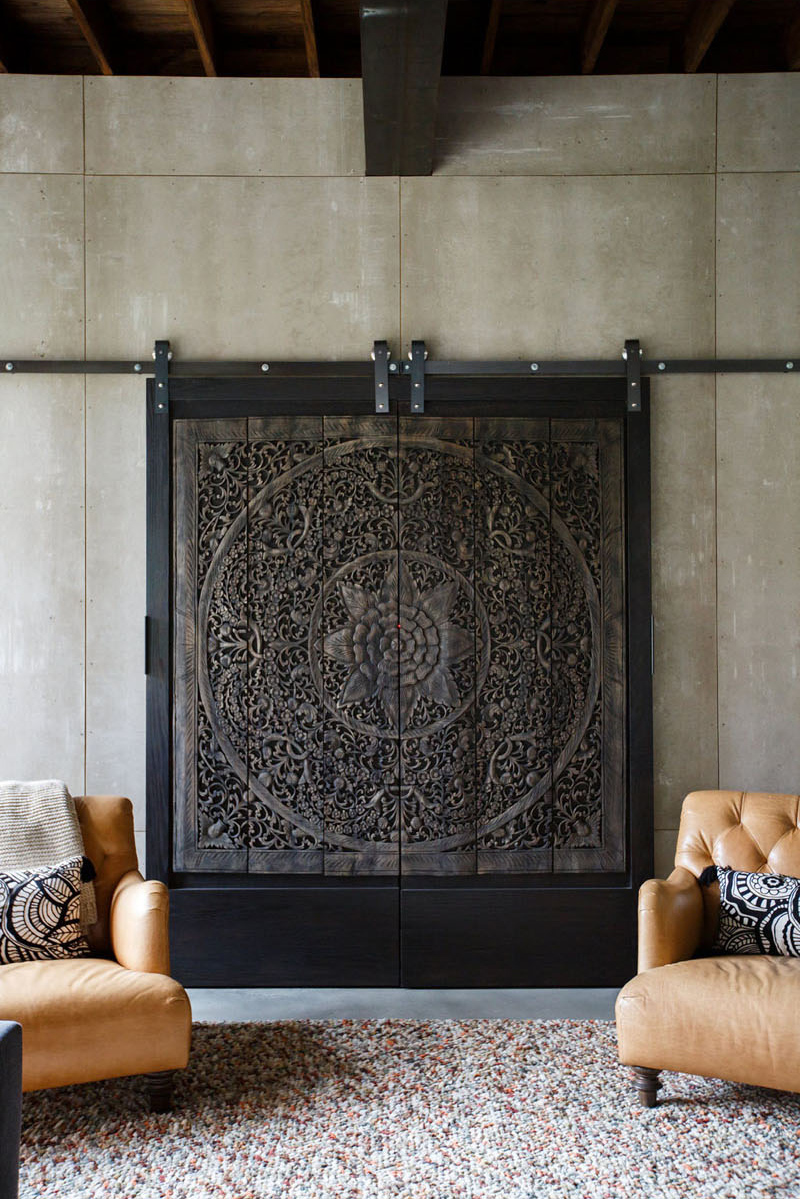 In the living room, you can see an artistically carved wood panel on a simple metal track that hides the television from view when it's not in use. Very creative, right?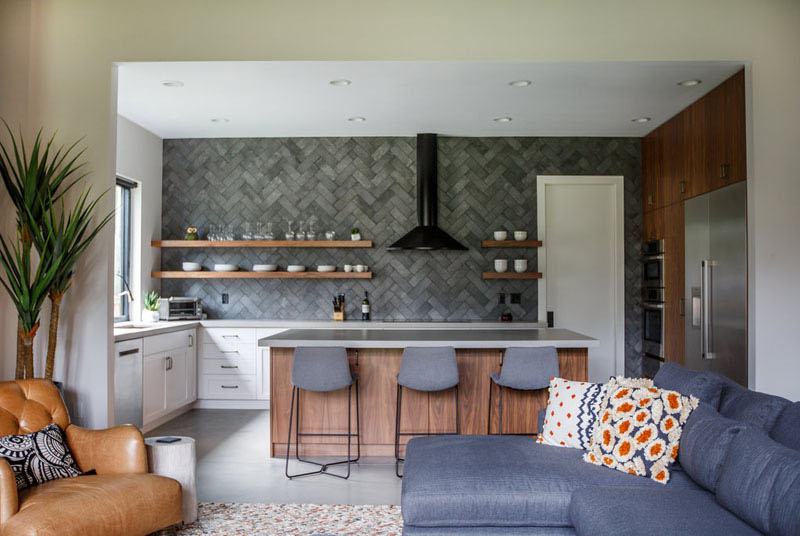 Next to the living room is the kitchen area which we can see in the image above. It used grey tiles in a herringbone pattern to cover the wall. Floating wood shelves compliment with the wood kitchen island.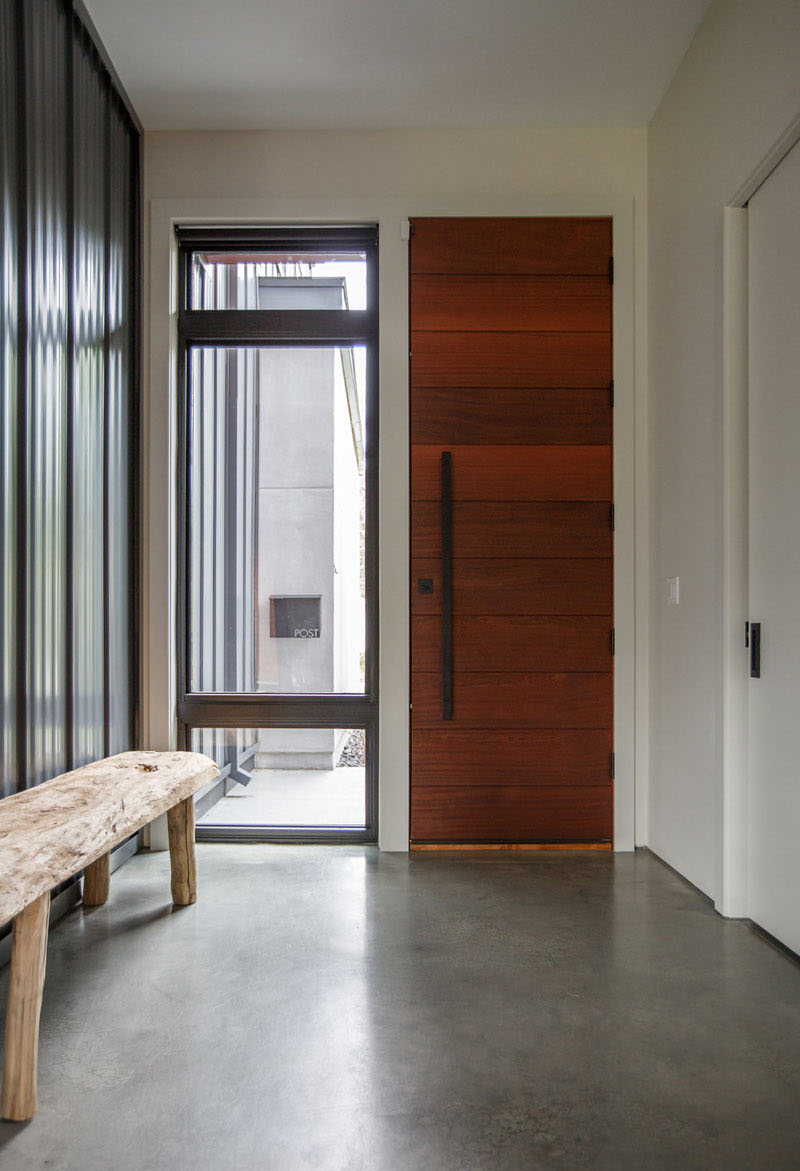 Inside the front door, the entryway features a wood bench and the grey siding from the exterior of the house continues through and becomes an accent wall.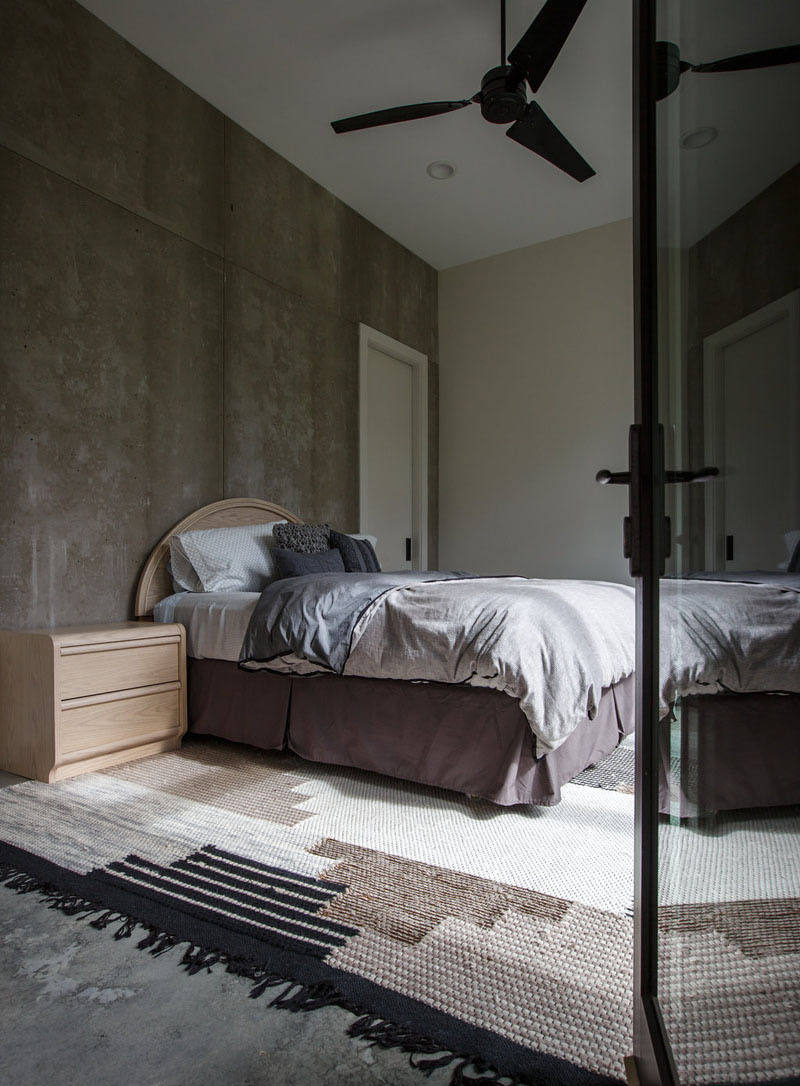 On the right hand side of the outdoor lounge is a door that provides access to a bedroom. Isn't this a beautiful space? It has a wall of concrete-like panels that becomes an accent wall. You can also see a black fan that compliments the black door frame. This bedroom has an en-suite bathroom that features simple wood vanity and hanging round mirror.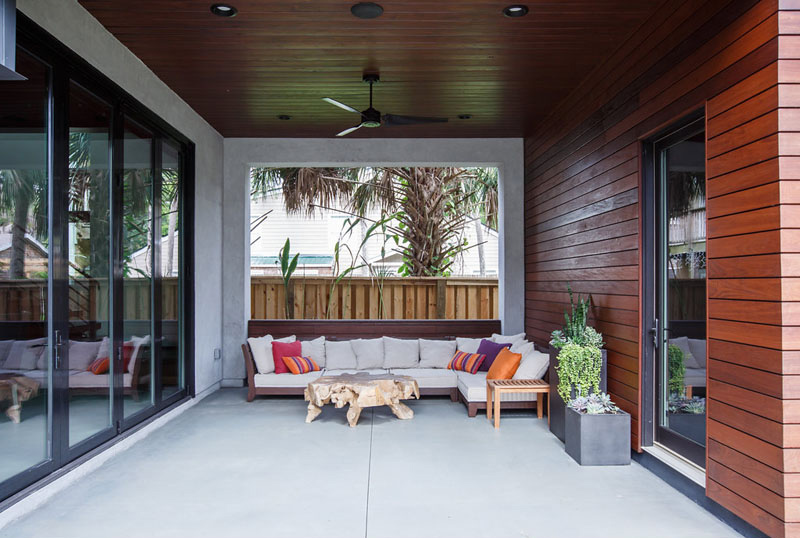 Glass doors can be used to access this area from the dining room. This is a covered outdoor lounge area which opens up to the backyard with simple landscaping.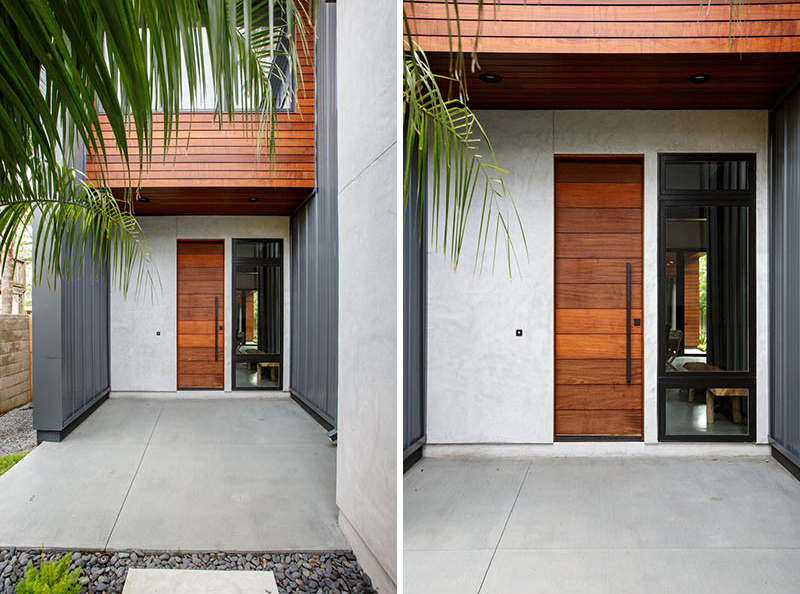 You can get a closer look of the home's facade and front door. Beside the door is a tall window that gives us a glimpse of the interior.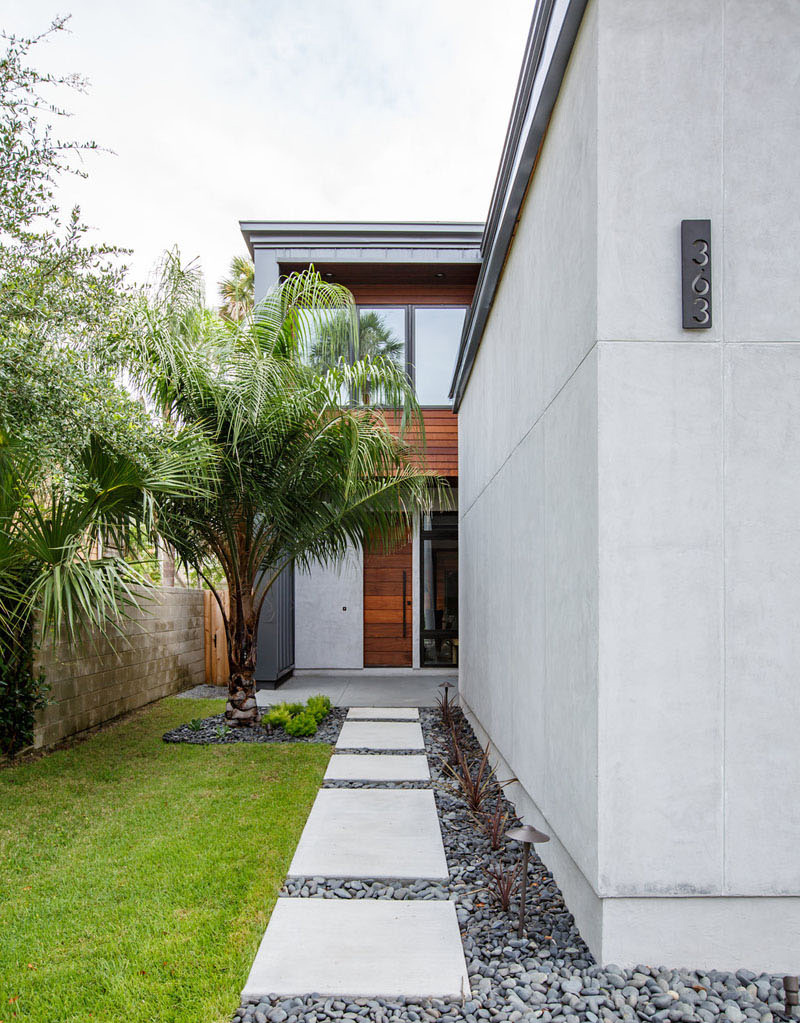 The wood front door of the house is actually tucked away. To reach the area one needs to walk on a path of pavers that's surrounded by pebbles and grass.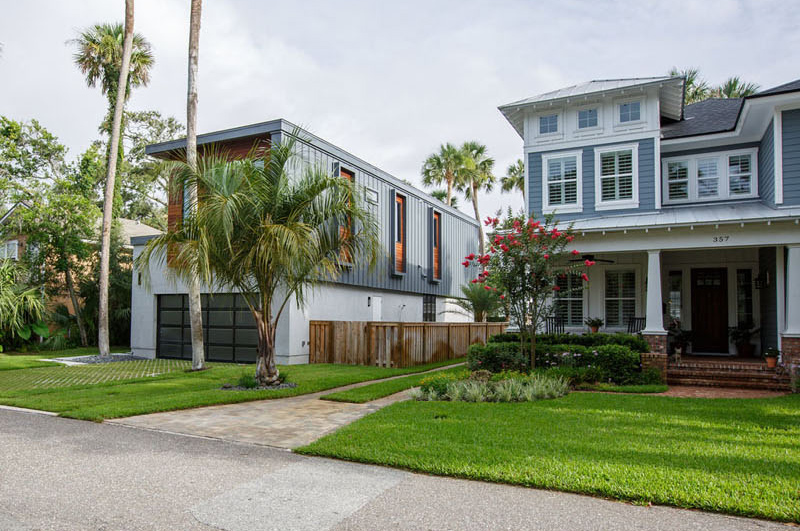 dig Architecture since the owner could not find a designer who would build the house the way they want it. Good thing, digArchitecture did the job for them and it turned out really beautiful! And the owners are really proud of their home. It is really fulfilling once your house ends up in a way you want it to be. Don't you just love the industrial features of this home?