Swimming Pool House Featuring a Sunken Living Room
Have you seen a pool house with a sunken living room?
Having your own swimming pool in the house would definitely be amazing. It means that you have your own space to unwind and relax when you get home from a busy day at work. Aside from that, you will also be able to take a swim if you want to any time of the day. But for some homeowners, having a pool is not enough. They would need to add a pool house too so that they could maximize the usage of the pool area. And with a pool house, one could enjoy more especially if there are guests. Well, a pool house has different features in it depending on the design of the area and its availability in terms of space. Today, we are going to show you another pool house that is really very inspiring.
A pool house has a sunken living room so that people can be at the same level with the swimming pool next to it and the people who will be using it. This project is designed by OFTB, a landscape architecture and swimming pool construction company. It features a lap pool and spa that partially surrounds a sunken lounge. The home, where the pool house is, is located in Brighton, Australia featuring acrylic panels that separates the pool from the interior sunken living room. Let us take a look at the space below.
Location: Brighton, Australia
Designer: OFTB
Style: Contemporary
Type of Space: Pool House
Unique feature: The pool house features a sunken living room with a spa around it. Aside from that, the design of the pool house is also very impressive and very beautiful.
Similar House: A Curved Concrete Contemporary Pool House in India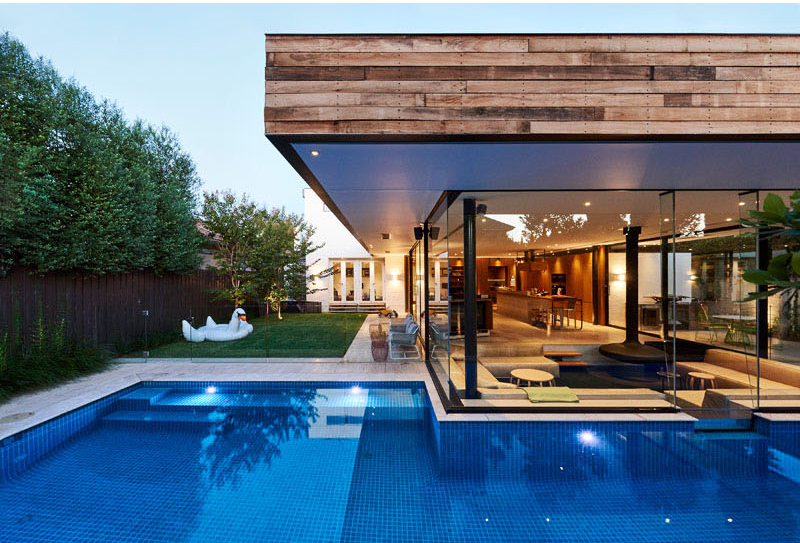 At first look, you will surely fall in love with this space because it does really look stunning and very inviting! It is cute that they have their own inflatable swan that they can use while having fun in the pool.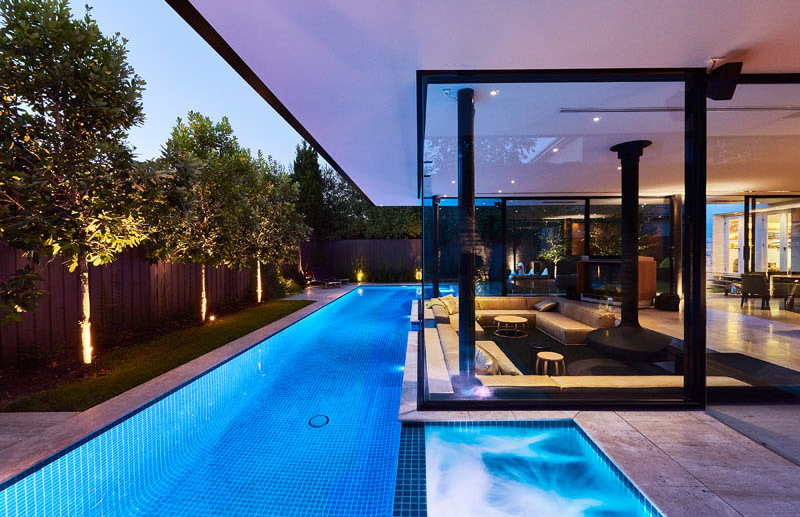 Aside from the pool, it also features a spa and a hot tub. So, one can just choose if he or she want a cold water or a hot one. Whatever they choose, for sure, they are all very relaxing!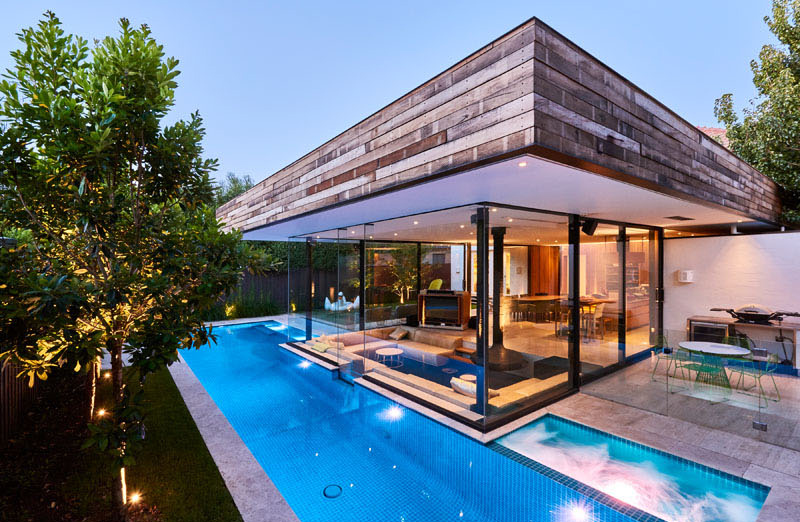 The pool house is surrounded with glass which allows those inside to see what is happening outside. It is also nice that you are sitting in a living room that is leveled with the pool. It is like you are also in the same area!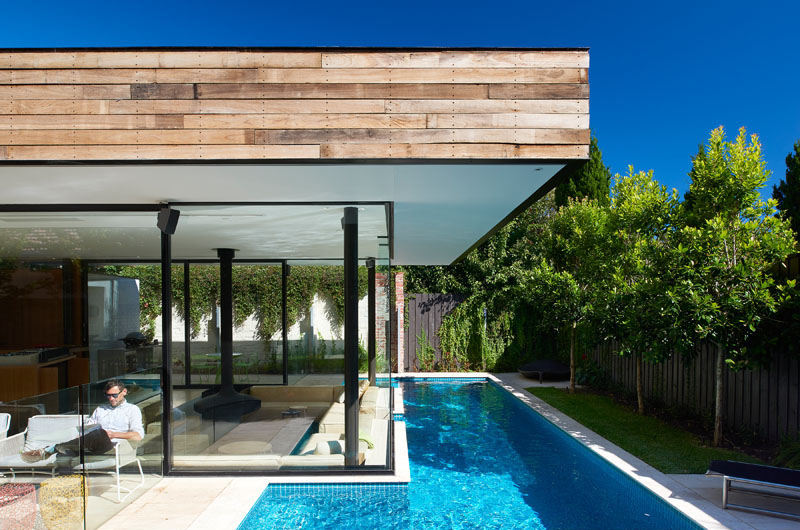 From outside, you can see that the pool and the living area are indeed of the same level while the outdoor lounge is above it. Very creative right? Aside from that, the layout is also very nice too.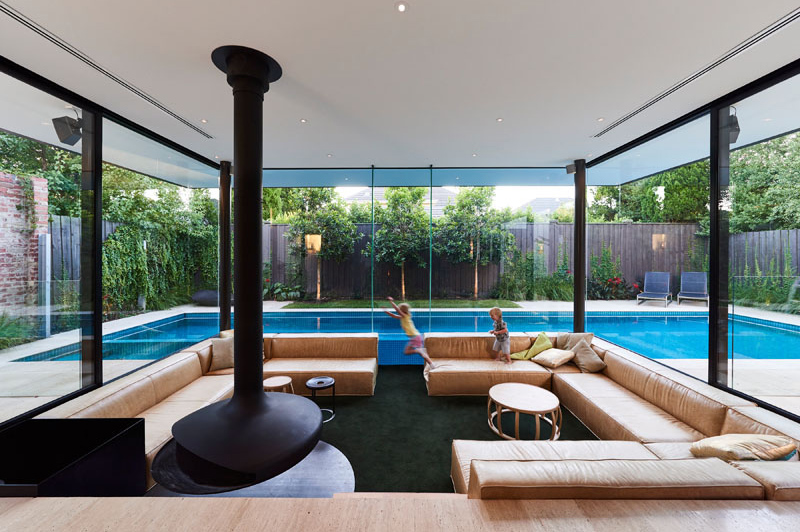 In the sunken living room, there are two sofas wrapping around it with a hanging circular fireplace, perfect for when it gets chilly outside. The height of the sofas also match the bench seat in the spa and the swim-out/step to the northern end of the pool, allowing for playful interaction between the inside and the outside.
Read Also: Beautiful Mid-century Pool House in Toronto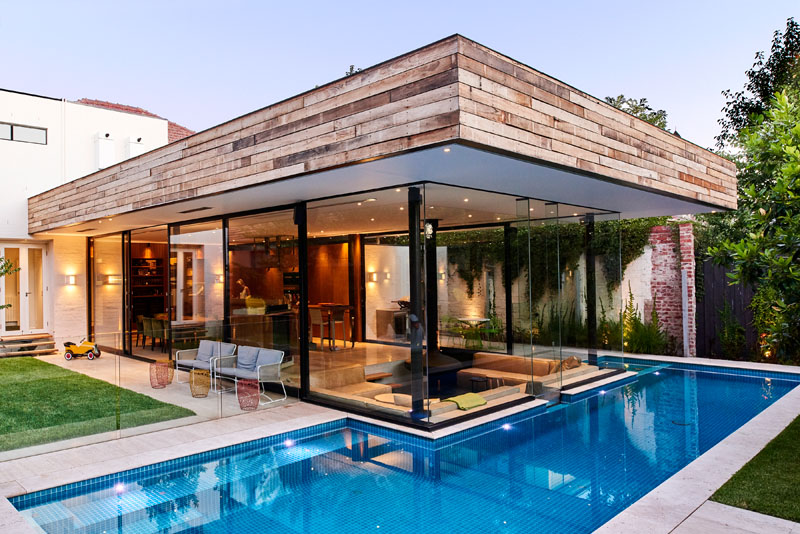 In the image above, you can see how the sunken lounge is at eye level with the swimming pool, making it a great space to relax. You can also see what is inside the pool house which also features a dining area and a kitchen aside from living area. It also has an outdoor lounge as well.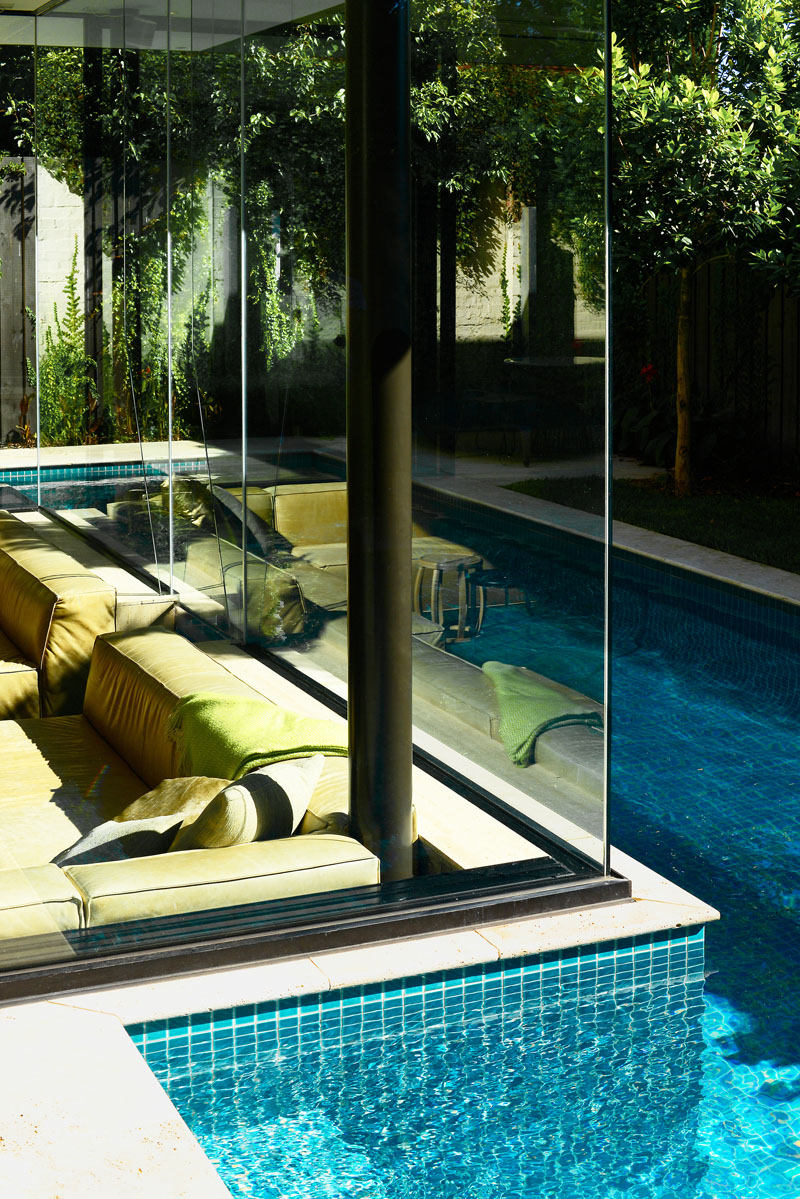 A closer look at the glass that divides the living room and the pool. You can also see mosaic tiles of the pool flooring too which adds appeal to the entire area.
Isn't this very nice? Well, for sure many of us here are envious after you saw this stunning pool house. All of us would like to have an area like this, only if the available lot area permits to have one. This project is done by OFTB who a long list of impressive pool area projects that will surely make you desire for one in your home. But before you try to look into their other projects, take a look at the one above, can you tell me what features of this pool area do you like the best? Personally, I like what they did to the pool's floor tiles with small blue mosaic tiles. The pool house has tall floor to ceiling glass walls that covers the space but allows those inside to take a look at the pool area outside. Very nice indeed!