Roca Llisa: A Breathtaking Modern Home with a Spacious Pool
A stunning modern house with a lovely pool and luxurious interior.
We had always been treated with stunning home designs that we share to you but we also have something new to share too. I know that you have seen so many lovely home designs already and we have actually a very long list to post for your inspiration. I know you all love to see gorgeous homes which may inspire you to get your own home as well. Well, it isn't that easy to build your own home but you can do that of course if you really work hard to achieve it.
A home called Roca Llisa is designed by the architecture firm SAOTA, together with interior designers ARRCC. This very breathtaking modern home is located in Ibiza, Spain. In the interior of the home, ARRCC used a soft, naturally inspired color palette as well as a mix of a variety of materials and textures that adds depth to the space. Doing that also resonates an effortless, organic sense of luxury in the house. In the exterior, it has sleek lines and geometric shapes in it that made the house look really stunning but what made it mind-blowing is the pool area. At first glance, you will surely fall in love with this home! Come and take a look at the Roca Llisa through the images below.
Location: Bois D'amont, France
Designer: SAOTA
Style: Modern
Number of Levels: Two-storey
Unique feature: A luxurious modern house that features a gorgeous pool in the front of the house and a sophisticated interior that has a mix of patterns and textures in natural color palette.
Similar House: MT House: Sleek Modern Home with Views of the City in Monterrey, Mexico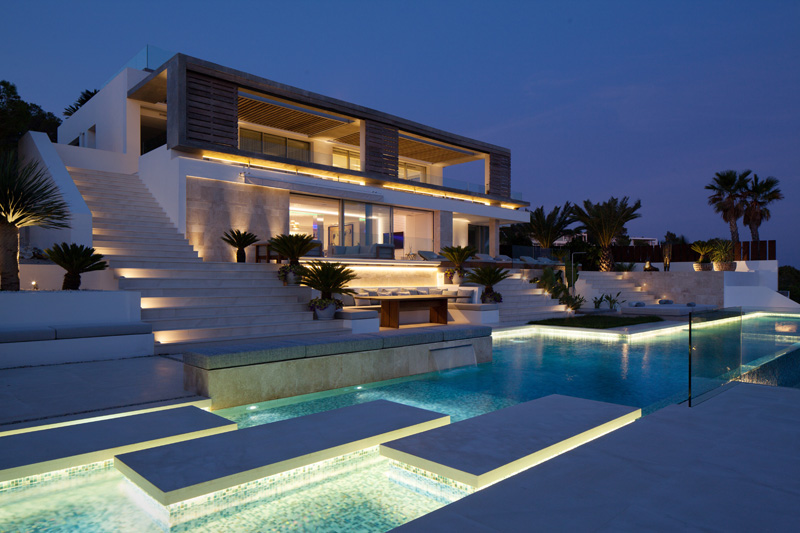 A beautiful modern house that towers to three storeys and has a swimming pool at its foot. You can see here that it has a spacious pool area that has concrete and glass combined together. Aside from that, it also features a seating area that doubles as a dining area outdoors. The landscape is well done too. Looking at the facade, notice its mix of materials from glass to wood.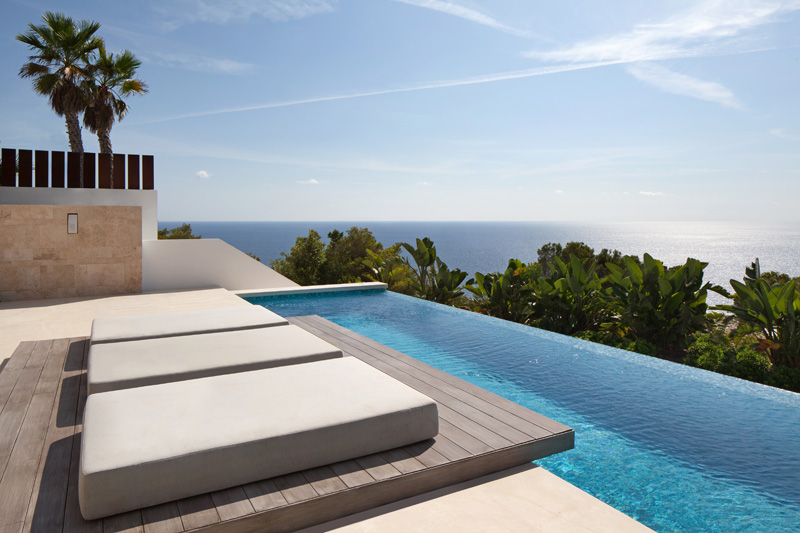 Seen is a part of the pool area with an infinity pool. Part of it is wooden where some cushions are being added for relaxation. Beautiful outdoor area, right? It also overlooks to the breathtaking view of the ocean.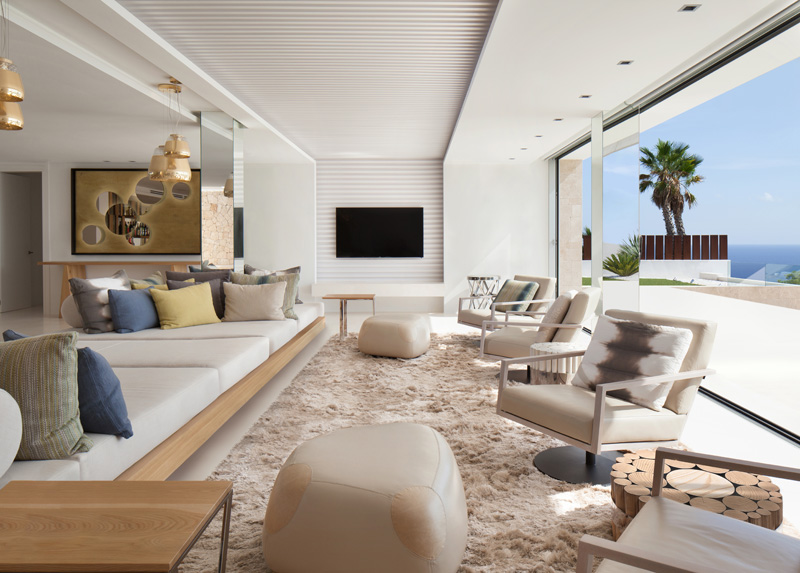 The living area has natural color palette and features a beautiful texture for the ceiling to the wall. You can also see here that it has a soft area rug where the chairs and a long sofa sit on. This area can be transformed into an entertainment area at night merely by turning the lights on.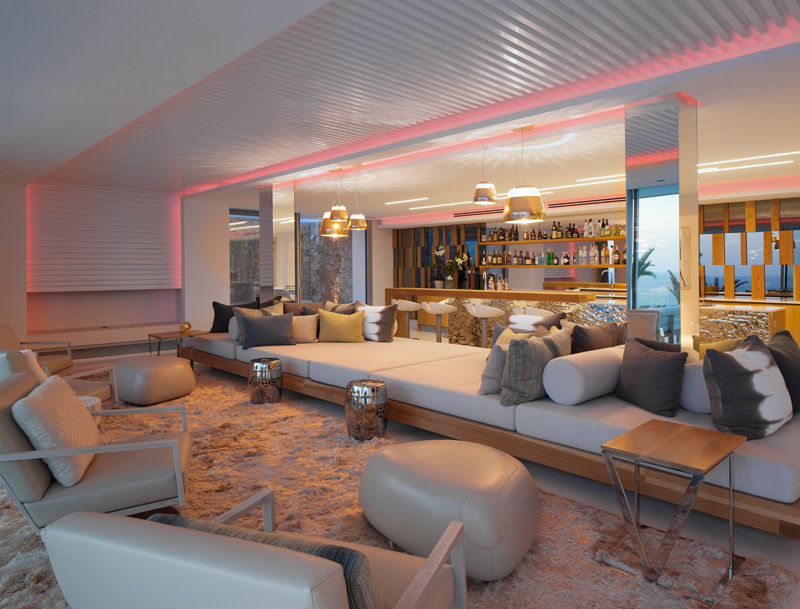 You can see how beautiful the living area looks like when the lights are one. It does appear like a fun and entertaining space especially with the bar just beside it. The wines are even seen in the image. Another thing that I like here are the gold pendant lights.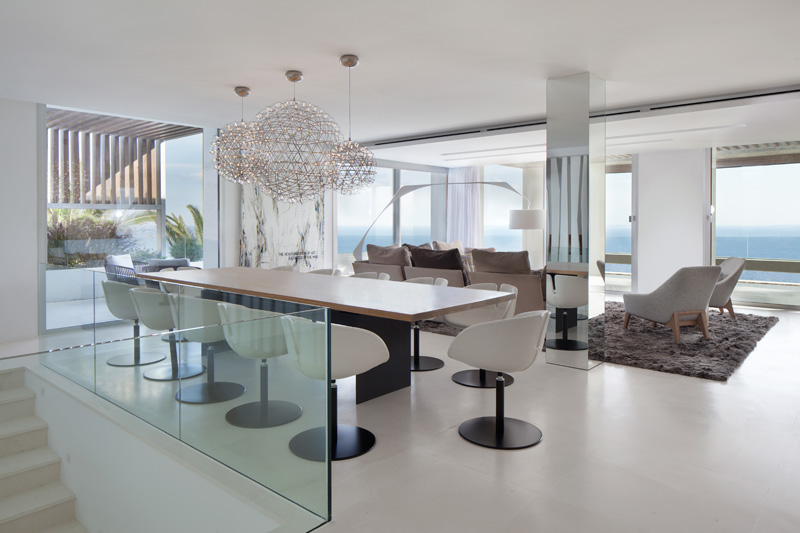 Upstairs one can see a formal living and dining area. The dining room is spacious which makes it enough to fit a large 12-seater dining table. Above it is a creative looking lighting. Meanwhile, its columns are covered with mirror that added brightness to the space. Its living area faces the glass windows that offer a view of the ocean.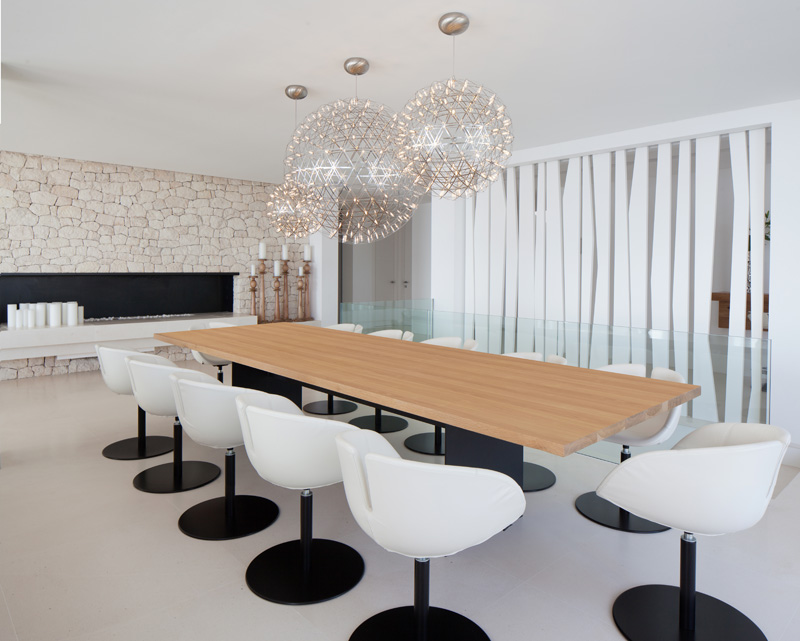 A closer look at the dining area with a wooden dining table and soft white chairs that look like swivel chairs. You can also see that there are different textures and designs on the walls like the stone walls and the creative white wall sculpture.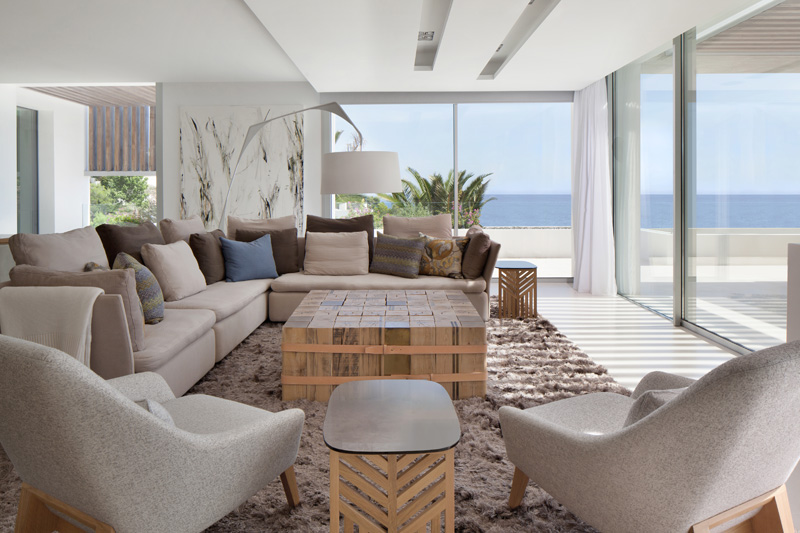 The formal living area offers views of the Spanish coastline. It even has some features that reflect the ocean that that coffee table made from blocks of wood and that wall decor that seems to be like the leaves of palm trees. Adding plenty of throw pillows can add comfort to the space.
Read Also: Futuristic Approach in the Bentley Bay's Essential Miami Beach Penthouse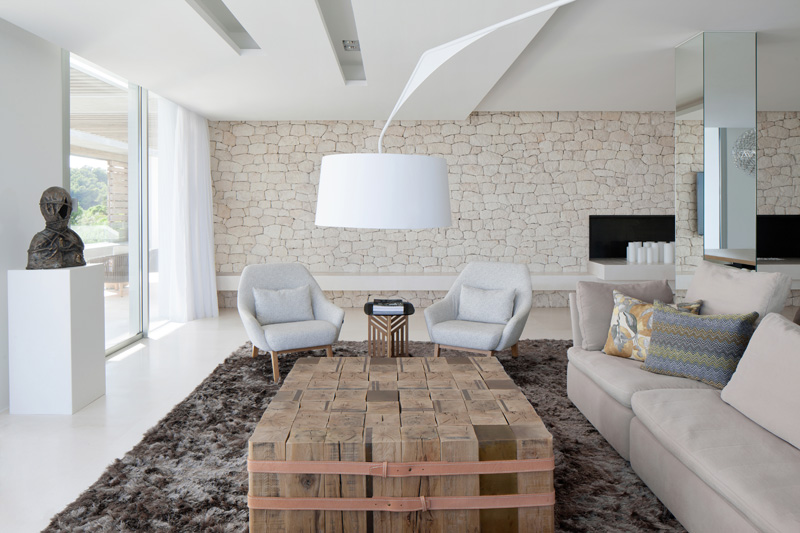 Using white in majority of the space even to the furniture and lighting is a good idea since it brings a more relaxing touch to it. In the wall, you can see that it is covered with stone.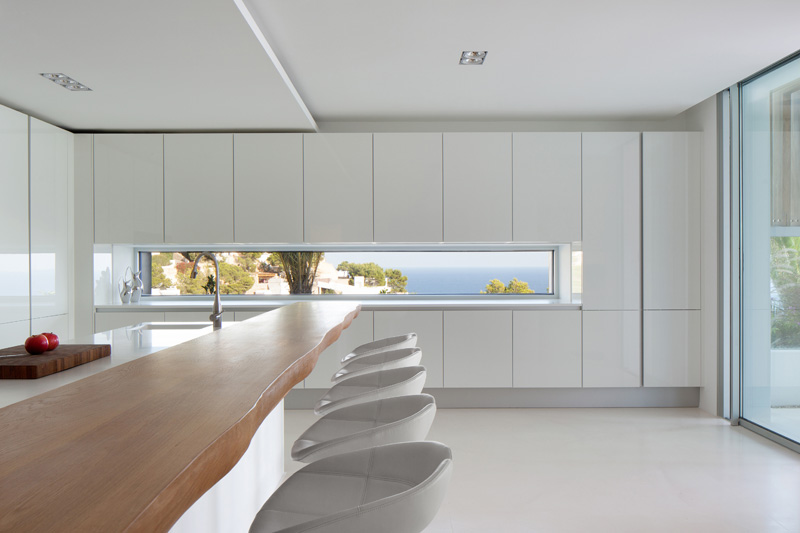 In the kitchen, there is a letterbox window which also provides a picturesque view of the surrounding area. The kitchen is all white in colors and has plenty of storage spaces.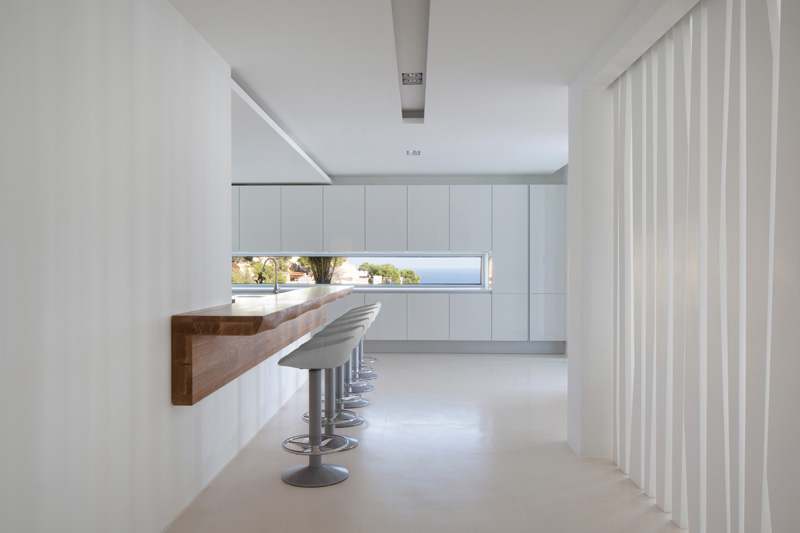 You can also see a long wooden bar in the kitchen that breaks up the all-white kitchen. This area is located on the upper level of the house just in across that dining area.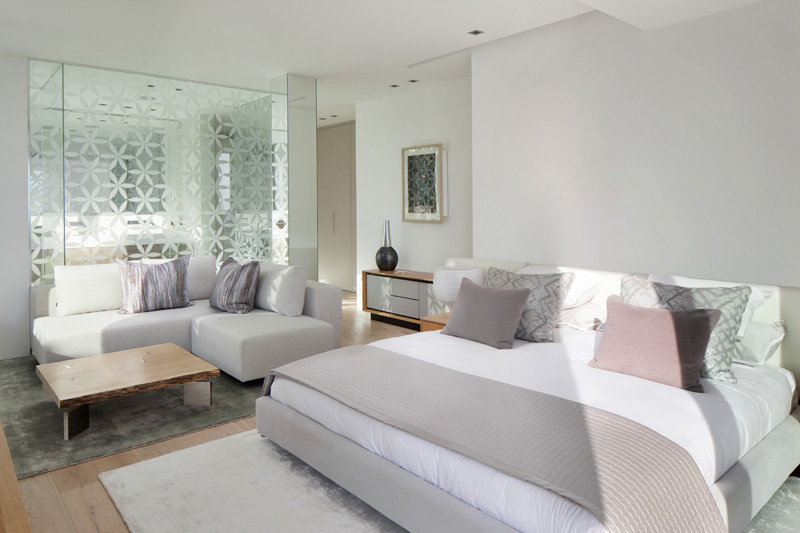 A sophisticated bedroom that has a small sitting area, as well as an ensuite bathroom. Notice the color scheme here that made it look very beautiful. It also has a glass with floral designs that is actually the bathroom ensuite I love the textures seen in this space.
Another bedroom in the house that keeps the natural look of the space. It used natural color palette with some purple accents too. This bedroom features a wood platform and wall. It also has a bath tub in the bedroom as well as a vanity too.
One look at this house will make you appreciate the work of the designers. It is indeed a lovely collaboration between SAOTA and ARRCC because the home turned into a gorgeous dwelling that anyone would love to live in. You can feel its sense of sophistication and its luxurious appeal is very apparent from the exterior to the interior and even to the outdoor area that included the landscape and the pool. How about you, can you tell me what other features of the house do you like the most?