10 Tips in Choosing the Perfect Dining Table Light
Isn't it nice to dine in a space that is well-lighted? Well, no one wants to eat in a dining area that is dark! No one wants to eat without seeing the food and without looking at the person he or she is dining with.
Dining with the family is one way to establish a good relationship. It is the perfect time to share stories and talk to each other about what happened that day. Because of this, the dining area needs to be inviting and homey. It needs to give a positive feeling to those who will use the space.
Do you agree?
With that, it is important the dining area is well-decorated and well lighted. Most homes would use a single source of light in order to illuminate the area.
But did you know that you can actually do more when it comes to dining table light?
Well, today, we are going to give you tips on how to choose the perfect lighting for your dining area. Apart from its function in lighting the space, lighting fixtures can also be an added decoration to the home. We will also help you to decide whether to use a pendant, chandelier or other lighting.
Before that, here are the basic things that you need to consider when you add lighting to the dining area:
Position
Dining areas with suspended lighting like chandeliers or pendant lights look really nice. When you hang your lighting, whether it's an enclosed room or an open plan, you have to make sure that the light fixture is placed center over the dining table.
Height
Some may ask how high the lighting should be. It needs to be high enough so it won't block the view and it should be low enough to effectively illuminate the space. The fixture should be hung 28″-36″ above the tabletop.
Here are some design guidelines that will help you:
1. Consider table shape and size.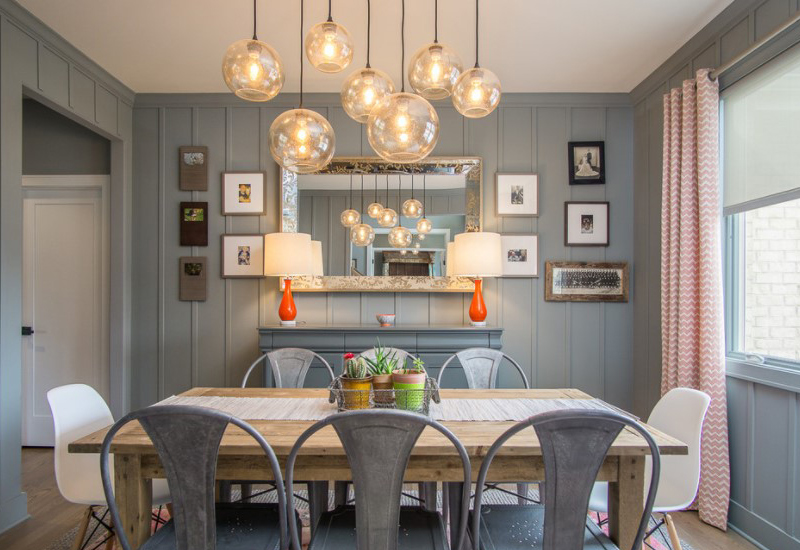 The shape and size of your dining table can help you select your lighting. For round tables, it is recommended that you use round or bowl-shaped or hexagonal lighting fixture. If the table is square or rectangle, you can try using an oval or rectangle or square fixture or any linear pendant light. When it comes to table size, a small table would look good with a large pendant light. For a long table, it would look great with double light installations.
2. Do not obstruct the view.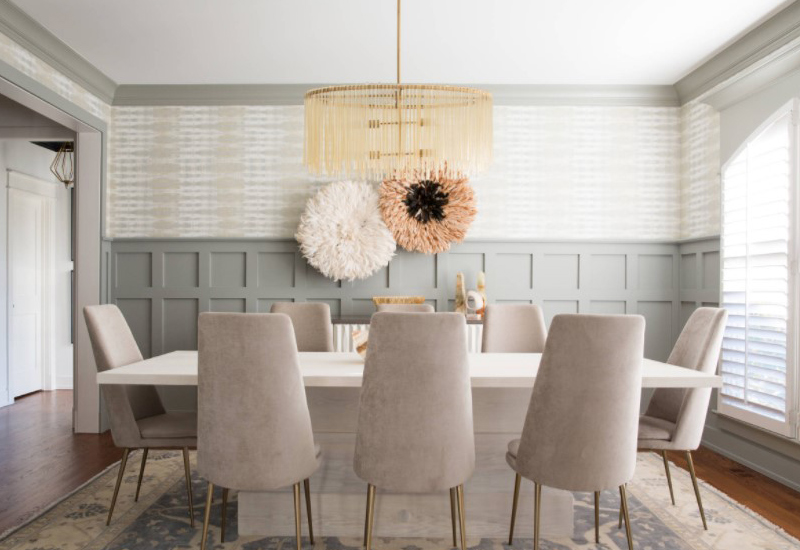 Some dining rooms have a great view from the area or features an interesting wallpaper or wall decor. If that is the case, make sure that your lighting fixture will not obstruct the view. Choose an open fixture like cage chandeliers. You can also hang it higher than usual, above eye level, so that it will allow a good view of the area around it.
3. Decide on your room's style.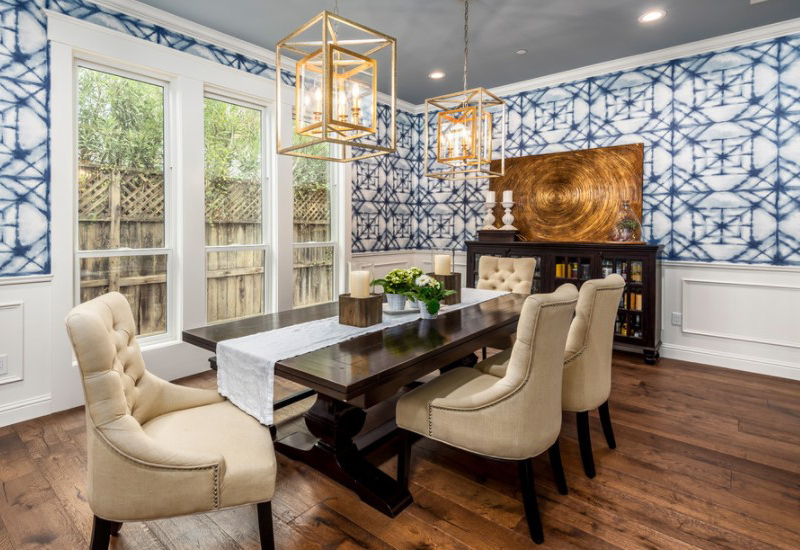 Your choice of a lighting fixture will also depend on the room's style. You have to decide if you want a dining area that is modern, eclectic or whatever you want. For a more formal vibe, get fixtures that have crystals or uses metals on it like bronze or gold fixtures. But if you prefer a casual look, get a fixture with jute, ropes or wooden beads. Using fixtures made from natural materials will warm up the space.
4. Get the right size and shape of your lighting fixture.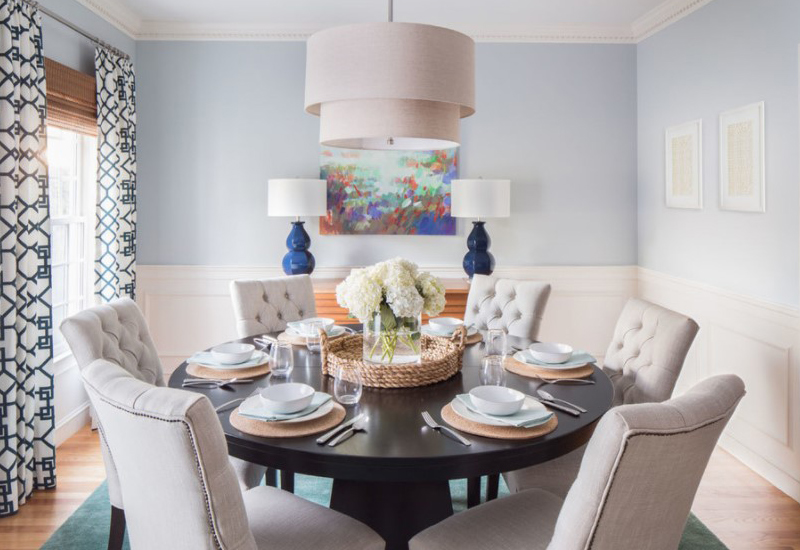 The size and shape of your dining room light fixture will have a great impact on your space. A fixture should be 30 cm or 12″ smaller than the table in all directions. This way, it will not look too big or too small for your space. Another way to determine the size is to add the length and width of the room together then use the sum as the diameter of the fixture. Use feet for the room's dimension and inches for the size of the fixture. For example, if your room is 5 feet by 8 feet, then the diameter of your light fixture will be in the range of 12-inches. As for the shape, we have mentioned this in tip number one. But you can also choose the ones that you think will look great for your dining area.
5. Mix with other lighting.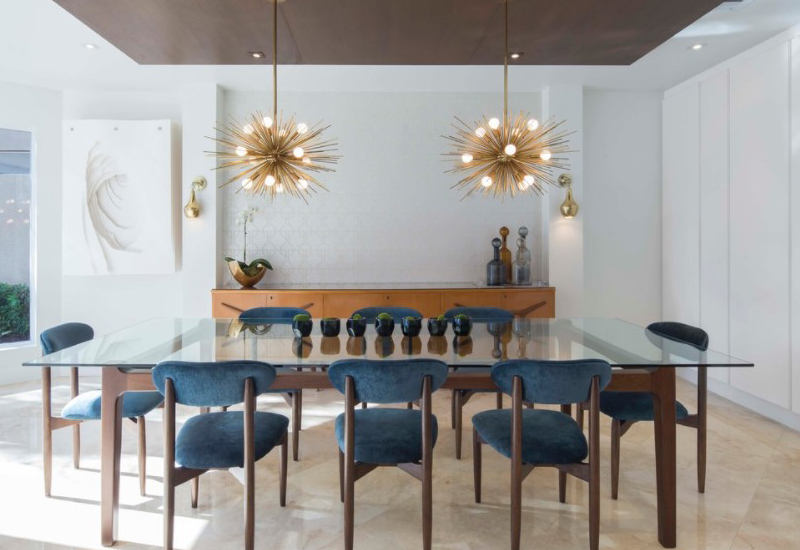 Most homes will just use one lighting for the dining area. Well, this is not enough! Try to add additional lighting to your focal point fixture. You can add recessed or track lighting that is aimed to a furniture or to a piece of art. Bring in some table lamps on a sideboard or a console table to add some glow in the area. Illuminate your cabinets with LED strip lighting or you can use glass doors for your cabinets so it can add sparkle to the space. Of course, wall sconces would be amazing too!
6. Add a dimmer switch.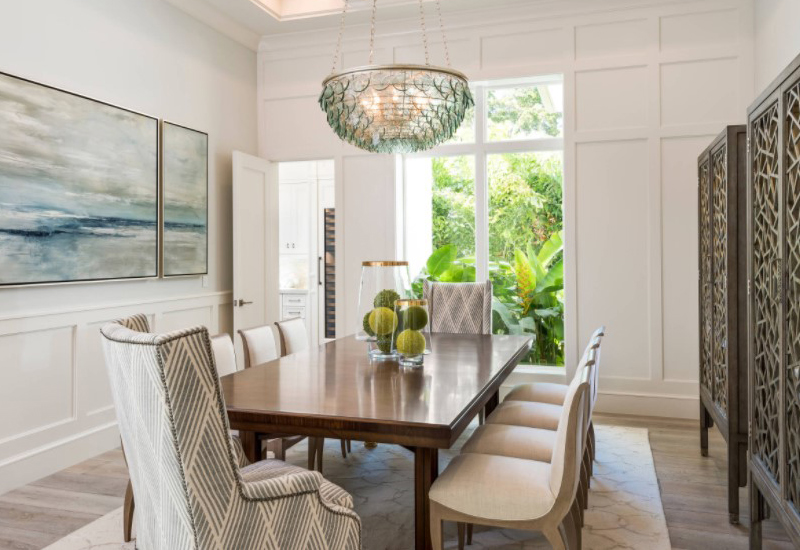 It is not just the living room or bedroom that would need a dimmer switch. You can change the mood of your dining room depending on the event. If you have a family dinner, it would be great to have a bright lighting. But if you have a dinner party, try to make the light a little dimmer. You can also have a romantic dinner with your partner by customizing the light level to match the mood. This way, you can achieve a candlelight dinner in your own home!
7. Decide on how bright you want your room to be.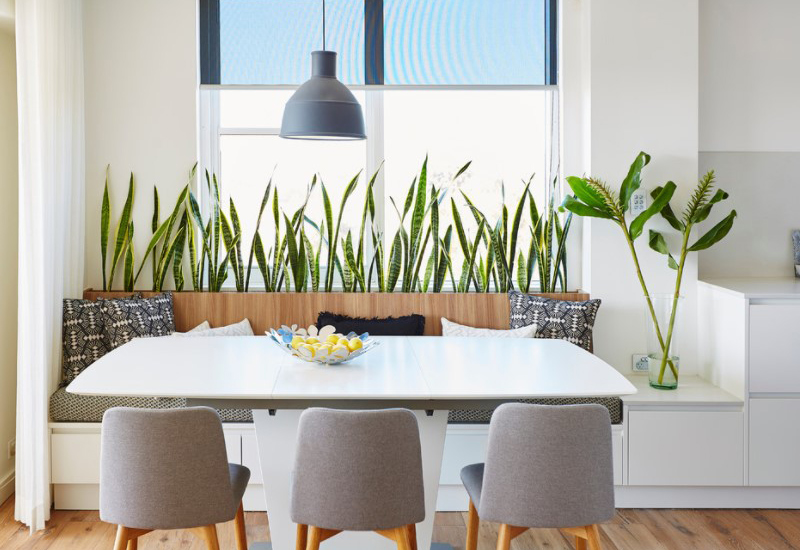 In order to get sufficient light and the perfect amount of ambiance in your room, see to it that the total wattage of all your light fixtures is between 200 and 400 watts. Also, you need to decide the brightness of the room since this will also affect your selection. If you want fixtures that give a diffused lighting, you can get those with shades like a drum pendant light.
8. Choose they type of lighting fixtures you want.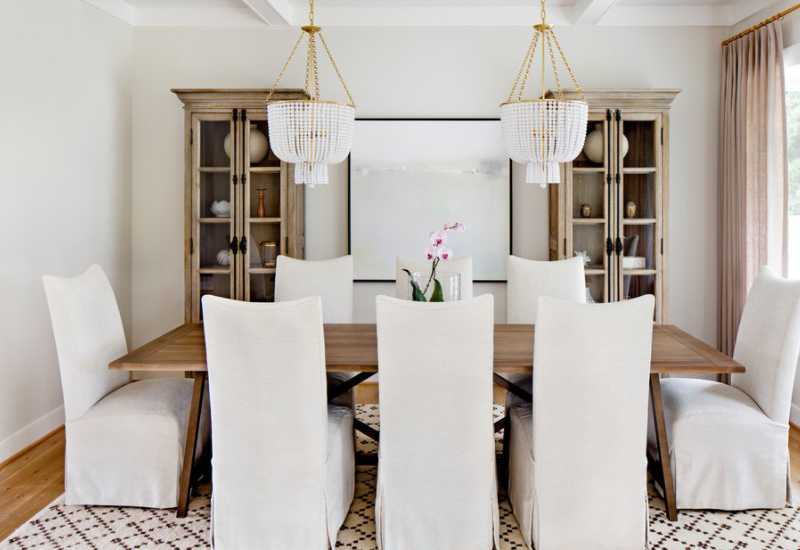 There are unlimited options for lighting fixtures. You just have to choose one depending on its design, materials, size, shape, color, and others. If you want to get subtle lighting, get a drum pendant or lanterns that are enclosed on all sides. Try bell pendant lights to have a spotlight effect. Or you can get a glass chandelier or pendant light to make it look light and open. You can even use lights that can create patterns on the walls and ceilings.
9. The ceiling matters.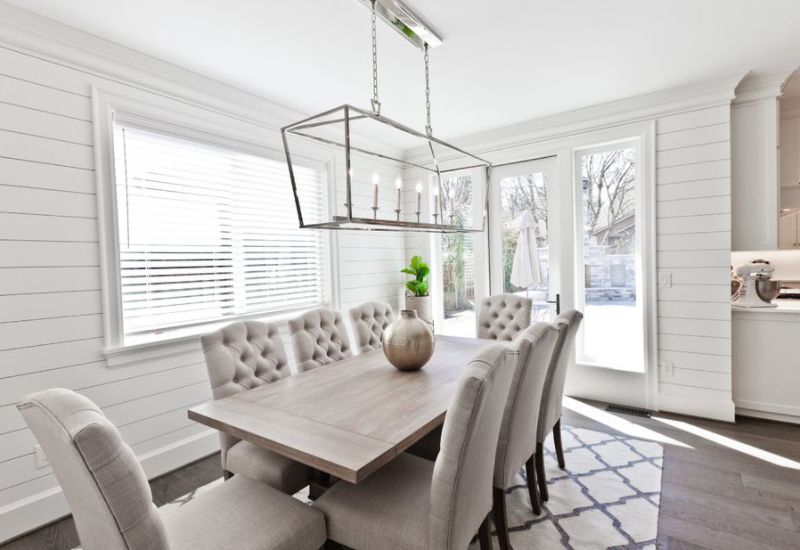 Apparently, it is easier to install lighting fixtures when the ceiling is flat. But if it is sloped, it would be more challenging. Hence, you have to make sure that you get a fixture that has a flexible cord or chain to make it easier to install. If you choose one with a stem, you need to make sure that it can swivel so you can hang it straight.
10. Of course, make sure its appealing!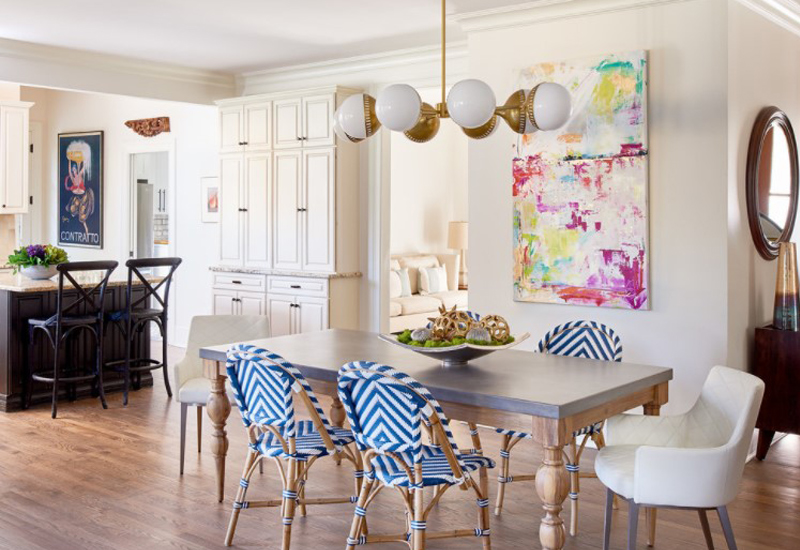 As always, we need to consider function before aesthetics first. However, we also need to consider how beautiful the lighting fixture is. If you want it to be the highlight of the space, go for a big chandelier with many details. But if you want the dining room's backdrop or other features to be the center of attraction, then opt for a simpler lighting that can enhance your space. Others get fixtures that look like mobiles or something that is really artistic. Whatever you choose, make sure that it looks appealing, inviting and it adds beauty to your dining area.
Picking the perfect dining room lighting fixture is not that hard. In fact, it can even be fun to do that! One big factor that you can consider in choosing is your personal taste. Some homeowners fall in love with a certain fixture that they buy it first before the dining table. After that, they will design the space based on the lighting fixture. Get a fixture that you really like while considering all the things that we have mentioned above. This way, you will get value for your money! You can also get more tips on how to get good dining room lighting to make sure that your space will look totally appealing.