Glass Chandeliers in 20 Appealing Dining Areas
Add a glass chandelier to your dining area for a sophisticated look.
Like in most kitchens, a dining room usually has a center pendant light or a chandelier – not only to brighten up the space where we usually have our meals, but to beautify the space as well. Time and time again, we have seen gorgeous dining rooms, table scapes and their awesome chandeliers – today, we have a list ready for you that will show you what a glass chandelier is, and what varieties are available to us.
Today's list of Glass Chandeliers in 20 Appealing Dining Areas will surely be able to appeal to you as fascinating, interesting and rather interesting. The designs available in this list are quite wide and there are some designs in here that you might not have seen before – like me. Haha! Pick a favorite and tell us about it.
1. 4216 Colbath Ave.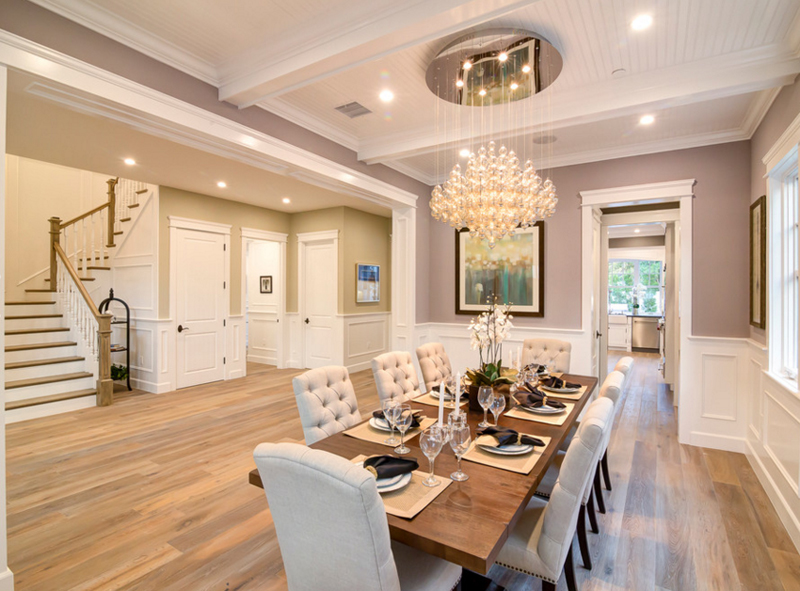 This gorgeous home is graced with an amazing set of dining table and chairs and one fabulous glass chandelier! The design and look of this dining space is clean and rather appealing. With a large space for circulation, I bet this space will be great for visitors and some kids from time to time.
2. Cantoni Riviera Style
This type of glass chandelier is quite pretty and common but then of course, it looks great with every contemporary dining, so it doesn't really matter if the design is common because it just means that this glass chandelier design is really popular.
3. Central Minnesota Lake Home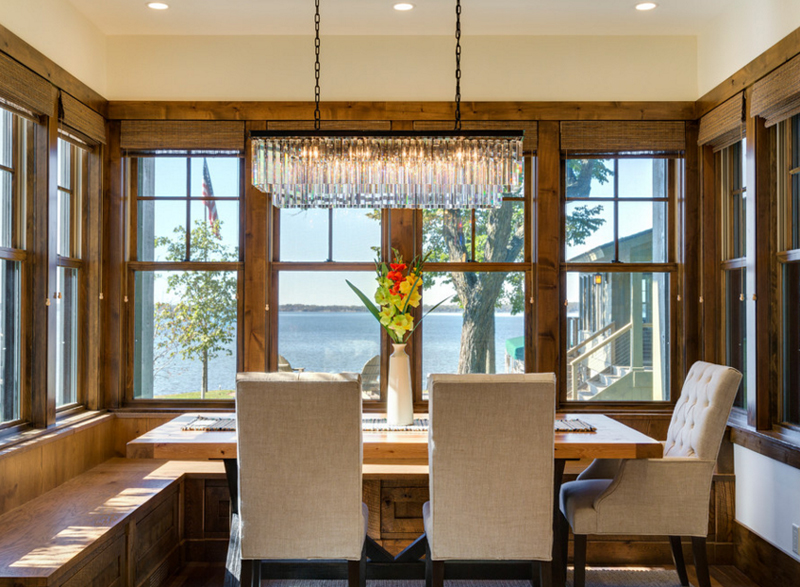 This corner dining area looks really cute and refreshing! It's evidently not every day that you see a dining space like this one – comfortable and not too formal. With the beautiful glass chandelier, it looks really spectacular yet because of the all the wood, this space is still homey and down to Earth.
4. Cliffside Drive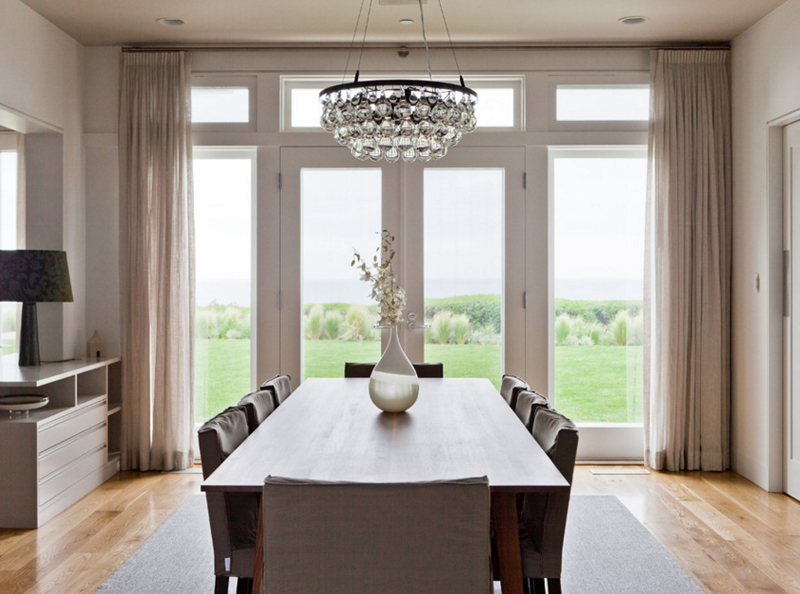 In this dining room picture, we see a circular glass chandelier that surely contrasts with the shape of the room and the table but sure stands out! The brightness and glam of this home is seen in the minimalistic design used by the designer.
5. Contemporary Residence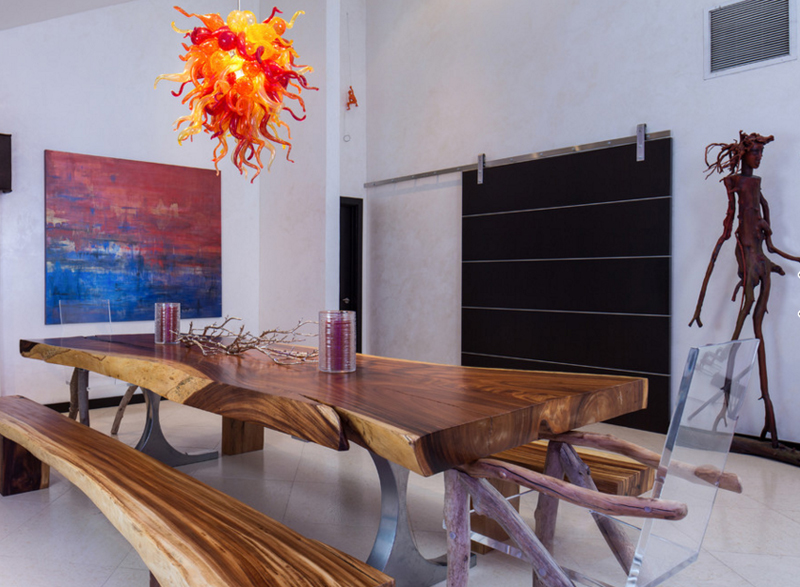 This is the first colorful ball of fire inspired glass chandelier I've seen that deserves ultimately to be in this list. From its color and design, you know that this one is special and one of a kind. Seeing the many works of art in this space, you can truly say that the owner or owners of this home is in fact artsy and cool.
6. Ellie Sawits in New York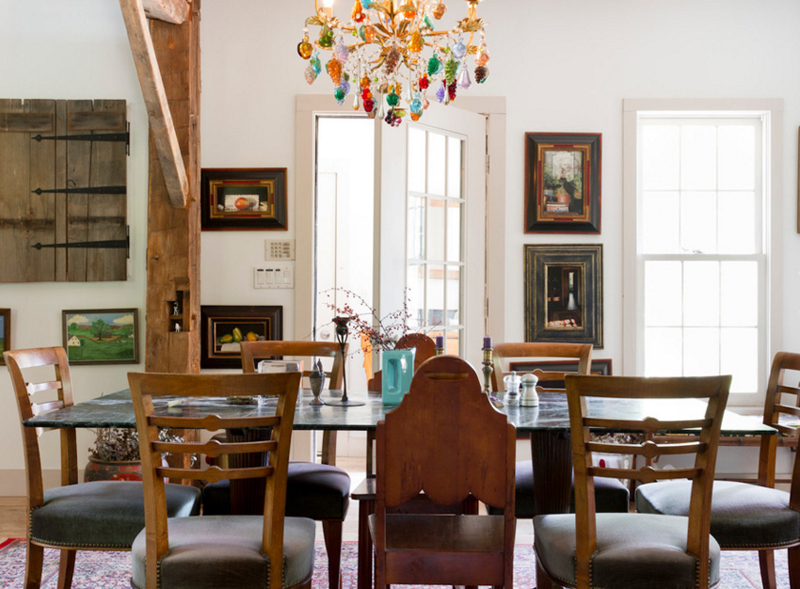 This dining room sure is interesting – with its use of old wood which is repurposed like the material on the window and the not-so-perfect wooden post plus vintage-looking picture frames on the background; I think everyone would be able to see how just by noticing the colorful glass chandelier. What do you think about it?
7. Gothic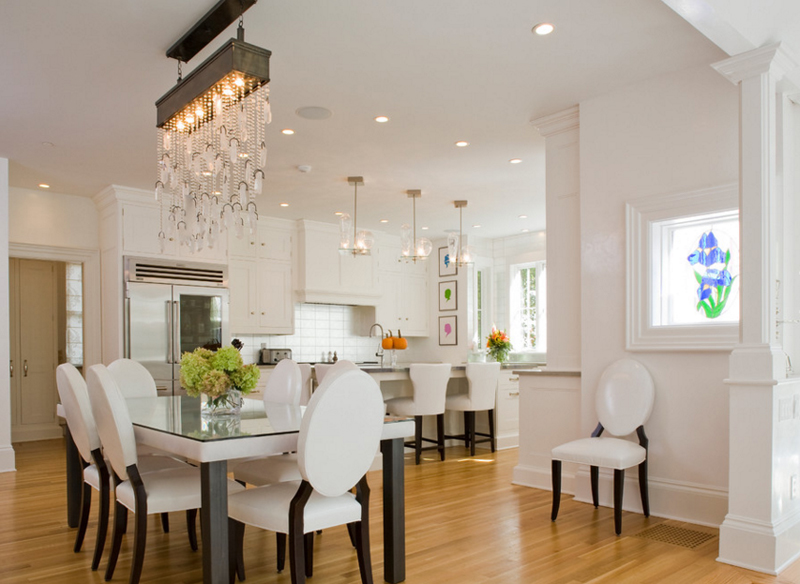 I'm not sure if using black and white and glass in a space that you can already consider it Gothic, but then again, we see that this space is in fact stunning with the color and material combination seen in it.
8. Interiors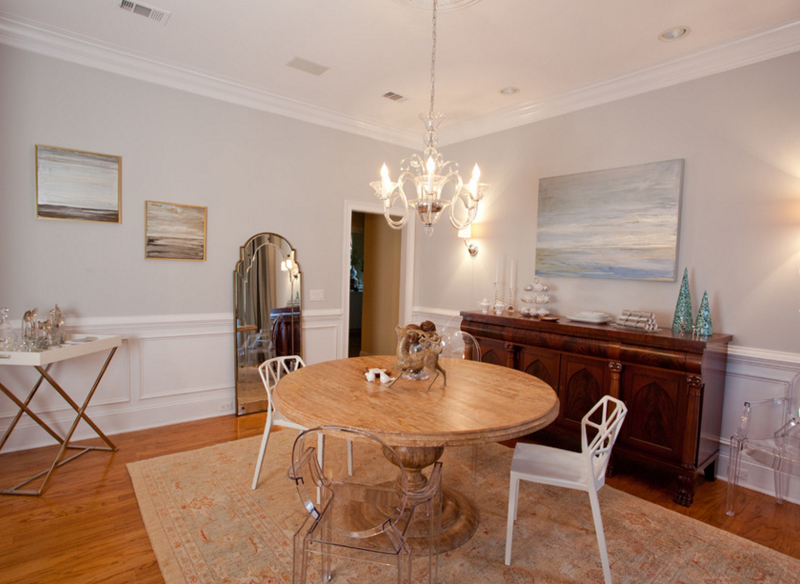 This dining room sure is large but is decorated with a small wooden circular table and two different kinds of white and ghost chairs. The cute glass chandelier that centers this room is really charming with a hint of vintage in its design.
9. Miami Townhouse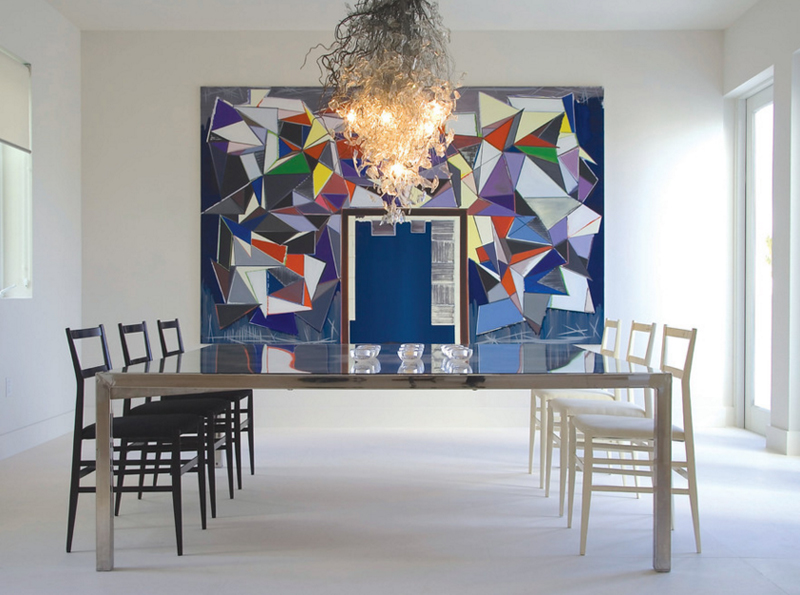 Take a look at the crazy awesome glass chandelier in this minimalist dining space! Notice that the design is one of a kind and definitely out of this world. The way it centers the room and the table and the painted wall – it sure looks fascinating.
10. Number 23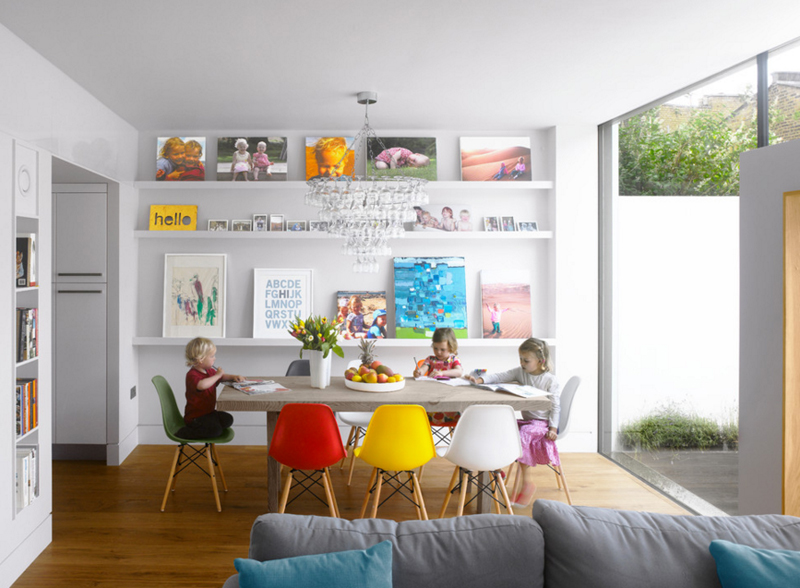 Two of the things that I love about this dining area is the fact that they have a large window/door that opens to their play area (for the kids) and how colorful this space is – very ideal for the kids because it looks really fun and pretty. From the colorful pictures and paintings on the wall, to the colorful chairs – this dining space is sure fun! Note the glass the chandelier that centers this space.
11. Osgood Path
The inverted tall glasses in this circular chandelier sure speaks for itself – it's simple yet still has that glamorous charm, it has a hint of vintage but it still looks contemporary enough to fit other homes that cater to contemporary decoration and lighting fixtures. The dining room set in here is appealing to those people into wooden furniture.
12. Houston Portfolio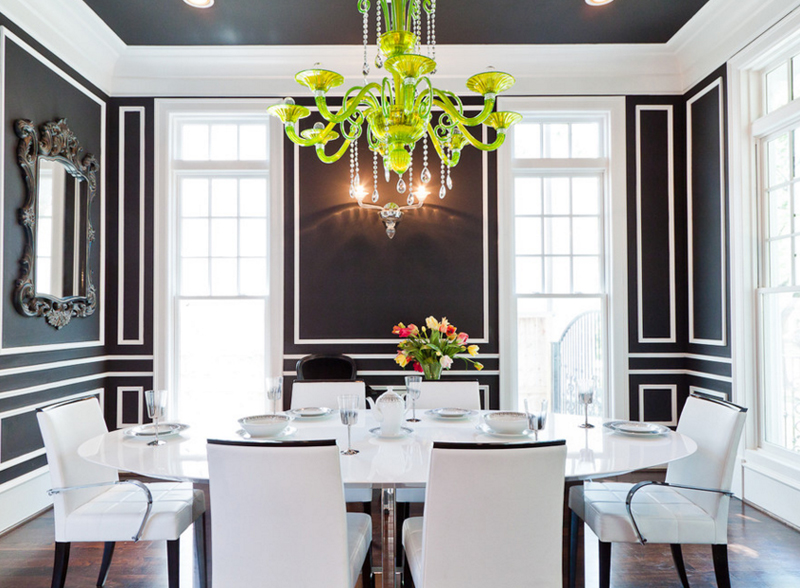 This is indeed one fabulous dining room! From the sleek white lines on the walls, to the stunning chairs paired with the oval glass table – the glass chandelier is just the icing on this yummy cake. From its color to its design, this glass chandelier would definitely catch your eye!
13. Quality Design in the Metr0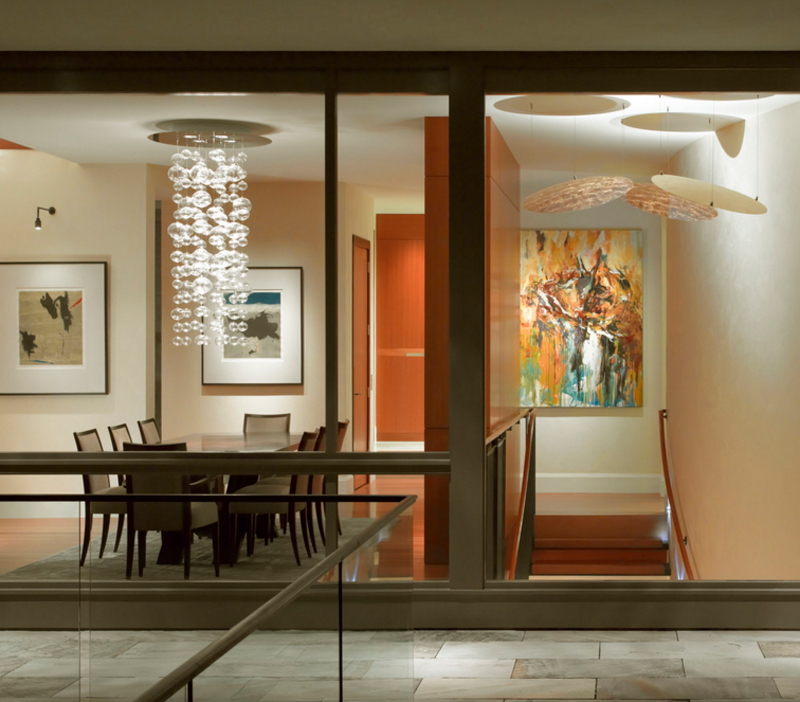 The dining space as seen in this angle looks rather formal and sleek. The dining room set sure looks like something you'll see in a conference room, but then again, this house looks really formal and the furniture match the chandelier just fine.
14. Richmond Apartment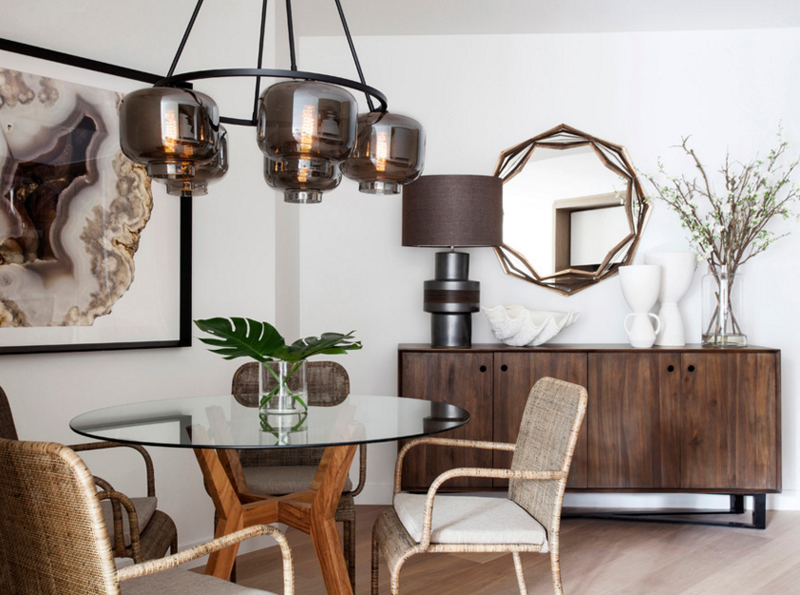 How crazy do you think this glass chandelier is? They sure are unique and large! The design is quite new to me and with an eclectic theme for this dining room, I think this space is just as special as all the others in this list. What do you think?
15. Rosedale Dining Room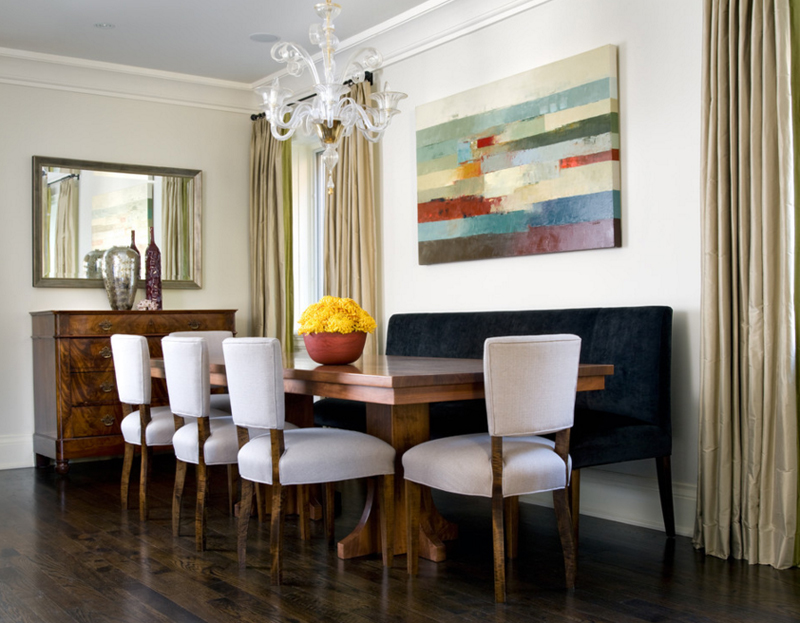 This teeny tiny dining room sure looks pretty cute. From the choice of furniture, painting and its location is quite neat. The glass chandelier in this dining room looks really great against the white and blue combination of chairs in here.
16. San Francisco Interiors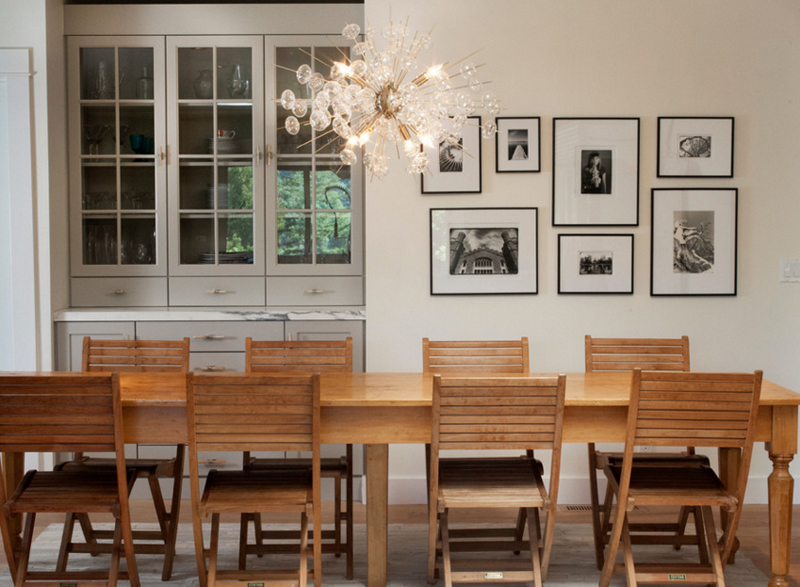 Here is one awesome dining room table and chair set that totally contrasts with the choice of glass chandelier! They look exactly opposite from each other – no hint of closeness in them and yet they still work well together just fine.
17. Turnberry Tower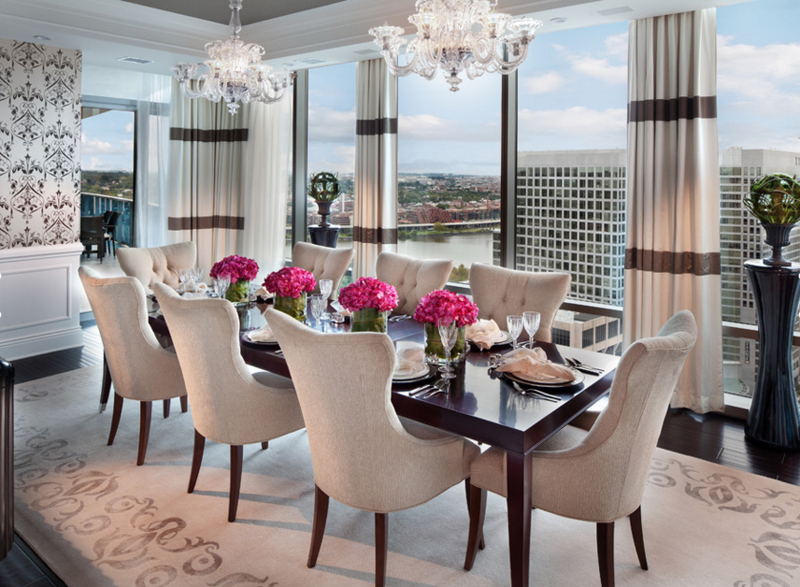 This is one beautiful dining space! The view is spectacular – the furniture is rather pretty that the chandeliers in this space look like they are not needed in here. Haha! Honestly, this is one space to beat – from the furniture to the decorations to the view – no home owner would probably say no to this!
18. Westbourne Grove London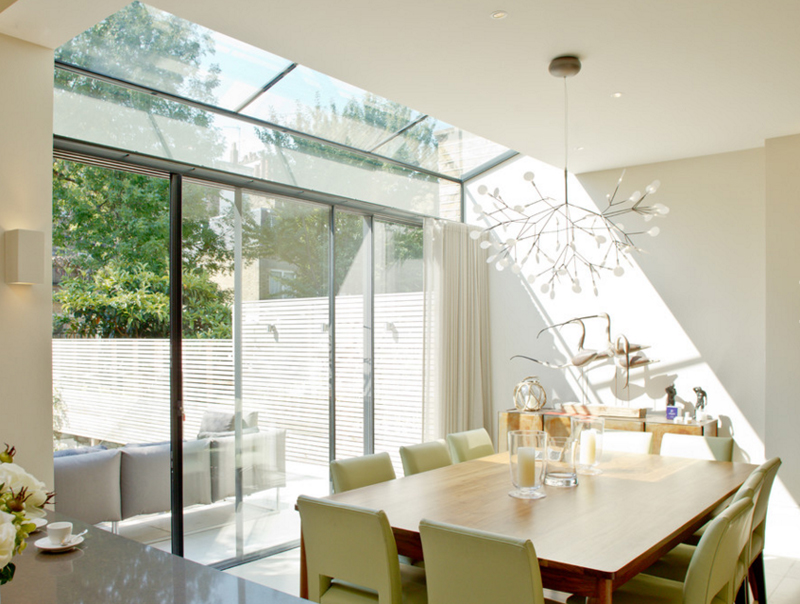 This is one bright dining room! The skylight sure brings so much light to this area that the glass chandelier couldn't even be seen. As much as there are a lot of light that comes in during the day, the chandelier serves as the skylight in this area during the night – when the owner and their family are having dinner or drinks!
19. Wimbledon Hill Park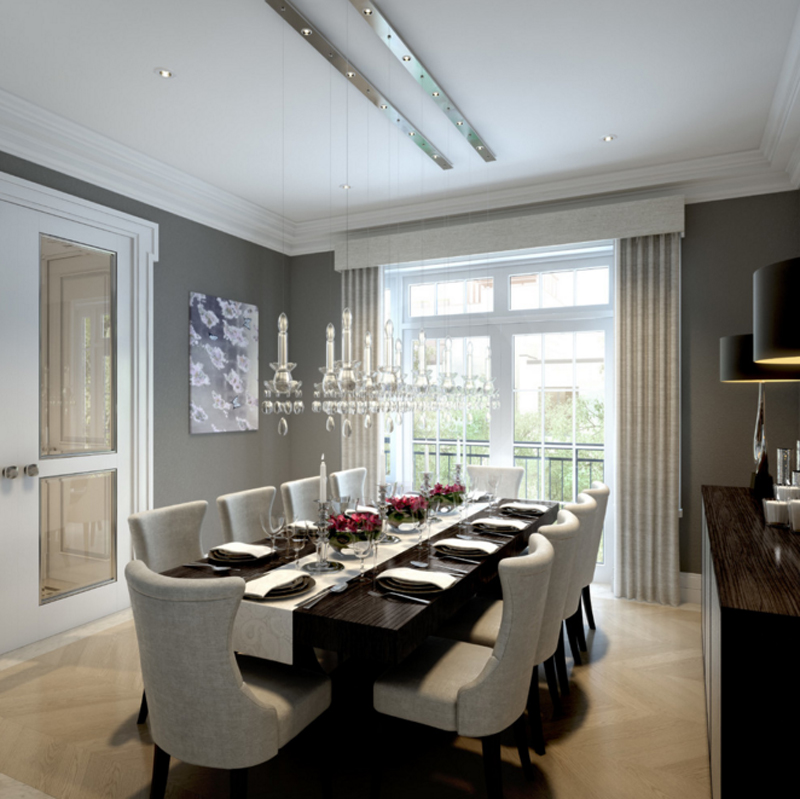 Another formal dining room that sure has a fascinating and gorgeous set of glass candle chandelier drops! They seem to dedicate one candle person seating in this huge table. The table arrangement looks divine, I'm pretty sure this tablescape is prettier during special occasions or holidays.
20. York Harbor Maine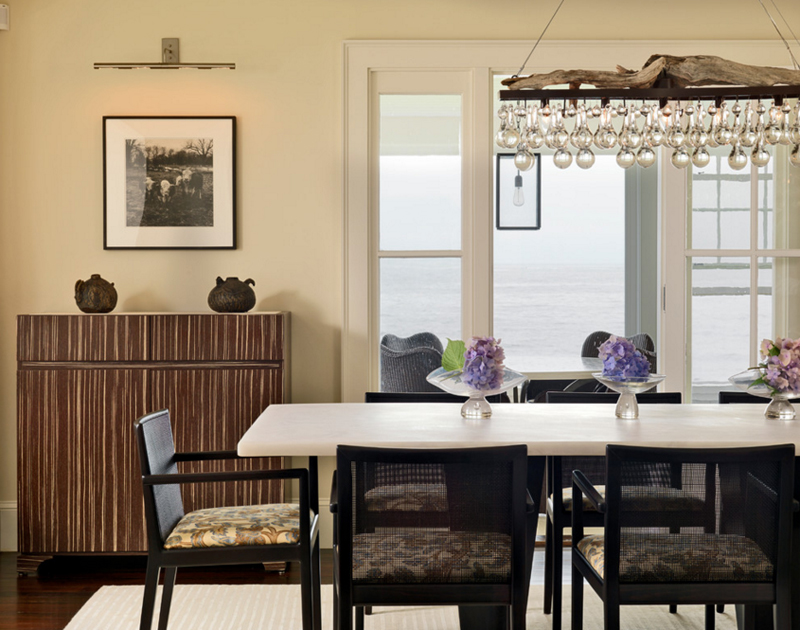 A homey space that has a fascinating view of the sea! What more can the home owners ask for right? The interior design of this dining space is just enough for those people who wants to live well but not really too fancy; still maintaining a pretty and comfortable life and dining.
From the wonderful dining room spaces and their chandelier choices in this list, to the beautiful and gorgeous chandeliers in the list of 20 Beautiful Glass Shade Chandeliers, I am totally lost for words. The spaces are lovely and the glass chandeliers are just spectacular!