20 Dining Rooms That Open to a Balcony
Wouldn't it be nice if you can look at the outdoor beauty from your dining room?
More often than not, it is uncommon for homes to have their dining spaces open up to a balcony; if you might have noticed, it's usually a living area that opens to a balcony – or a bedroom! But, every so often, we have designers who go out of their ways to really create a more subtle environment that breaks norms in design and the arts.
Today, we have prepared a short list that will show everyone who would be reading this that every now and then, we have awesome designers who thinks outside the box to make things happen – to be able to create a stunning world where designs are awesome and rather pleasing and very much amusing for people who discovers their works. Check out the list below and be amazed!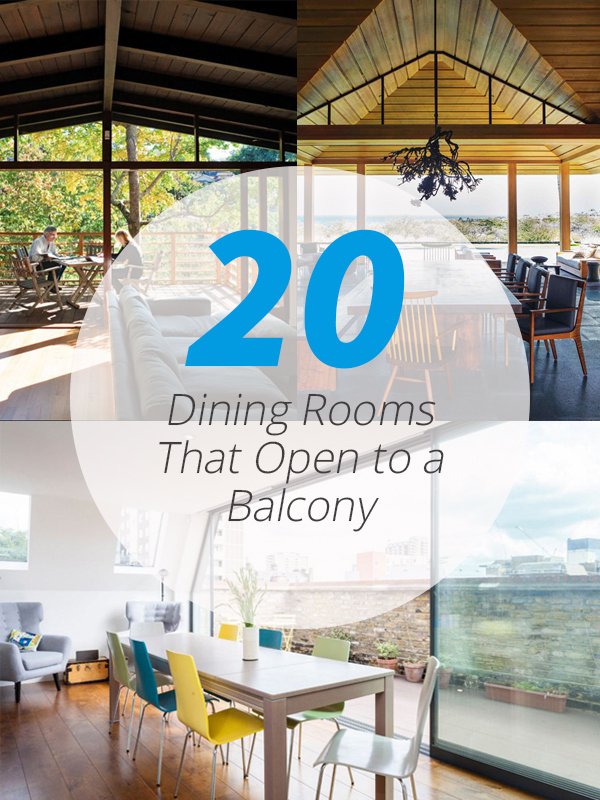 1. Bardon 2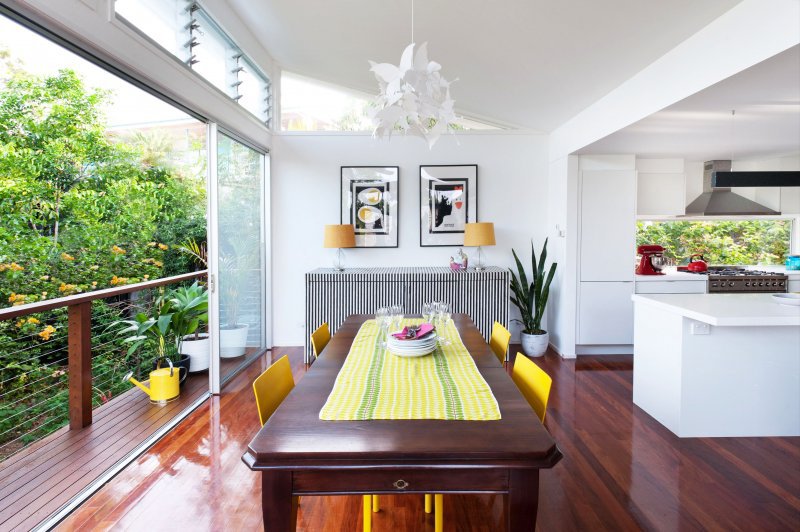 First on this list is a classic looking home with a stunning floor work done. They have a long table in here but only have four chairs – this could mean that the home owner belong to a family of four but since they have a large table, this could mean that they are usually getting more people in the house. The fact that they have so much plants outside meant that having a balcony was a great idea to get the fresh air every time they have their meals.
2. Clerkenwell Flat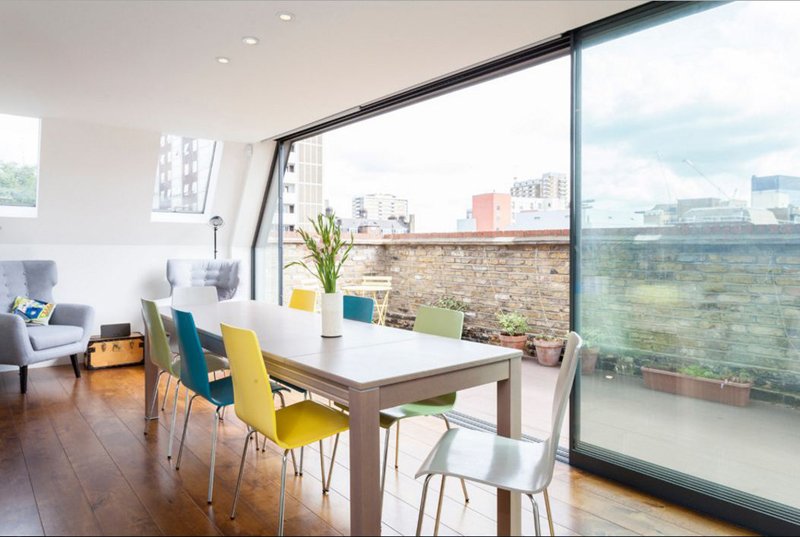 I like the fact that this dining table has colorful chairs. I love home owners who actually are into colorful stuff like these ones because they showcase a more fun and funky home that caters and welcomes being eclectic.
3. Fairmont Pacific Rim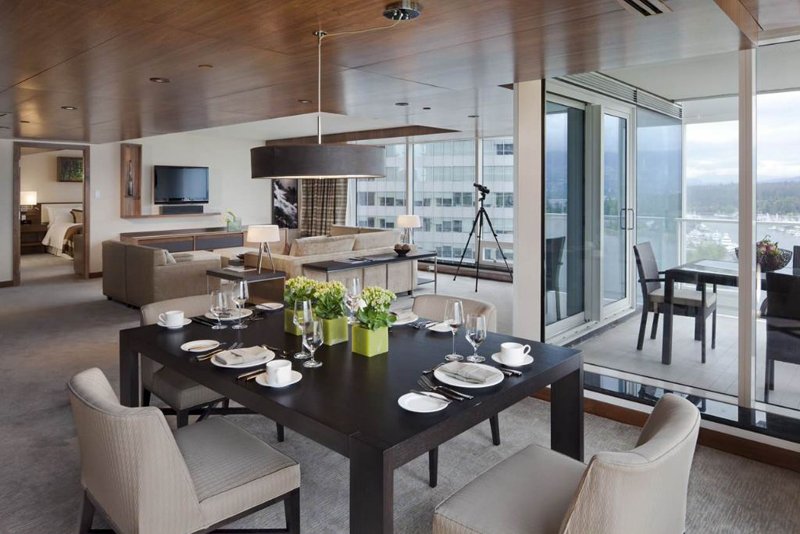 This contemporary home sure showcases awesome pieces of furniture all around the house and even when this space somehow looks strict and on point, I think that the choice of colors in here made it more homey which is a good thing – I think.
4. Glade House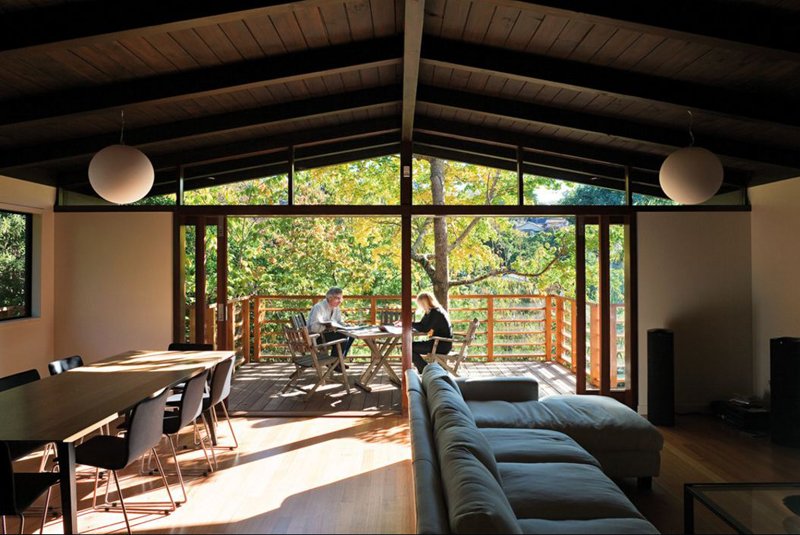 I love how this photo even have a couple sitting on the balcony. If I had a view like this one, I think I would be out there every day, at least during breakfast. The smell of the leaves of the trees and the first rays of sunlight that would hit your skin would be awesome things money can't really buy. It also seems a great way to break from the stress and pollutants of everyday life.
5. House for Locavore Farmers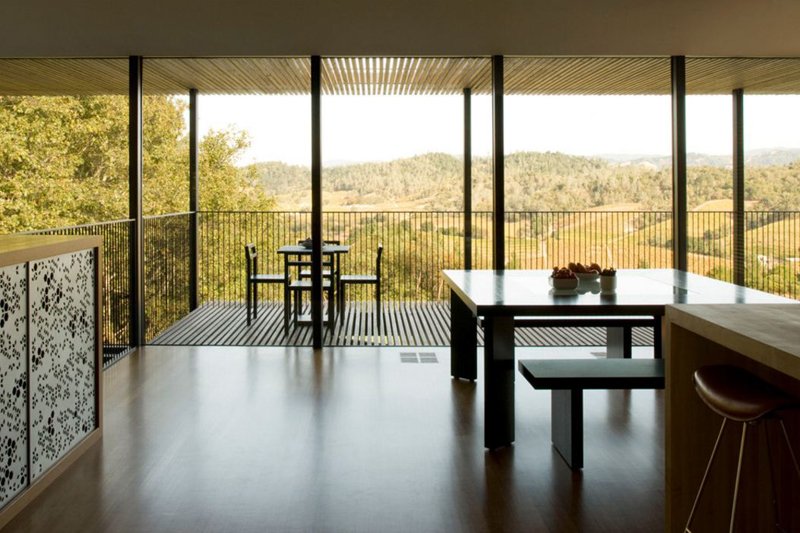 From the name of this home, we can definitely see how awesome the view of the family is – everyday. With a beautiful mountain range like this one – the trees and the exquisite view of the sky is just a beautiful thing we could never enjoy in the city.
6. Kalorama Flat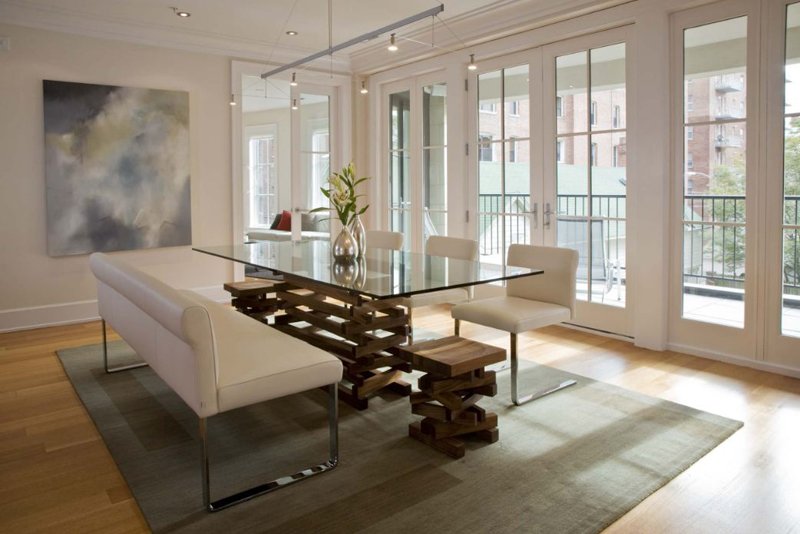 The dining set of this Kalorama home is just fabulous! Choosing a white furniture set for the dining room says a lot about the people in the house, because aside from the kitchen, it's the dining room that actually has the most maintaining – because of the stains and all. Check out how cool and modern the table is.
7. Kentfield Residence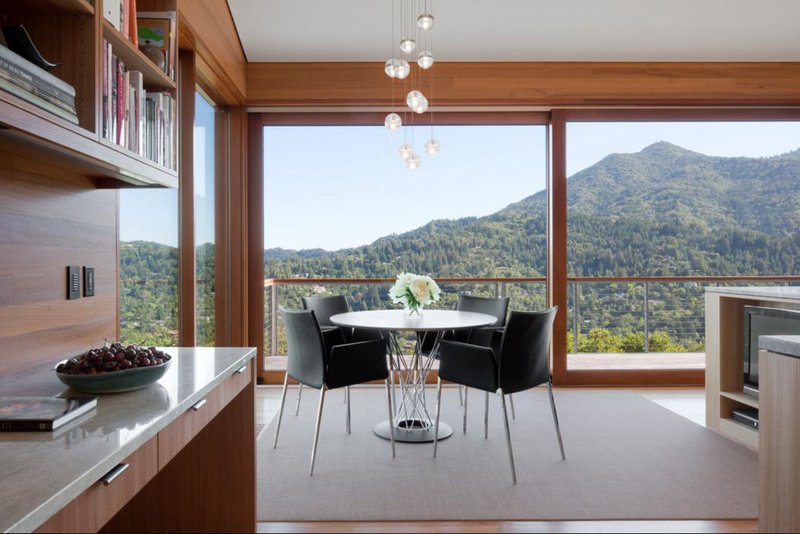 I've said this before and I think that you'd actually agree – houses usually have balconies if they have awesome views. I mean, what's the point of having a balcony if you have walls for a view. I mean, additional natural air for the house is always a good thing, but that's the use of windows – balconies on the other hand is something we ask our designers to add for the house if we want to have a view of the outdoors.
8. Key Biscayne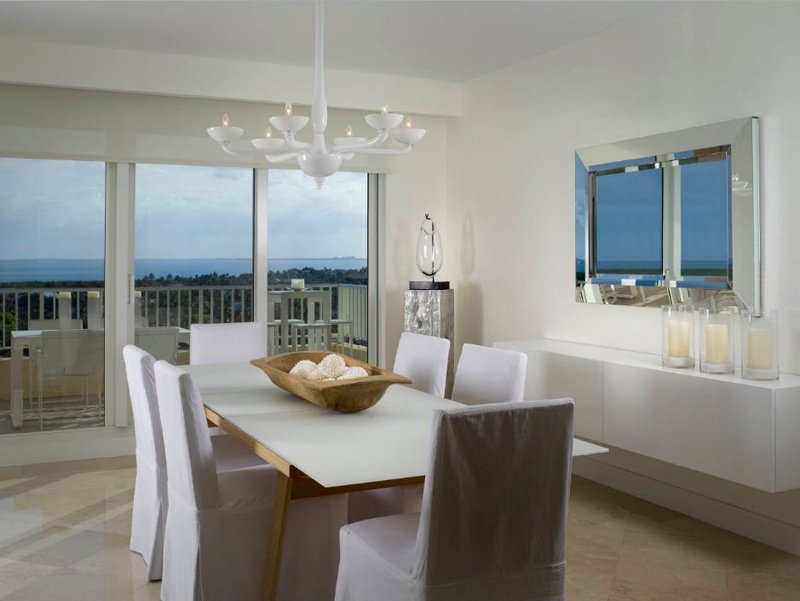 Well, as I was talking about a while ago – this dining room sure is an interesting one because of their choice of seat covers. I would have chosen a different one since everything inside this space is already white – I would assume, even the designer would suggest contrast; but then again, they seem to be maintaining a theme – and well, it actually looks pretty neat but not too heavenly (especially for a white space).
9. Kona Coast Retreat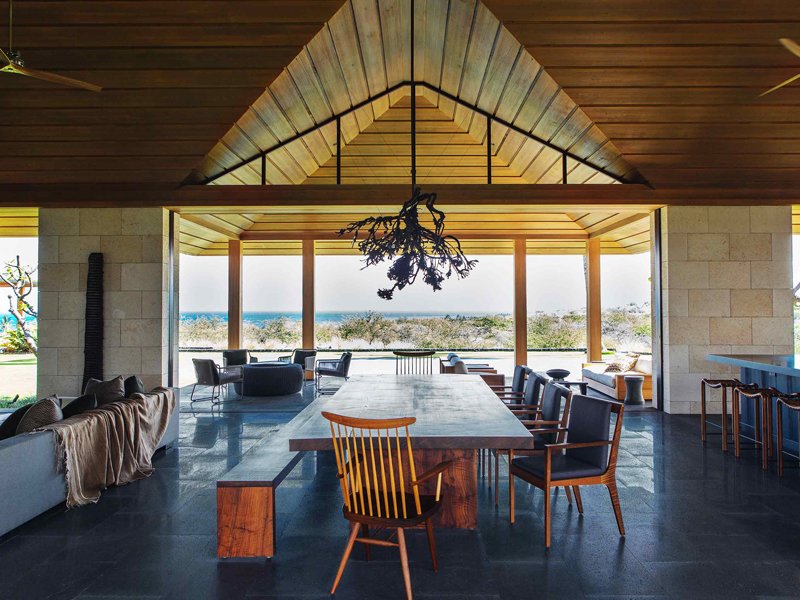 I am not so sure if this home has a second floor or something because of the angle of this space looks like this could pretty much pass for a bungalow. Even still, I think that this home is just fascinating – it sure looks large enough for an entire clan or something and still it looks fascinatingly homey. I think it's all the wood, and still, this place looks rather pleasing.
10. Larkspur Hilltop
I totally love the couch that they paired with the dining table. Check out the chairs in here? There are director chairs which look really cool and the ones on each end of the table looks like a masterpiece of an awesome furniture designer. This house is pretty gorgeous too, the fact that at least three sides of this home is actually made of glass – makes you hope about the privacy of the people in here, but at the same time, you know that they are making use of all the view that they have. I mean, how can you choose, right?
11. La Senda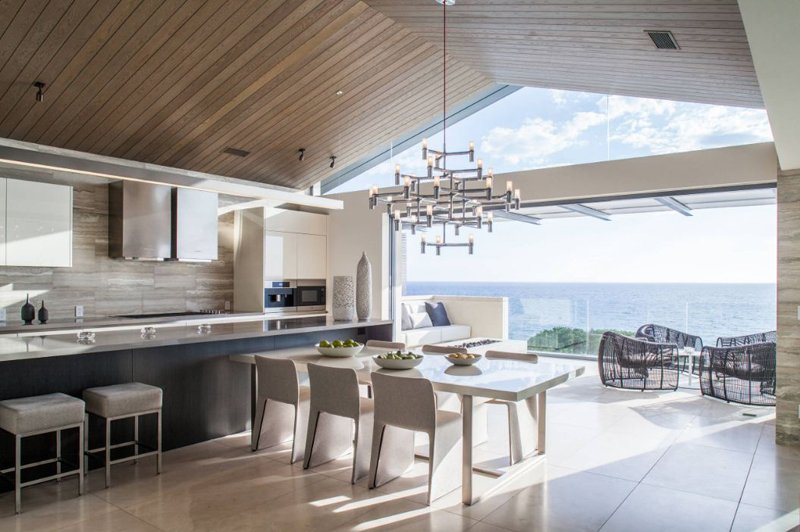 With a view like this one, I think, all parts of the house should have a glass window or at least have balconies on each room which actually faces the ocean. Aside from having a skylight, this house sure gets enough fresh air because of the balcony – like in this kitchen-dining area.
12. Ocean Avenue Penthouse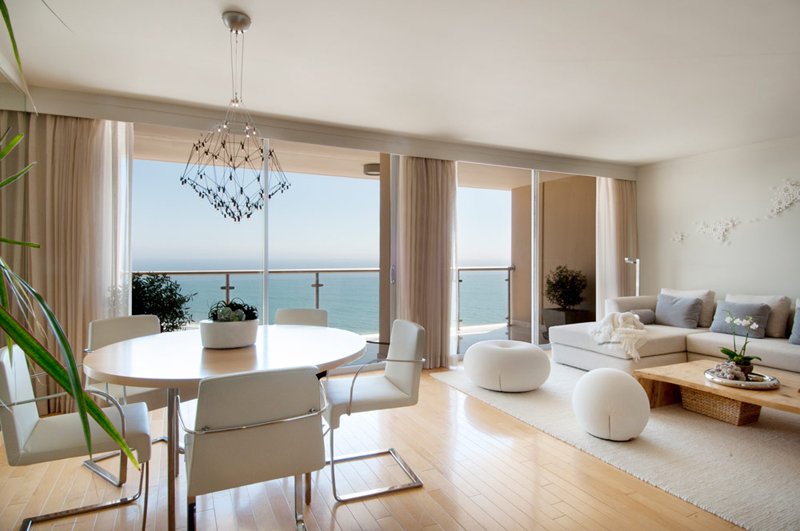 Oh what a beauty! The living area and the dining area sure have the best view of the house! The wonderful and gorgeous colors in here make everything in here look really pleasing and awesome! Neutral colors sure make spaces more sophisticated and expensive, I just love it!
13. Oceanfront Boca Raton Condo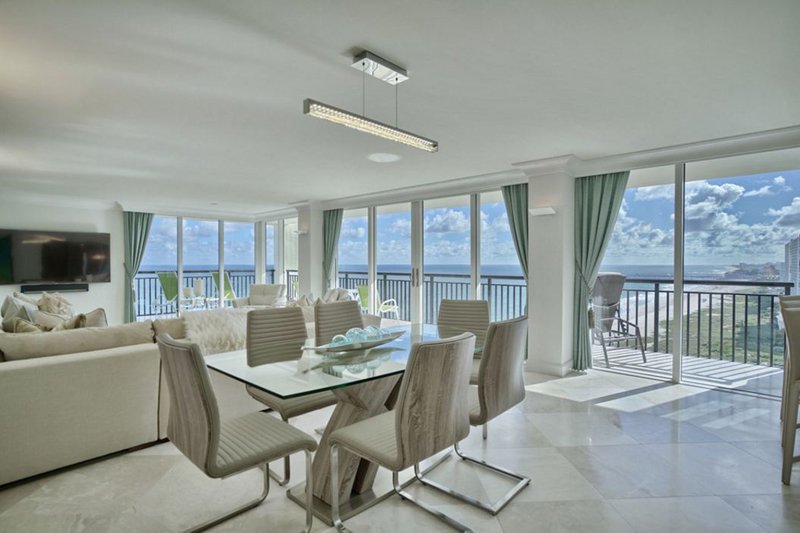 Another home that uses a neutral-colored theme for the entire space. I like that they somehow added a bit of green (the drapes) in here to make this space a little less monochromatic. The furniture choice in here looks wonderful and quite classy, I think sophisticated people will love this place!
14. Owen Lane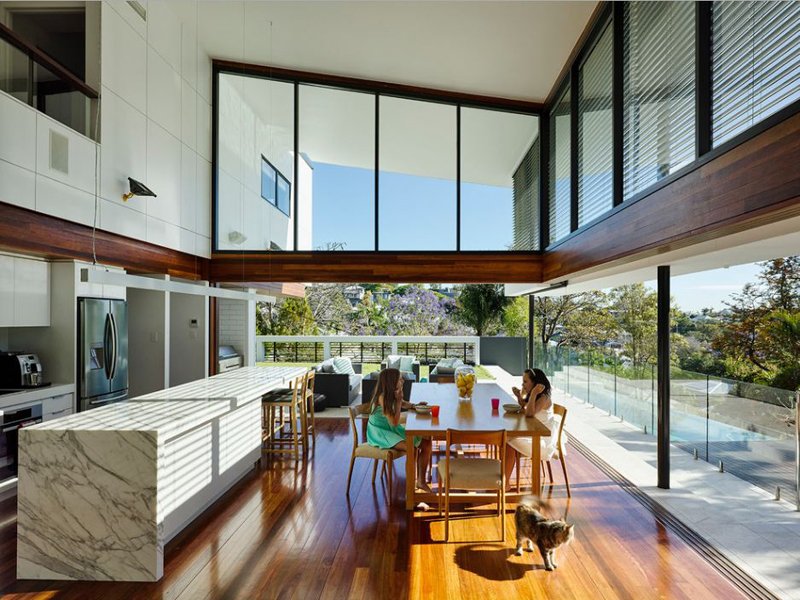 Skylights really make homes a little brighter and fancy – especially when done right. If you notice, the living area, the kitchen and the dining area pretty much face the balcony and seeping in the entire view of the outdoors that sure looks inviting and pretty.
15. Pasadena Residence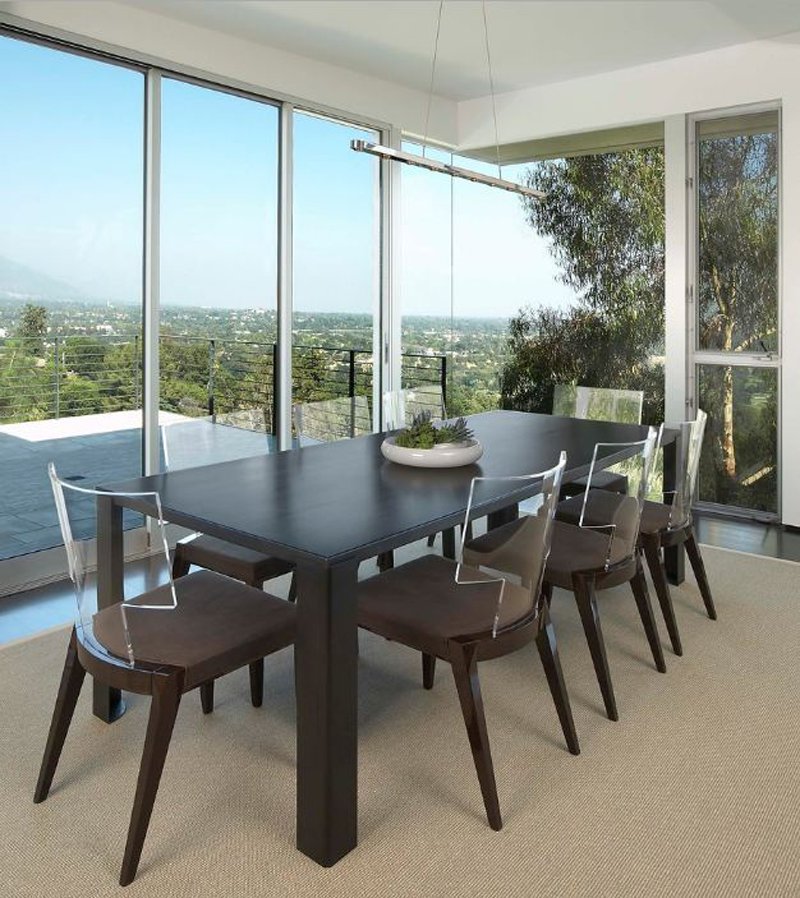 This dining table sure looks like something you can easily get in any home depot or furniture shop. The chairs on the other hand is a different story – I think that they are pretty special and fancy which matches with the glass walls and the fancy carpeting on the floor!
16. Rockledge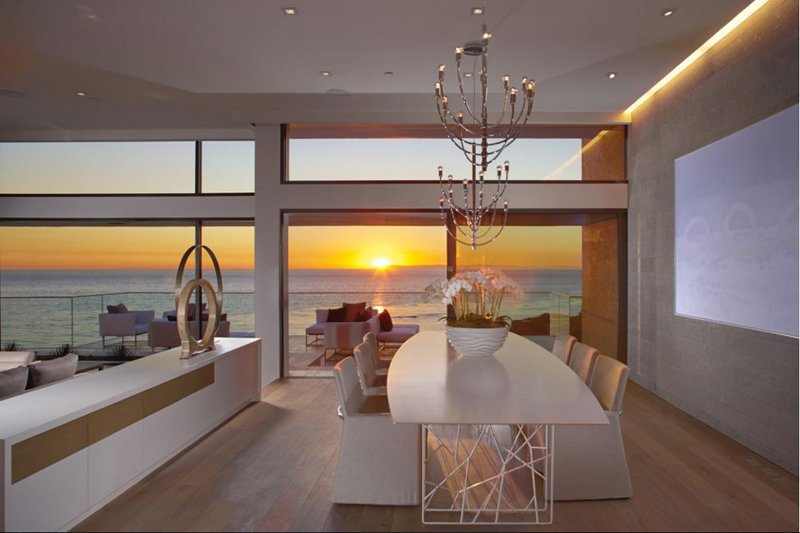 A view of the horizon is just a beautiful thing that as much as it is easily happening every day, we don't get to see. We see pictures of homes that is close to the ocean, but I think that this is the first one with the picture of the sunset – this is just so wonderful.
17. Rockwell at PCH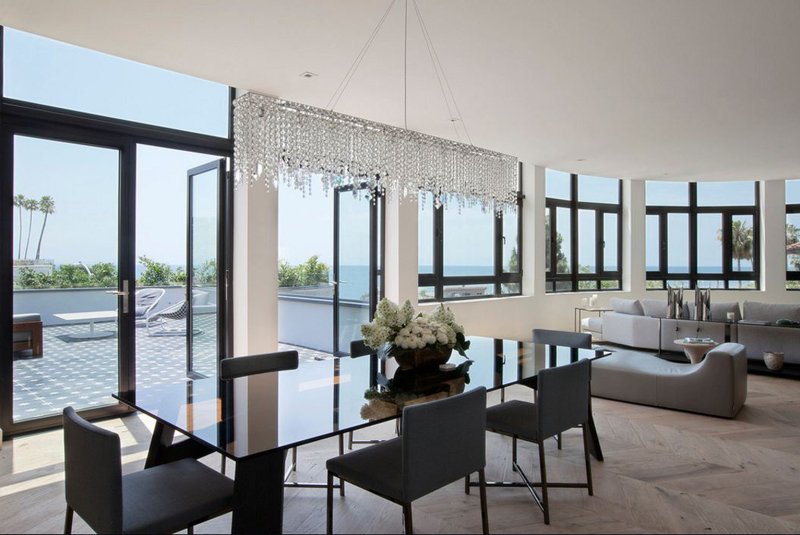 The furniture in here is quite fancy, but I think that the chandelier is the fanciest thing in here! I am not so much of a fan of it, but I think that it goes well with the rectangular dining table and I think that this lighting fixture holds the entire room together!
18. Sophisticated Getaway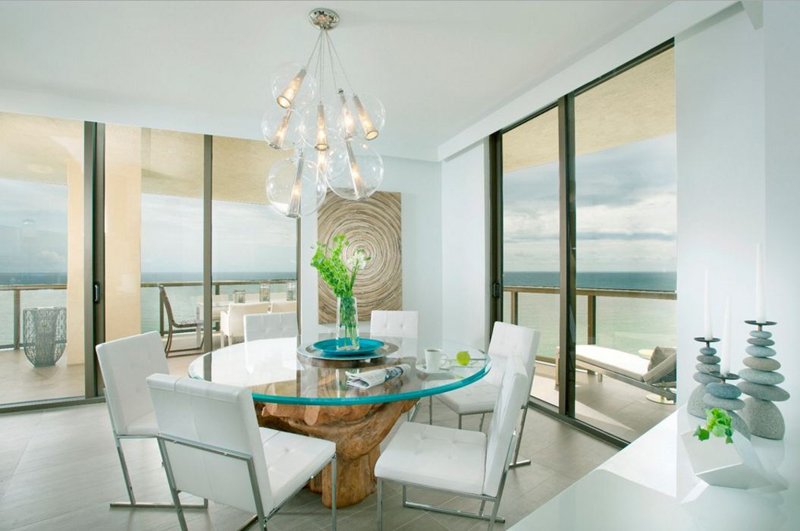 I am totally amazed at home owners who really go for white for their houses! I mean, I get how pretty your spaces can be, but the maintenance is just something crazy that you have to deal with everyday! I would want to assume that these homes actually do not have children, because that's additional work if they did!
19. The Vincent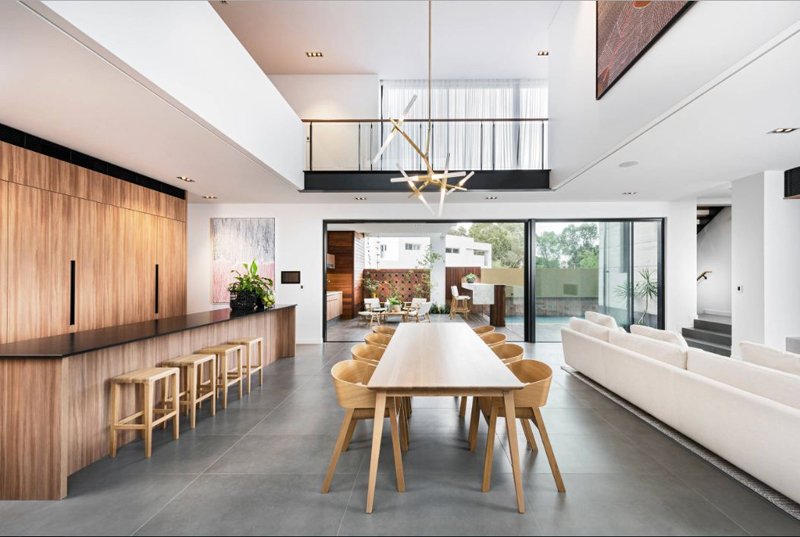 This is one large home! I can't imagine how many people actually live in here; but from the looks of the chairs on the dining set – give or take eight. And this house sure covers that! The wonderful details seen in here just continue to amaze me. How about you?
20. Vaucluse House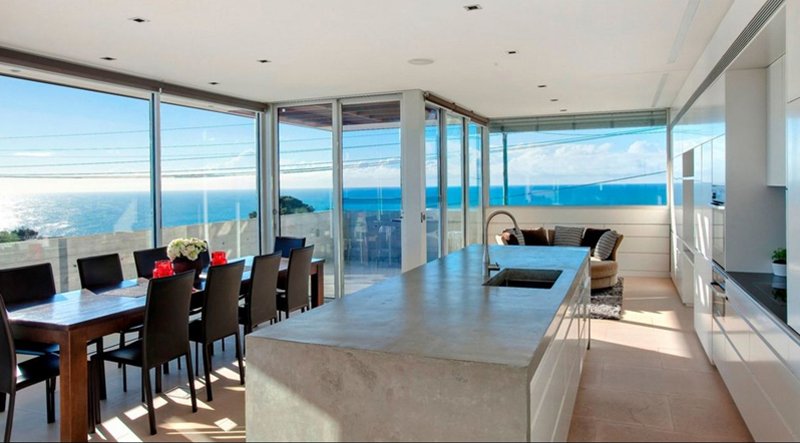 Last but not the least – is this Vaucluse home! The walls are made of glass – which is expensive but smart since they actually have the view that comes with it. I think I would save or loan money to create a home that sees this view if given a property like this one. Would you actually do the same?
Now this is one awesome list – and I know that without a doubt! This is basically a way for us guys to explore the possibilities of having a balcony even by the dining area. I thought for a while that it was a rare kind, but truth be told that I have seen a lot of photos and I think that people are really practicing it. This still depends on the fact that they choose to add a balcony everyone could enjoy, or get something they can keep for themselves like in the 20 Contemporary Bedrooms with Balcony. The choice always depends on a couple of things but I think the one I mentioned earlier is the usual ones. More on lists like this one guys! Keep checking up on us!