15 Geometrical Dining Room Designs
Do you want to have a fresh feel of your dining room? Do you want to see something new that will make your dining room standout? Sure, there are a lot of accessories to add, decors to put on your walls or floors and perhaps new paint to cover your interiors just to get that fresh new look. But do you really know what you want? We are here to help you decide get that modern, chic and sophisticated look on your dining room.
Using points, lines, curves, circles, triangles, rectangles and all other sort of shapes as decoration is just one way of going modern. Today, we are going to get more acquainted with geometric designs for dining rooms. We are going to showcase different ideas and designs that you will adore. Geometric design is sure hot and trendy and it will stay in fashion and even in interior designs for years more. Take a tour on our collection of 15 Geometric Dining Room Designs and bring some Mathematical impact to your lovely homes!
Jenny Baines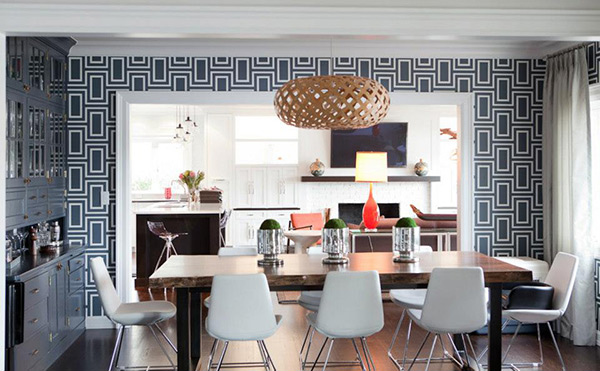 The white and gray geometric patterned wallpaper that covers the walls makes this dining room chic and fresh.
Dining Room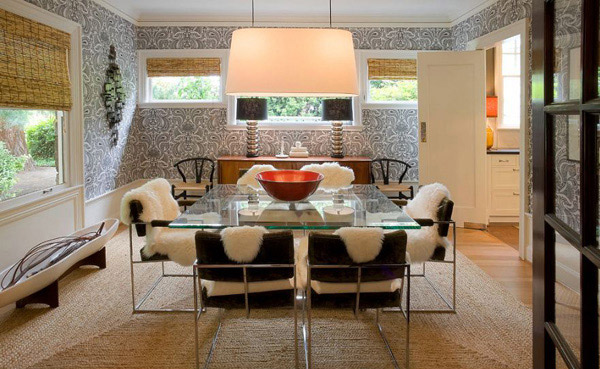 Terrific patterns with nice texture. This glamorous and audacious room is made intimate with the sheepskin throws and lighting.
KEA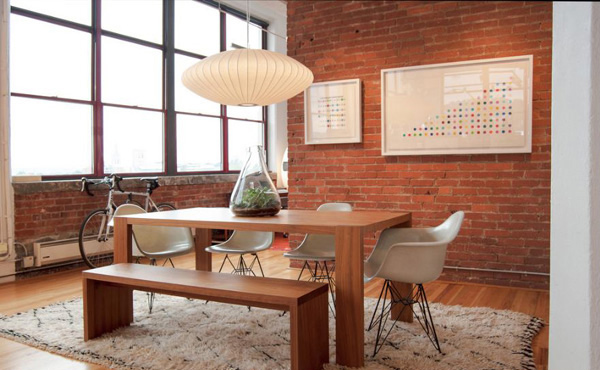 The rustic atmosphere in this dining room is balanced with the geometrical patterns playing all over the place. The patterned area rug helps create a focal point in this beautiful dining room.
Chelsea Loft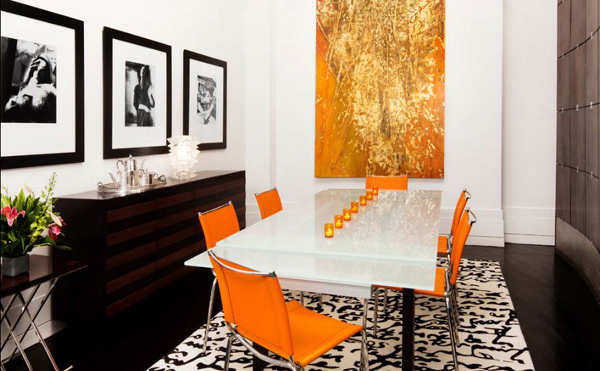 This dining room is defined by its daring colors and patterns. The orange painting on the wall and the patterned black and white area rug are such eye-catching decors you don't want to miss.
Madison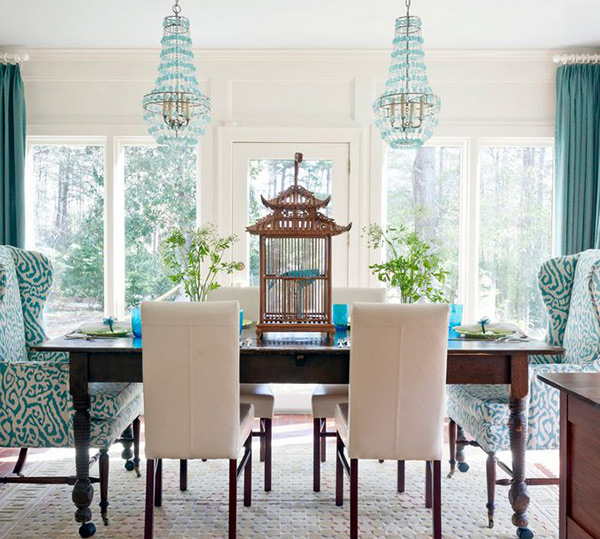 Update your traditional dining room that has been living with neutral colors with doses of vibrant hues and interesting patterns like this dining room design.
Eclectic Modern Tudor Dining Room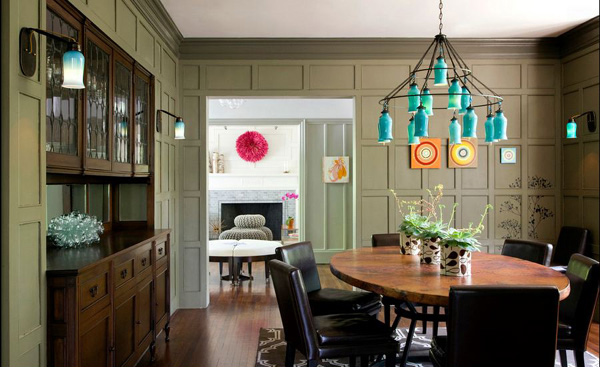 Liven up your already glam traditional-geometric-inspired dining room with a shot of color like this vintage looking chandelier. It creates an eclectic feel to this earth tone dominated room.
Katie Rosenfeld Interiors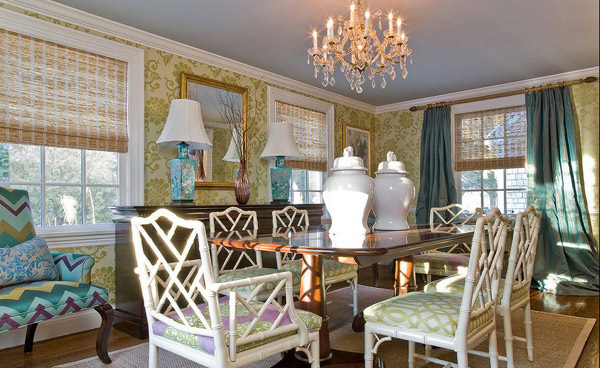 We love the pastel colors used in this geometrical designed dining room. It has a country chic yet glamorous appeal.
Horchow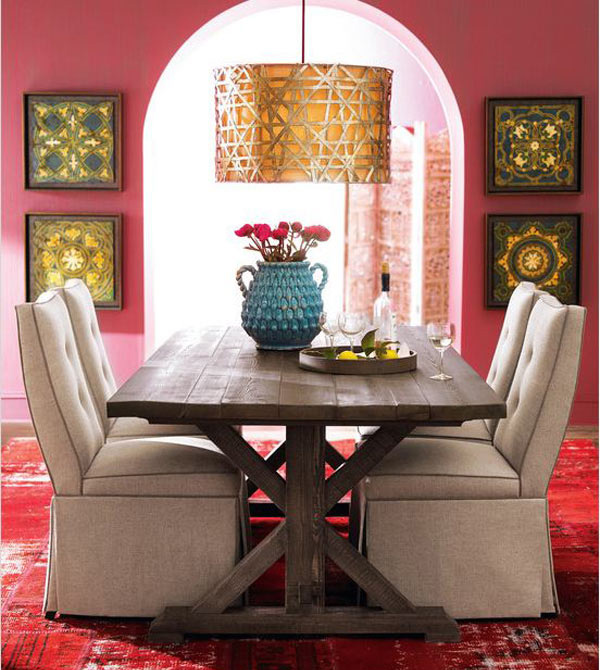 The mixture of clashing colors and patterns is so beautifully done in this global dining room design.
Abbie Way, Costa Mesa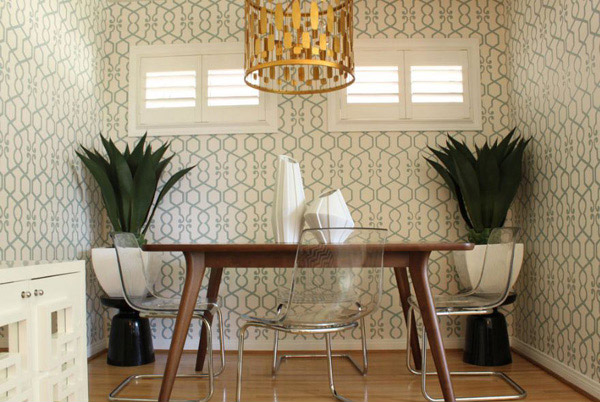 The small geometric pattern on the wallpaper is not overpowering but holds the whole design together. The brass pendant fixture serves as the jewel in this stylish dining room.
Green and White Fretwork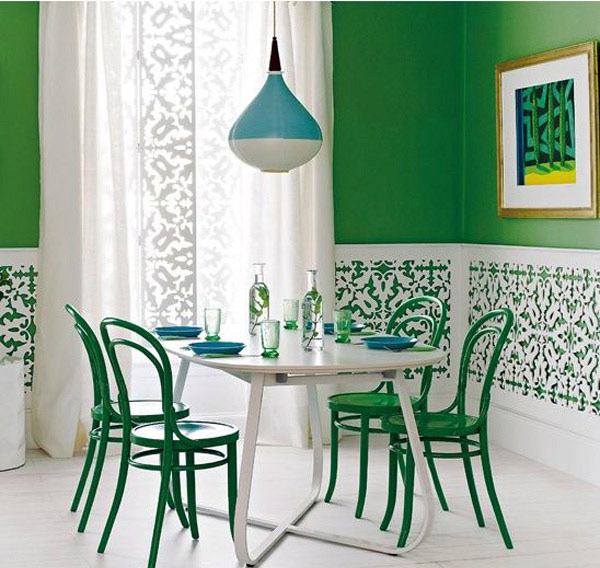 The fretwork panels and the colors of the interiors match the colors and design of the dining furniture. Such a fresh and inviting ambiance to dine in!
Dining Room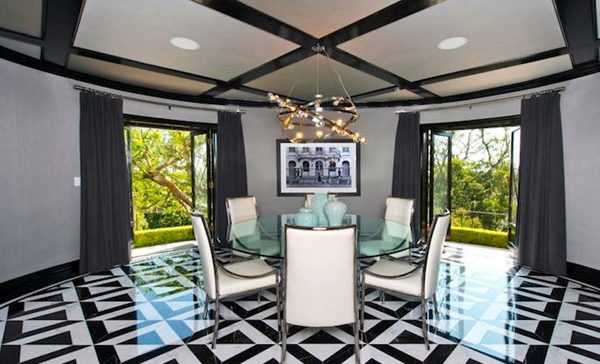 From the floor to the ceiling you will see stunning black and white repetitive geometric patterns sure to give your dining room a modern glam notch.
Garrison Hullinger Interior Design Inc.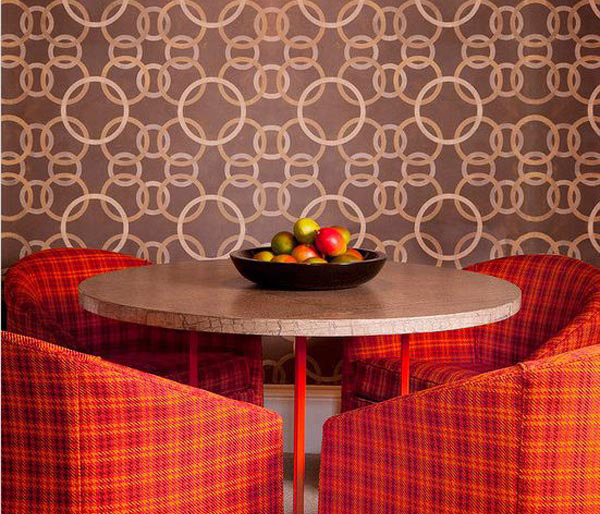 The combination of plaid and the kaleidoscope-inspired wallpaper works well in this cozy dining room design.
Casa Blanca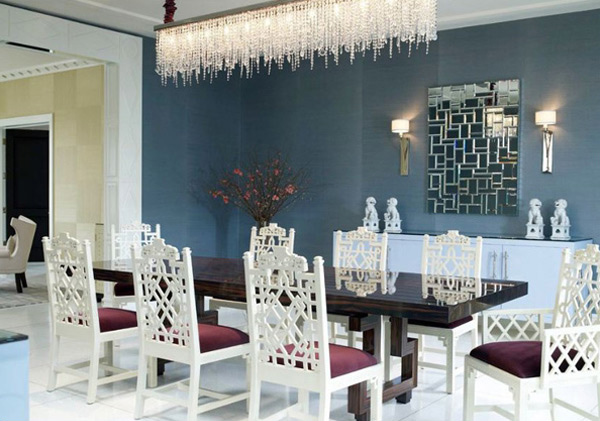 Fresh, clean lines and luscious colors grab one's attention in this stunning dining room design.
Geometric Dining Room
A pleasing combination of patterns in different scales and the pop of warm color make this country dining room standout.
Florida Beachfront Residence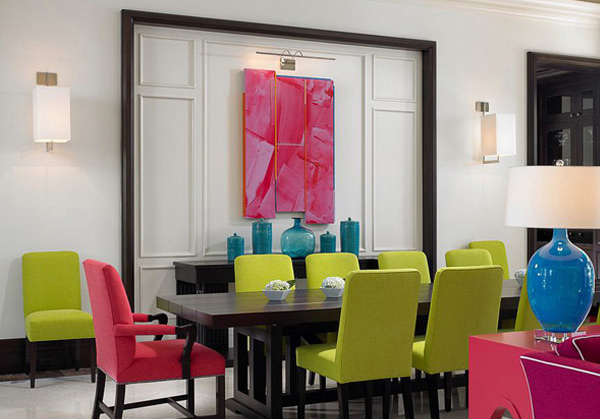 We just can't take our eyes off this dazzling dining room. It is full of bold hues that perfectly work together, clean lines and magnificent texture. The wall panel serves as a nice backdrop for these lovely jewel tones.
Isn't it a great tour? You have just seen a list of beautifully designed geometric-inspired dining rooms. Well, its modern, it's chic and it can definitely make your dining room stylish and standout. It's just hard to resist the charm that this geometry design brings to our interiors. So go on, add some colors and spice up your dining room with these repetitive patterns that is sure to bring glam and sophistication in your dining space. Check on the different dining room color schemes that you can use for your home.