22 Gorgeous Cowhide Rugs in the Dining Room
Cowhide rugs also look nice in the dining room too!
There are so many ways that we can use a cowhide rug or carpet inside the house! Of course, we would want to use a faux one since we would not want to think about the dead animal's skin lying on our floors. In today's list, we have scoured the world wide web to collect photos of dining room spaces that has this beautiful cowhide rugs in them!
So, this list of 20 Gorgeous Cowhide Rugs in the Dining Room is something that you might have come across before – my colleague wrote a list about dining room chairs that has cowhide in them – the back rest of the seat in itself. In general, I think these rugs are beautiful things that will spice up your spaces and make your lives prettier and happier. Check out the list below and tell me which ones you like best.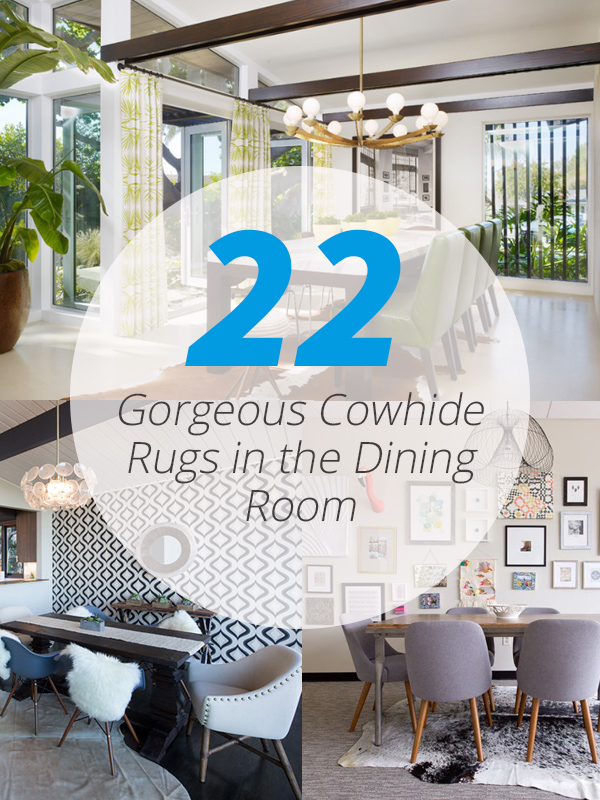 1. 5425 Interior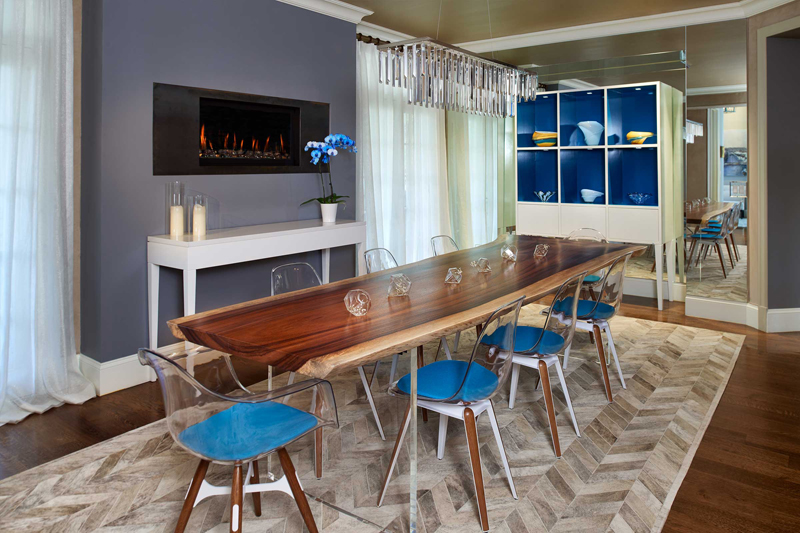 The first one on this list is one rectangular carpet or rug that is basically patchwork made from animal skin. This is one beautiful piece and I think not everyone would pick something like this one since I think the most popular ones are those in the shape of an animal body or something.
2. Blue Ridge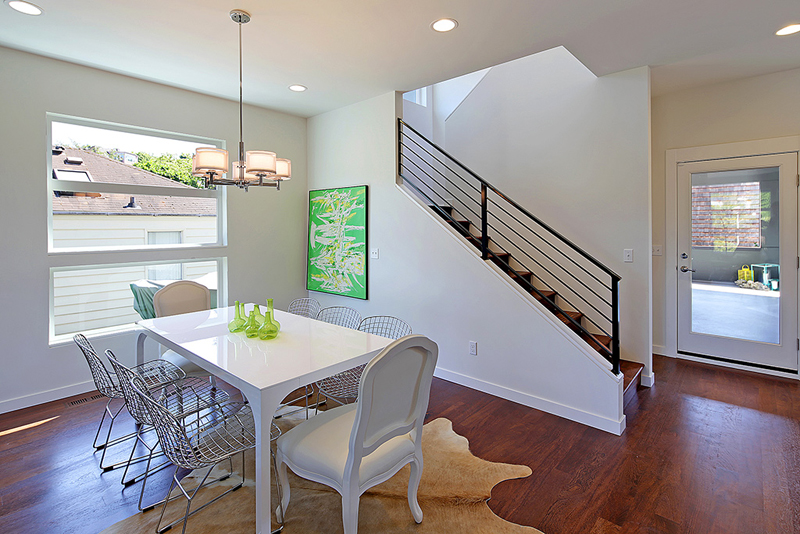 Tell me what you think about the gorgeous dining set in here; the white table paired with the stainless steel chairs and those stunning Louis chairs is just fascinating. This combination is something that you do not really see usually – even when it has been a thing to mix and match dining room or even living room sets at home. Notice the contrast against the dining set and the cowhide – do you like this combo?
3. Curva House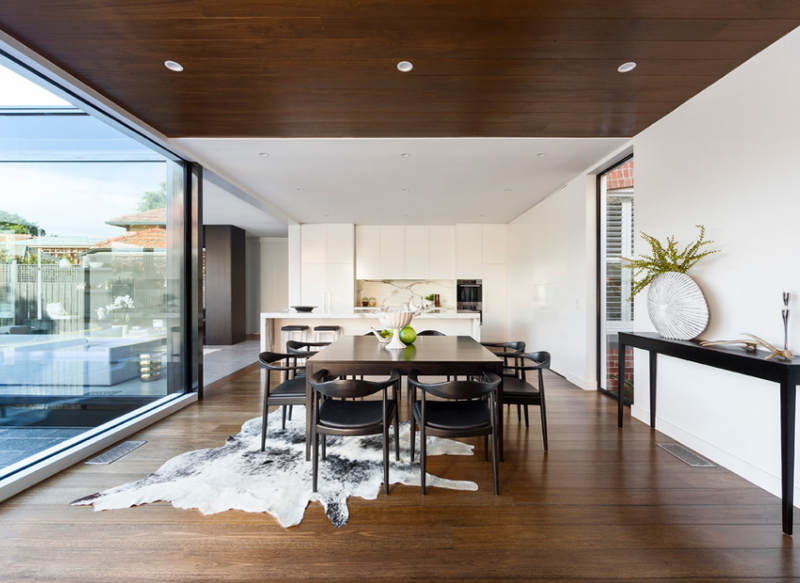 I can't say for sure if the cowhide rug (assuming faux) in here came from a zebra or a sheep, maybe? But whatever this faux rug is imitating, it sure is a good one because it definitely looks great in this dining space! Talk about contrast and tons of love!
4. Eclectic Modern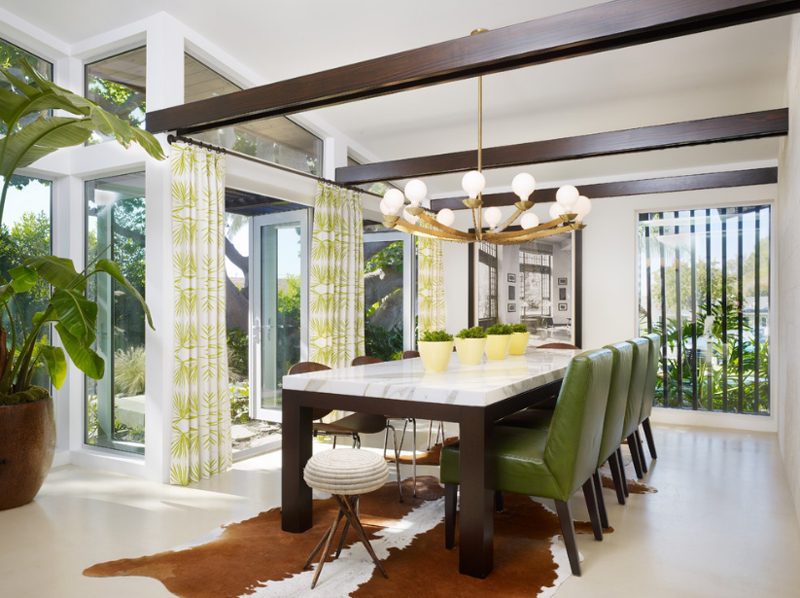 Did you notice the fun way of mixing and matching chairs in a dining set? Well, obviously, this is not a set when they bought it – but I find it amazing how they actually placed the same chairs on each side instead of maybe alternate them or something – well, this is their work and I think it's kind of cool this way too.
5. Formosa Residence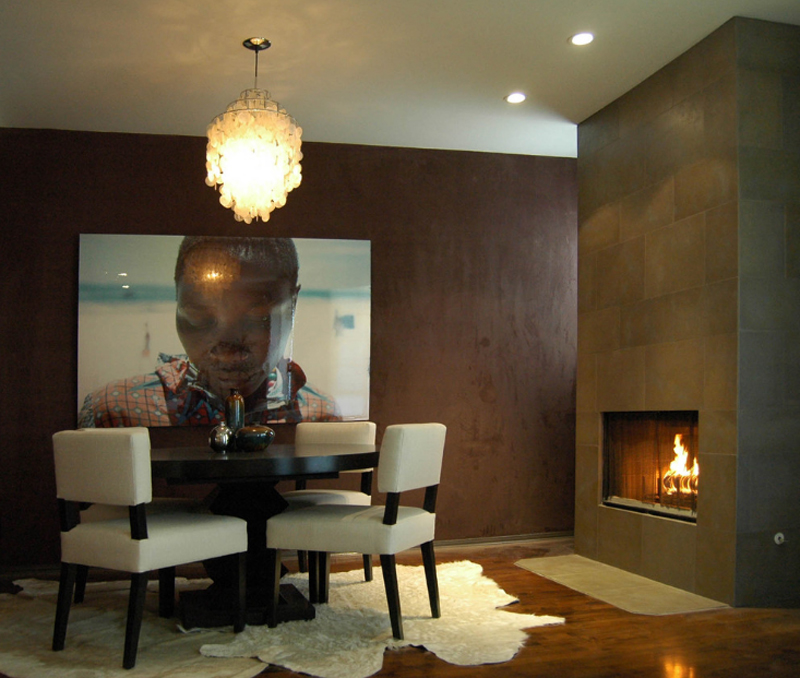 I have seen this photo before and I am really fascinated with the large photo on the background. For one thing, I would want to think that this is something anyone would actually want to have at home and I think that this is one fabulous photo!
6. Full Home Remodel: Transition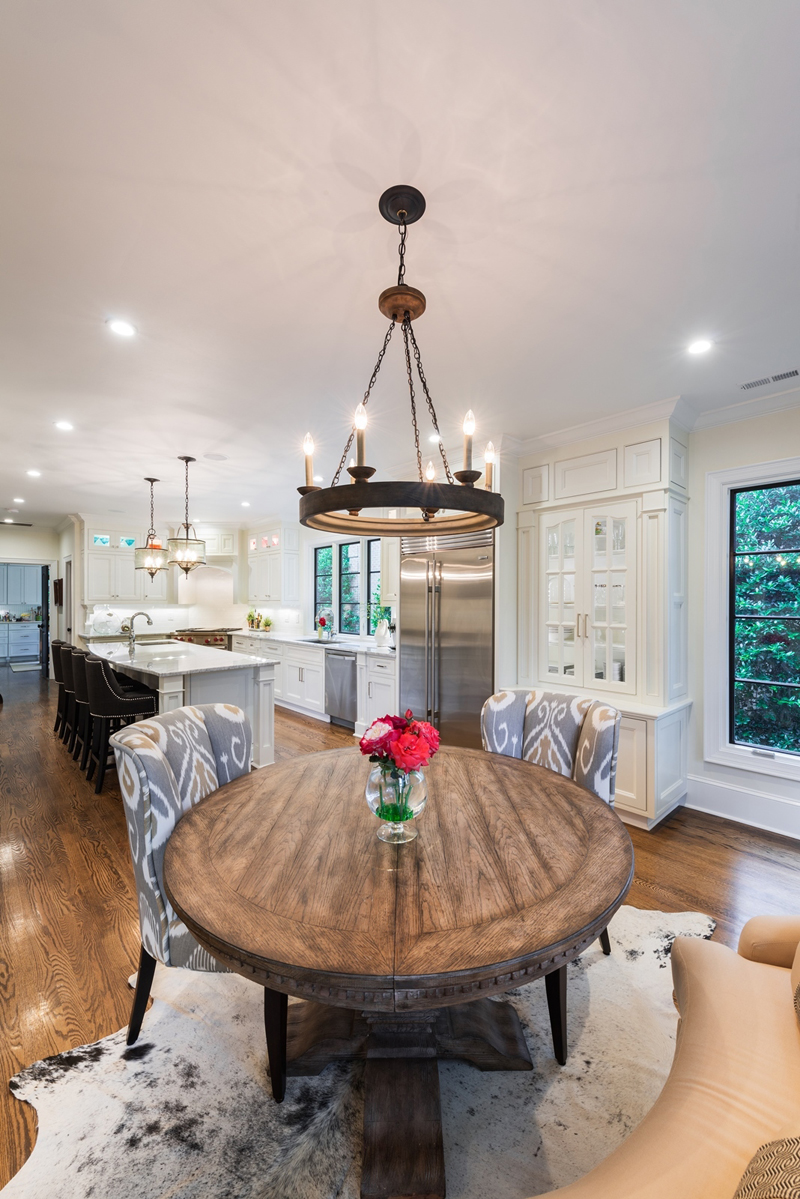 This is one example of a beautiful transitional space – look at the kitchen area and notice how contemporary it actually is and then look at this cute dining area or nook – pretty rustic but I think that it actually works! What do you think?
7. Greenlake Bungalow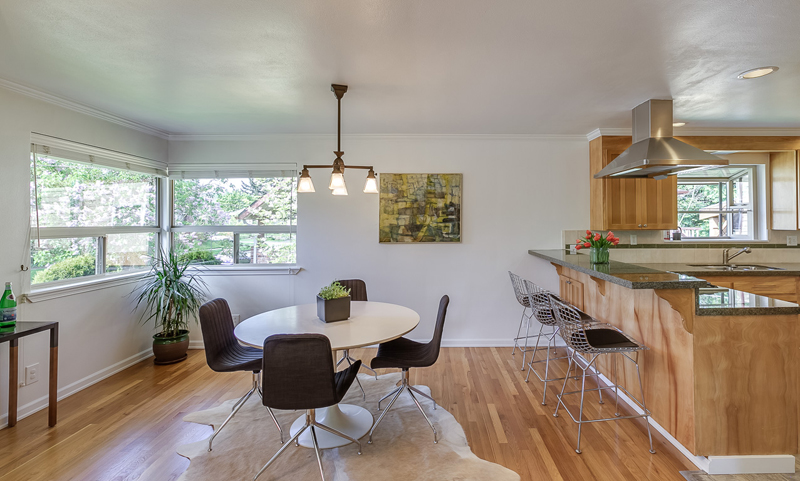 I totally am into spaces like this one – white and wood combination mixed with a stunning view of the outdoors and a contemporary set up! I think this is beyond gorgeous!
8. Hillside Condo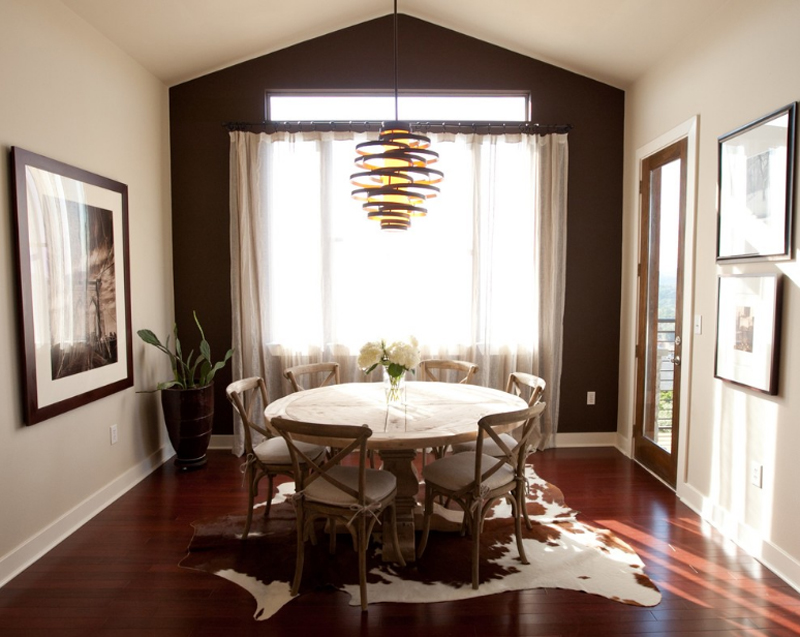 Even when this is a small dining space, I think that the color combination in here is a classic and a stunning one. I think that even when you want to achieve a homey space, you would not want to comprise how pretty your space should actually be. Sometimes, contrast is key – just like this one.
9. Kirk in Kirkland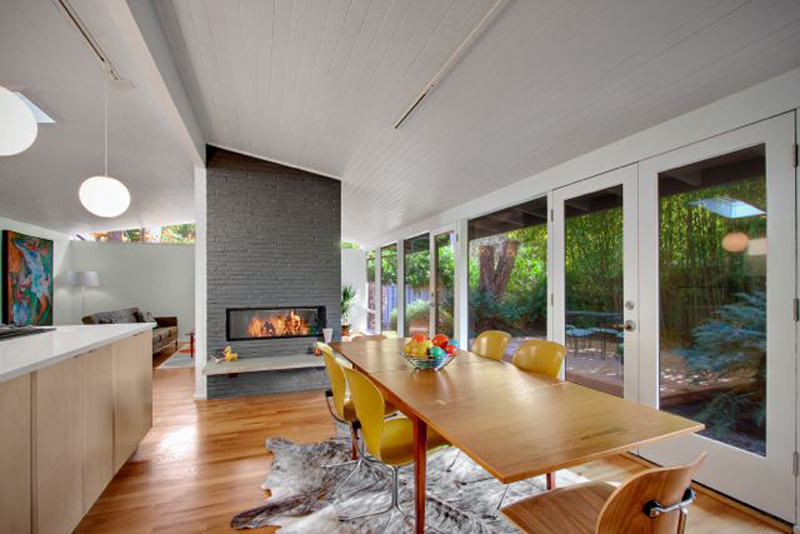 So, this is one awesome dining space that opens directly to the outside world. This is like having as much environment friendly materials indoors and still enjoying Mother nature in its most raw moments. The contrast of the indoors and the outdoors is just divine!
10. Kirkland Green Built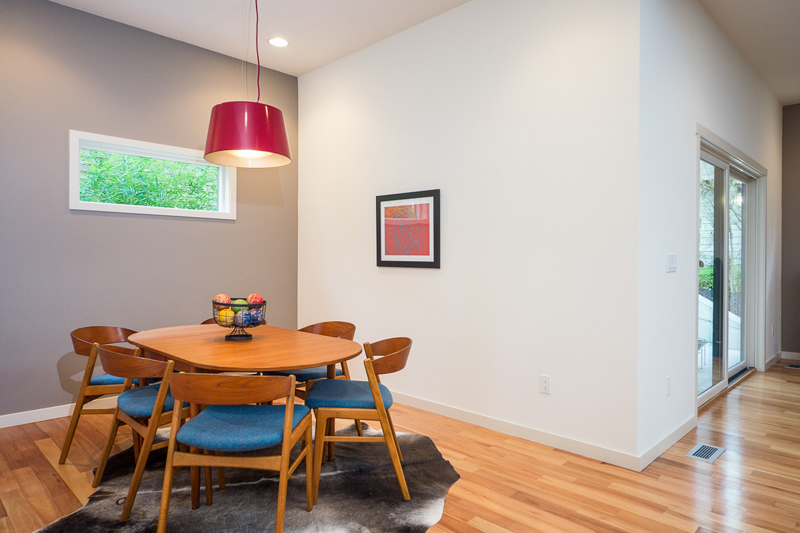 Notice how there is almost no black in this dining room except for the frame on the wall and the cowhide rug; I think that it lacks something – I can't say for sure, but all in all, this is one kick-ass dining space.
11. Modern New Build in Crown Hill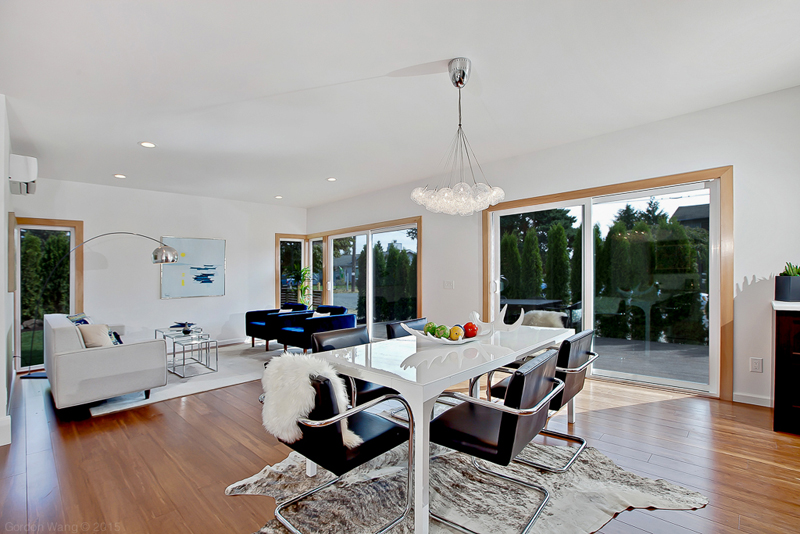 A classic black and white home that looks rather pleasing and stunning! The charming cowhide rug on the floor and the ones on the chairs are just so pretty, they look quite expensive. I have no idea how much these things cost, but I think this space is fab!
12. Montclair: California Modern Love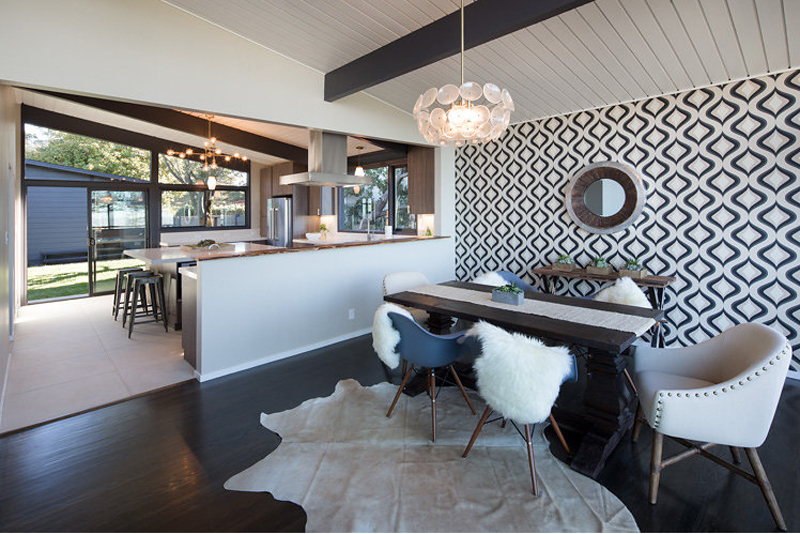 Another (almost) black and white dining room that actually connects to the kitchen! I think that it's just wonderful and at the same time really fascinating. The decal on the wall is a wonderful choice and the chairs paired to the table is just majestic, I love it!
13. Patchwork Dining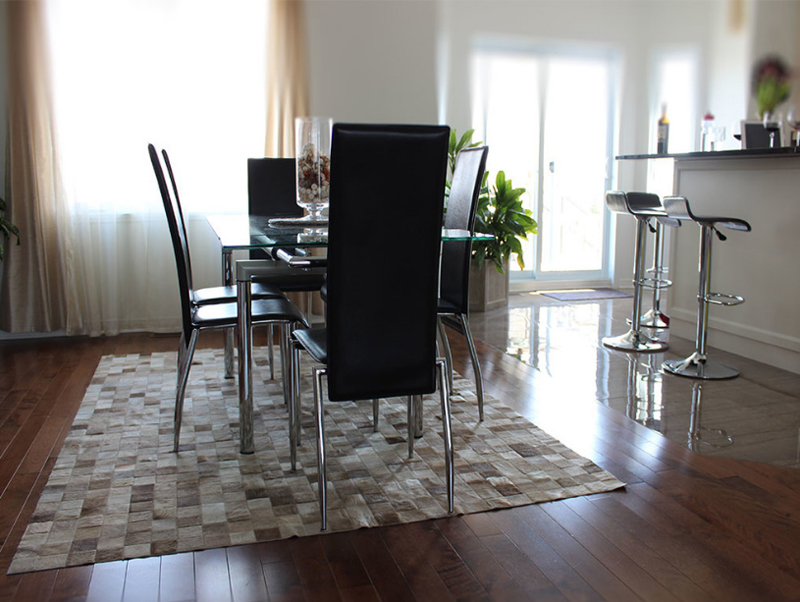 Here is another patchwork made from cowhide which I think is just fabulous! I do not think that they match well with the color of the flooring, but I think they look great against the dining set.
14. Paul Kirk in Bellevue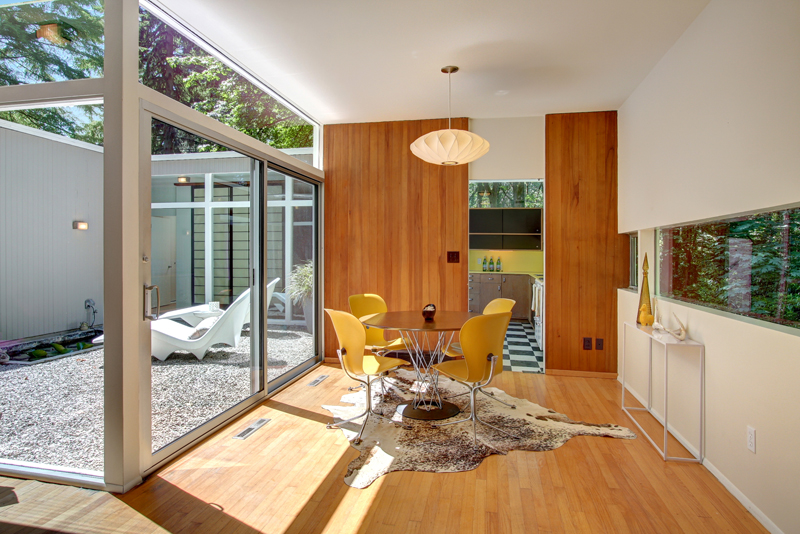 What a charming box home! I have not seen the entire gallery of this home but from this angle, you see how much box-y this home actually is. Anyway, I think that the chairs for the dining set is cool and very retro which actually complements with the entire design of the space it is in.
15. Rustic Redux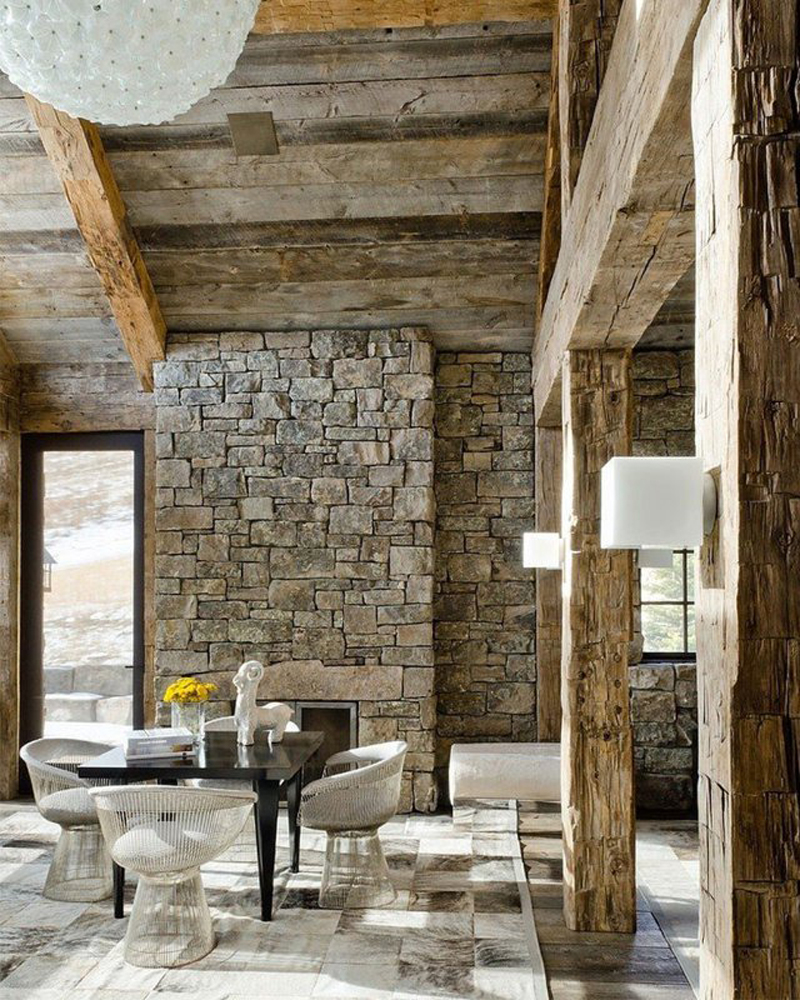 I know that the cowhide in here could basically pass as a carpet and not a rug – but I think that it just looks wonderful and most likely expensive to have something this large for your home! It looks like it actually covers the entire dining area.
16. Silpada No. 1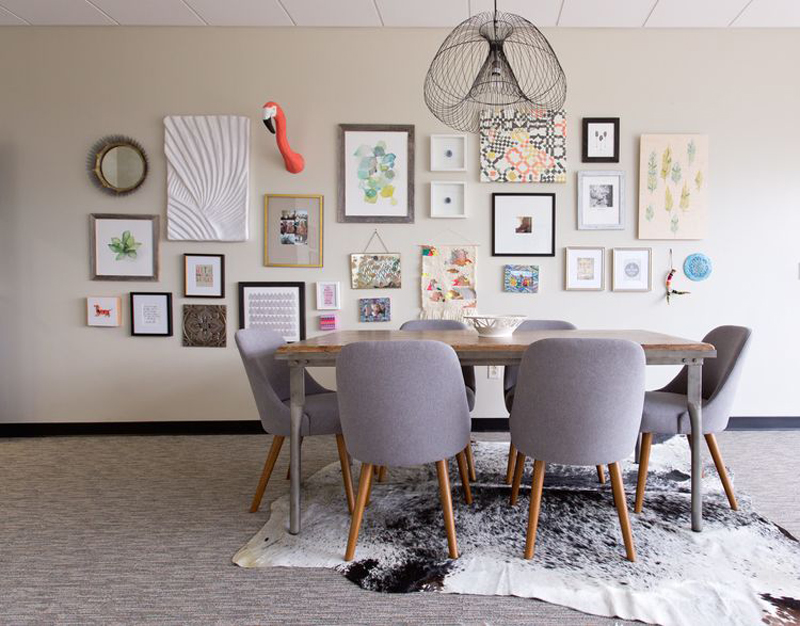 Cute and comfy chairs are paired with the cute wooden table. The way they played with the wall is just something I really want for my house because not only does this look fun, but it sure look crazy awesome!
17. The Bishop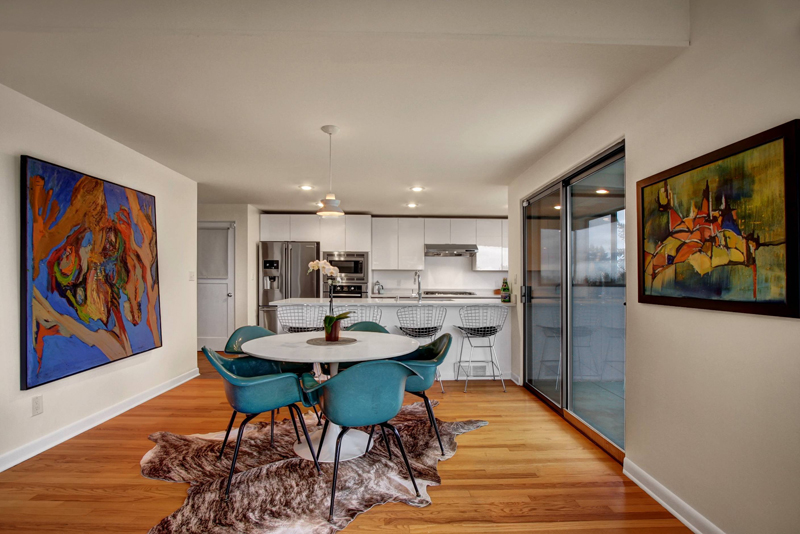 Pretty cool name for a home. The Bishop is just a stunning space! Take a look at the wonderful paintings on the wall and the awesome choice they have for the cowhide rug (which was darker than the floor), I love it!
18. The Home of Bianca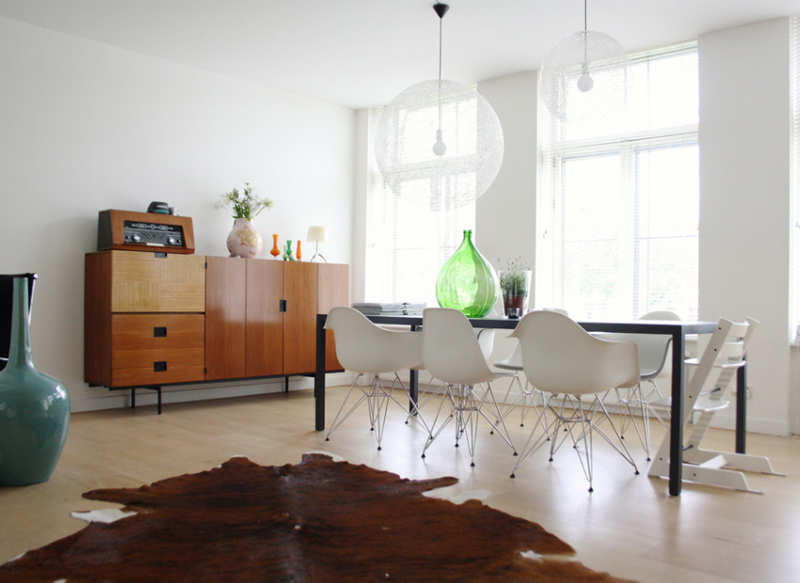 This is one large, white home! The choice of the chairs is wonderfully done – they made sure to pick all-white chairs against a black dining table and well, a light brown flooring – pretty awesome combo, I should say.
19. Upper Montclair, Marion Road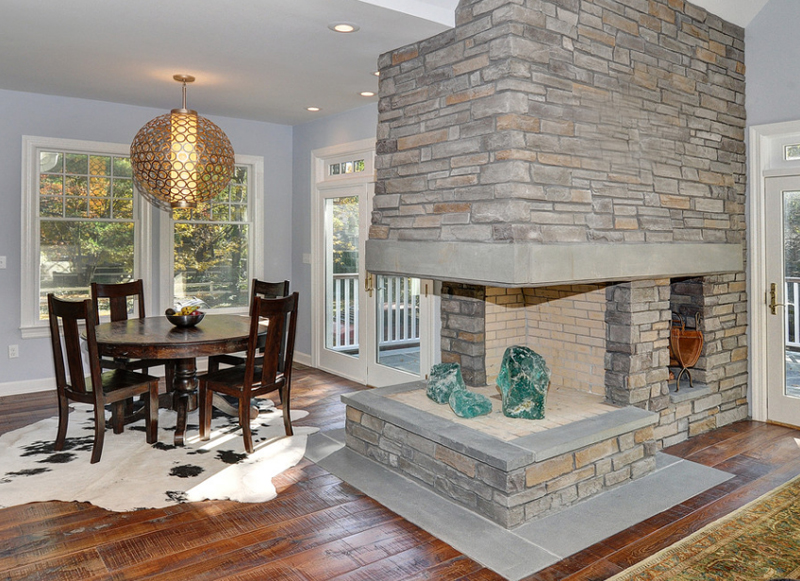 I should say that I think this space could have done more on the stones used for the fireplace; something that I'm not quite sure if it's decorative or actually functional The choice of using a lighter colored cowhide against a reddish brown flooring is just neat.
20. Upper Rockridge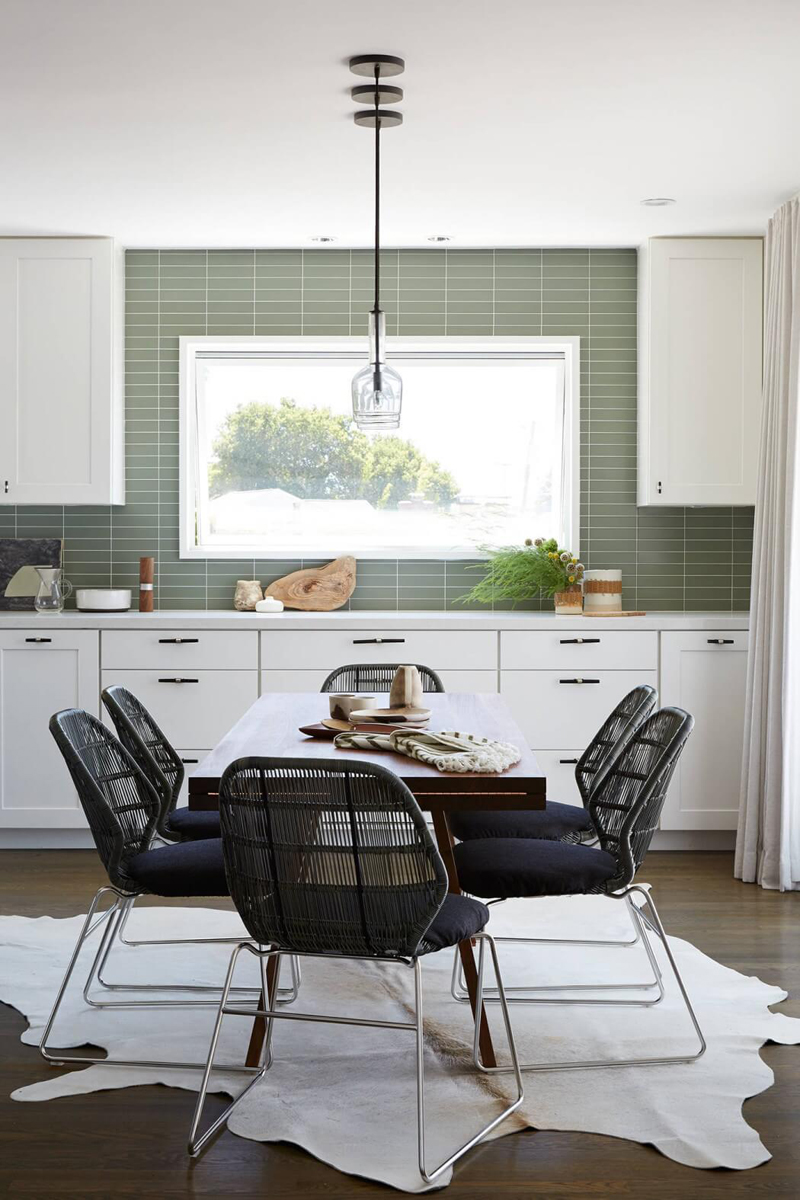 Contemporary chairs that surely stand out in this dining/kitchen space is quite nice; they chose dark-colored furniture against the white cabinets, tiles and ceiling but still maintaining a contrast on the cowhide carpet and the dark floors!
21. Venice Canals Contemporary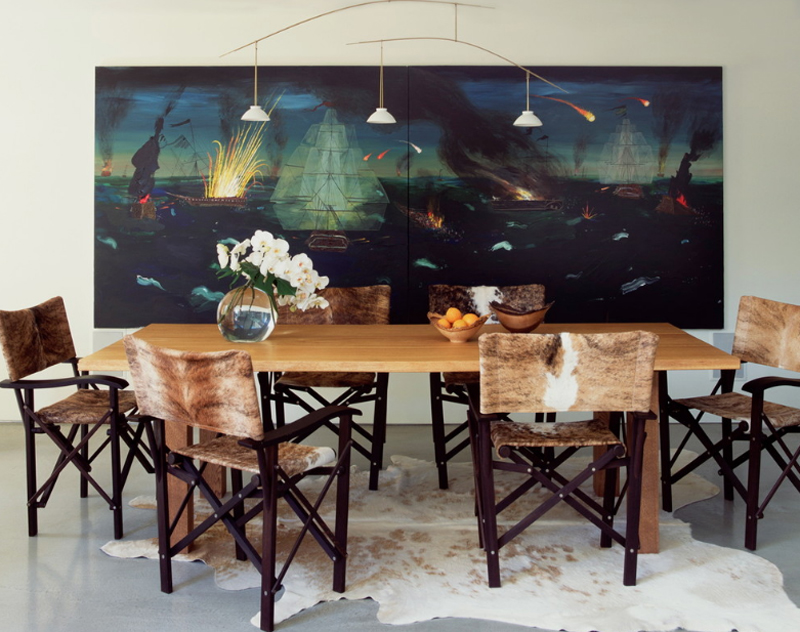 What a fancy wall decor! I think it's always a nice thing to add a beautiful painting on a large wall to accentuate it even when it is small and plenty or large and alone – they surely make spaces prettier and more charming!
22. Washington CT Residence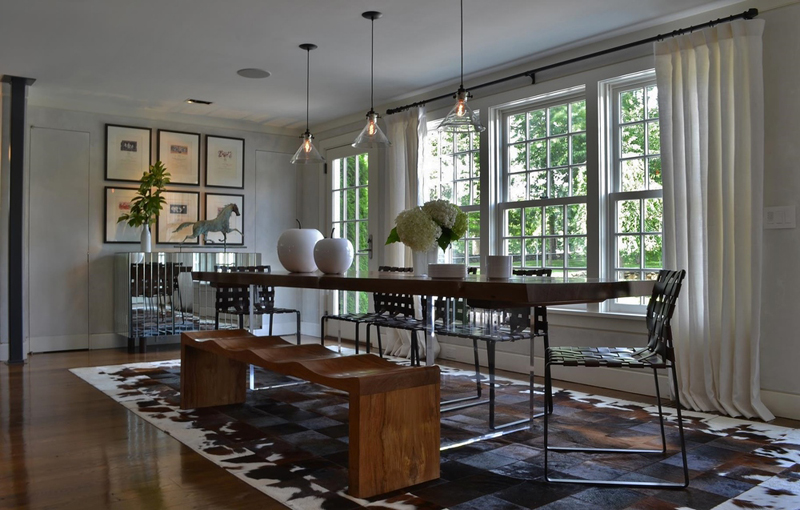 Now what can you say about the final piece of cowhide we have in here? Pretty amusing, right? I totally love it and I think you should too!
Whether you are into animal fur or cowhide leather – the faux ones or the legitimate ones – I think that this list might help you deal with the choice you are about to make. This list of 20 Gorgeous Cowhide Rugs in the Dining Room is somehow related to the 20 Lovely Animal Fur Pillows in the Living Room – they're both gorgeous and they're both just fabulous things just waiting to happen for you guys!