20 Small Dining Room Lighting Designs
Walk into a dining room full of beautifully dressed furnishings, luxurious window treatment, stunning pool of light highlighting a meticulously set table and tell me what will you feel? How about walking into a dining area filled with pretty furnishings, best crockery, sparkling glasses but no stunning light to greet you? Yes, it might be the most luxurious dining room you have seen but it is also flat. No scene to look forward to and keep you lingering in the dining table you are in. So yes, lighting is really a vital element in getting that cozy ambiance for your dining room.
A great deal of thought should be given to your dining area in getting a good lighting. It is important in setting the atmosphere you want to feel. Notice how restaurants get dazzling light fixtures and mirrors everywhere to reflect the light around and exude the scene they wanted their customers to experience. It creates the mood from formal to casual in an instant may it be in a big or small dining space. So for those who have a not-so-spacious dining area and are looking for inspirations in getting the best light fittings, this list of 20 Small Dining Room Lighting Designs will help you.
1. The Family Dining Room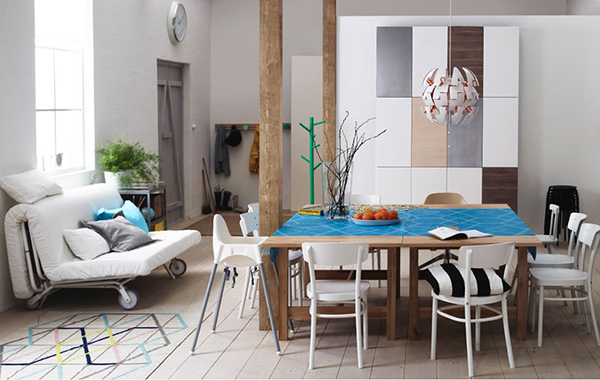 A small dining room needs an ample amount of light when you want it to be a place where you can do different activities with your family. The bare window let the natural light in while creating a bright space for a more casual atmosphere. The wooden tables give warmth while the white pendant light adds interest and mod-vibe in this dining space.
2. A Beautiful Mess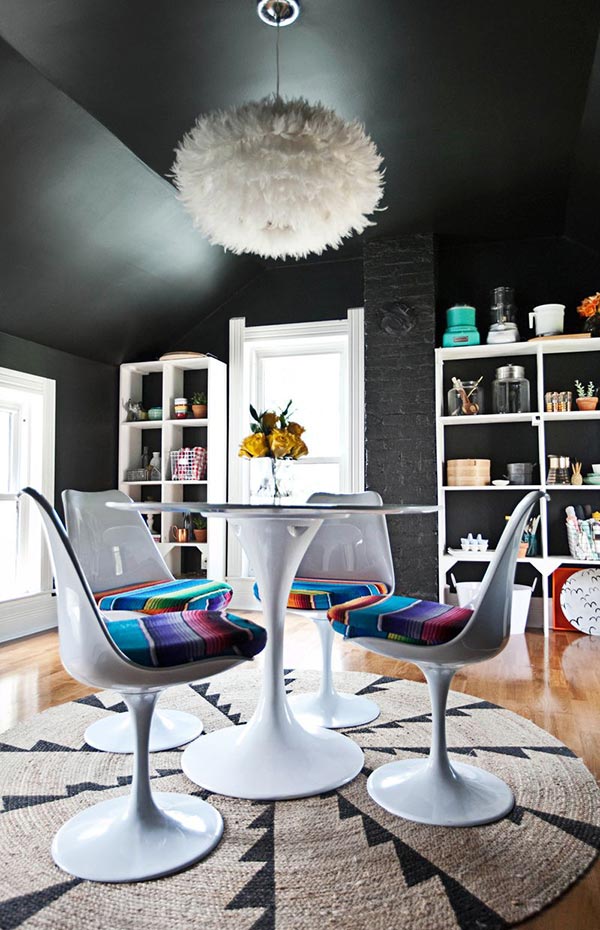 Black ceiling and walls bring drama to the white dining room design. White chairs with stripes in vivid colors makes this dining room refreshing while the beautiful light fixture above adds luxury and softness.
3. Neutral Dining Nook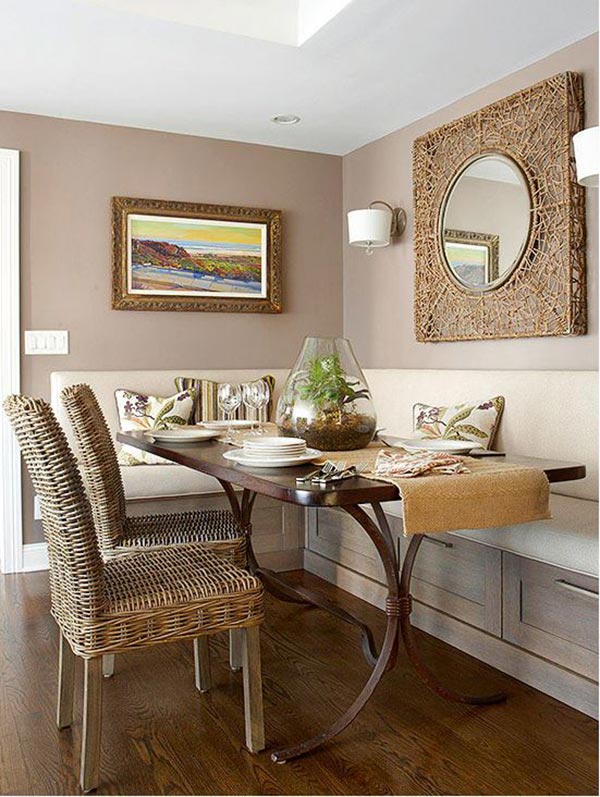 Neutral colors from the wicker chairs, table and mirror add warmth and texture to this dining room. The sconces on the other hand matches the simple corner banquette, brings elegance.
4. Orchard Dining Room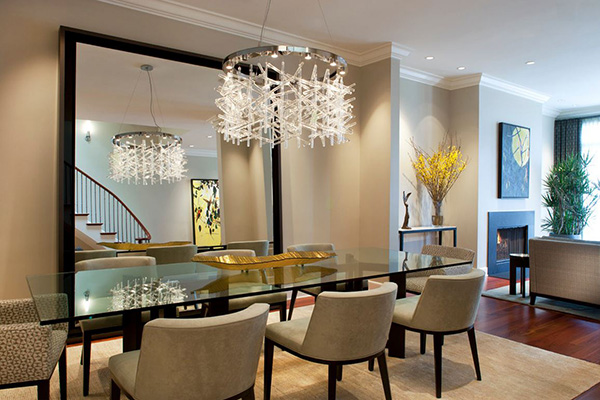 A large-scale mirror on the wall that framed the dining area gives depth and dimension creating a more spacious feel. The crystal-like-geometric lighting fixture adds elegance to this contemporary dining space.
5. A Zest Of Citron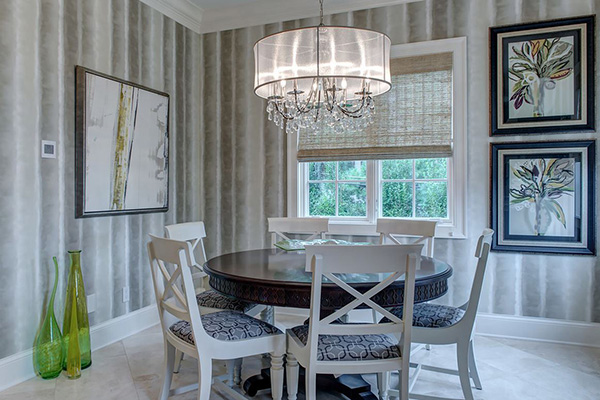 A hint of citron in giclee art, mirror and floor glass bottles adding a touch of fun in this transitional dining space. The gorgeous chandelier in chrome, bring glamour and extravagance to the contemporary appeal of the white chairs and rich, deep wooden color of the table.
6. Eclectic Dining Room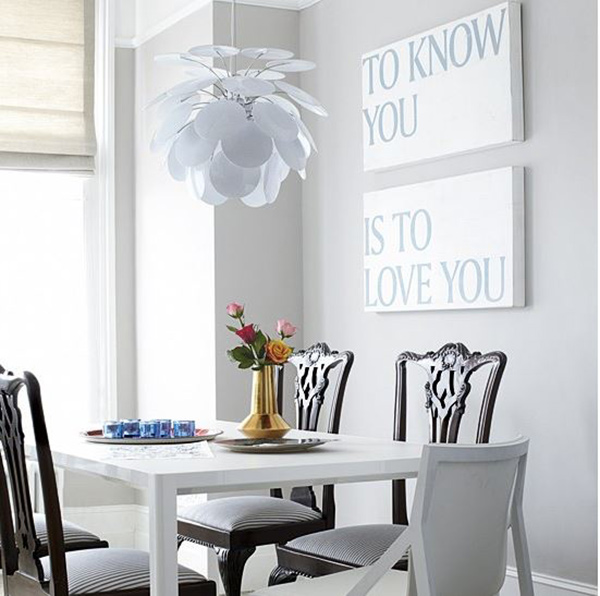 The white wall canvas highlights the color of the old mahogany chairs that adds warmth to this dining room. A stylish pendant light and wall arts bring and up-to-the-minute look to this old-new mix.
7. Breakfast Area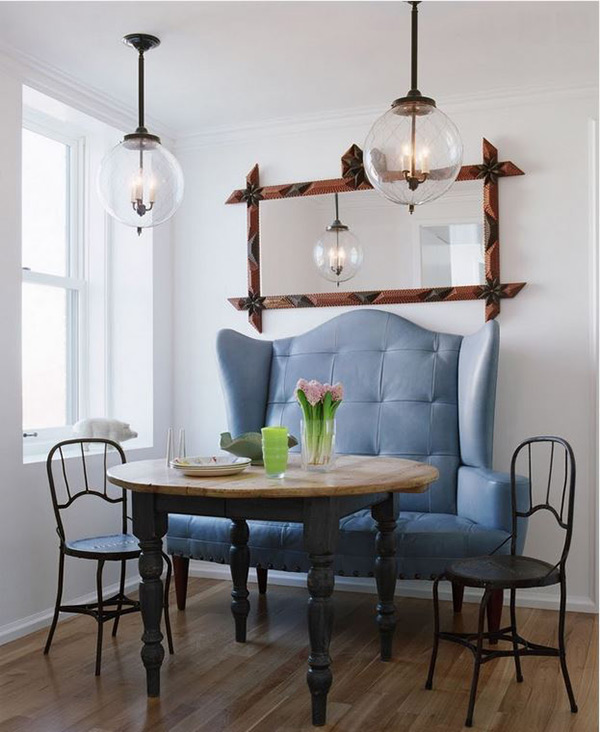 A high-back, cushioned bench takes the center stage in this whimsical breakfast nook. A chic mirror reflects the light in style and the two globe, pendant lights add interest and more brightness to this cozy space.
8. Jayson Home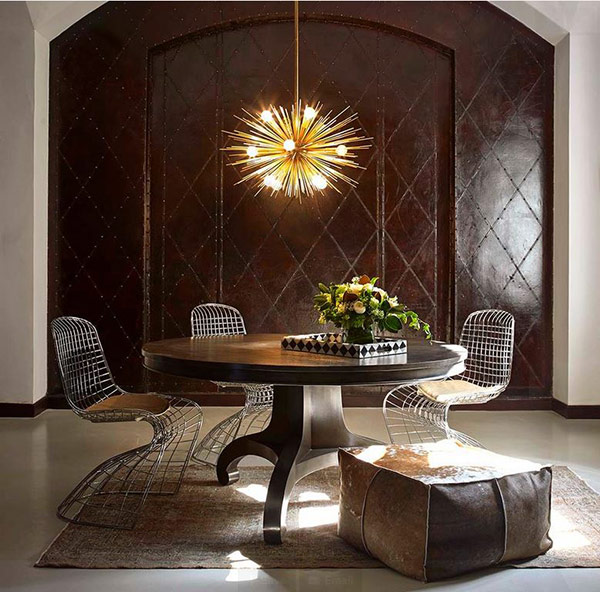 Chairs in chrome bring an industrial touch as the natural color of the table adds warmth and coziness to the room. A striking pendant light grabs the attention keeping the dining space modern and elegant.
9. Monticello Drive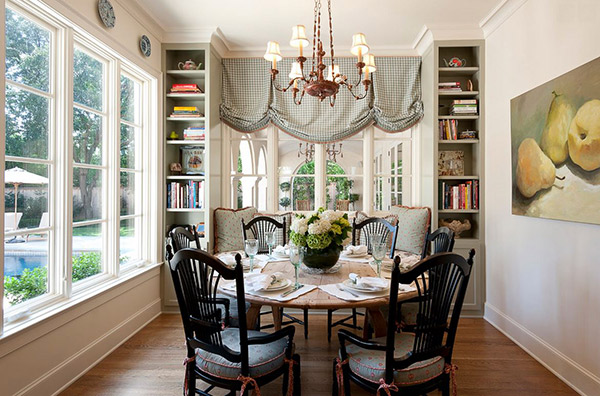 A classic chandelier illuminates this traditional dining area exuding sophistication. Bare windows extends the view to the outdoors, creating a more roomy feel.
10. Riverside Drive, NYC Residence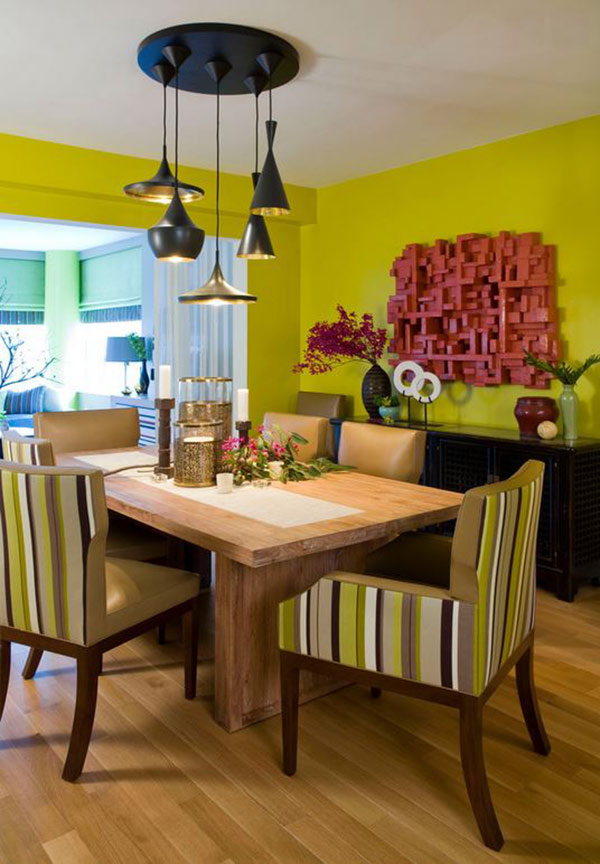 A cluster of pendant lights in different shapes and sizes, is arranged strategically to create an appealing impact in a dining room.
11. Charming Cottage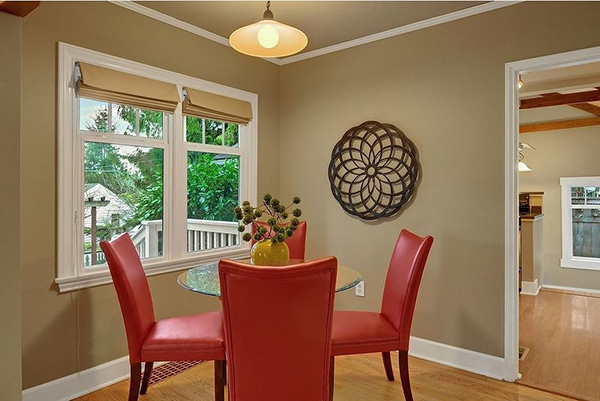 Beige walls makes a good backdrop for the red chairs and a simple light fixture creates a cozy mood in this small dining room.
12. Chic Dining Room
An interesting rope chandelier hangs over a round salvaged wooden table giving a rustic appeal to the sleek white wingback dining chairs.
13. Piedmont Perfect
Recessed lightings installed on the ceiling and the shelving illuminates this chic dining space..
14. Brooks & Falotico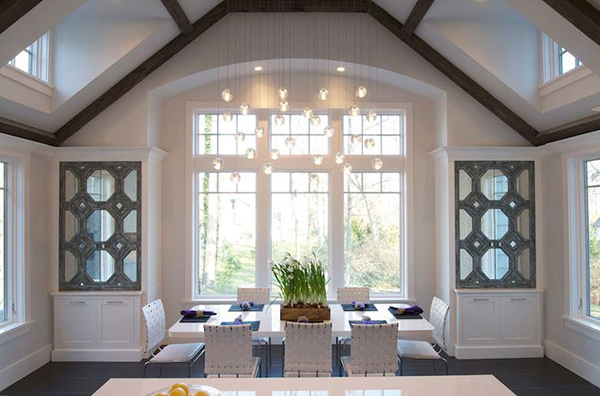 A cluster of small crystal light pendants accentuates the vaulted ceiling, drawing the attention of the eyes upward, making the room feel taller.
15. Twist To A Traditional Dining Area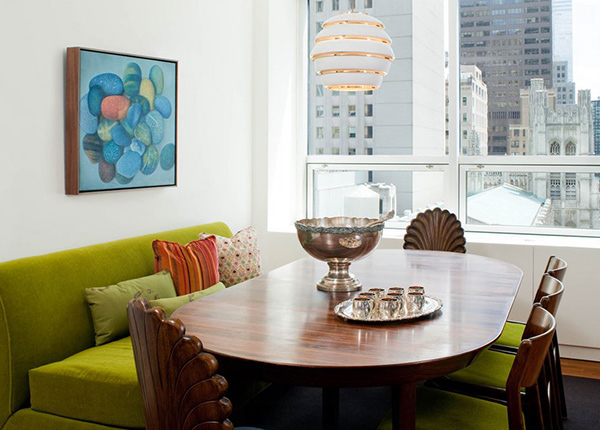 Avocado-green, armless dining sofa matches the colors on the chairs' pads to get a cohesive look. The mix of different vintage finds (table and chairs) and contemporary accessories like this elegant pendant lamp, keep this dining space comfortably cozy and modern.
16. Historic Bungalow Renovation-Dining Room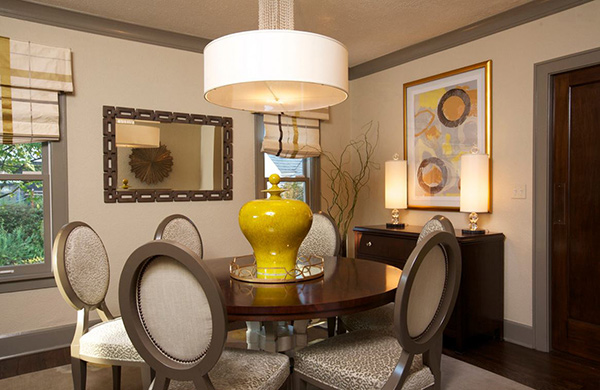 The colors on the dining furniture continues to the window treatment creating a unified look that makes this dining space cozy. An oversized pendant light draws attention to the space bringing modern elegance.
17. Capitol Lighting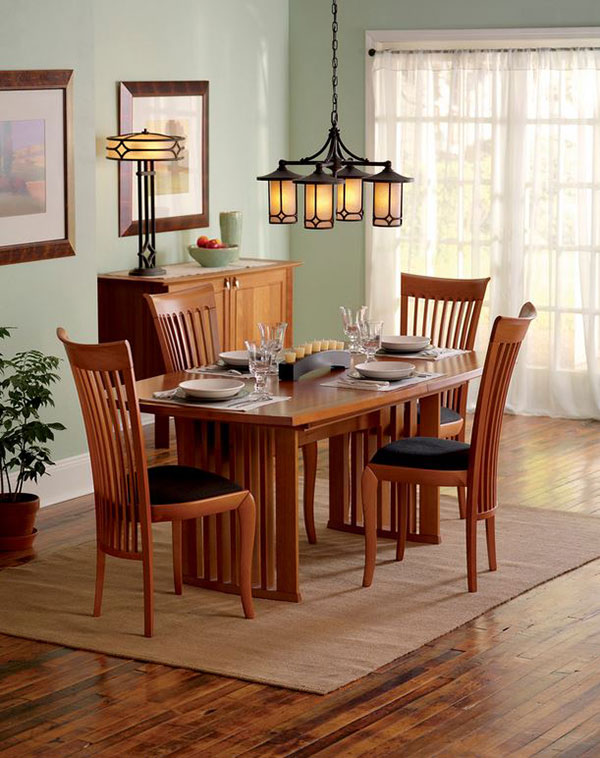 The warm, rich colors of the dining table and chairs balance the sweet and cool muted green walls. The beautiful cluster of lantern-style light fixture adds personality as it pulls a cohesive look with the dining chairs and table lamp.
18. World Travelers Abode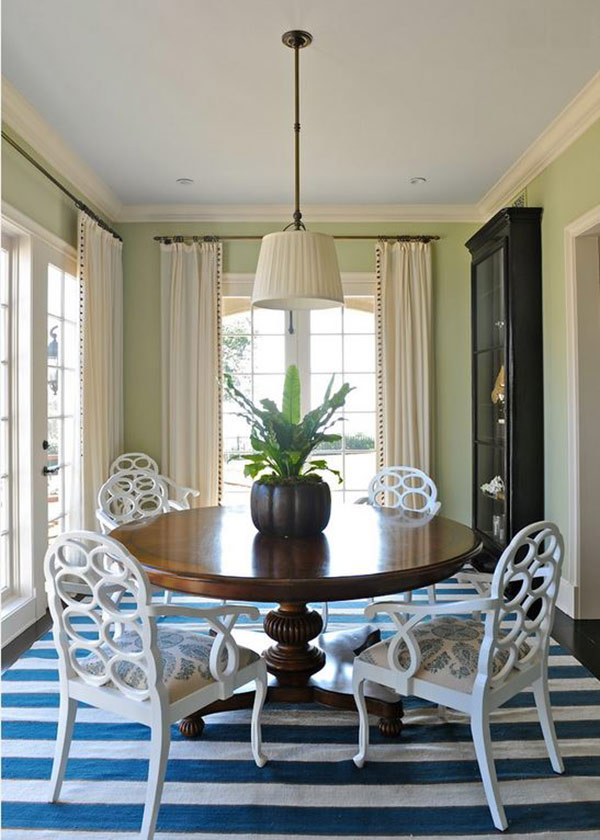 The white loop back chairs lighten the mood of the dark wood dining table. A blue area rug in stripes enliven the space of this traditional dining room while the white pendant light ties the look together.
19. Park Hill House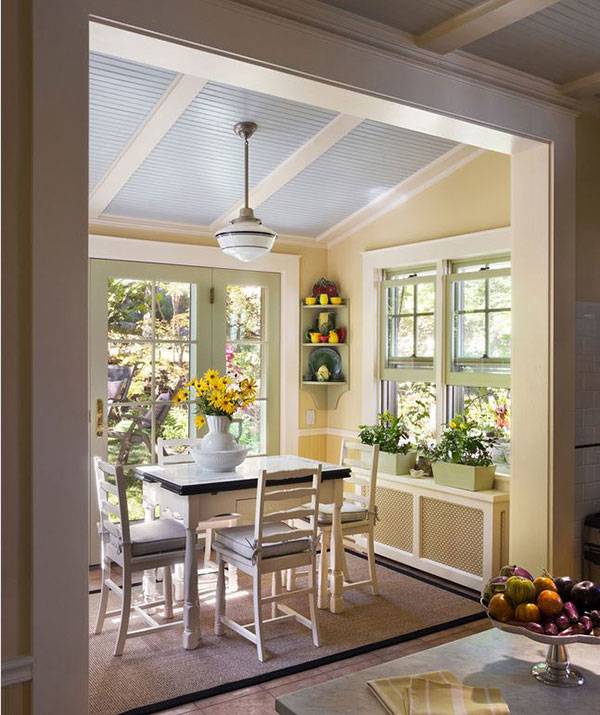 The muted colors of blue for the ceiling, green for the window trims and pots, buttery yellow bring a sweet and dainty look in this small dining space. A simple, white pendant light adds a contemporary touch to this traditional space.
20. Moscow Flat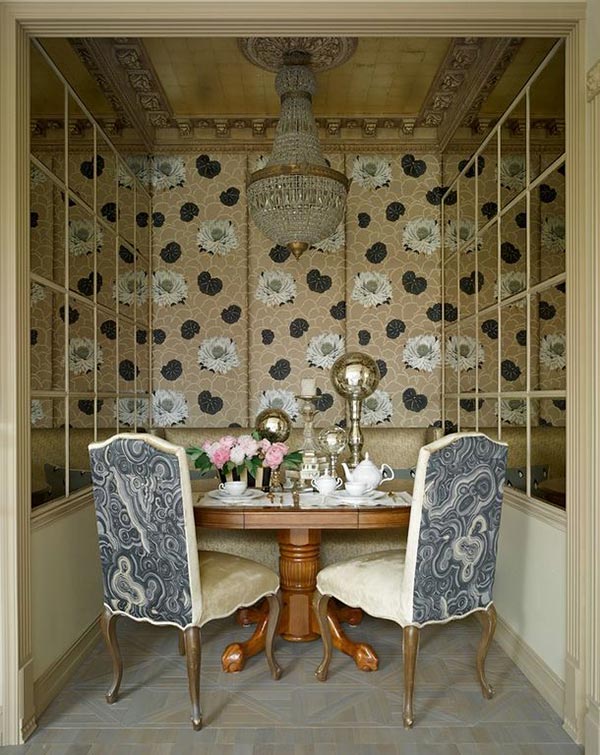 This gorgeous small dining room's mix patterns and textures, bring personality. Mirrors on both side reflect the light coming from the luxurious chandelier enough to illuminate the space giving its elegant and cozy feel.
There are a lot of exciting light fixtures to choose from. Picking the perfect light fittings is of course based on your personal taste and style. I love using big statements and ornaments in a small dining room. It brings character and interest to the space. However, layering the light in your dining area is another way of creating multiple moods. Consider adding more than one chandelier or pendant lights, adding wall lights or sconces and dimmer lights will allow you to have bright light for family dinners or soft lights for romantic ones. I hope our list of 20 small dining room lighting designs help inspire you today.