15 Pretty Green Accentuated Dining Room Designs
As a designer, we were taught in school to present drawings or schemes with a certain theme or motif, today, we will be showing you 15 Pretty Green Accentuated Dining Room Designs that pretty much complements the other collection of photos we had for this week about Dining Rooms. Spaces in different colors and styles, but pretty much the same thought – designing spaces to make one place stand out from the others.
We have a list of 15 Pretty Green Accentuated Dining Room Designs that may interest you into redecorating your very own spaces! Yesterday, we showed you Blue Dining Rooms, today, let's all go green! Take a look at our photos and tell us what you think!
Art Dining Room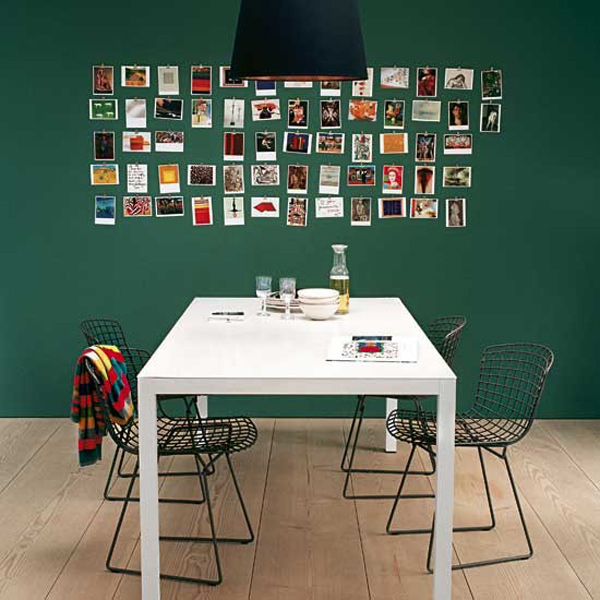 Create a relaxed dining area with a micro art gallery. Hang an informal grid of postcards and keep a stack of spares handy so friends can leave a message on memorable occasions.
Austin Dining Room
The glamorous painting and the pretty pendant lights sure made this dining room one lovely space!
Bold Green Dining Room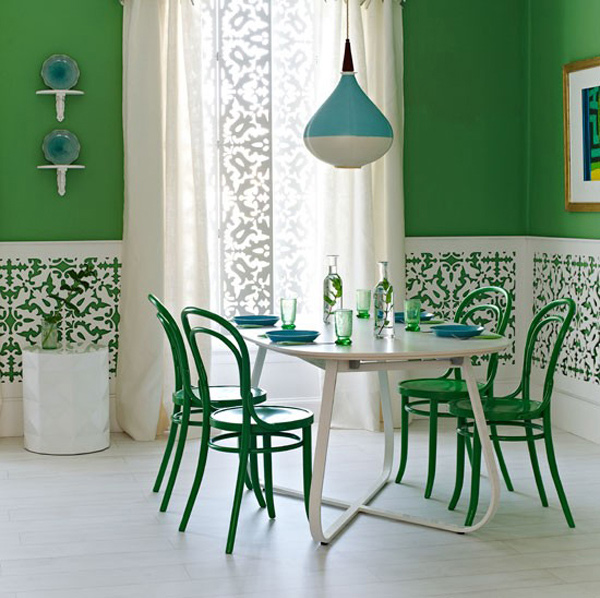 Restricting the laser-cut panels to dado height adds an architectural element to this room, and is shown off to great effect thanks to the vibrant wall color behind.
Dining Room Green Interior Pavilion Design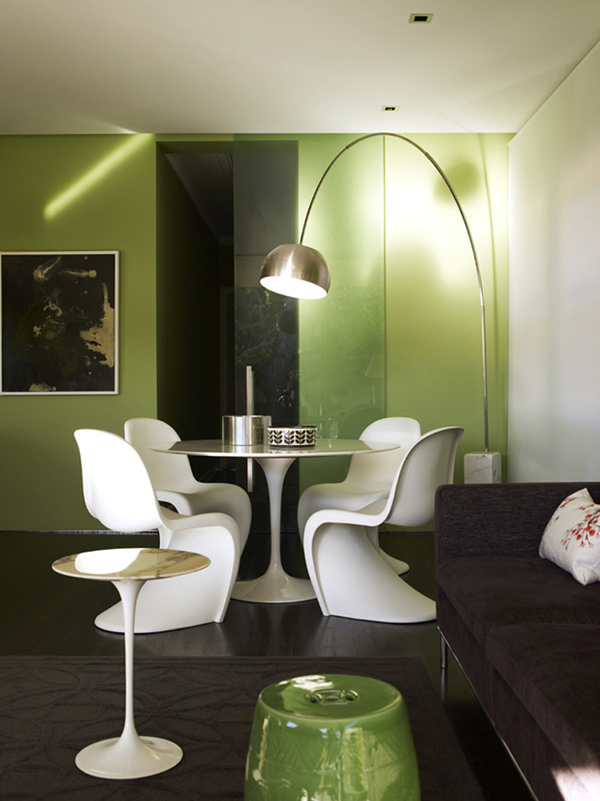 This is one dining space that we can actually bring out of the house to serve as a garden set, it's just so lovely and awesome!
Fifties Dining Room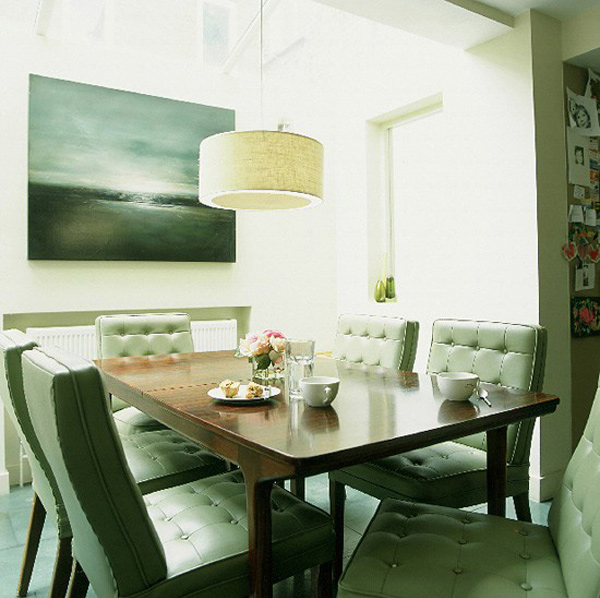 A polished wood table from Camden Market and Fifties button-back dining chairs in sage leather sit beneath a cream pendant lamp. Grey-green slate tiles, which cover under floor heating, glassware and a dramatic painting echo the colors. Pale walls reflect light from a skylight.
Mid North Residence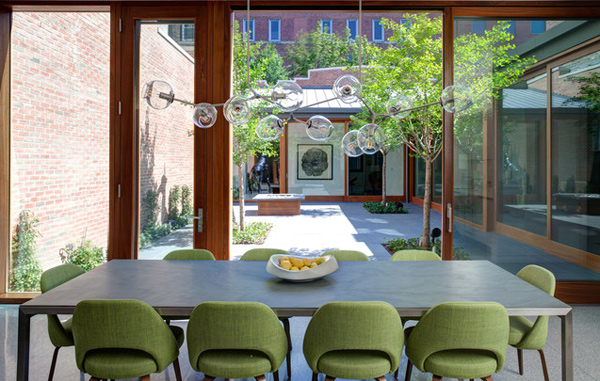 This simple dining room serves both as a dining space and a place where people can gather and talk while looking at the open space.
Green and White Dining Room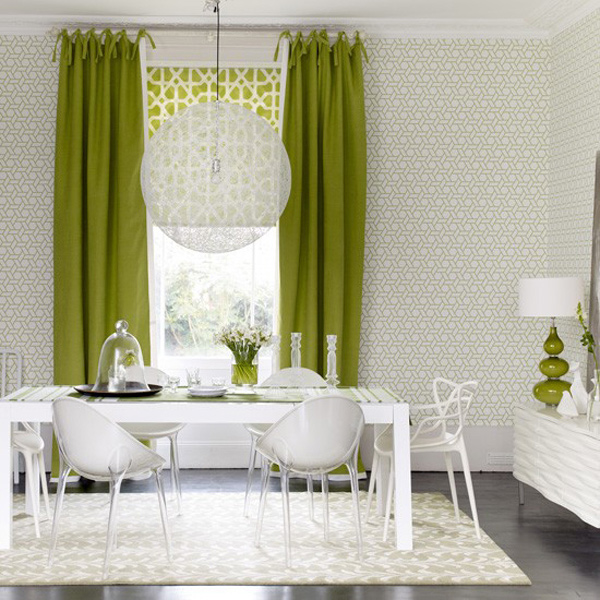 Bold, graphic prints add a retro flavor to this modern dining room. Floor length curtains add drama and a white dining table and chairs keep the scheme feeling fresh.
New York Traditional Dining Room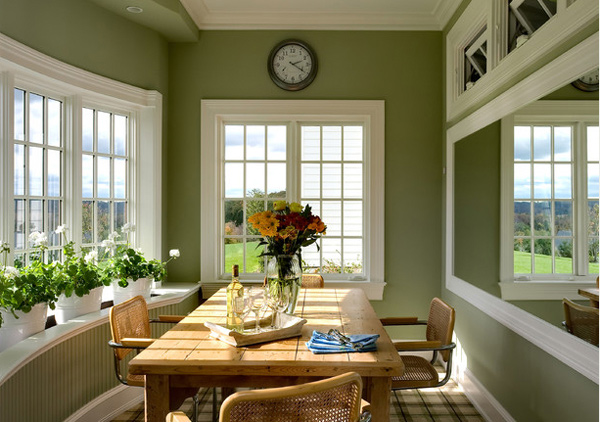 The green painted walls makes the white window sills stand out. The dining room set also looks pretty beneath the green paint.
Oakton Residence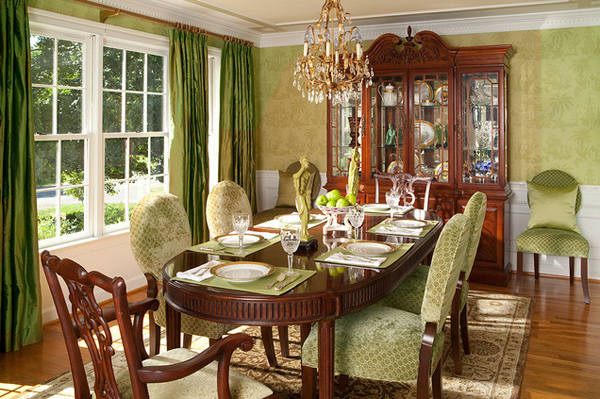 This traditional home shows us how green can dominate in one room, from the walls, the curtains, the chairs and the place mats!
Practical Green Dining Room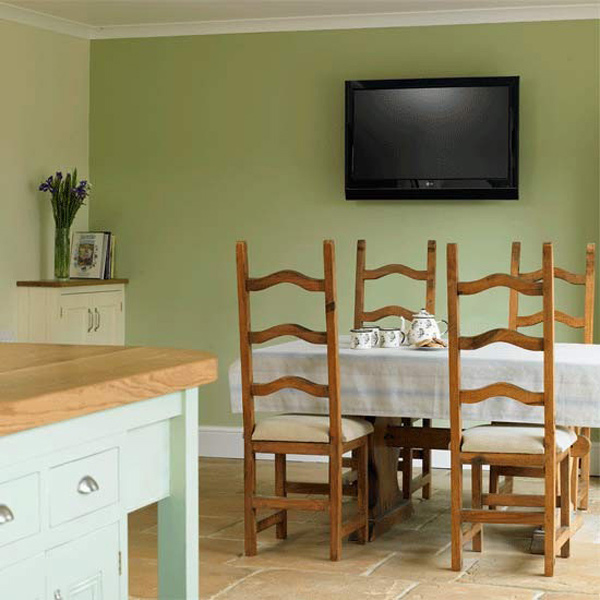 A wall painted in a darker shade of green, sets this dining area apart from the kitchen. High-back chairs add a sense of style, but the look is practical enough to accommodate for eating, doing homework or playing games. A large TV is mounted on the wall to save space, while little cubbies for storing bits and bobs keep the scheme clutter free.
Red Hill Peninsula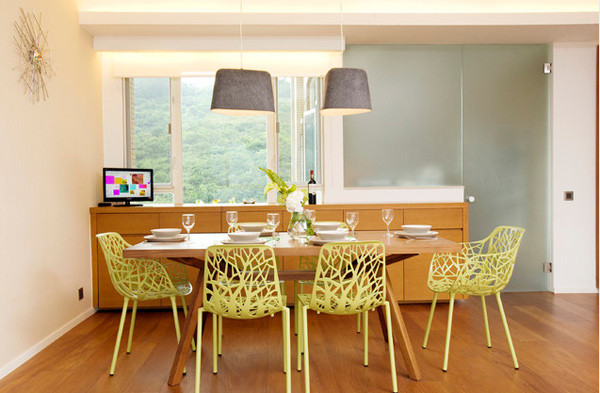 The color of the chairs can seem to be close to yellow, but the theme is pretty close to nature, thanks to the twig designs in them.
San Francisco Contemporary Dining Room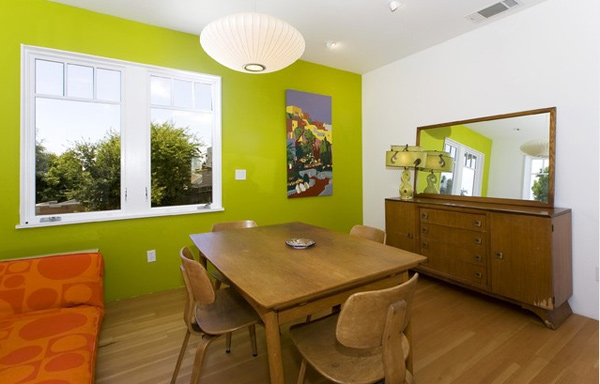 How do you like the bright colored walls? They sure give tons of light to this dining space! The browns complement the color green!
Summery Dining Room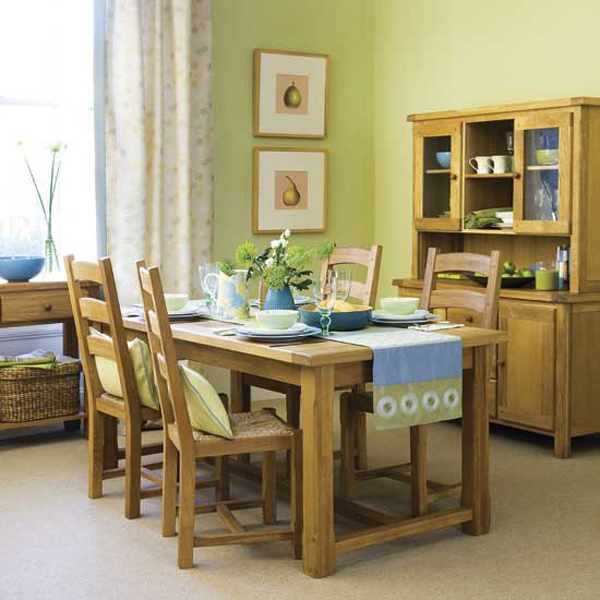 Lift a dining room with stylized prints. In this dining room, zesty lime walls and graphic prints – like the table runner and curtains – create a fresh feel. An oak dining table and chair set adds warmth and goes perfectly with a co-coordinating dresser, which is ideal for displaying your best chinaware. Retro-inspired furniture in blues and greens completes the look.
Sunset Heights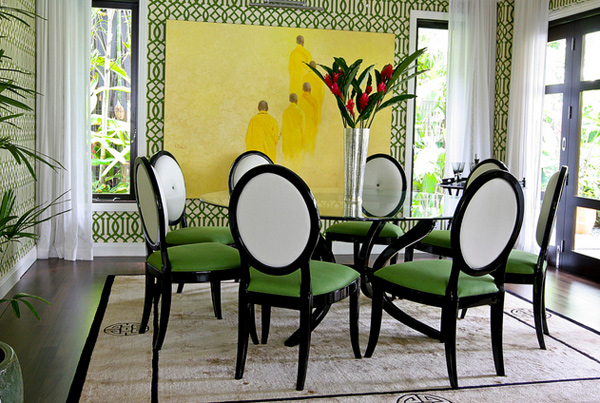 The name of this place sure means a lot with how this room looks and how this was planned. The colors inside the room complement one another and the huge windows give much light to the room!
Vanderbilt Modern Dining Room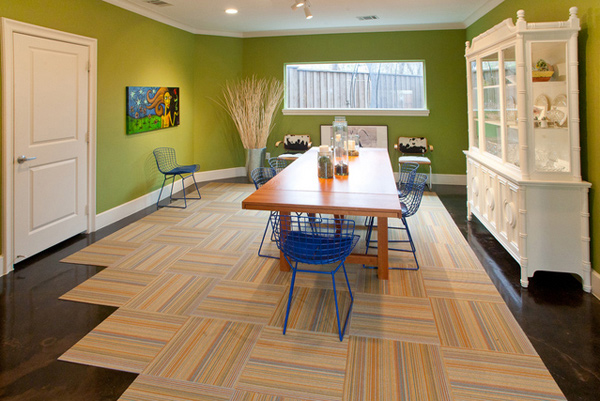 We sure love the decorations and knick knacks visible and available in this dining space. The flooring is fancy, the chairs are pretty and the cabinet is stunning!
That was indeed a list out there, don't you think? The 15 Pretty Green Accentuated Dining Room Designs bring us a lot closer to nature and if you were able to read some of our lists before this, you will be able to know that the color green makes our eyes rest and this color is sure calming. Here is one of the lists we were talking about – 15 Amazingly Homey Green Kitchen Designs for more tips and inspirations! More in Home Design Lover! Ciao!