20 Beautiful Dining Rooms with Black Accent Walls
When we talk about accent walls and then search them on the internet, especially when we discuss about colored accent walls, we usually see red or black accent walls. These two colors are the most popular things that we can usually pick up on the internet and even in normal conversations with other designers or home owners who are contemplating in getting one for their house.
Of course there are more colors out there and even different materials or textures that we can choose from but when we talk about practical and flexible design, we'd usually choose black or red, sometimes even grey because it just works well with an existing plan you have in mind. Since we are talking about black accent walls, you should go ahead and check out the list that we have created for you today.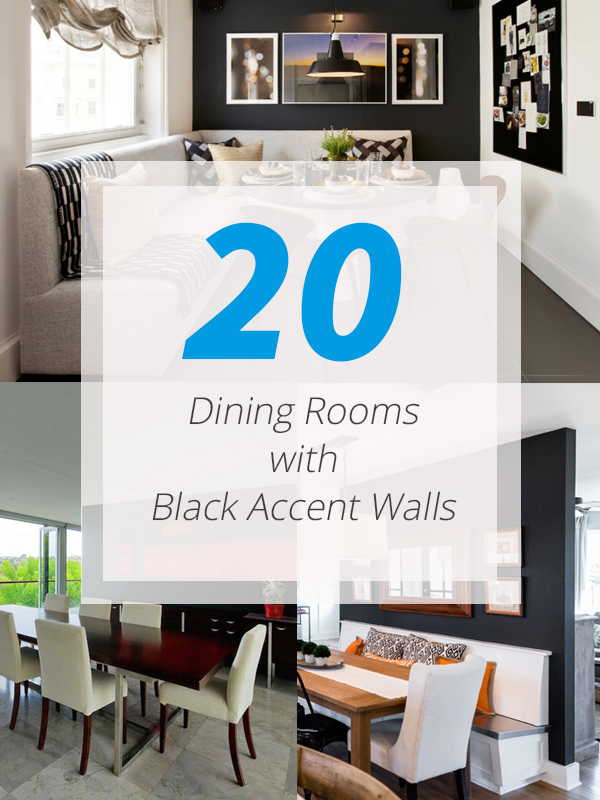 1. Villa Nirvana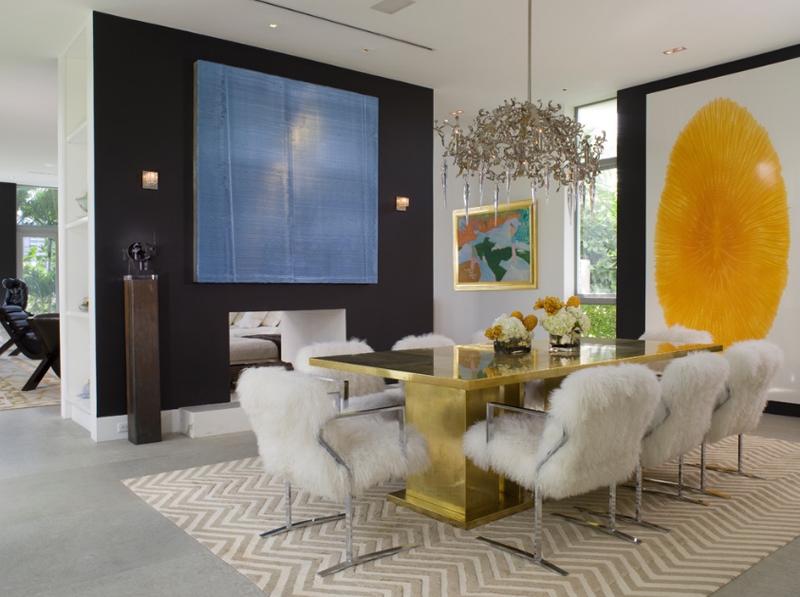 First on this list is a stunning dining space in a villa. The chairs in itself speaks of class that I think everyone would agree on with a matching golden table – I think no would disagree at all. What's great about this space is that it did not look tacky at all. It's one concern I usually have when we try to place a lot of fancy things in one space – and this one just has enough of it which makes it well for it.
2. Townhouse Chelsea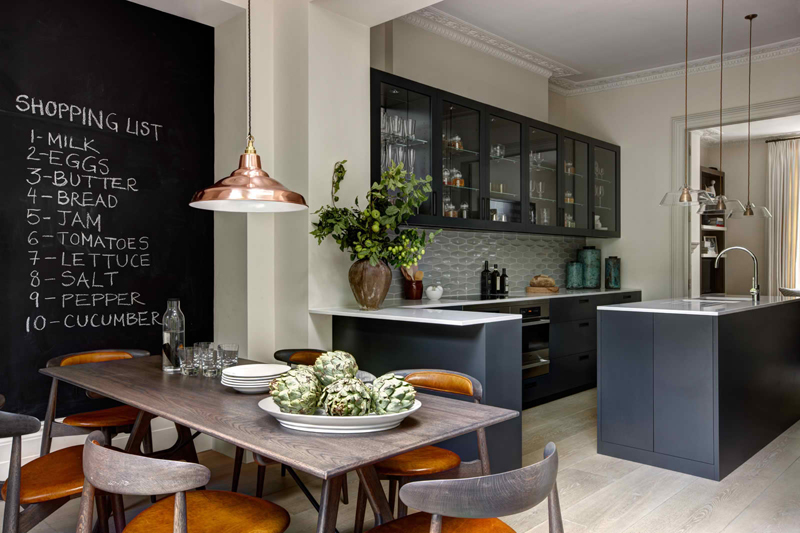 Chalkboard walls are all the rage in today's home design – they're nice and functional at the same time which works for a lot of people. The accent wall that we have in here is not only pretty but functional – how many people can say that?
3. Z Apartment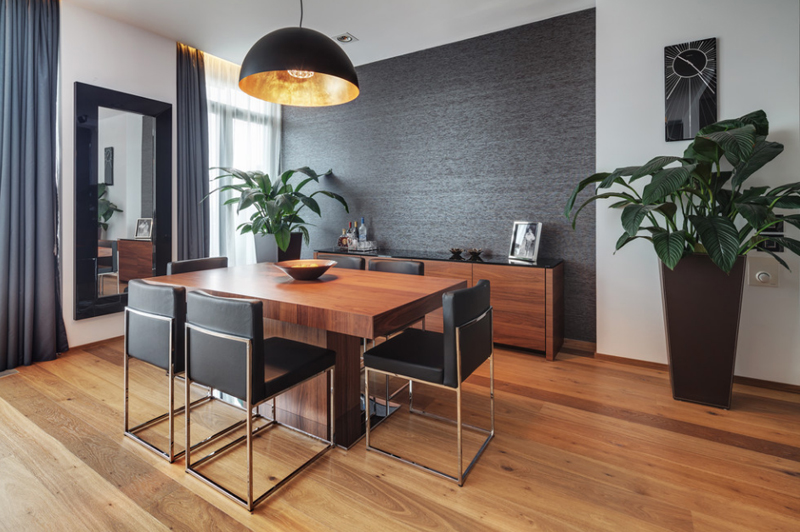 I love how contemporary this space actually looks – we are seeing a lot of edges in here – which could actually work in any house but this one seems different. I like the chairs, the buffet and dining table and the black things we see in here – the large planter, the drum pendant lamp and the large mirror! What do you say? Yay or nay?
4. Bond Street Triplex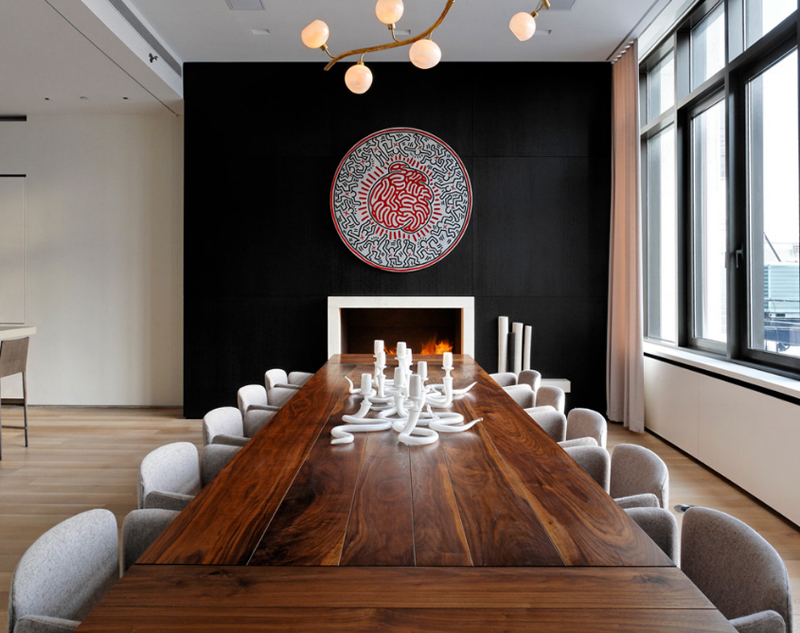 I have no idea what that symbol on the wall is but it sure explains why they have snake-like candle holders on the long dining table! This is one interesting dining space actually and as much as they already have this lovely black accent wall, adding a focal point like a painting or a mirror for example made a whole lot difference in the entire look of this space.
5. Residence in Perth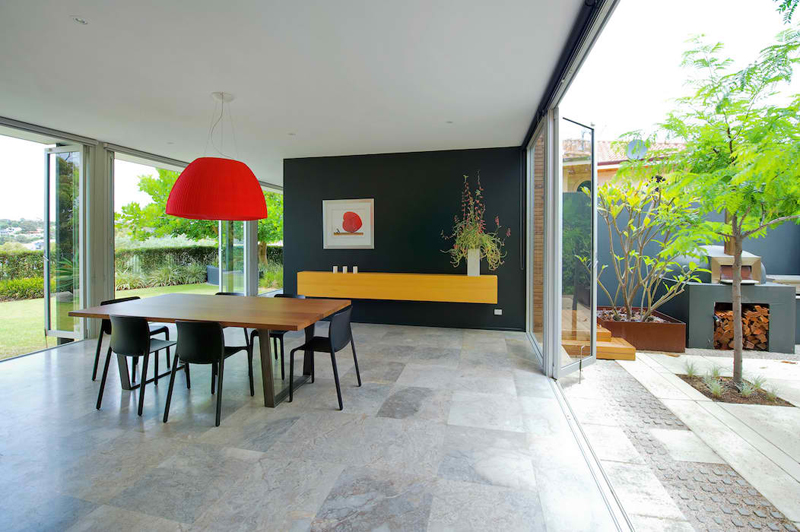 What a large pendant light! I think that this space is super large and adding a large pendant light does not really fill in that much needed content or something but because they really wanted to incorporate nature, they made sure that they opened their walls on each side of the house.
6. Nunawading Residence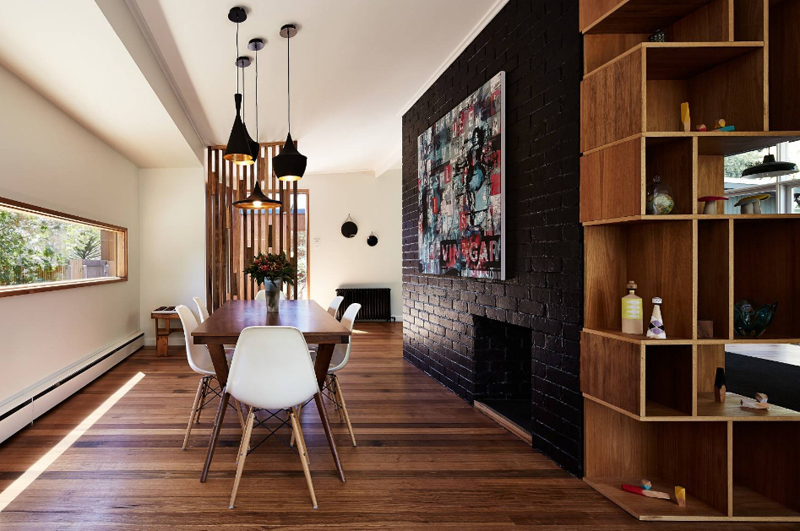 A black brick wall – just when you thought that you'd want a red brick wall for your house, your designer gave you black ones! Well, I think that you should thank your designer because this space looks extremely stunning!
7. Old Town Remodel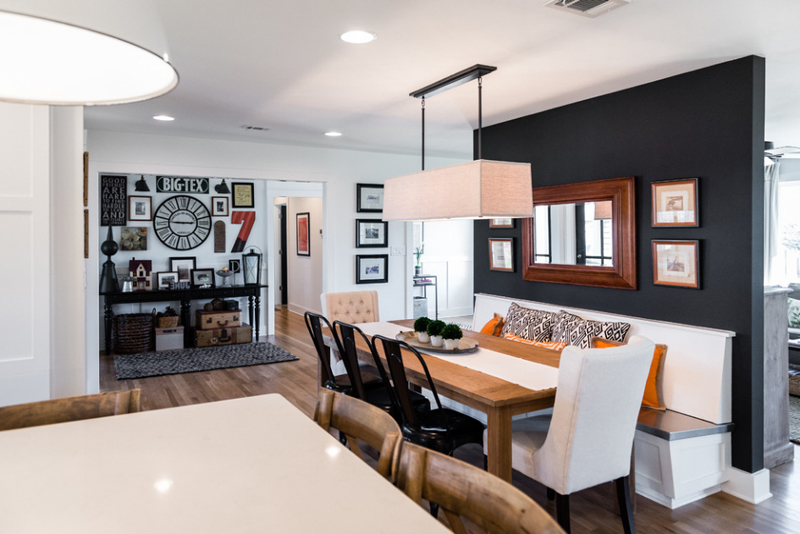 An accent wall that serves as a divider for the dining table and the living room – well, what about that? A nice way to not cover an entire wall but just enough to separate the spaces. I love it!
8. Read Street House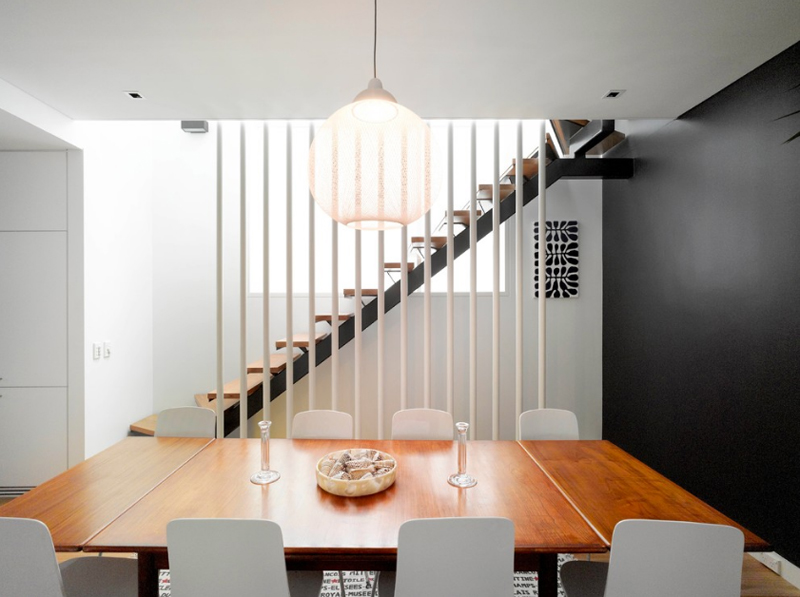 I haven't seen a lot of tables that you can easily extend like this one. I think it's always smart to prepare and having this extendable table could mean you can always opt for a shorter table when there are a few people at home or a longer one when your family members actually come over!
9. Renovated Villa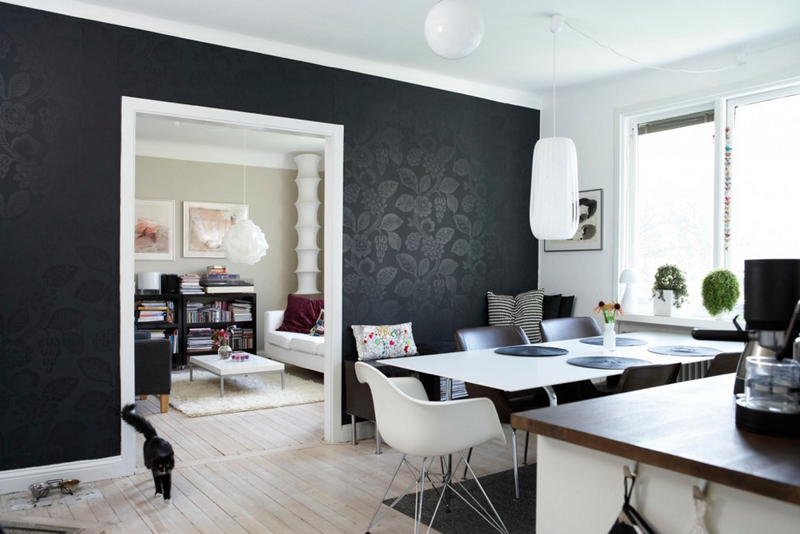 The beautiful black wall paper in this dining room looks like something you'd only see in the movies! People always love a traditional yet classic black and white combination simply because it works and looks gorgeous however you make them to be.
10. Orange County Residence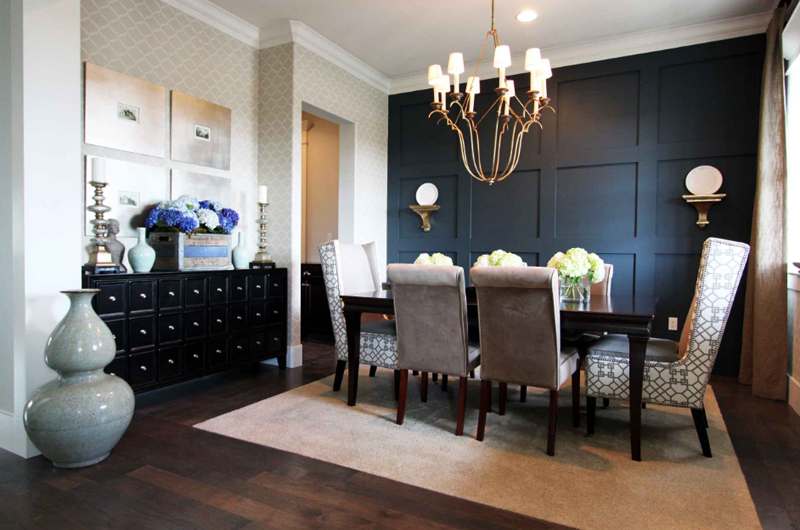 If want to create a homey dining space, enclosing it could be one thing – like that they did for this one and pick the most comfortable chairs you could actually find and add a beautiful chandelier – and I think that you're good to go! Do you agree?
11. Toronto Residence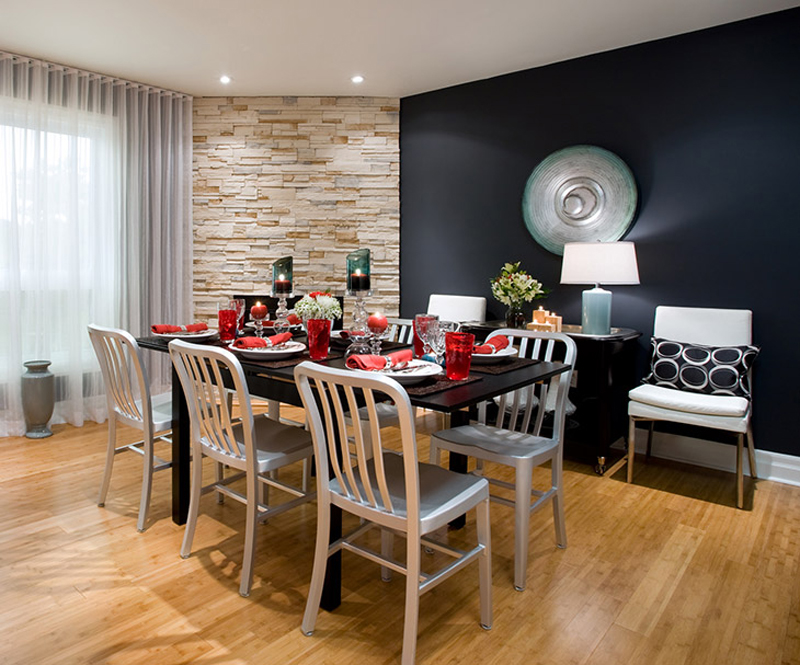 Here is another black accent wall that actually has this mirror or circular decor that accents the entire wall. This is a great thing actually because it breaks a plain wall and still create a beautiful distraction.
12. Townhouse Apartment in Belgravia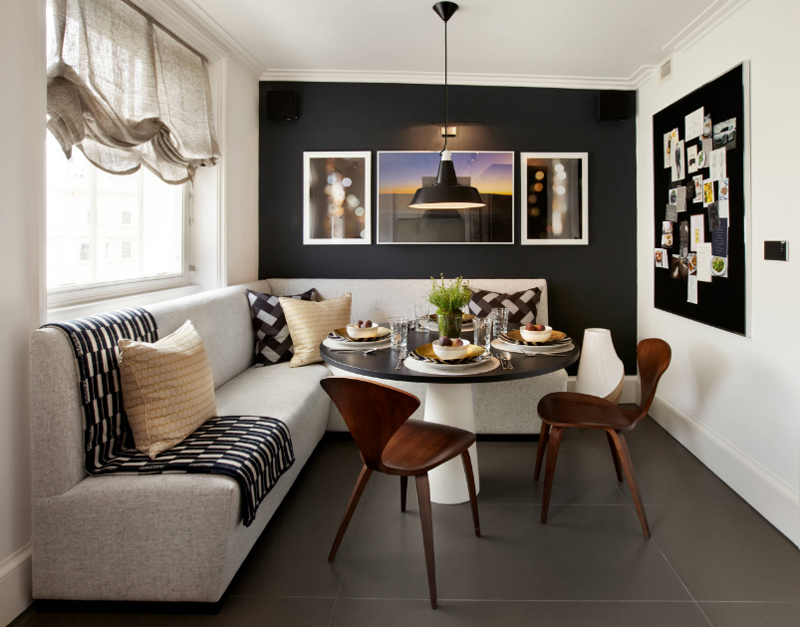 I love how there is this special nook in this home that has a comfortable grey sectional that caters to this small dining table. Since this space is real small, I would like to think that this is actually a special nook this apartment has for those breakfasts or snacks you do at home.
13. 15th Avenue Castro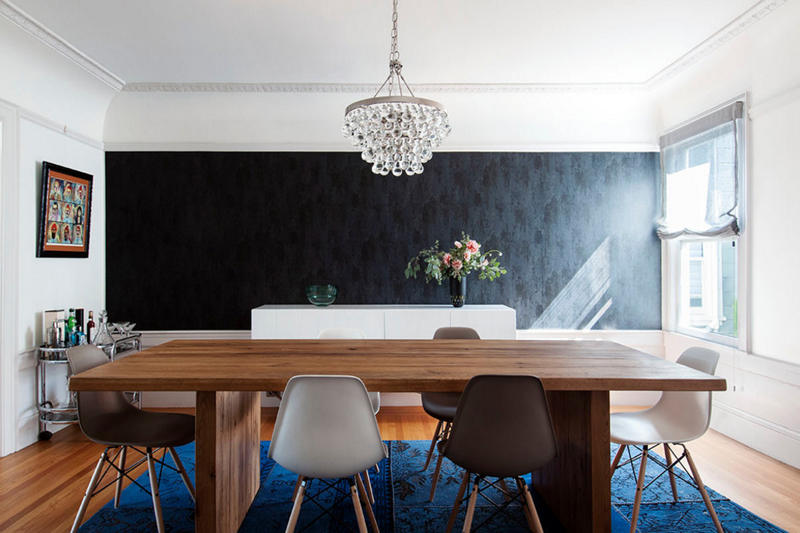 Another black printed wall paper that contrasts with all the white walls and ceiling that this space have. I also think that they did a great job in using a white buffet table to break the black wall. Adding a long wooden dining table and unique chairs – now this is one beautiful dining space!
14. Mosman Park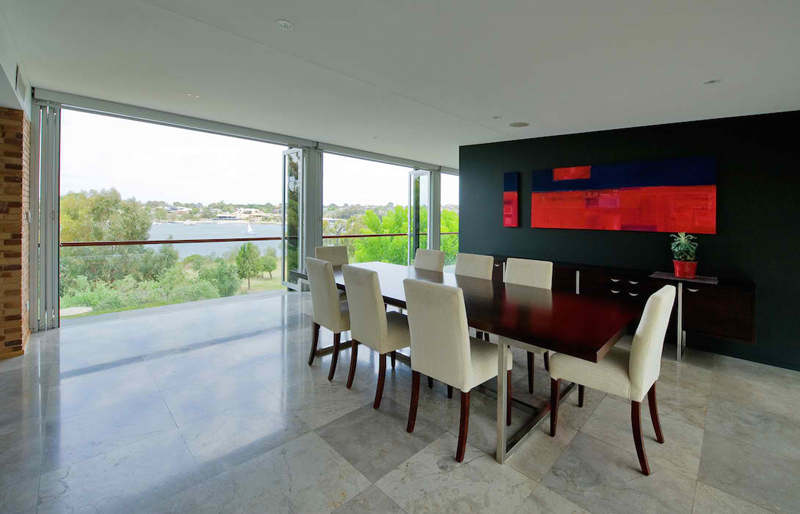 With a stunning view like this one, I think inviting guests over for dinners would be a great thing you can do every weekend. I love how they have minimal things in here which makes these dinners cool especially for friends with kids – not much of things to break.
15. Kylemore Custom Home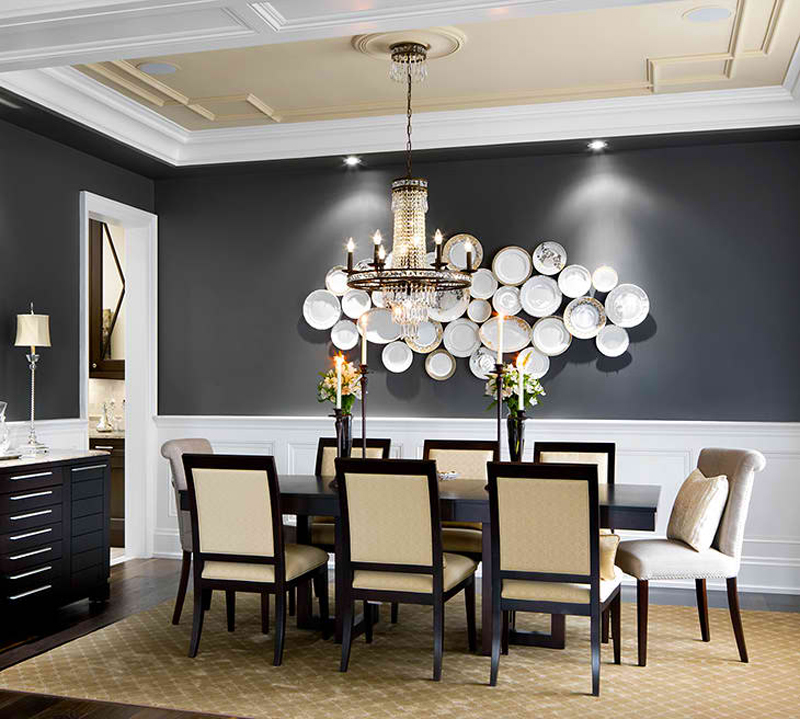 I want to say that the black walls in here are not really accent walls but because they added white wooden moulding and detail at the lower portion of the walls and the ones above the black wall, they could pretty much pass for accent walls. The white plates on the walls look really stunning because of the contrast it has with the wall.
16. Chez Noz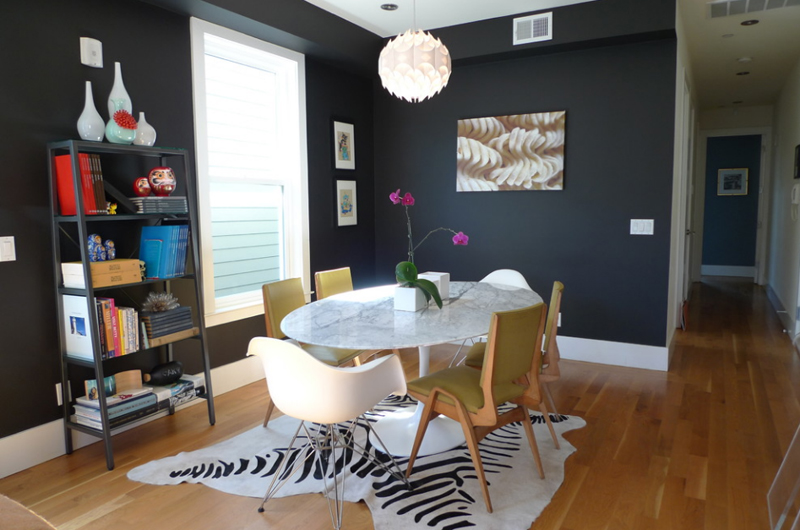 This is not neat dining space. It seems as if this house has a limited space for the dining table and all that but still managed to create a charming space ideal for eating with the family. The added shelf and the animal fur rug looked extremely nice for this space.
17. North Shore Condo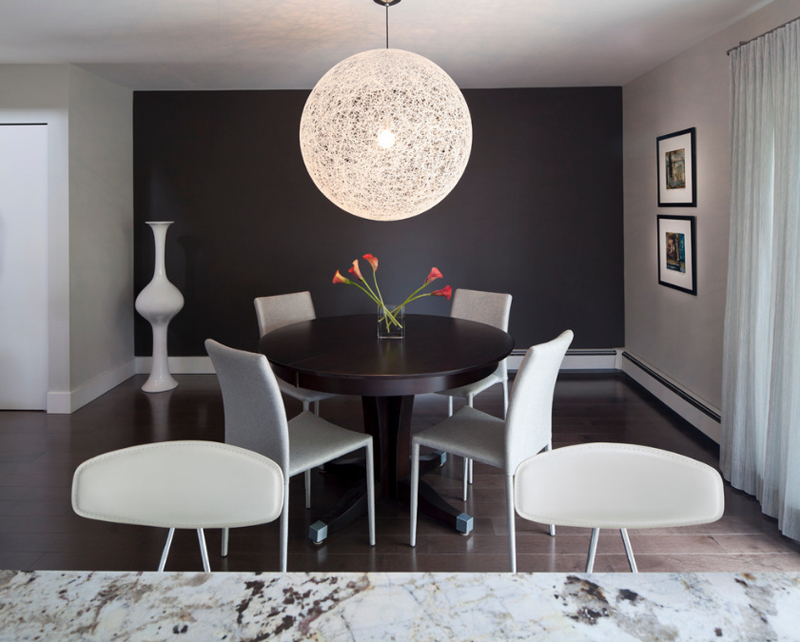 Adding a large pendant lamp like this one could definitely make or break a space and I think this did good for this home and it even added a more charming appeal to it since this space has minimal decor. The black, white and grey combo always works. Am I right?
18. The Penthouse in Clayton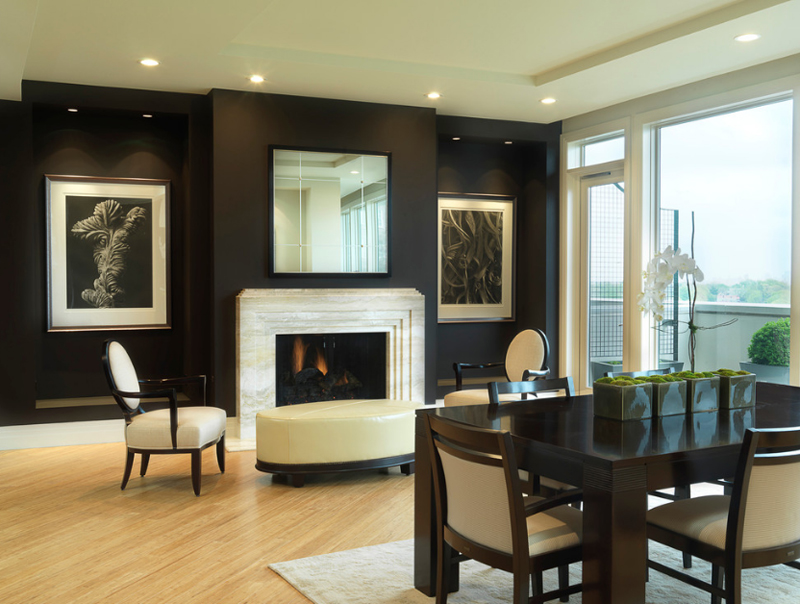 The black wall of this home sure looks super! It makes this space really sophisticated and classy – and this not just because it's a black wall but because this wall is in fact created with class and fanciness not all black walls have. Like in fashion design, black could be the make or break of your design concept.
19. Old Westbury Neoclassical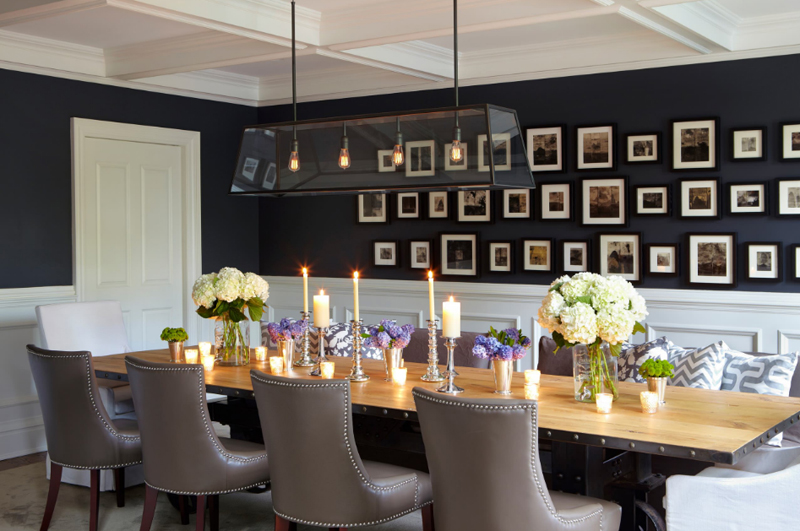 Wow this wall is just awesome! It is super filled with tons of little square frames that makes the wall rather amusing and interesting. If you maintain a good contrast like this one, I think your spaces would have more fans than the cutest cat in the internet.
20. Pre-War Bachelor Pad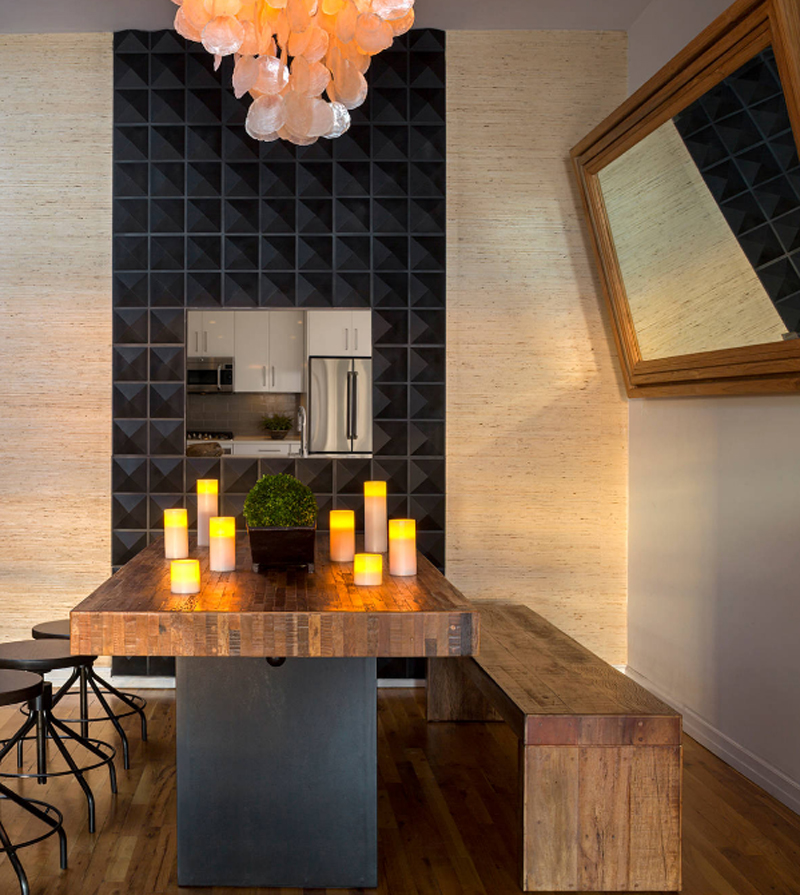 Last but definitely not the least is a dining space designed by Décor Aid. The black wall in here is basically a tiled portion of the wall which I was telling you about; accent walls does not necessarily have to be normal paint you add to your space.
I totally want to think that this is one stunning list that showcases an entire collection of beautiful dining rooms – and these dining rooms actually looked a whole lot prettier and sophisticated with the black accent walls in them. If you want to see more stunning dining rooms, you can check out the 20 Geometric Wallpapers in Dining Rooms and continue sharing them with your friends!