23 Outdoor Chandeliers in Outdoor Dining Spaces
Outdoor dining rooms can look even more stunning with outdoor chandeliers.
When I thought about collecting spaces that has outdoor chandeliers, what came out were living spaces – but then again, I was hungry, so when photos of dining spaces came out too, I considered making this list first. No point in telling that of course, but I just wanted to share my thoughts while creating this list.
In this list, I want for you to see photos of chandeliers in different shapes and sizes, color and material and type. You will be able to see glass chandeliers, candle-type chandeliers and even crystal-encrusted chandeliers. I want for you to notice the different ways and styles you can decorate your spaces and make them more stunning because of the chandeliers that you use; take a look at the spaces below and tell me what you think about them!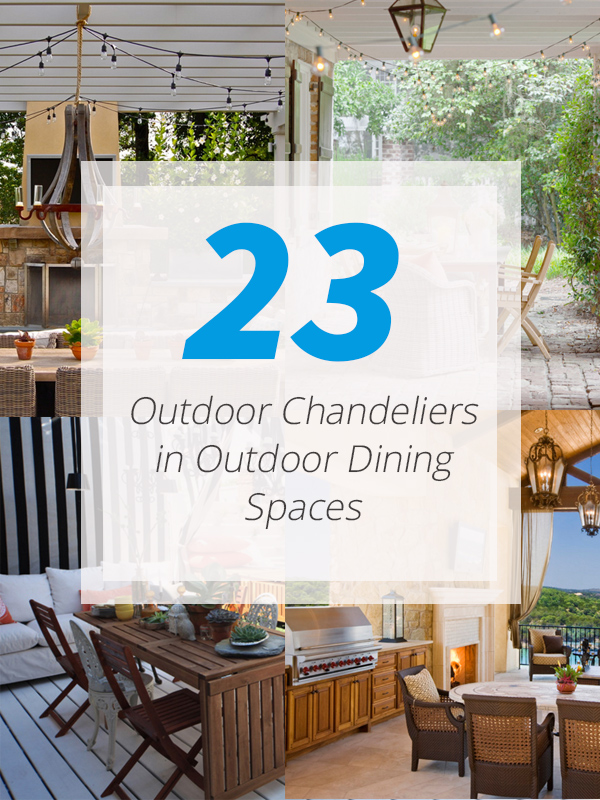 1. The Garden Gallery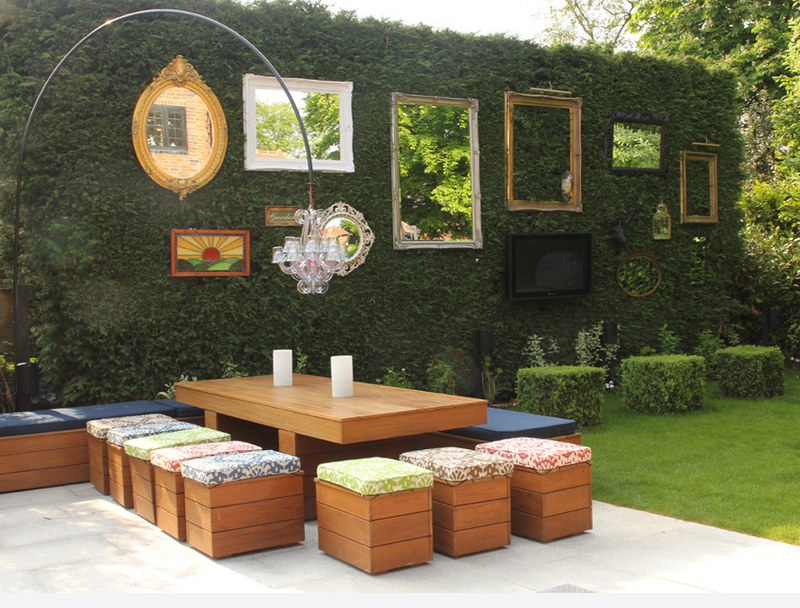 I'm not sure about you but I think that this space is just Instagram-worthy! Of course, this space is a bit more than that but because of how fun this space is, I would know of a few people who'd be snapping those pictures and posting them in Instagram or in Facebook.
2. Outdoor Oasis in NW Washington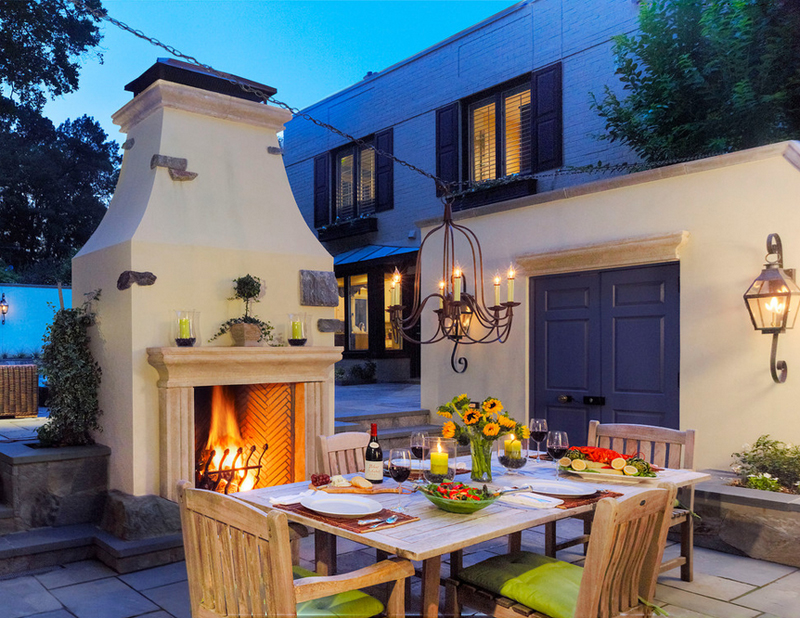 This outdoor space is just fascinating even when it looks a tad simpler than most outdoors. The simple wooden dining furniture is adorned with lovely lighting and is warmed by the beautiful fireplace.
3. Mediterranean Patio in Phoenix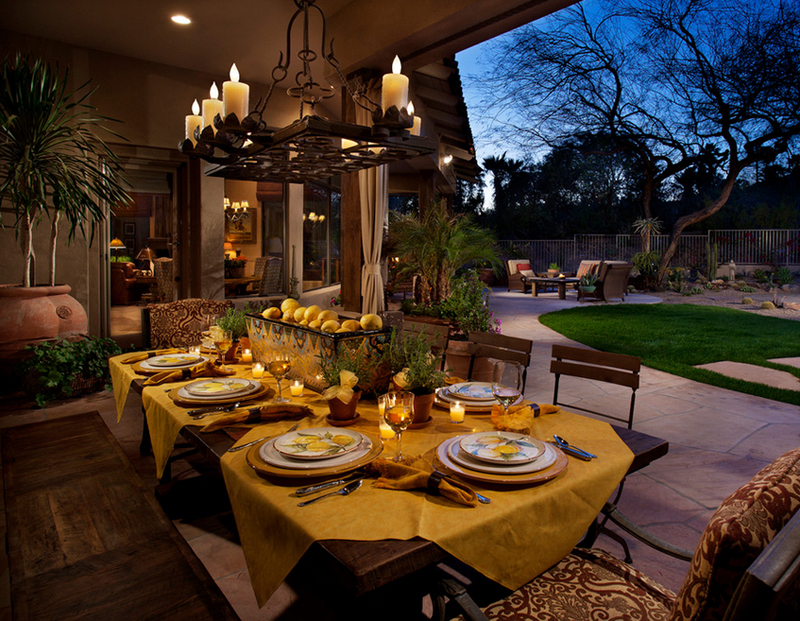 This Mediterranean patio is glamorized by the beautiful dining set complete with an awesome table setting and a stunning candle-type chandelier atop it. The open skies are the additional beautiful thing this space is blessed with, do you agree?
4. Roof Terrace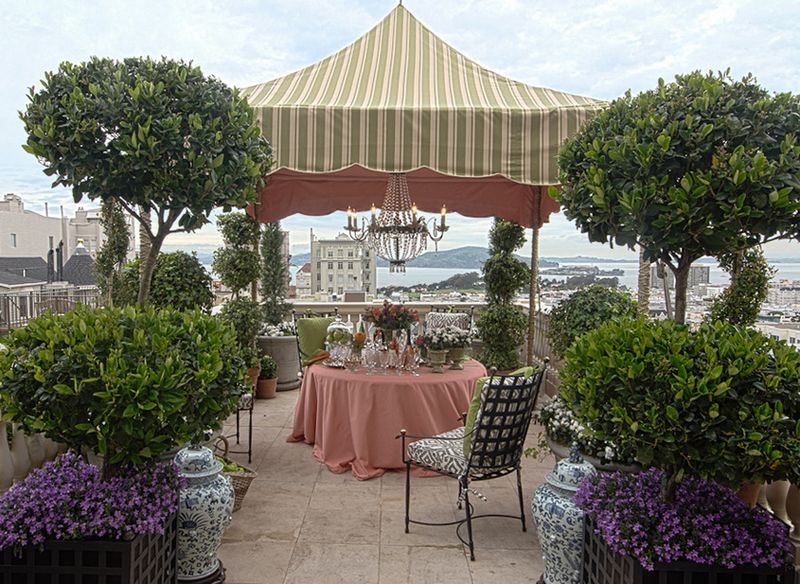 A crystal chandelier is added on the simple green tent that is gifted with a beautiful view of the city below. The chandelier is accented with candles too and sure makes it both rustic and classic.
5. Spanish Resort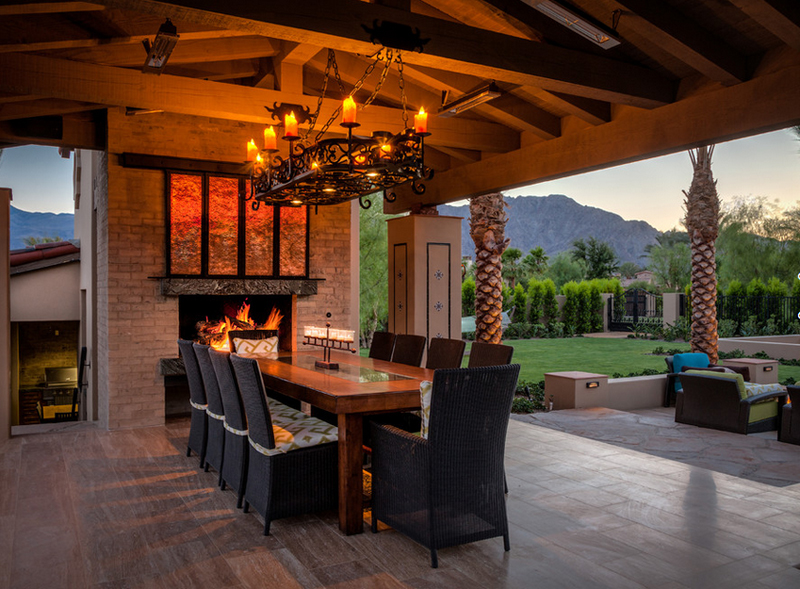 This is one glorious space to spend your dinners in. With an exterior view like this one and an awesome fireplace to keep you warm during those cold nights – this is one fantastic space for anyone who would be staying in here.
6. St. Paul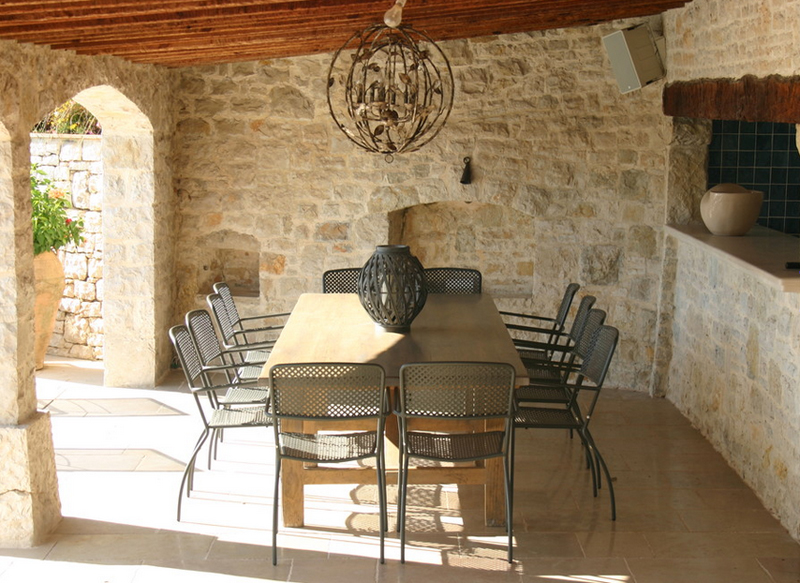 We see in here a one-of-a-kind piece of lighting fixture in the middle of the table parallel to the big vase in the middle that seems to have a large candle in it. The steel chairs in this dining room set is ideal for spaces like this because it is exposed to sun and a bit of rain from time to time.
7. Yellowstone Club Summit Residence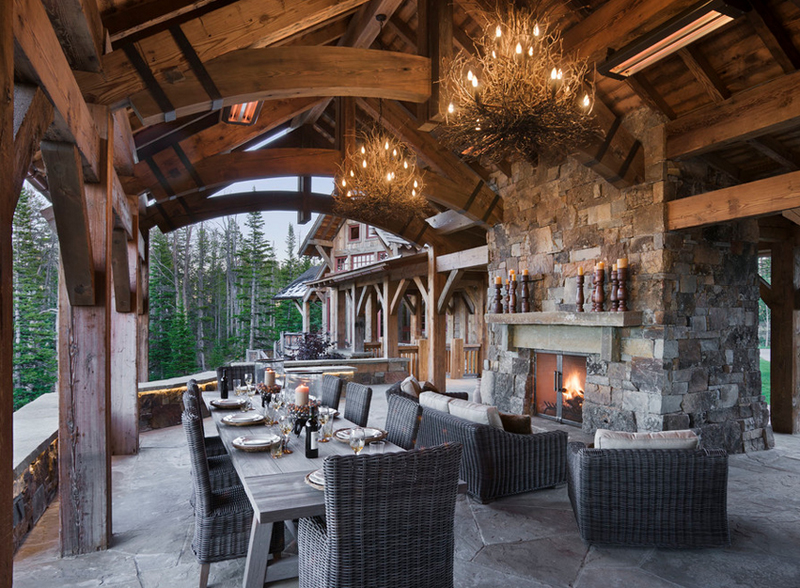 The antler chandeliers in this outdoor area are not only huge but really ideal for the space since it is really rustic and cabin-like. The stone and wood construction done in this home is quite a charmer, don't you agree? With a big space like this, I think parties are really easy to accommodate.
8. Contemporary Napa House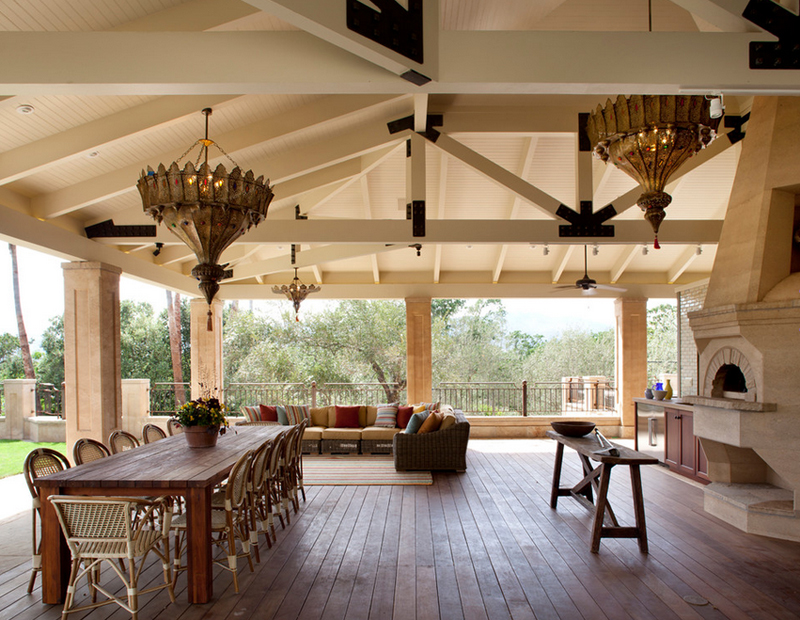 I do not exactly know how you'd call the chandeliers in this home in Napa – but one thing I can say for sure is that they are unique and really interesting. The natural wood finish is best because of the concept and theme used in the entire home.
9. An Orange County Patio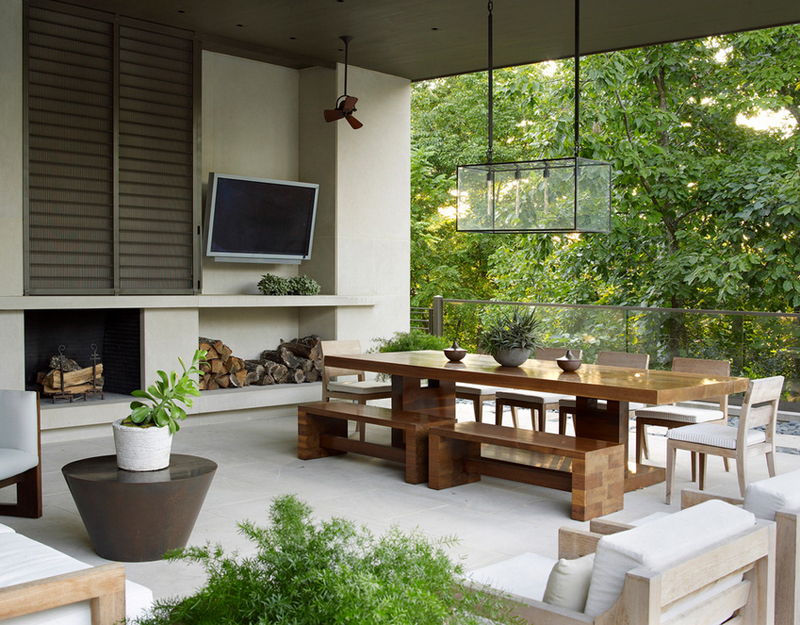 A rectangular glass cover is used to hold this chandelier together. With its unique and wonderful style, it complements with the things around it – like the rectangular dining room table and the glass balustrade. This is one perfect chandelier for this space I should say.
10. Outdoor Living with Inglenook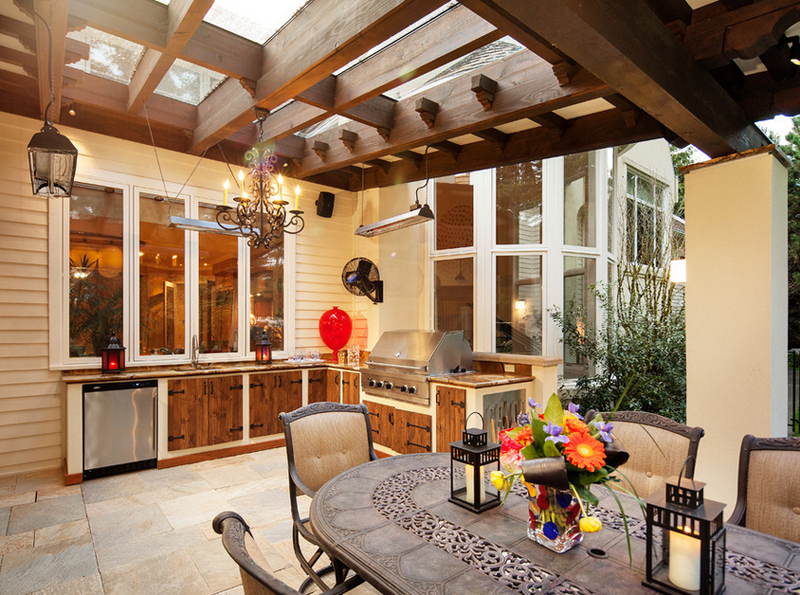 Amongst all the spaces in this list, I think that the chandelier in this picture is the cutest. The chandelier might not be too clear but because of the flowers in the table, I still think this is one cute space to hang out in.
11. Pool House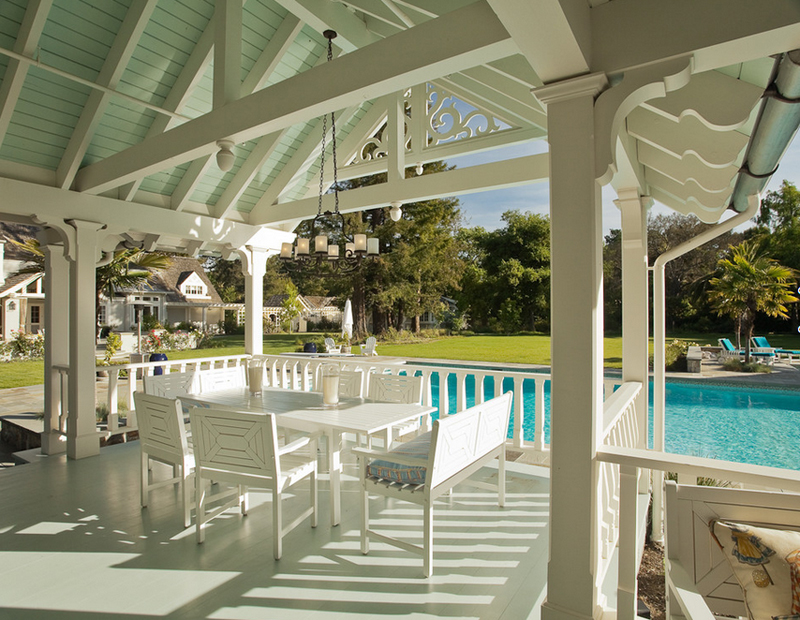 See the large swimming pool in the background? Isn't it beautiful right? With a white outdoor space like this one, staying outside of the house is definitely worth your time. The simple rustic chandelier contrasts with the color of the space yet still complements it.
12. Rancho Santa Fe Remodel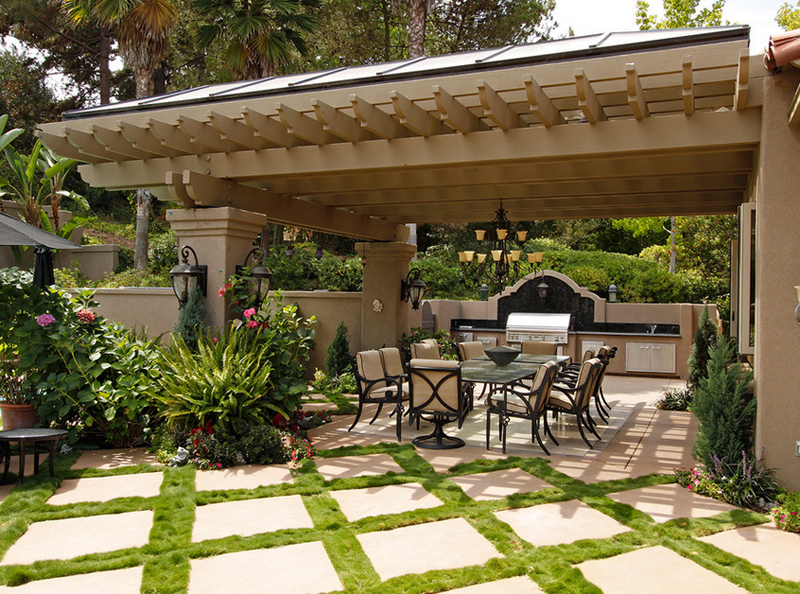 A beautifully landscaped lawn with a dining space that can cater to family and visitors – I think that this space is quite special and really pretty because of the color and the aura that this space has. What do you think about it?
13. Patio in Austin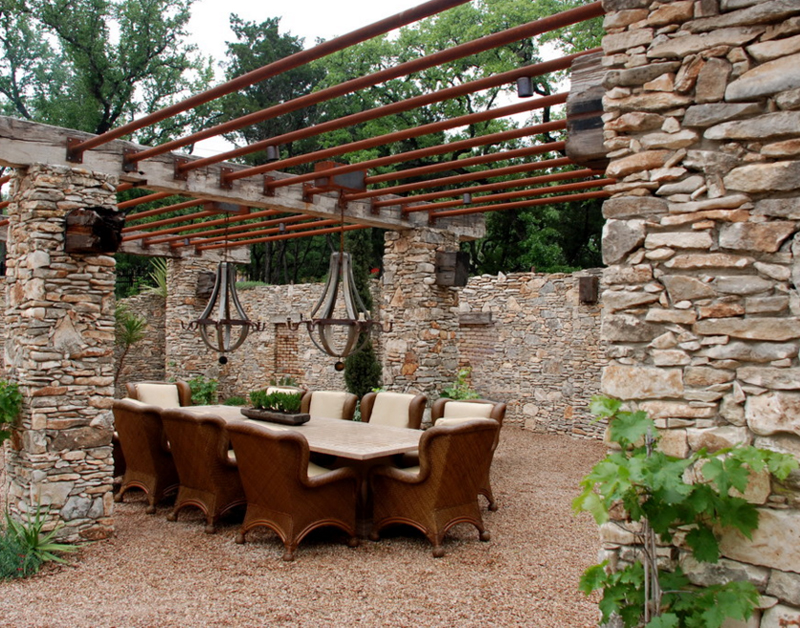 Look at the twin chandeliers in this outdoor dining area! Aren't they pretty and really rustic? The design is quite common but you can see that it surely complements with the dining space and the area itself.
14. Cabana Heaven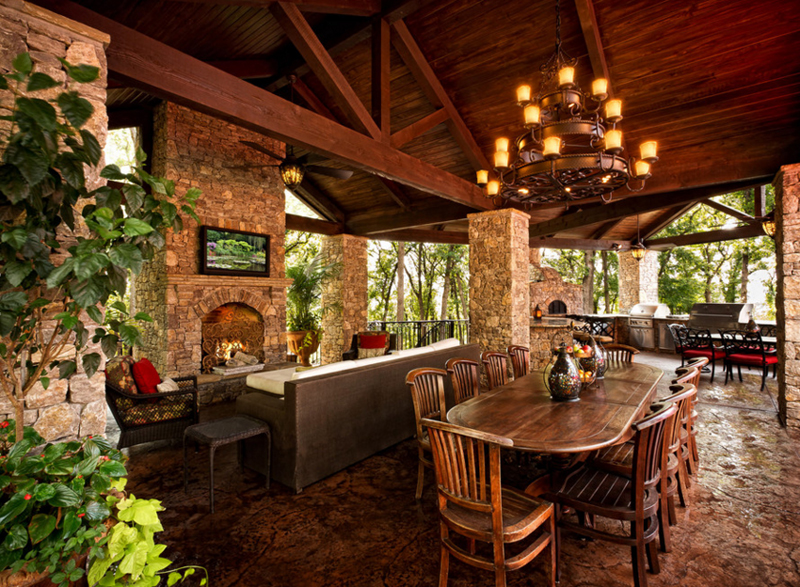 From the name itself – this space sure looks like cabana heaven! The three-tiered rustic chandelier is like a staple for this space that makes it prettier and rather appealing. The color this space becomes because of the chandelier is really cozy and comfortable.
15. Dershowitz
This is one cute space too! It looks like something you can see off a magazine. If I try to decorate my outdoor like this one, I am afraid that I wouldn't be able to replicate it because of how lovely this space is!
16. Grand Queenslander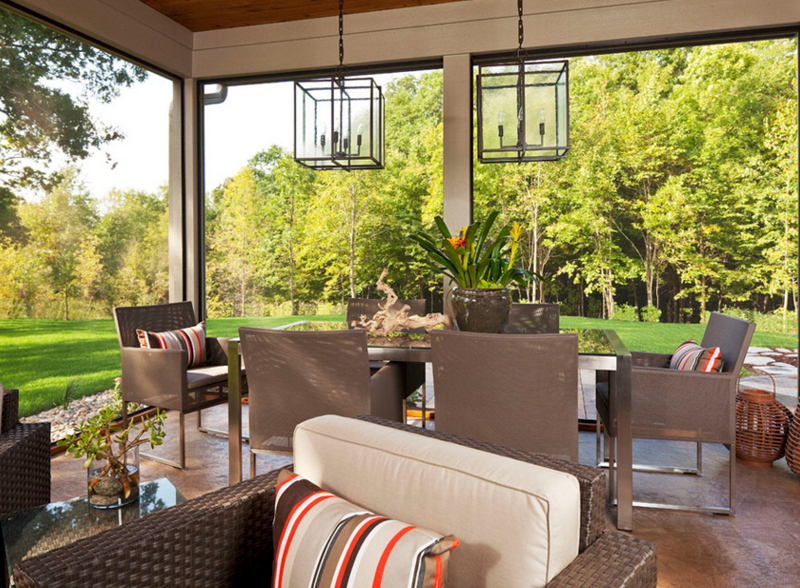 A cube-like chandelier is gracing this Martha O'Hara space! It looks somehow similar to one of the pictures above that is rectangular in shape. I am not sure if the walls of this space has glass – what do you think?
17. Isle of Hope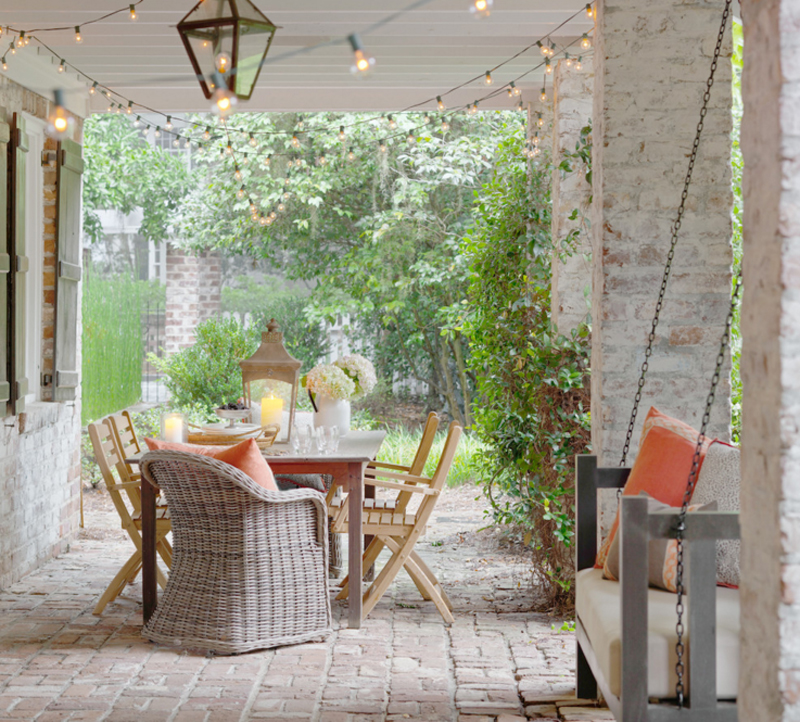 When I saw this picture, I thought to myself that this looks like something you can see in a magazine of a TV show that showcases spaces in Napa Valley or somewhere in Italy – looks like a small cafe where you can enjoy your coffee and croissant.
18. Italian Villa Hillside Home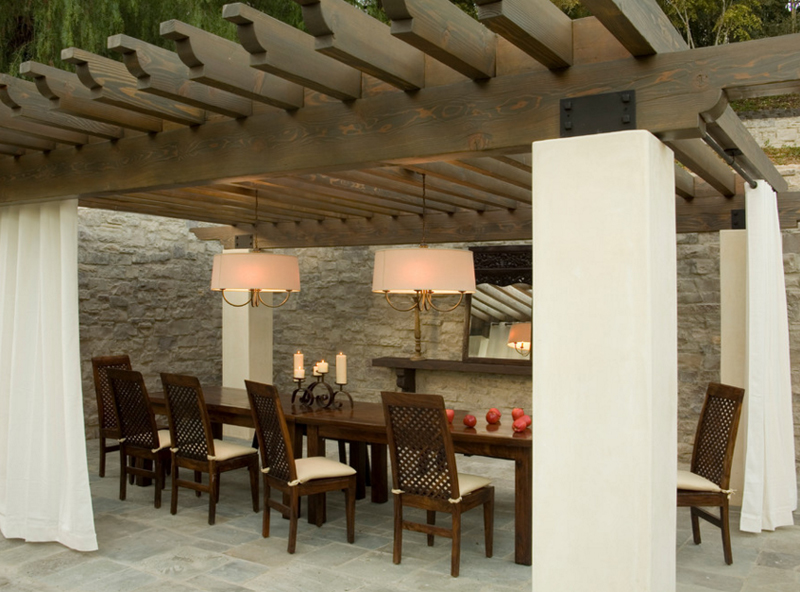 An outdoor dining space with a trellis that covers it, an awesome dining set and complemented with two lovely chandeliers – what more can one ask for? I guess anyone who has an outdoor space like this would want to have outdoor dinners or parties every weekend!
19. Mediterranean Manhattan Beach Home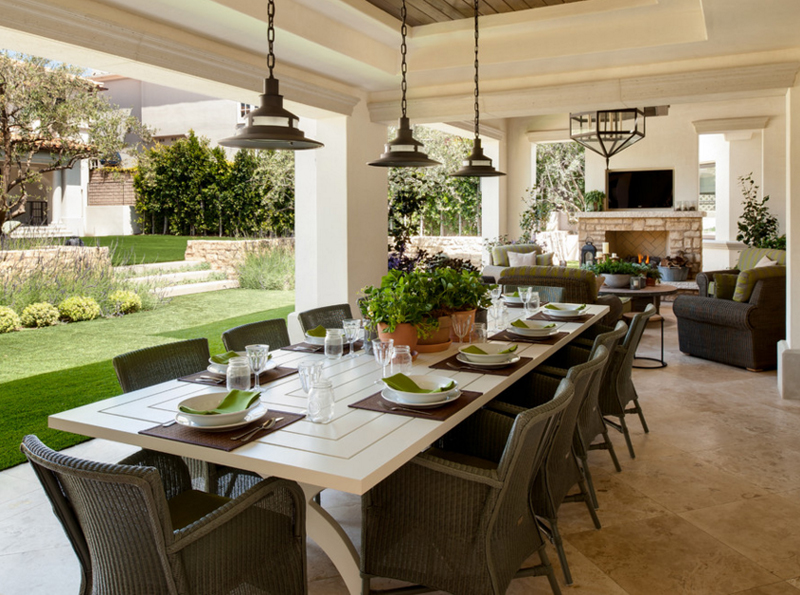 This arrangement looks like something you'll see in a beach resort – long tables that cater to groups that wants to hang out and dine by the beach; only of course that this space is in a house by the beach. Pretty convenient, right?
20. Paradise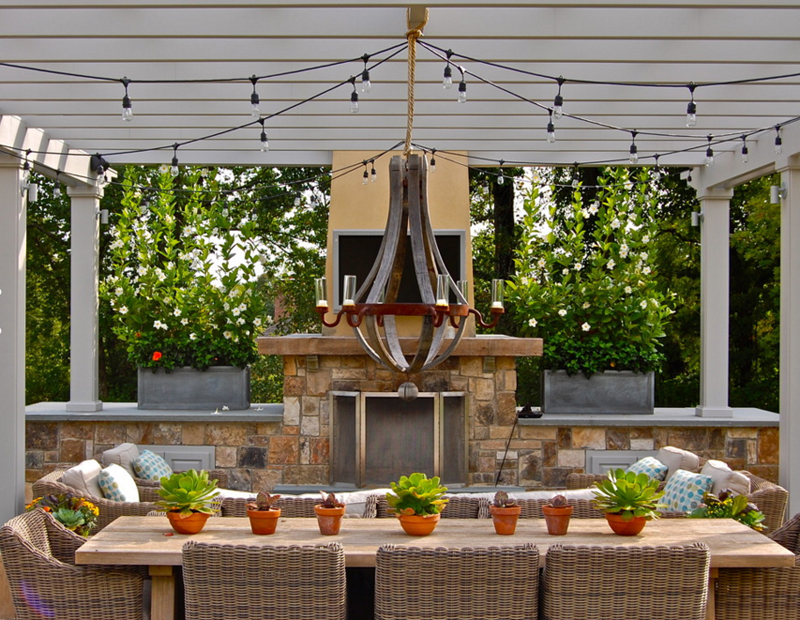 Check out this outdoor paradise! I know that this chandelier is similar to the one of the pictures above – but hey! This is one classic chandelier that can be used in different settings and matched with different type of furniture material.
21. L.A. Pergola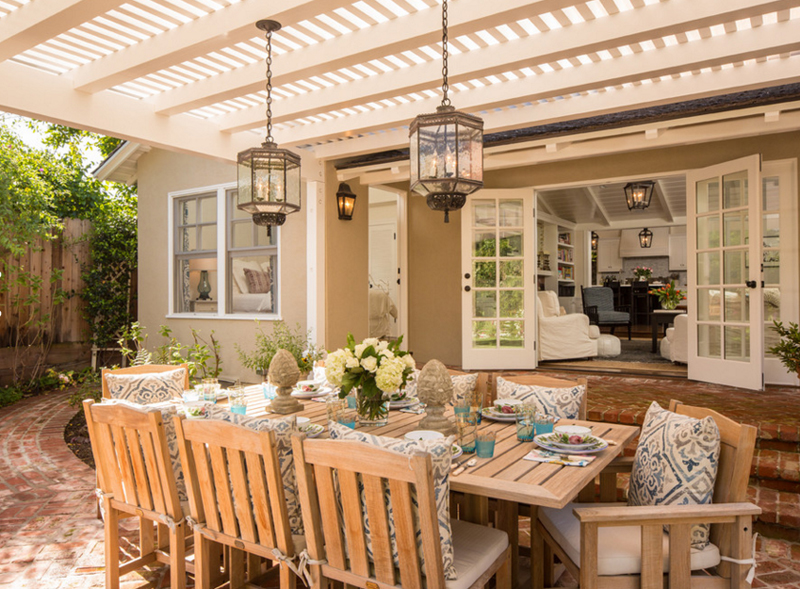 Well, what do you know? Another beautiful outdoor dining space for a family in Los Angeles! I personally love the pillows used as back rest because of the fabric design and of course the chandeliers – they are unique and inspiring to look at because of the story it seems to carry.
22. Rough Hollow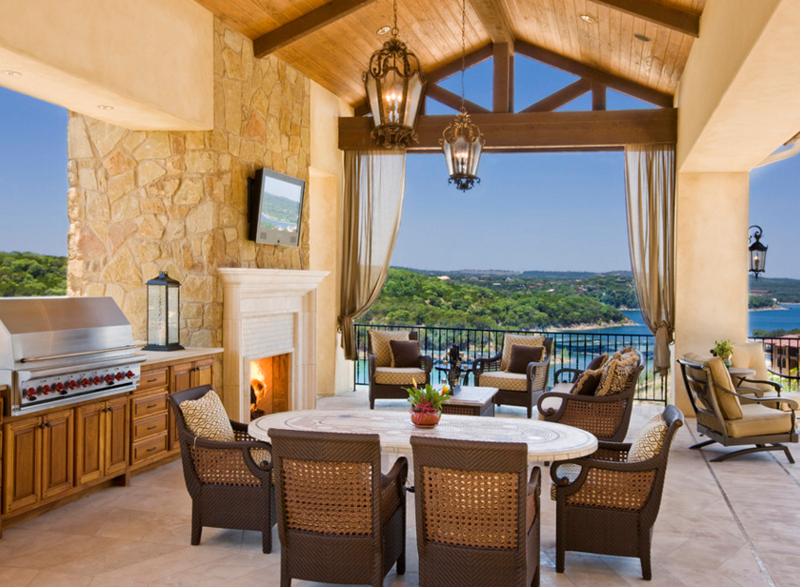 What a beautiful haven for you and me! I mean, for the home owners! The ambiance is great, the furniture is fascinating and the view is spectacular! Need I say more?.
23. Santa Rita Cottage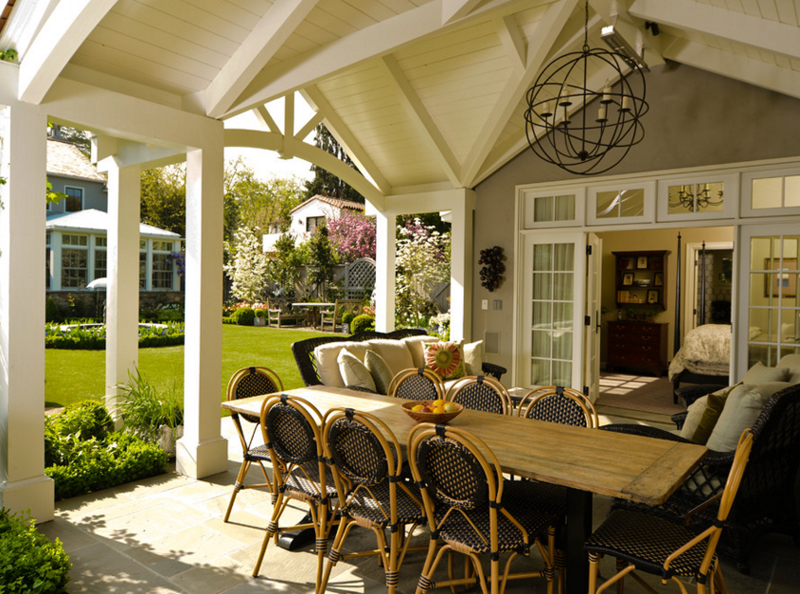 Last but definitely not the least! A cottage in Santa Rita that shows us what a country life should look like. It may just be a small space but with that small area, you can see how clean and beautiful the garden is and how neat the outdoor area is too!.
There you have it guys, a list of 23 Dining Spaces with Lovely Outdoor Chandeliers that show us how wonderful the outdoors are especially if you take the time to really decorate it and beautify the space not only for yourself and your family but for the people who would come to visit as well! The spaces above are terrific indeed and I guess they are as wonderful as the 20 Lovely Outdoor Candle Chandeliers. Hope you liked the pictures guys! More to come in Home Design Lover!