20 Geometric Wallpapers in Dining Rooms
You can also add some geometric touches into the dining area through wallpapers.
I know it might seem too much to talk about geometric wallpapers again, but then again, that's what I do! Kidding aside though, for today, we would show you a couple of dining spaces with some simple to awesome geometric wallpaper designs that I think you would really love. The designs may somehow be popular or something that I think you'd find them interesting too.
Whether or not you are into wallpapers (of any kind or design), I think that this list is bound to open your eyes with how much they can make a space beautiful and interesting; of course, we know that there are stunning paints out there, but a wallpaper finish will surely take your space to a whole new level! Check out the list below and tell us what you think!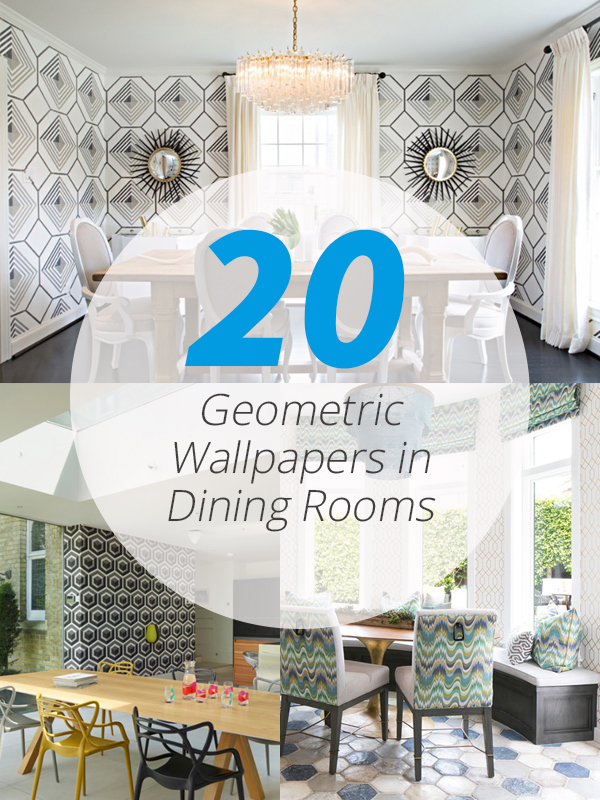 1. Abbie Way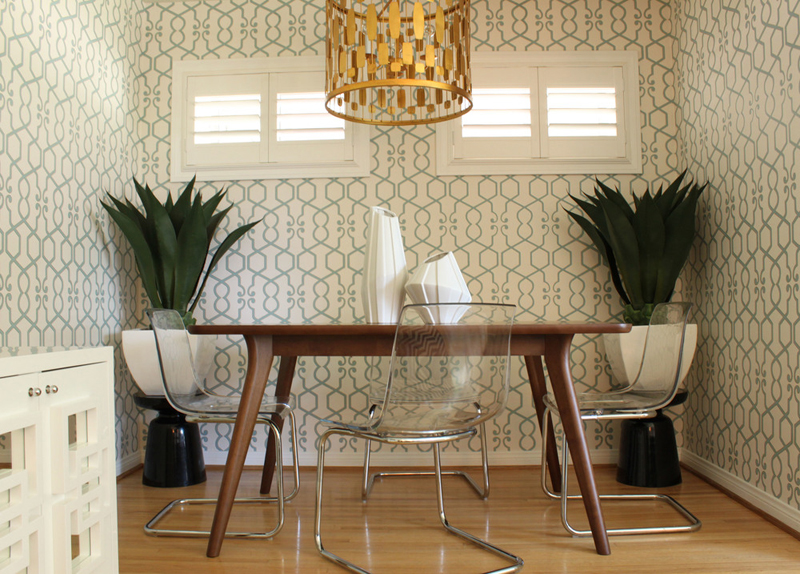 Now this is one beautiful dining room! It is small, yes, but check out how stunning it became because of the wallpaper! Imagine if this space had all white walls? Maybe similar to a hospital or something? Of course, we have to put into consideration the furniture choice as well as the pendant lamp seen in here.
2. Ave G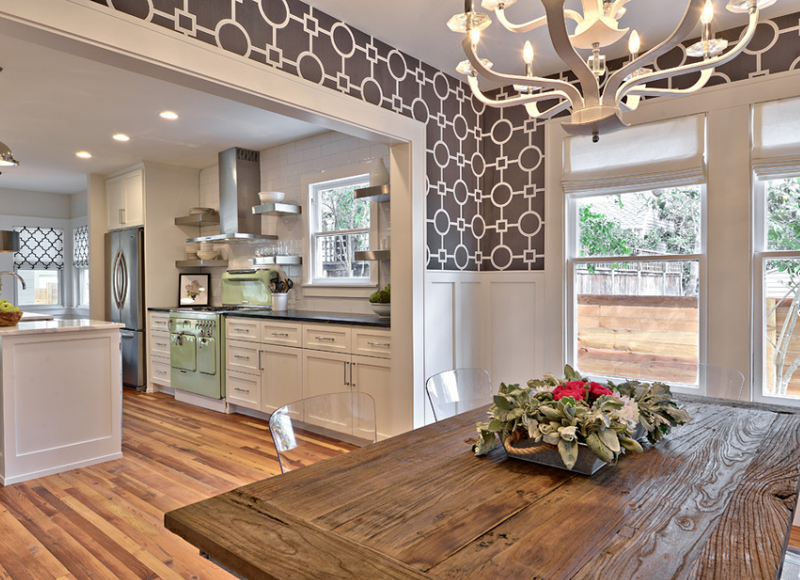 We might be seeing a little wallpaper in this space, but check out how stunning this space became because of the contrast the wallpaper has with the rest of the room. I like the archway towards the kitchen and the large windows that allows the people in the dining room see through to the backyard.
3. Chic Transformation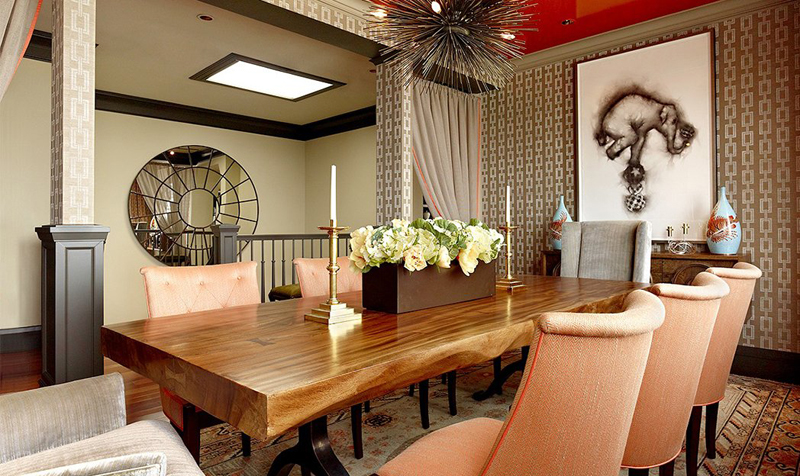 When I saw this dining room, the first thing that I actually saw was the painting or is that a picture on the wall that surely looks like a dog or something that is quite a great attention grabber. The color of the said wall decor complements with that of the wallpaper and I think its real pretty.
4. Drexel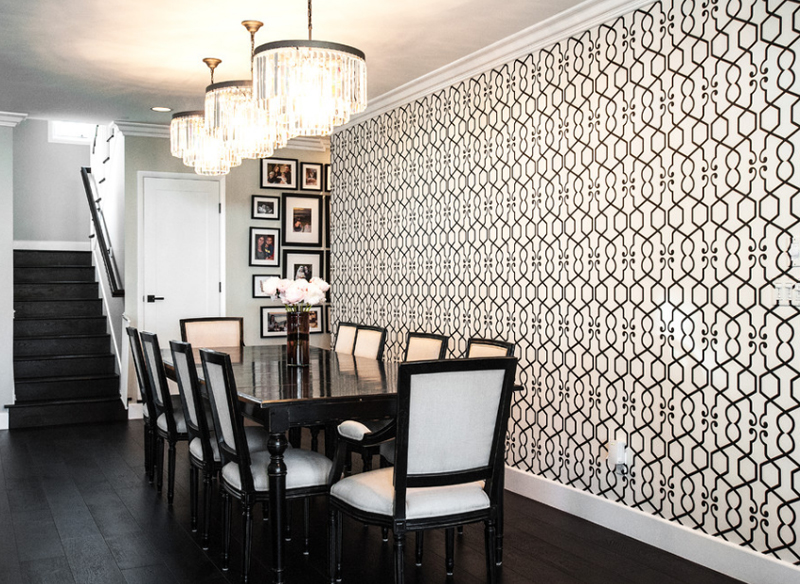 Remember this wallpaper design? It is basically the same with the picture at the beginning of this list, only in a different color. I like how much it looks better in a black and white setting. The dining room furniture and the gorgeous lamps are just way to pretty! I think that this space is just a nice example of what urban living should be!
5. Evergreen Point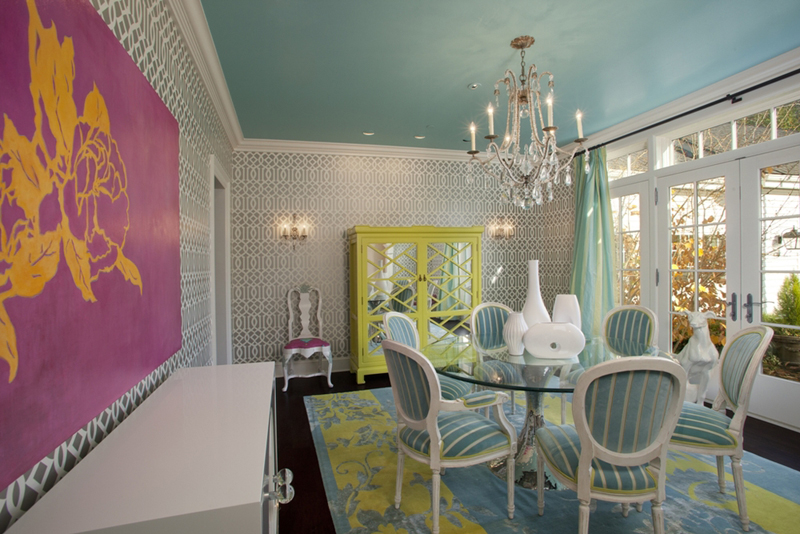 This is one amazing dining room! The colors are almost pastel and it's just fascinating! I think that whoever lives in here is just so happy living in it! I mean, I'm sure houses do not have to be pretty to be a home, but if you have this at home, I think that it'll be a happier place to be in!
6. Grant Park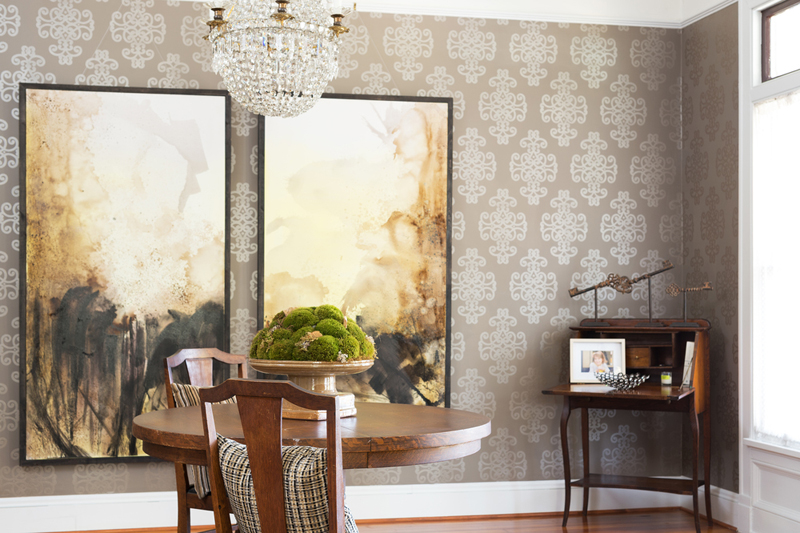 This is one small dining area. As much as I would want to think that this place deserves a bigger table, this is just pretty as is – only of course this would not be able to accommodate a lot of people coming for dinner or something. The crystal chandelier above the table is quite a charmer!
7. Jamaica Pond Residence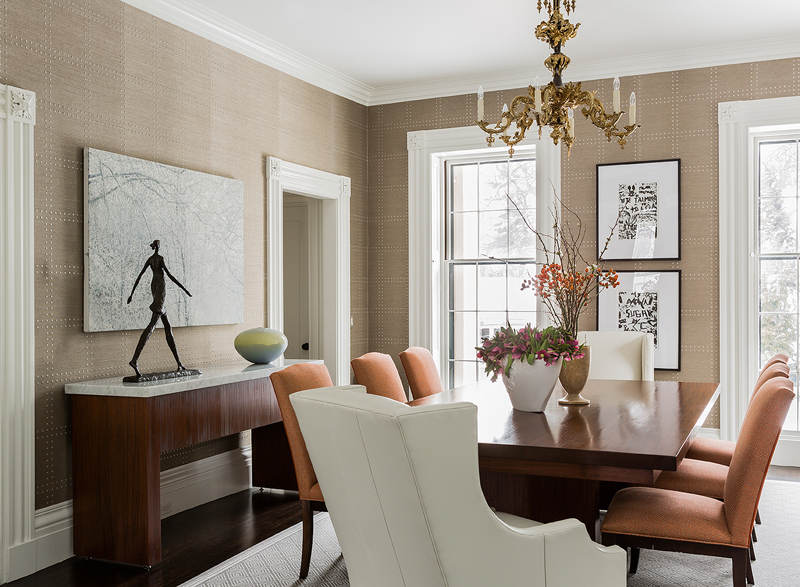 The design of the wallpaper in here is just classy and sophisticated I love it! Zoom in the photo if you need a closer look of the wallpaper design and tell us what you actually think about it! The color of the wallpaper complement with the furniture and I think it's not always the work of the wallpaper or the furniture in itself, but their combination is just so pretty.
8. Large Family Home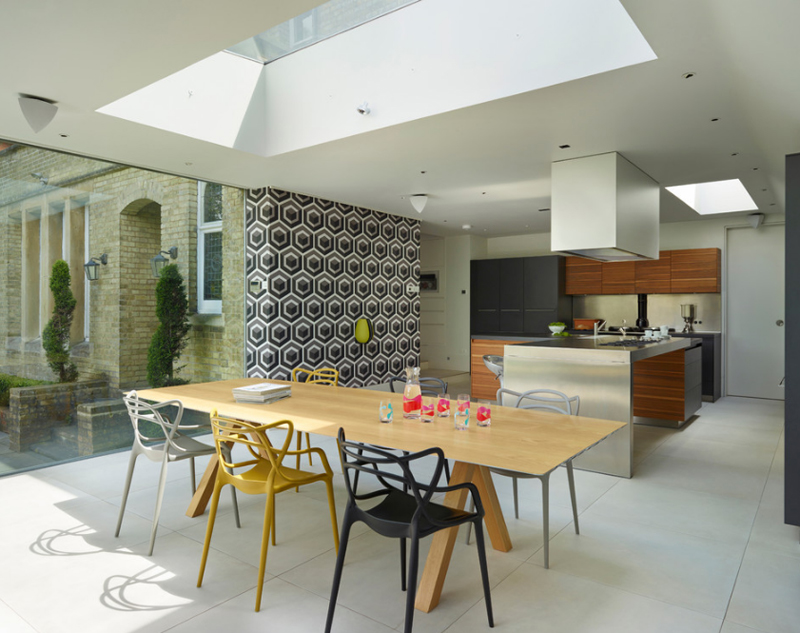 When I first saw this space and that beehive like wall on the side, I said, 'yes!' This is one awesome space that I think would be spectacular! Like something great in the making! Accent walls like this is just wonderful and unique that I think it begins to be the center of attraction wherever they are added to.
9. Living : Refresh & Restyle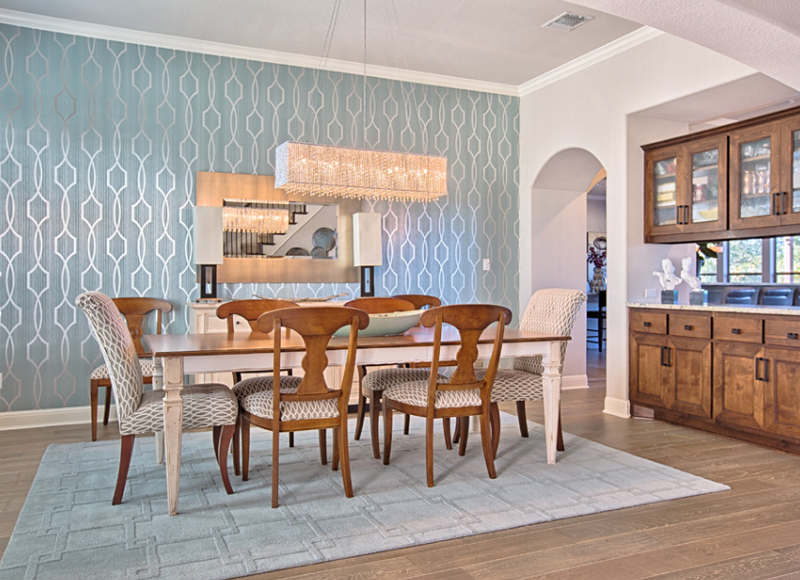 The blue wallpaper in this dining room is just lovely! The color is neat and clean to look at and with that white print, I think the space just blends with everything in here. The furniture, the flooring and the area carpet – I even think that their choice for the chandelier is just wonderful and special.
10. Mid-Century Masterpiece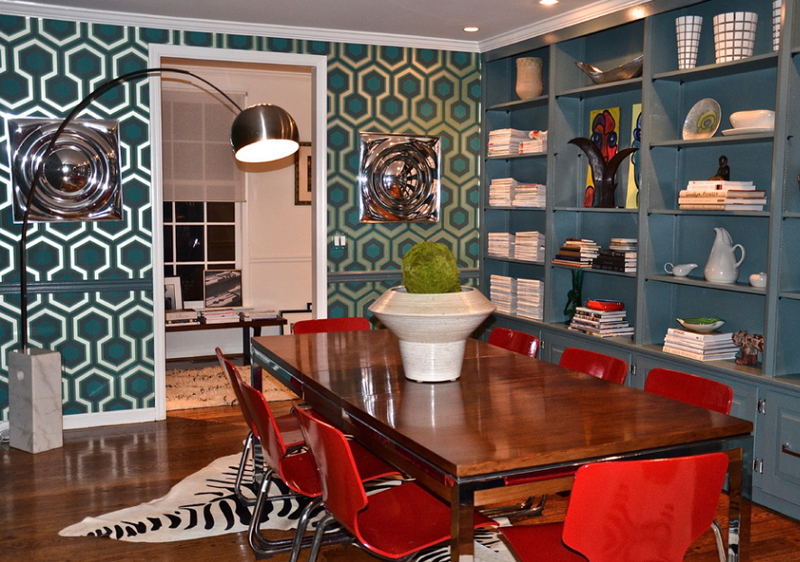 Another dining room space with that beehive-look with the wallpaper is just fun! I wish that there would be a better photo than this one because I think that this room could look even better with the perfect lighting and maybe editing of the picture. What do you think?
11. Murray Hill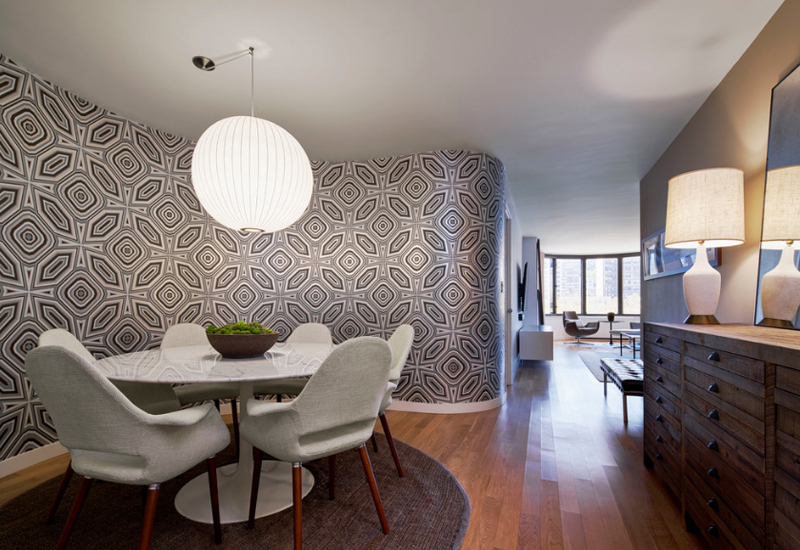 The modern feel that this dining room has is just wonderful. Aside from the curvy wall and the wonderful wallpaper and furniture, I think this dining space is just perfect if you want to aim for an out of this world look for your space – like, this could be it. Do you agree though?
12. New Canaan Townhouse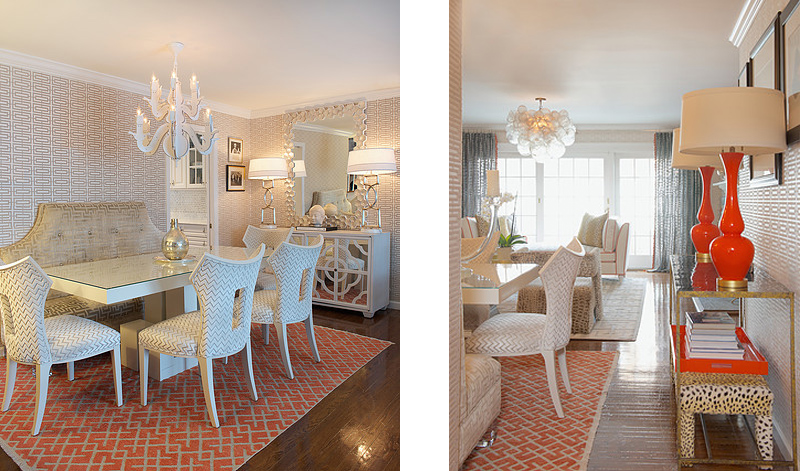 This dining room is like another story – the lightness of the color choices in here is just neat and wonderful. It seems like without a doubt – a feminine dining room!
13. Newport Heights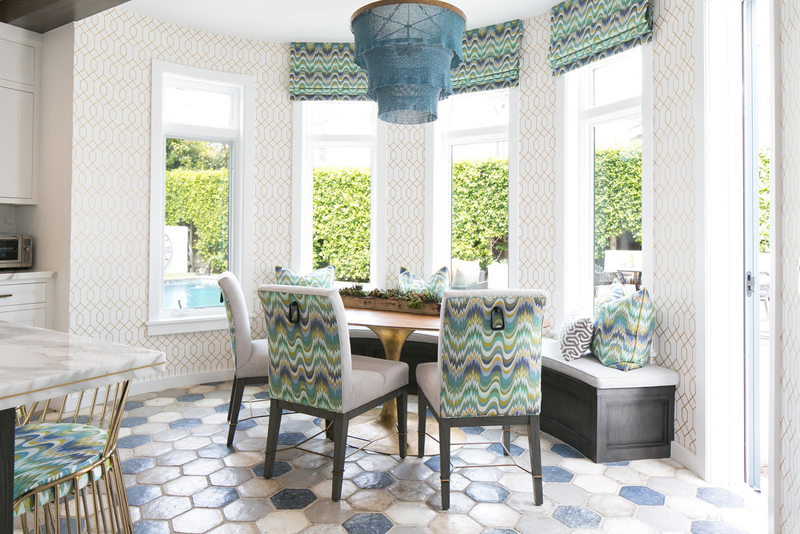 The blues, lavenders and yellows and everything that is in here is just wonderful. From the pendant lamp, to the walls the fabric used on the drapes and pillow cases and the flooring! Come on, this is just like so awesome!
14. Regency Room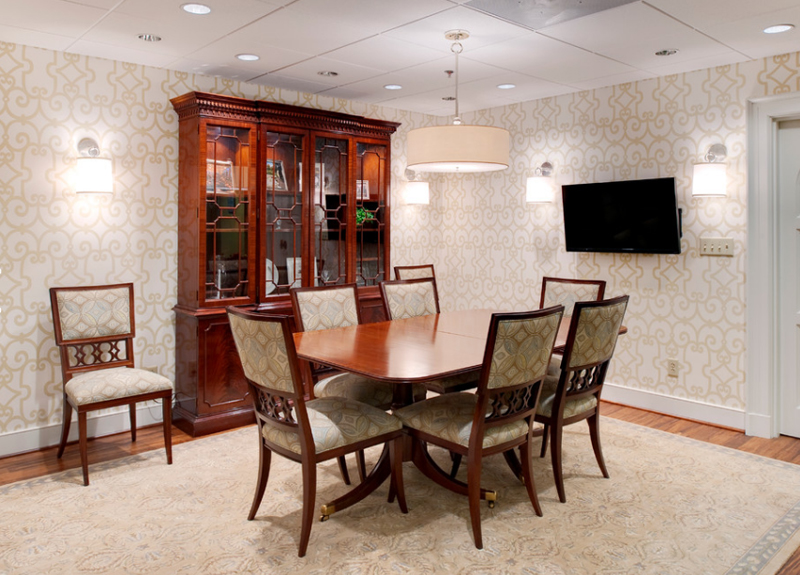 The prints seen in this room are just wonderful – I love it! I know that this is basically not a residential project, but look at how this space looks like – and imagine this not being inside a house! The prints seen in here is just fascinating and cool – it's present everywhere!
15. Sunset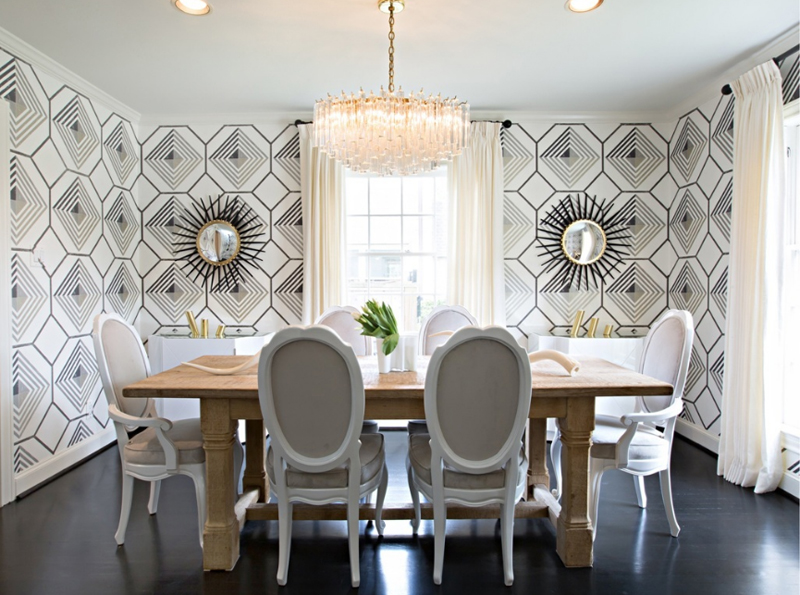 16. Surrey Modern Carriage Home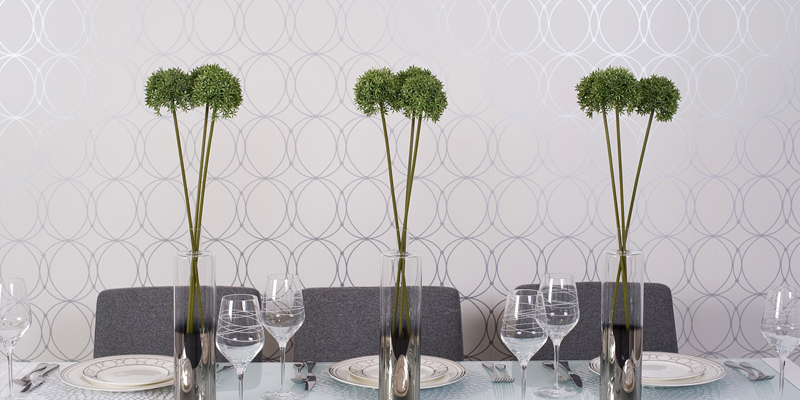 Okay, I know this does not look like a dining room, just a table setting of some sort. Well, this is because I have not found a dining room photo of this space with a clear view of the wallpaper. What do you think of the design of this wallpaper though? I think that it's neat and sophisticated, beautiful and sure is classy.
17. Traditional Style Home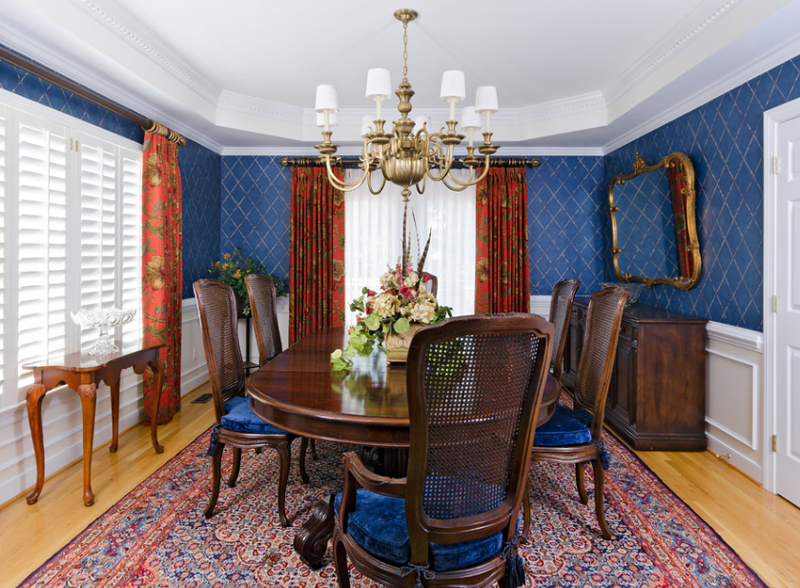 I love the color blue but I can't tell if I'm kind of fond of this wallpaper. The design is quite simple and I think it blends well with the white woodworks in here but I think that if this wallpaper was of a lighter shade of blue, I think this work for me; but of course the home owners must love this one since they chose it.
18. Transitional Residence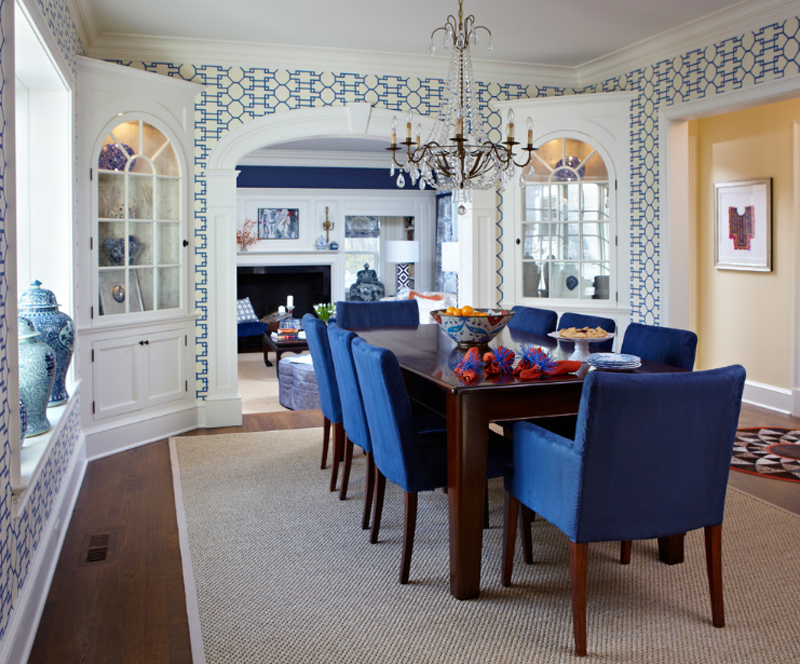 This is what I am talking about – a lighter color of blue paired with white! This dining room looks real perfect for me! I love it! From the gorgeous chairs to cute wallpaper and stunning chandelier – I think this is definitely what I've been looking for in a room that used a wallpaper.
19. Wainscott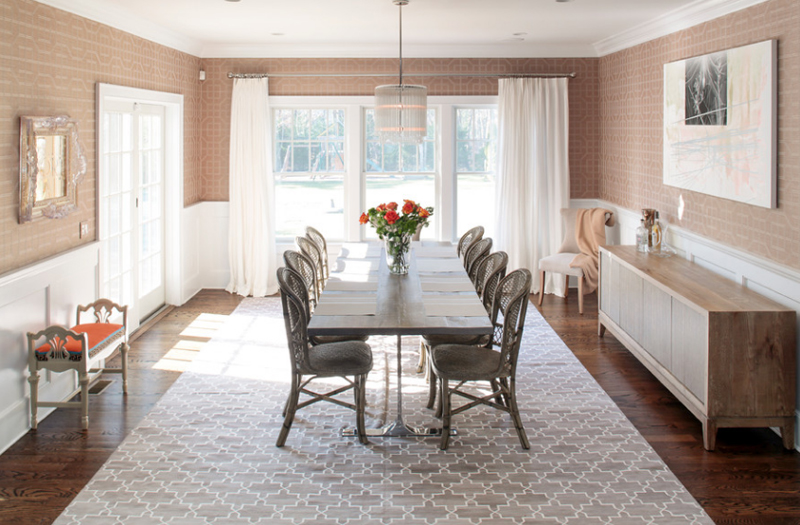 This is one large dining room that could accommodate a couple more people during lunches and dinners. I like the simple pendant lamp above the table and their choice of furniture. Printed walls and carpet, why not?
20. Windhaven Remodel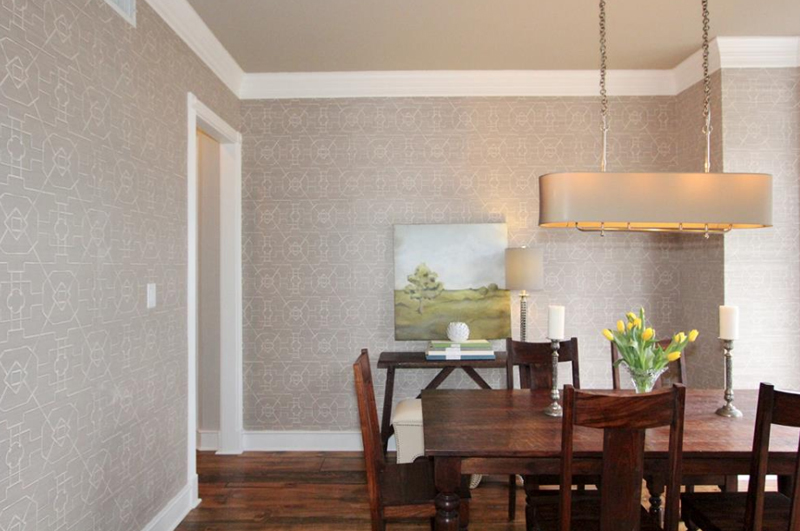 Okay, there could be a more decent photo I can probably pick for this specific dining room, but look at how the wallpaper is seen clearly in here. Let us not mind the dining set because just seeing the wallpaper kind of is enough.
Well, there you have it guys! A wonderful list of 20 Geometric Wallpapers in Dining Rooms that I think is just crazy beautiful. As much as am aware that its women who are called that, these dining spaces seem to deserve this at this point. If you want to check out more spaces that used wallpapers, check this one out – the 23 Stunning Living Rooms with Geometric Wallpapers and go ahead, share them with your friends!