25 Awesome Shelving in the Dining Room
Want shelves in the dining area? Here are inspiring ideas for you.
Whenever we see or imagine a beautiful book shelf, we think of how much books we can place in them it was in our homes – but of course, with all that we know about home decorations and design, we know that we can't always call book shelves as such because often than not, people do not really display books in them – and that's what you'll be seeing in here today.
Below is a beautiful list about 25 Awesome Shelving in the Dining Room. You might see shelving in living rooms, in bedrooms, in kitchens and even the bathroom because basically, shelves are placed in strategic places in the house for storage and display. With that, take a closer look at how the designers showcased these shelves and tell us what you think about them!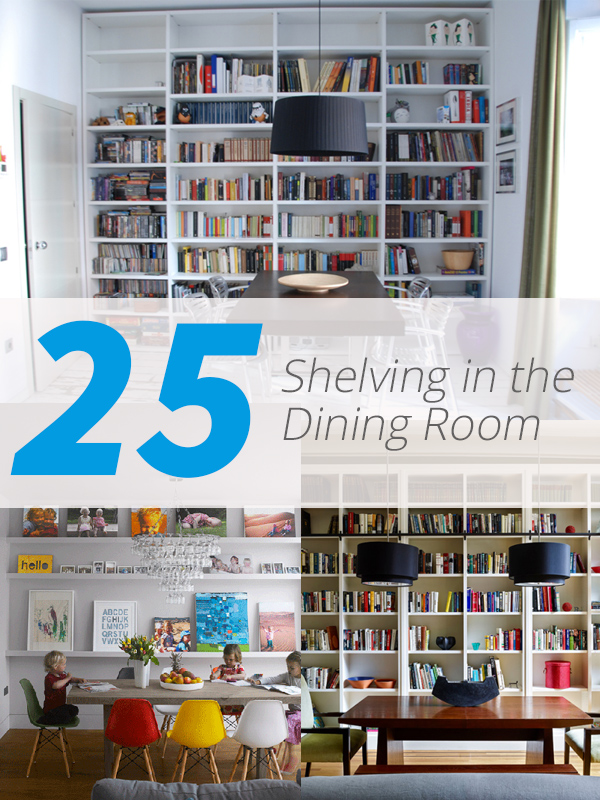 1. Brooklyn Brownstone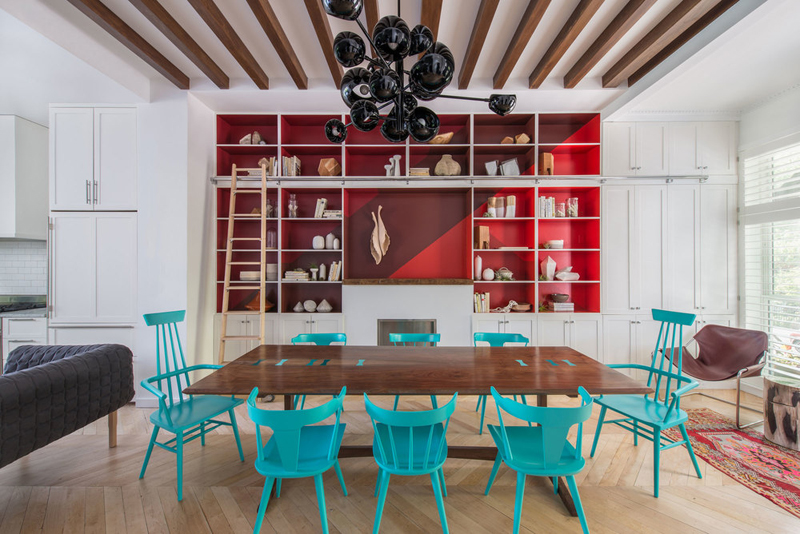 First on this list is a beautiful Brooklyn home that shows us a stunning dining room set with cool chairs and a lovely shelving in white with hints of red and maroon in it. Obviously, this space showcases a lot of colors and I think as much as it is contemporary, it is actually fun!
2. Clay Street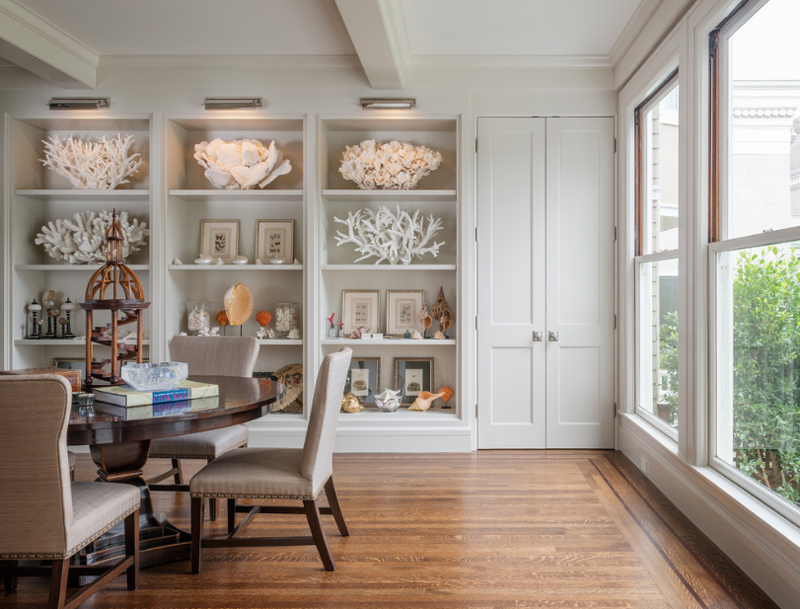 Second on the list is a stunning wall shelving that aligns with the door. The decoration on the shelves are beach-related and I would like to assume that the home owner loves the beach or actually works with these stuff; anyway, whatever the reason why these beautiful things are in this space, I think it just perfect!
3. Essex Mews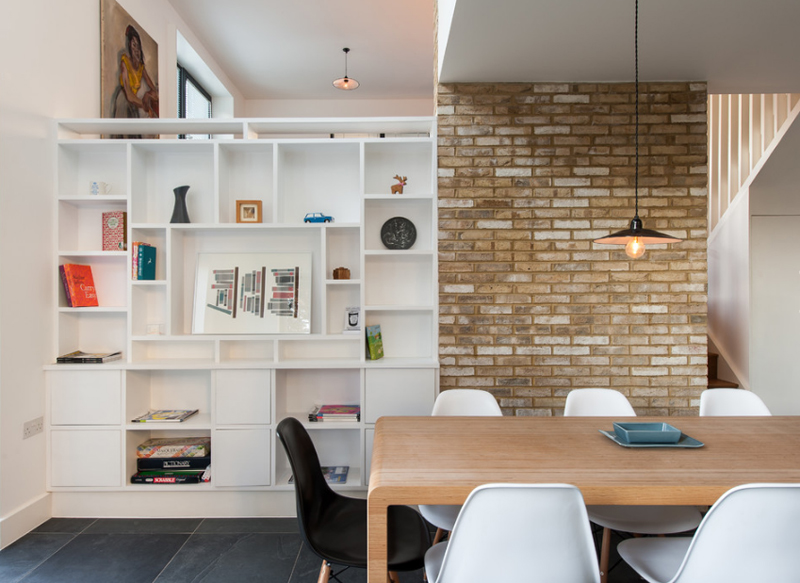 Notice the contrast on the colors and materials in this dining space? I love the brick wall beside the white shelving with those cute stuff and the way it contrasts with the color of the floor; the dining table is simple but a bit neat with its beautiful bend.
4. Fitzroy North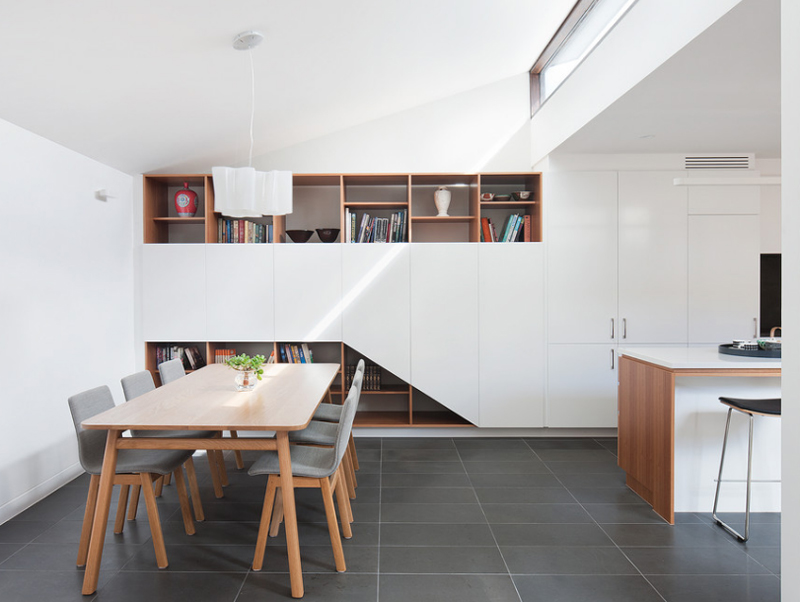 This home looks modern than it is contemporary because of all the modular stuff you see in it. The walls which somehow shows stuff yet at the same time hides things too and the furniture in here looks a bit stiff but real neat and expensive-looking.
5. Luxury Loft Apartment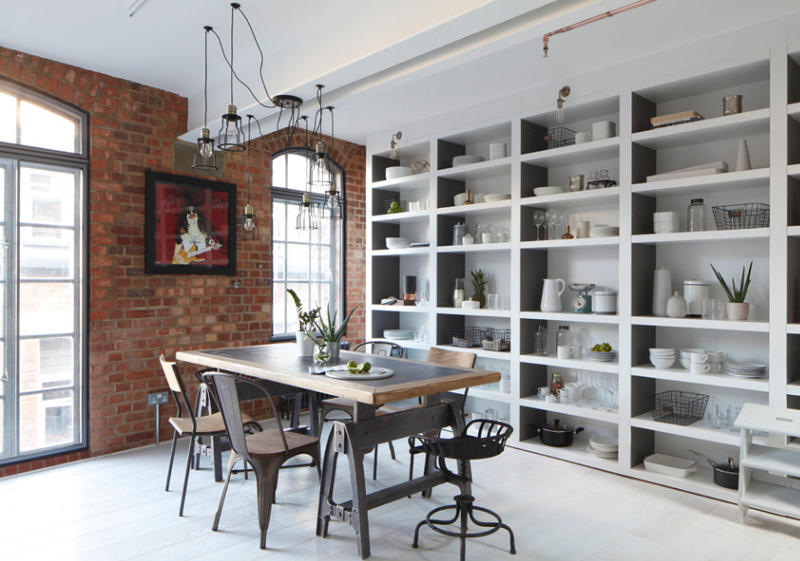 This photo maybe one of my faves in this list because of the fact that I just admire lofts and shelving that covers an entire wall. The fact that it has awesome stuff in it made it much prettier than if it were colorful stuff. The white stuff on them made it all cool – at least for me.
6. Meridian House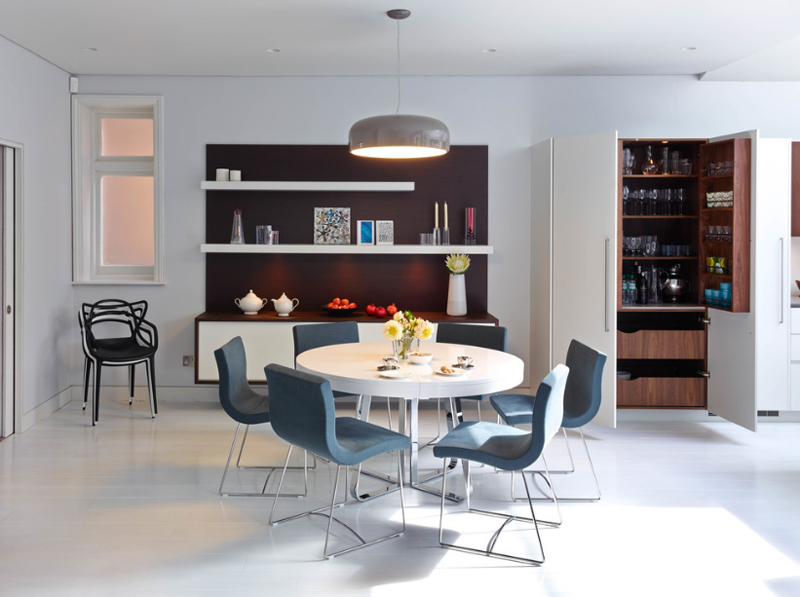 At first glance, I thought that the shelving in this photo is above the kitchen lavatory, but I was wrong because apparently it just looks like a normal buffet table with shelving added above it. The fact that they added a colored wall behind it made it fancier.
7. Number 23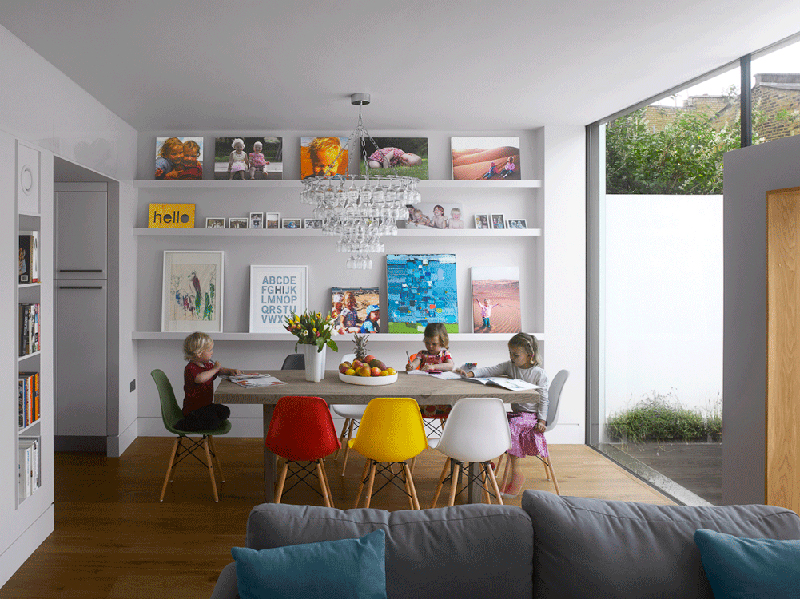 I like how fun this photo is because they had kids in them. I'm not sure if the designer or home owner suggested this but shows us (viewers) how interactive this dining room could actually be. They are showing us kids making some homework or drawings that somehow might end up on the wall. The colorful chairs also add to this spaces' fun factor!
8. Smee Schoff House
Talk about high-ceiling in houses! This space is just really creative and real pretty. The made use of the wall which this home actually has tons of and they really made a good job! The fact that this shelving has a wall-mounted sliding stairs means that this would be functional shelving and not just for show.
9. State Street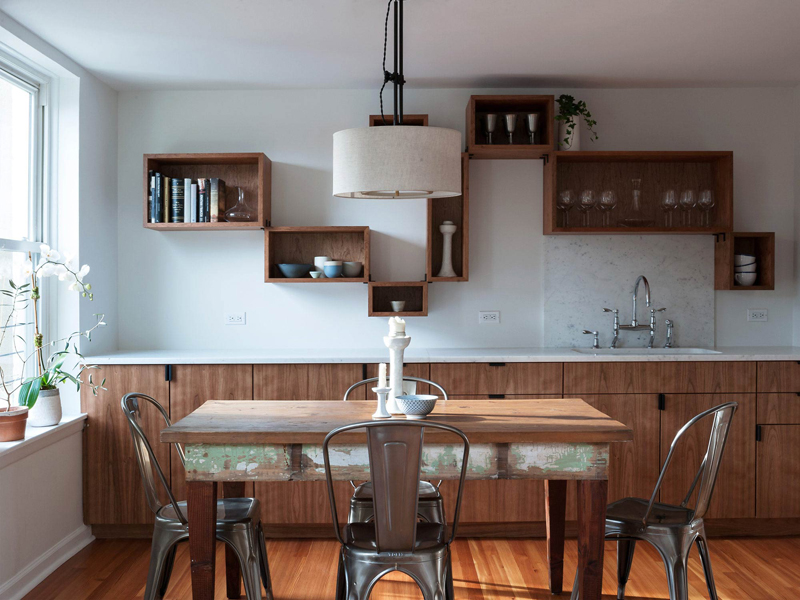 The cute and rectangular shelving done on the wall is just so fancy – I mean, not in an expensive way or something but something really pretty. I know that the these shelving is most likely made from wood and it looks simple too, but it matches with everything inside this space and it looks real neat.
10. Alexandria Condo Renovation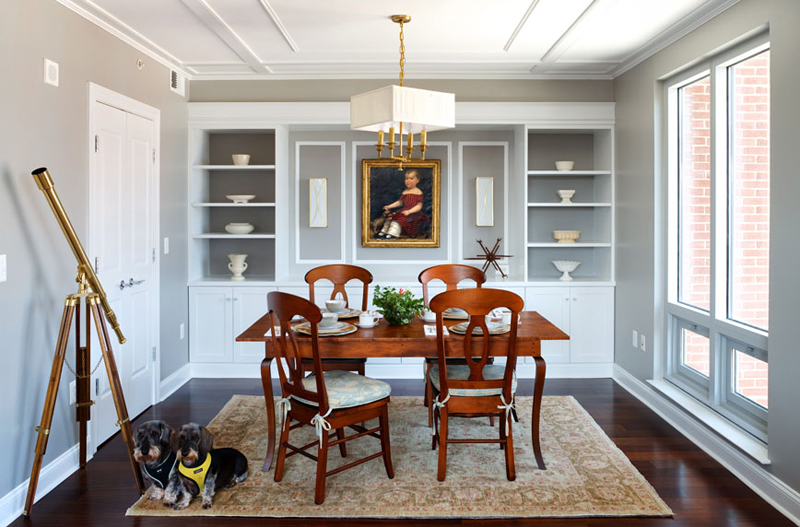 Even though there is still enough space for a bigger dining table and all, I would have to think that this family is small that is why they chose a four-seater dining set. The color of the entire room sure makes the fresh wood look really stunning.
11. City View House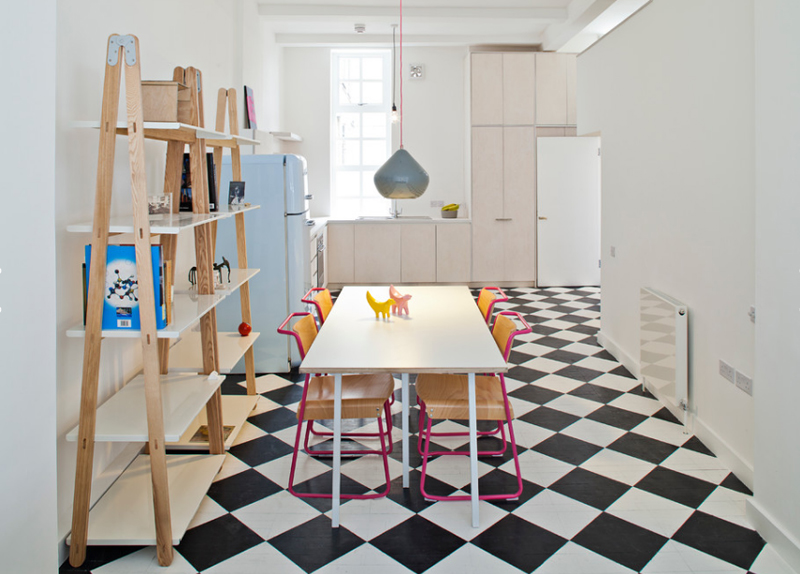 I think that this is one beautiful space to begin with. Like one my friends used say – houses are the blank canvas for Architects and Interior Designers. I like how the floor has this black and white chess like feeling because this space looks all the more legit vintage than it already is; the shelving in here sure is different from the others in this list – that's for sure.
12. Delancey Place Renovation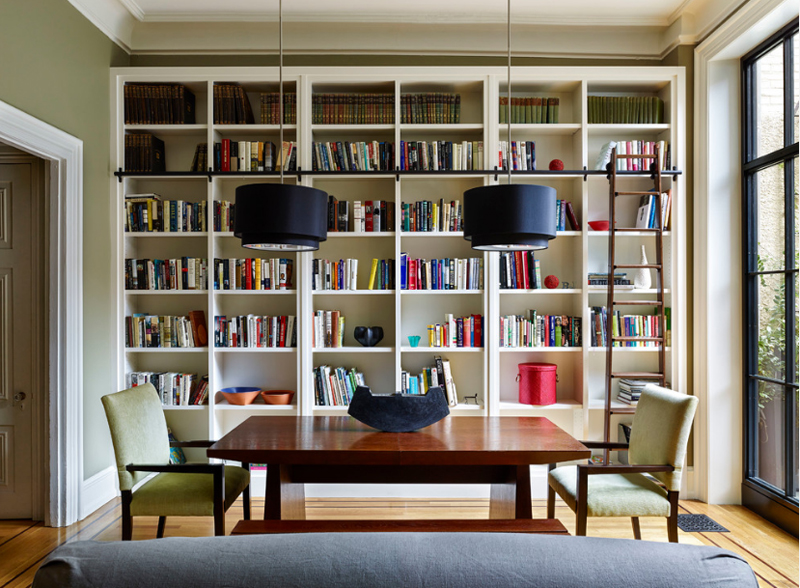 Now, I'm pretty convinced that this space is not really a dining room but a library – but then again, I double checked and this is in fact the dining space of this Delancey home. The great wall of books most likely is because of the fact the home owners are really readers and collects for the most part. Books sure are great displays for most homes.
13. Double Take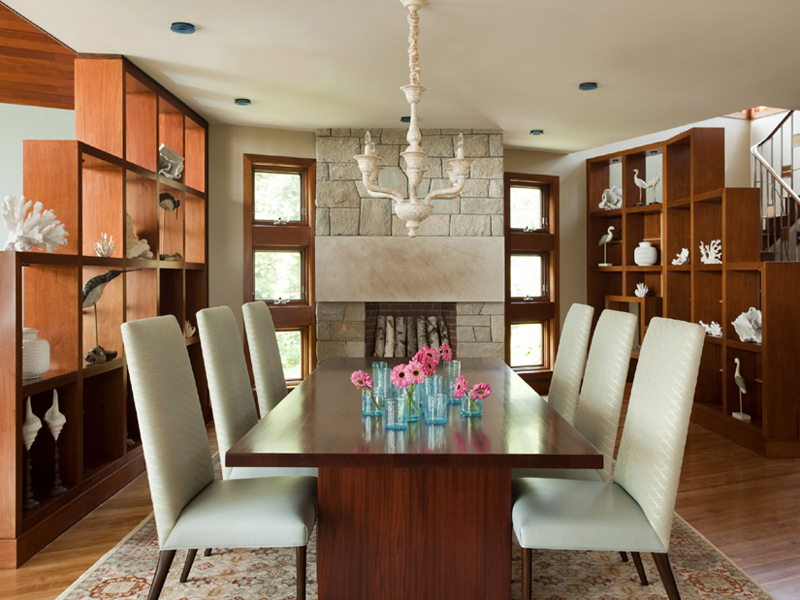 I like how the shelves in here serve as division – from the living area and then towards the stairs or even the kitchen. These shelving showcase white decorations that are high-lighted because of the brown finish. The six-seater dining space also is a stunning display in this home.
14. West Vancouver Beachfront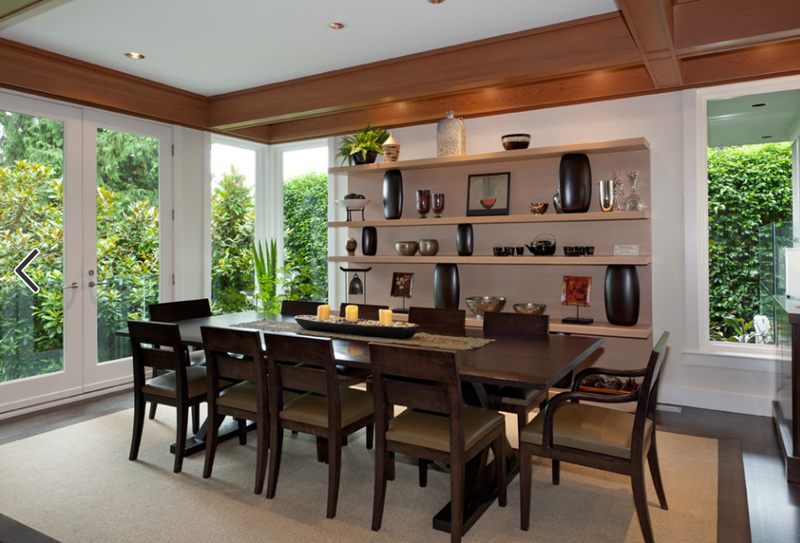 The shelving in this beachfront home is quite unique. I mean, not the shelving itself but the contents of the shelves. They look like cool and interesting pieces of decors of vases and jar and such.
15. Apartment in Madrid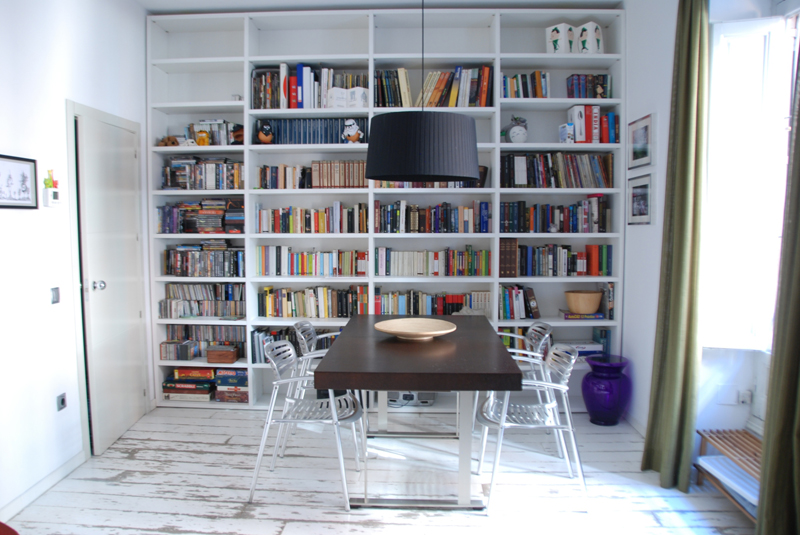 I am totally giddy about this dining space because of the books displayed in here. For bookworms, I think adding books in every spot in the house is always a great distraction from work and the daily grind, but it's always comforting seeing your books around – especially when you get to reading them – for the first time or over and over.
16. Crystal Cove
I think that having food close to your books is a big no-no; but in this case, and like some of the photos in this list – I think people didn't really think much about it, or the clients of these homes sure are careful in making sure they do not spill food or drinks around their dining spaces to avoid their books from having spills or whatnot.
17. Desert Mountain Modern Spanish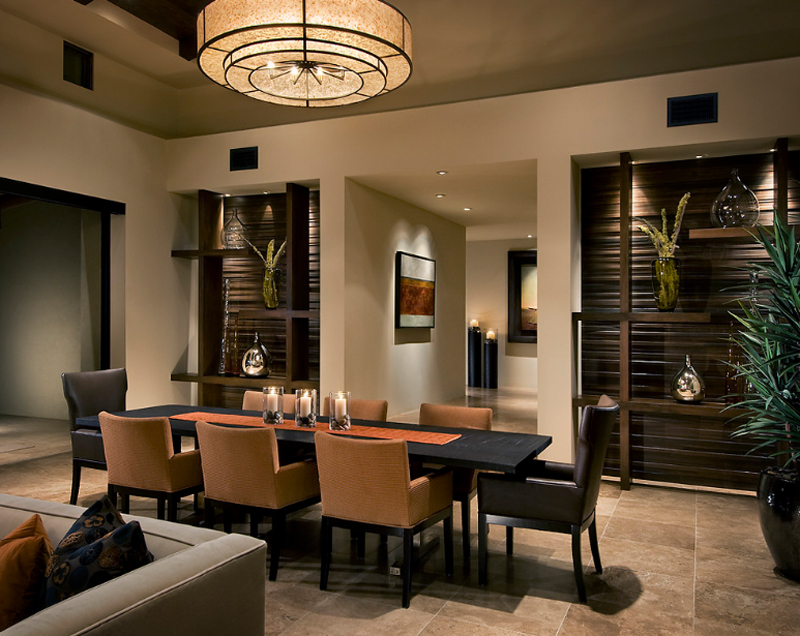 It might not be too obvious, but there is a couple of shelving along the wall with the arch that connects this dining space to the room or space close by. In here, we can see that they added large and unique vases as decorations and fillers for the shelves; when I think about it, this shelving is a pretty neat divider too!
18. New House in Epsom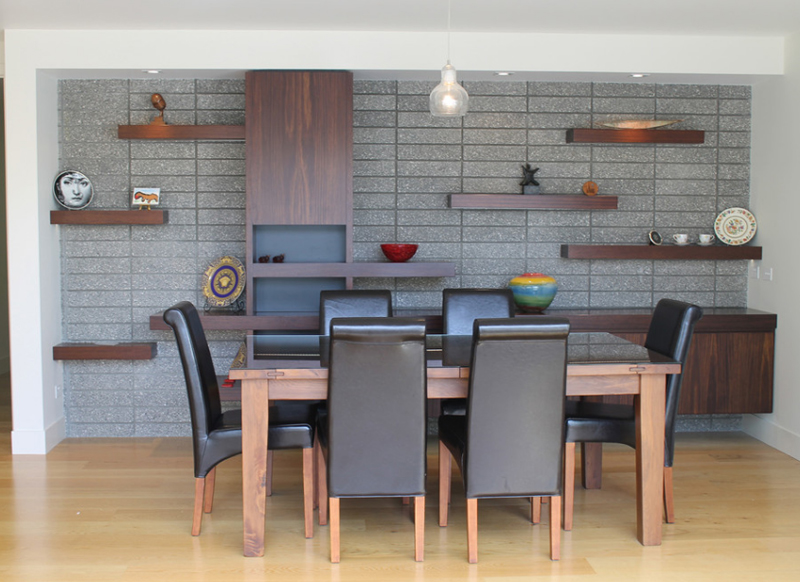 This dining space looks really masculine – well, because of the dark wood used with the shelving and the furniture. When I saw the plates on the shelves though, I somehow changed my mind. What do you think about this space?
19. Seamless Vienna Renovation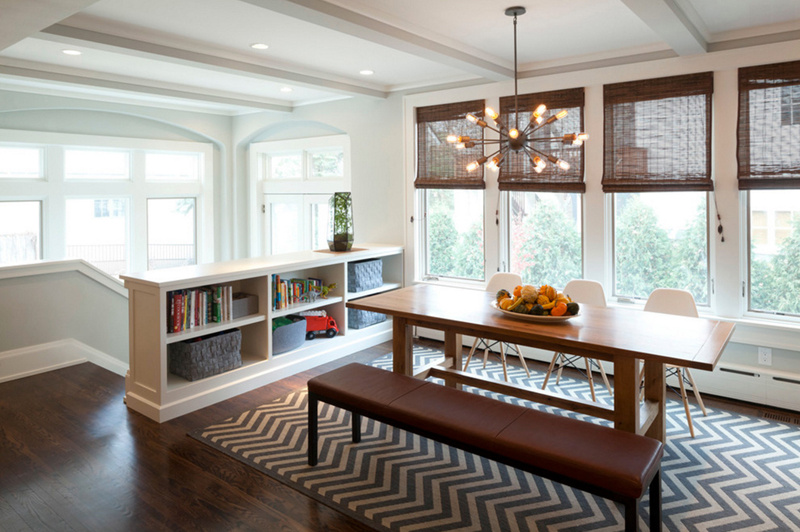 We see low shelving for this neat Vienna home. I think this is the only one on this list with this kind of design. If you notice that behind this shelving idea is the stairs which I think is a great way of making use of the space after the dining table but before the stairs.
20. Rasteau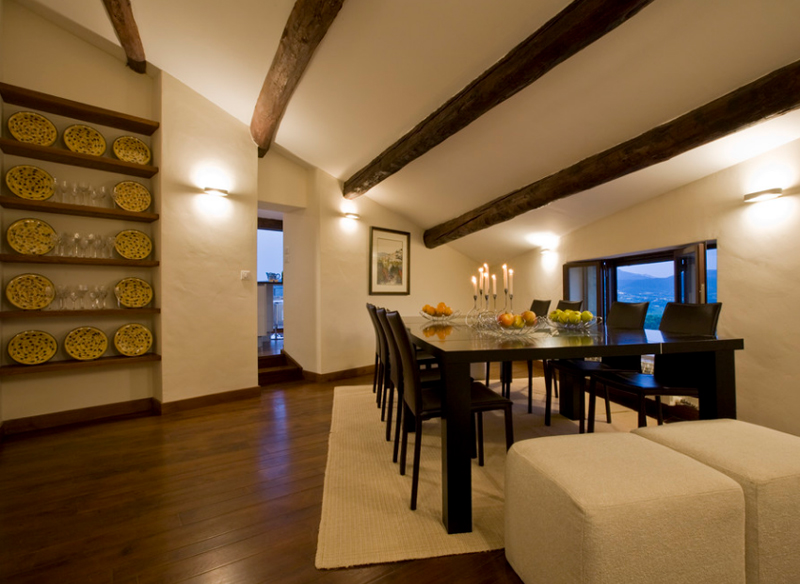 Whenever I see homes with exposed ceilings, it's usually in lofts or converted spaces or maybe industrial spaces – not really something fancy like this one. I mean, this dining space looks like a break with what's usual that we see in home design. The whites paired with all the wood makes this space more sophisticated.
21. Rabinowitz-Karopin Residence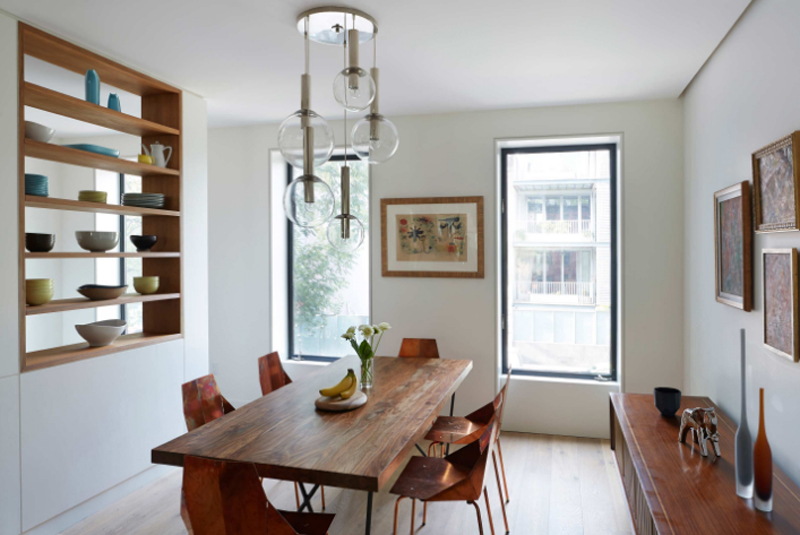 All the wooden furniture in this space reminds me of the furniture my Aunt used to have; she had these large wooden sofas, side tables and coffee tables which were legit – they sure were heavy. Judging by the table in here, it is no doubt heavy; and the shelves on the wall looks light weight.
22. Piedmont Perfect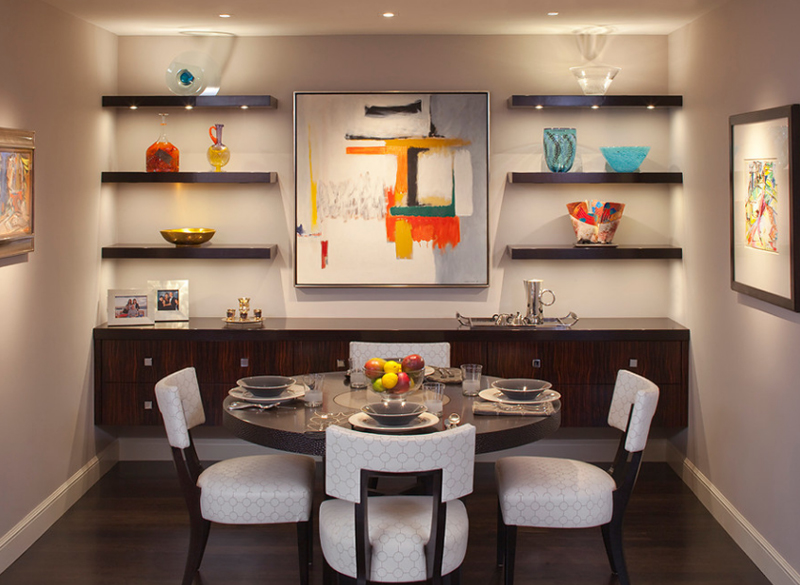 Shelves are best way we can make use of our walls at home. We somehow save in wood since we don't have to make cabinets with all the sides to it, plus, it's a great way to showcase those beautiful China and vases you kept in the attic.
23. Jaffa Apartment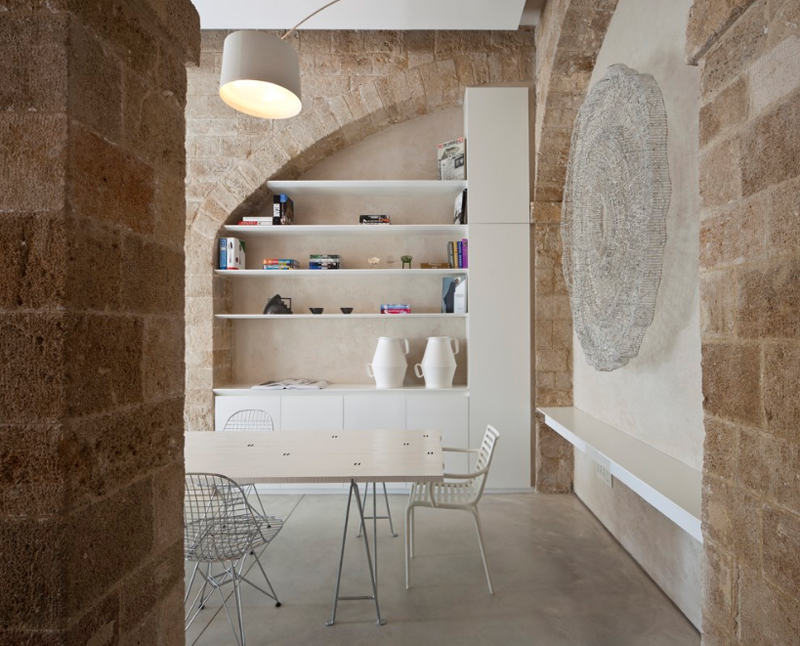 We barely see the dining space in here but we sure have a perfect view of the white shelves that complements with the bricks used as columns in this home. This home by the way is located in Tel-Aviv, so the use of the bricks is eco-friendly since they were most likely not imported – lesser carbon footprint!
24. 19th Century Farmhouse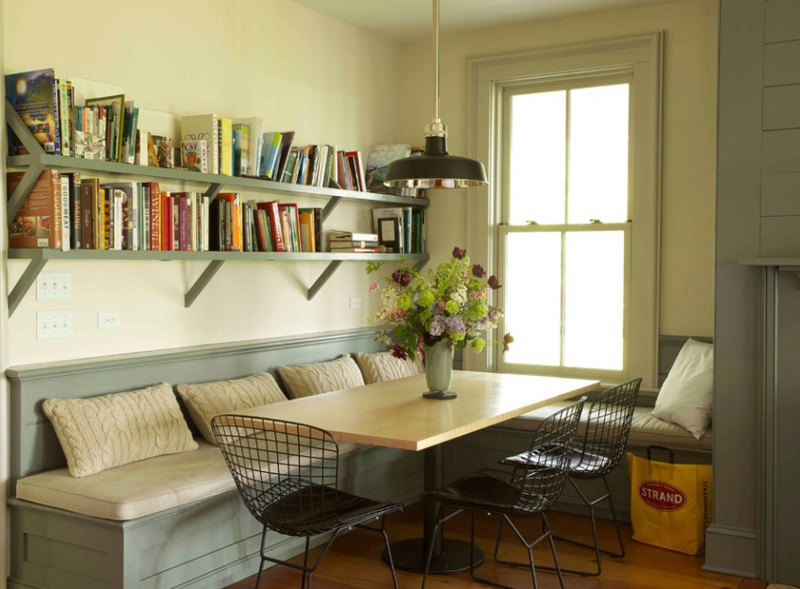 I remember writing about a list which discussed bookshelves and seeing this dining room, I realized, why not place some of your books nearby right? You can grab a book anytime and read while eating breakfast or even dinner. Then again, we can always place decorations instead of books.
25 HGTV Townhouse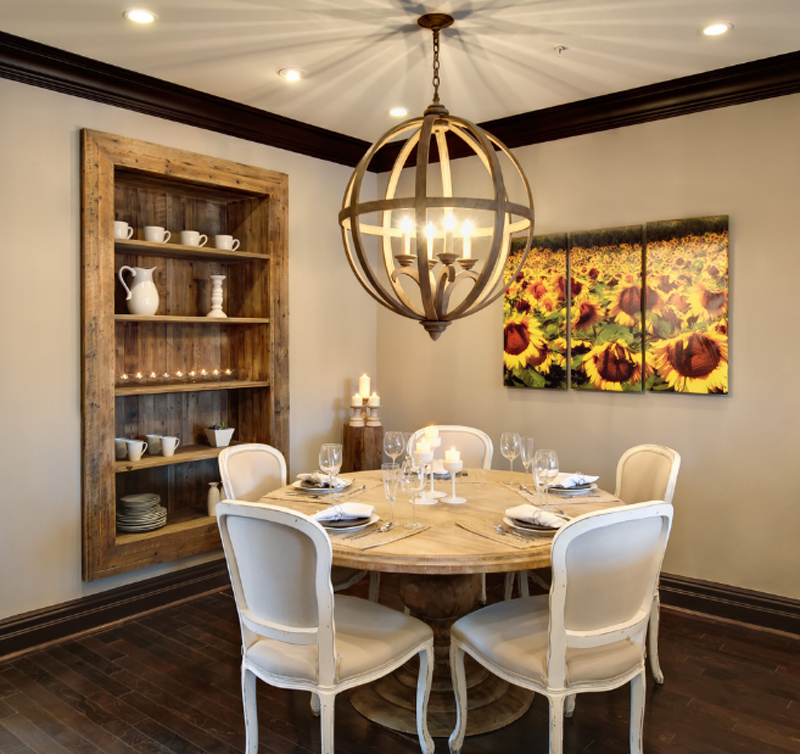 I like the recessed shelves in here – they are enclosed in wood which looks pretty much like a large frame! This somehow feels really farmhouse-like and I think it's great because it feels really homey and comfortable!
And there you have it, ladies and gentlemen – a list of 25 Awesome Shelving in the Dining Room which I think is really neat. It could be used for decorative purposes but at the same time we saw how much people used them as book shelves – which is always a great use for them! Am I right? For book lovers out there and well, people who loves to display stuff in the house, do check out the 15 Cube and Rectangular Shelving and share them with your friends along with this one!