15 Modern Minimalist Dining Room Designs
The dining room is a special place where family gathers together. This is the place where we enjoy our delicious meal and bond with our love ones. Since we spend most of our time sharing our stories, telling each other how our day went or just simply appreciating the delightful meal, we want this place to be very pleasant to everyone in the family. Hence, homeowners exert effort in making the dining room as comfortable and lovely as possible.
In today's article we are going to balance functionality and aesthetics. Beauty has an equal importance with functionality and quality. And having those in our dining room is a must. We want to make our dining rooms clutter-free and pleasing to our sight. Keeping our decorations in minimal is just one practical way of designing the dining area. And for those who wants to go modern but wants it simple, we feature 15 Modern Minimalist Dining Room Designs to get you started.
An Apartment In Eco Style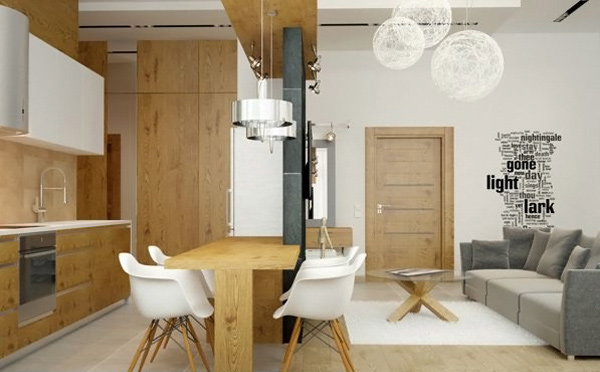 Get the calm-homey nature of wood with modern flair in this one of a kind modern minimalist design.
Chimney Corners Remodel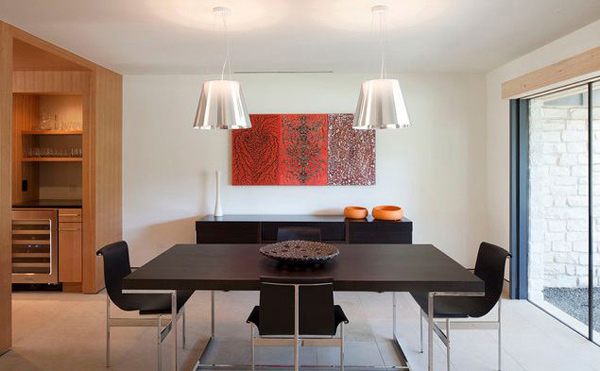 The idea of modern minimalist dining room is to keep everything simple and easy on the eyes. Choose basic, neutral or contrasting colors like this design.
B.T. Dining Room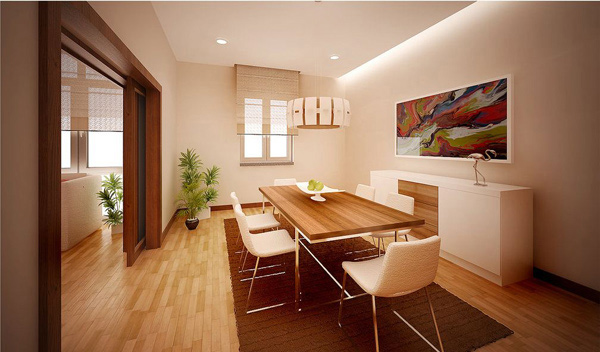 Add simple decorations like an area rug on your dining room floor. You could pick the same color as your walls or a contrasting one like this modern minimalist dining room design.
Gioconda Dining Chair 05909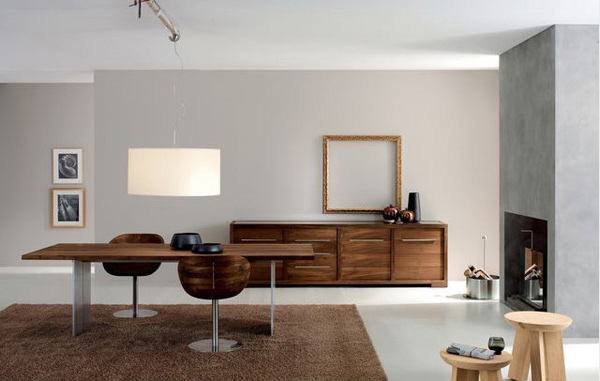 Use hanging lamp or chandelier as an accent and hang it just above the dining table with a height of head will make an instant twist on your modern minimalist dining room.
Contemporary Feature Wall Treatment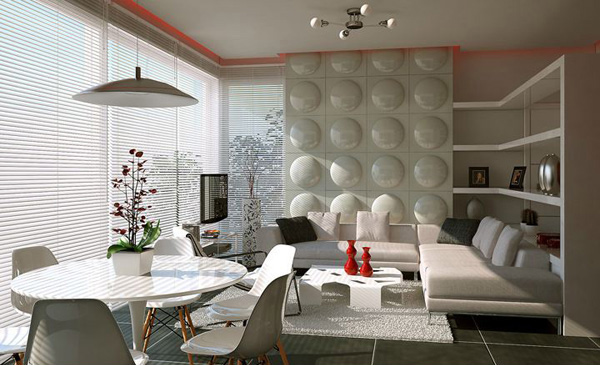 Let the natural light in and make your dining room airy and bright.
Minimalism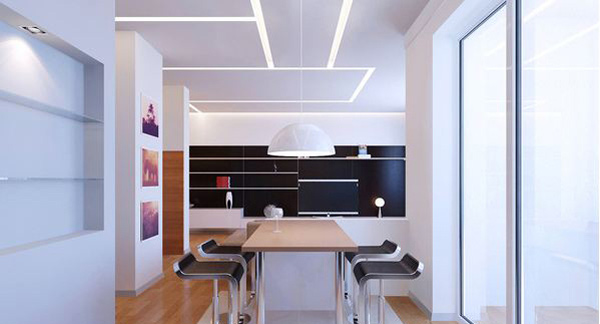 Good thing about modern furniture is that, it's sleek and stylish. Choose a modern dining set and avoid putting other accessories on the dining table to keep that modern minimalist atmosphere.
Minimalist Dining Interior Design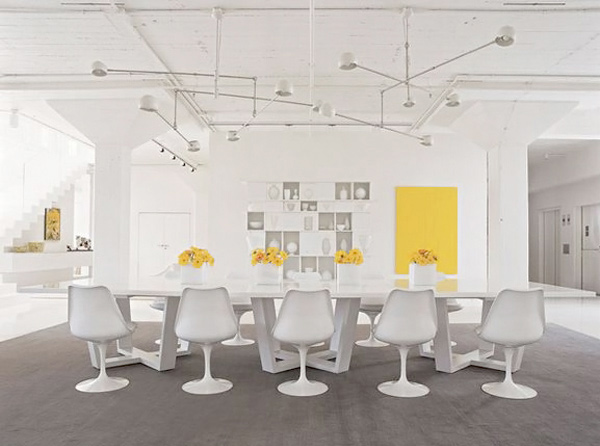 Be edgy by choosing a unique modern hanging lamp for your dining room.
Modern Dining Room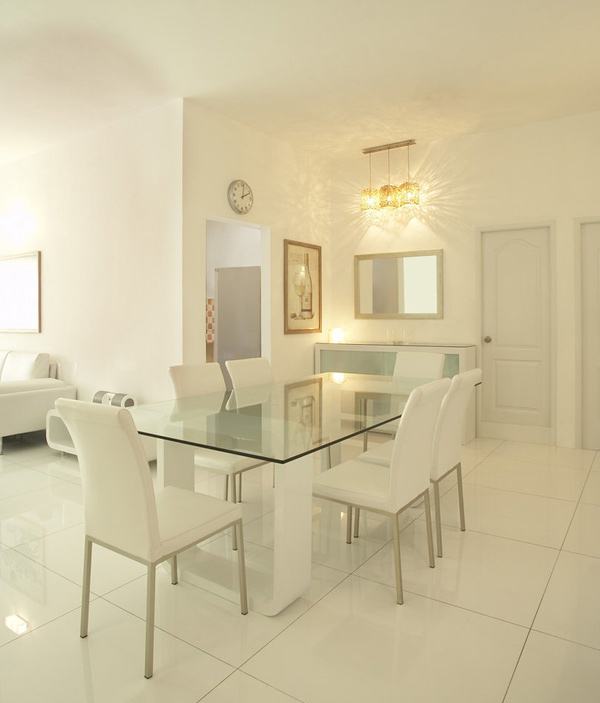 Make your modern minimalist dining room more interesting by using white in the interior including the dining chairs.
Modern Glass Dining Set in White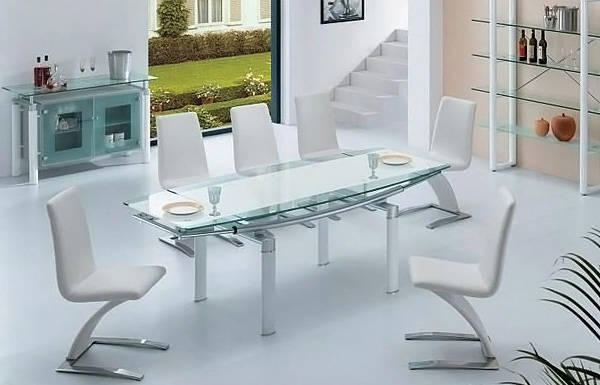 The modern dining set with its futuristic design gives this dining room a bright and crisp modern touch.
Pablo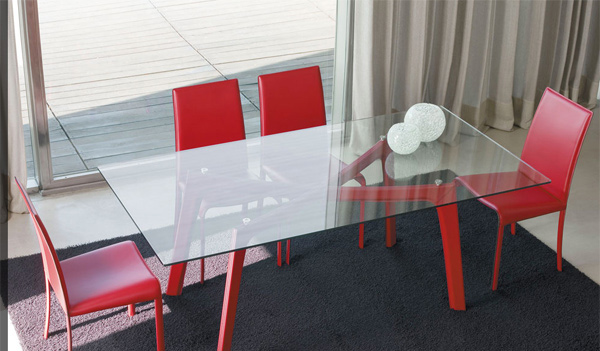 Selecting the right color shade for your dining room is critical since colors are said to affect appetite. Red is one of those colors that can increase appetite and is good for a dining room decor.
Modern Minimalistic Dining Room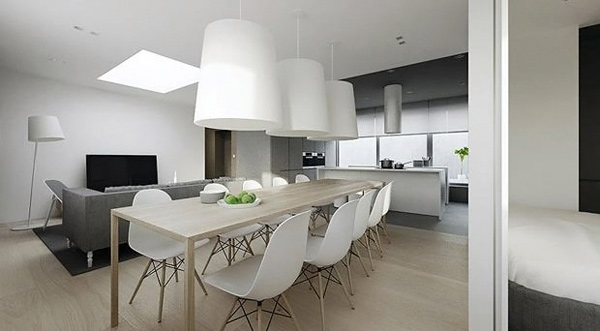 Simple, clean and yet very modern!
Residence F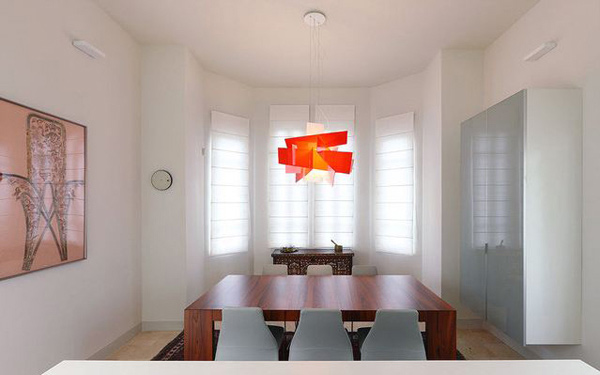 Accent in bright colors such as this light fixture can make your neutral palette dining room pop in an instant.
Serenity Ultra Modern Glass and Tube Dining Room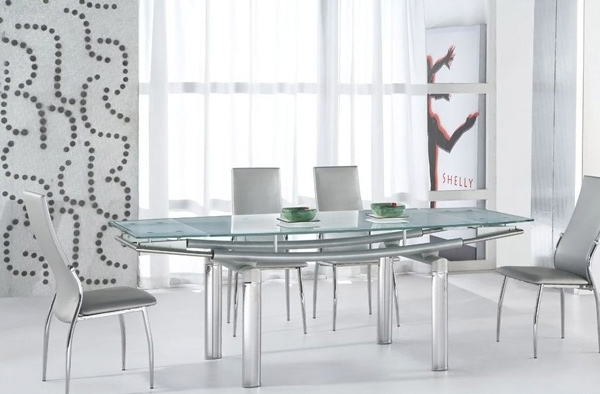 Bring that ultra modern minimalist style in your dining space by copping this design.
Tribecca Loft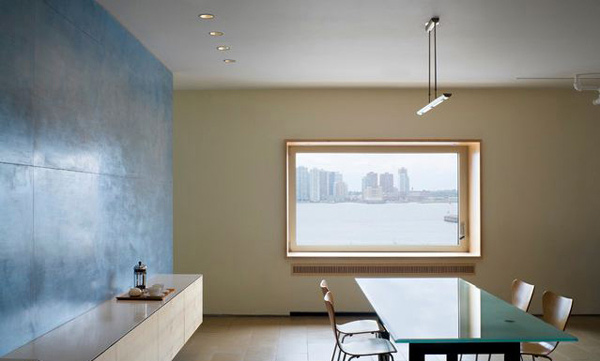 Make your dining room comfortable and calming with the combination of blue and neutral shades.
University Place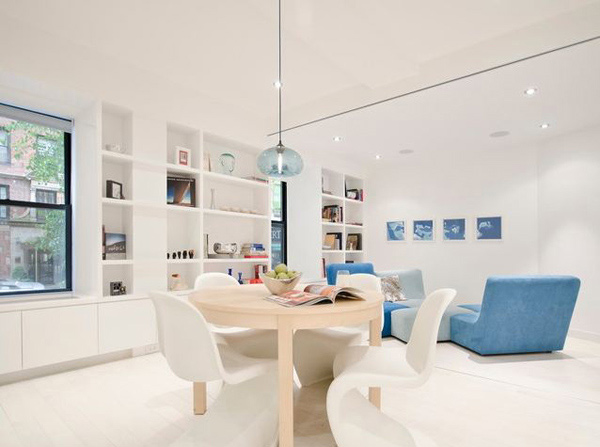 This is a great design for those with narrow dining area.
Modern minimalist dining room design is great for people with limited space and loves simplicity. This design defines functionality and beauty together. Iridescence should be considered in this kind of design. Right hue should be applied to the room to make it more lovely and pleasing to the eyes.
Modern minimalist dining rooms use stunning lighting decorations, sensational modern furniture and keep the accessories to its minimum amount or none at all. This dining room design will give you an elegant, sophisticated look that you and your family can enjoy. You can also read our tips on how you can Get Creative in Accommodating More People in the Dining Room.