Furniture Arrangement Ideas: 25 Dining Rooms with Round White Dining Table
Set a white round dining table in your dining space for a soft and sleek appearance.
Dining tables come in different shapes and sizes. They are also made from various materials too and could also be available in many colors. Usually, rectangular dining tables are used but there are also some who use oval ones or round ones. That would depend on your space too. Sometimes round tables are tripping hazards that is why you need to make sure that they can stand firmly before you buy them. Round tables are great for small spaces because they would easily fit in minus the sharp edges. More people can also fit around it because it doesn't have corners.
Since we're are talking about round tables, we are going to show you a list of dining rooms that has white round dining tables in it. This list will give you ideas on how you can fit in a round table into your dining space and how you can arrange it in a certain area. You will also get ideas on how the round dining table can be decorated from the centerpiece to the areas around it. So, here are 20 dining spaces with white round dining tables. In the end, let us know what you think of using this kind of table in the dining room.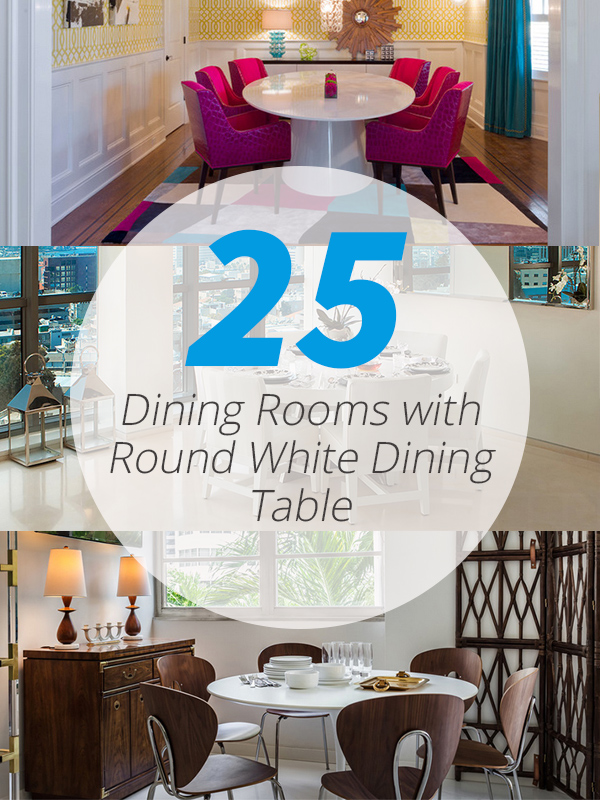 1. Federal Heights Remodel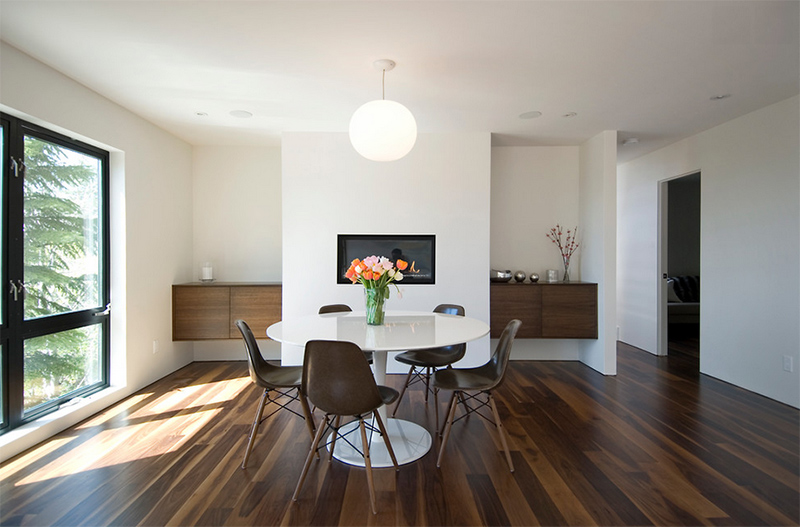 The white dining table stands gloriously in this dining area with wooden flooring. The brown Eames dining chairs look prefect in the set up.
2. Modern Vibe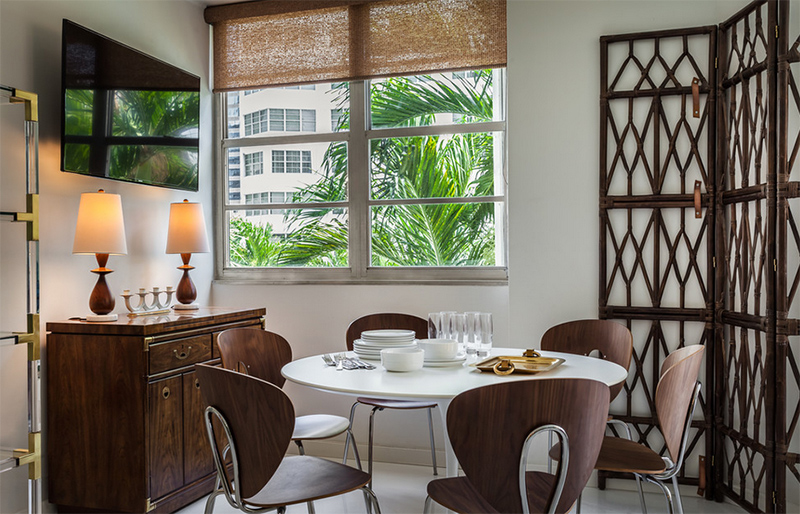 This one also used wooden dining chairs only that this one has some interesting design on it. The chairs are arranged around the white dining table.
3. Contemporary Dining Room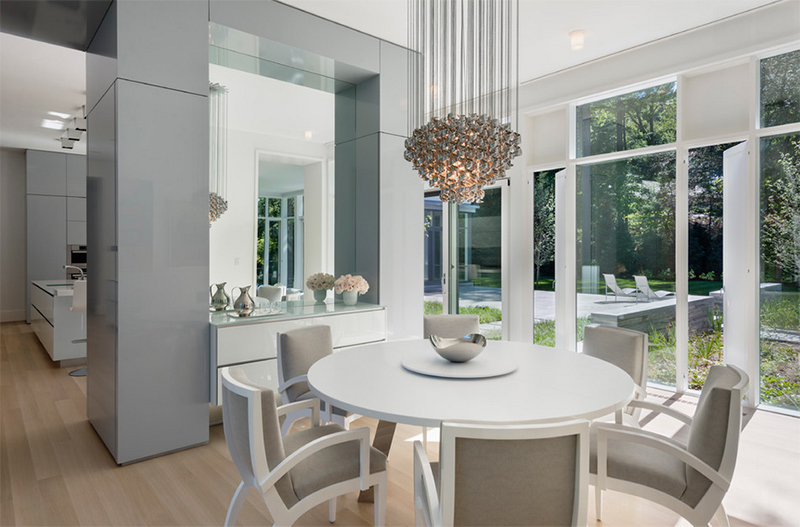 Beautiful pendant light! Aside from the lighting suspended from the ceiling, the dining chairs look interesting too and add some more appeal to the simple white table.
4. Co-op Apartment NYC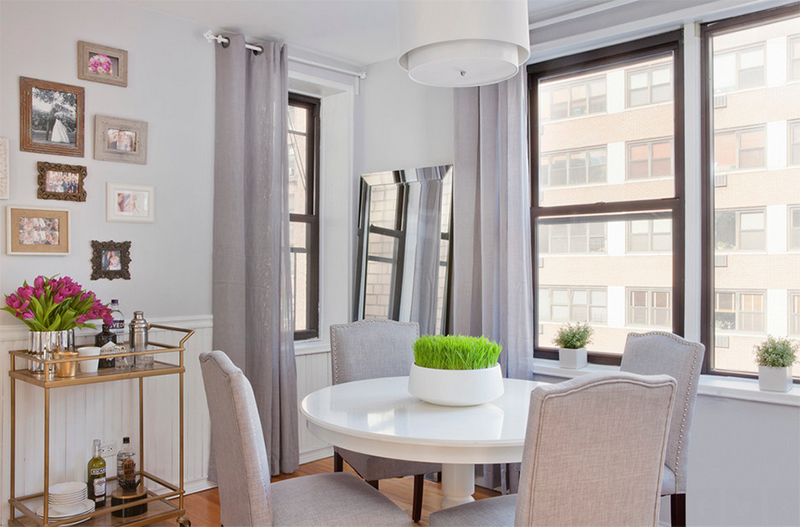 I like the centerpiece. It is just simple but very beautiful as it bring some natural touch to the area. I like that gallery wall too.
5. 6214 Merriewood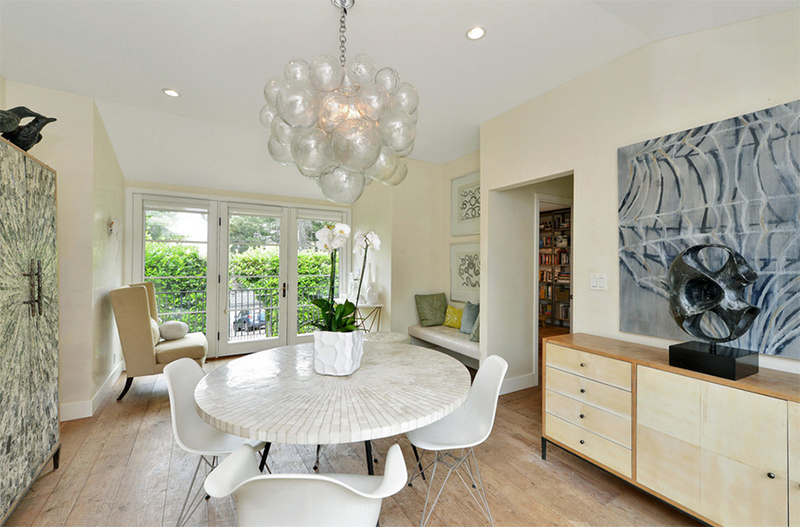 Orb glass lights were put together to create an interesting lighting that is placed above the dining table. The table has some texture and design in it instead of the smooth white ones.
6. West End Showhome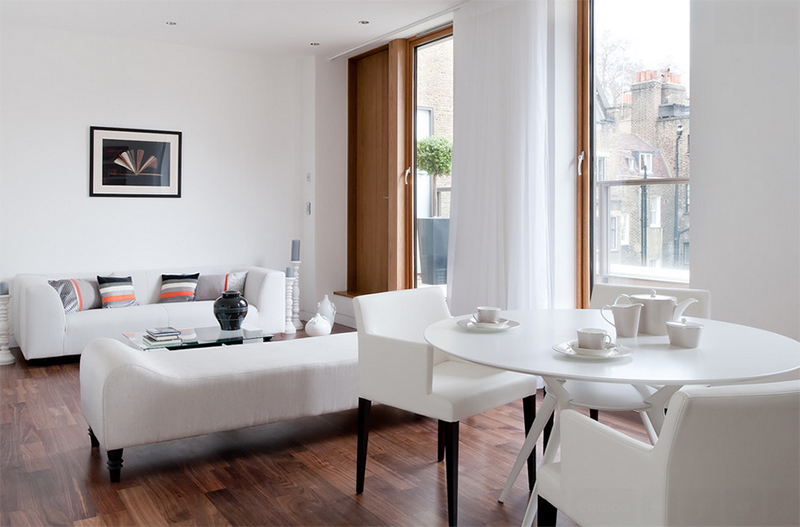 As simple modern minimalist space with white sofa, bench and dining set. The design of the dining table has four legs instead of the usual pedestal base.
7. Santa Monica Bungalow
This is indeed a white table but a floral gray stencil was added to it. You can copy the look and do it yourself too. The dining chairs are beautiful!
8. Naylor Court Stables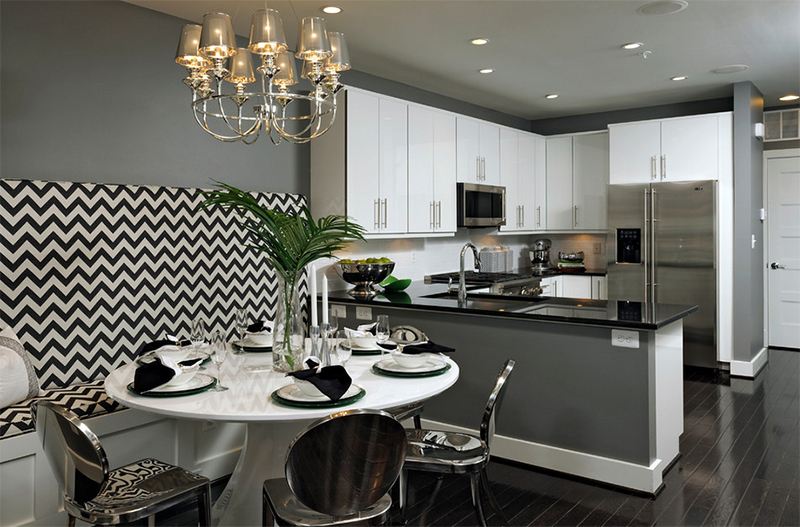 Chevron fabric is used for the bench as well as for the back that covers the wall. In this dining space, you see a round dining table with stainless chairs that add some sheen to the area.
9. Apt. in Holon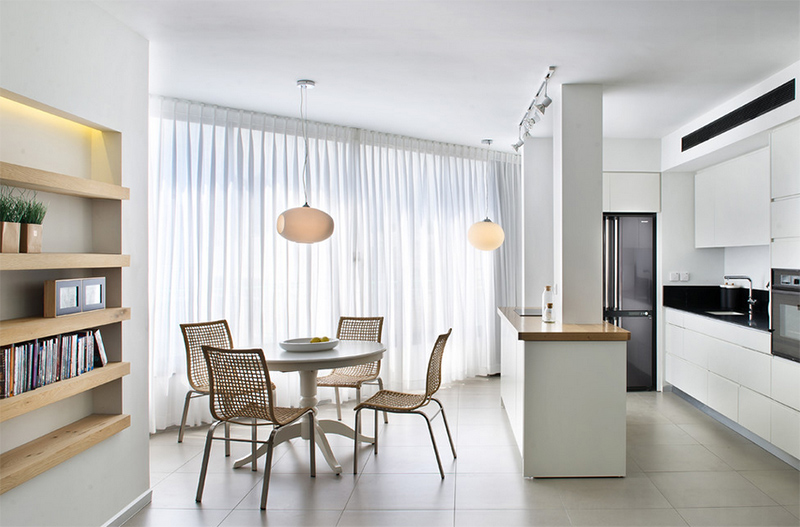 A dining and kitchen area with a serene feel. That could be because of the white drapes and the lightings too.
10. River Watch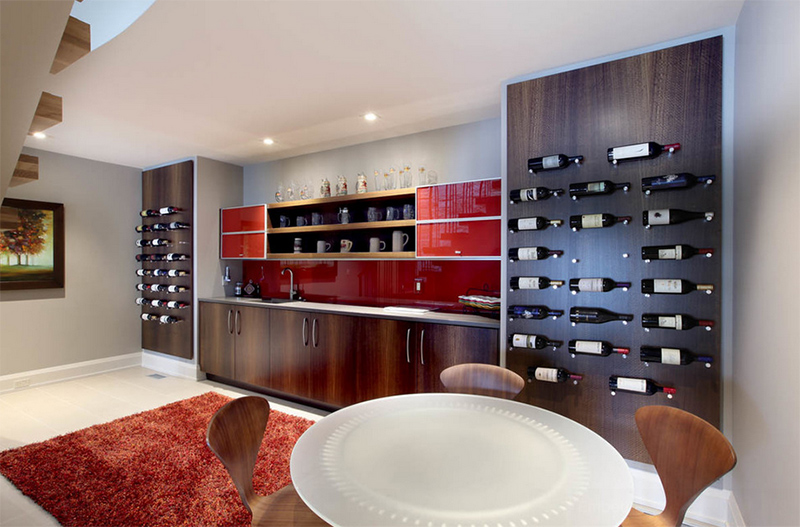 The design of this table looks like a space ship but of course it isn't. It brings an ultramodern touch to this dining area that is located near the kitchen with wall wine storage.
11. Dining Room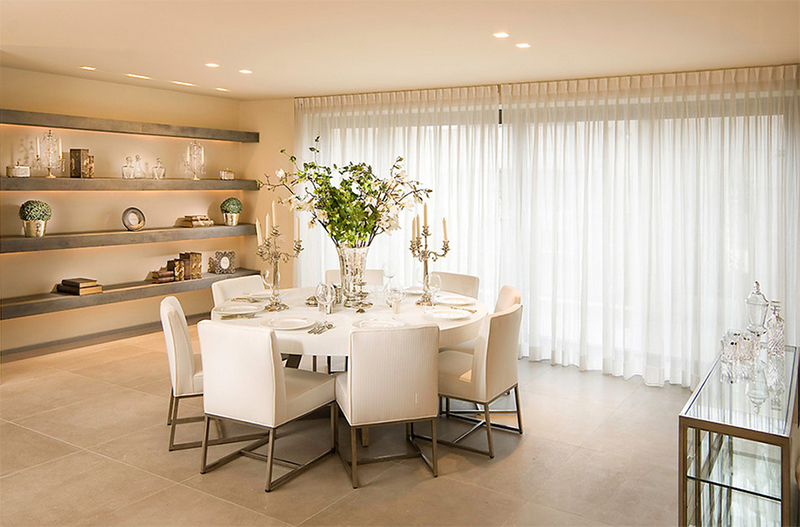 This is a large dining table which could accommodate 8 people in it. You can add a tall centerpiece for this one because you can face with each other while dining.
12. Finlay Eichler Major Remodel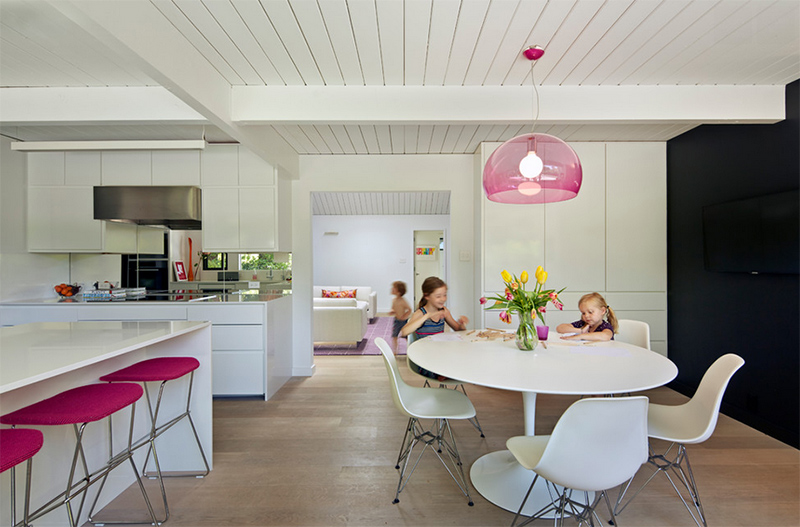 A large dining area with an eat-in kitchen area that allows for flexible entertaining. The cabinets used here have sprayed conversion lacquer coating and Caesar Stone counter tops with a waterfall edge. This space has a combination of white and pink colors.
13. White Dining Room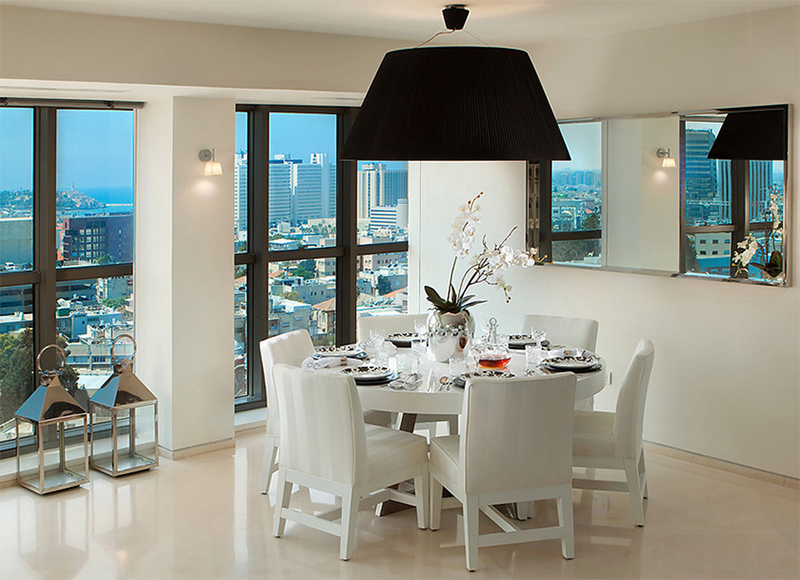 This dining space looks luxurious despite its simple colors. The dining chairs around the round table looks bulky.
14. Contemporary Kitchen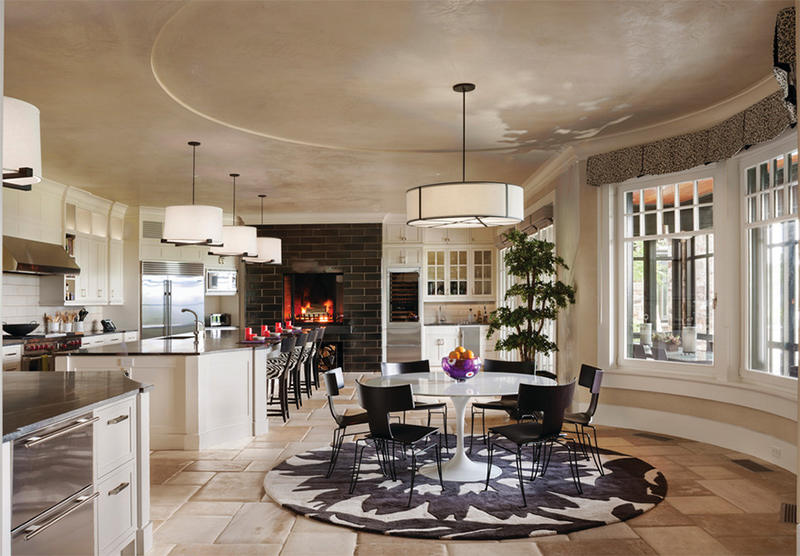 On top of the round area rug with a floral design is a round white dining table with pedestal base. It was a good idea to use black chairs around it.
15. Spring Parade 2012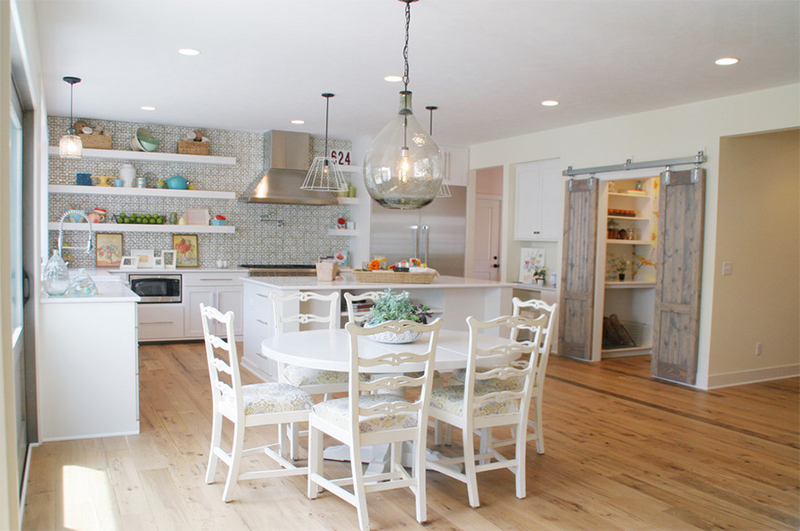 A traditional kitchen with a dining area. The chairs has floral upholstery for the chairs.
16. Kitchens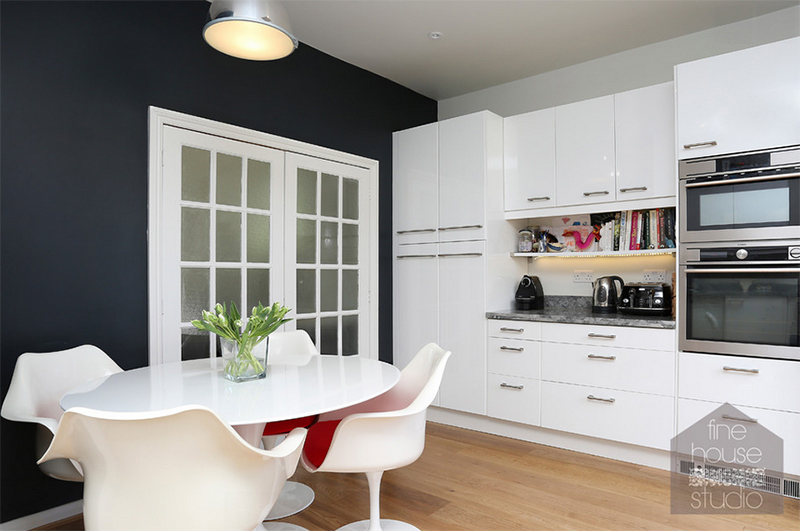 Beautiful white chairs with red seats are used for this dining room. Love the pop of red in the area!
17. Bringing the Outdoors In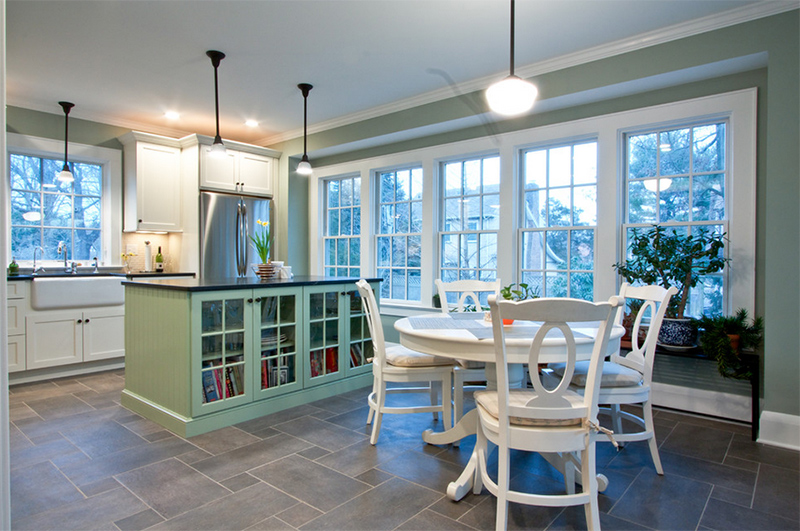 Wooden dining set with some classic style grace this dining area with French windows around it.
18. 57th Street Residence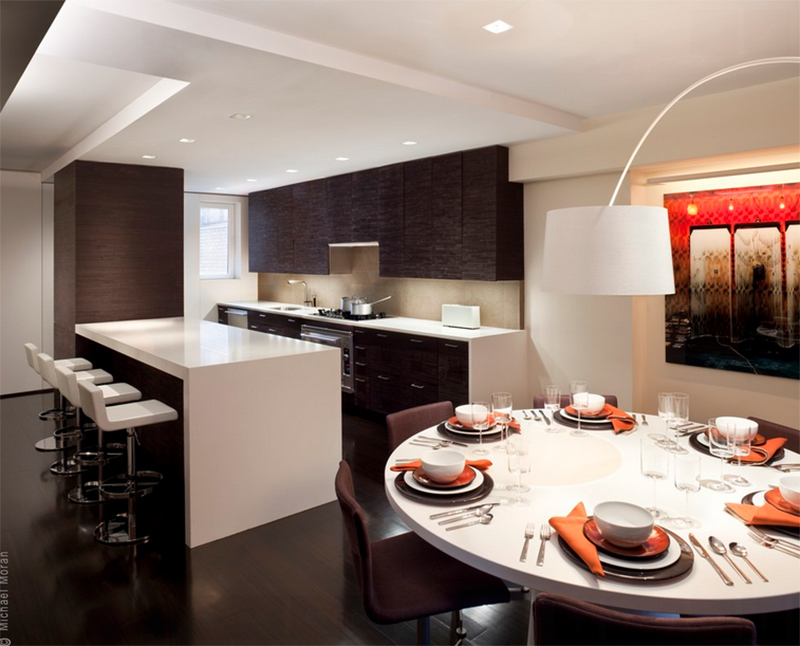 A modern dining area in brown and white. That dining table looks perfect in this space where a floor lamp was added.
19. mid-century ranch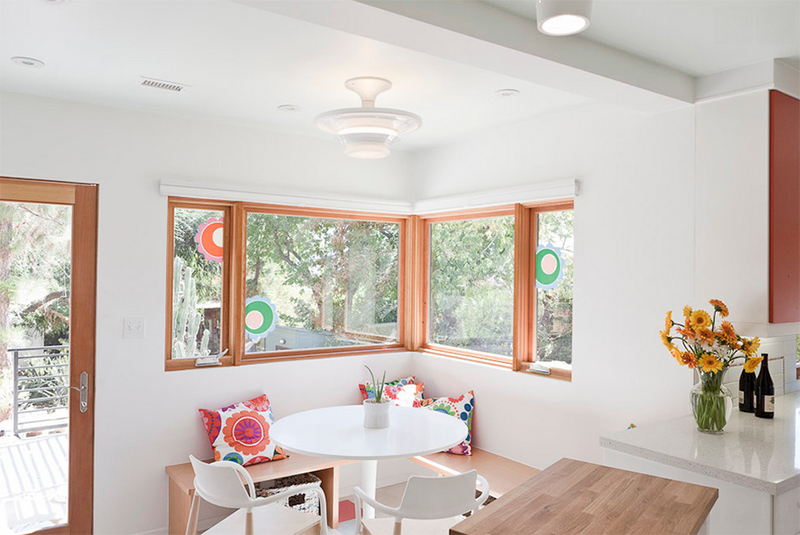 The colorful sun decors on the windows look really fun! The throw pillows look pretty nice too!
20. Dining Tables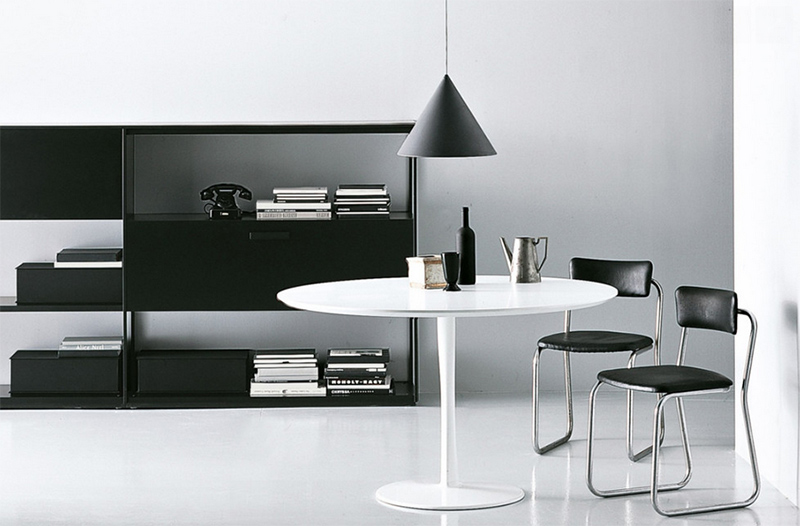 A simple looking dining area in black and white. The sleek design of the furniture is just right for the minimalist theme of the space.
21. Murray Hill One Dining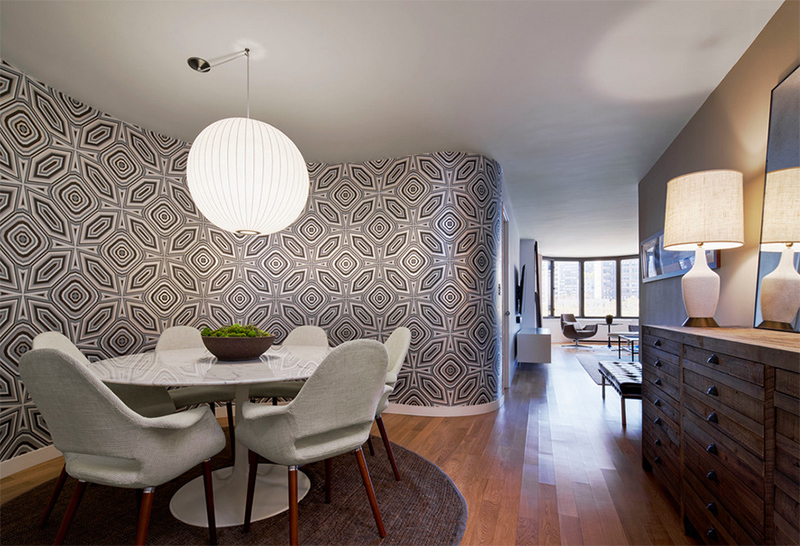 The bold patterns on the wall brought some artistic flare into the dining space. Notice that the wallpaper reflected on the round dining table!
22. Dining Room-Bold Color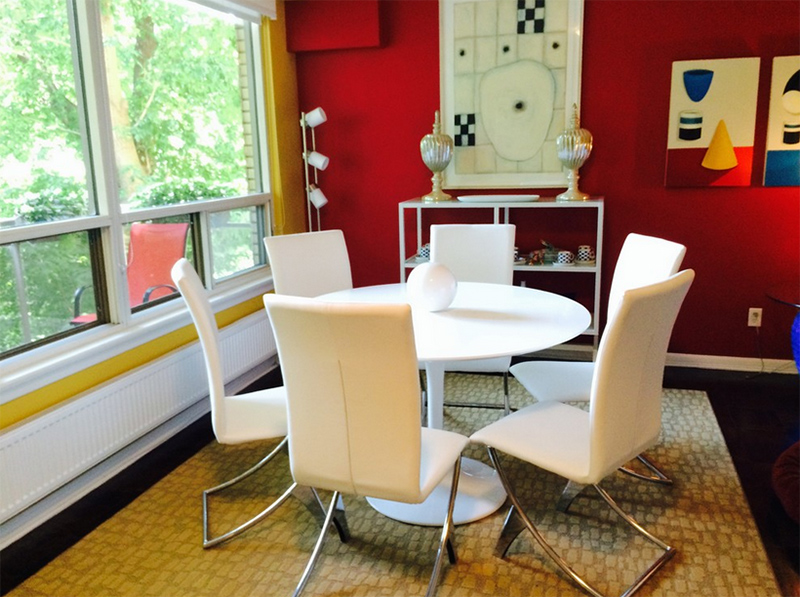 The dining room is simple & sleek with white modern dining set & modern buffet area. The furniture used here are a perfect contrast to the vibrant color in the art works and on the walls.
23. Modern Glam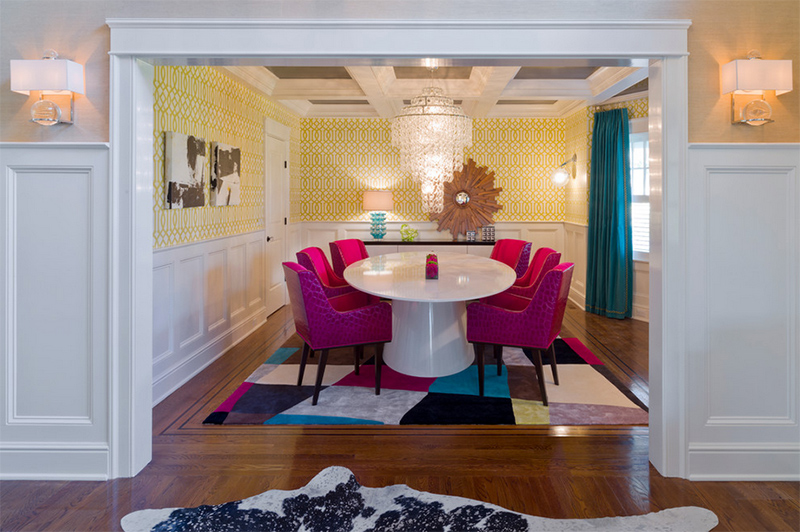 Sunburst wall decor, crystal chandelier and cow hide wall art- they all look pretty in this living room with different colors. Using white for the table is a good idea since there are already many colors in the space.
24. Vacation Retreats – JMC Communities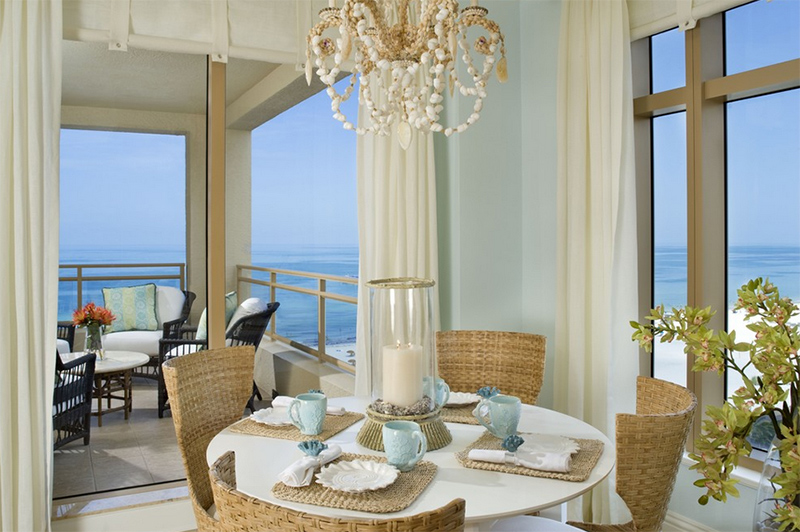 This dining space of a beach house has a beach theme. Just look at this tablescape! I love the woven dining chairs too!
25. Westlake Modern Rustic Home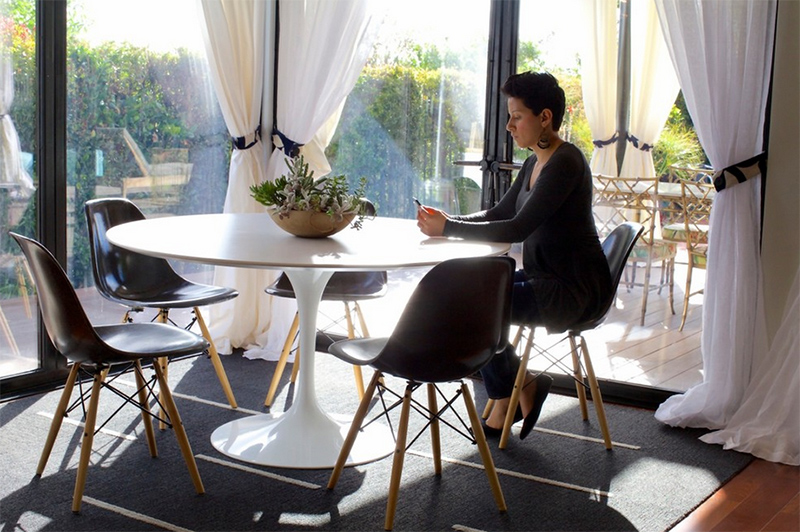 A simple looking dining space with contrasting colors for the table and chairs.
So, if you are looking for ideas on how to arrange a round table in the dining room, for sure you were able to get a bunch of ideas and inspiration from this list we have created. You see, it isn't so hard to decorate a space with a white round table because of its neutral color. You can always pair it with whatever type of dining chair you want and it can never go wrong. Agree? Which is your favorite space from the above list?