20 Stunning Christmas Decors in the Dining Rooms
As someone who never really loved cooking – obviously the group that I belong to is the one that involves the eating part; therefore I love dining rooms! They just manifest how delicious someone's cooking is when served in those stunning silverwares that our great great grandmother gave her daughter and so forth.
Today, we have created a list that defines what a dining space is and how it should look like during the holidays – this list is just wonderful because it creates that festive look for each space but still makes sure that you can do all this decorating all year round; minus all the Christmas trees and wreaths though. So, here it goes, our list for the dining rooms with Christmas decors.
1. Atherton Holiday House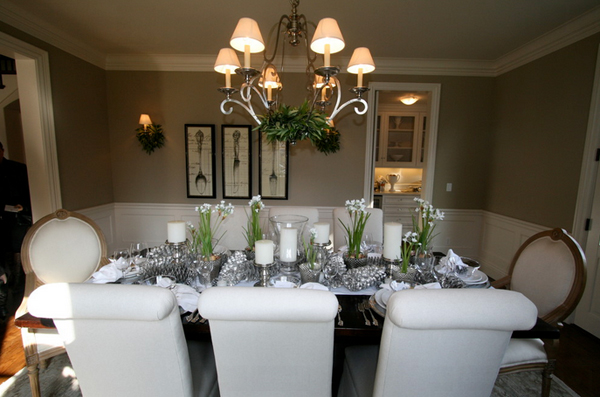 Before you even get close to this table, the sweet scent of narcissus will draw you in. The silver and white speak of elegance, and you can't wait to get closer for a better look.
2. Atlanta Dining Space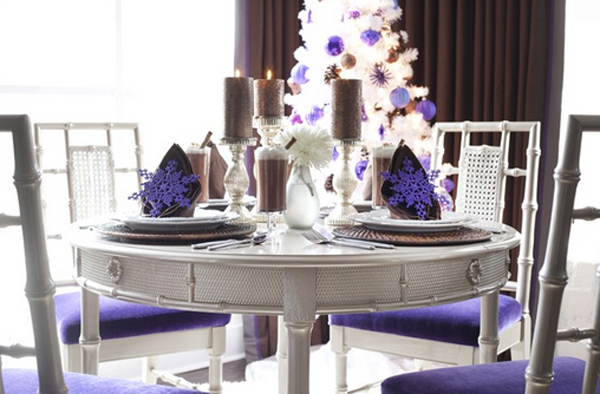 As far as holiday tablescapes go, mix stuff from the seasonal aisles with others from housewares. You'll end up with something fit for December 25 that will work just as well come The Ides of March.
3. Chicago Christmas Decor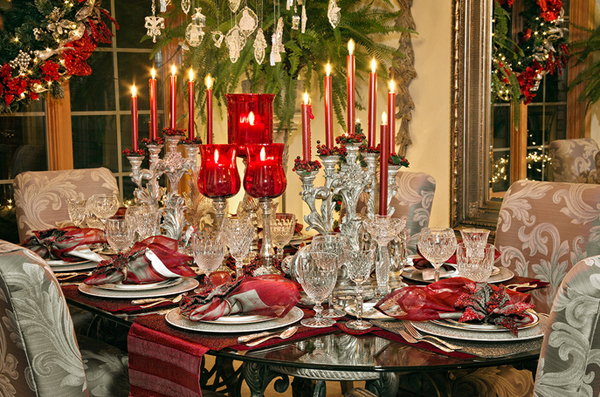 I totally dig the beautiful color coordination in this Chicago dining room.
4. Wilderstein Holiday Home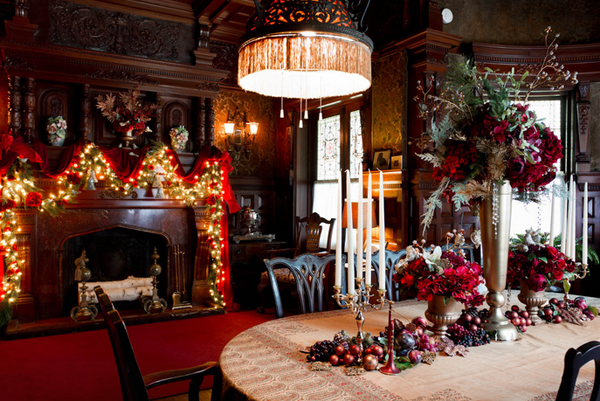 It might seem that this dining room has so much going on, but come on, this is a New York home! We love this!
5. Christmas Dining Room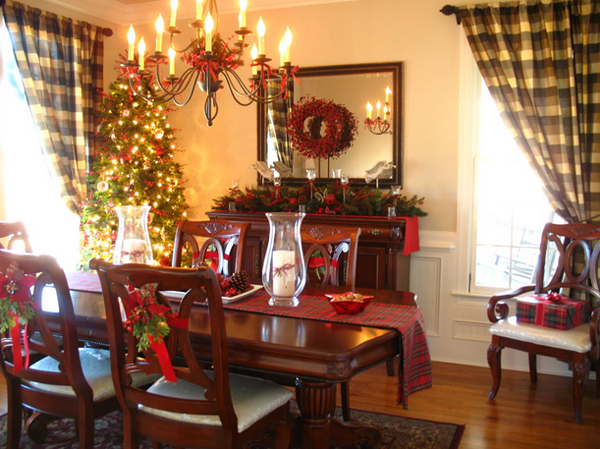 This is one traditional dining room with fabulous decors and stunning furniture.
6. Christmas/Holiday Decorating in Toronto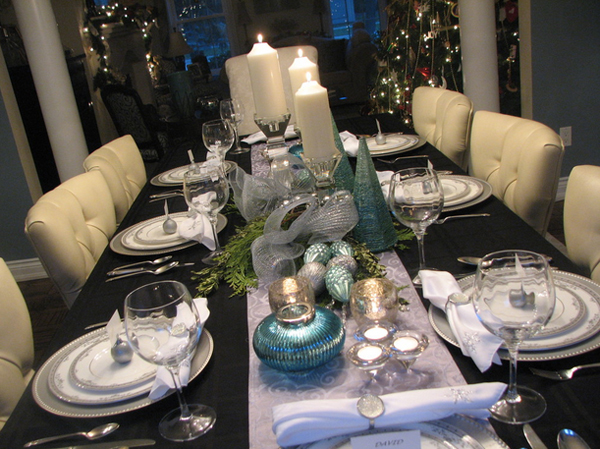 Formal dining room table set for Christmas using silver, aqua and cream accents in the ornaments, trees, ribbon, napkins, place card holders, candle holders and runner.
7. Dallas Christmas Decorated Space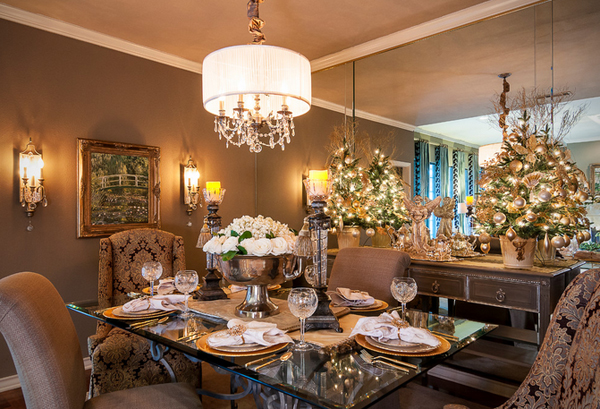 The wall color and lighter ceiling perfect! I mean, obviously, the entire space is all dolled up for Christmas!
8. Edmonton Traditional Dining Room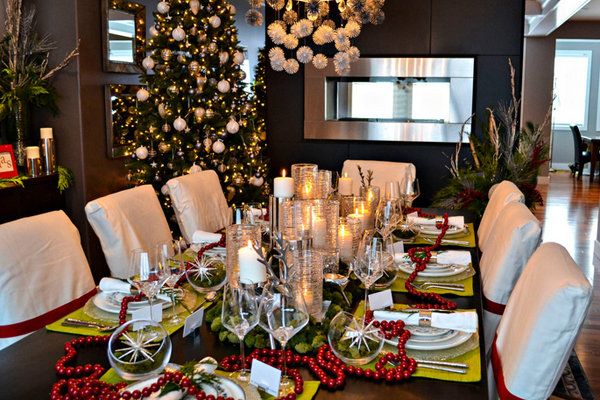 The Merry Christmas frames for the mantle runner & candles for the table is just fanta-bulous! If we even accept that word!
9. Houston Christmas Interior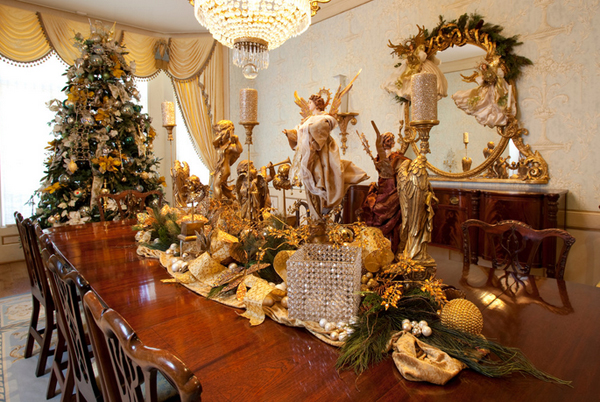 The angel being the center piece in the table is just perfect because of the heavenly feeling you get with this Christmas decorating done in here.
10. Menger Springs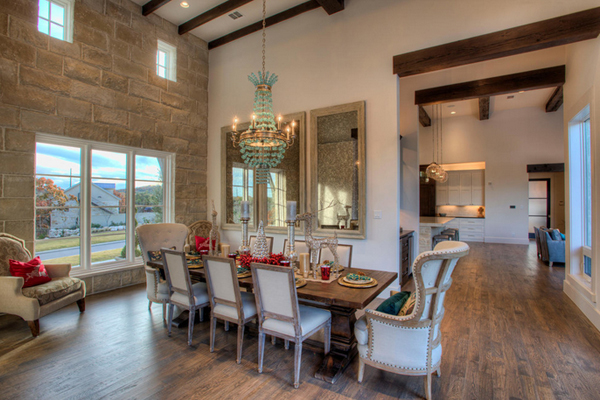 Like the floors, windows, and I especially love the chandelier.
11. Merry Merry Christmas Dining Room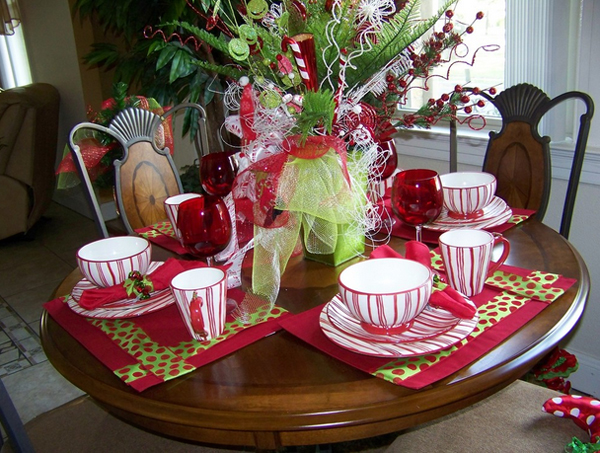 This little space may seem tacky for others but the color combination and the use of this fun Christmas plates and mugs are great ideas!
12. Midwest of Cannon Falls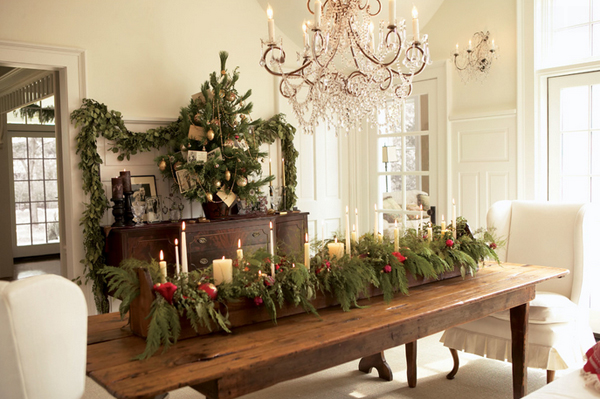 All the greens on this white and brown space is maybe a bit overpowering but they sure complement each other well.
13. New York Holiday Home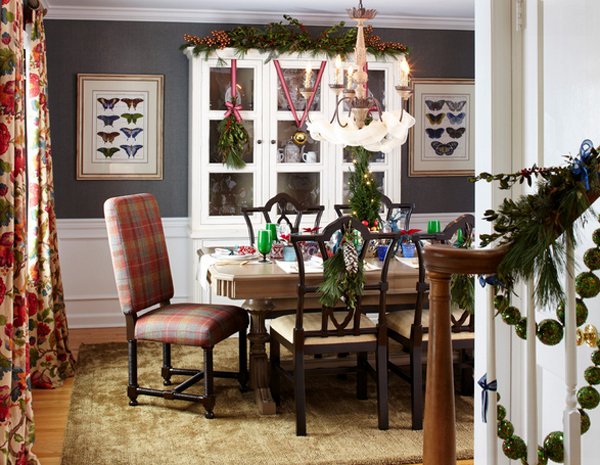 Simple New York home with the fun Christmas feeling in the air.
14. Palo Alto-Mid Peninsula Holiday House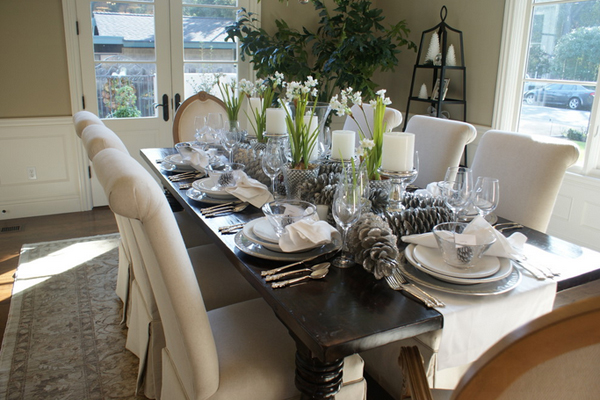 For a sophisticated look, mix simple flowers with sparkly metallic pine cones. This balances out the look with natural elements, making it elegant but not over-the-top. Find or buy a few oversized pine cones and paint them in metallic colors.
15. Sage Brush Residence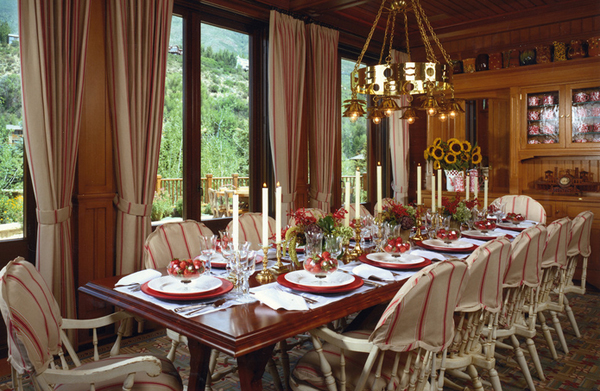 This is one perfect example of a clean and crisp table setting for Christmas or for any special occasion.
16. Scandinavian Style Dining Room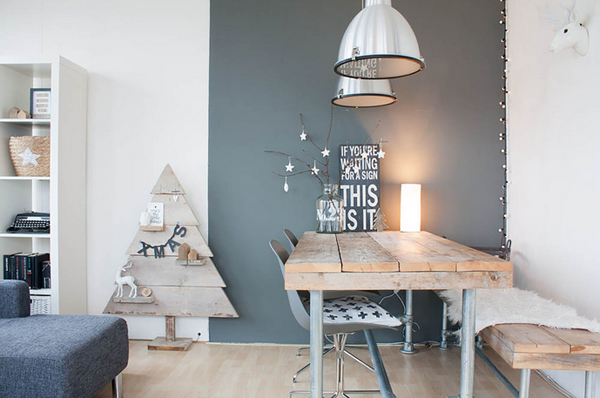 Absolutely love the genius of the sign typography piece. If this space belonged to me, all my friends will be all over the place – for sure!
17. Soho Condo, Toronto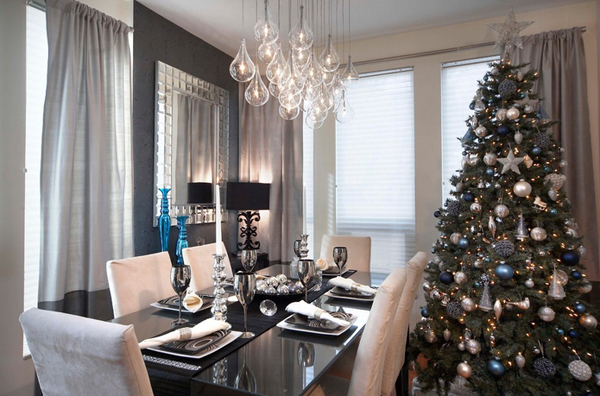 In Toronto, silver, blue and glitz come together to create an elegant Christmas table.
18. Temple Traditional Christmas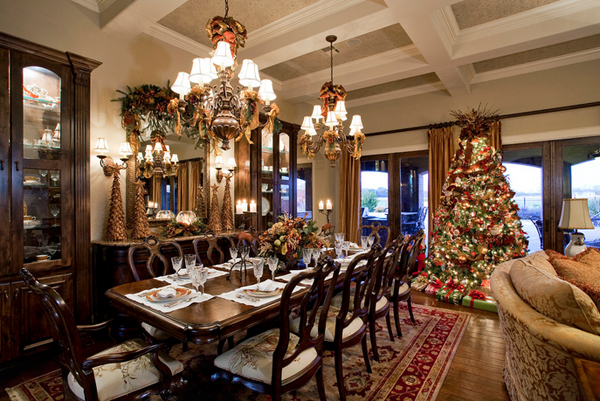 This Great Room features beautiful holiday decorations. Dining Room table center piece, chandelier bows, mirror greenery spray, Christmas tree, mantle garland and rose bowls.
19. Vancouver Frenchflair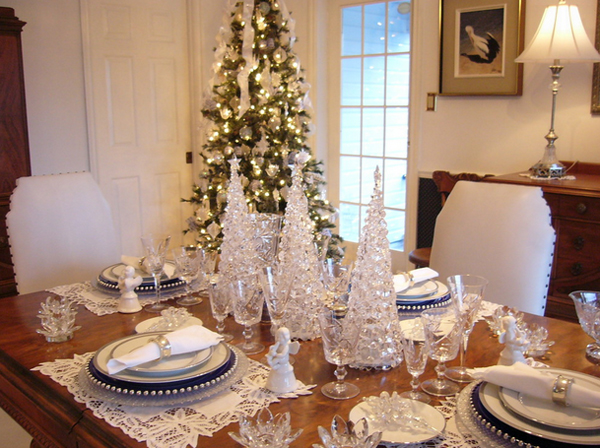 With a beautifully decorated tree standing in the corner of this dining room, it almost doesn't matter what is set on the table itself. However, the crystal and icy glass trees used as the center piece complete the scene. What a perfectly set table for Christmas day!
20. West Midlands Dining and Kitchen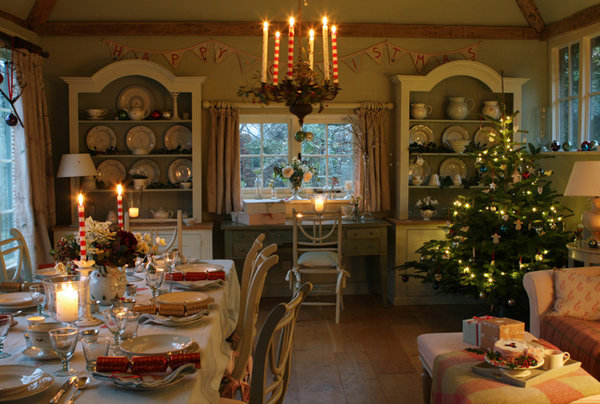 This entire setting looks and feels like a game I used to play as a child where you find missing items from a list.
That was definitely one stunning list and mind you, that was somehow hard to complete because there may be a lot of stunning dining rooms out there but does not have that much stunning decor intended for the Christmas season! So this list is one to look out for when decorating since we all know that it's just a few weeks from now.