Decorating 20 Dining Room with Printed Area Carpets
Bring lovely prints to your dining area with carpets!
Decorating your spaces with area carpets could maybe make or break your spaces because we all know people love beautiful things, but not all of these beautiful things coincide with one another to create an entire beauty block of some sort! Picking the right area carpet for your dining room could be as tricky as even choosing the dining room set you'd use, making sure that you be careful in doing so might save you money and energy.
For today, you would be seeing a few dining room photos that might spark your interest because of the dining room set choices that they have and most especially with the area carpet that they have chosen for their dining room set to actually sit on. Check out the incredible list below and determine how you'd want to actually dress your dining room floors!
1. 101 West 87th Street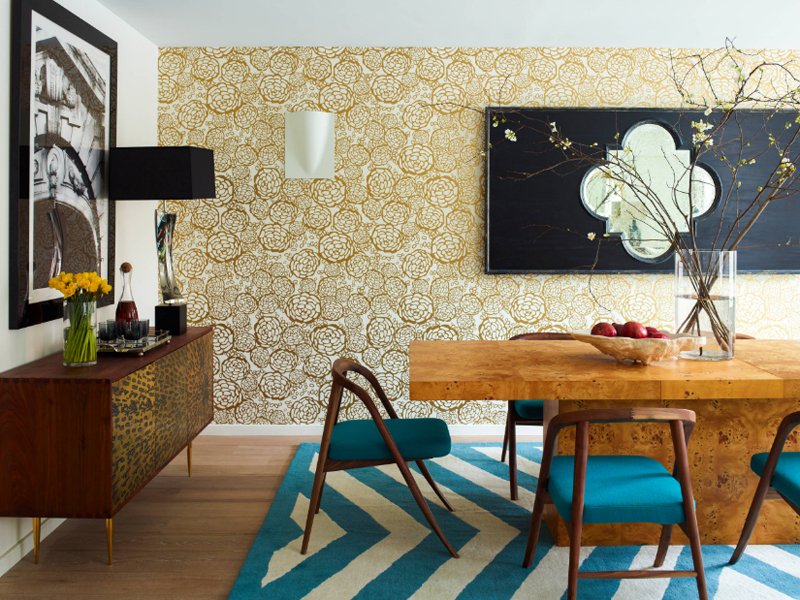 Talk about printed things – we see that this dining room is actually filled with just that. The printed walls look extremely pretty and complements well with the white and blue area carpet. See how matchy the cushions are in the chairs too!
2. Abbott Lakehouse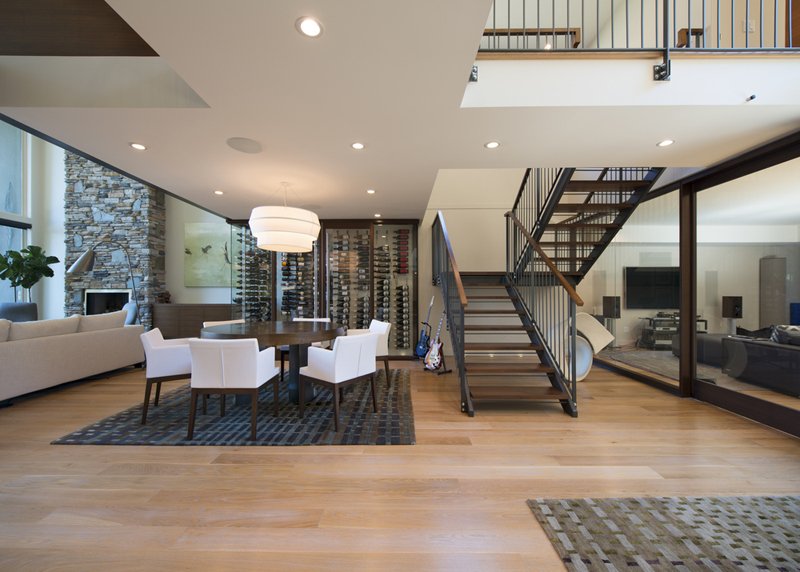 I know that the dining area is a bit farther than ideal for us to be able to have a clear view of the area carpet but from this angle we sure see the plaid design of the area carpet and it looks really great against the white dining room chairs.
3. Alpine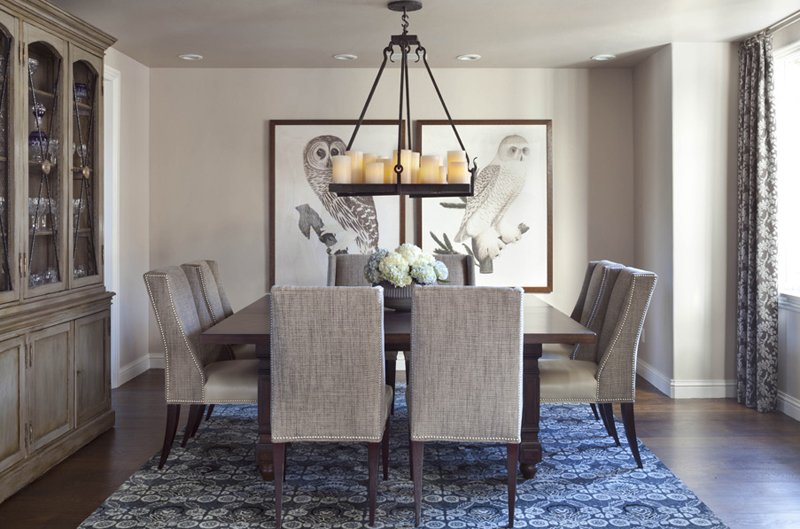 I am in love with the owl photos on the wall that actually centers the large dining table. This is what's amazing with square dining room tables because they could actually fit more chairs than with what you actually expect them to. With the grey chairs and brown table, the blue area carpet surely stands out in this photo!
4. Astor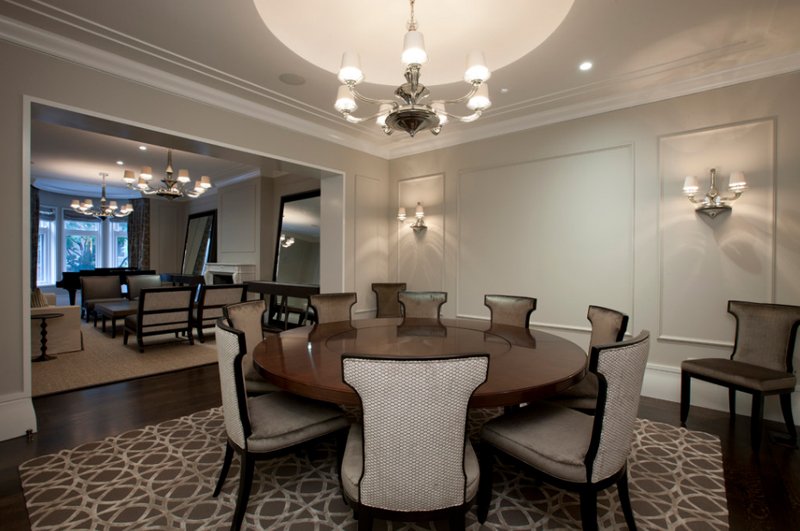 We should know by now that Michael Abrams spaces are actually real nice. In this dining space, we are able to see one large circular table that seats eight people and could possibly seat more if they used smaller dining room chairs. The area carpet looks somehow relevant since it has circle prints on it.
5. Bunny Run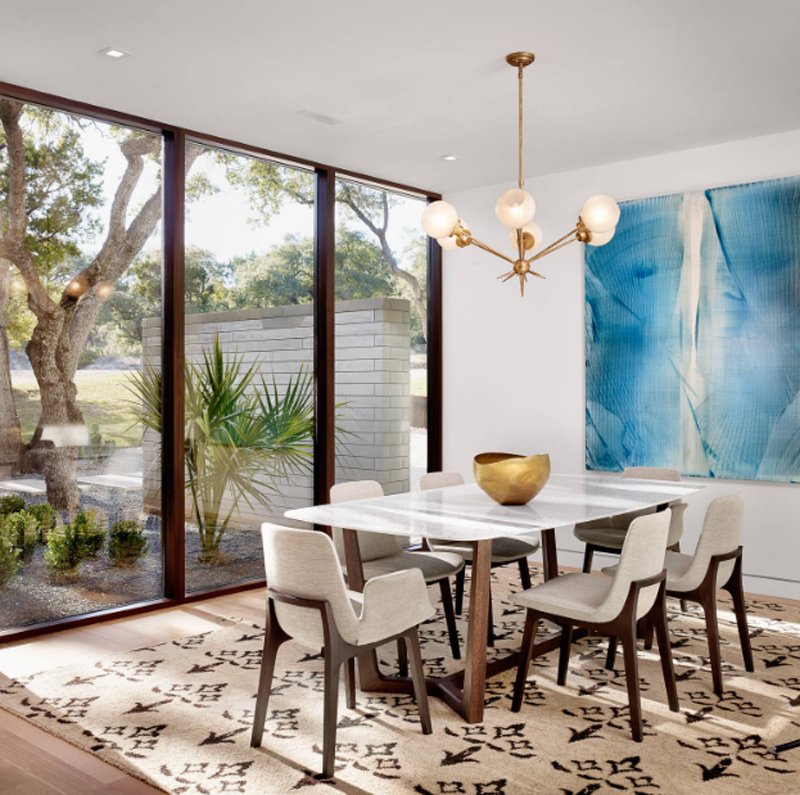 This dining room is something that I actually love on this list. The way the interiors are arranged and the furniture pieces that they have chosen look incredible and actually expensive. I love how classy this space is and how nice it actually makes everything inside the space stand out on its own.
6. Canton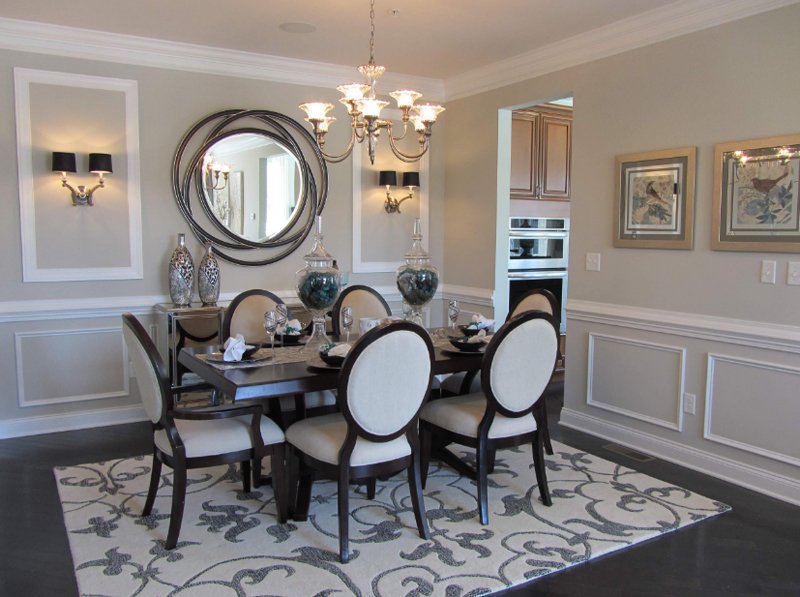 What can you say about the classy print on the area carpet? It looks pretty simple but then again, you see how much it regal it made the space and how much it accentuated the black and white dining room set. The way that the traffic flow of this space is designed is simple but works well for this space ultimately.
7. Casual Contemporary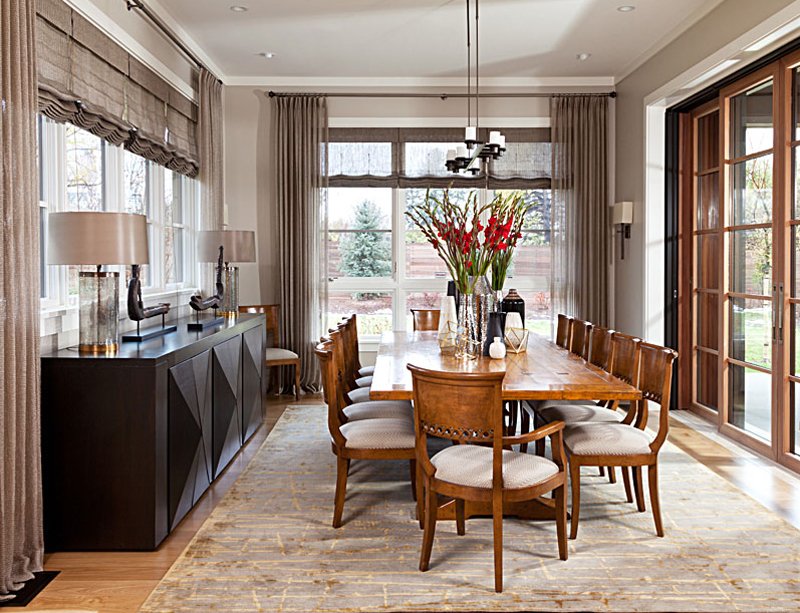 What a classy way to decorate your dining room; by picking the right dining room set and even the right buffet table makes a whole lot of difference! The choice of area carpet for this dining space is just wonderful and intriguing. Did you notice how random the prints are on this carpet?
8. Chippendale Penthouse 2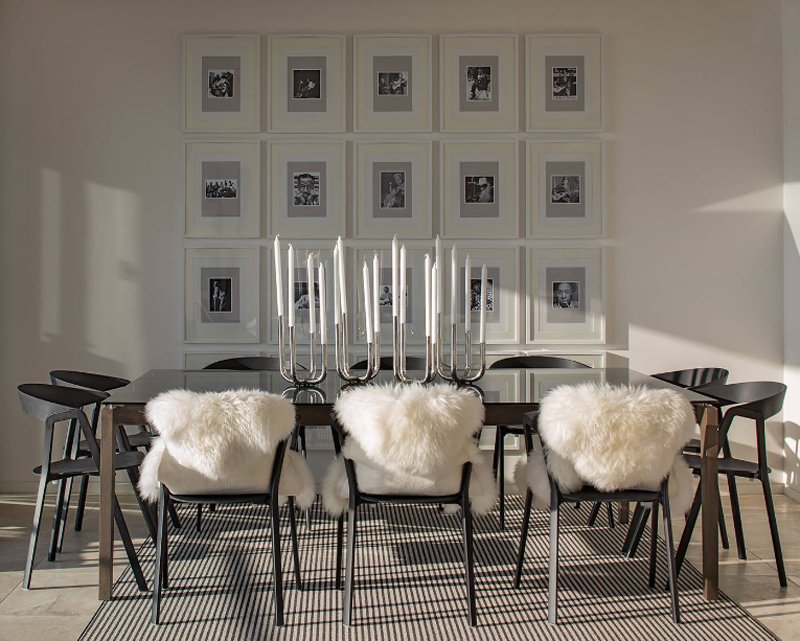 Well, this is one simple way of actually making your dining room a bit more classy and interesting – adding a whole bunch of frames on your plain wall and adding fur on your dining room chairs! Don't you agree that this room would look rather plain without the things I just mentioned?
9. Contemporary Mountain Lodge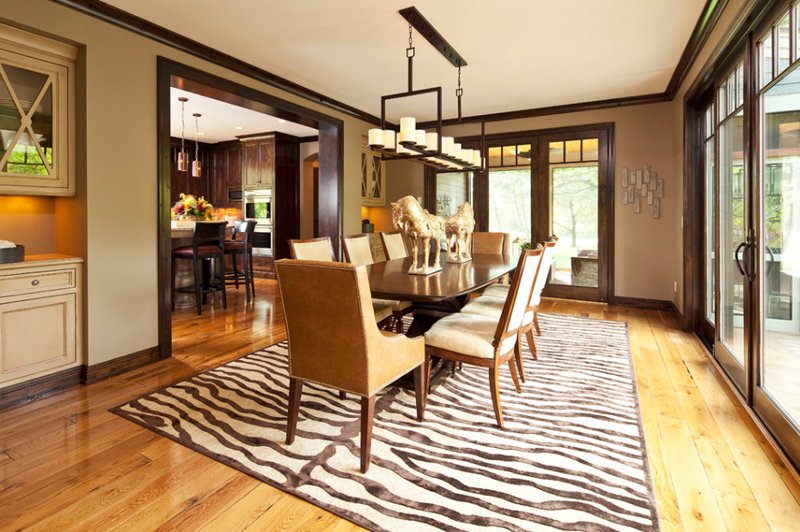 Candle chandelier on the ceiling above the long dining room table which is accentuated with animal printed carpet. This long dining room feels a bit safari because of the carpet and the color palette that is used here. Notice that this space has a couple of doors on two sides of the space which allows light and ventilation to be readily present!
10. Gresham Park Dwelling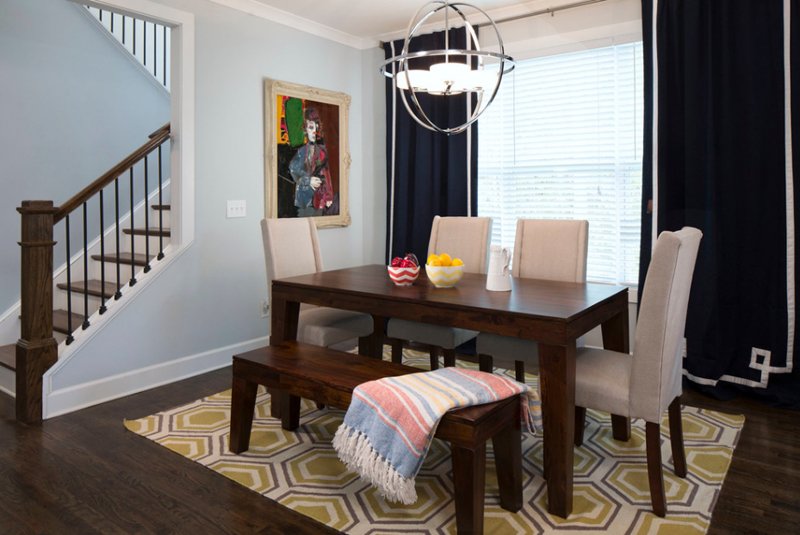 The geometric printed carpet sure stands out in this dining room! Notice that it is basically the only colorful part of this space and it looks real nice. The pendant lamp in the middle of the room looks interesting and cool and I think that if this is in bronze, it would actually look perfect!
11. Papermill Estate East Cobb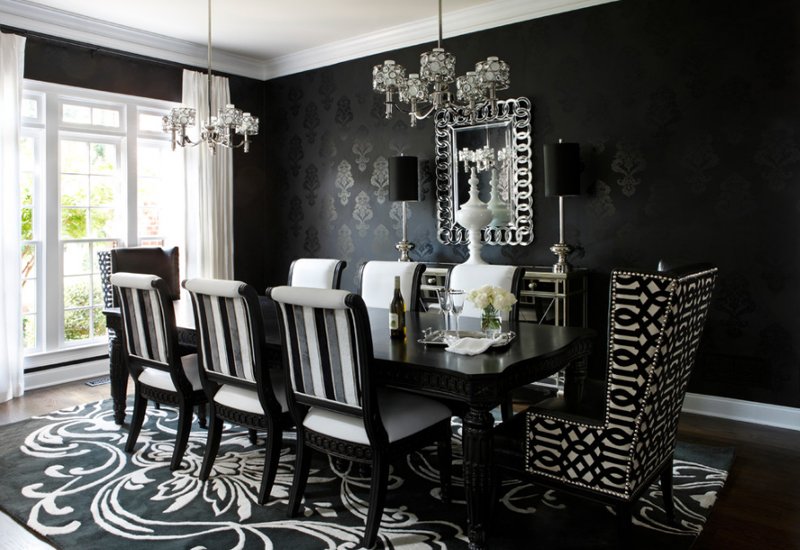 This stunning black and white dining room is beyond perfect! I love how each piece of furniture and lighting fixture in this space and even the carpet, actually, looks incredibly beautiful. There are some spaces in black and white that turns out tacky, but this space is different – it sure is perfect!
12. Pelham Renovation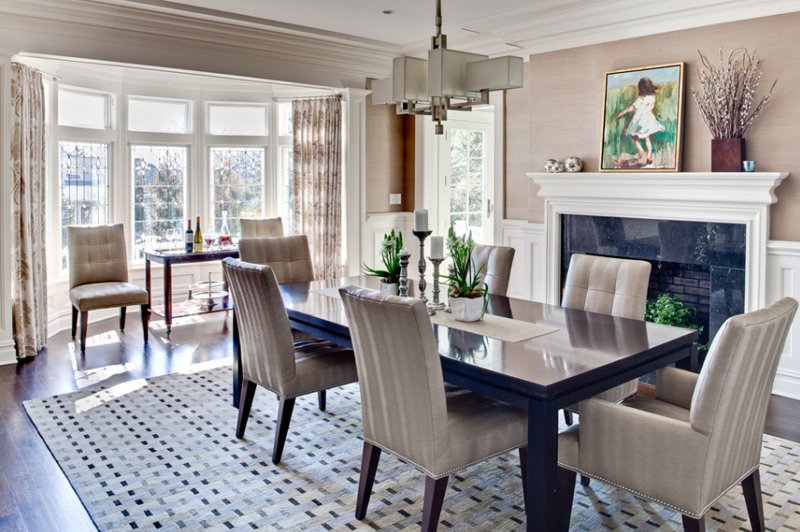 Want a more homey dining room? You should check out how this dining room is decorated so that you can have a bit of idea as to how to decorate your space if you want to actually achieve a traditional and homey space and still be able to maintain a lovely space that isn't too much or too less of something.
13. Penthouse: Downtown Denver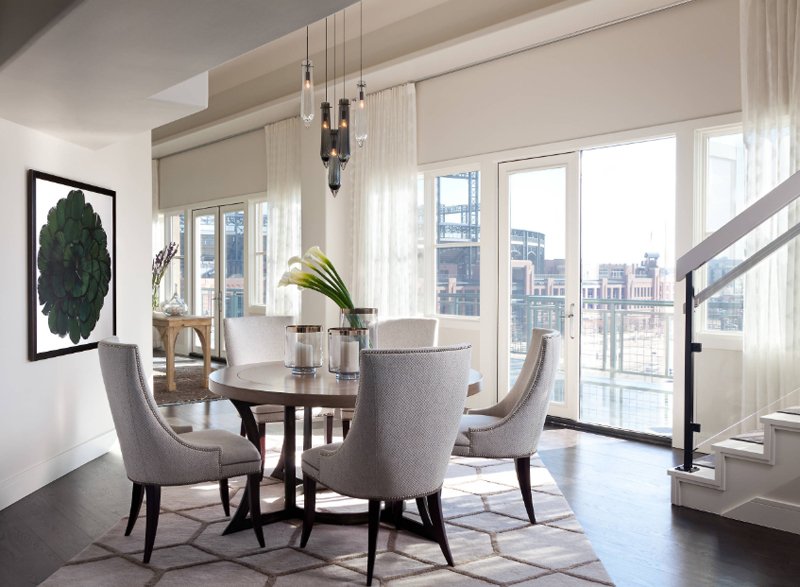 Featured this home before somewhere and I should say that this is in fact one stunning penthouse with all the right elements to make this space stand out and look as wonderful and incredible as it is! This space may have a small dining space and a smaller table that could just seat about five people but it still looks divine!
14. Prior Lake Custom Home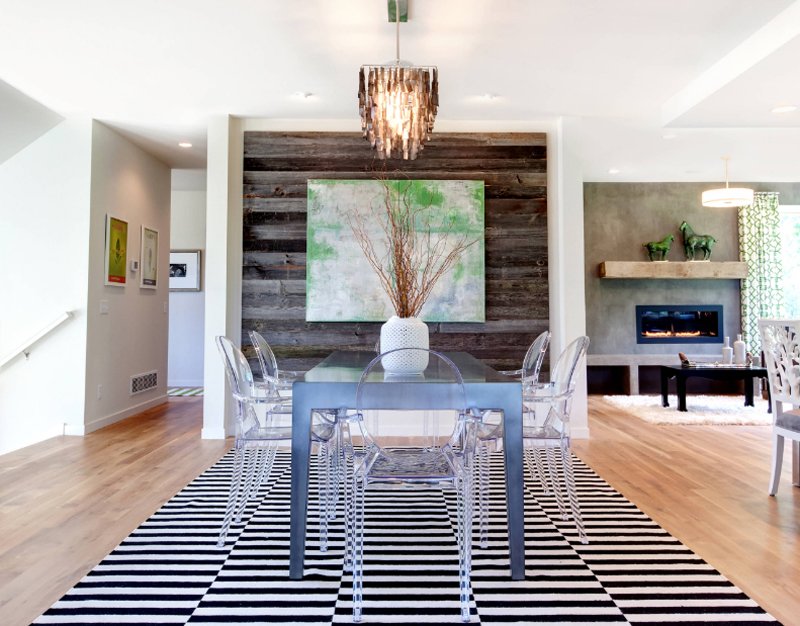 Love stripes? Check out how this dining room used striped for its accent wall and the choice of area carpet that they used for the dining room table and chairs. The ghost chairs that they paired with the dining table is the perfect fit for this space.
15. Regal Rejuvenate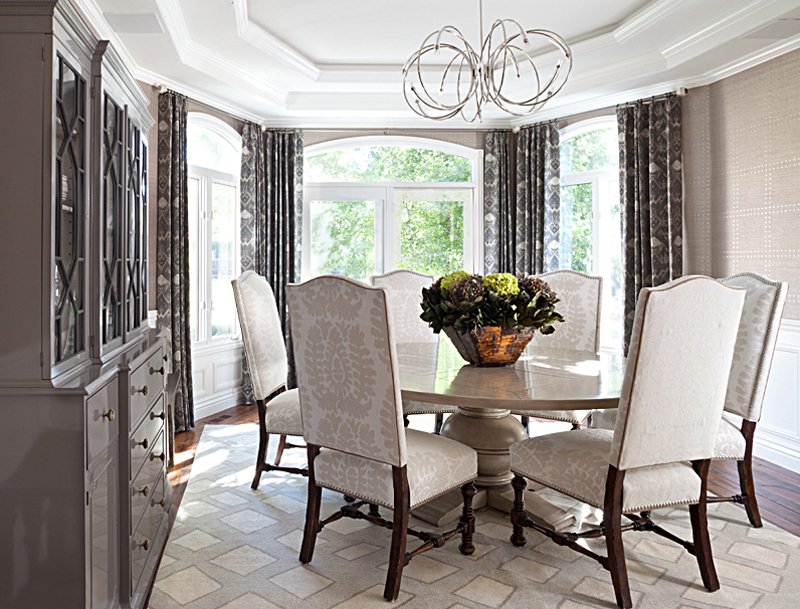 This dining room has a beautiful bay window that accents the interiors. Notice that the color of the interiors is of the neutral tone and it looks quite charming and regal. Well, there you have it, this dining room is in fact a regal rejuvenation of what a dining room should be.
16. South Bay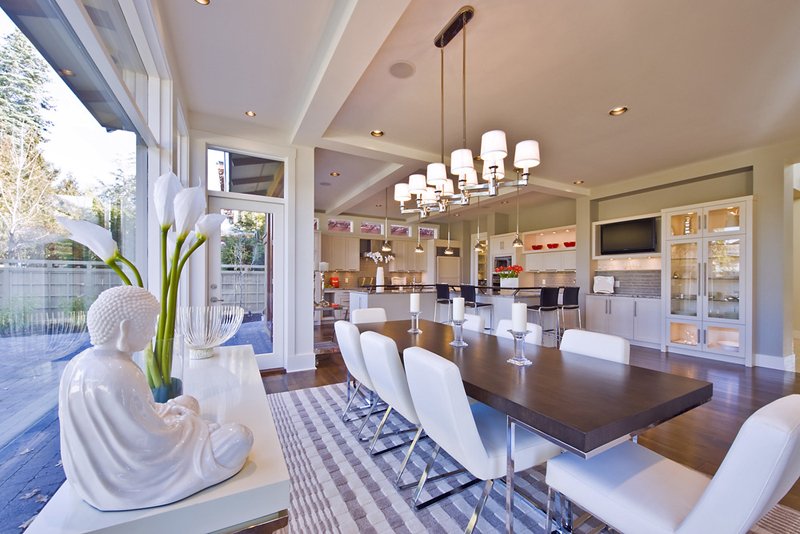 I love how striped linens, drapes or carpets extend how spaces should actually be. Like in this case, this open space is already long and even large, so the use of the striped carpet added a bit length to this space. The white theme of this home is really lovely and I think anyone would actually adore what they did to this one.
17. Spring Residence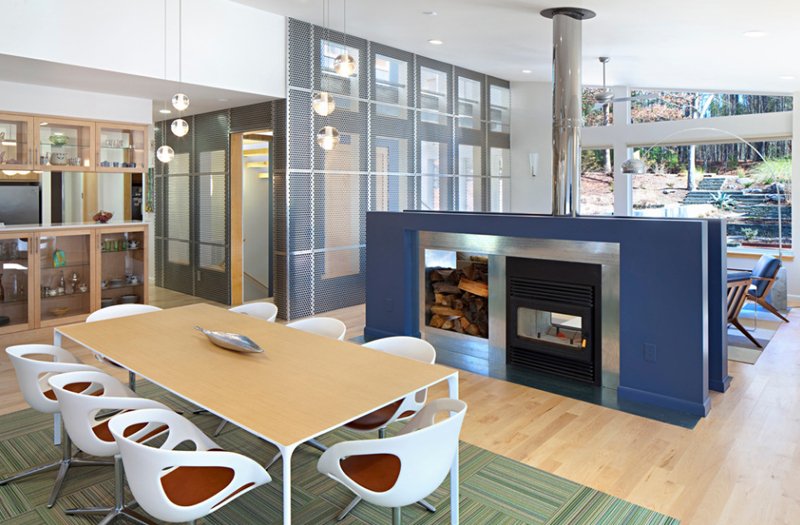 We see very less of the area carpet below the dining table but look at the small stripes on it. The color is really nice and pairing it with a white dining set made both of them look awesome and cool. Across from the dining set is a stunning blue fireplace and I don't think anyone would not want this one for their own homes!
18. The Hebert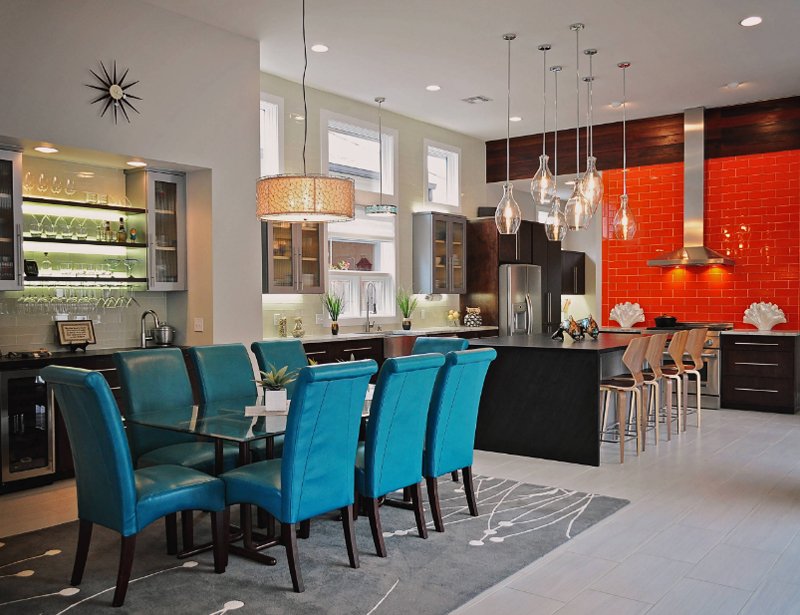 The color combination of the interiors in this house is something not everyone would appreciate, but if you're one to admire uniqueness and even eclecticism, I think you'd find this place endearing and pretty. The multiple pendant lamps above the kitchen bar/island are totally sweet!
19. Weatherby Lake House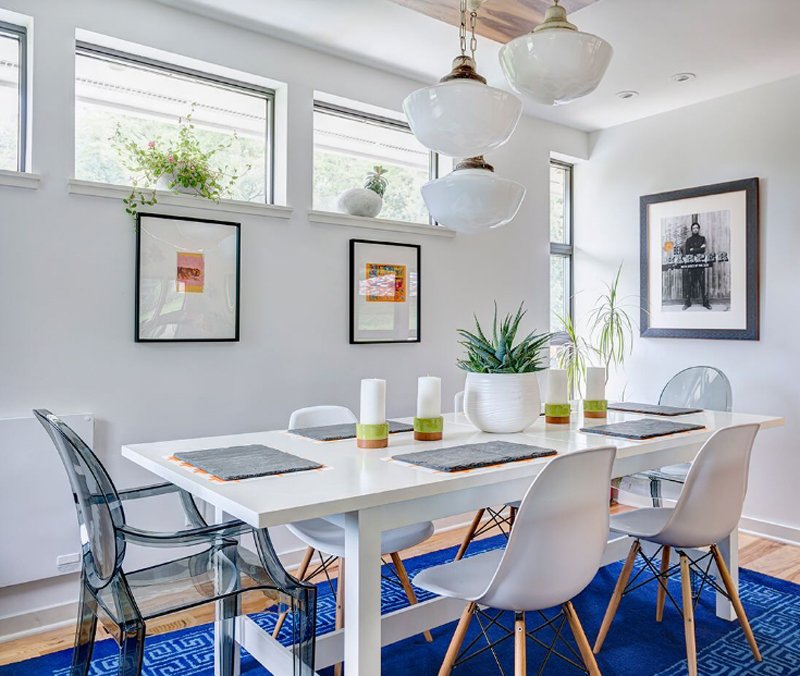 Check out the white dining table and chairs in this dining room! They paired it with two translucent black ghost chairs and it looks divine! Everything in here is in white, so adding the blue area carpet did not harm any possible look this space is aiming for. The vintage pendant pieces above the table might be my fave, how about you guys?
20. Willoughby Way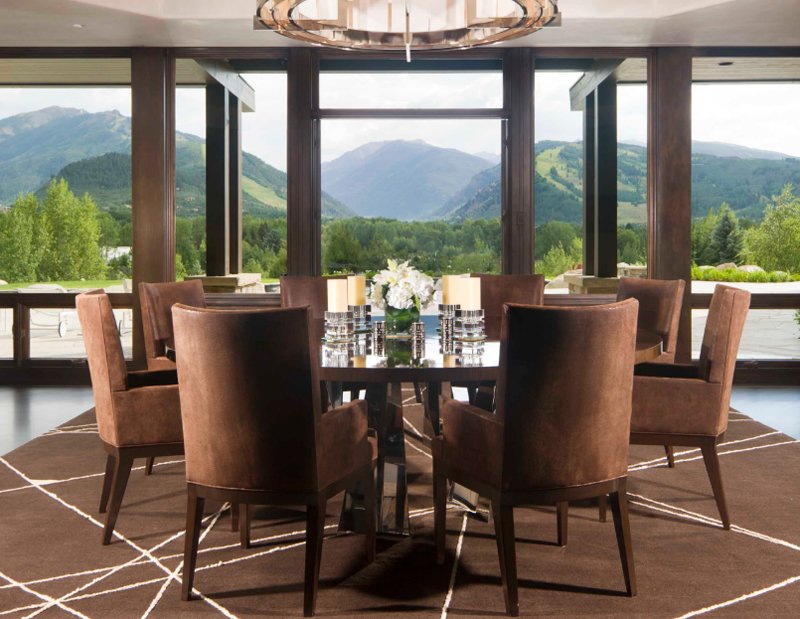 Finally, the last dining space in this list is something from Charles Cunniffe Architects – the Willoughby Way home. The color of the dining room set and the carpet blend with each other and what's cool is that there are stripes on the carpet which makes it more interesting and even irresistible.
Whether it's an old area carpet or a new one that you'd be using in your dining room, making sure that it matches with your entire space could be a bit tricky, but of course, you can always ask help online or seek professional help in ensuring that your homes would be as lovely as you'd hope it would be. With that in mind, I would like for you to check out the 15 Area Rug Designs in Kitchens and tell us what you think about them!