How to Adorn the Dining Room with Zebra Prints
This wouldn't be the first time that we will show you a list of interior spaces with zebra prints around it. But we can't help. Zebra prints are just stunning and it could alleviate the look of any space merely by adding a touch of it from furniture to decorations. Today, we will show you dining rooms that were charmed by the beauty of zebra prints in different ways.
The dining rooms that we will show you come in various styles from modern to traditional but for sure, you will be able to notice that these were all given more life by bringing in zebra prints into it. No doubt, you will fall in love with these spaces or even with the zebra patterns as you go into the photos. In the end, you would definitely get the idea on how to adorn the dining room with zebra prints!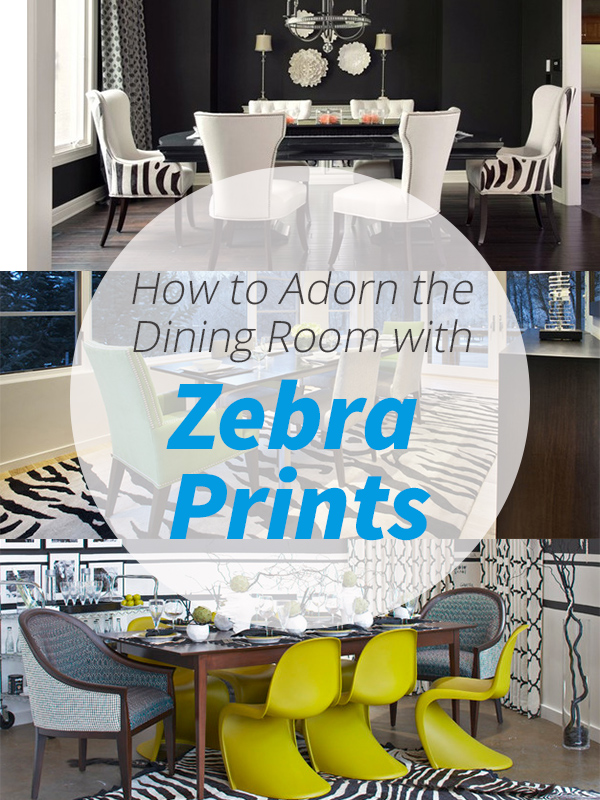 1. Miami Project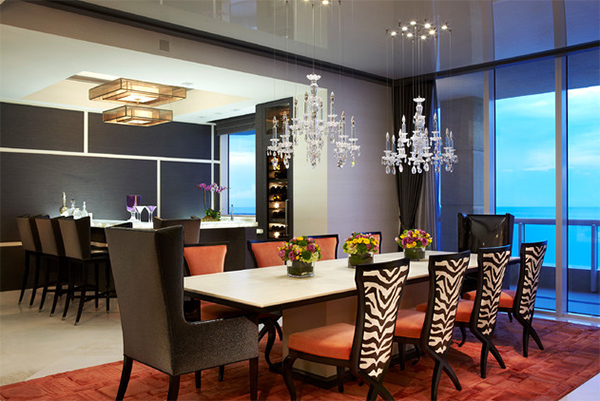 A great contemporary dining room with zebra prints at the chairs.
2. Dine and Dazzle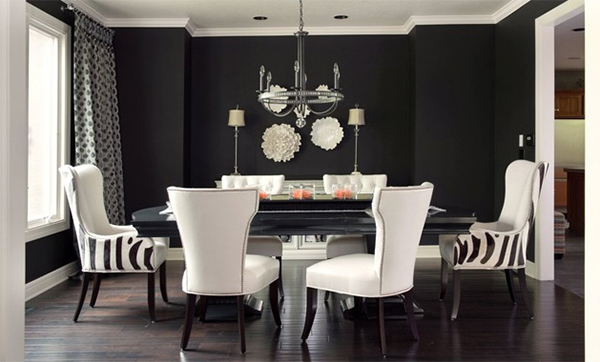 A beautiful transitional dining in Kansas City with black walls, dark hardwood floors and zebra prints.
3. Chicago Condo Remodel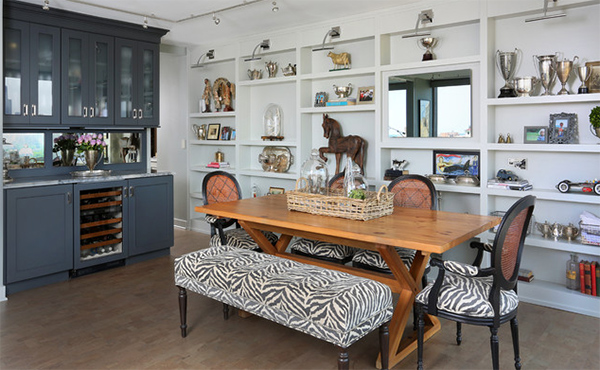 You can add more life to your space by bringing in zebra prints into it just like this one.
4. show house dining room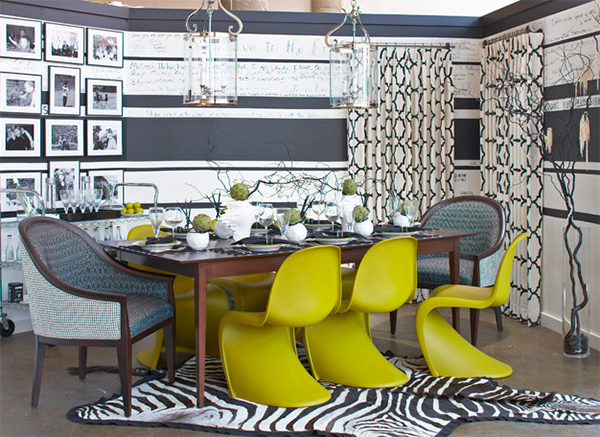 You can see lots of patterns in this eclectic dining room from zebra cowhide rug to the walls and window treatments.
5. Chatham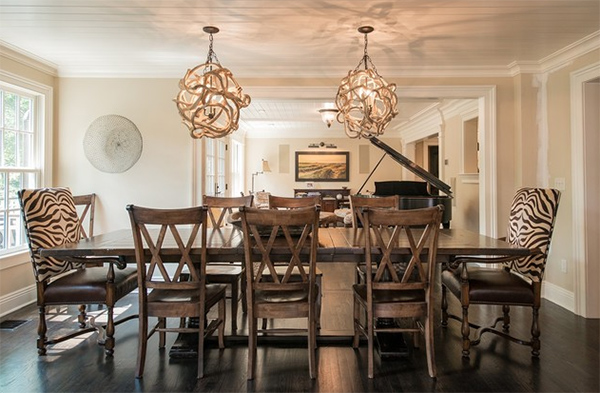 A gorgeous contemporary dining room with unique lighting and zebra end chairs.
6. Waterfront penthouse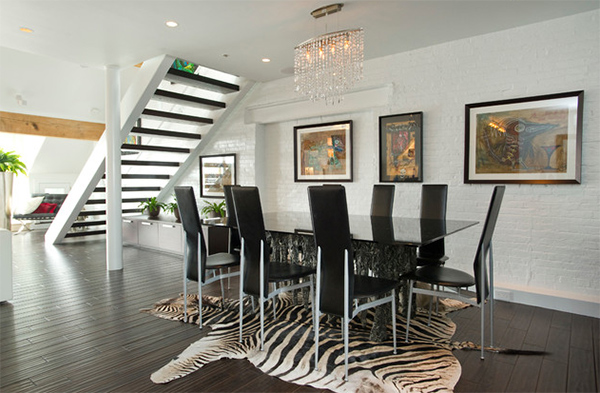 A simple dining room could look sophisticated with a rug like this.
7. Riverside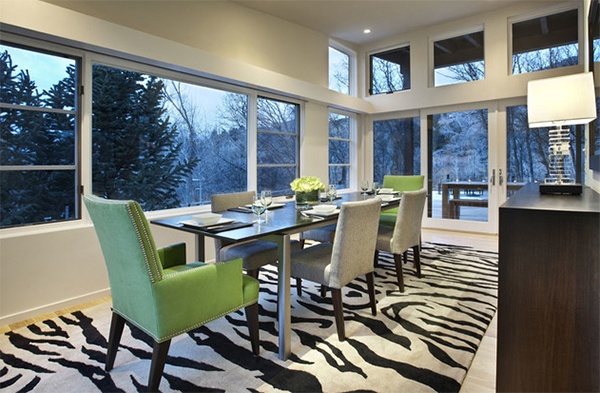 A modern space can look lovely with zebra area rug too.
8. Apartment Muttern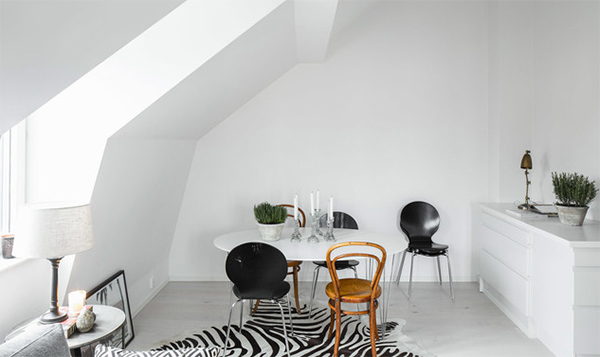 I honestly like the mismatched chairs in this white-washed space that is being given some creative touch by the area rug.
9. Dining Rooms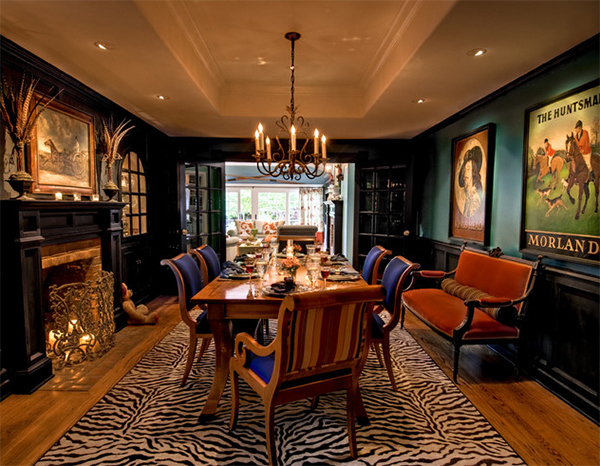 A sophisticated traditional dining room sporting a zebra area rug.
10. Williamsburg Living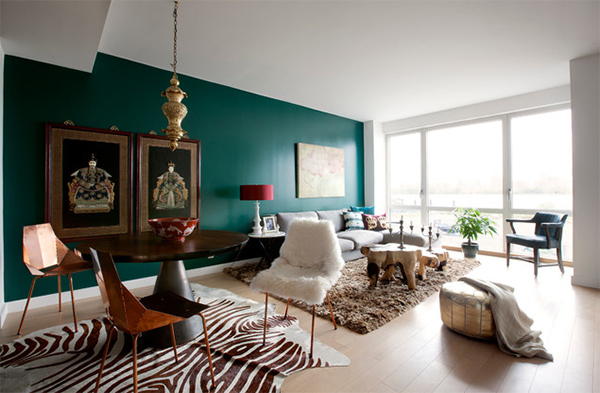 An inspirational dining room with cowhide area rug in zebra print.
11. Mid-century Masterpiece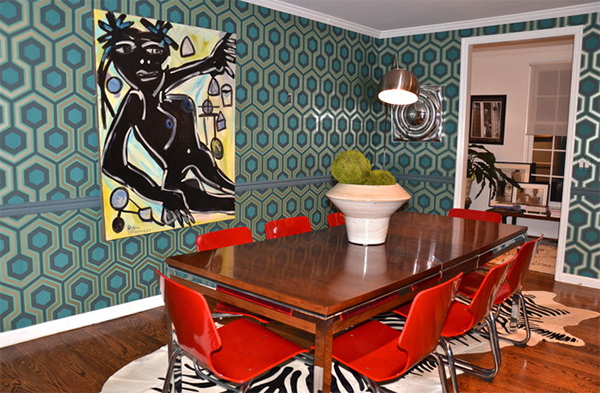 The vintage table and chairs rests on zebra printed area rug.
12. 2012 Chez Noz: Dining Area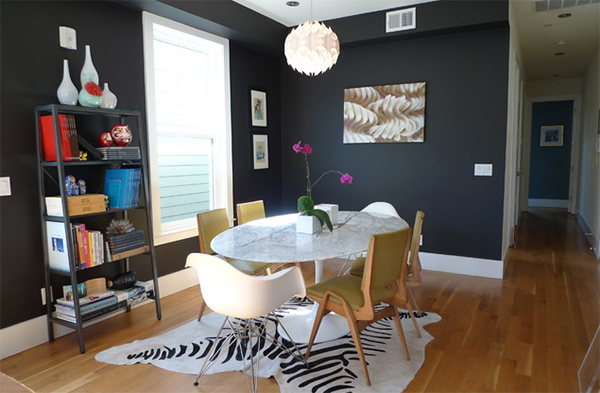 A contemporary dining room with black walls and light hardwood floors.
13. Beach House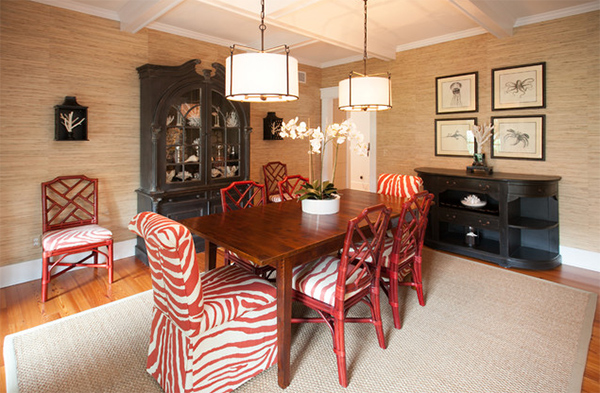 I know zebra print is black and white but this one used red which looks lovely too.
14. Uptown Bloomfield Brownstone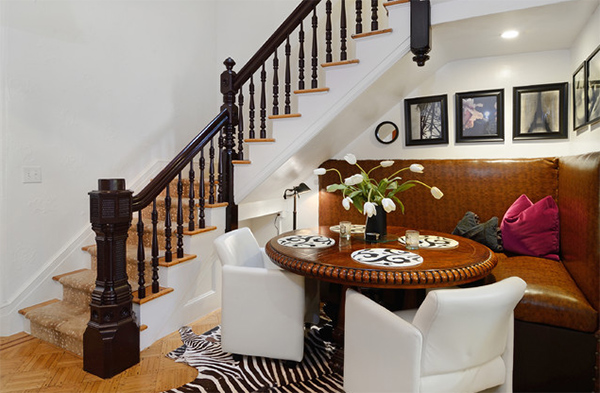 A small dining area with a corner bench and white chairs.
15. Appartement de type haussmannien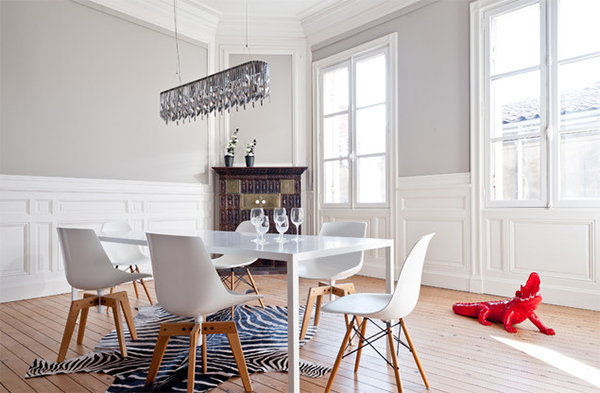 A gorgeous dining room with a Scandinavian feel in it is graced with a zebra cowhide rug.
16. River Oaks Residence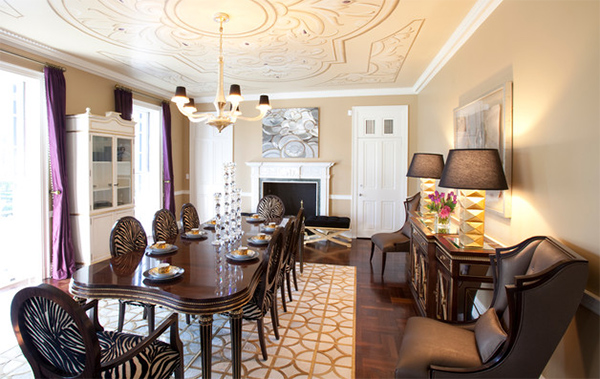 You'd be inspired to see zebra dining chairs on a patterned area rug and intricate ceiling.
17. Melissa Z Interior Designs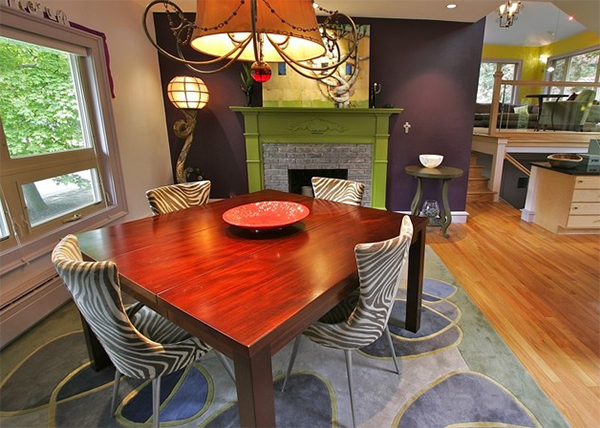 An inspirational contemporary dining room in Boston.
18. Amoroso Design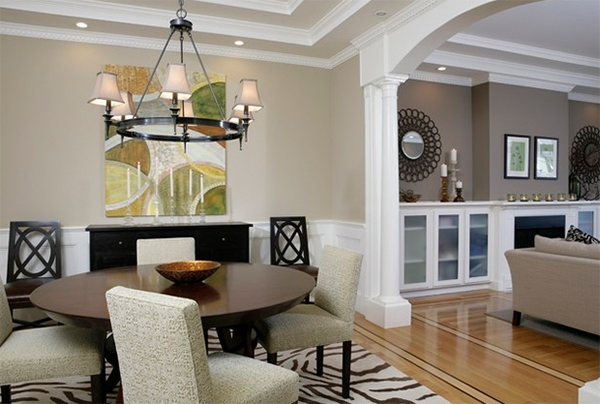 A well-designed contemporary dining in San Francisco with a rectangular zebra printed area rug.
19. West Hartford kitchen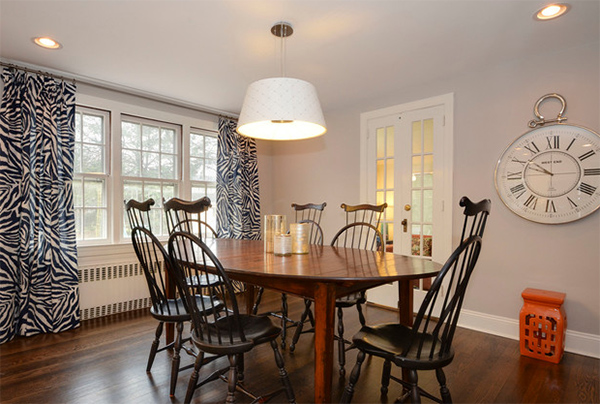 How about using the zebra pattern for the curtains? It works well too!
20. Arcadia at Willowsford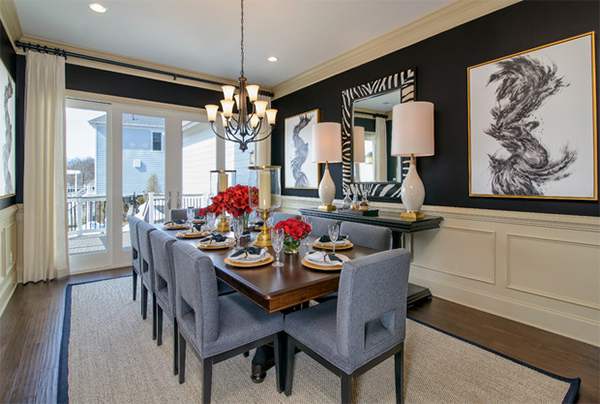 A small dining area with a mirror that is framed in zebra print.
You would surely agree with what I said in the introduction because by now, you have fallen in love with zebra prints! Well, you can actually fall in love with it over and over again since we have more astounding lists that feature this fashionable pattern that is loved by many. And for sure, you will not question why this is liked by many people because from the images above, the answer is pretty obvious.