20 Elegant White Dining Room Designs
A color of perfection is in store for you in today's article. White interior for a dining room is simply beautiful. It projects cleanliness, clarity and brightness. It is versatile and easily adaptable to any kind of dining room style you want. Its simplicity makes a perfect match for any playful-colored-modern dining room or even with the elegant, neutral-traditional dining room design. It really is a true sophistication on its own.
White is indeed a very popular color used in any kind of interior. It may be on a bedroom that sure will bring peace and calmness. It is also used for living room interiors, for a bright and inviting atmosphere and of course on dining room interiors, which is what we feature today. Let's brace ourselves as we take you to the divine beauty of these white dining room designs specially collated for you.
Mishal Dining Room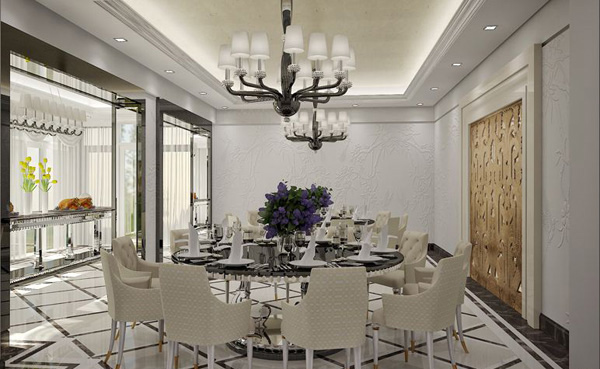 Great use of basic contrast! The black table glass become more elegant as it served as a focal point in this bright, white dining room.
Practice (Dining Scene)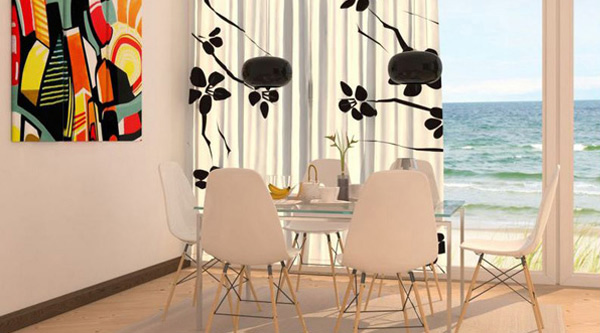 Add some visual treat to your plain interior by putting a colorful painting on.
Spanish Revival Dining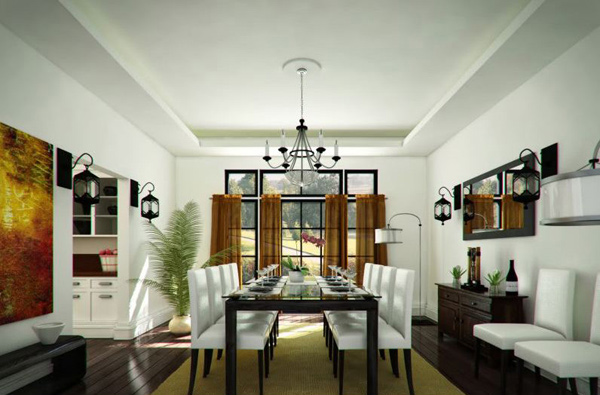 Bring the welcoming air of nature as you blend earth colors and accessories with your white painted walls.
Home 2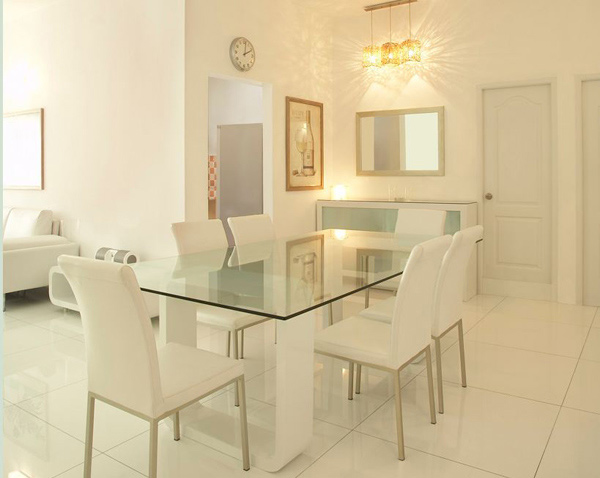 Behold the beauty of simplicity in this white dining room design. Very lovely!
Cirus Dining 1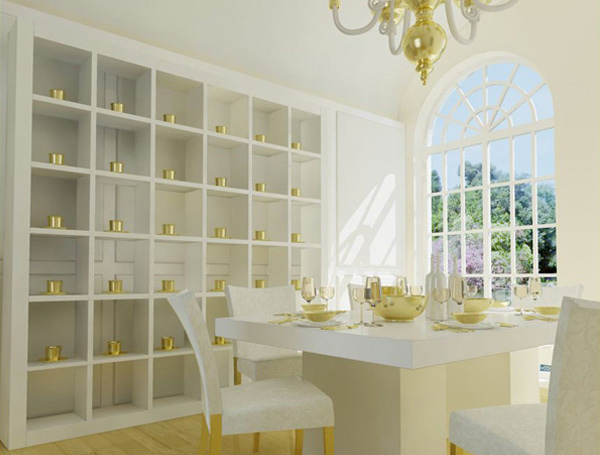 Accents in gold give a nice contrast against the crisp white walls, table and chair coverings in this dining room.
Cirus Dining 2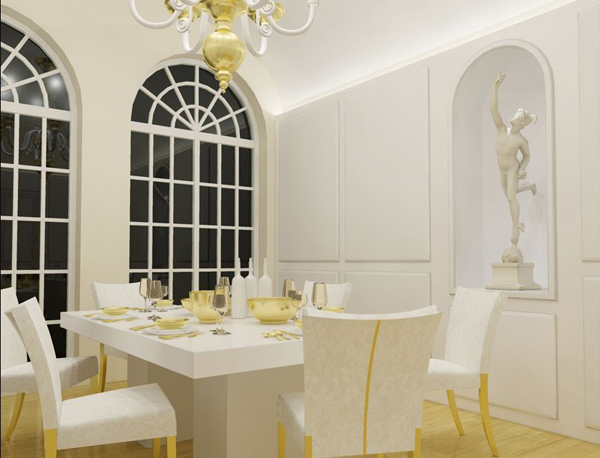 A vision of luxury in style is showcase in this white dining room design.
Contemporary Dining Room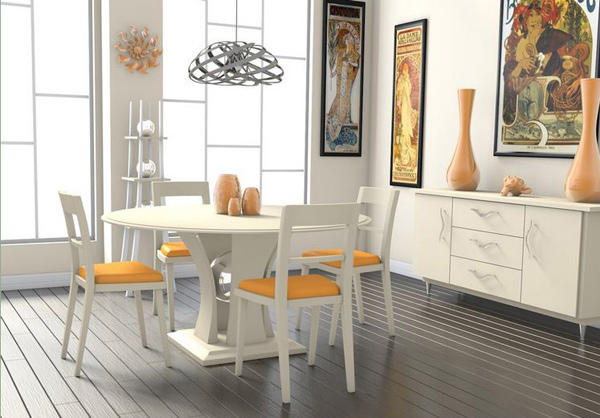 An otherwise-plain white dining room is boost with radiance with the pop of bright, warm tones.
White Gustavian Living Room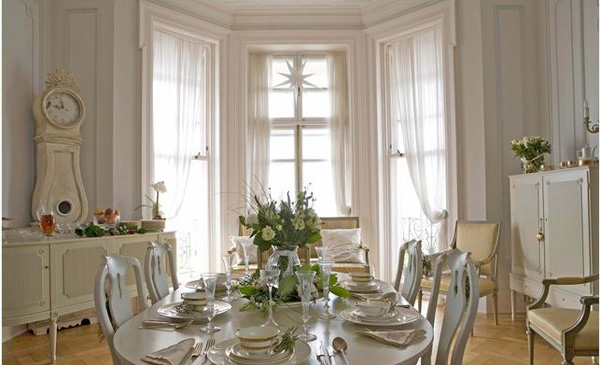 An attractive Swedish style dining room filled with lightness and elegance.
Dining Interior Updated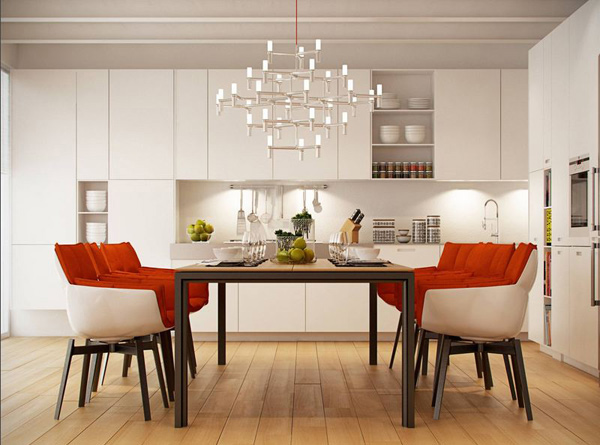 Look at how those warm-toned-cushions bring this already-bright dining room into a fabulous space!
Dining and Kitchen Area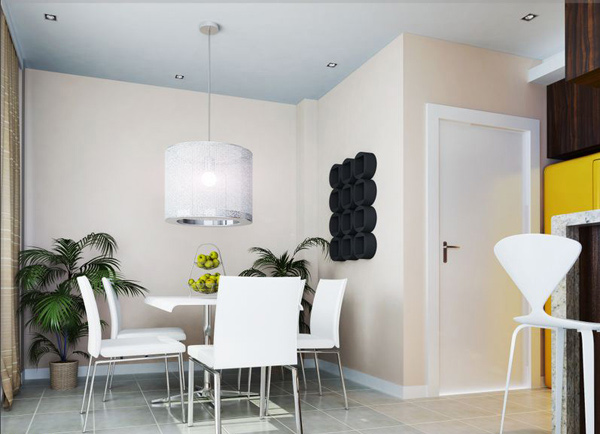 dandanaquino
The presence of nature in this design makes this sparkly white dining room inviting.
Dining Ebony Pine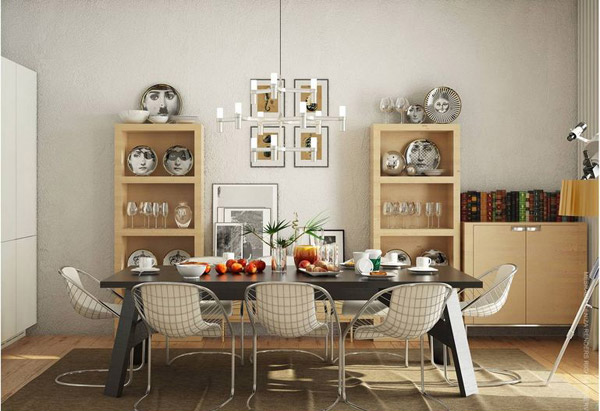 The integration of vintage and modern style in this design offers a very unique and cozy atmosphere.
Home 07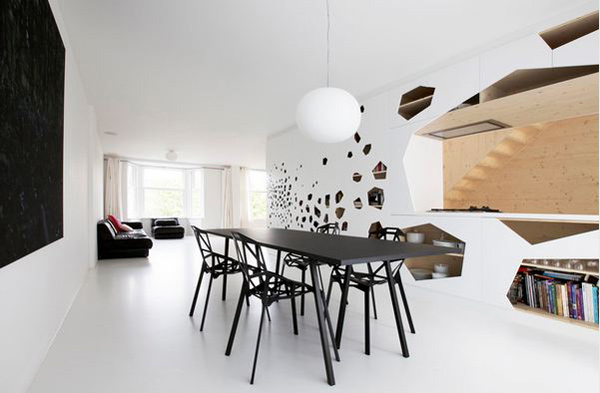 Talking about depths? Take a look at this laser-cut front panels definitely create texture and depth to this smooth, crisp white dining room.
Washington Street Project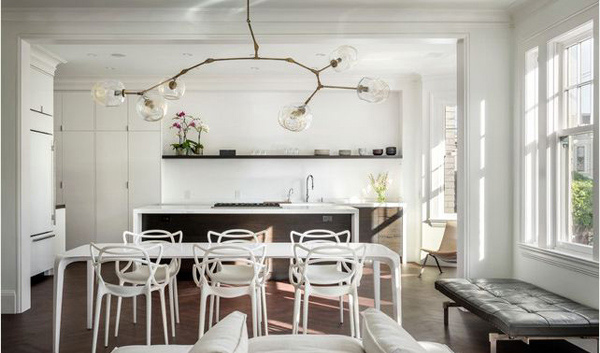 White interiors combined with absolute unique furniture gives an ultra-modern sophistication.
Vintage Nouveau Home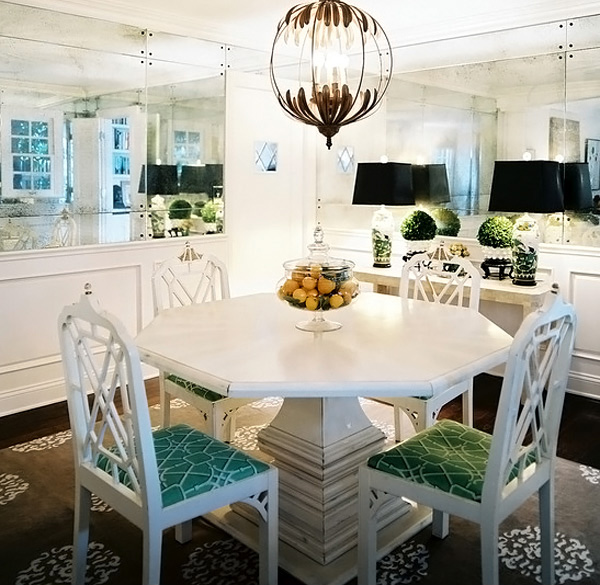 The furnishings, mirrors on the walls, light fixture, its intricate details, splash of green hue, totally rock this white dining area.
Price Residence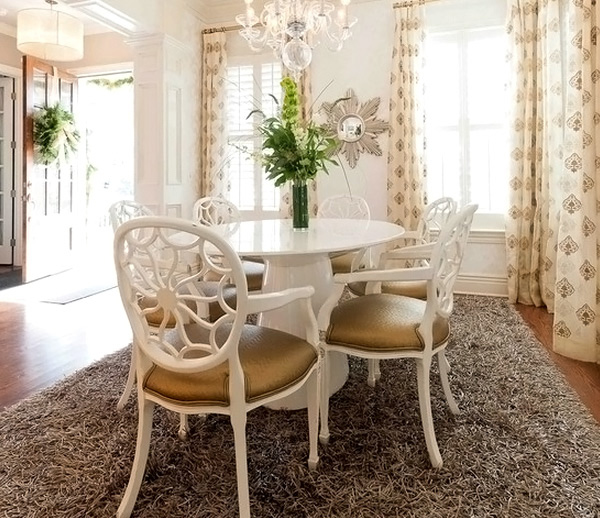 The sun-kissed hints against the white interiors make this airy dining room vivid.
White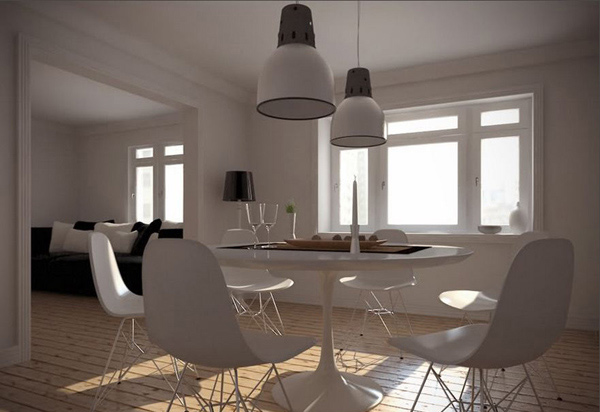 The simplicity of the classic black and white contrast showered this dining room with modern elegance.
White Dining Area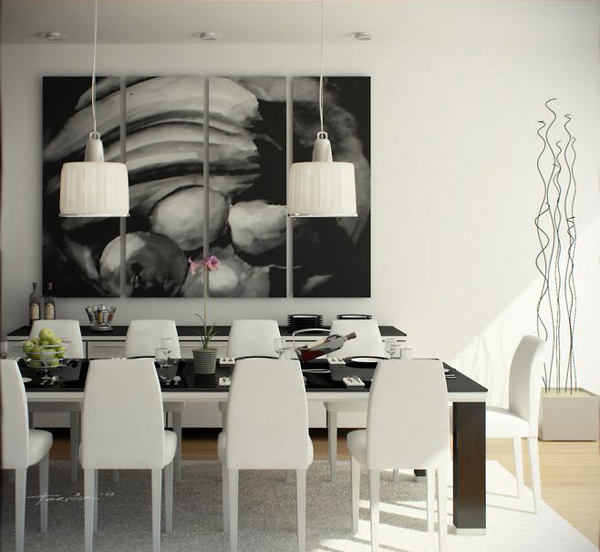 Let those bold, black accents take the spotlight on this white dining space!
Marblehead Cottage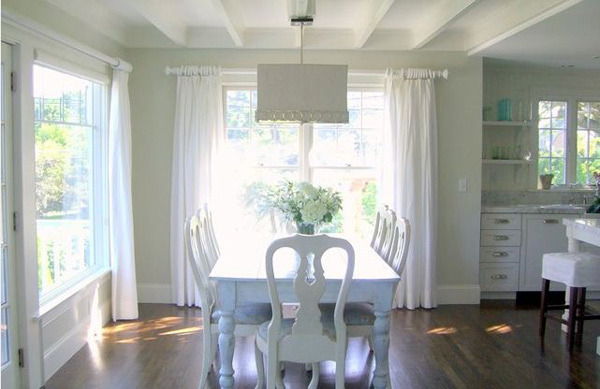 This all-white dining room placed carefully near those big windows creates an open and airy atmosphere that the whole family will surely love.
My House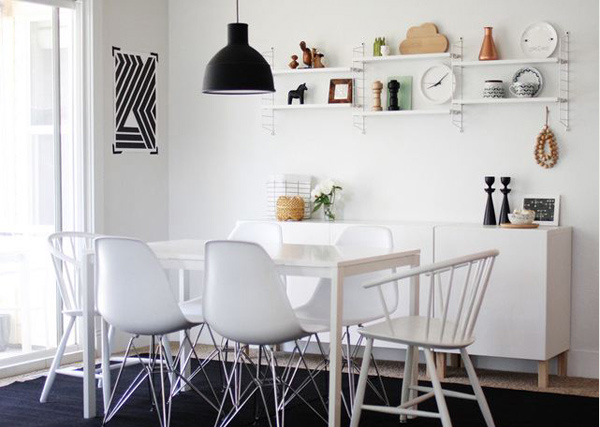 This incandescent dining room nicely blended different styles and textures. And how brilliant the pieces go together is just pleasing to the eyes.
Miami Residence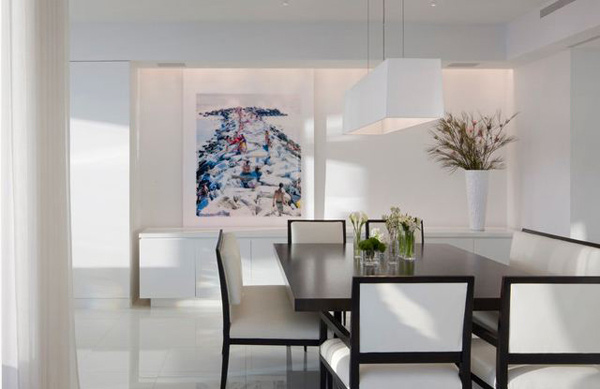 This beautiful dining room presented white as nothing but plain yet exquisite.
White is a glimpse of heaven and is divine. Its presence calms the heart and eases the mind. You could never go wrong in choosing white for your interiors. Whether you aim to have a glamorous, modern, traditional, romantic or eclectic look for your dining room, it will definitely help you achieve it. It is easy to decorate or redecorate with and still keep its elegance and class. It is simple yet perfect. We also have a collection of 18 Modern White Kitchen Design Ideas.