15 Area Rug Designs in Kitchens
Whenever we see area rugs, the first thing we notice is the pattern in it, maybe some swirls or circular drafts, Greek patterns, or maybe the usual striped or plaid designs. These designs or styles usually vary in color combination. Honestly speaking, these things can seem like a minor detail in a certain space, but when you think about it, most often than not, these area rugs are the ones that bring color to our personal spaces.
There are multiple rules in picking the best area rugs that will fit for your spaces; it may vary from one designer to another. Like any item or piece of decor you want to add in your space, what's important is that it meets the design or style you want to achieve may it be eclectic, traditional, classic and many more.
Below are 15 Pretty Kitchen Area Rug Designs that might compel you to get one for yourselves! Have fun!
Big Ranch Kitchen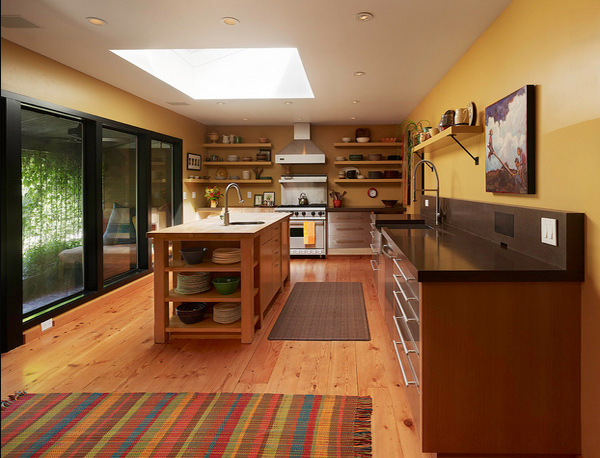 The flooring is made from reclaimed Doug Fir floor boards that are face screwed with black trim head screws. They are sliced from old beams and show all old nail and bolt holes etc. Clear satin finish, no stain. This floor totally makes the area rug real pretty.
Cape Cod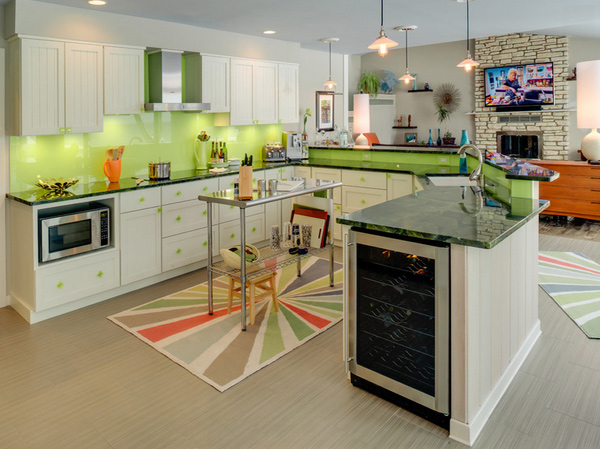 The pop of colors everywhere from this kitchen sure is stunning! The back splash pretty much complements the beautiful area rug just beneath the industrial kitchen table.
Classic Coastal Colonial Renovation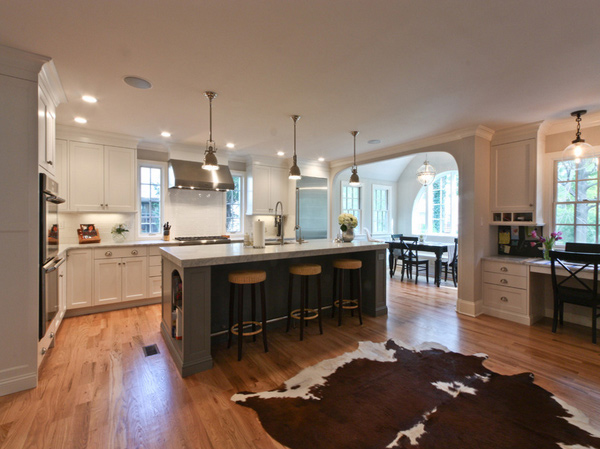 We are not sure if the cow print rug in this picture is actually a real deal, but adding this decor makes this traditional-industrial kitchen have a special conversational piece for visitors to see.
Eclectic Minimalism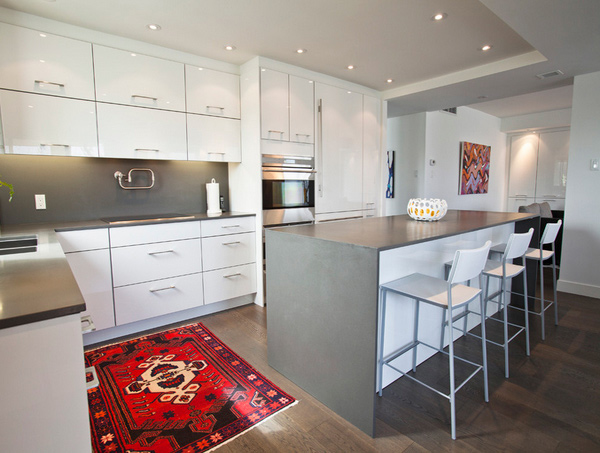 Serene material palate combined with sleek and exotic materials combined to make this a special space. Adding a bright piece of decor – like the area rug in this picture makes the space more catchy and interesting.
LEED Certified Whole House Renovation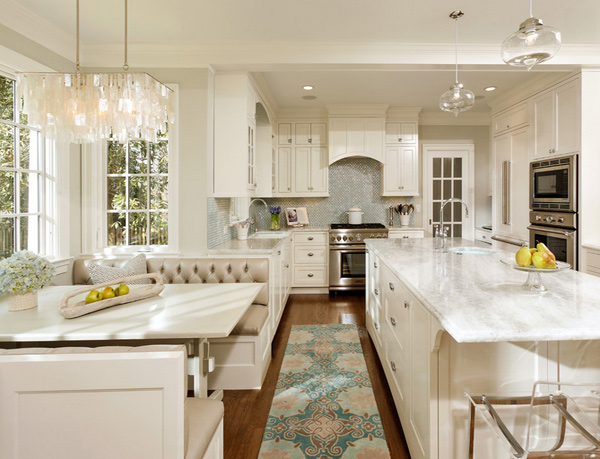 This transitional kitchen may seem simple because of the monochromatic scheme, but looking at the knick knacks used like the lights and the pretty-patterned rug sure makes this simple but pretty.
Los Angeles Modern Kitchen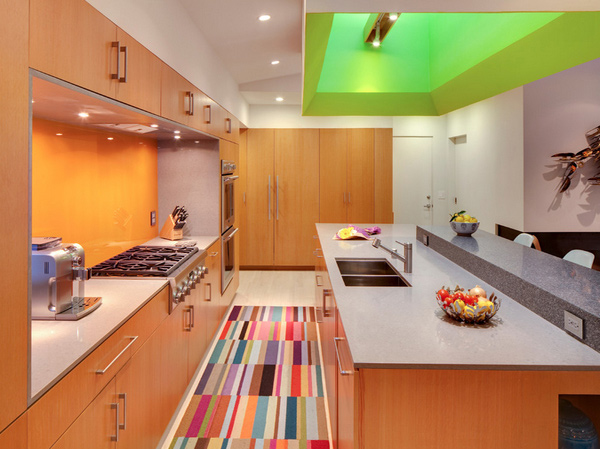 When you see this picture, we're sure you see two specific things that catch your eyes – the green area above the sink, and the multi-colored rug. Two conversational pieces that made this space ultra-catchy and pretty.
Maui Plantation Cottage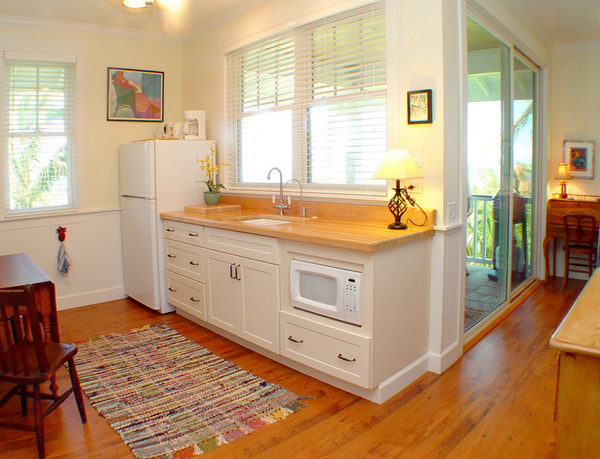 This simple tropical kitchen is some space we can see regularly; this design may even be our own kitchen – simple kitchen sink with the fridge by the window. Adding a knitted area rug like this one adds color to another yet neutral room.
Millennium Tower Loft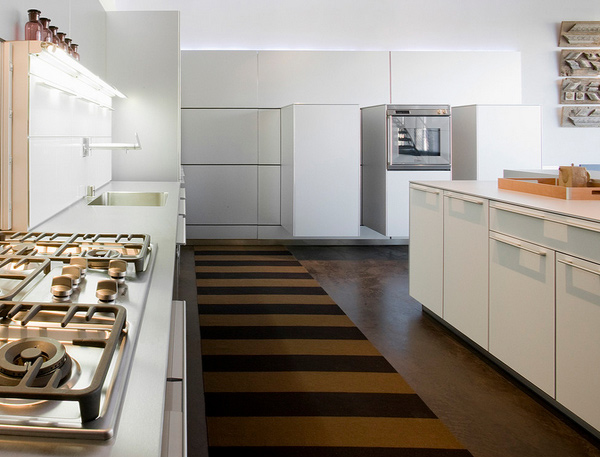 Serene material palate combined with sleek and exotic materials combined to make this a special space.
Ravenna Tudor Remodel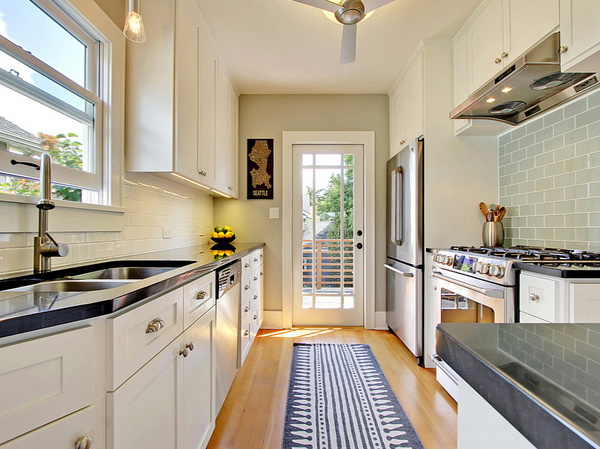 The white and blue longitudinal rug is from West Elm circa 2010. Simple, catchy and pops a hint of color in this all beige kitchen.
Shack Attack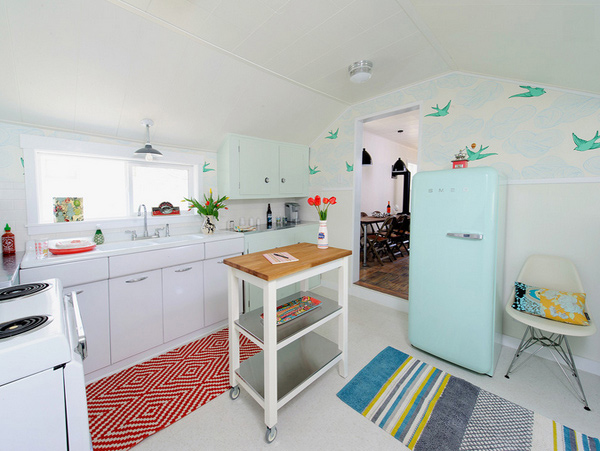 Both the rugs in this eclectic kitchen are from Target. Very bright in color and rich in pattern, something very cute to be added in you space to a bit of spice!
Storybook Cottage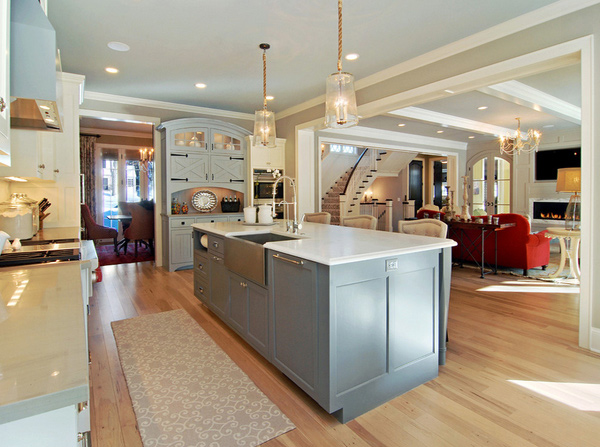 In this sample, we are able to see a bluish kitchen in Minneapolis that was accented by a simple but intricate area rug.
Thurman Street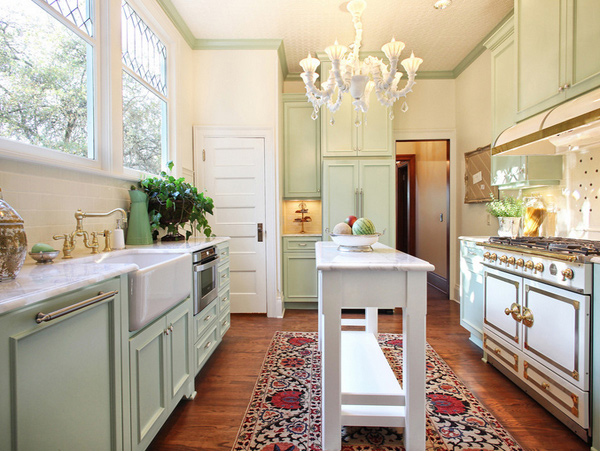 A Portland kitchen with a white and green motif and was accentuated with red printed area rug which made the white island pop out. Subtle technique.
Kitchen Area Rug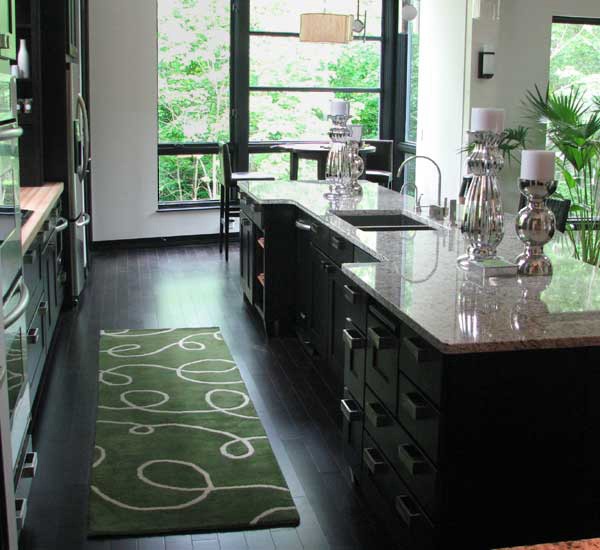 This kitchen space may not be well lighted and used dark colored wood for the cabinets but sure looked more pretty when added with a green area rug!
Kitchen Red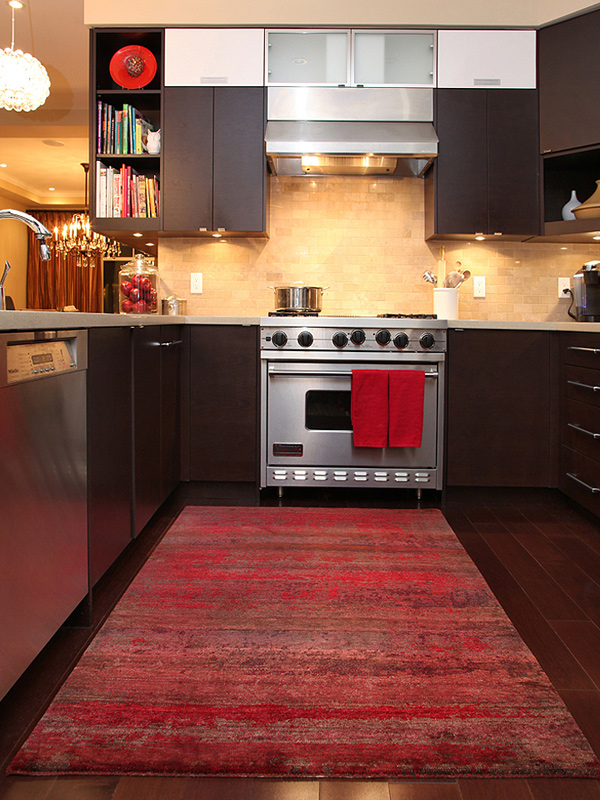 We are not sure about you, but we totally love this red area rug that almost covered the entire floor area of this tiny kitchen space. What do you think?
Vineworx Rug in a Contemporary Kitchen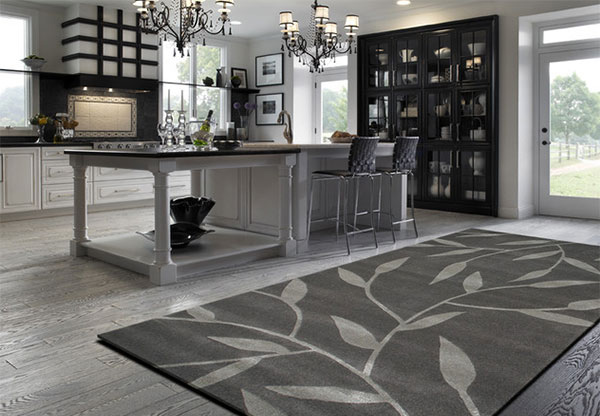 A kitchen in black and white looked even more stunning with the Vineworx rug made from wool and faux silk leaves that gives it a slight sheen.
In general, area rugs can be an investment both visually and financially. They can make or break a room and instantly change the way a space feels. The kitchen spaces above might have area rugs you would think you can easily put in your own kitchen, think again – as we said above, easy as it may seem, choosing can sometimes be a chore, especially that we have tons of designs to choose from. Remember that the 15 Pretty Kitchen Area Rug Designs serve as inspiration for your perusal, check out designer area rugs to fit your style that may also help you tons! Have a great weekend guys! More to come here on Home Design Lover!