Glass Box Kitchen Extension for a Thatched Cottage in England
Have you seen a kitchen inside a glass box? Check this one!
Some homeowners would need more space for an area in their house in order for them to work better. Well, it could actually be a space for working or just a space for relaxing. It depends on what the owners need and also on the amount of area they have for additional space. When homeowners decide for an extension or an addition, it would usually be a porch, a deck, a living area, garage, and others. Seldom would you hear of an addition for a kitchen because kitchens are usually inside the original home because we all know that it is an important portion of the house. But what we are going to show you today is a kitchen extension and it is not just an ordinary addition!
A thatched cottage in Knutsford, England was given an additional kitchen space as requested by the owners. They commissioned Alex Saint of bulthaup by Kitchen Architecture to work on their dream kitchen. The cottage is Grade II-listed which became a challenge for the homeowners and designer to find a perfect solution to add a kitchen while respecting the original cottage as well as the guidelines of the local planning department. With that, they placed the kitchen in the front yard inside a glass box. Amazing, right? I haven't seen a glass kitchen before that is why this is indeed a new design for me. Come take a look at the kitchen below.
Location: Knutsford, England
Designer: Alex Saint of Bulthaup by Kitchen Architecture
Style: Modern
Type of Space: Kitchen extension
Unique feature: A unique kitchen extension contained in a glass box with modern elements in it which is an amazing contrast to the Grade-II listed thatched cottage home.
Similar House: Redston Road Home in England Features a Contemporary Extension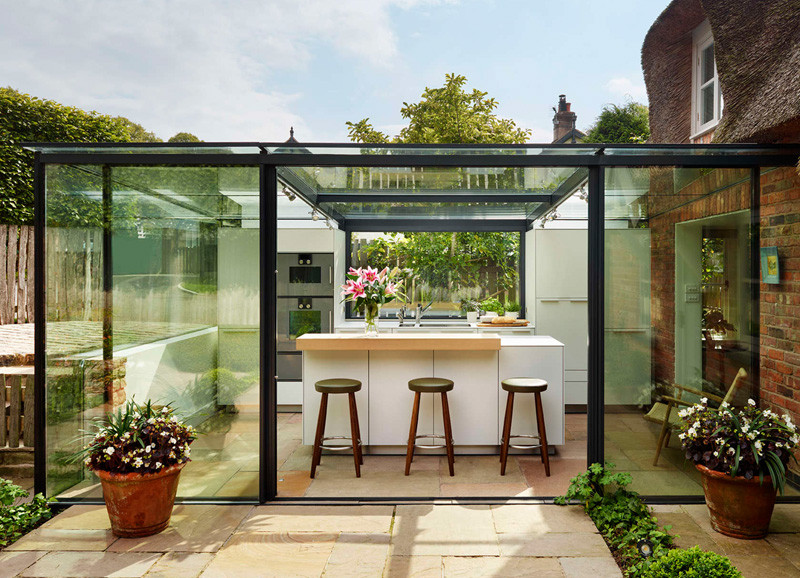 Yes, that is the kitchen and yes, it is inside a glass box. It looks very nice, right? No one would expect to see a glass kitchen in this house especially that the design of the cottage look way back our time. But again yes, a kitchen extension like this works well with that kind of house design.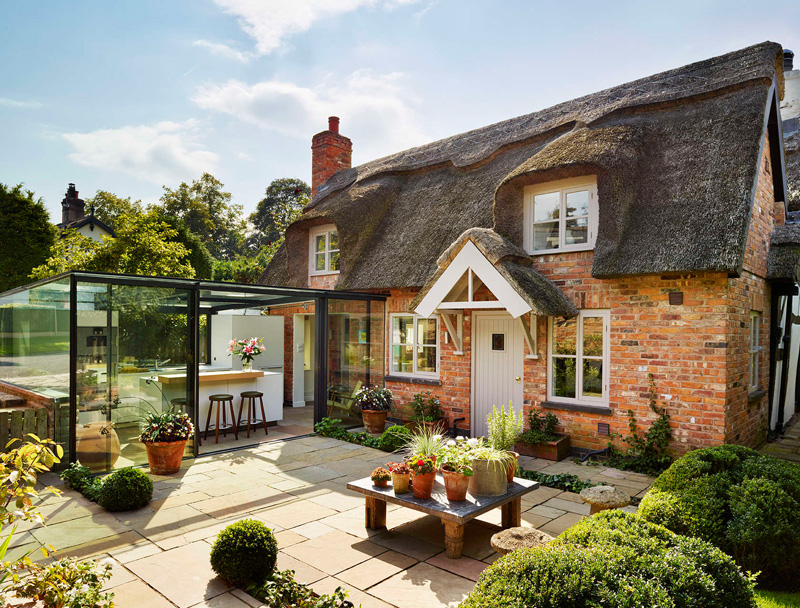 You can see the house now in this photo. The design of the house and the kitchen is indeed contrasting but they also complement each other creating into a stunning space. Now let us look at the house. I am actually not familiar with its roofing but it does look really classic to me especially that it is paired with brick walls. Good thing it has neat white colors in the exterior too.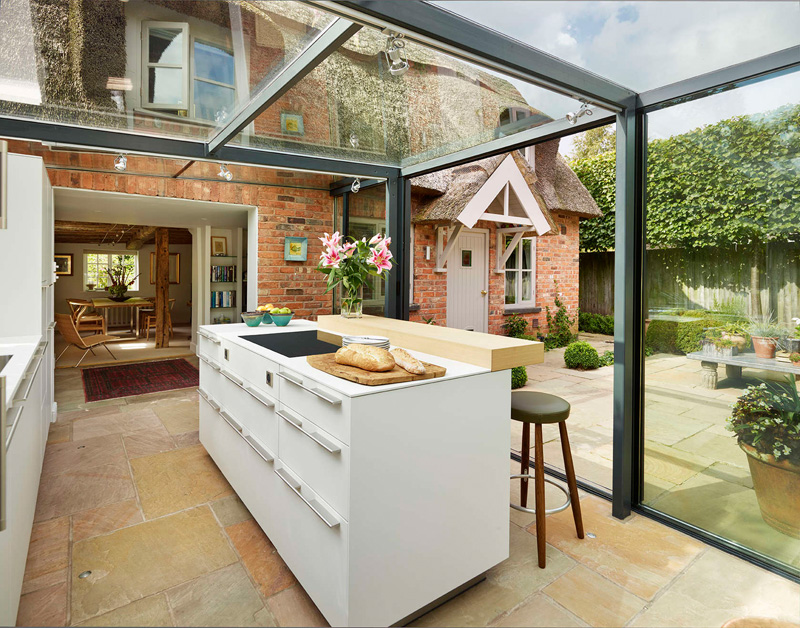 The idea of creating a glass box wouldn't change the original home but it will add a unique design aspect to the home as you can see here. The glass box is directly connected to an opening in the house leading to the dining area. I would say this is brilliant!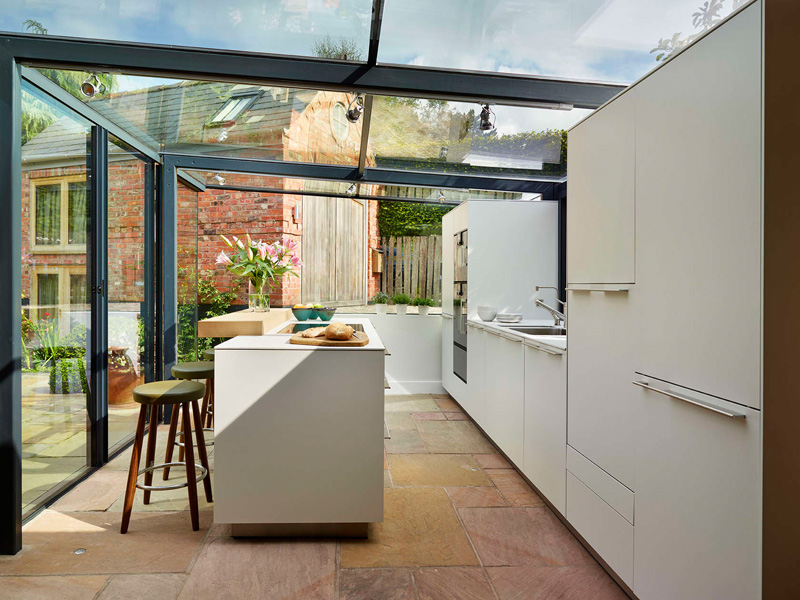 In this glass extension, it houses the home's new kitchen, which is a Bulthaup kitchen, featuring plenty of storage and places for bar seating. The flooring is still the same with that of the rest of the garden. Only the frames and glass were added into the area.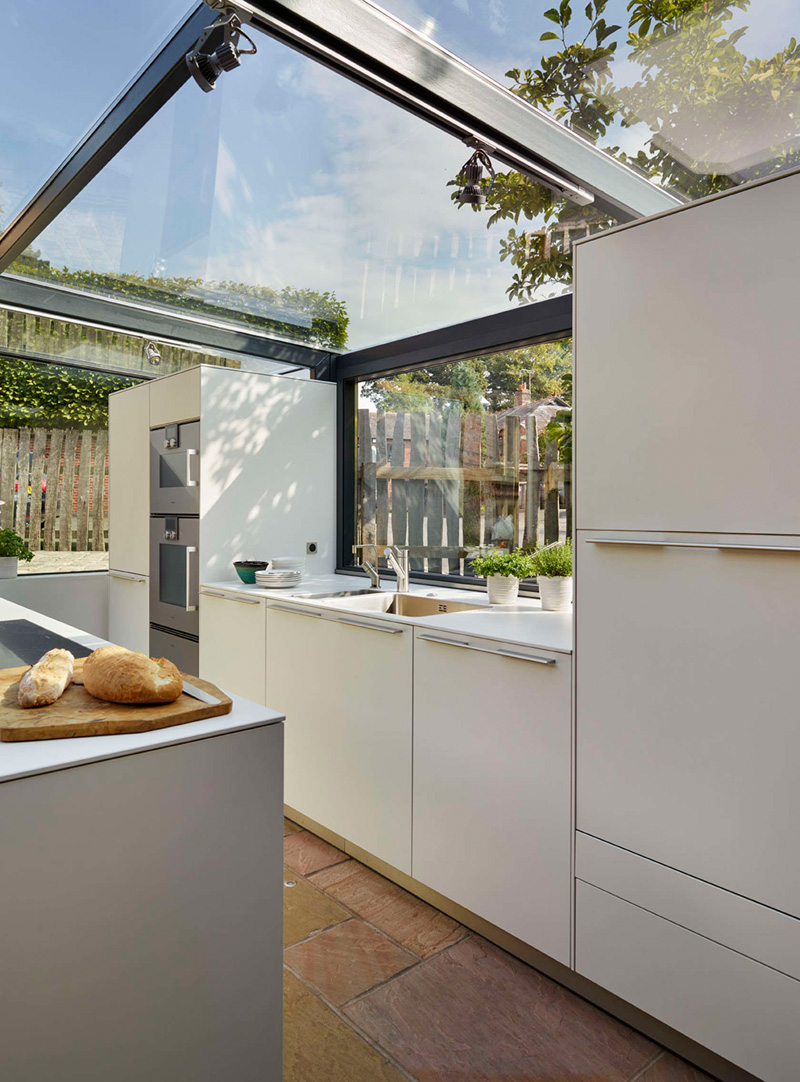 Because of the glass walls surrounding the area, it appears like you are cooking in the garden since you can see the garden in all corners of the kitchen. It also features white cabinets and storage areas.
Read Also: California Home Addition Featuring Shou Sugi Ban Siding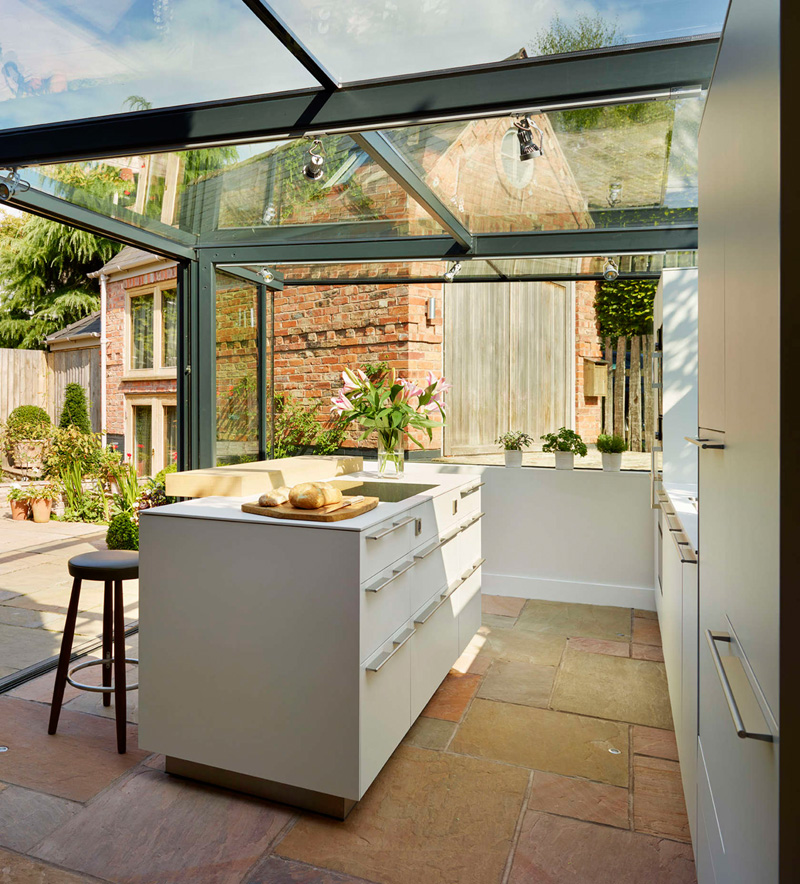 They can also work with the door open since the extension used a large sliding glass doors that opens the kitchen to the garden. And we forgot to mention, the garden does look very beautiful as well with various potted plants in it as well as flowers too.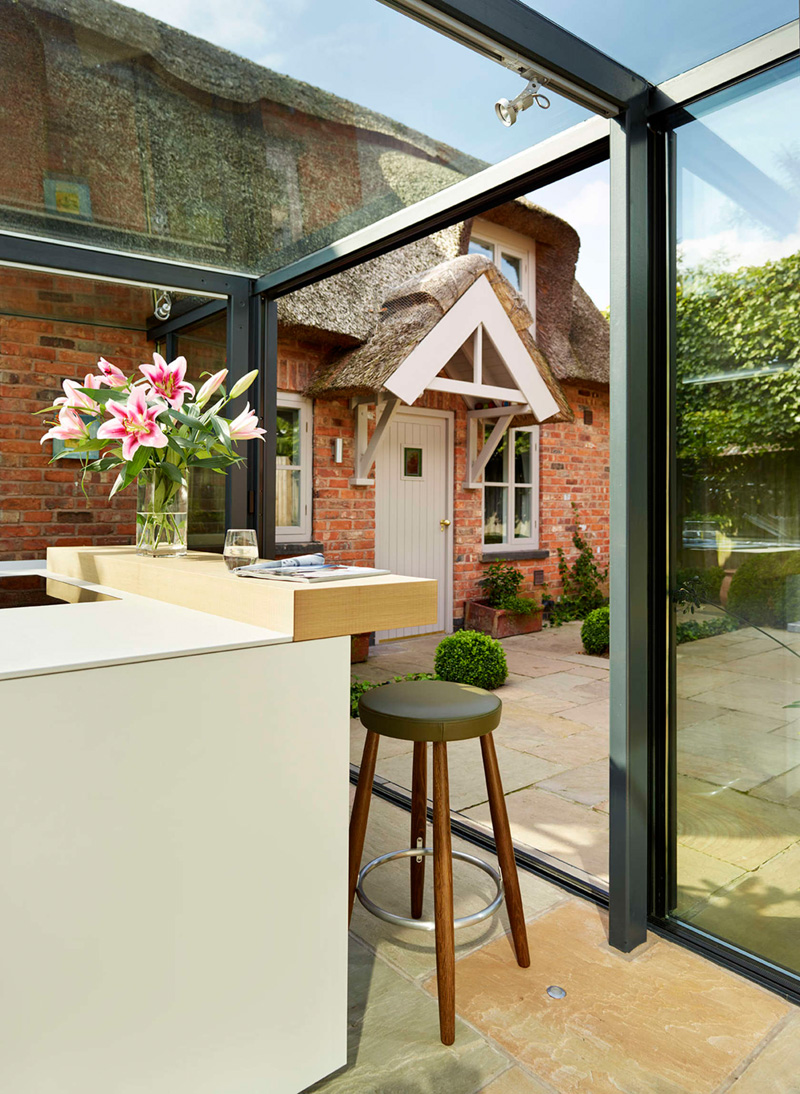 A closer look at the kitchen island which has a combination of white finish and wood. It just looks perfect because of the natural look of the rest of the space around it from the garden to the house. And it has round counter-height stools with wooden legs to pair with it.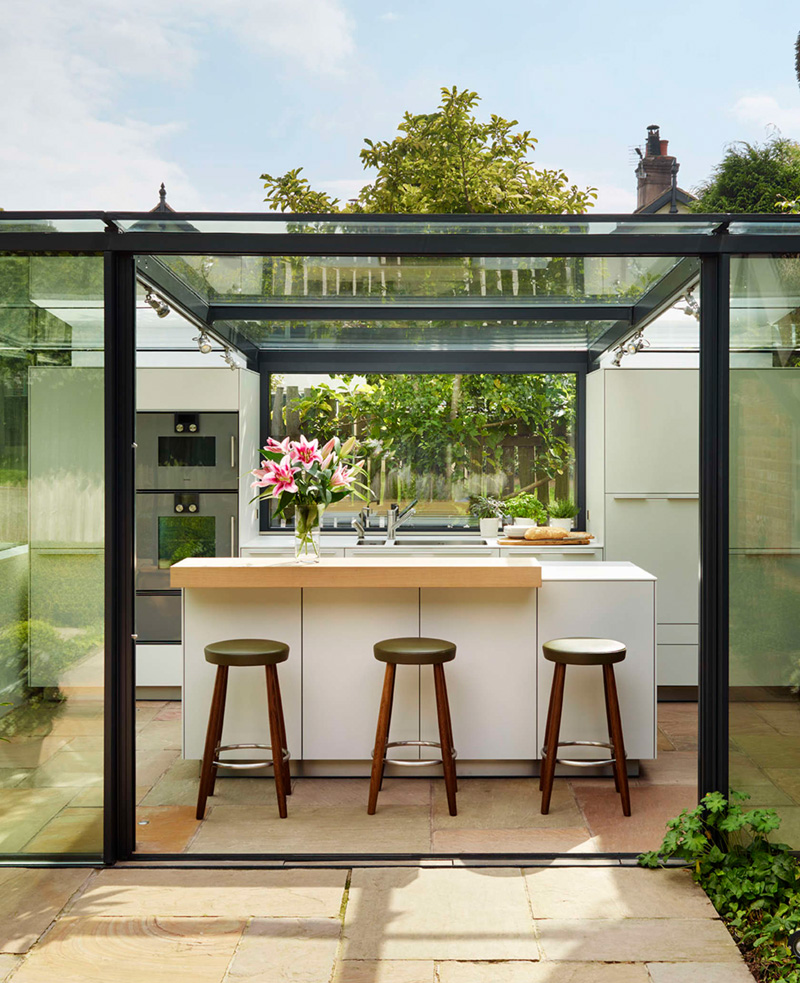 Aluminum frame is used to hold the glass on all areas. In truth, I feel a bit scared looking at this one because something might fall on it and break it. But well, the glass box is still there. I can see that the designer and installer that everything is durable and sturdy.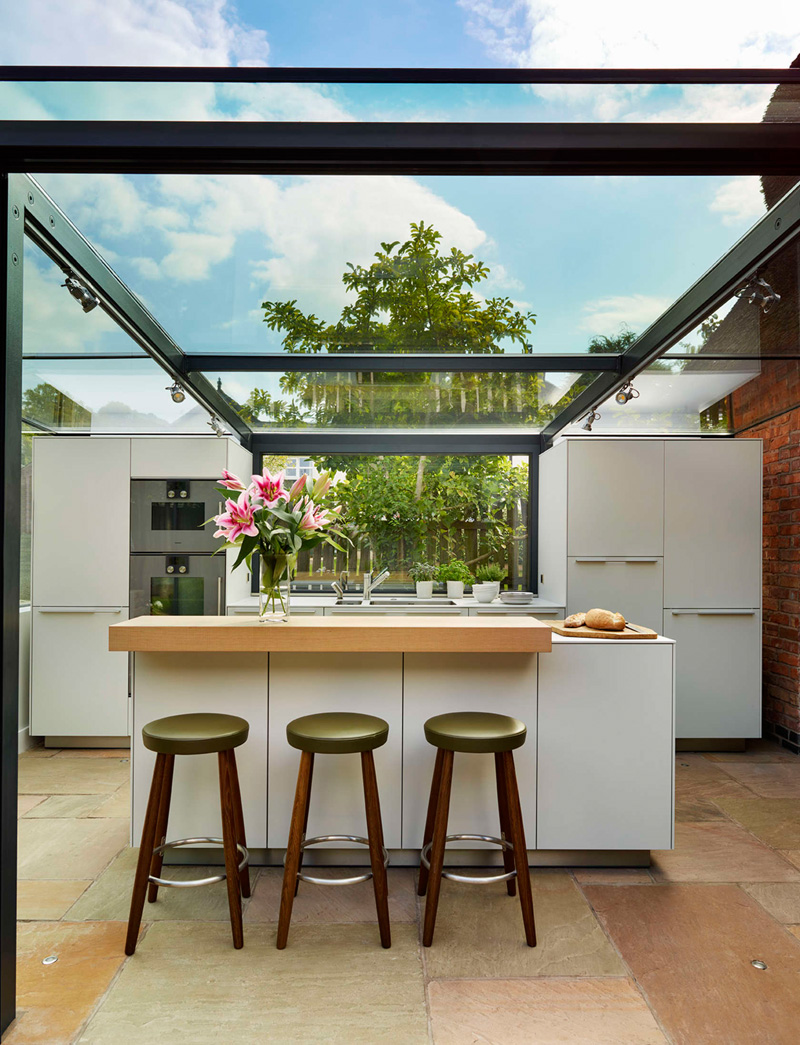 Another look at the kitchen island with an L-shaped and three chairs. Notice also that there are track lighting on the ceiling to provide light to the space. I guess this looks lovely during the night since it is the lights that will illuminate the space.
Isn't this amazing? It sure is! I don't know why they decided to create a glass box for the kitchen addition but I would say that it is a good decision as they were able to come up with a totally unique design especially that the cottage has a very traditional design! The kitchen became a touch of modern style to the home resulting into a stunning combination. Such a great job from Alex Bulthaup by Kitchen Architectureho! Aside from the glass box, the kitchen inside it is complete with sleek modern island and cabinets as well as modern equipment for food preparation. So, would you like to have a kitchen like this one? I won't wonder if you answer is yes!