20 Geometric Backsplash Tiles in the Kitchen
Love geometric tiles? You can use that for the kitchen's backsplash too!
Maybe you have noticed how much promo I have been doing about geometrical things you can see inside the house. Today is one of those days that I think we should be seeing something geometric here in Home Design Lover! Shapes like this make everything really interesting and I just love it really. If you are into geometric things, I think that you'd actually love this list, and if you're not, I guess you'd start loving them like I do!
We have been seeing geometrical wall accents, area carpets and so much more – now, below is a list of 20 Geometric Backsplash Tiles in the Kitchen which are super nice to look and at and quite cool, I should say. This list may somehow contain similar shapes but I think you'd love how they were used in the kitchen spaces, check them out and see what I'm talking about!
1. Bell Street Kitchen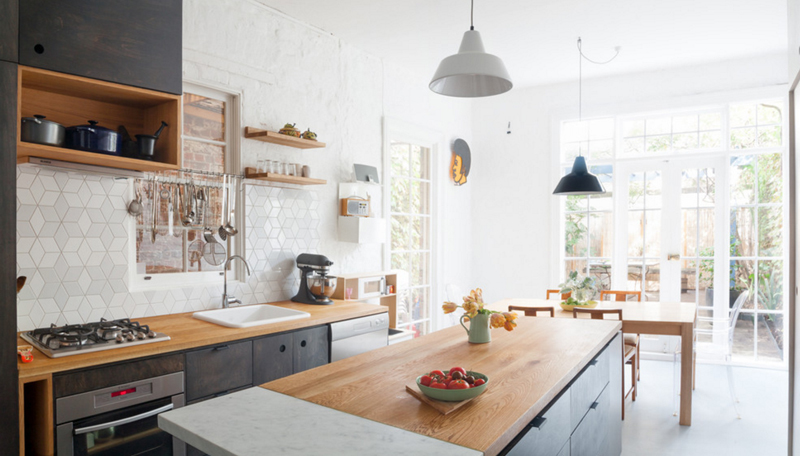 Well, how about that, a cute little kitchen space that connects directly towards the dining area. Wooden countertops for the lavatory and the kitchen island and it sure looks pretty interesting, it's not every day that we actually see this since it's mostly granite or tiles that are used for counters. Check out the details on the back splash used by the lavatory and the range.
2. Bluff House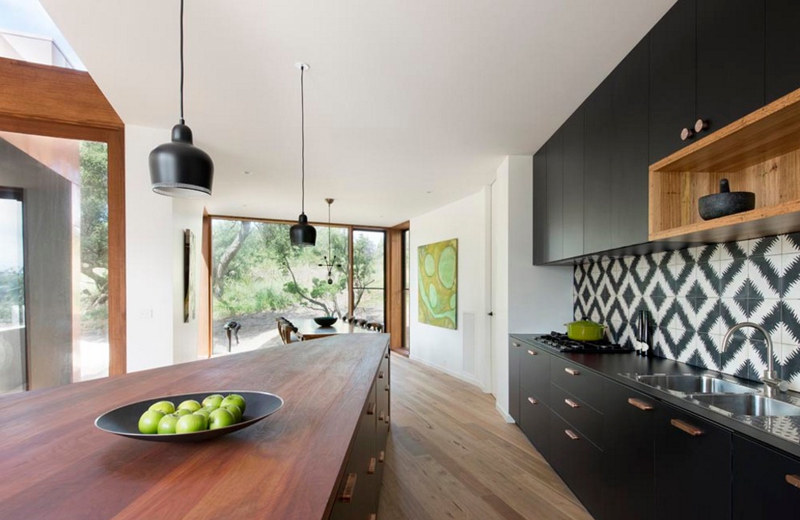 For one thing, I love how they colors are used in blocks in this kitchen. If you notice, it's basically just the back splash that has a combination of colors; and I think it's actually really nice to look at. All the black on the cabinets and drawers, the browns on the kitchen island and the flooring and the white walls and ceiling, what do you think about that?
3. Brooklyn Prewar Apartment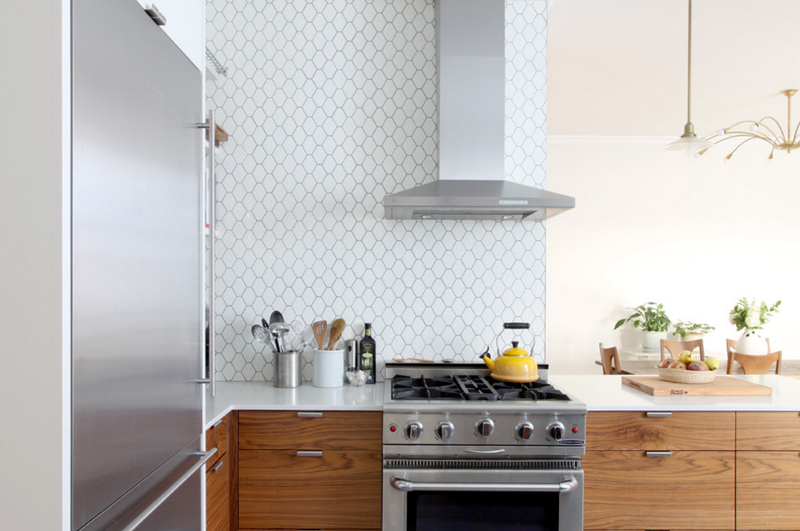 In any tile work – in anywhere in the house, we all know that we can always mix and match, like in this kitchen, we can see that they used a different tile design and material by the range and by the counters close to the lavatory. It sometimes work and sometimes, it does not, but as we can see here, it sure works and it looks real nice and classy.
4. Cedar Modern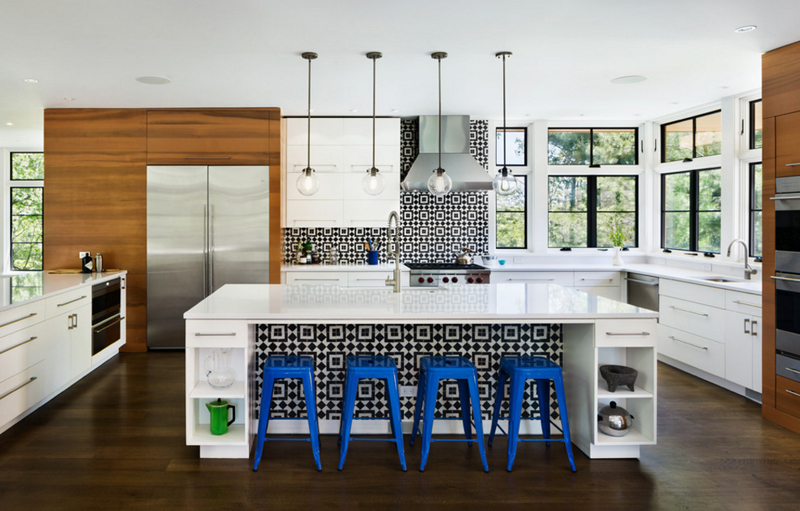 Like the kitchen above, it's actually just the back splash that has the bit of color combination in it since everything around here is in color blocks. The brown cabinets for the refrigerator and the ovens, the white cabinet works by the counters and the kitchen island and even with the flooring. Check out how they used the same tile work for the back splash and the face of the kitchen island.
5. Clean and Contemporary San Francisco Kitchen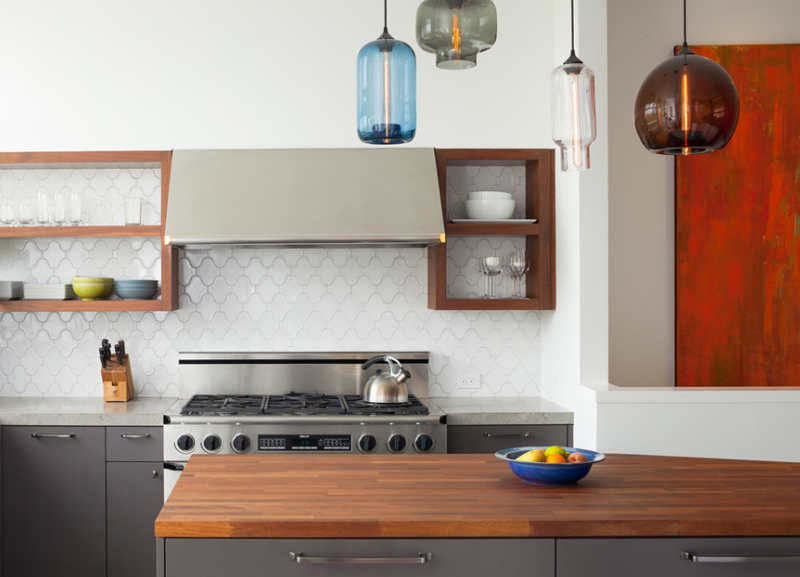 We see only a small portion of this kitchen, but we see how cute the tile work is and it's what matters right? Although, personally, it would have been prettier if they had used a different color for the back splash or that of the wall because white-on-white seems not that much appealing than when there is contrast.
6. Columbus Street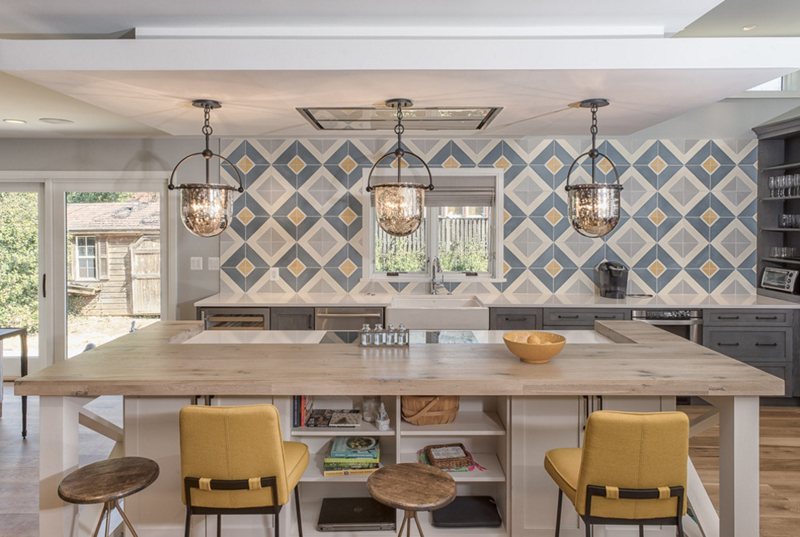 The large tile work in this kitchen is quite amusing. I have never seen so much large tiles for the back splash. Of course, the client can get whatever they like and all that, but I find this set up and bit confusing but still, I am amazed with this much tiles, this kitchen still looks fabulous and fun!
7. Fun-kay Kitchen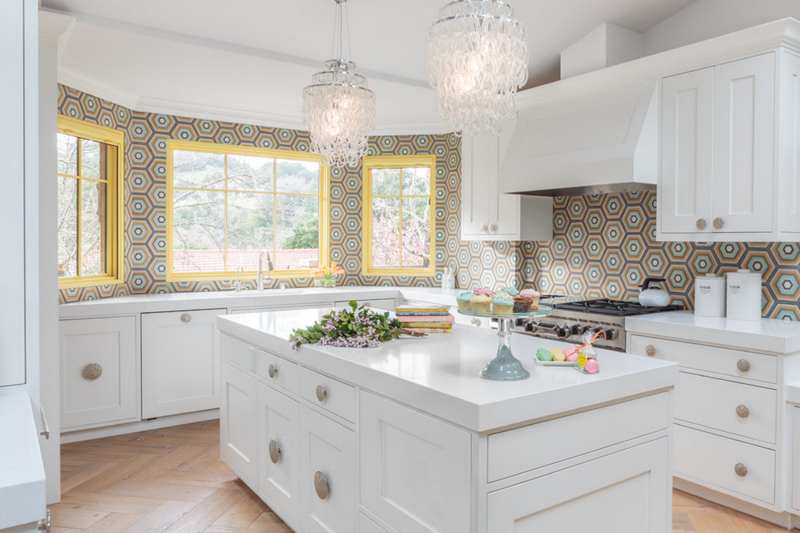 This kitchen space could have been in the beginning of this list because of how awesome the color combination is with the white cabinets, kitchen island and ceiling and that of the tile work! I mean, this could somehow be tacky but believe me, this sure looks totally incredible!
8. Hamptons House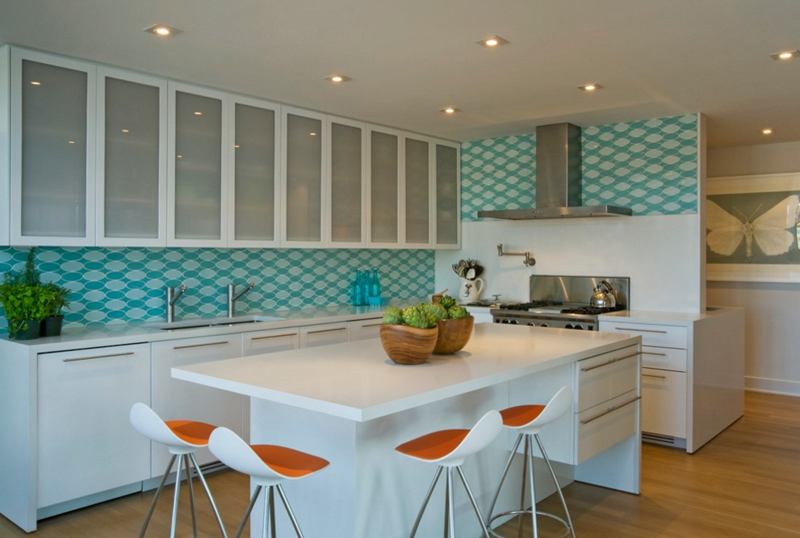 Another thing why I love using white furniture or a white space because it is actually a great canvass for creating spaces as interesting and fun as this one! See how much you can do with your space if you have everything in white!
9. Kasbah Trellis Kitchen Spotlight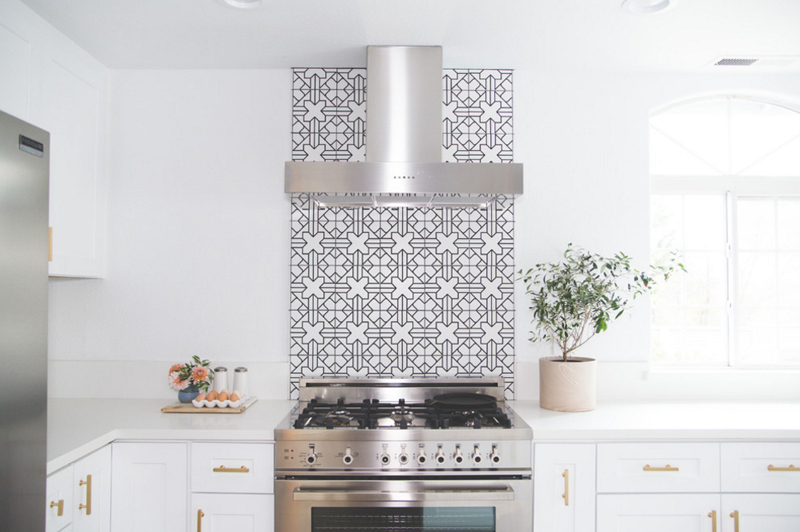 This could be one of my favorites in this list just because of how nice the designs of the tiles are; and how they used it in this kitchen is just fabulous! Grey or black and well, any color for that matter definitely goes well with the color white and it just looks picture perfect!
10. Moscow Sokol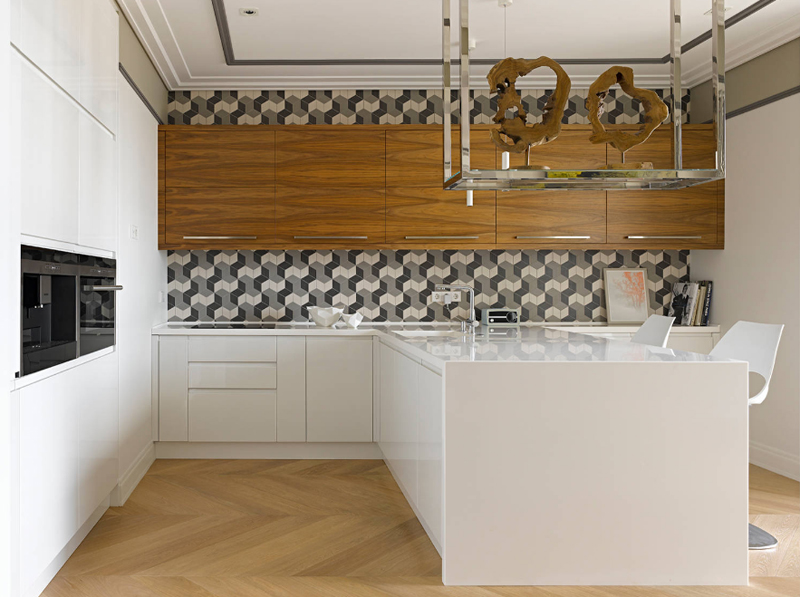 I think we could just have done this list with every kitchen in white and they have these beautiful geometrical patterned back splashes and we'll all be happy! What do you think? In here, we see some interesting things like the tiles used for the back splash, the pattern on the flooring and those brown things on top of the kitchen island/bar. What do you think are they?
11. Mount Lawley Residence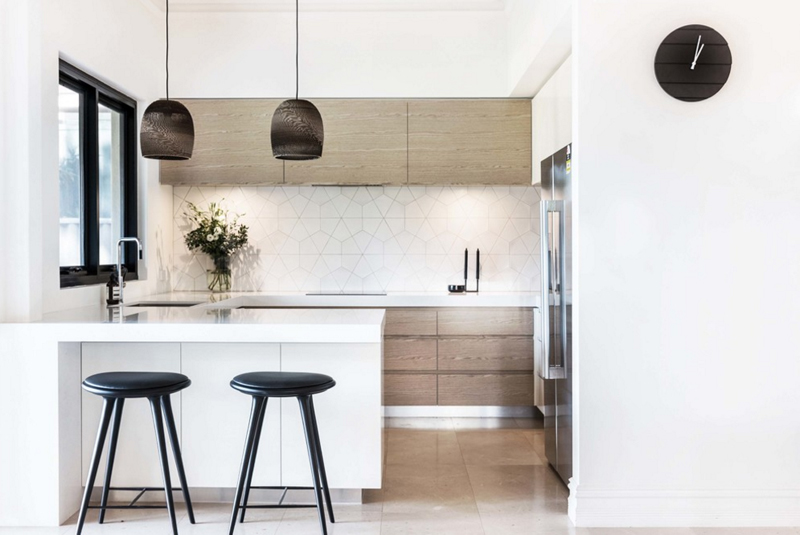 It might not be as evident, but check out the picture clearly and tell me that this is not a fabulous tile work and kitchen in general? Because I would debate with anyone who would doubt this spaces' look and design. The color palette is not something to discuss since it's really nice and the materials are definitely awesome too!
12. North Epping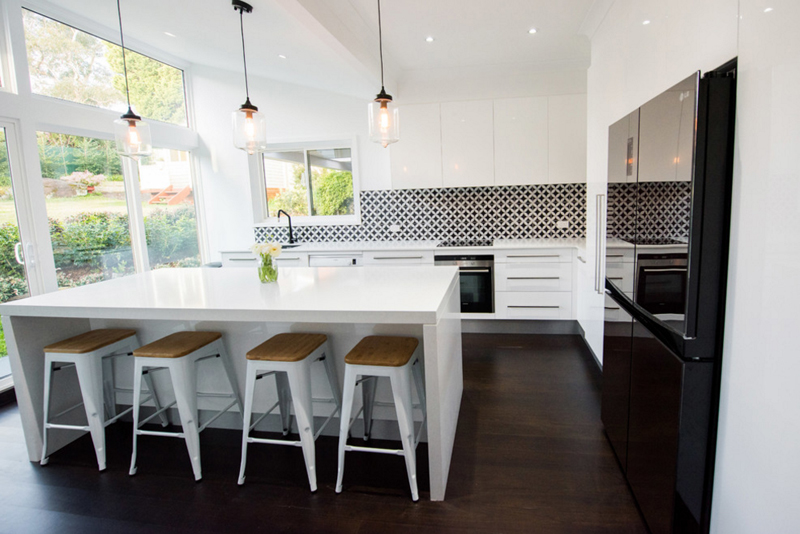 Favorite things about this kitchen space aside from the black and white back splash are the awesome appliances, the cool mid-century kitchen stools and the beautiful view of the outdoors! With a house as pretty as this – and we are talking inside and out, I think people living in here could be one of the happiest people there is. I mean, who doesn't enjoy pretty houses, right?
13. Packington Street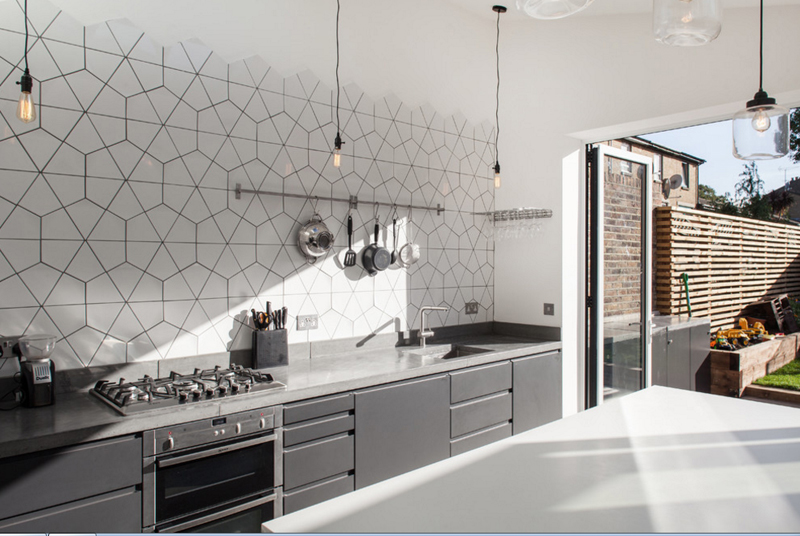 Another fave for this list! The choice of the tiles for the back splash is incredible; the design of the counters, the cabinets and drawers and the way they actually hang things in here, I think this is one fancy kitchen to be in – or out! Since this kitchen connects to the outdoor part of the house which is just awesome!
14. Rancho Project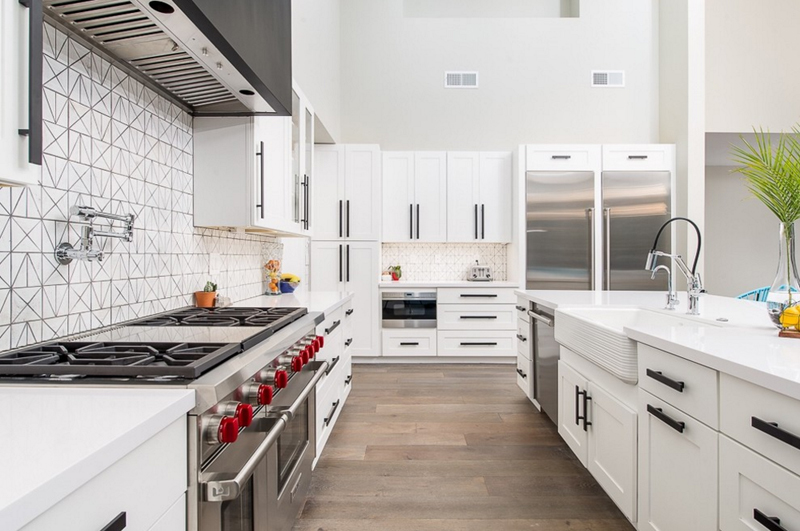 Well, this sure is one large kitchen! You might thing that food prep and cooking may be the best thing you can do in this space but creating food for people that you actually love is the best one yet. Even when your kitchen is small if you do the cooking with love, I think you're one cool cook!
15. Santa Barbara Chic – Corona del Mar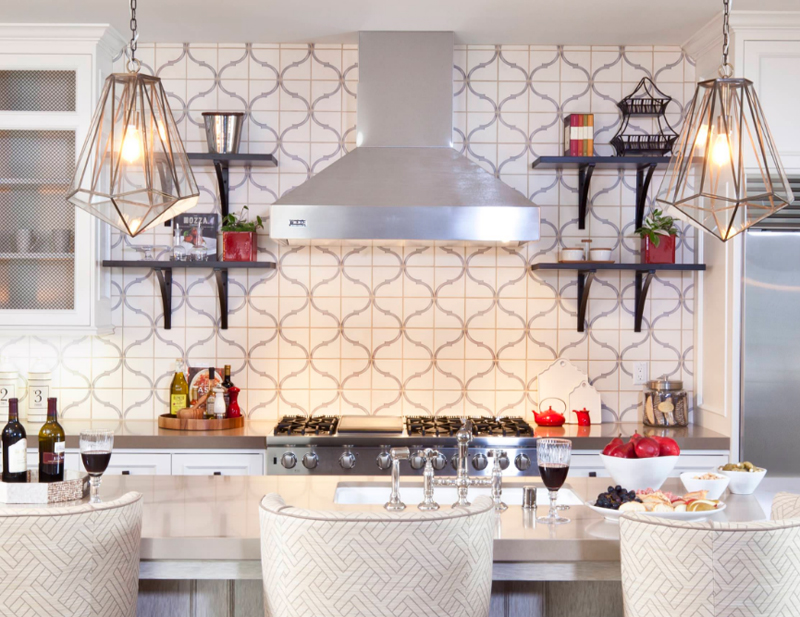 Wow! I love how close up this kitchen photo is! I think this should have been how all the photos in this list are so that we could see the tile work much closer and clearer! The design of the tiles, the shelves on it and the interesting and beautiful pendant lamps are the coolest things in here!
16. Southern Living Parade Farmhouse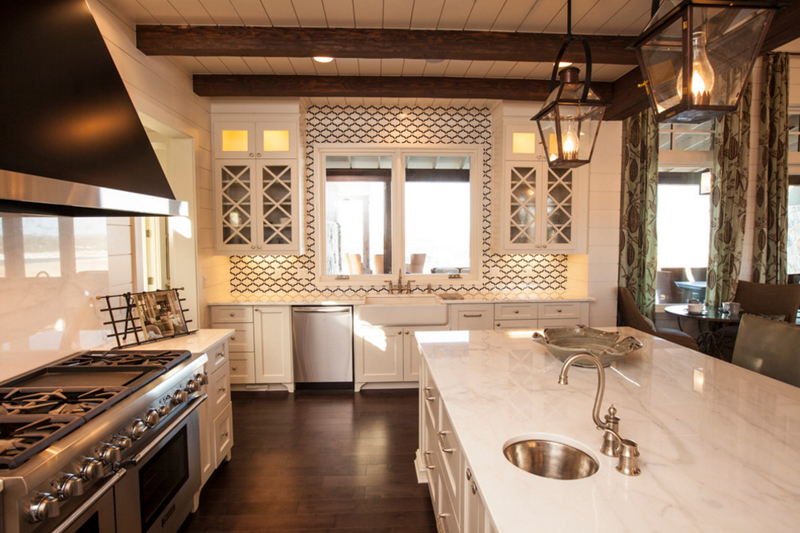 This farmhouse is something I did not quite expect to actually have geometrically designed back splashes but then again, there are tons of awesome designs for tiles and we can always pick something and play with it and it comes out great – just like in this kitchen!
17. Stonewood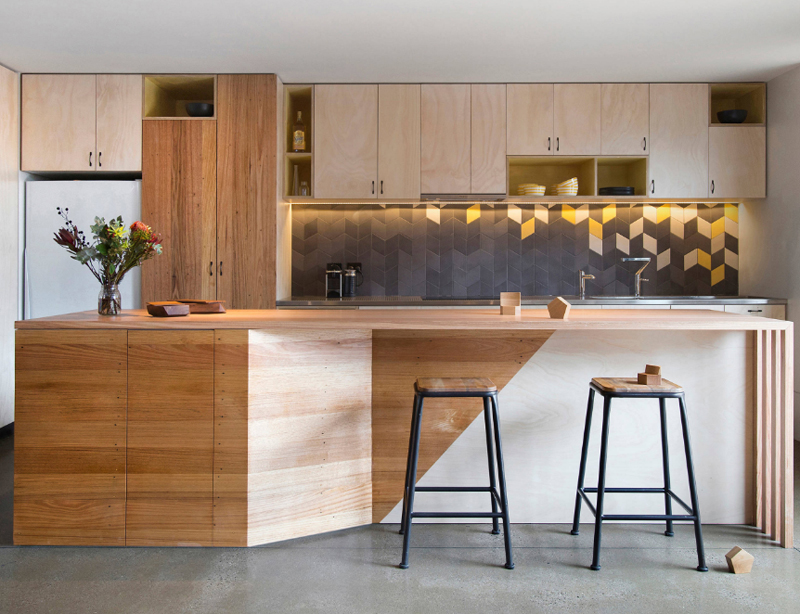 This is a beautiful and unique kitchen thanks to the play of wood in the kitchen island, the cabinets, stools, and to an extent, those magnificent geometric designs on the backsplash. The varying textures and design offer a good play on the eyes. In addition, the lighting by the counter emphasizes the design on the back splash.
18. Walnut Creek Eichler Remodel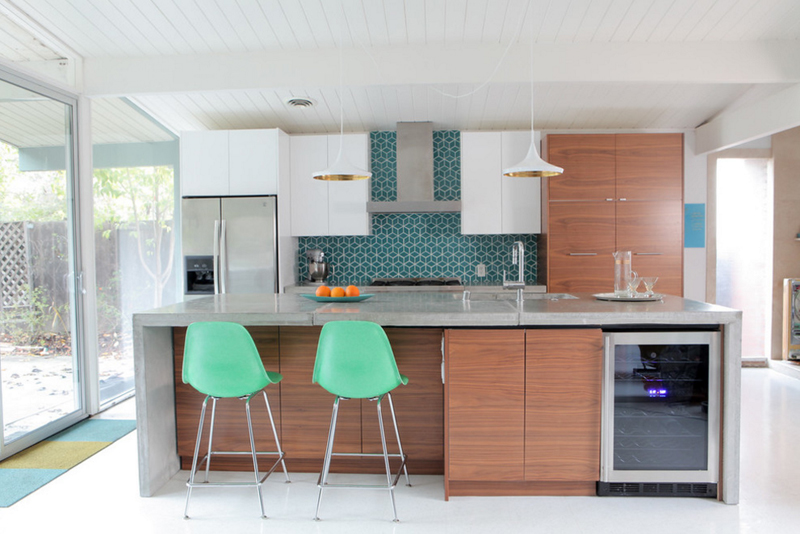 The blue-green color of the backsplash tiles complement nicely the mint-green kitchen stools. The brown cabinets are a nice way to balance the feel in this kitchen as well as with the whites and grays, along with the green accents too.
19. Westgarth Timber Project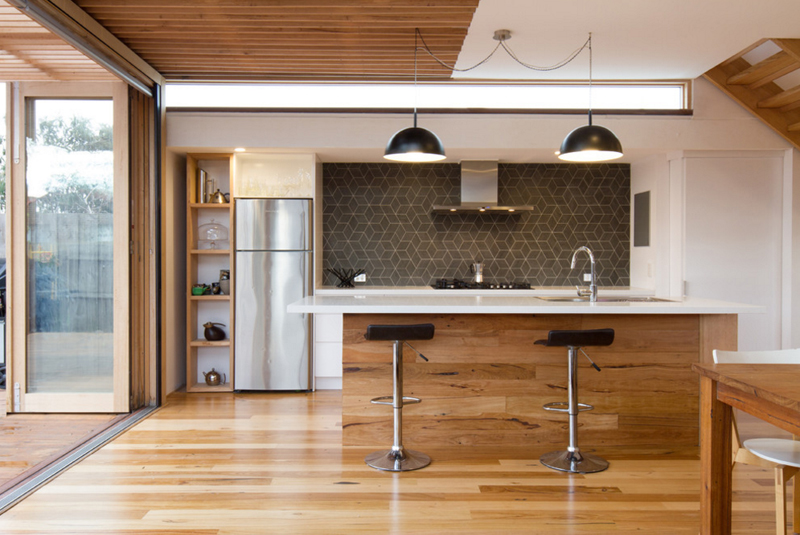 Oh I love how they actually used black tiles against the white walls and white counters. The wood used in here is really on point too! I think this timber home is just something that you do not really see every day but would actually love if you do!
20. Wharf House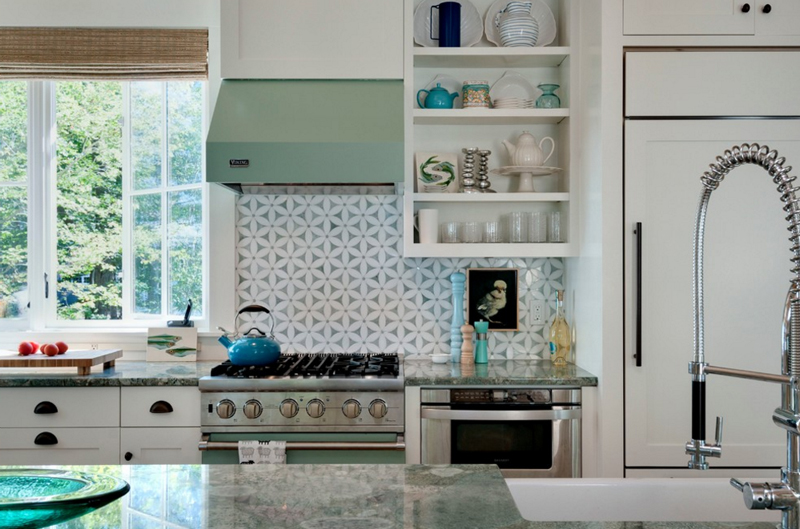 Last but not the least is this simple close up photo of the kitchen of the Wharf house from Wright-Ryan Homes. What can you say about the tiles used for the back splash?
If you loved this collection of 20 Geometric Backsplash Tiles in the Kitchen, then, you should just go ahead and check out the list that a colleague of mine created before, a list about 23 Bathroom Visualizations Featuring Decorative Wall Tiles. Pretty interesting list that you might actually like, and if you do, we sure don't mind you sharing them with your friends!