20 Charming Kitchen Spaces with Bay Windows
If you want to see ideas of how bay windows can be used in the kitchen, this post is for you.
There have been lists about bay windows here in Home Design Lover and this list that we have today is nothing different than the others except that they are bay windows we see in kitchen spaces. What I like about the fact that bay windows are pretty much window projections from the walls that somehow looks like they are coming out of the walls – most of these bay windows have seating in them. Of course, not every bay window has seating, so you should just hold on to your seat.
This list is something beautiful and I do not say that much about the lists that I make – but this one is something that is not only pretty for me because they are in fact beautiful, but because I think anything that designers do to make houses more unique, inspires me even when bay windows have been in the world of design for a long time now. So, with that, take a look at the list below and tell me if you feel the same way about bay windows and this list in general.
1. Broadway Street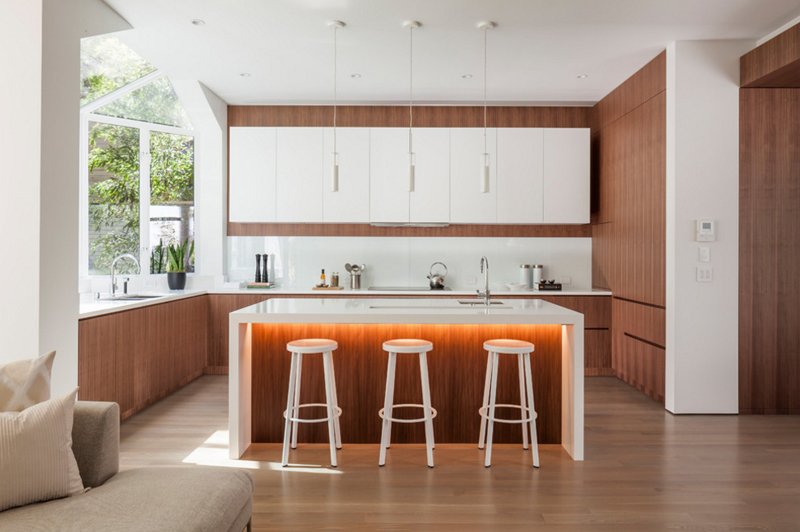 This kitchen is in the beginning of our list just because of how pretty it is; we see on the side the bay window that this kitchen brags. I love how the ceiling part of the bay window is made of glass too because it allows more light to actually enter the room – and we all know how much lighting is encouraged in the kitchen.
2. Chichester Contemporary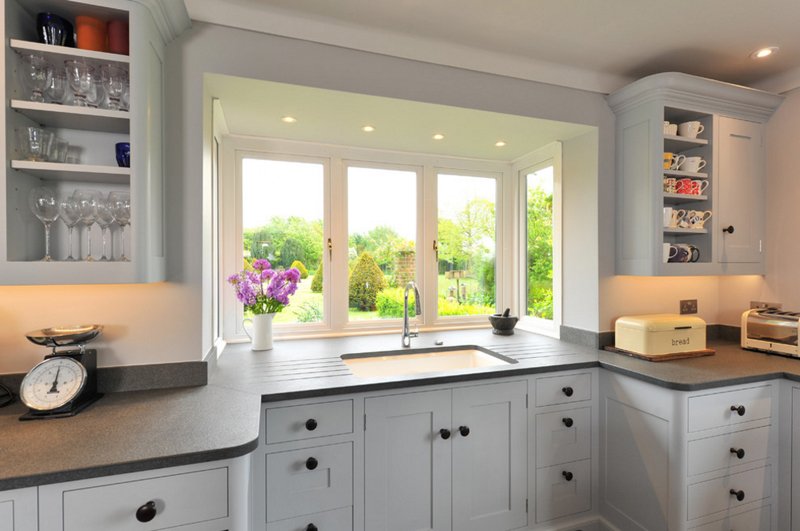 Unlike the bay window on the first picture, this bay window's ceiling is not made of glass but still it looks real pretty because of the fact that they added lights to it. Look at how sleek the countertop is and how nice the color combination is! I think this is one awesome kitchen space!
3. Colorful Eclectic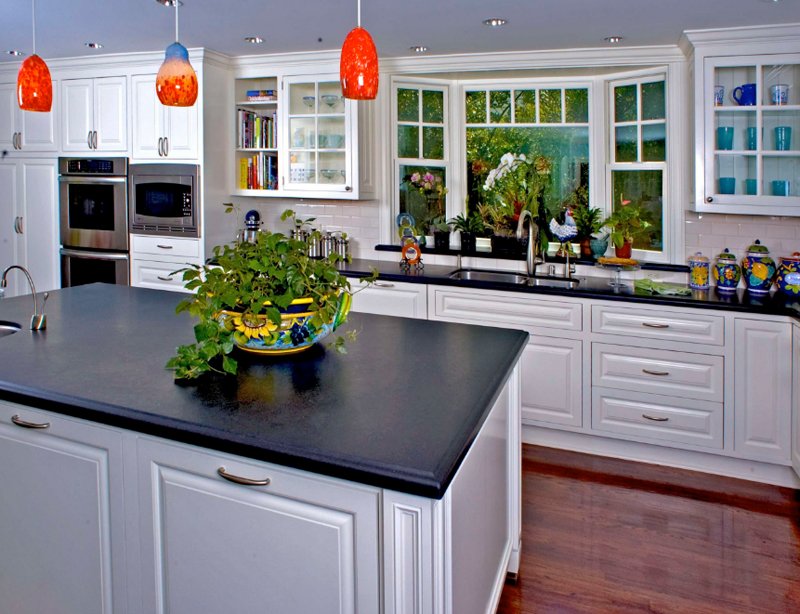 This black and white kitchen sure looks traditional enough but because of the colorful vases and pendant lights that it has it became a bit more eclectic than one could wish for. I mean, it would have been more stunning if they maintained a signal archetype – but then again, clients sometimes have the oddest ways of relating to home design.
4. Conejo Oaks Home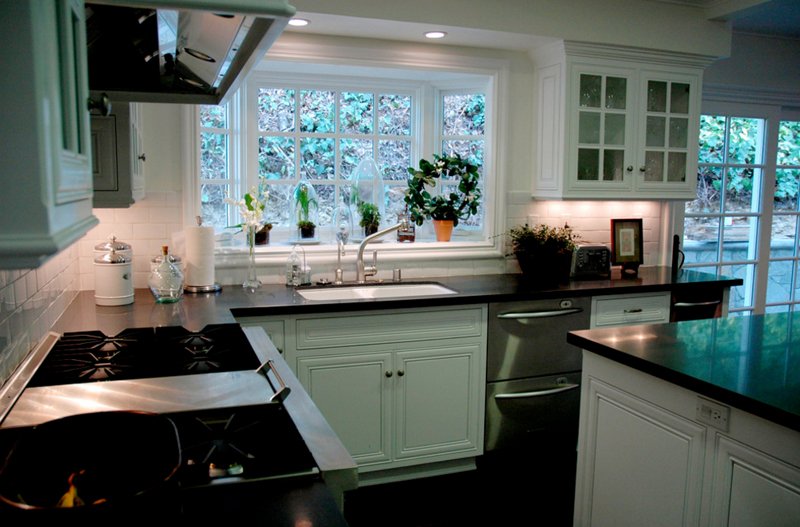 Another black and white kitchen (only with a darker lighting for a kitchen) is seen in this photo. The traditional yet charming set up that this kitchen has is something anyone could relate to especially if you grew up visiting or living with your grandparents.
5. Coronado Avenue Residence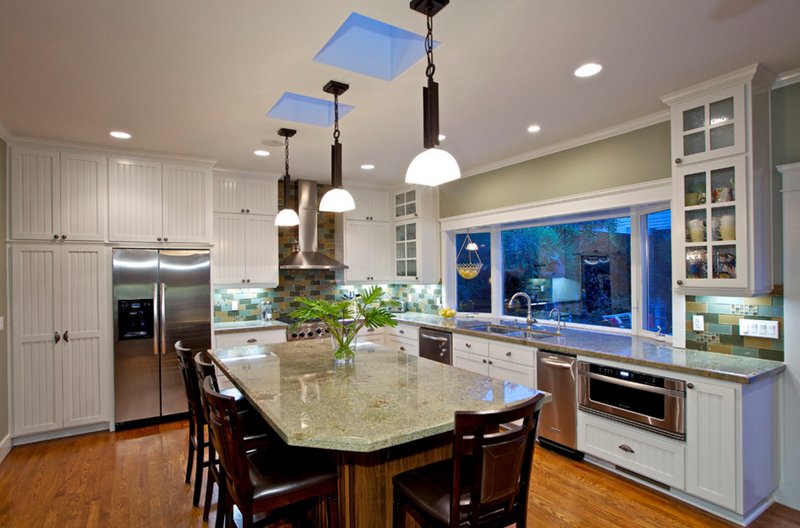 The outstanding cabinet work for this kitchen is definitely something that I admire this kitchen for. The pendant lights sure look perfect and ideal for this kitchen and the layout seems pretty cool for a traditional kitchen space.
6. Dining Room Addition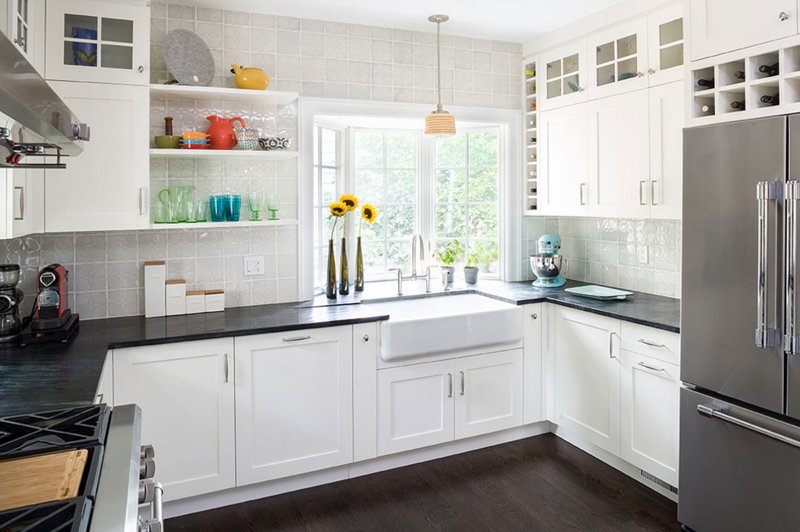 Did you notice that there are more black and white kitchens in this list that you actually expected? Well, for one thing, black and white is a classic color combination and it's actually something that people – designers and clients alike choose for their kitchen and this just makes any kitchen space real pretty too – it seems like your kitchen could pass for something you can see in a magazine.
7. Greenridge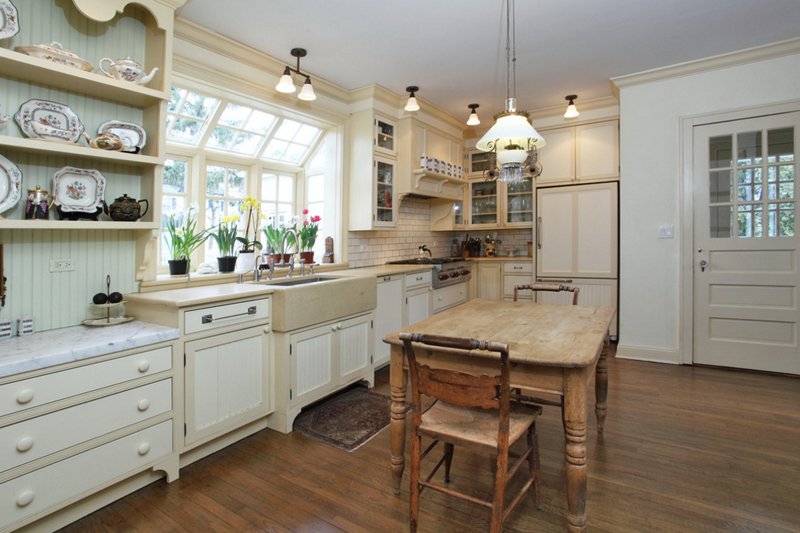 How do you feel about vintage-inspired kitchen spaces? I'm not exactly sure why I added this one on this list, but I think I got pretty excited with the design of the bay window in here. The upper portion of the bay windows seems like skylights and it looks so lovely and fun!
8. Hillsboro Contemporary Townhome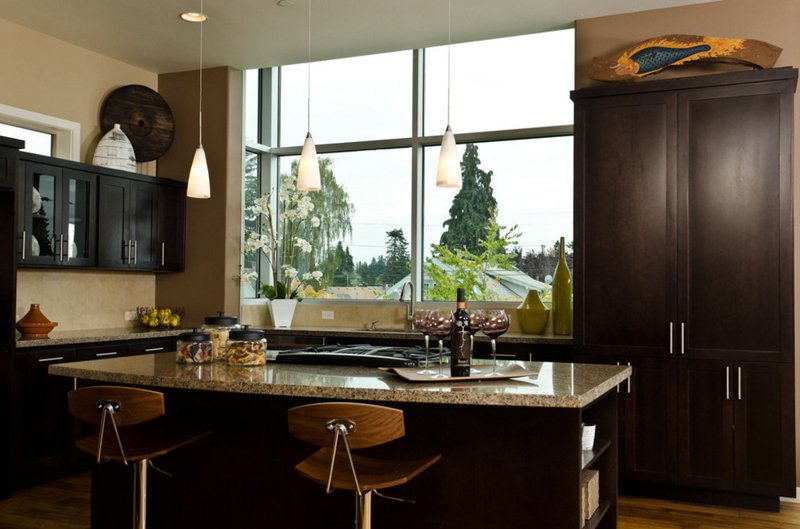 This kitchen's bay window is something a contemporary bay window would look like – assuming there are different kinds of bay windows depending on the era the designer or the client would actually want to add to their homes. This bay window is something sleek, contemporary and clean-looking that I think sure looks pretty awesome!
9. Lafayette House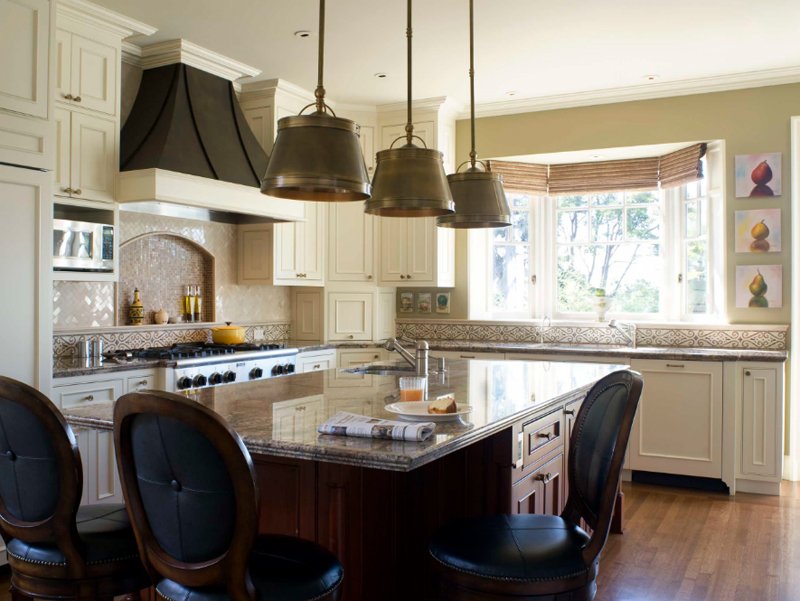 The cool pendant lights that this kitchen has sure are interesting and really cool – they're both industrial and vintage and I think they're just superb! I feel like their design does not match with the entire theme or motif that this kitchen have but they still seem interesting and cool!
10. Maher Project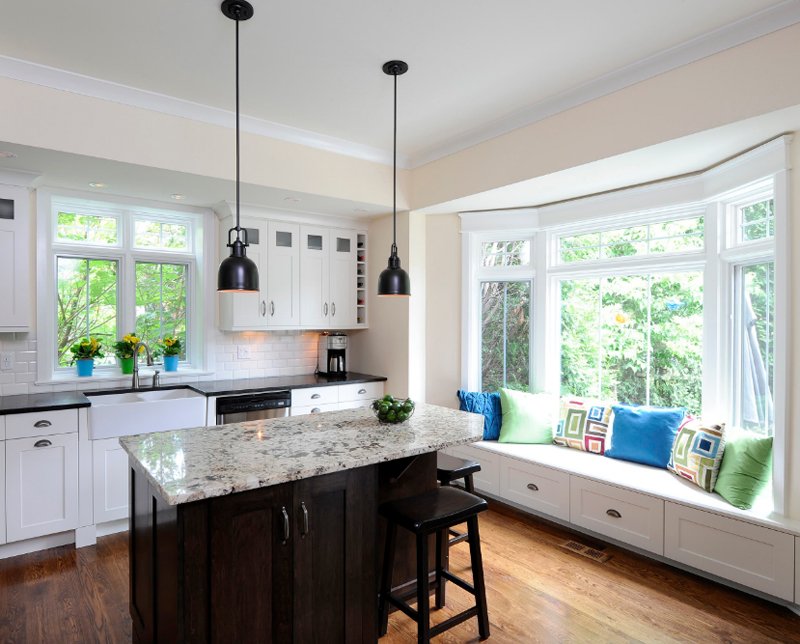 Now, this is one bay window I am totally happy about! I mean, if I had this set up going on in my house, I think I'd be pretty much happier in the kitchen than in the most part of the house! Aside from a having a cozy nook in the kitchen, it has additional storage that you can use; having additional storage anywhere in the house is always welcome – that I am sure of!
11. Oakland Farmhouse Kitchen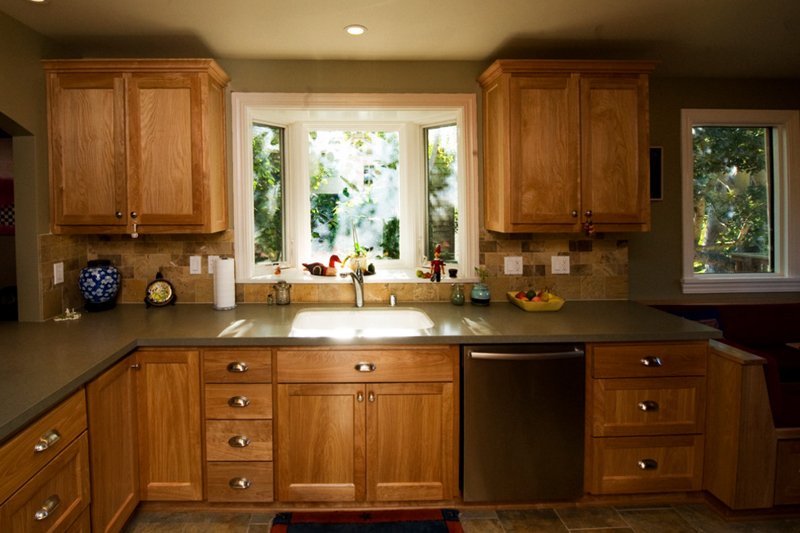 I feel like this kitchen is a bit drab – there are minimal decorations and I think that the color of the wood needs something more. I can't say that they want this exact look for their kitchen or if these cabinets and drawers actually have this raw wood look as their final look. All in all, I think this kitchen looks neat for a farmhouse kitchen!
12. Park Slope Townhouse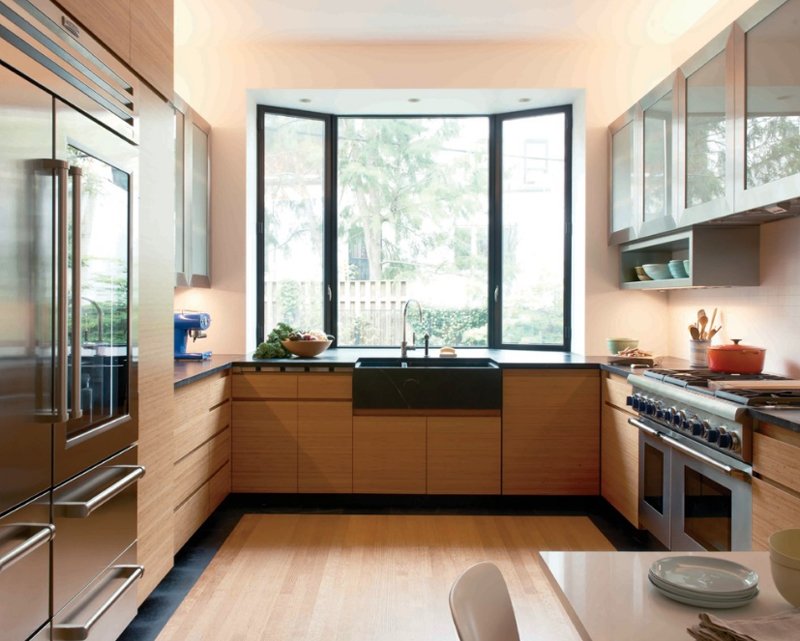 Well, this is another contemporary approach you can do for your kitchen's bay window. Even when this does not have that bay window and seating going on, this window that it has looks real neat and modern – because it does not have much lines except for the base of the glass, it looks real sleek and fancy.
13. Pleasantville Cottage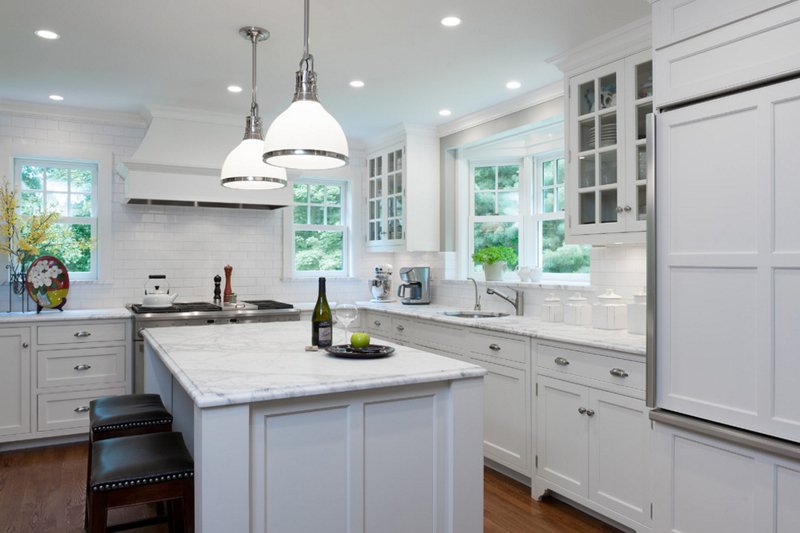 Notice that there are two different types of windows present and used in this kitchen? Well, for a moment there, I got distracted with the cabinet doors on each side of the windows. The white cabinet work, ceiling and counters make me think that this is such a nice place to cook in.
14. Project 5 in Briarcliff Manor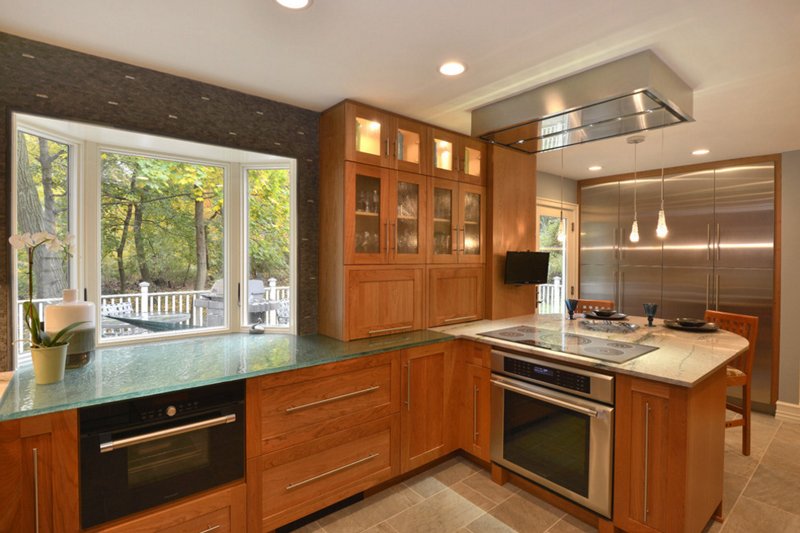 The finish on these cabinets and drawers are just what I personally would want for my woodwork at home. Most often than not, it is in the kitchen that we see much of these woodworks than anywhere in the house. The contrast on the color of the window sill and the wooden cabinets work pretty well in this space.
15. Redwood City Prairie Style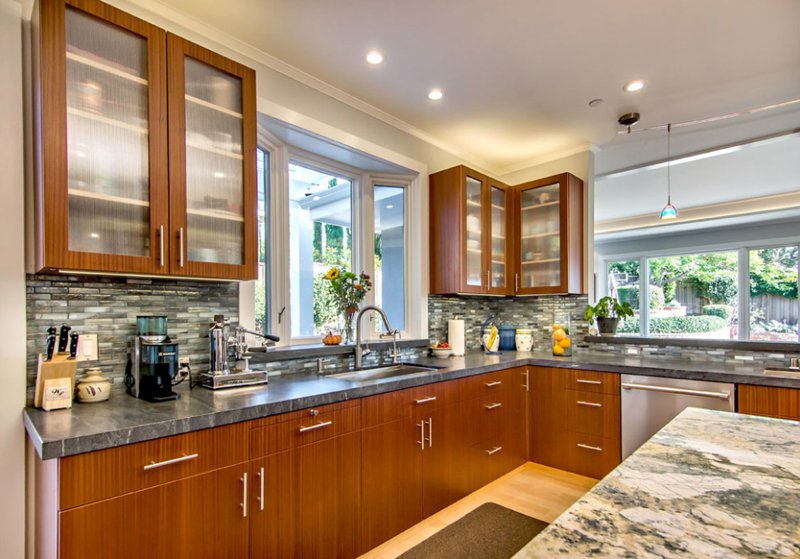 I am not sure if both the windows in this kitchen are bay windows but I think that you would agree when I say that this kitchen has a lot going on in it and it just works well for it. The entire space looks fabulous and the color scheme is something that actually works.
16. Ridgeland Drive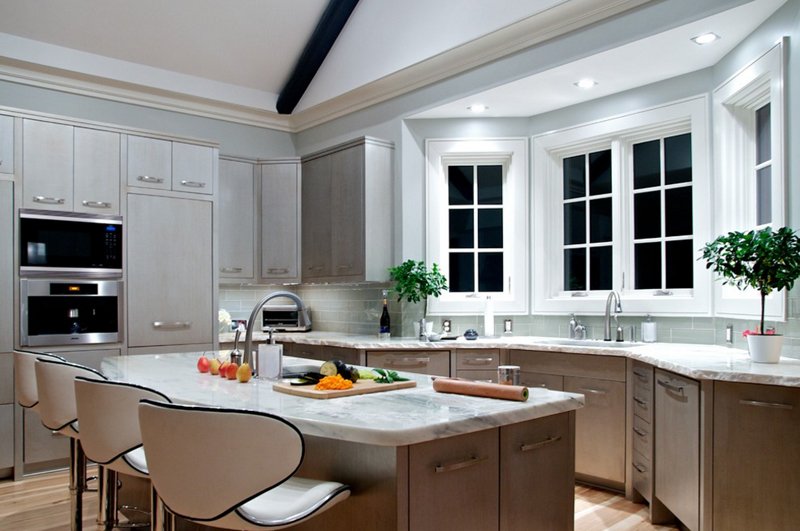 Now this is one fascinatingly pretty bay window! The frames of the window is quite large than usual but it makes it really stand out from this angle. I don't know about you but I think this surely plays well for the space and it looks rather glamorous and fancy while maintaining a vintage or traditional feel to it.
17. Southern California Home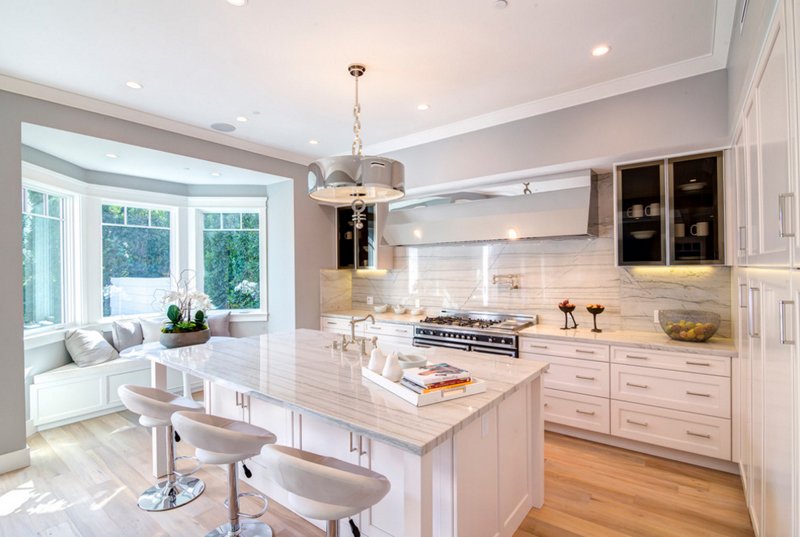 I'm not sure if I already saw a pendant light as fancy as this one! There are tons of designs out there but this one sure looks like something anyone would want for their their design theme is. The whites used in this kitchen surely made this space really luxurious and fancy!
18. Villa Ra'anana 3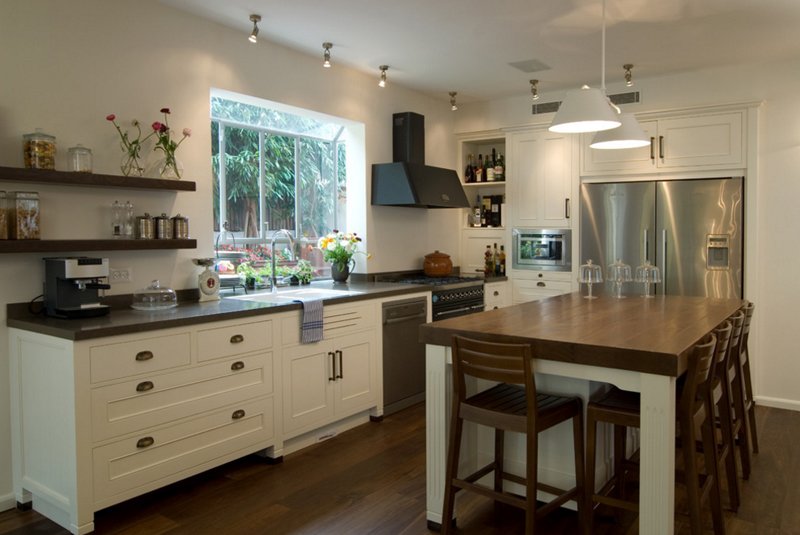 What Nurit Geffen-Batim Studio did to this kitchen is just so wonderful! I mean, it is so simple and really pretty at the same time, it's just perfect. You have some countertop going on, a decent kitchen island and bar in one and nice shelving, cabinet work and lighting – the main essentials that a kitchen ought to have!
19. Whitley Heights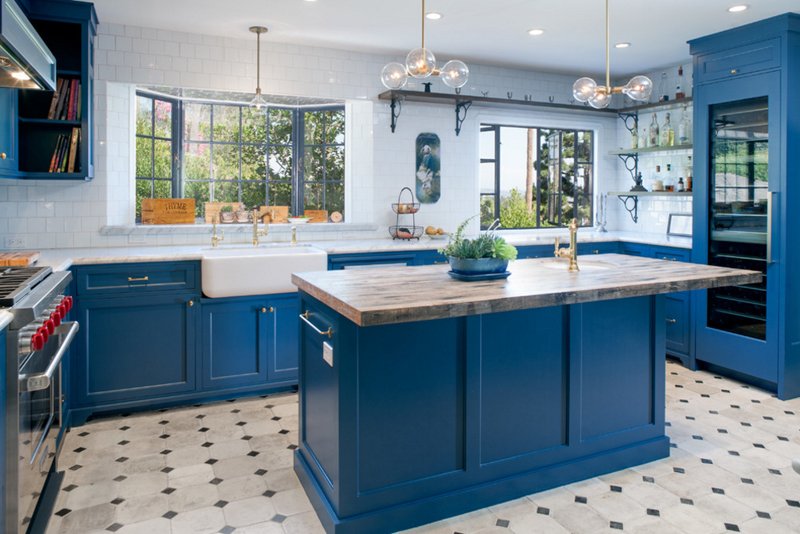 I love blue but I am not so sure if I would opt to actually have a kitchen like this one – but I have nothing against color-themed spaces because seriously, some of these spaces are stunning like this one. The blue does not overpower the room even when we know that it is definitely the main color of the space.
20. Woodland Residence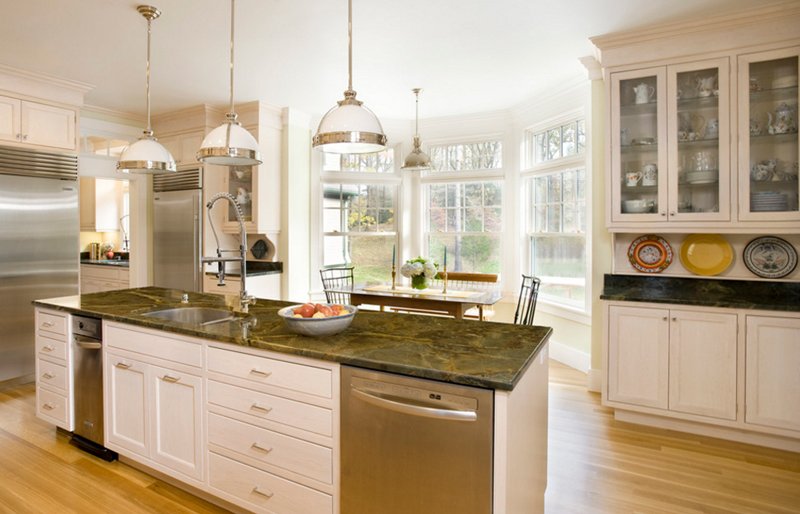 Last on this list of awesome kitchen spaces with bay windows is something from LDa Architects. This kitchen space sure has much glam and fancy happening in it and I think it just seems really nice and calm to be in here. Being someone who actually bakes to calm my nerves, this kitchen sure has something that I would not mind being in.
So, what do you think about the list of 20 Charming Kitchen Spaces with Bay Windows? Did you find it charming and amusing as I did? This list is something that could possibly inspire other people with designing their windows as such because it does not only make the outdoor walls prettier, but it also makes the interior look charming and fabulous! If you want more bay window inspiration – check out the 15 Bay Window Ideas for Inspiration and share them with your friends!