15 Bay Window Ideas for Inspiration
A bay window appears to project outward from the house. If observed outside, it looks like an additional geometric shaped window that juts out of the wall. But, when observed inside, they can be a lovely addition to the room, whether it is in the bedroom, living room or even the kitchen. One can add cushions, window seats, drapes and pillows and it can be a perfect place for relaxation. They also let air enter the room, since the windows are designed so to allow air from multiple directions to enter. They also allow ample amount of light to enter the home, thus illuminating it during day time.
Bay windows add beauty, elegance and also space in a home. So, for this next article, we are featuring 15 Bay Window Ideas for Inspiration. They come in different shapes and sizes, but the idea of their use is the same, for added space. Some bay windows are installed in the kitchen for a breakfast nook, which is also a lovely addition. Have fun checking these windows out and enjoy.
Updating Traditional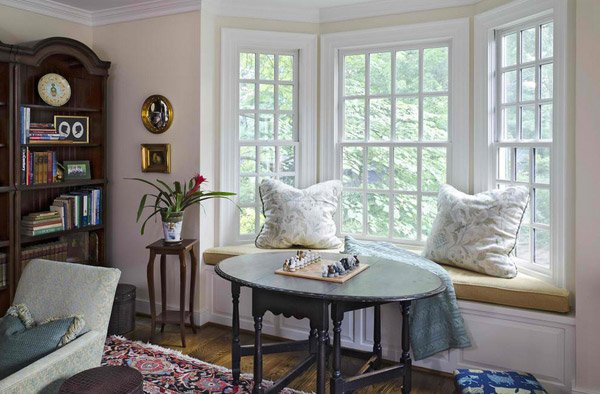 A cozy and comfortable looking family room, with a bay window complete with a straight bench with cushion and pillows to soften up the look.
Tiburon Home with Asian Influence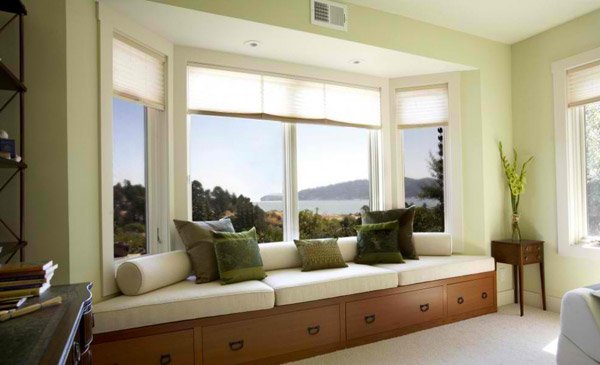 This bay window added with a cushioned seat and pillows is perfect for relaxation and meditation, especially after a stressful day.
San Rafael Showcase Home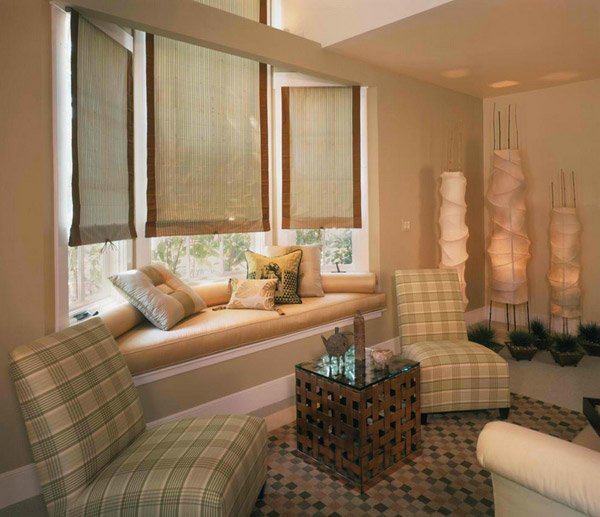 Another beautiful bay window idea with a bench topped with pillows and cushions. The shades are a great addition for protection on a sunny day.
Olympia Residence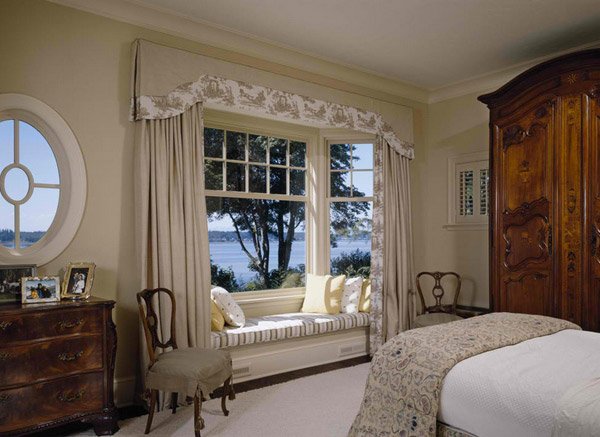 This gorgeous bay window idea that is highlighted by lovely traditional curtains, window seat with cushions and pillows that is perfect for lounging and curling up for a good read.
Hillside Kid's Room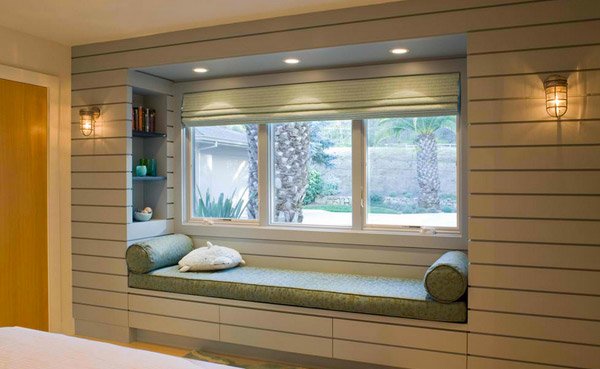 An interesting idea for a straight bay window, which utilized space. The built in shelves and window seat with a wide bench is a great addition and perfect for relaxation.
Extra Seating- Window Seats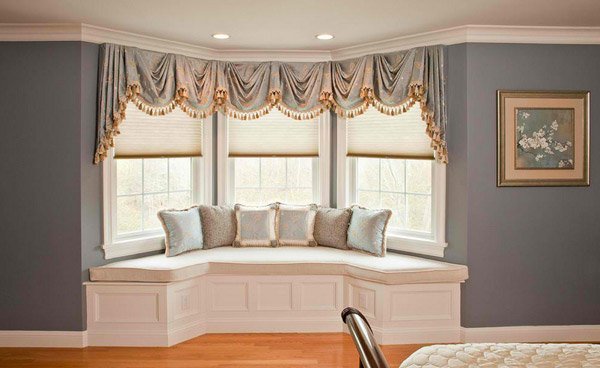 This elegant traditional style bay window is installed in a bedroom. The whole look is simply beautiful and gorgeous that blends well with the entire bedroom.
Parkside House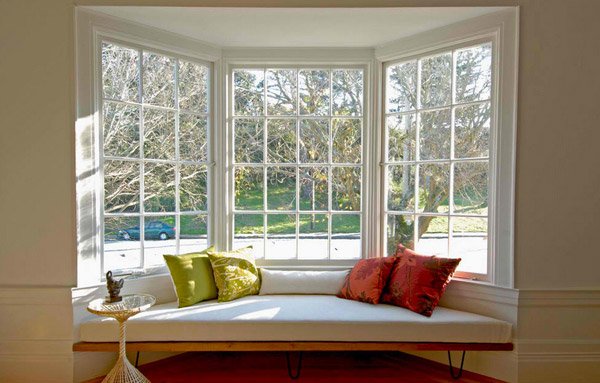 This large contemporary bay window with hairpin legs, cushions and pillows are just gorgeous – perfect combination for a living room.
Modern Villa – Breakfast Dining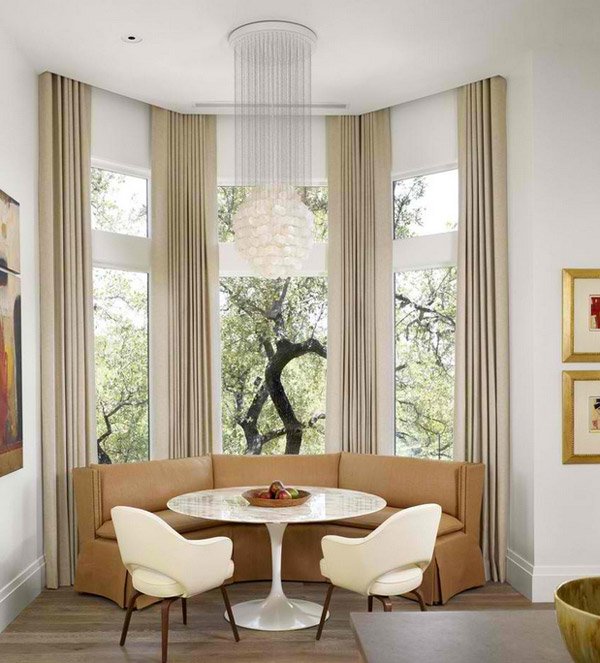 A beautiful high ceiling bay window idea, situated in the kitchen with a couch for sitting and a round table, making it a cozy breakfast nook.
San Francisco Buena Vista Deco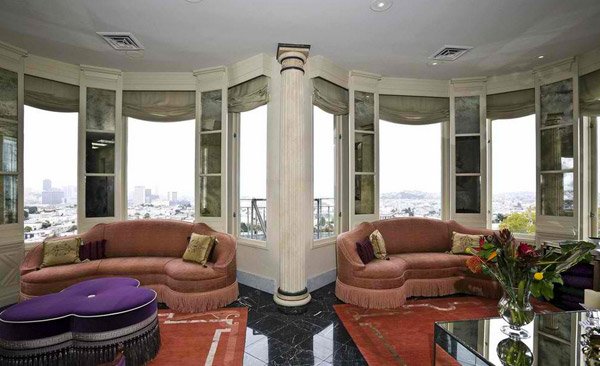 A twin bay window idea with twin curved sofas that highlight its beauty and style.
Halifax St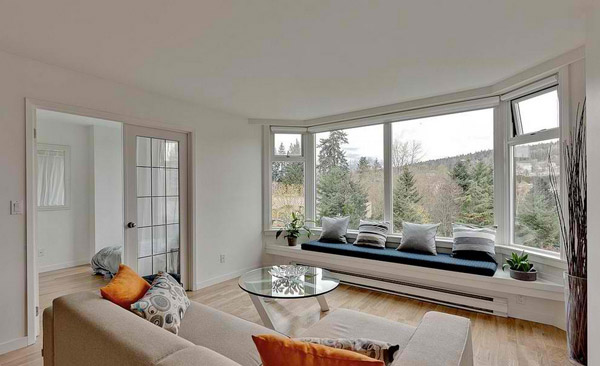 This simple but elegant bay window idea has large windows, built in window seat with cushions and roller shade blinds. It's a good place for relaxation and star gazing on a clear night.
Office – Revere Model Home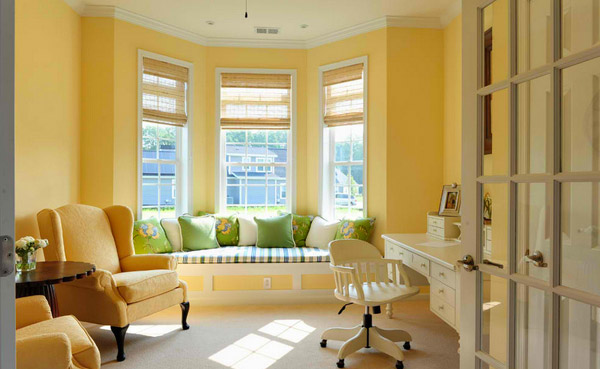 A lovely bay window idea with sunny yellow walls, striped cushions, green pillows and woven roller blinds that is very inviting and relaxing at the same time.
Tradition with a Twist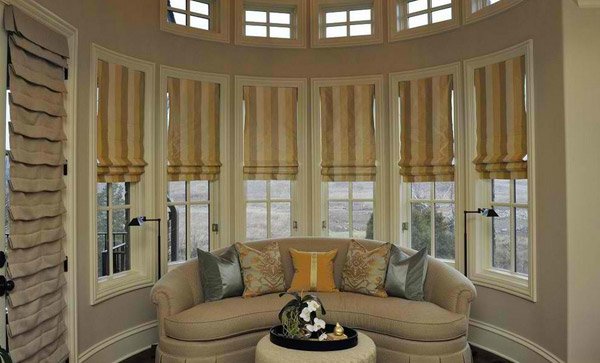 A lovely corner in the bedroom accentuated by the rounded bay window design and curved couch for relaxation. The roman shades for blinds are a perfect addition, especially since it blends with the neutral color of the background.
Sun Room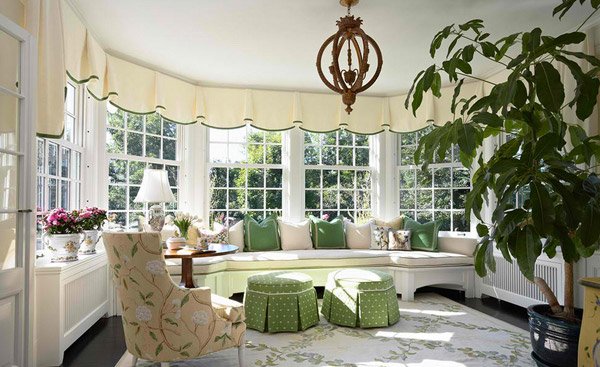 A beautiful and inviting living room idea that is centered on the large bay window that has a valance for minimal covering and lovely plants. It is simple, yet pretty.
Victorian Splendor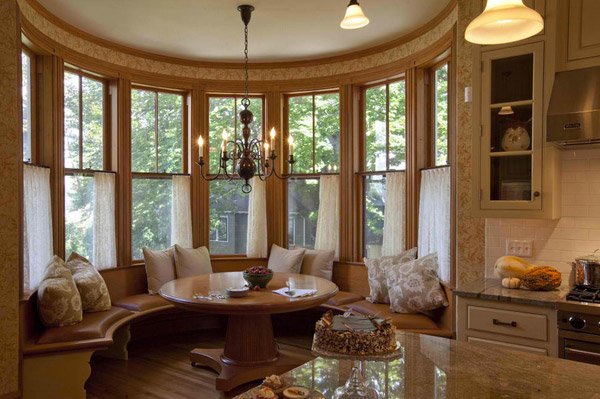 Another round bay window idea situated in the kitchen for a breakfast nook that is lovely and inviting due to the warm colors utilized in this space. Isn't it lovely?
NYC Apartment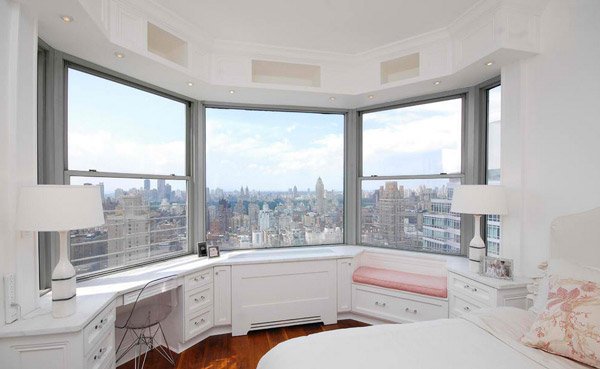 A contemporary inspired bedroom idea with a large and beautiful bay window over-looking the view of the city. Instead of seats on the window area, the space was utilized with a built in desk, perfect for working and studying.
Another advantage of a bay window is that they add value to a home since they look elegant as well as beautiful. Anyone would be very interested in adding these windows in any home, since it can be set-up to be a perfect corner for relaxation and cozy enough that you can even sleep there if desired. You can also check on space saving window seats in traditional interiors.