Winelands Home: A Stunning Residence for Family Gatherings and Entertainment
A house would be built so we can have a roof above us and some walls to keep us safe and secure. But aside from that, some would opt to have another home where they can do other activities for relaxation and entertainment. Still others, see to it that everything they need is in the house so they wouldn't have to go far to get a drink or to have fun or to spend time with family and friends. The house that we will feature today is meant for family gatherings and the design is indeed suitable for entertainment.
The owners wanted a new home that where the family could gather and wanted the design to capture a modern farmhouse that incorporated glamorous elements emphasizing on barefoot luxury and the use of natural materials. The Winelands Home is located in Stellenbosch, a town in the Western Cape province of South Africa which is named after its picturesque location with vineyards and wine farms. The design of this house features a modern twist on Cape Dutch homes with a central courtyard and gabled ends set off by bespoke lighting and design pieces. Since the house is aimed to gather the family including the grand children, the entertainment spaces and the master bedroom was located on the ground floor and it has a three additional guest suites on the first level. You'd love the look of this home for sure. Come take a look!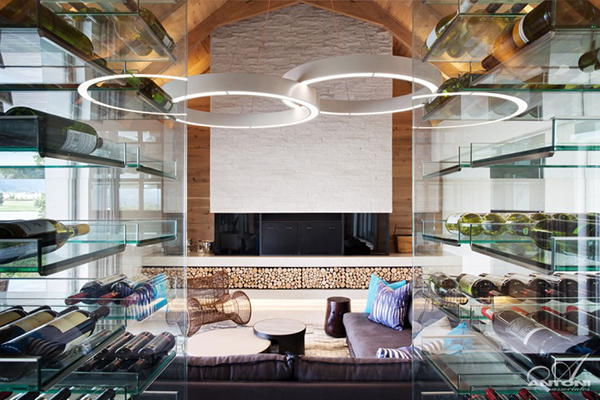 The interior focused on using organic materials such as timber and stone that adds a sense of homeliness and warmth to the contemporary home.
You can see here a frameless glass shelving with more than 400 bottles which are perfectly temperature controlled with concealed refrigeration.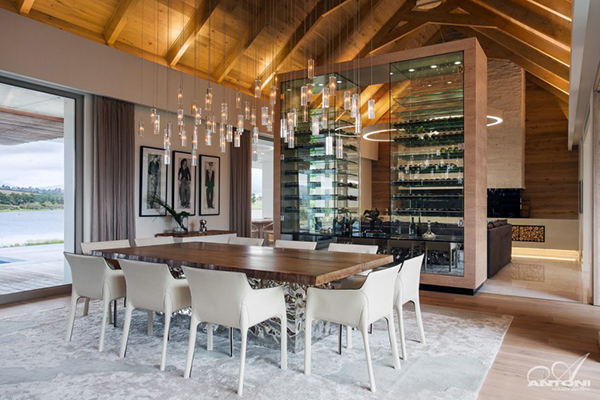 That wine cellar is indeed a key feature in this house which is part of making it a nice place for entertainment.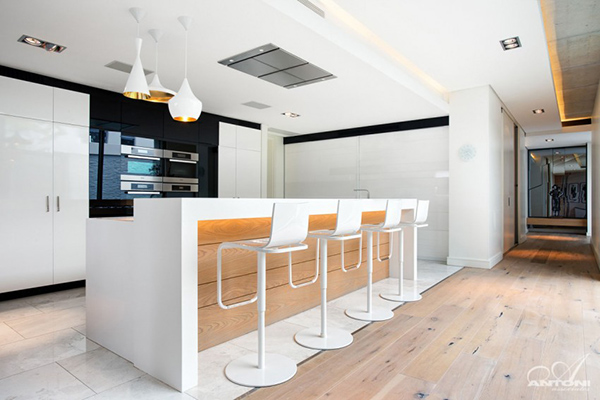 The kitchen has lime oak flooring and white finishes. Love the white and gold combination of the lights!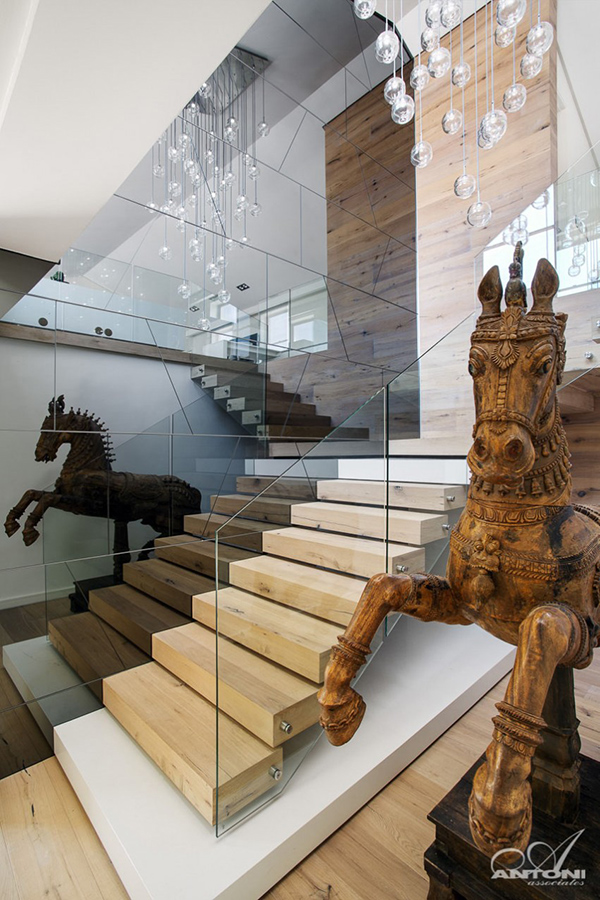 I could say that this staircase is a dashing feature as it covers one part with mirror and paired it with wooden treads and glass railings.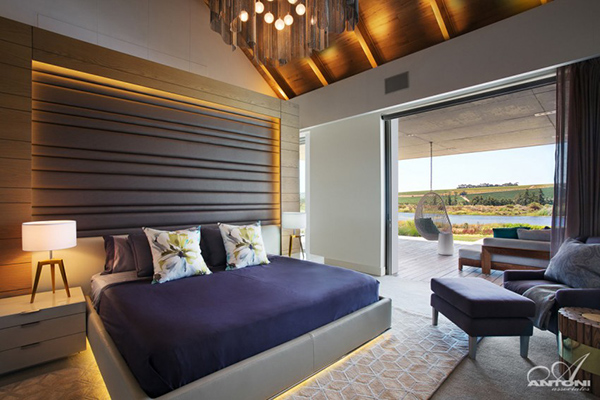 This bedroom opens up to a terrace through a pocket door. Don't you just love that chandelier and headboard?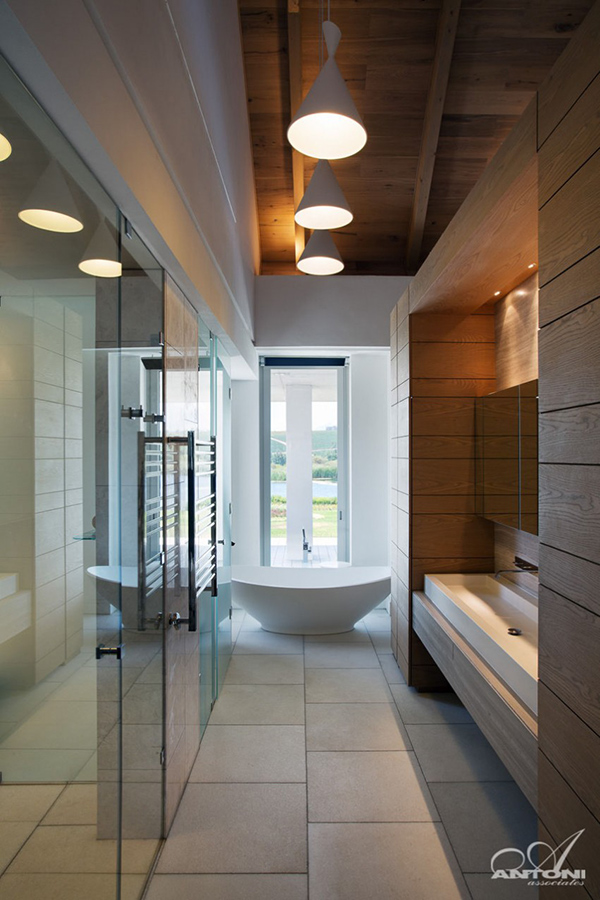 A luxurious bathroom is has a combination of wood, glass and white finishes. Even the fixtures are white too.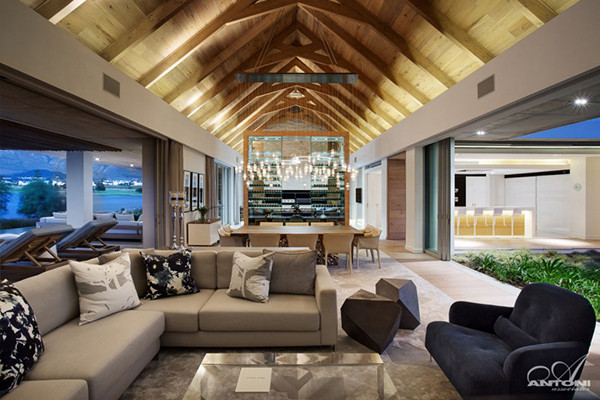 The home used a combination of bold and discreet lighting that allows various moods while inside.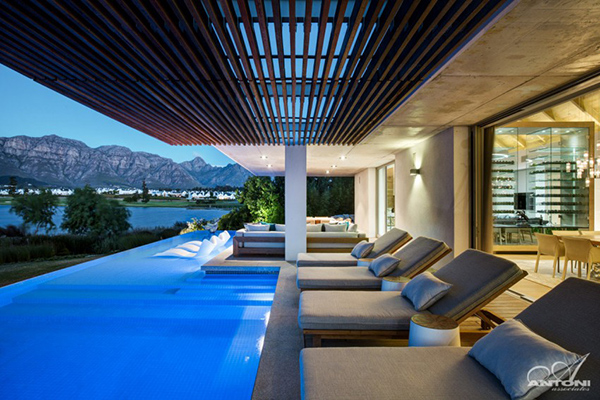 The terrace and pool area will make you feel like you want to stay in here forever especially that it has a stunning view outside!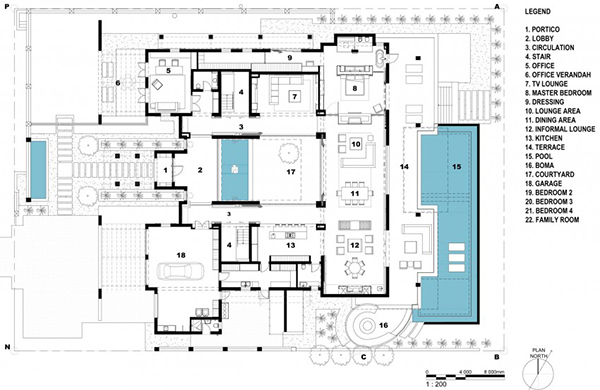 Shown here is the floor plan of the first level of the house. It sure is perfect for gatherings!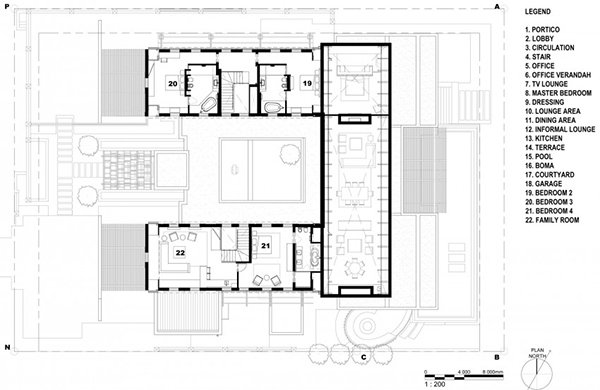 The second level houses the private areas with three guest bedrooms.
I'm pretty sure that the owners are happy with how their home turned out. The two important criteria they wanted was to include a central courtyard and that the main living areas were to have double volume. These were granted by the Antoni Associates who designed the house. Meanwhile, the dramatic and perfectly stunning interior furniture and decors are credited to the creative minds of Mark Rielly and Sarika Jacobs of AA Interiors. You can get a sense of understated luxury in the interior with the tactile finishes including timber, textured leathers and raw linens. Absolutely gorgeous home indeed!