Luxurious and Inviting Jade Ocean Penthouse in Florida
Whenever we see a home that has full of sophisticated items, we always wish it is ours. Well, we would think that way because of all the stunning elements in it. I know you have seen actual homes that are very beautiful with so many luxurious features. But there are more homes like this around the world. We have featured some of them here on Home Design Lover and we are going to show you another one today.
The Jade Ocean Penthouse 2 is stunning spacious two story penthouse design located in Sunny Isles Beach, Florida. The penthouse is contained in a modern high-rise, oceanfront building with a 5,800 square feet of sophisticated living space. It also has high ceilings, designer furnishings and fixtures and plenty of other luxurious amenities that are meant for relaxing and entertaining. The dwelling has a light and translucent design filled with luxurious items that looked clean and modern yet inviting. Of course, the design is based on the client's taste to create their second residence.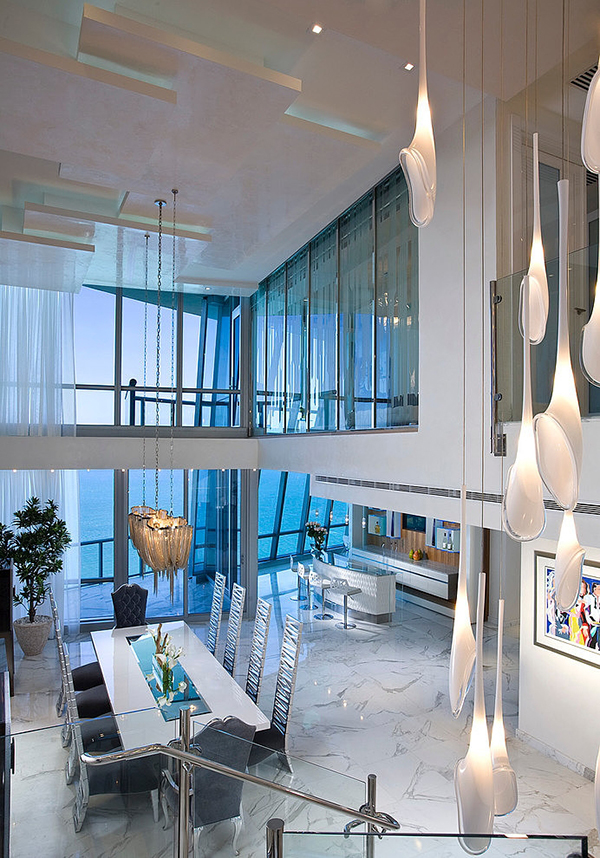 Look at all the sophisticated items in the penthouse! Everything seems to shimmer and glitter with richness!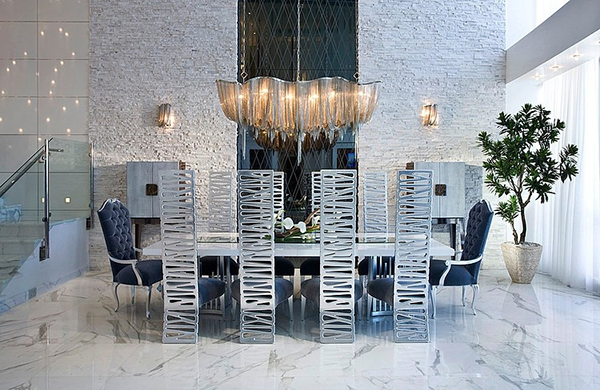 I love the look of these dining chairs! These are just so gorgeous that they could pass as sculptures!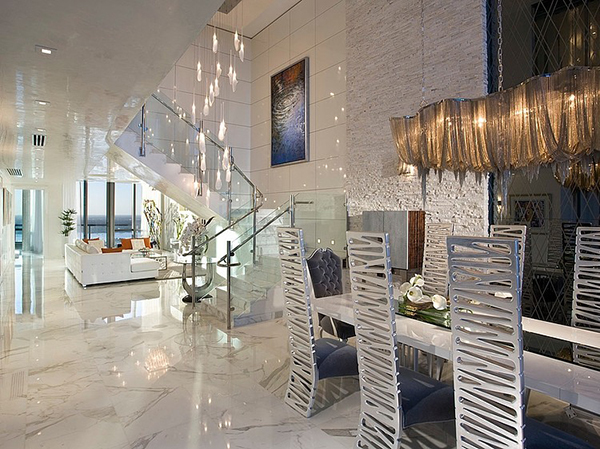 Lighting fixtures are very decorative too. It seems like everything in here have a fab appeal!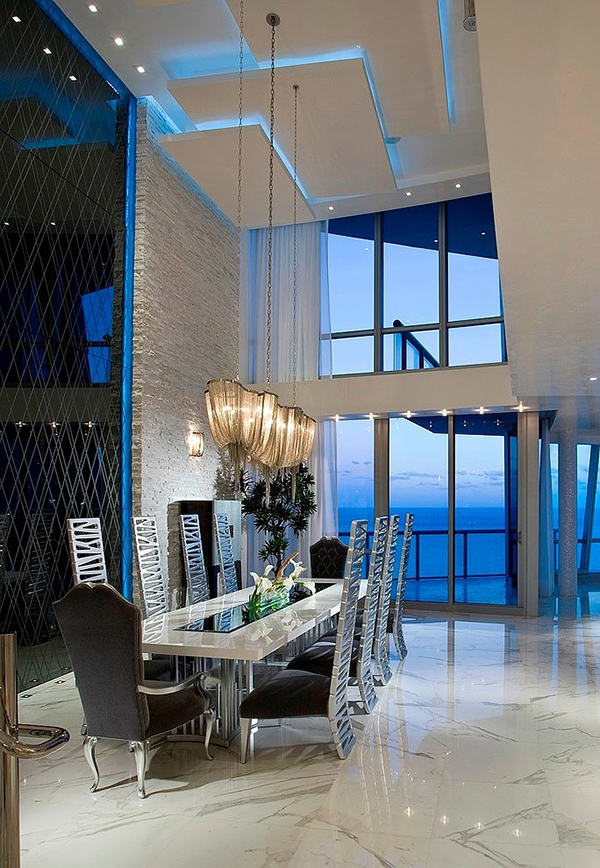 The interior doesn't just have shiny flooring but it has tall glass windows that made the space look even brighter.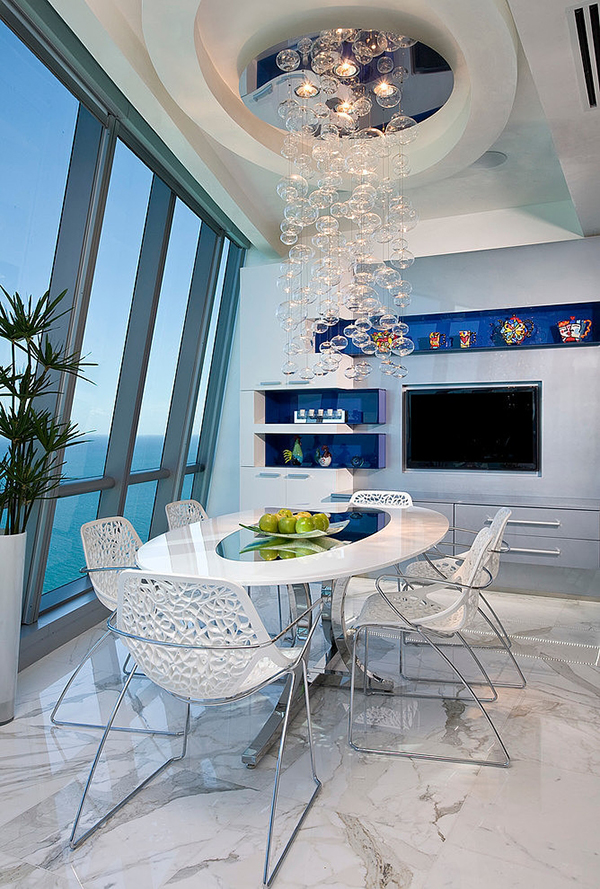 Bubble pendant light is used for this dining space with white stunning dining set.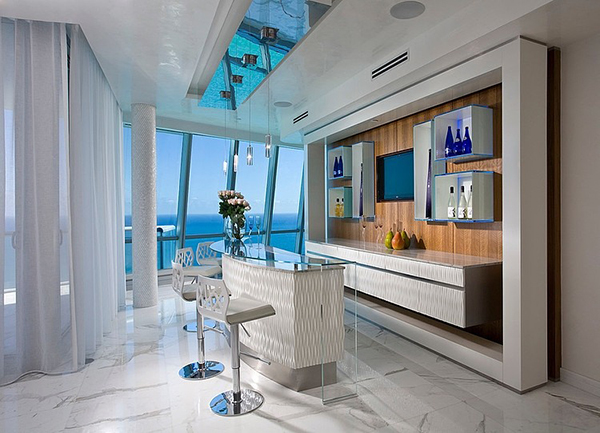 This home bar is very lovely too. I like how the shelves holding the wine are designed as well as the bar and high-counter chairs too.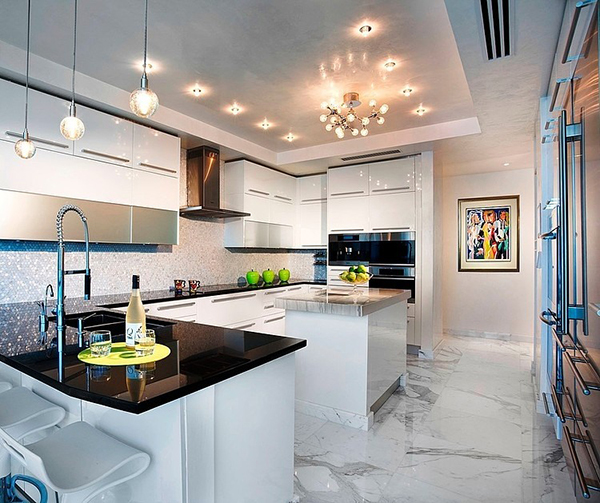 This kitchen has contrasting colors but it has that luxurious feel from the fixtures, equipment and all!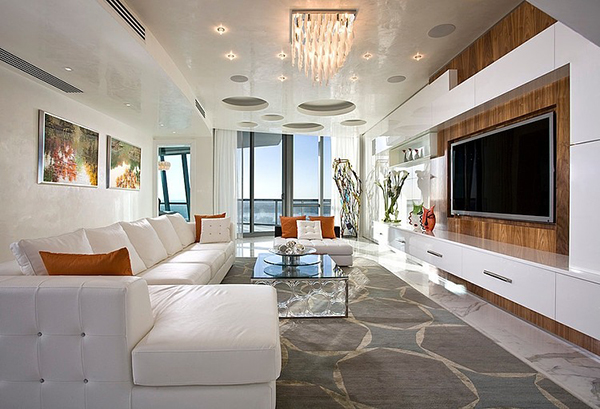 This living area has a stunning design from ceiling to furniture. I also like the choice of colors here.
Using white for the walls, furniture and wall shelves is a perfect combination to the wooden textures on the wall.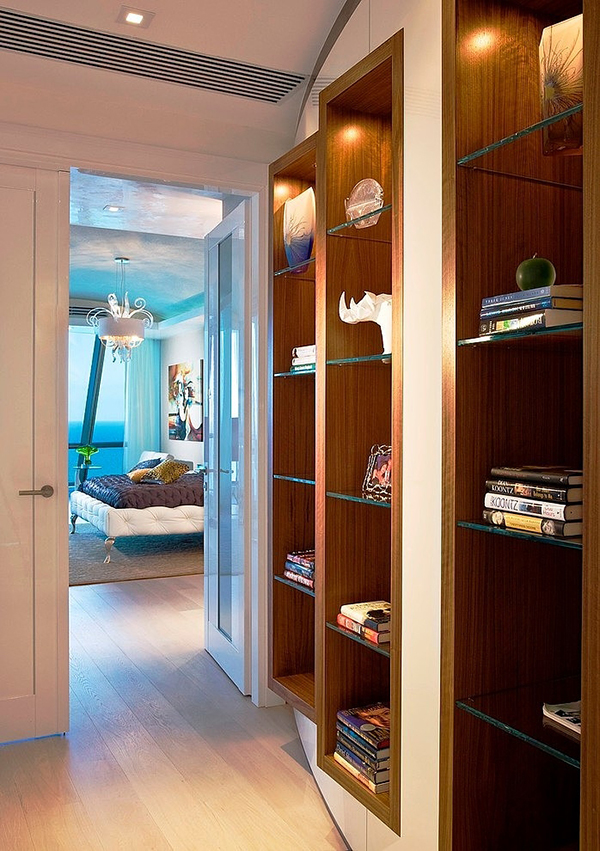 In the hallway leading to the bedroom are the glass shelves of books with wooden frame.
What a beautiful tufted bed! I like the mix of black, gray and white in here.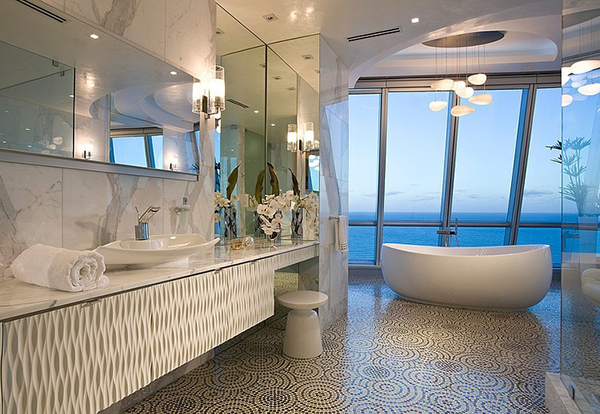 Take note of the varying patterns in this bathroom using mosaic tiles.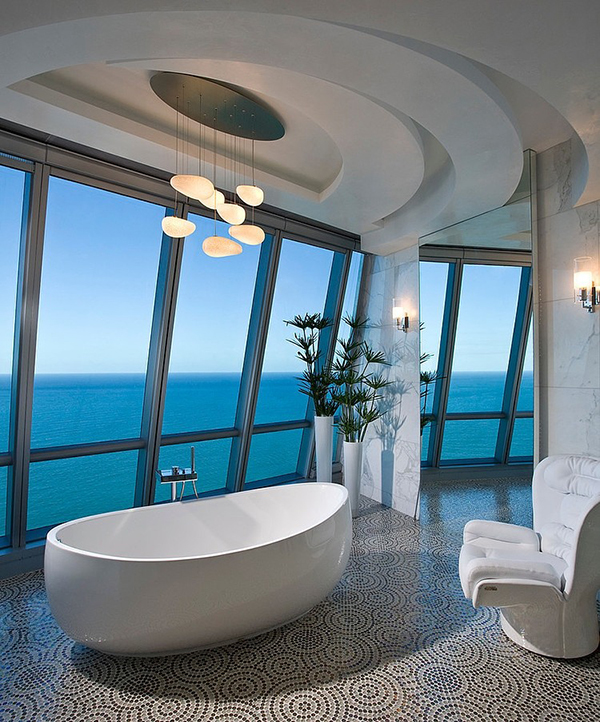 Apart from that, it has a mesmerizing sight to the ocean too!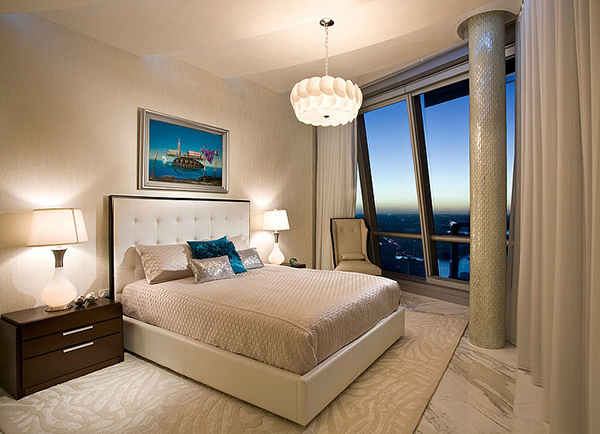 There is also a great view from this bedroom that has a hotel feel.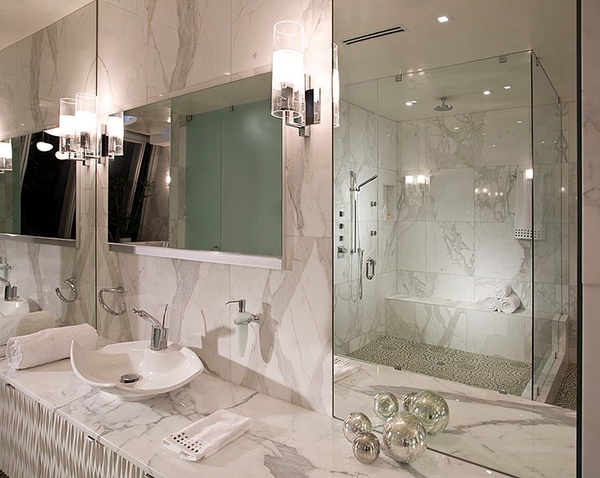 The bathroom has a shower area enclosed in glass apart from its bath tub.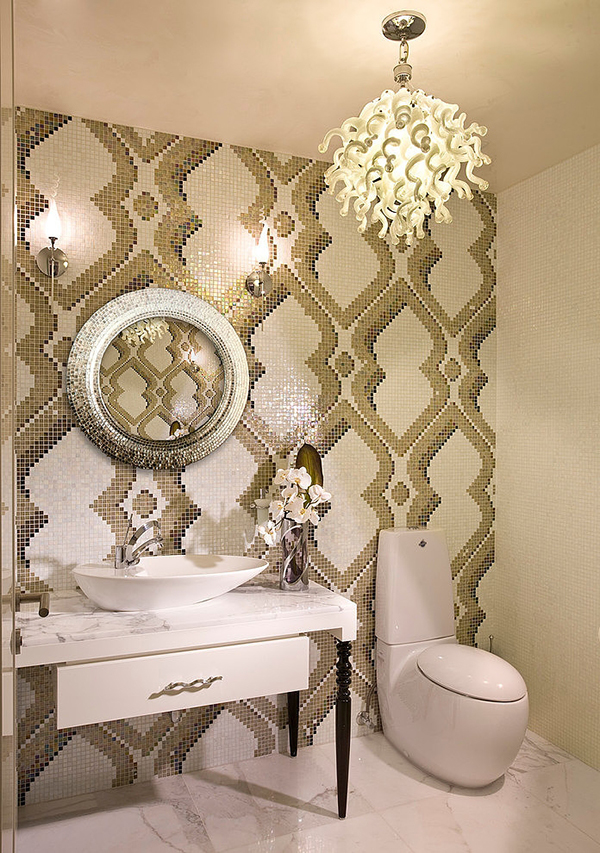 Another bathroom with a modern toilet and sink that sits against a mosaic wall backdrop.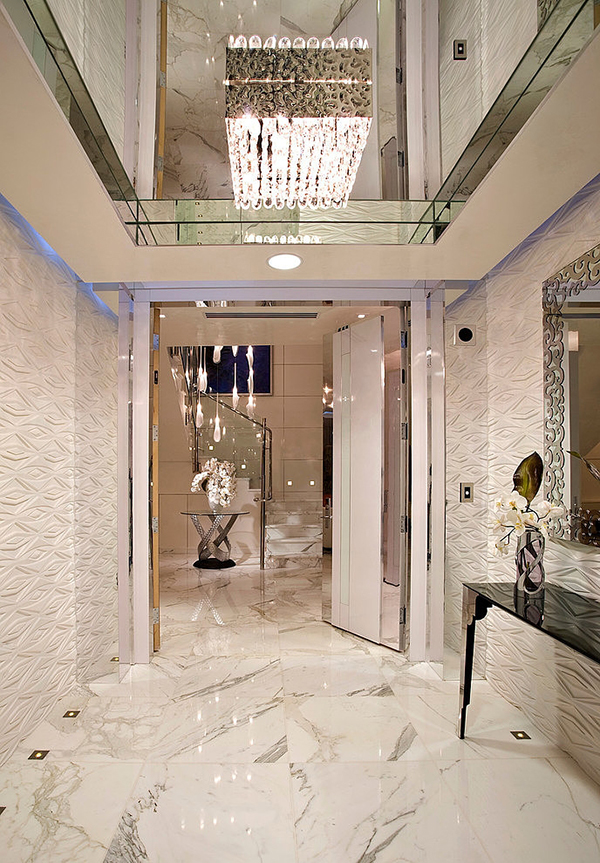 The foyer looks very elegant as if you are being welcomed into a hotel!
Isn't this a stunning home? This is an award-winning residence that was featured in many design magazines and on TV shows worldwide. Well, we won't wonder why it received much recognition because the Pfuner Design really made this home a gorgeous space to live in. Even the bathrooms look very luxurious! Indeed, this is a home with a brush of luxury in every corner!