Lavish Modern 604 Acacia House in California
Today's house feature is a home located in Corona Dl Mar, California. Overall, this house reflects a lavish way of living. It has a beautiful wooden fence which marks the property and lots of windows making it appear open and refreshing. This two level house has a design that catches the eyes of passersby due to its use of geometric lines and shapes as well as its choices of materials that gave the house that spectacular modern look. It has a flat roof and a landscaping that even made it look more beautiful.
The design elements of the house brings out a different personality and style, as if it is seemingly urging you to take a step inside and discover how lovely its interior is. The interior is minimalist in style and uses an array or materials giving out a strong visual impact. Once you see the home's interior, you can feel its unique persona and cozy ambiance. The interior is well planned because of its proper distribution of spaces with aesthetics and function in mind. Let us take a short tour of this 604 Acacia House in California.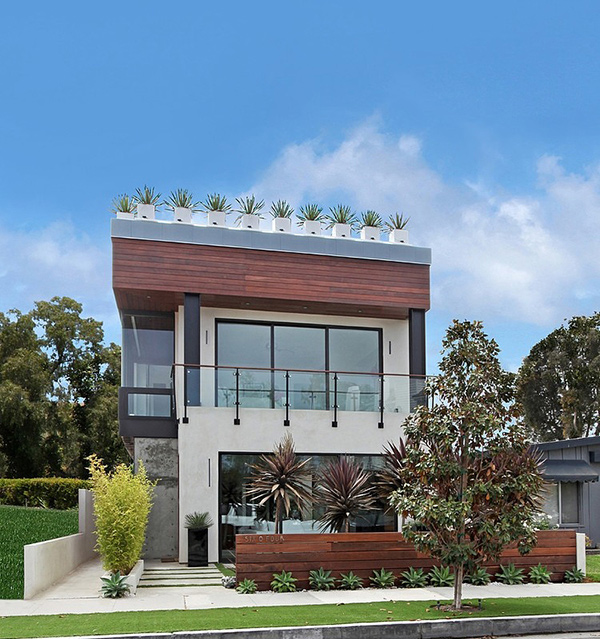 The house sits here humbly despite its stunning beauty of geometric appeal.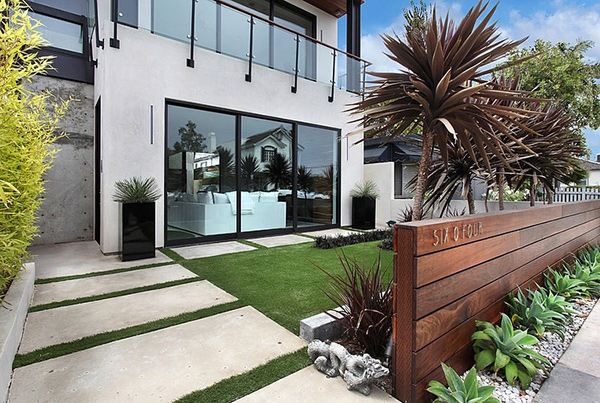 This fence is a picturesque addition to the home's exterior especially with the plants around it.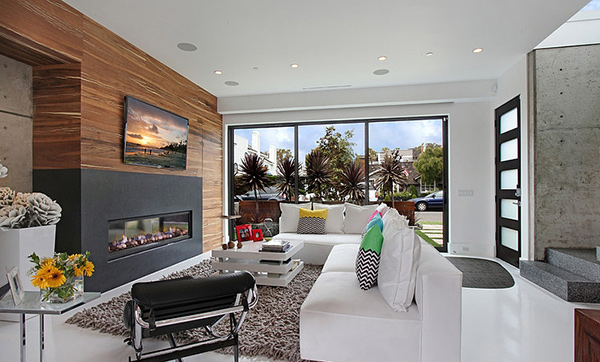 We love how the walls are done here- wooden, concrete and white walls combined. The set-up of this living room is also very stunning with its white sofa and shaggy area rug. Even the throw pillows added color to the space.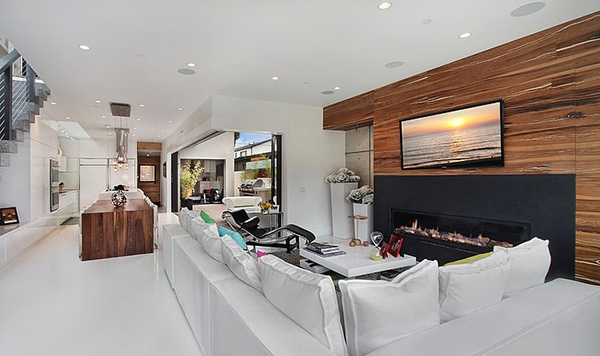 Wooden wall accent matched the dining table that can also be seen here and it does added life to this white space.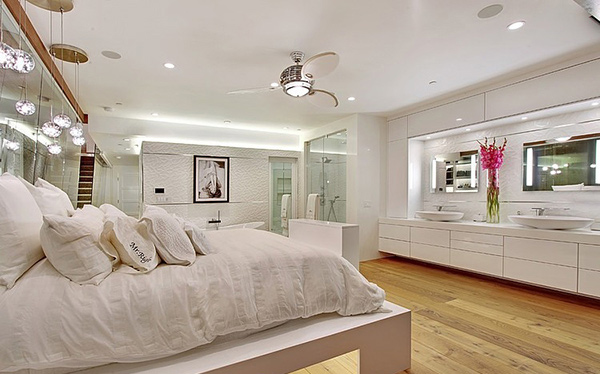 A bedroom with a vanity and a tub in it- isn't this unique? Even in white, this bedroom looks totally romantic!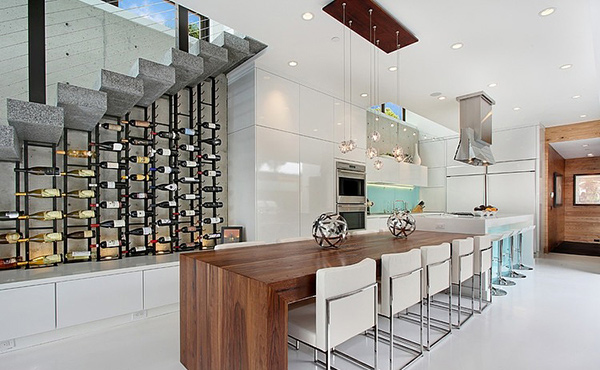 Look at how they store wines! Using the space under the stairs is definitely a great idea. The dining area and kitchen also look fab with all the lights installed in the ceiling.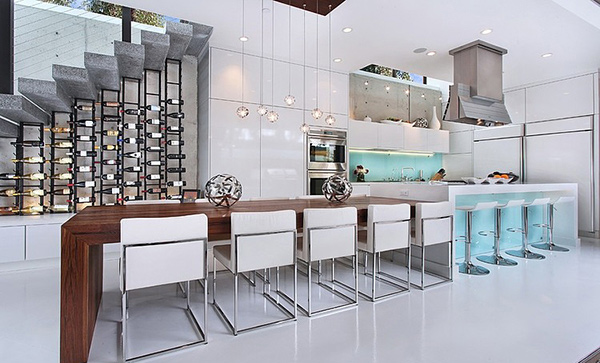 A kitchen with a dining area beside it. It isn't just filled with good lighting but it also looks great in white walls and furniture.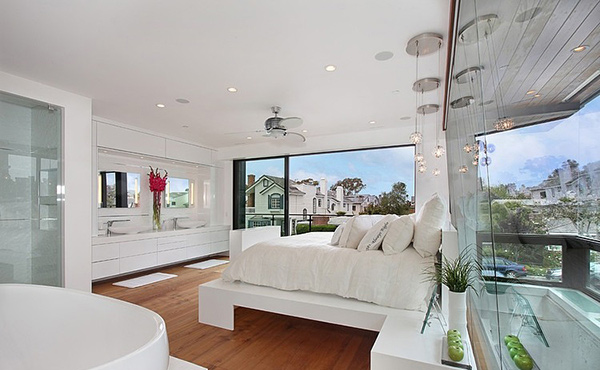 The bedroom is surrounded with glass windows and yes, they can have a good view of the outdoor scene.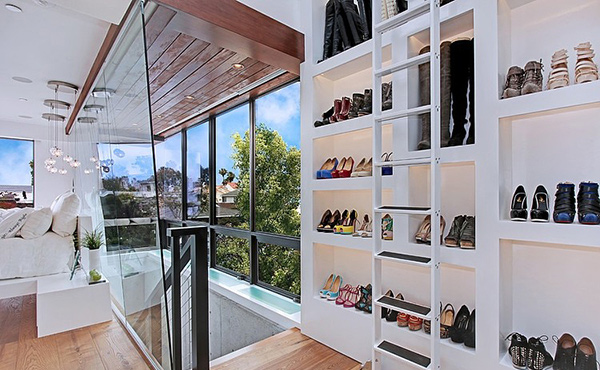 We certainly love this shoe shelf! It keeps everything in order and would make you love your shoe collection even more.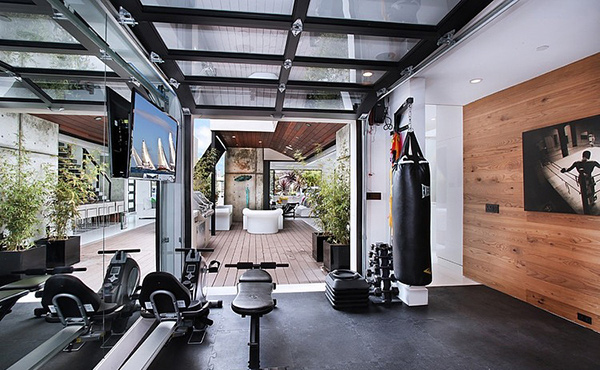 Having a home gym is indeed ideal for you don't have to go far just to get fit. The glass ceiling and the wooden wall is love!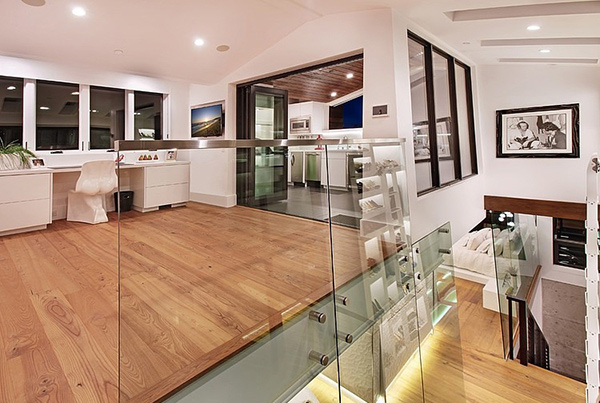 Leading to the upper level of the house are these glass railings.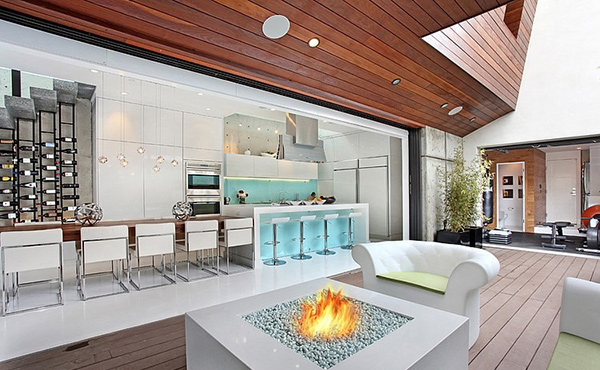 Outdoors, a pit fire on concrete white cube sits in the center of another sitting area.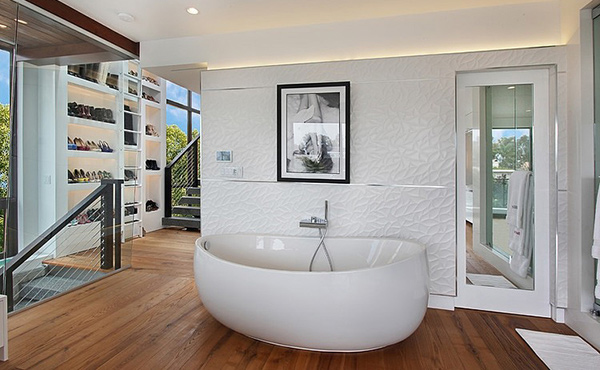 This is the tub we have earlier taken a glimpse of in the bedroom. Imagine taking a bath here!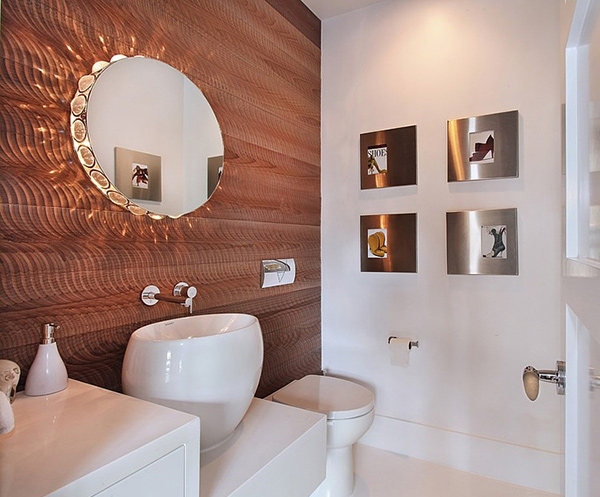 Such a stylish bathroom indeed! Lovely wall textures from the wood, elegant round mirror and some wall decors of framed shoes. We'd guess the homeowners are really shoe collectors!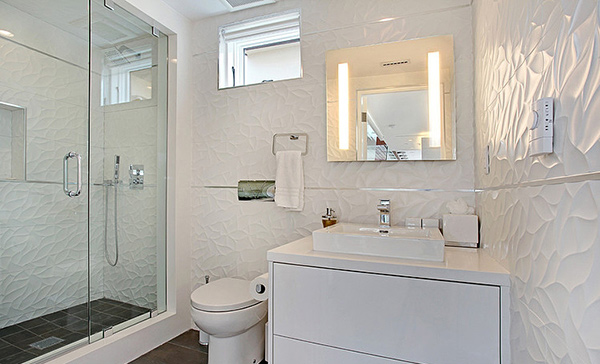 A bathroom in the house with white textured walls and an enclosed shower area.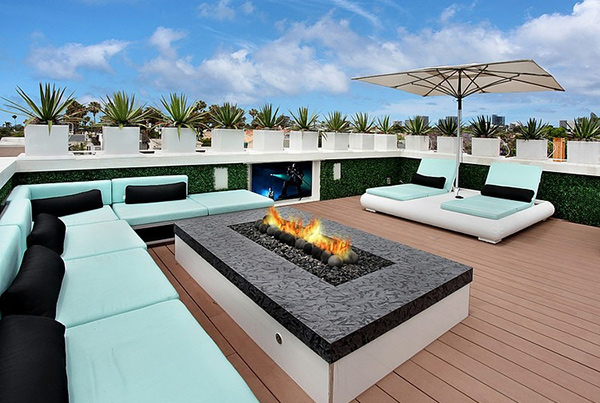 This is the roof terrace where you can see planters on top of it. This is a good idea instead of using railings.
The best feature of the house is the roof terrace which has striking elements of design. It is also a perfect spot for relaxation. But the other areas of the house are stunning spaces too. We are sure you will agree with us that this house is indeed lavish and stylish since you have seen its images above. The Brandon Architects deserve recognition for this home. We are sure that some of you here would love to get a home like this one. Well, this certainly qualifies for a minimalist modern lifestyle!