Interior IG: Highly Functional Masculine Apartment in Belarus
Most of the time, apartments aren't really spaces and we have to make sure that we are able to make use of every space in it really well. An apartment's design may vary depending on the likes and interests of the owner but when it comes to function, all apartments would be similar and would aim for it to be highly functional.
What we will show you today is the Interior IG which is a small bachelor apartment located in Minsk, Belarus. It has a total surface area of 742 square feet (69 square meters) that is a transition point for a young programmer for the next couple of years. The apartment is structured on one level with the only isolated areas are the bedroom and bathrooms. Metal is a consistent element that seen throughout the interior scheme. You can see this in the living room cabinet, bar shelf, dining and coffee table. Aside from that, other industrial elements are also seen like open air ducts, the light fixtures, old boards on the bedroom wall with graffiti and the brick partition bedroom the living room and hallway. Despite being small, this apartment has everything a person would need!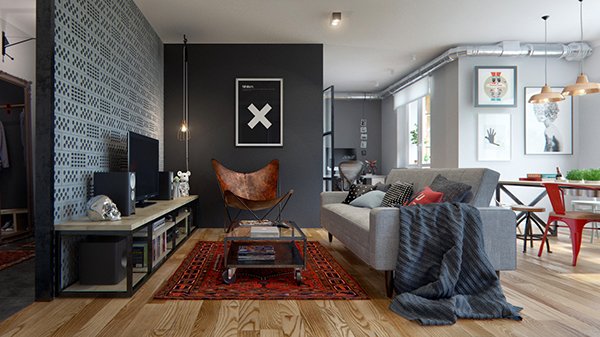 Note the use of colors in the inferior and the pops of bright shades too.
I like the masculine appeal of the interior and how it used industrial materials too.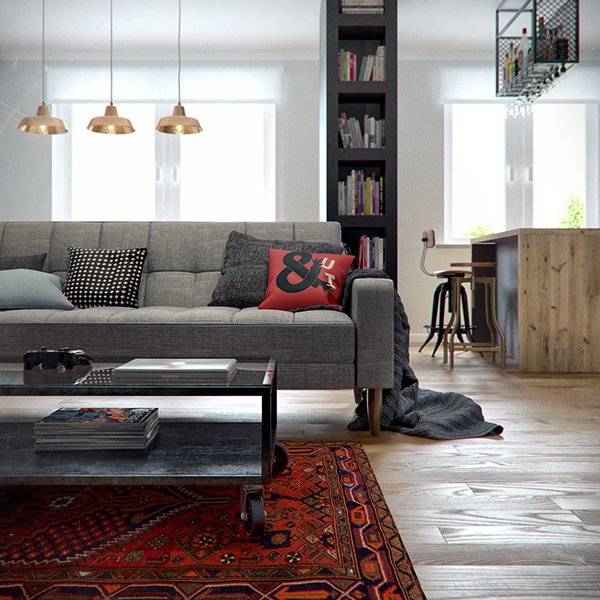 Don't you just love the area rug here as well as the throws?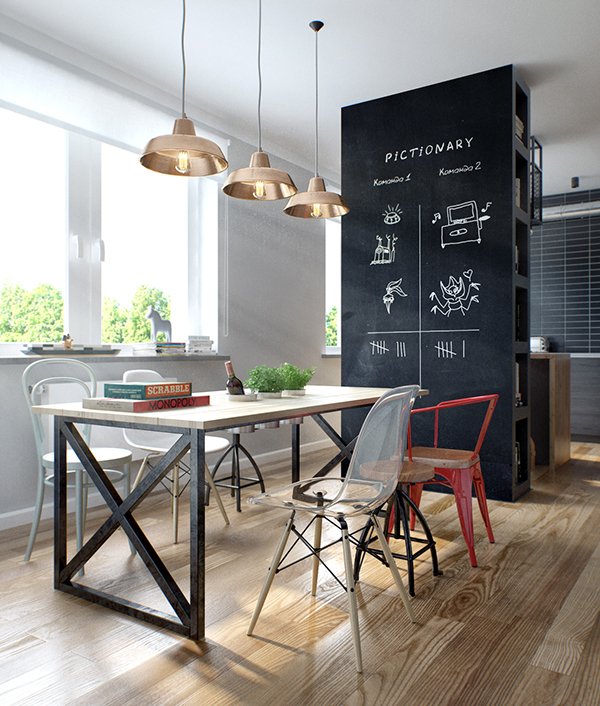 Such a cute dining area with eclectic chairs and a wall storage painted with chalkboard.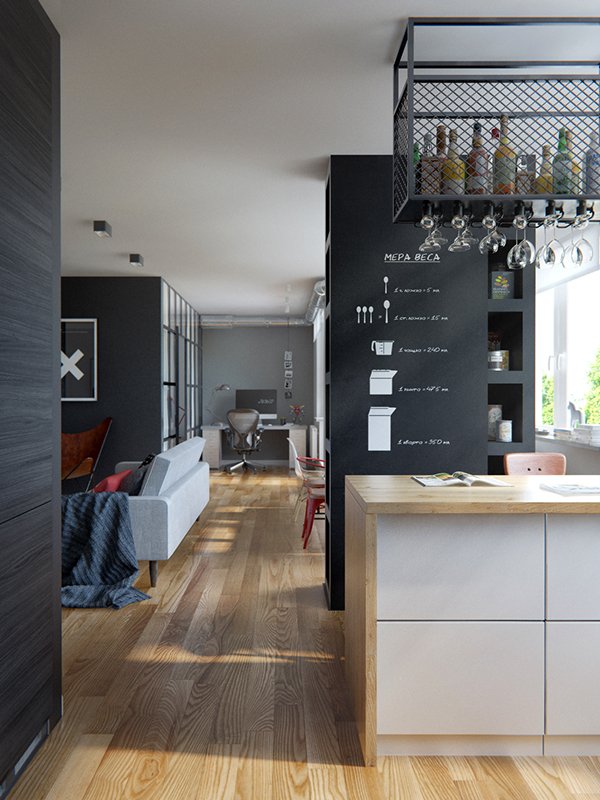 This is the floor to ceiling storage that is also a partition for the dining and kitchen area.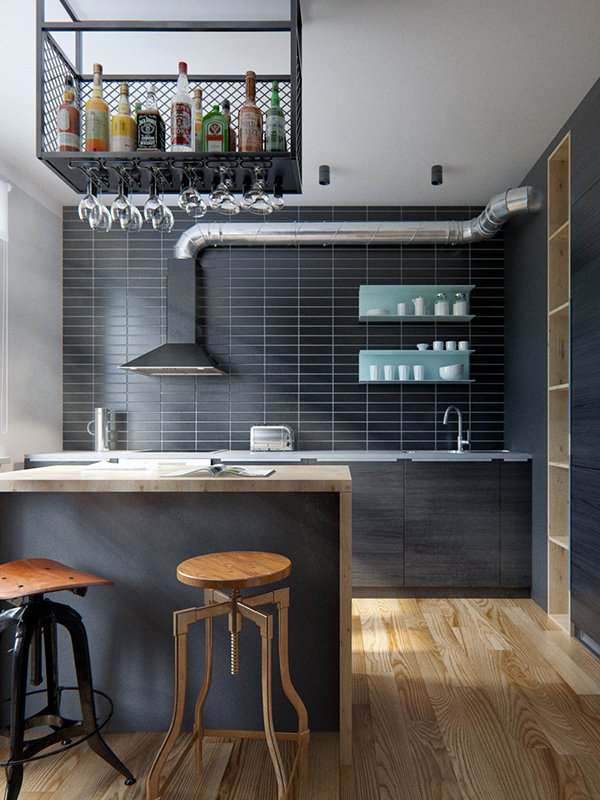 No need to ask. Industrial elements are indeed obvious in this space!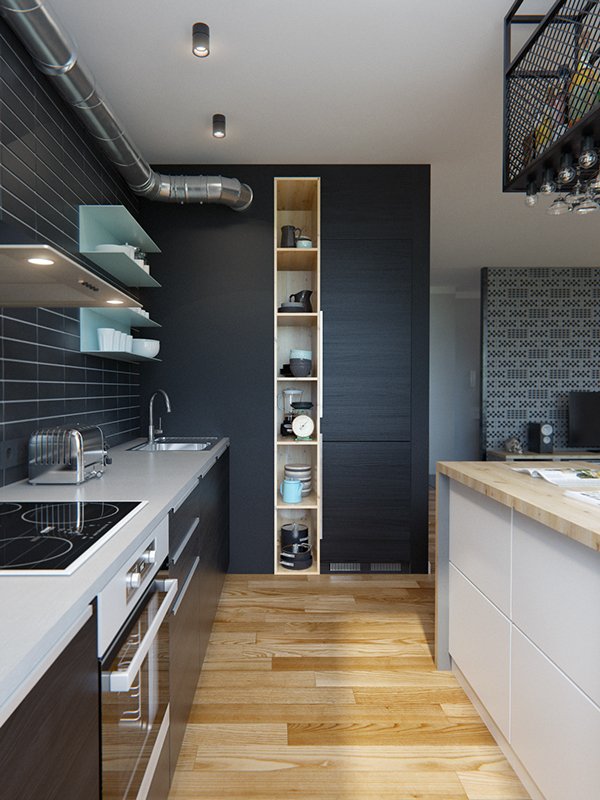 Aside from being beautiful, I love the storage ideas we can get from this apartment.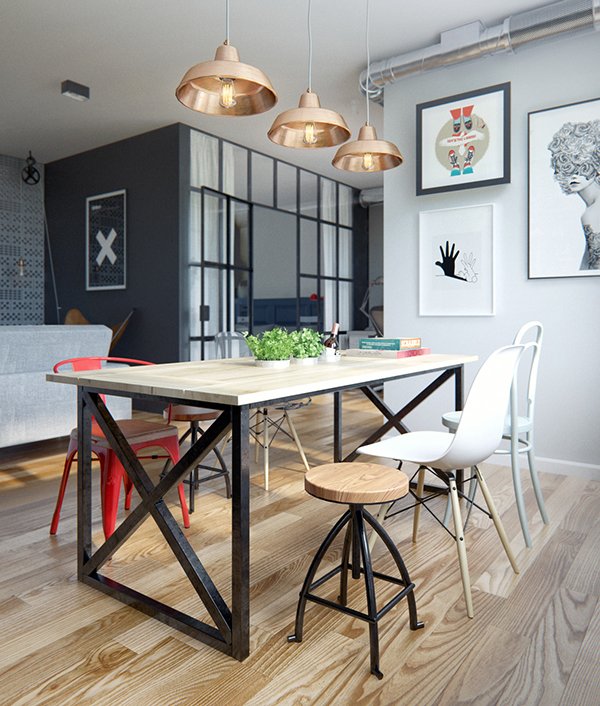 Here is the beautiful dining area with gold industrial pendant lights.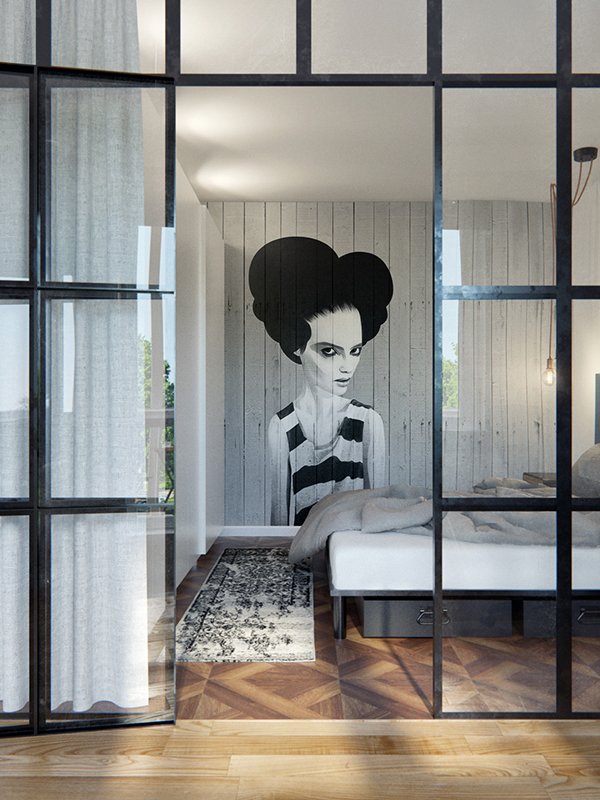 The bedroom is limited by a glass partition that help make the space feel larger and to bring sunlight into the room.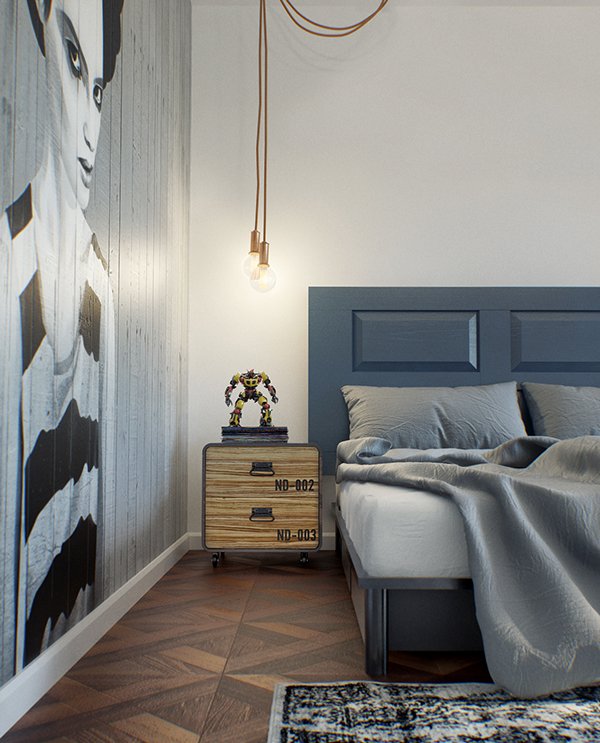 Seen here is a side table and a pendant light suspended from the ceiling.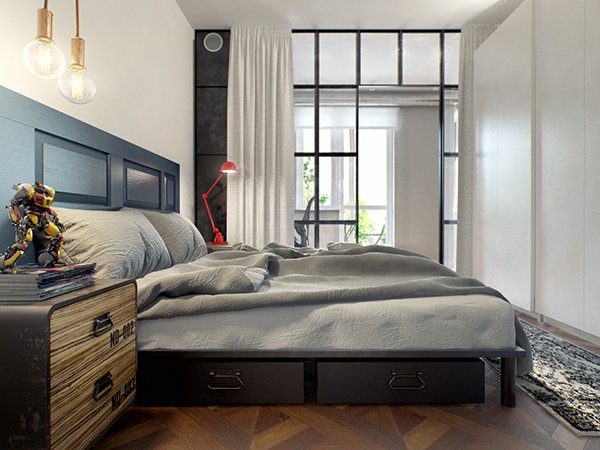 A drapery curtain is used inside the bedroom that can be pulled across for privacy.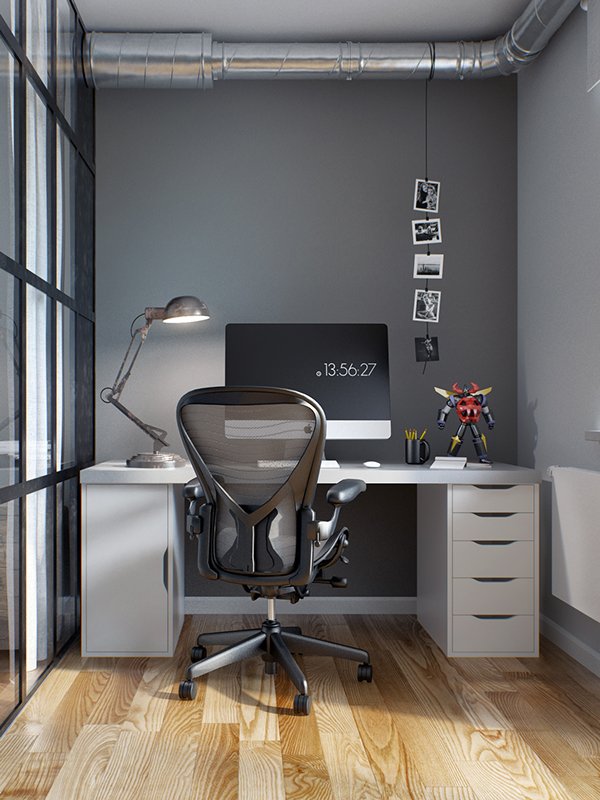 A working area that is indeed perfect for a bachelor!
No problem storing a bicycle because in this apartment, there is space for that.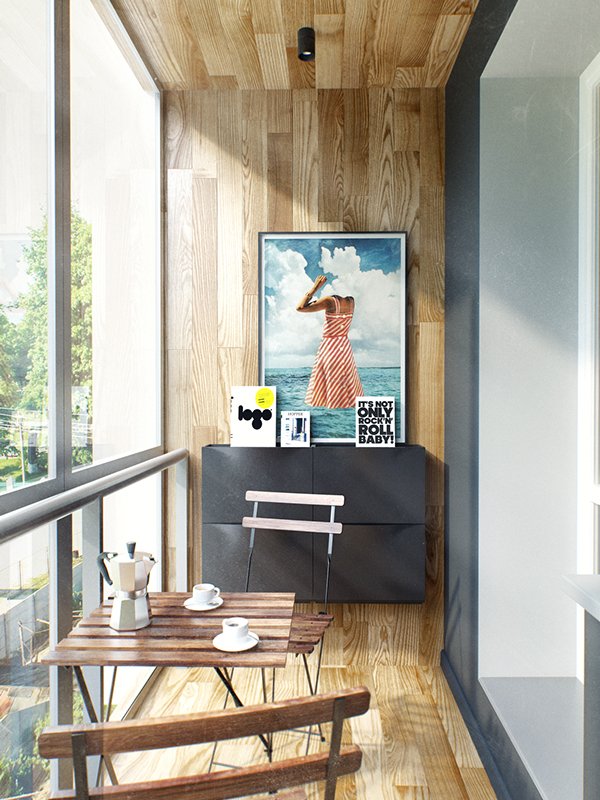 You can spot artistic elements around the house just like these.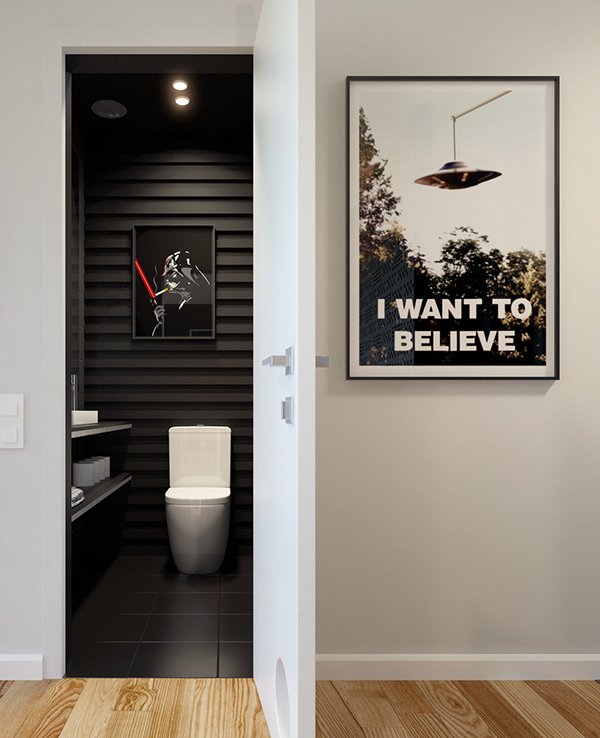 Even the bathroom has masculine design and colors too.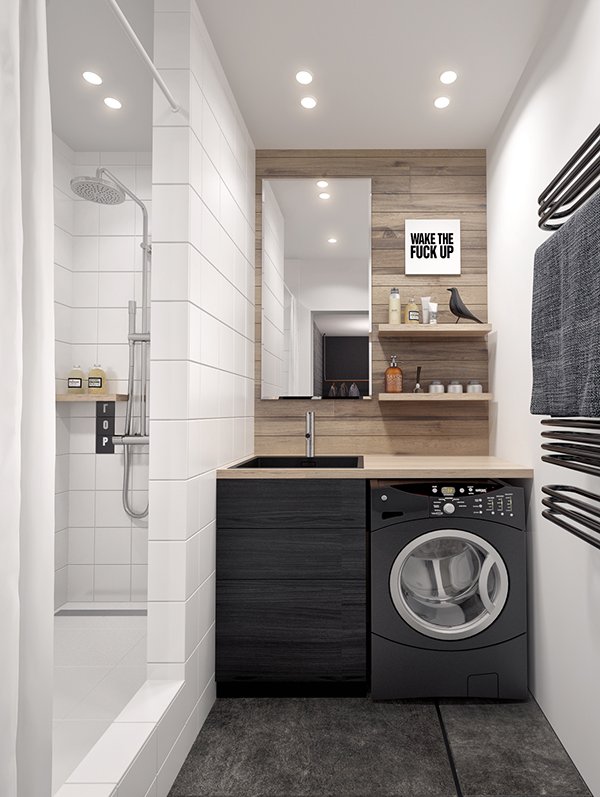 Despite the small space, it was able to integrate a laundry area.
Seen here is the floor plan of the house.
INT2 Architecture did it again! They were able to design a cozy apartment that is indeed gorgeous! The interior colors were based on the contrast between white and shades of gray. Pops of brightly colored accents were also added to the color scheme. The home includes an open plan living, dining and kitchen with an island, a small office space, bedroom, water closet and shower room with a laundry and sink and cozy balcony. Isn't this a home you'll love to go home with?