Tiny Transforming Apartment in Hong Kong
Would you expect to see a gym and a home theater in a 309 square meter apartment?
Because of man's innovation and creativity, even small spaces can be used in a totally different manner. Small homes are already functional and could contain everything that one needs and might even have additional perks than that of spacious homes. Well, it is indeed true that it is just a matter of design because no matter how small a space, it can still look beautiful and will still be very functional. We have featured homes like this before and today we have another impressive tiny home to feature.
For sure you would want to have a home like this one because it has a lot of surprising features that is packed in this tiny 309 square foot apartment. Couple Michelle and Andy who live with three cats had big plans a long list of renovation to be added to their Hong Kong apartment. With that, the commissioned LAAB, an architecture and design firm, to work on their tiny space. Part of the design brief is a full kitchen, a home cinema, a large bathtub, a cat friendly space, plenty of storage and even a gym. So, how could all that be incorporated in a 309 square feet home? Well, you will be surprised that it is actually all possible! Scroll down below and look into the features of the apartment.
Location: Hong Kong
Designer: LAAB
Style: Contemporary
Type of Space: Apartment
Unique feature: With only 309 square feet floor area, an apartment in Hong Kong has all the features that the owners want including a home cinema, gym and even spaces for their pet cats.
Similar House: The Water Lily House in Singapore Features a Central Water Court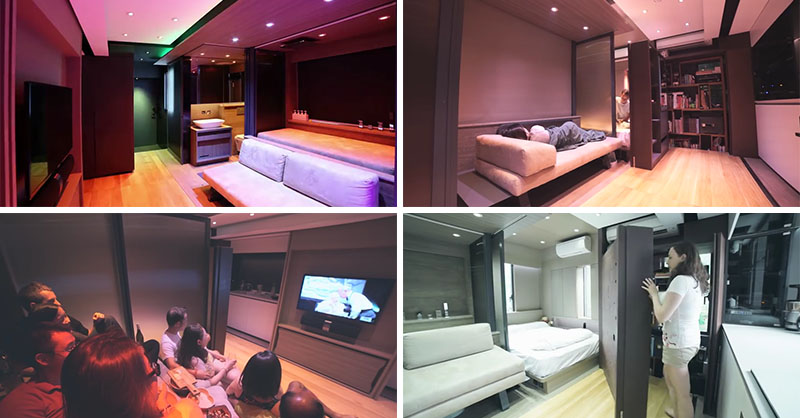 At first glance, you will think that this is just an ordinary apartment with a modern design but you will surely ask how it looked so nice despite the small space and how it was able to integrate certain features in it too.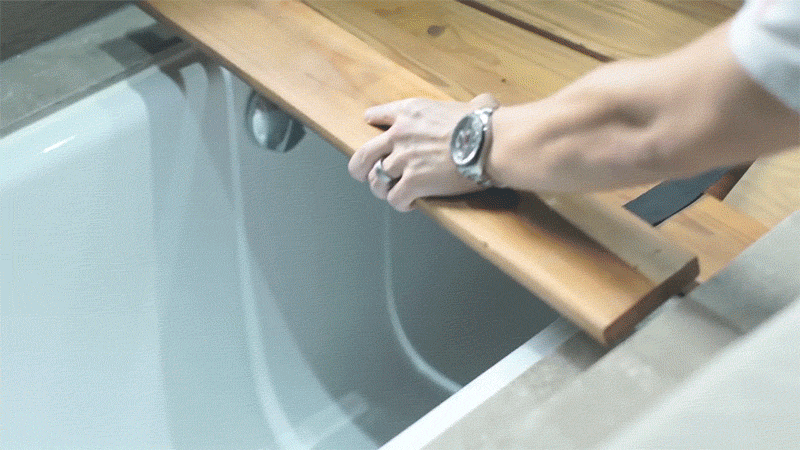 The bath tub can actually turn into a sofa merely by adding some wooden slats into add and a cushion which instantly transforms the bath tub into a sofa. Guess you also need to make sure that it is dry before doing that.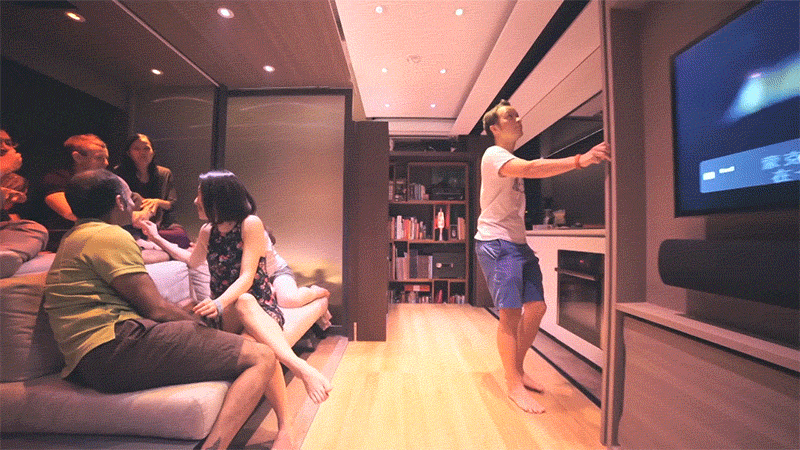 In front of the kitchen, there is a wall which can be pulled open to reveal a television wall. This easily slides out to hide the kitchen, creating an instant entertainment space.
And even if the home is small, it actually can accommodate many guests because it has different bed and sleeping areas with privacy. Yes, guests can definitely stay overnight after a movie marathon!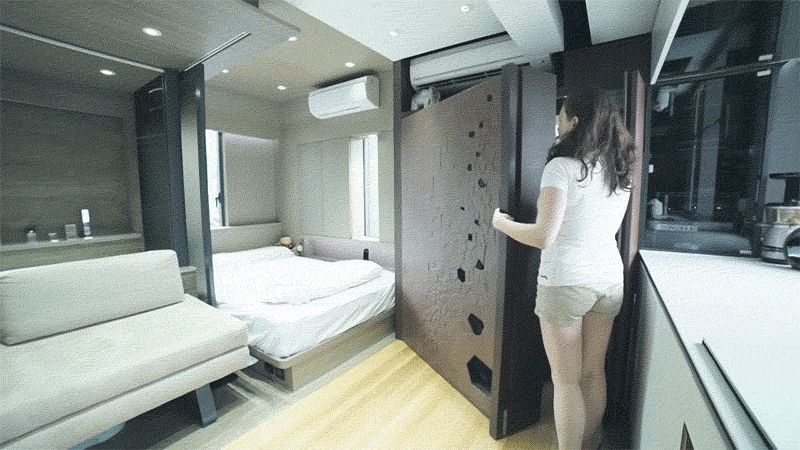 This diving wall in the bedroom area is also a vanity, and when opened, it exposes shelving that contains books and others items. It even opens a small counter too.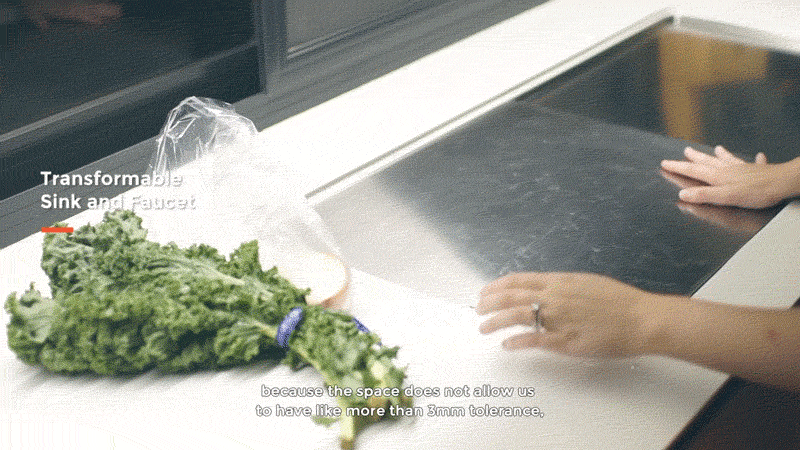 When not in use, the kitchen counter can be used as a desk, but when it's cooking time, the sink and cutting board are exposed. Isn't that very impressive?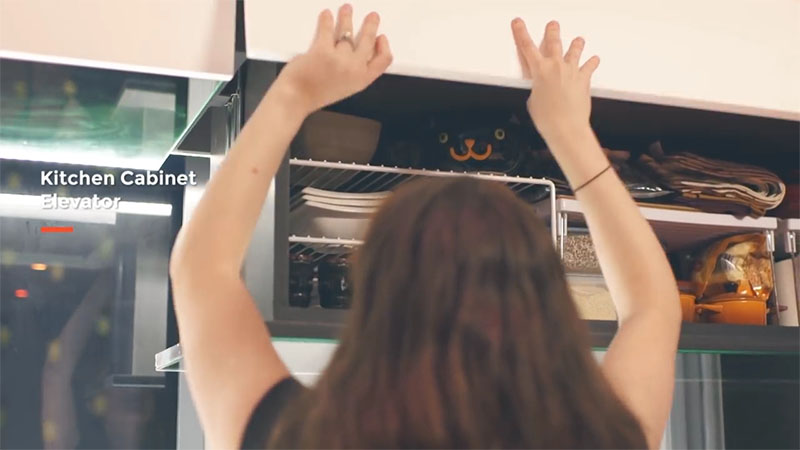 Other added features in the tiny apartment is this cabinet that drops down. The designs even call it a cabinet elevator since you can access it by pulling it down. No need to use a ladder or step on a stool to reach it.
Read Also: The Splendid Ambience in the Albatross Residence by BGD Architects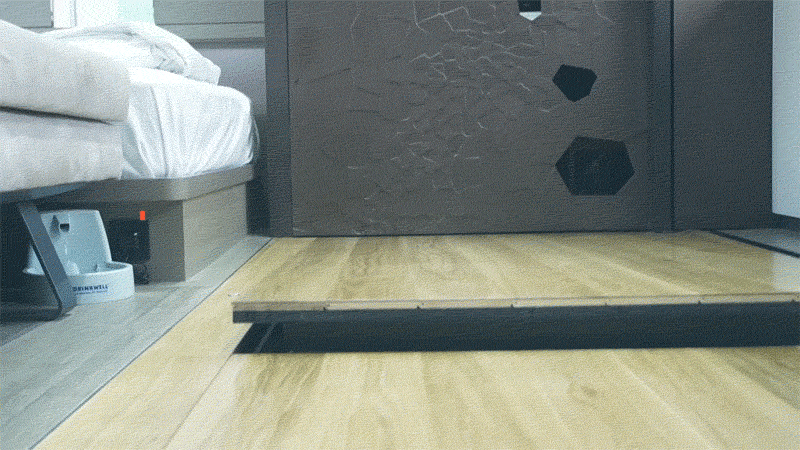 And like other homes with limited space, it also has a hidden floor storage for the couple's must-have items. And this storage is located in the area where the bath tub/ sofa is located.

And what is even more amazing? Even if the space is limited, it was able to add some areas for the cats. The apartment is designed with a cat walk for their three pet cats.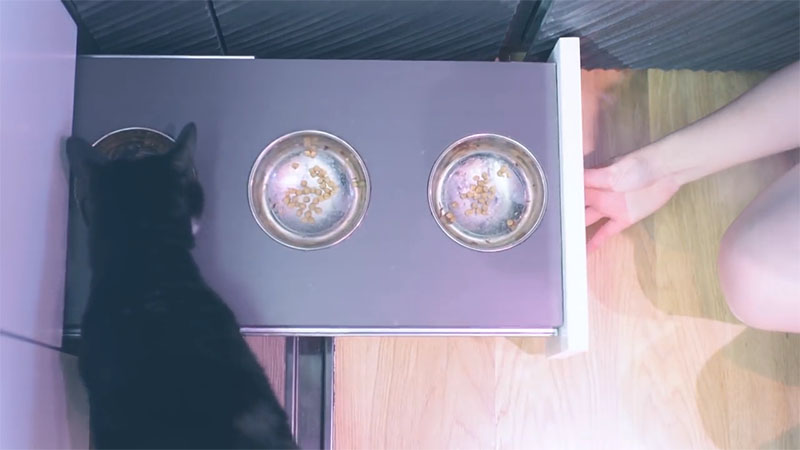 It also has hidden bowls for feeding the cats. This way, there will be no mess on other areas of the house. Isn't this really, nice?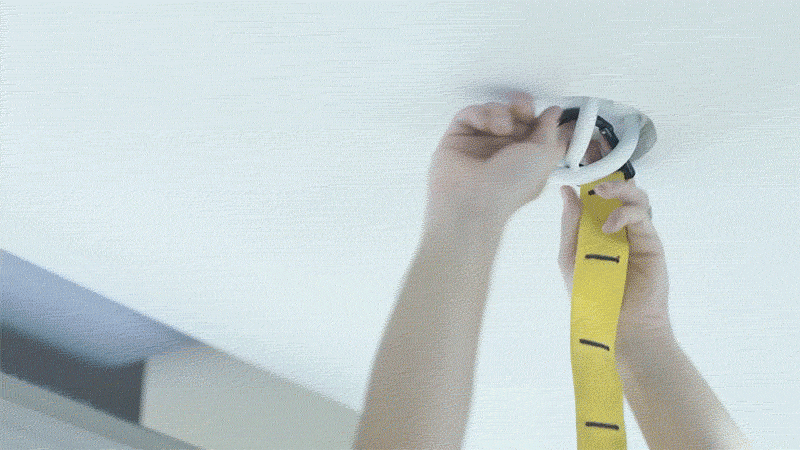 Remember that the couple wanted to have a gym in their apartment? They actually got it. In the ceiling, a heavy duty hook was installed which allows them to work out from home.
Here is a video where you can see more of the tiny apartment. For sure, after seeing this, you might want to have a similar space for your home!
It is indeed nice to live in an apartment like this! You will feel good about all the transforming furniture, dividers and all that you can see in here. Isn't this a lovely space designed by LAAB? I know you will agree with me that this is an amazing home because despite the tiny available space, it was able to offer everything that one needs in a home. I would guess that even your spacious home doesn't have all of these features from an entertainment room to a cat walk!