Contemporary Eclectic Ruston Mews Interior in London
Wherever we decide to have a home, there is one thing that we surely want to do. We want to make the home look beautiful and cozy. So, whether it is a condominium, a rented home, an apartment or your own house, you have to make sure that you decorate it well. It isn't just for your guests but for you as the occupant as well. What we are going to feature today is a home interior that is set in a mews building.
With that, you will no longer wonder why it is called Ruston Mews. The home is designed for designer Christine Vanderhurd who creates lovely textile prints and patterns. Hence this home interior is inspired by such. It has vibrant colors and textiles with an eclectic mix of home furnishings. The project was like turning a blank canvass into a beautiful piece of artwork.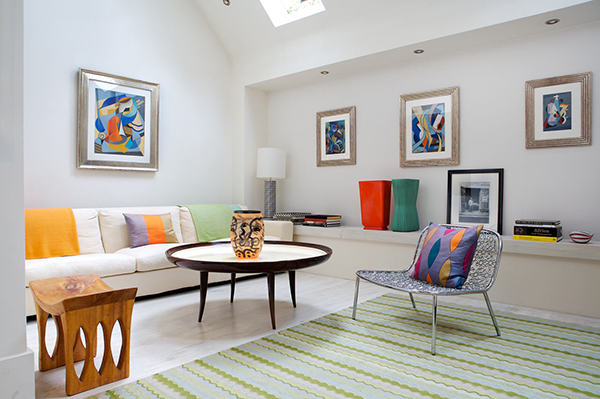 Notice that there are beautiful wall arts in this living space. The colors and the creative forms are really oblivious.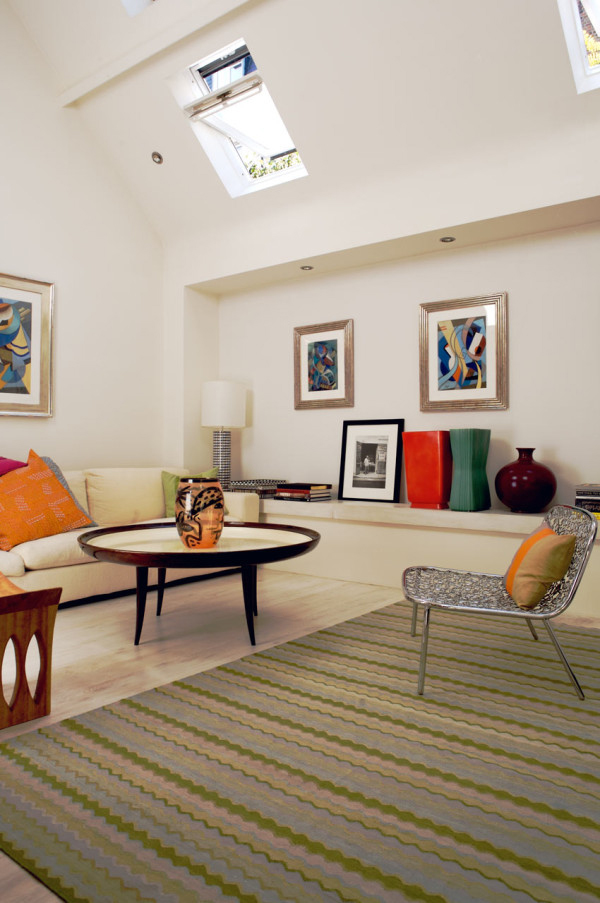 Clerestory windows bring in natural light to this interior. I also love the eclectic mix of furniture in this living area.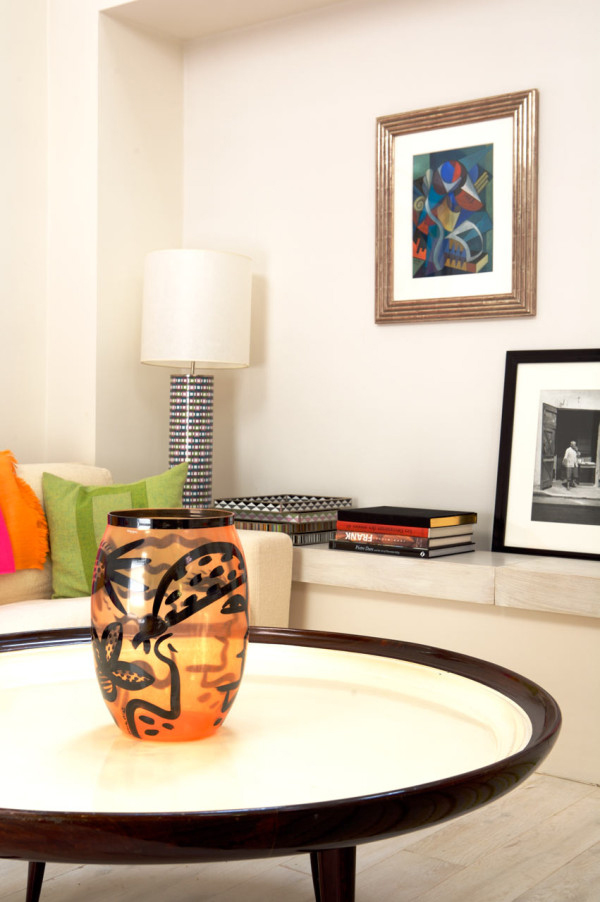 That vase as a centerpiece totally nailed it! It looks very gorgeous and is a nice piece for a DIY.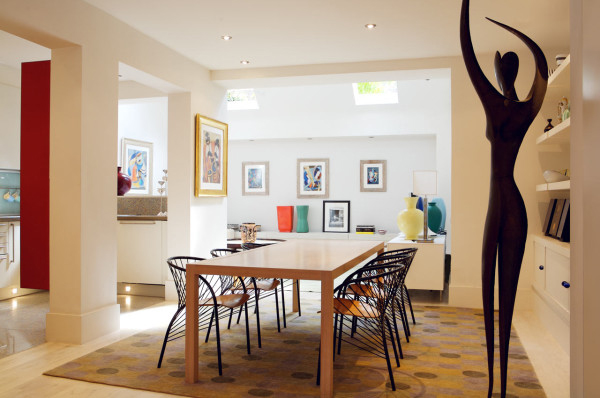 The dining area is simple yet artistic too. The mere designs of the dining chairs are already stunning.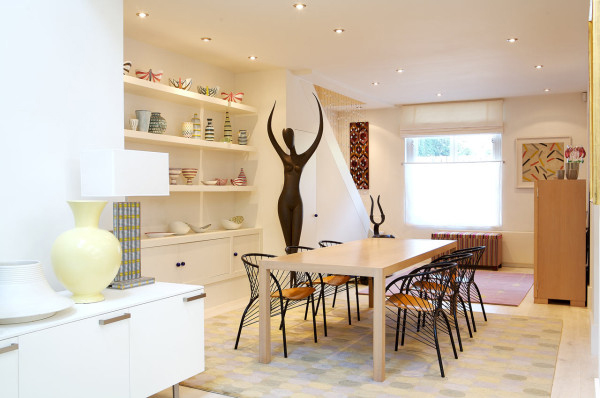 A artistic woman sculpture stands in the dining area which is the focal point of the space.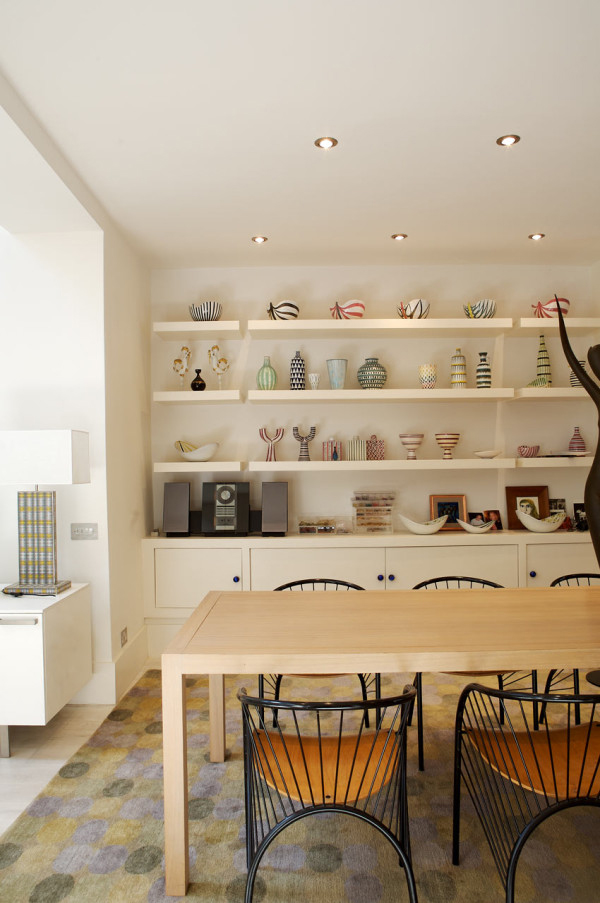 Aside from that, there are also decorative jars and bowls on the shelves.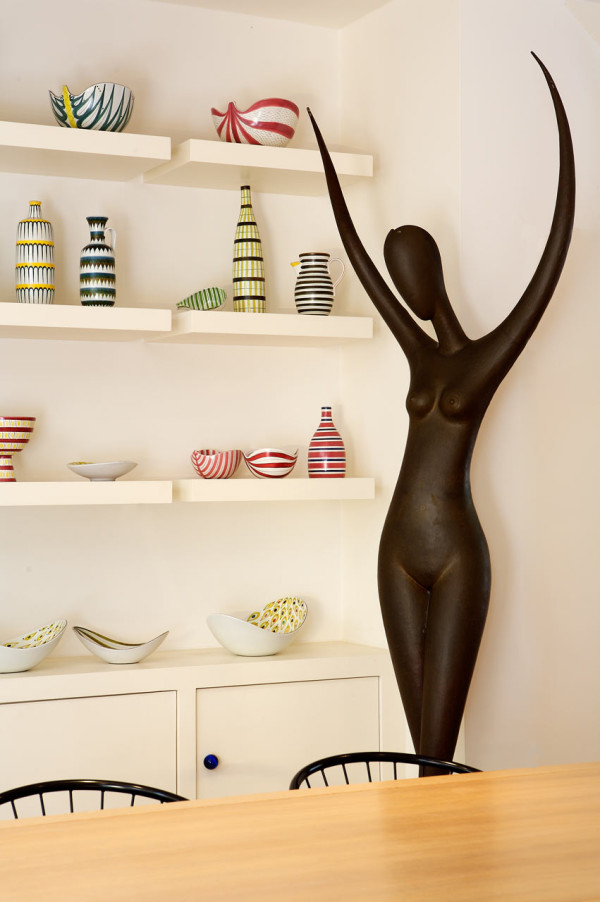 A closer look at the artistic elements in the dining area. Totally impressive, right?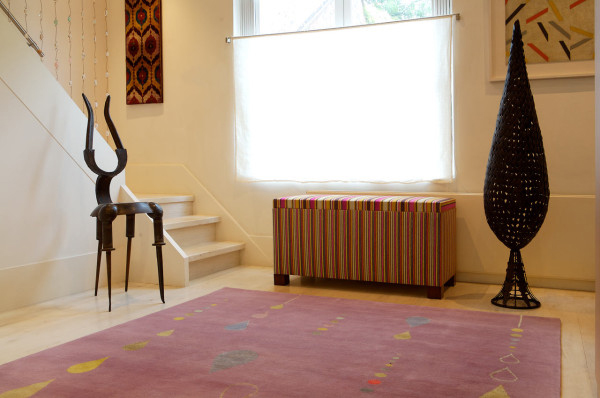 Before you get into the stairs, you will be welcomed by a sculptural tree and chair.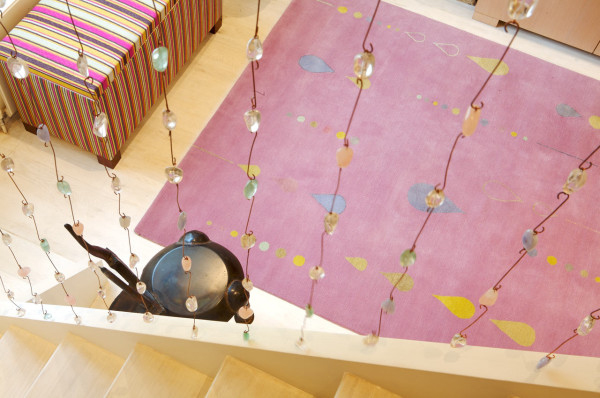 In the staircase, you will find these handmade beads. I wonder how long it took to come up with one!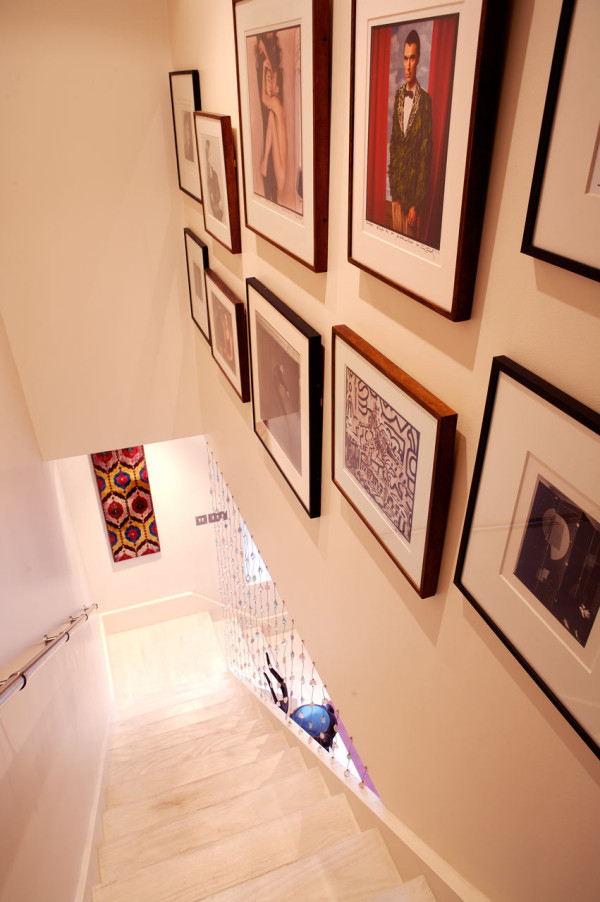 And expect to see a gallery of abstract images on the wall of the stairs.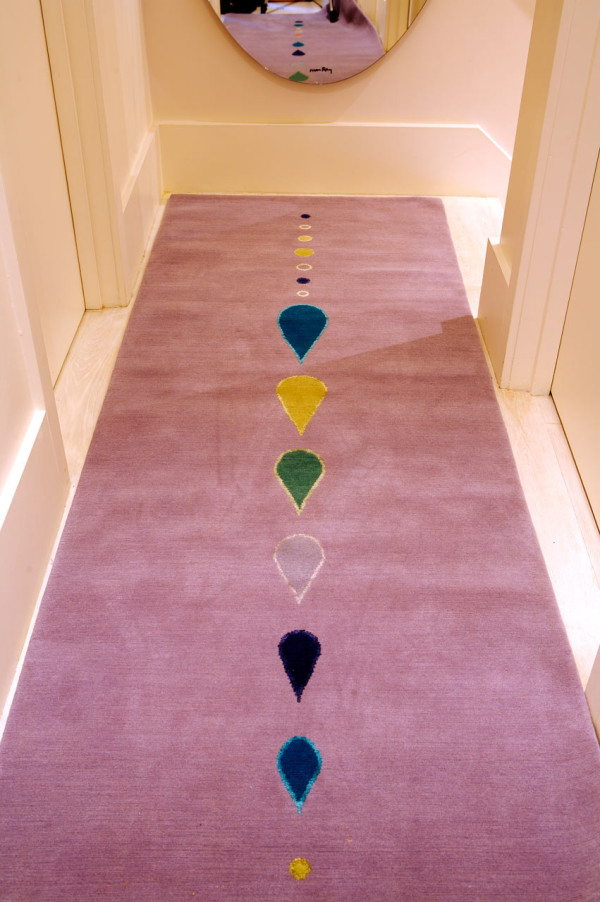 This area rug covers the hallway and yes, this is something we can DIY!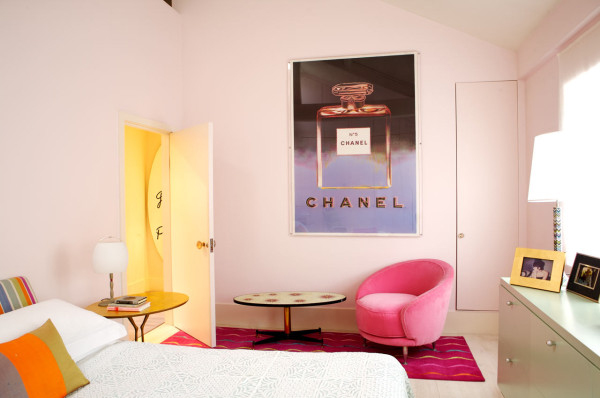 A bedroom in the house with a lovely mix of colors and patterns. I like that pink seat!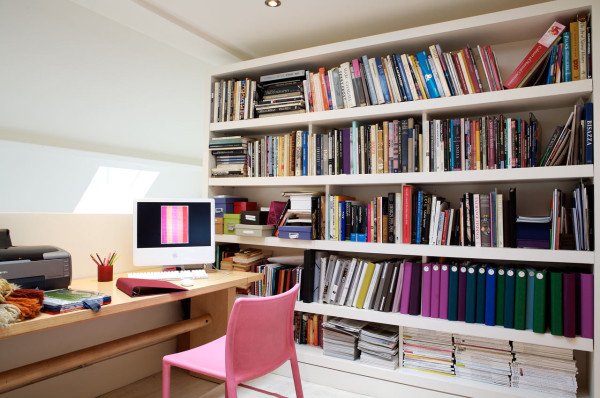 A work area in the house for the homeowner which is also her own personal library.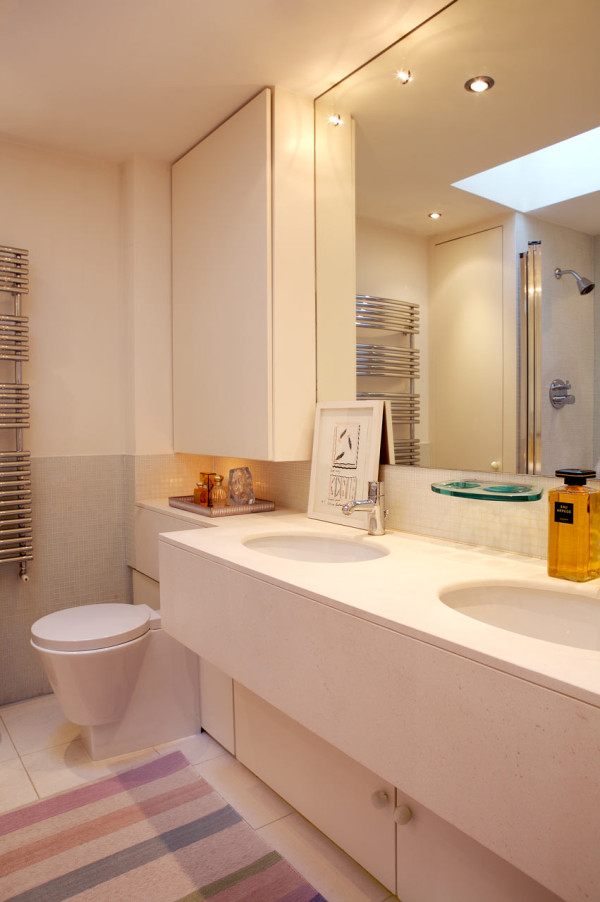 And this is the bathroom. Of course, there are still chic elements in it too from a framed decor to the rug.
Swedish-born, London-based designer Martin Brudnizki, of Martin Brudnizki Design Studio had the privilege of designing this home. He made sure that the house will not just be beautiful and visually appealing but also it will totally work well for the homeowners. I love the look of this home because it was able to integrate artistic elements into the interior without overdoing it.