25 Modern Home Offices to Work While at Home
Work at home comfortably in a beautiful modern home office like the ones in the list.
Even if you have your own office space in your work area, it would still be best to have a working area in the house. This way, you will be able to do some tasks while at home. Although, many people are saying that you shouldn't bring your work to your home, sometimes you have too. While others have another work aside from their day job, especially these days that are many online jobs available.
So, in order to have an undisturbed working environment, it is important to have your own working area or home office. And when designing one, there are things that we need to consider. Apart from the available space you have, you should make sure that it will work well and function well for your needs. Today, we have collated 25 modern home offices which you can get inspiration from if you are planning to have one in your house.
1. Modern Home Office
Aside from using wood, what makes this beautiful are the connected tables to the wall shelf which is actually part of a storage cube.
2. Greene Street Loft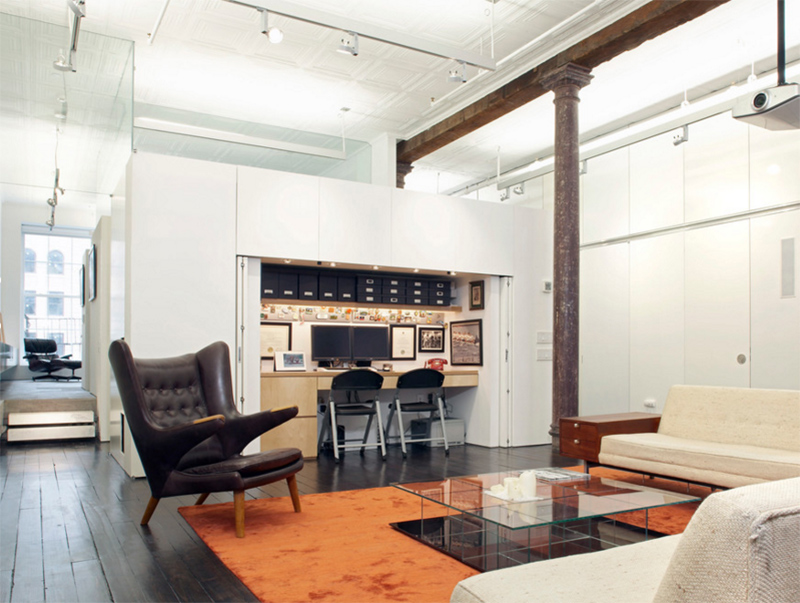 The home office here can be concealed in a door which merely looks like a cabinet. This is also a good idea if you want to hide your working area.
3. Home Office Living Room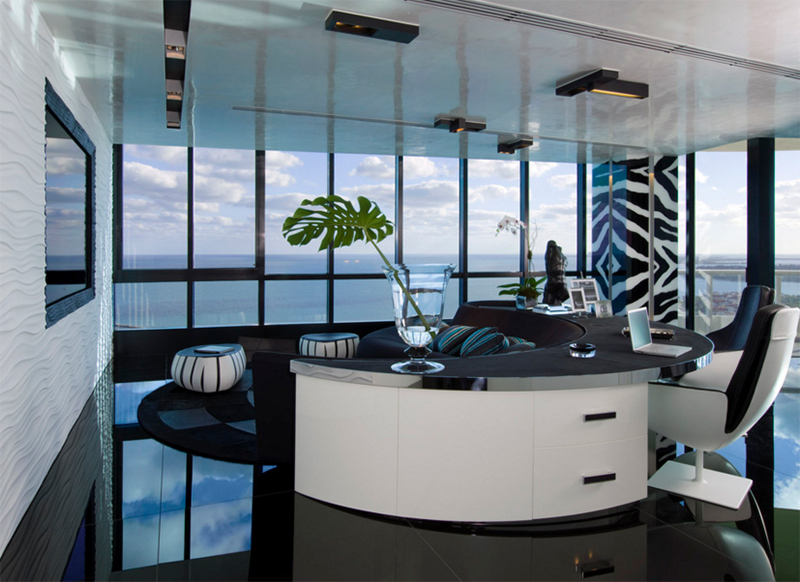 A home office that seamlessly merges with the living room as the custom leather-top desk-for-two hugs the curve of the back of the sofa. Its wave form gives homage to the ocean that is seen from the area.
4. Southampton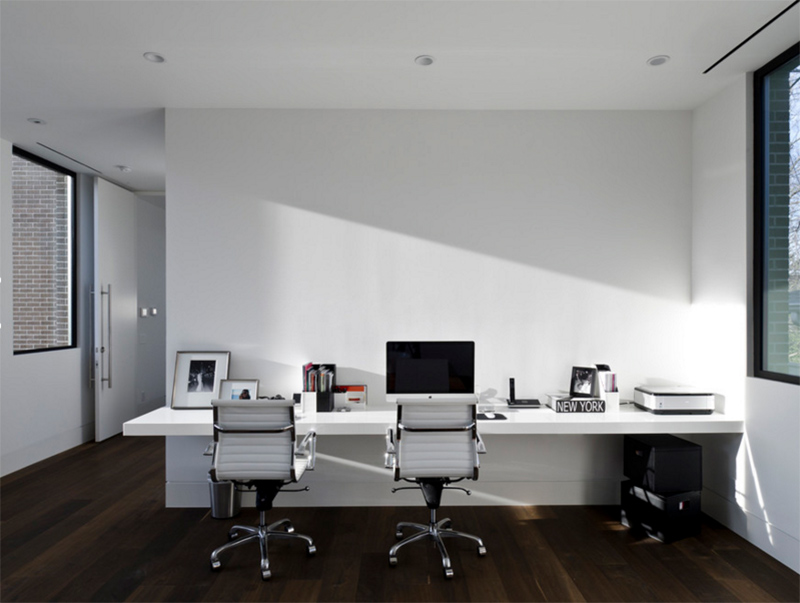 If you want one that is simple yet beautiful and functional, then this is what you need. Just a floating table and simple modern offices chairs were added here.
5. 57th Street Residence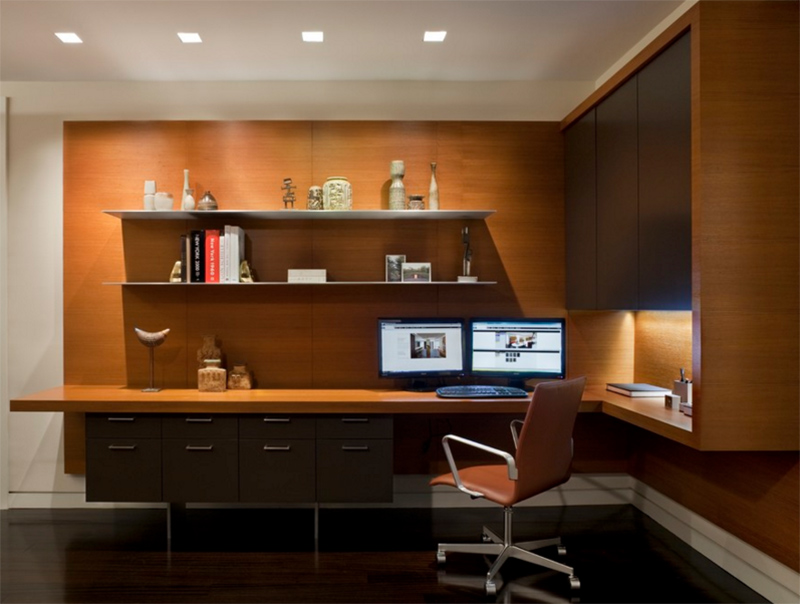 An L-shaped desk is seen here paired with floating shelves as well as storage areas below the desk.
6. Home Office in Eichler Renovation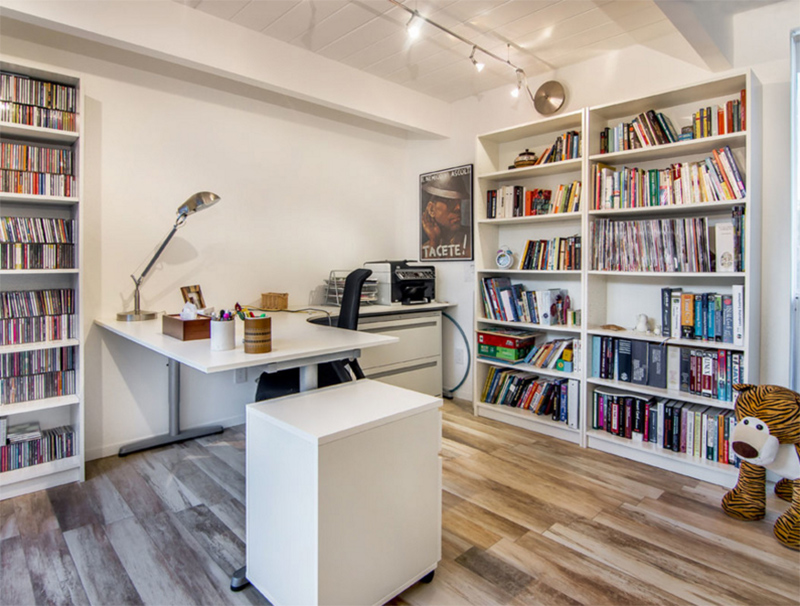 This is the result of a renovation, addition, and remodel of a home office surrounding it with tall book shelves and textured wooden flooring.
7. Home Office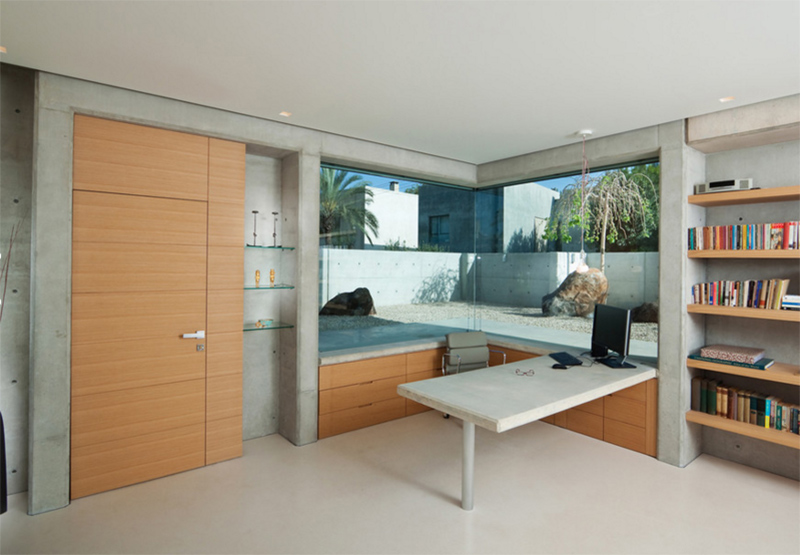 What you will love here are the mirror doors of the cabinets that reflect the beauty from outside. You can see that it has an L-shaped desk here too.
8. Home Office with Crestron Control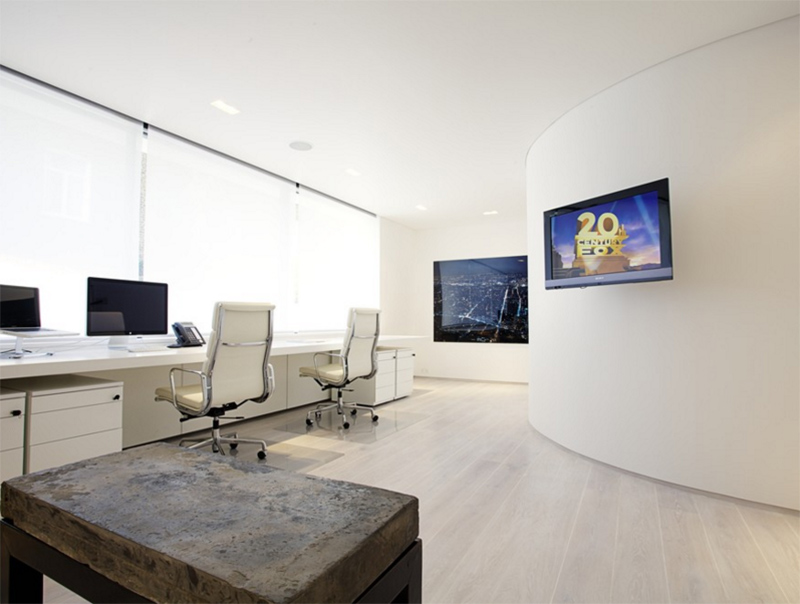 The curved wall here adds a soft addition to the appeal of the home despite the edgy furniture used here.
9. Nordica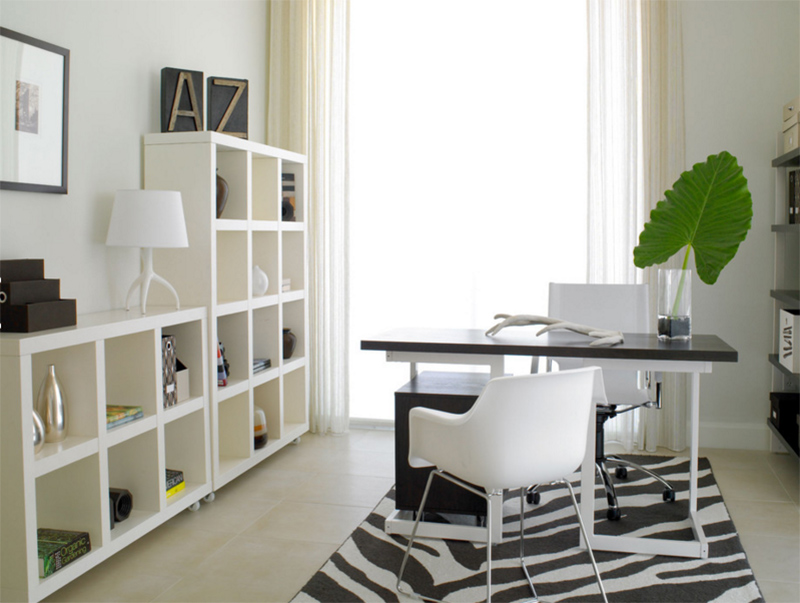 The secret of a beautiful home office is to decorate it with things that will make it pop like that area rug. You can also add some plants too for a refreshing touch.
10. Petra Vorenkamp Design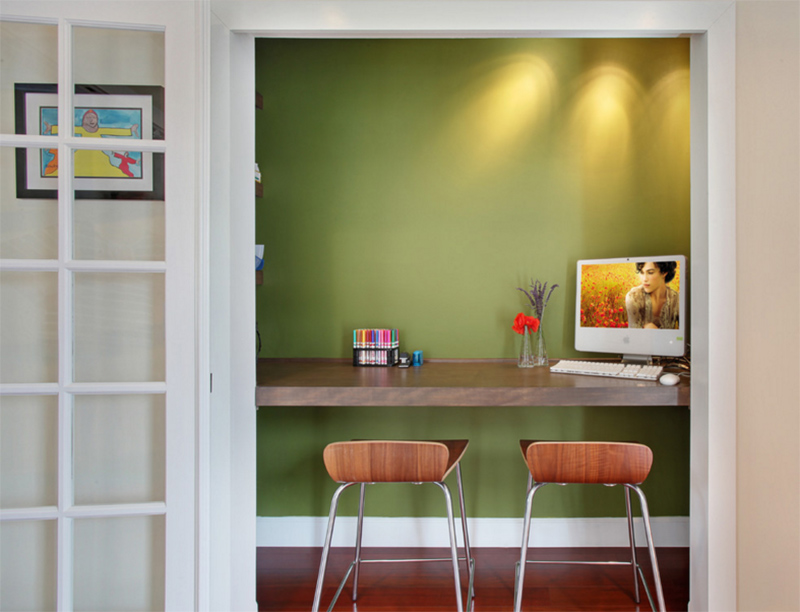 A small working area is hidden behind French doors. It has a floating desk with modern wooden chairs that has steel frames. And of course, the green wall looks lovely too.
11. Modern Home Office with Built-In desk + storage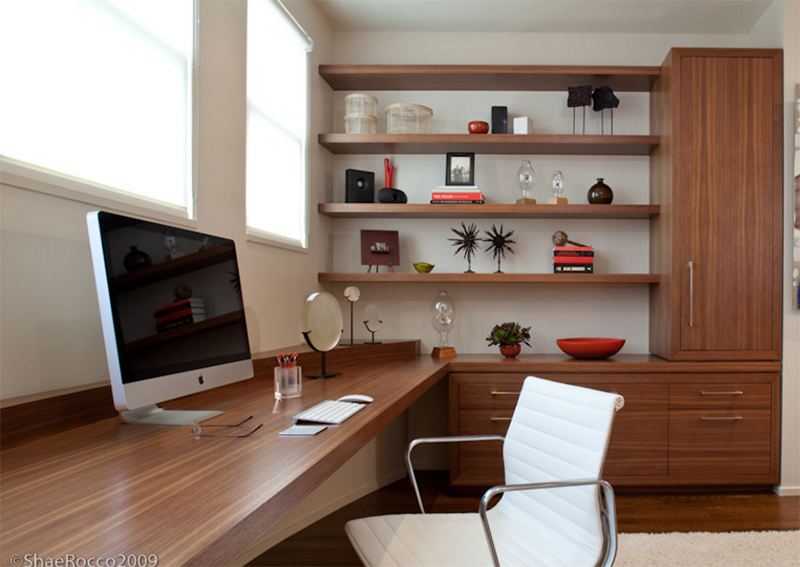 Another modern home office that used wood for the desk, cabinets and shelves. Look at how they arranged some knick-knacks on the floating shelves adding appeal to the area.
12. F-5 Residence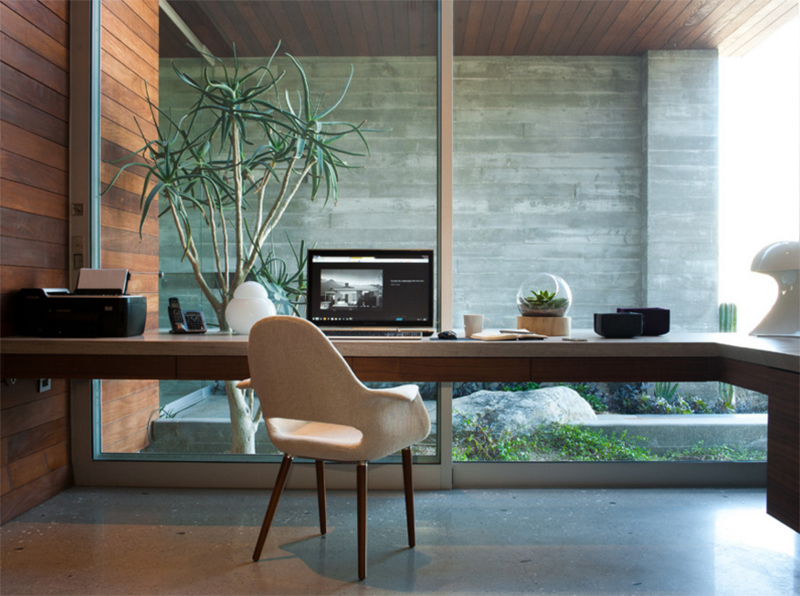 It would indeed be nice to work with a view of the garden. Aside from a floating desk, I also like it that wood is used for the walls.
13. Flip Flop House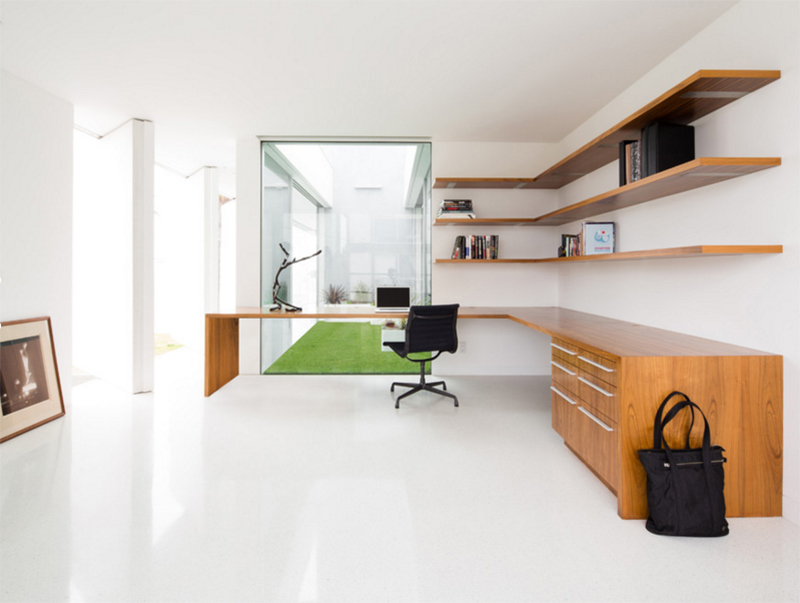 Such a serene working space! Look at the green covering that is seen from the working area, it adds a relaxing view that breaks the white space.
14. Buddhist Retreat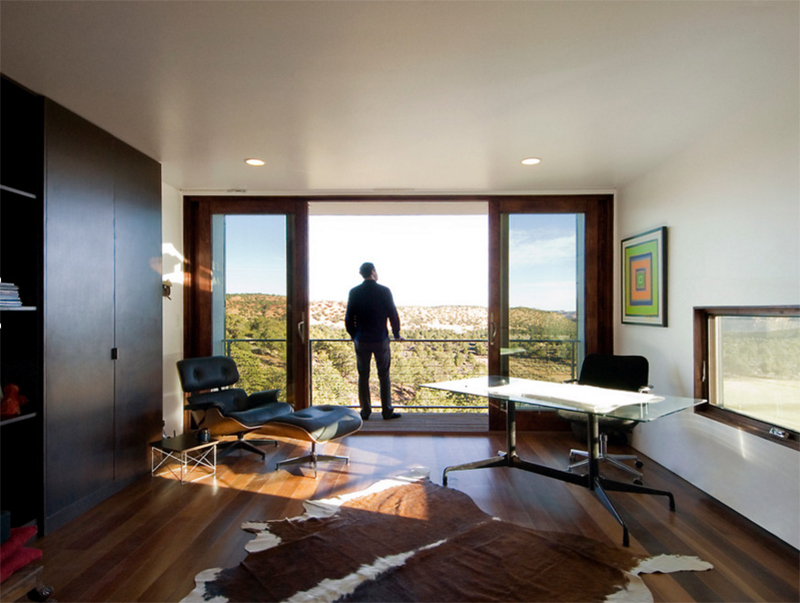 If your home office is located on an upper floor, then it would be nice to get a look at the outdoor view with a small balcony that can be opened with a sliding door. The cow hide looks beautiful here.
15. Vintage Home Office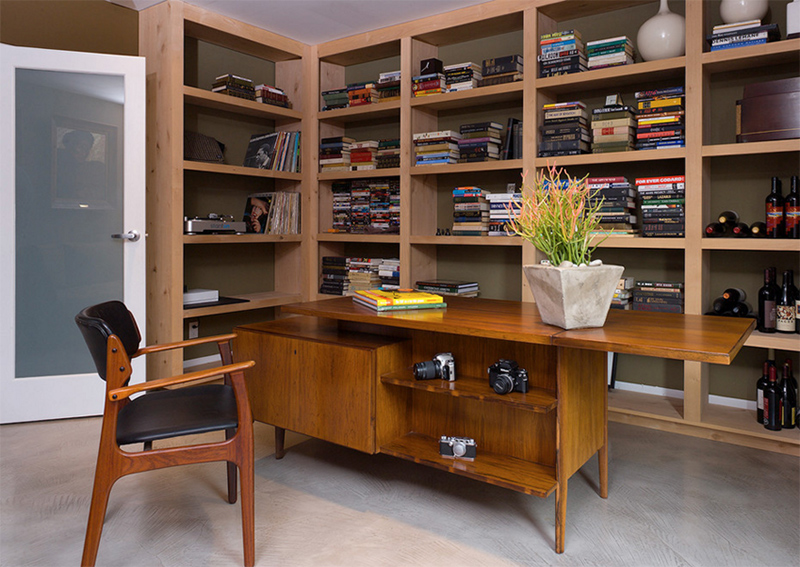 The office table looks unique and it match well with the chair with black leather seat. There are also floor to ceiling bookshelves here.
16. Carmel Residence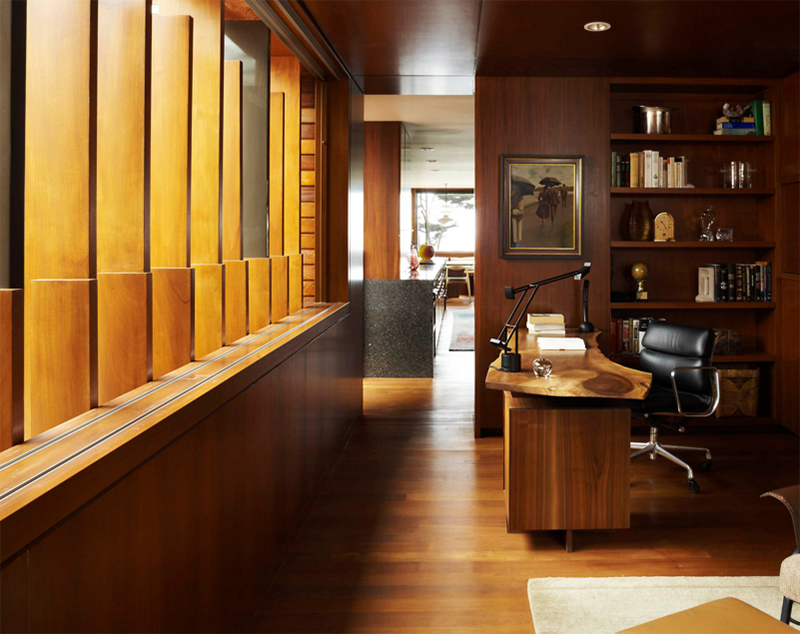 The office table used here has a curved design and is made from natural wood. It looks nice despite the dark wooden walls. But there is some variation here because of the different wooden stains used for the flooring.
17. Balfoort Architecture, Inc.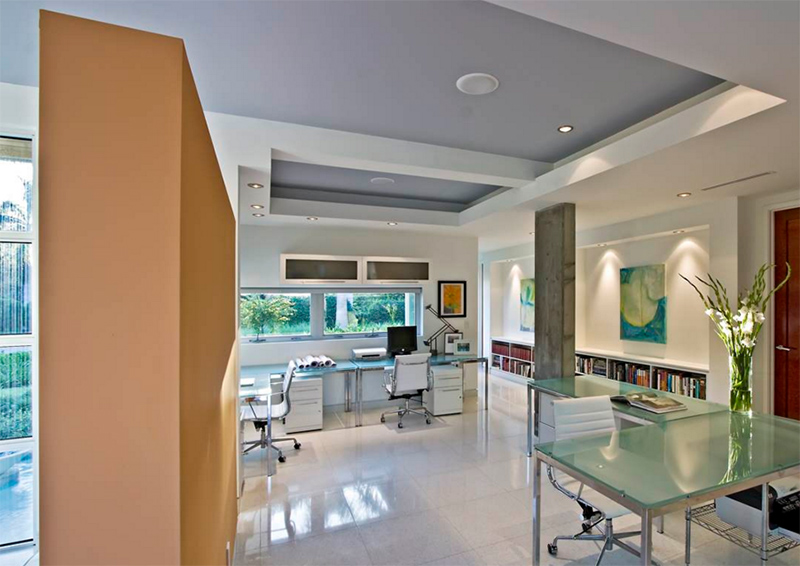 The tables used here have stainless steel frames and legs and were topped with glass. Looked really nice, right? It does especially that it adds sophistication to the area.
18. Beechwood Manor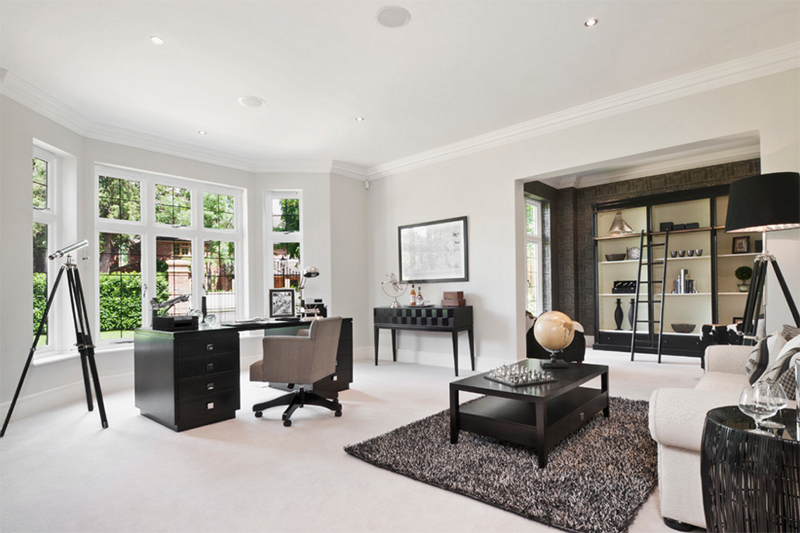 An office space that is located in the living area. You can see here a black and white color scheme that looked really nice for a modern space.
19. Noe Valley Basement remodel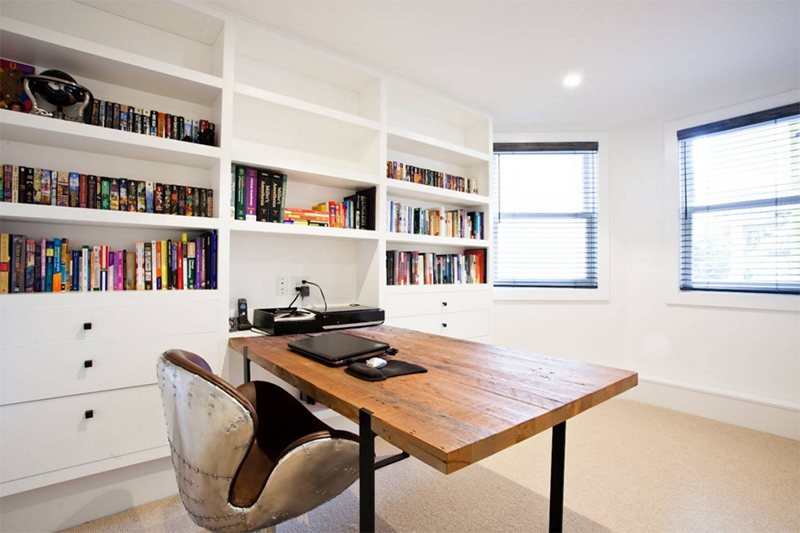 A modern home office with open shelves on one side of the wall and drawers. Used here is a wooden office table with steel frames and legs.
20. Tarrytown Phase II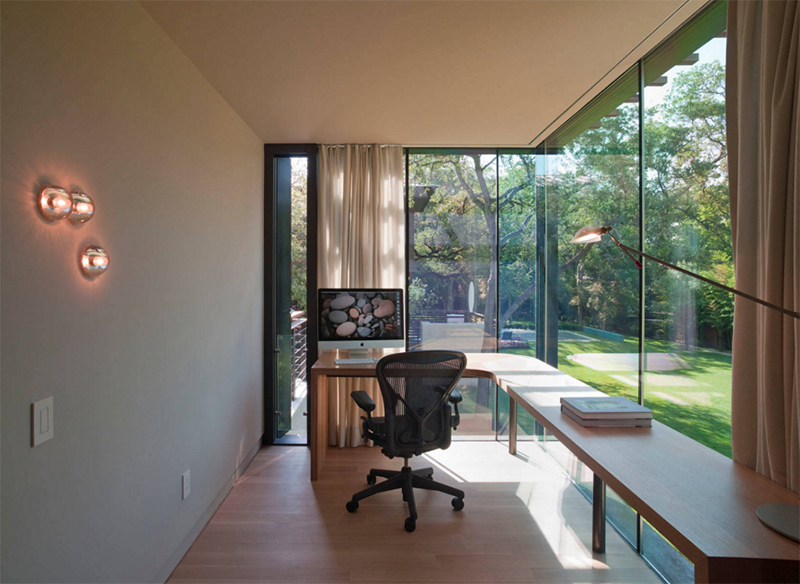 An L-shaped desk is used for the office that is surrounded with glass walls but you can easily cover it with curtains too if you want to work with blackout from the sun.
21. Santa Monica Office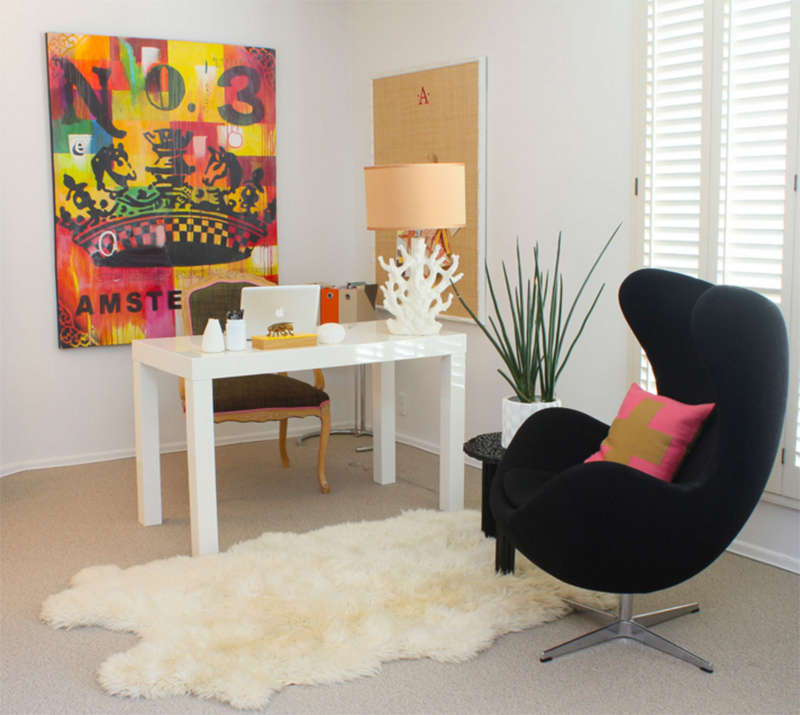 Such a chic modern space with a colorful wall art. Seen here are a soft area rug and an eclectic mix of furniture.
22. Family Room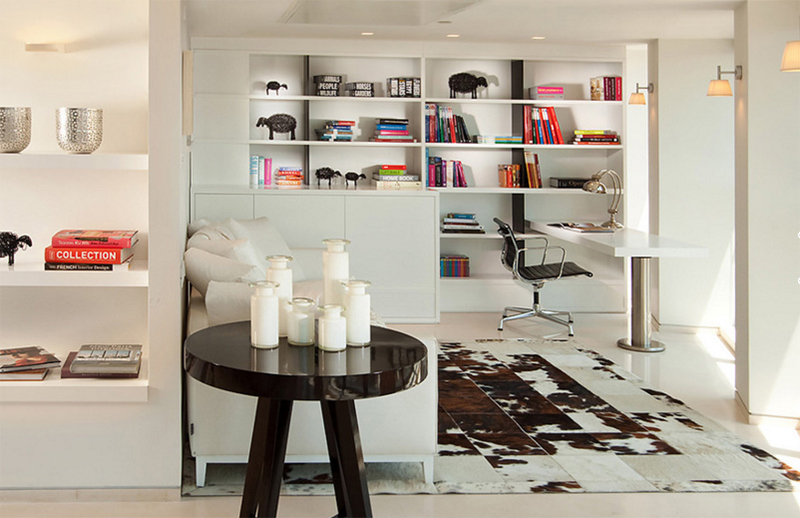 What caught my attention here is the area rug that is made of cowhide but area arranged in squares. And of course the stainless steel leg of the desk with white table top that matches the color of the area.
23. Center City Home Office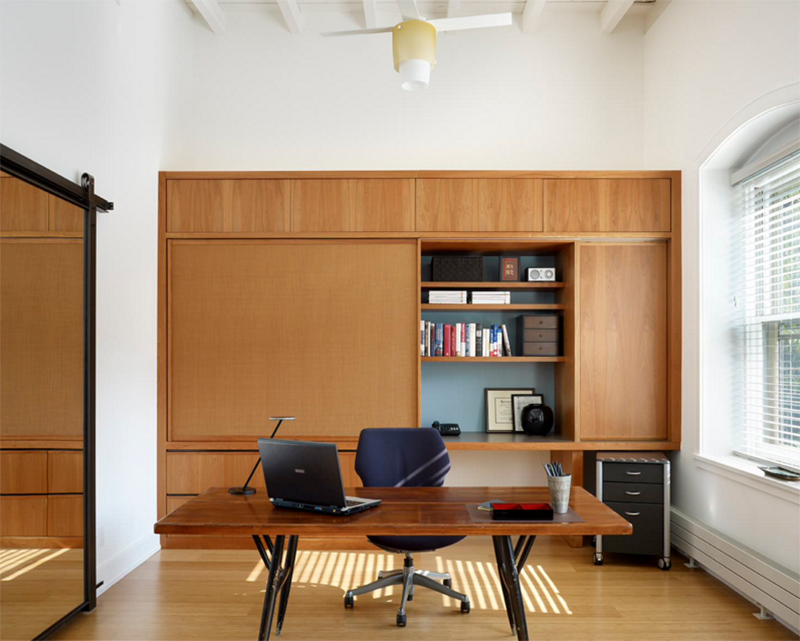 This office space has wooden cabinets and table. It is a nice storage area for books and other things needed for the office.
24. Brighton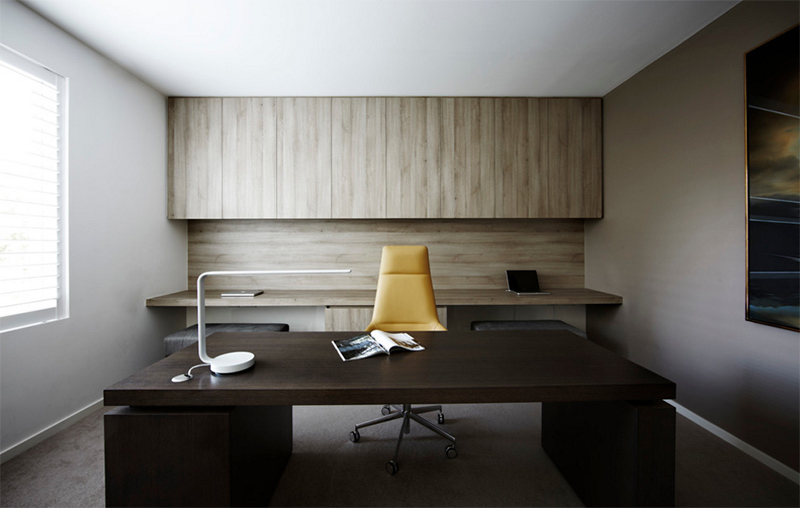 An elegant home study with custom joinery and executive task chair from Arper. I like the variation of wooden stain and finish used in the cabinet and table here.
25. Home office with garden and pool view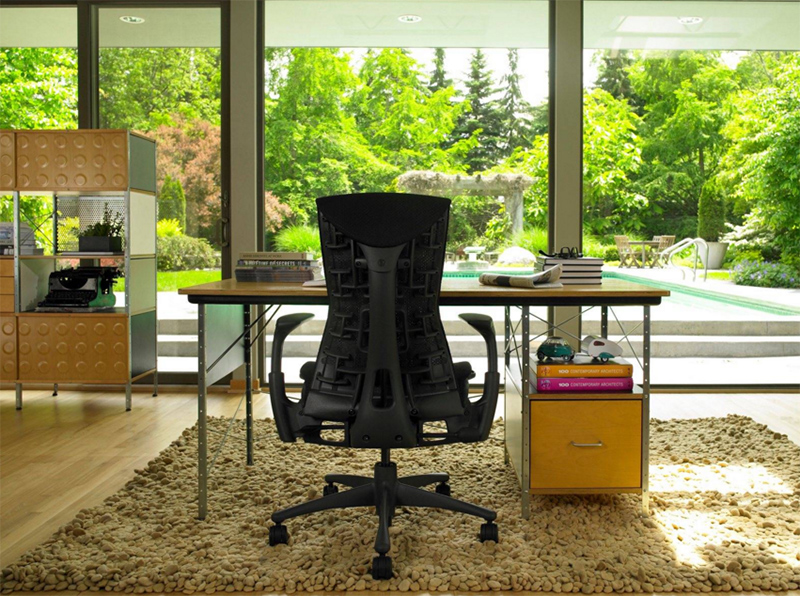 It would be nice to work while facing the pool and garden! It would surely make you more productive and you'd feel more motivated while working.
So if you are planning to have your own home office, you can apply the designs you have seen above. For sure, you will be able to get ideas to what we have presented to you. You have a small one or a bigger one. You can also have a home office that fits two or more people to work on. Others merely add a simple table and office chairs while still others would custom design their own work space that fits their needs. So, which of the above modern home offices do you like most?