Warm Aura of the Modern Farmhouse Eastbluff Residence in California
Nothing beats the beauty of a home that makes use of natural materials. It creates a warm and serene environment that makes one feel more comfortable in the house. We can surely attest to that if our very own interiors have plants inside or make use of natural decors. Well, what we will see today is a modern farmhouse themed interior that you'd definitely fall in love with!
The Eastbluff residence located in Newport Beach, California is full of natural materials and light. The white walls of the house give the interior a light and airy feel. The interiors make use of warm wooden flooring throughout. The use of "natural color palette and artificial foliage decorates every room, infusing life and brightening the spaces". A common element in the interior are pops of yellow that add a happy touch to the home. Decorative plant in a natural wood planter brings a Zen-like feeling to the space. Upon entering the house, it will make you feel like you are entering into a calm oasis that is both welcoming and intimate.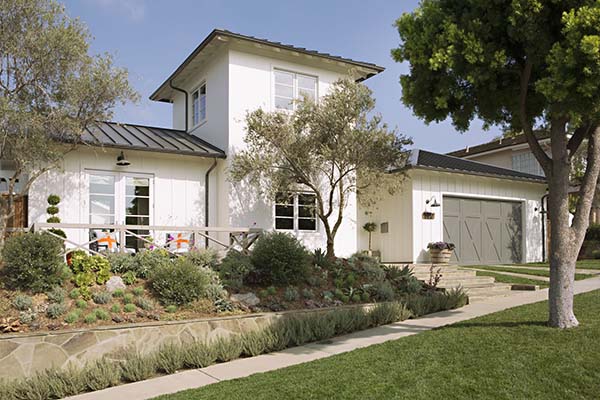 The exterior of the home is painted white with a charcoal roof and gray garage door that adds contrast to it.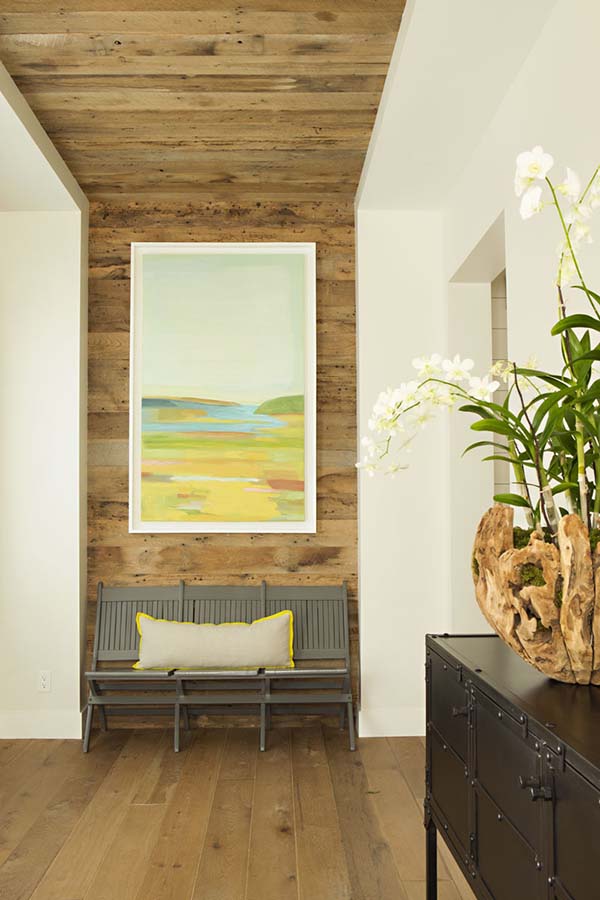 In the home's foyer, one can see a small bench for taking off your shoes. A narrow strip of wood cladding is seen on the wall and ceiling for a nice accent on the space.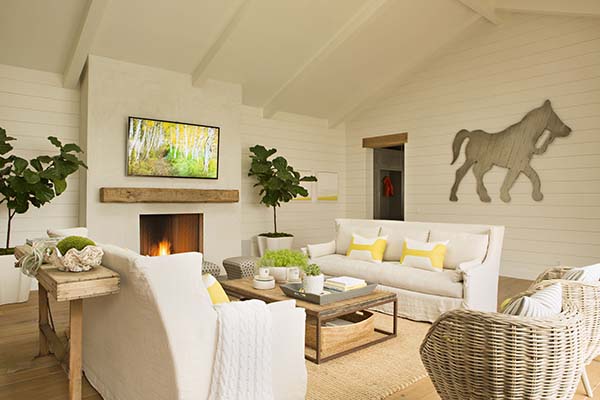 What caught my eyes immediately are that horse wall decor and the throw pillows with yellow design. Isn't this a very relaxing living room?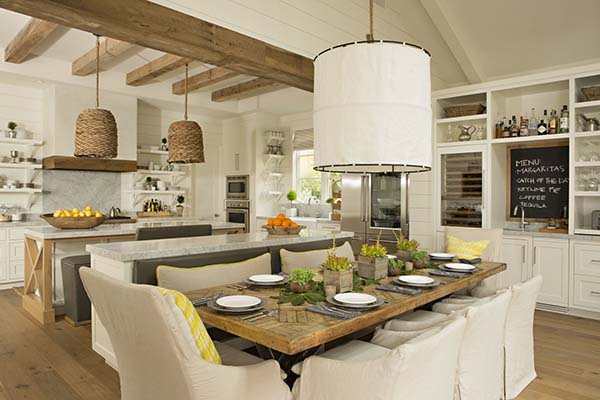 The dining area has the same color palette as the living room and it does look inviting too. Love the table scape!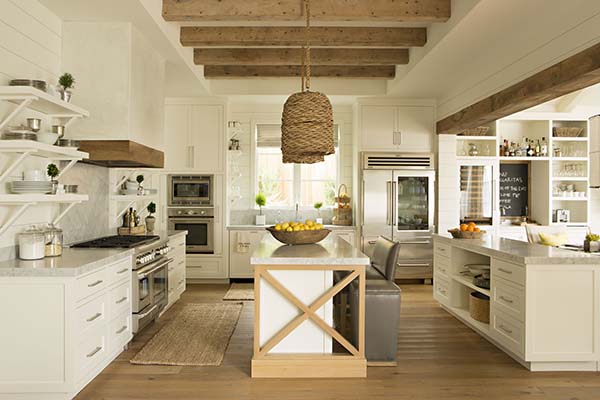 The kitchen has pretty pendant lights wrapped in ropes. The combination of white and wood is stunning!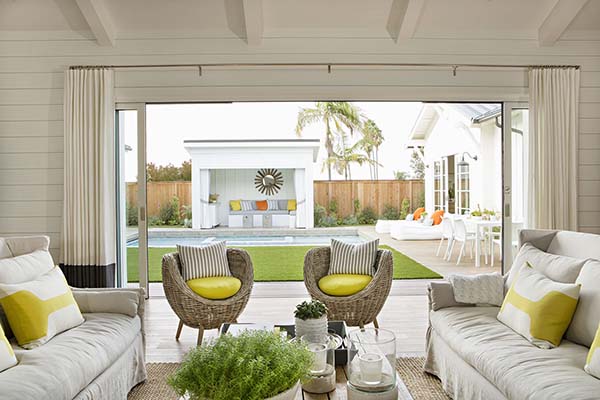 From the living area, the outdoor space can easily be accessed. You can clearly see here a lovely pool house here and of course the refreshing pool.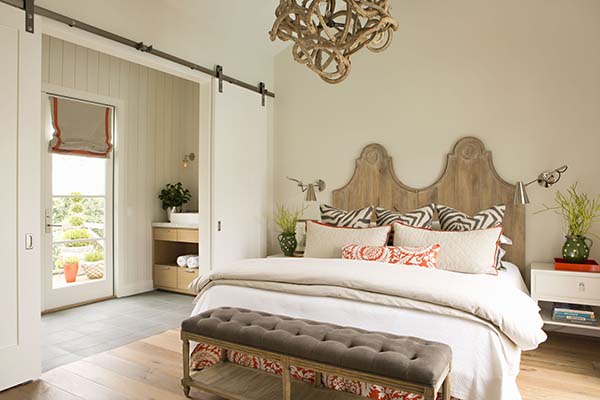 This bedroom is stunning in gray and orange accents. Pretty patterns and a wooden headboard make up this private space.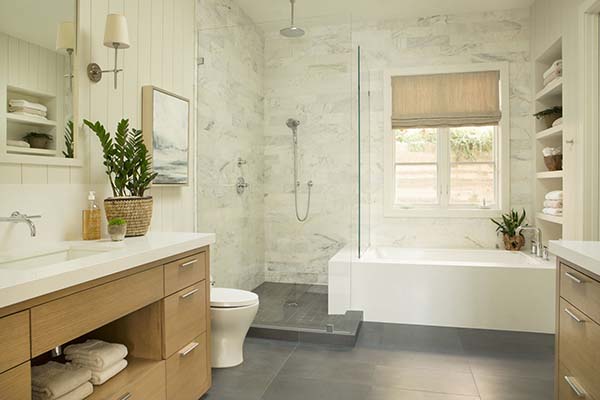 The bathroom has white and wooden combination that made it look very pretty and yes, it sure is functional too!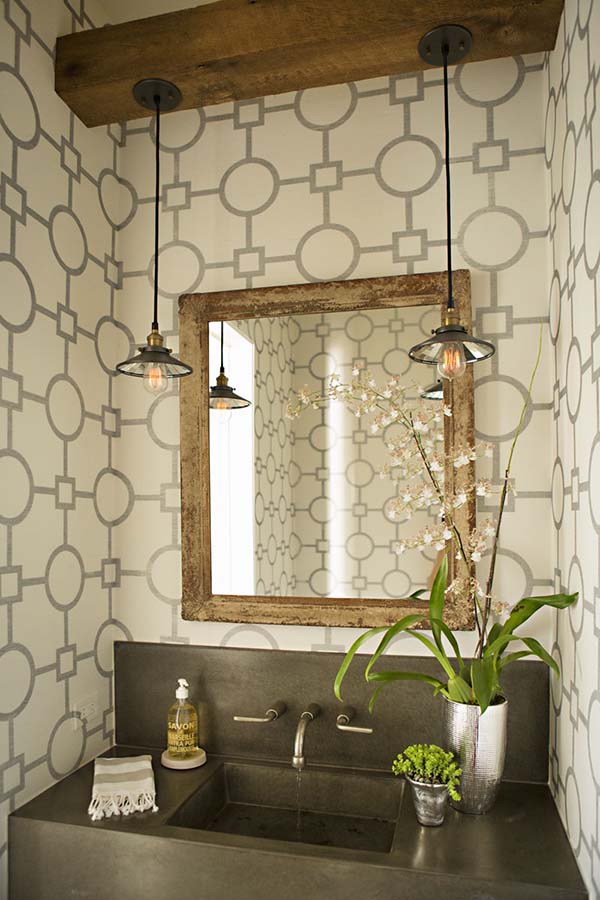 The powder room has geometric patterns on the wall and industrial lightings. A dark gray sink countertop is the highlight of the space.
Now that is farmhouse style indeed! To tell you the truth, I didn't know that farmhouse can actually look as stunning and gorgeous as the space above. I can say that Eric Olsen Design did an amazing job for this home. It turned out very serene, warm and relaxing from the living room to all the other areas of the house. I also like the touch of nature in it like plants inside the house and other decors too. What can you say about this house?