20 One Bedroom Apartment Plans for Singles and Couples
This would be the first time that we will show you a round-up of floor plans and we feel a bit excited in creating this list. A good floor plan design is important to ensure function and comfort of the owners. Also, it can tell how to access certain spaces in the house, traffic around the area and how people could use the area. That is why, one has to consider the design of the plan when looking for a place to stay in.
Today, we will show you different floor plan designs for one bedroom apartments. Dwellings like this are perfect for singles as well as couples. It doesn't mean that just because there are a few number of people who will use the space that it can be plain and boring. But it can actually be gorgeous and very functional too. Choose an apartment layout that will work well for you and your partner. I know you dream to live in those modern spaces that you see on apartments online or in magazines. Well, you can do that now with the apartment plans below.
1.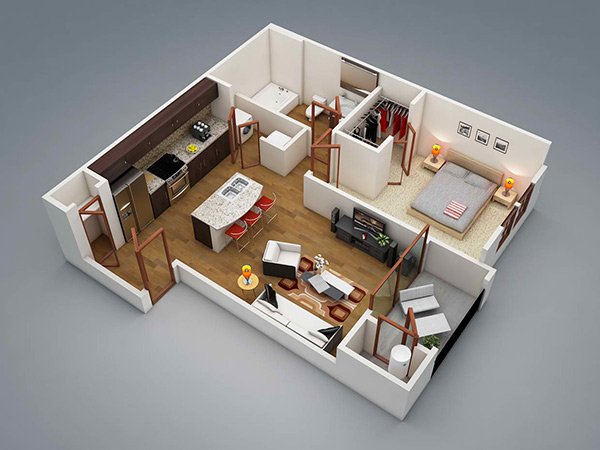 Luxury amenities like a large tub, modern appliances, and granite countertops are featured in this apartment but aside from those mentioned, this one sure is comfy too!
2.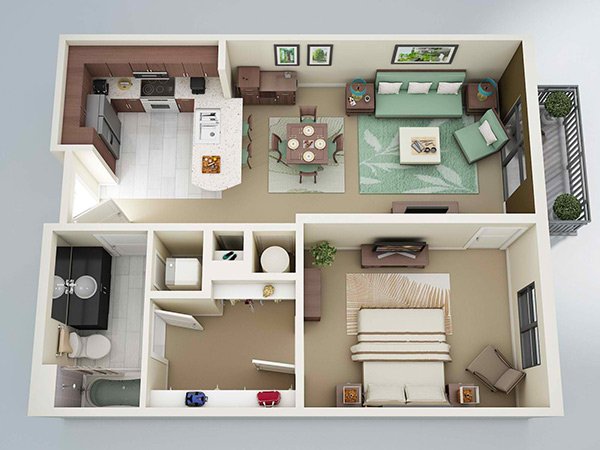 If you want an apartment where you can keep your clothes, shoes and bag, this plan is the right one for you with a huge walk-in closet! But of course, other areas of the house are given enough spaces too.
3.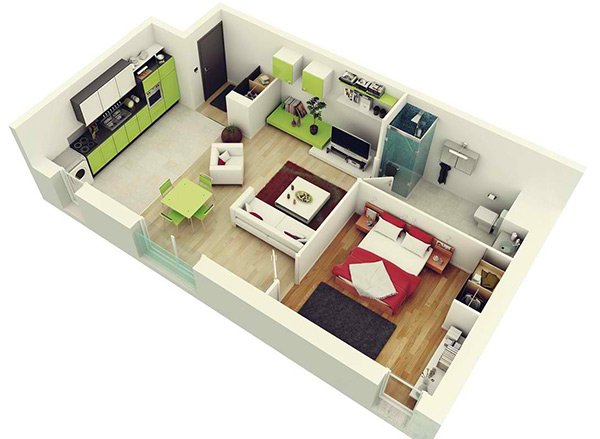 Bright pops of color is featured in this plan with crisp and clean walls using light to medium hardwoods and natural tile. Beautiful color combinations indeed!
4.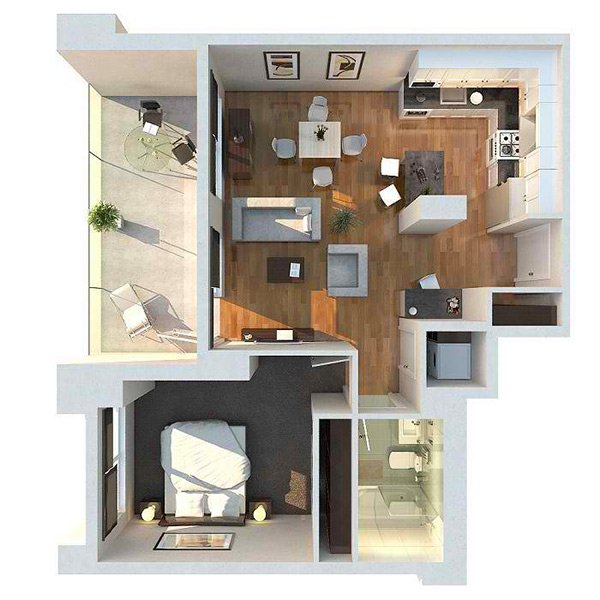 Lots of natural light flood into the space with a large patio and enough space to move, work and play!
5.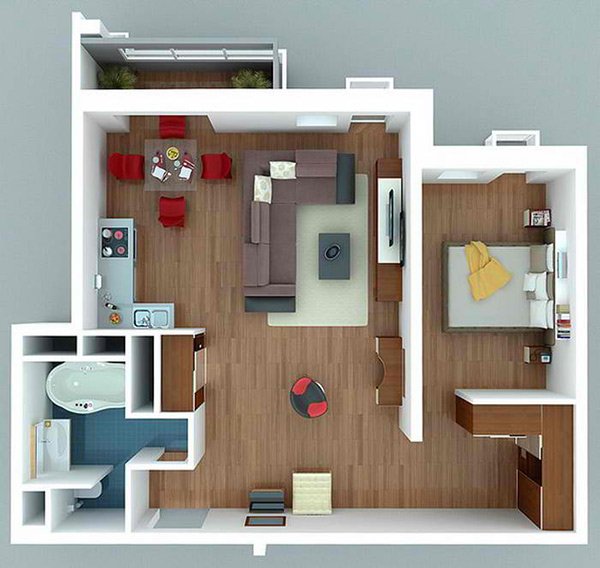 This one has some subtle futuristic touch seen in the furniture. But what is more lovely about this space is the well-distributed areas of the apartment.
6.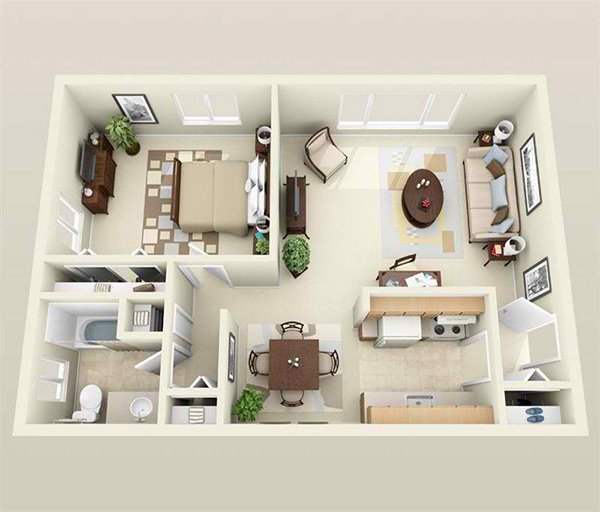 You could get a comfortable and bright space in this contemporary apartment good for singles and couples too.
7.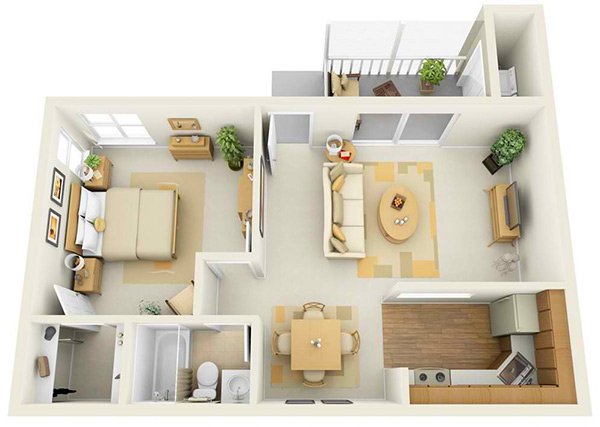 Aside from the modern details of the space, the charming balcony and separate laundry are a win!
8.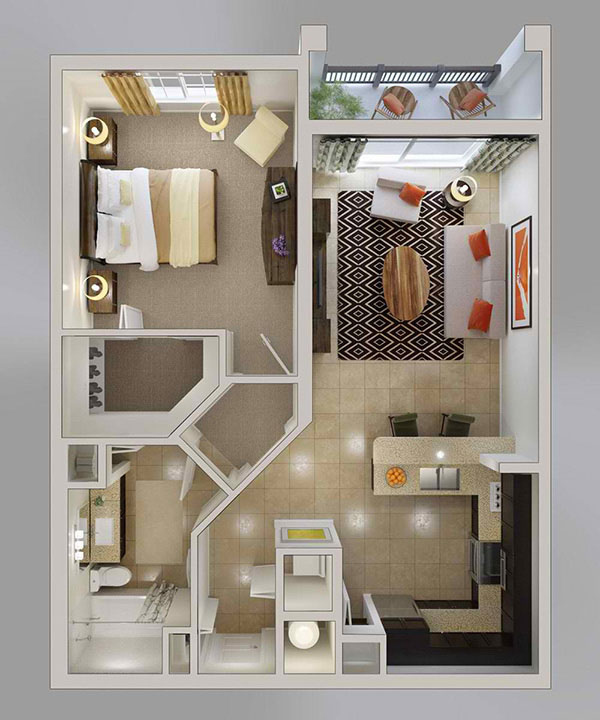 For those who love to cook, this plan is the perfect choice! It has a gorgeous U-shaped kitchen with breakfast bar, lots of cabinetry, modern appliances, and granite countertops.
9.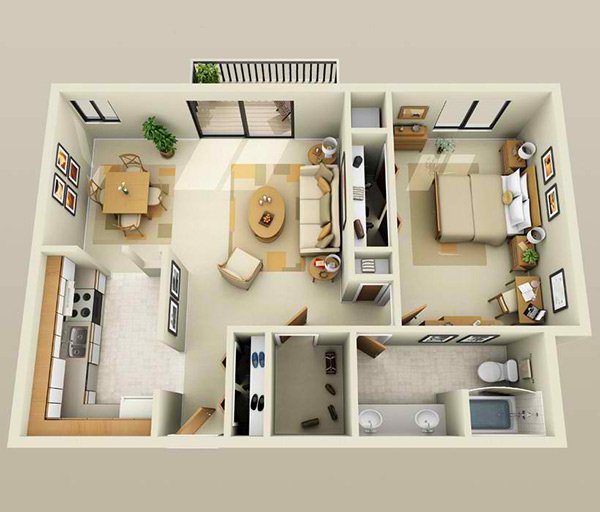 Aside from a spacious L-shaped kitchen, the large walk-in closet is a great feature where you can store gym equipment and wardrobes. This is a perfect place for those who work at home because of the work area in the bedroom.
10.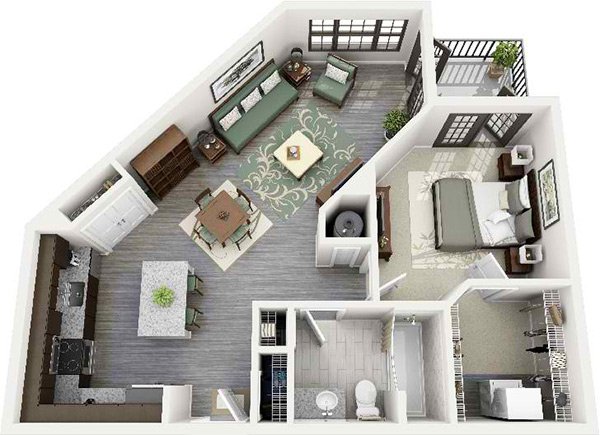 Got slanted walls for the apartment? Consider this as a plus for this can create a one-of-a-kind look.
11.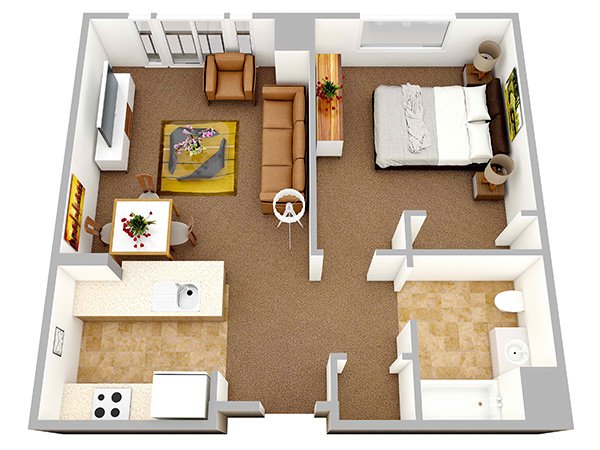 A comfortable living area, kitchen and bathroom is featured in this plan. But for sure you will be pleased of the bedroom with its own closet.
12.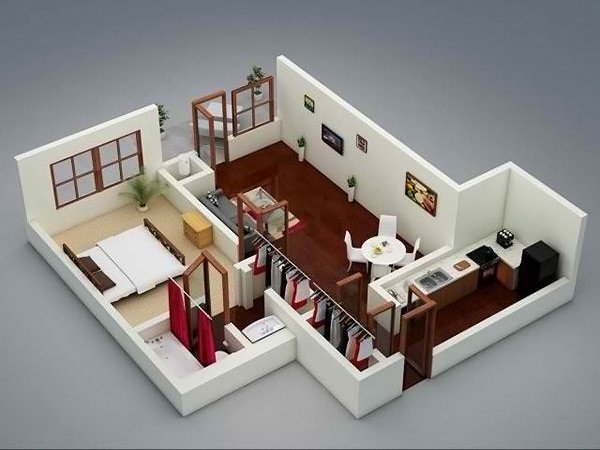 This one has a modern update but the historic look and feel is retained. What a combination!
13.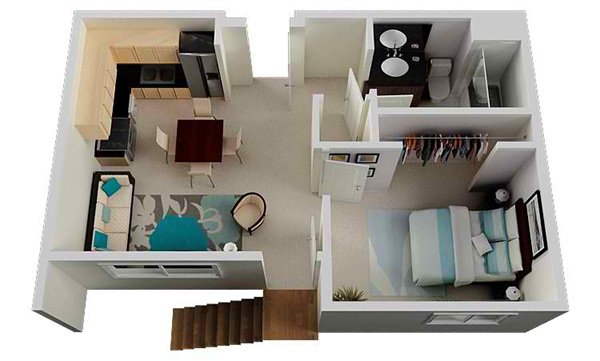 Who will not fall in love with the hints of blue in the furnishings of this charming apartment?
14.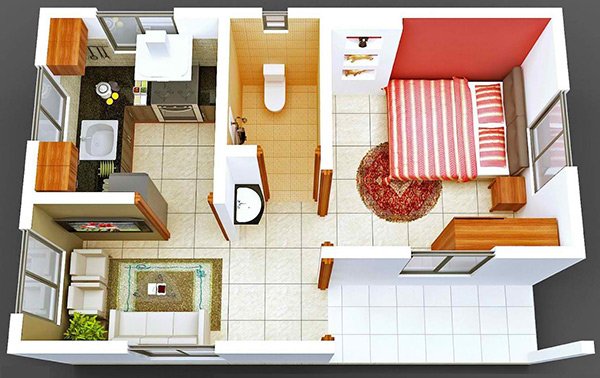 A simple layout with a spacious bedroom, L-shaped kitchen and bath. Well, don't forget about the small yet inviting living room too!
15.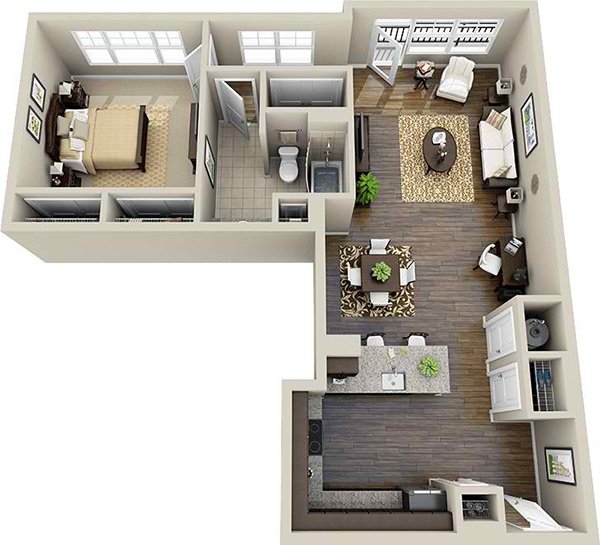 Who says an L-shaped apartment is hard to live in? This one has a large kitchen, a breakfast bar, small patio, large closets and lots of windows!
16.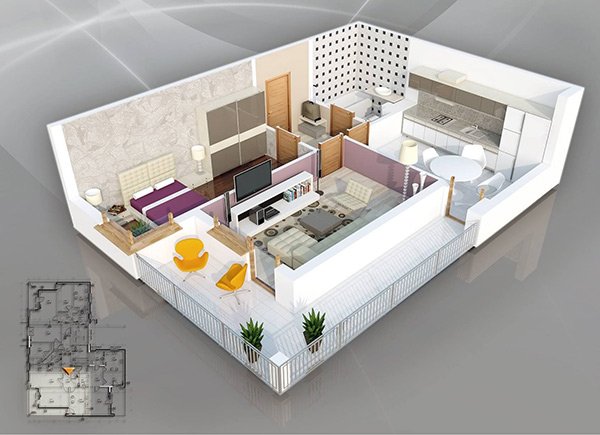 A lavish balcony sets this one apart from other spaces including its wall textures and designer furniture.
17.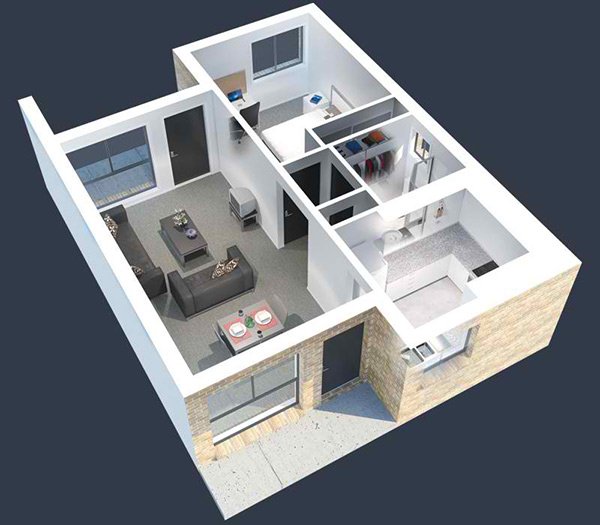 A closet space, comfortable living areas, and a modern kitchen- perfect for student housing! No more dull student dwellings!
18.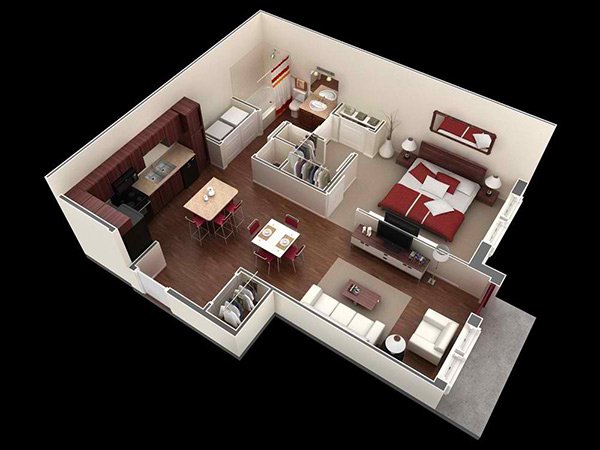 Rich woods in the cabinets and flooring combined with the pops of red in the furnishings create a lovely warm feel in this apartment with ample storage spaces.
19.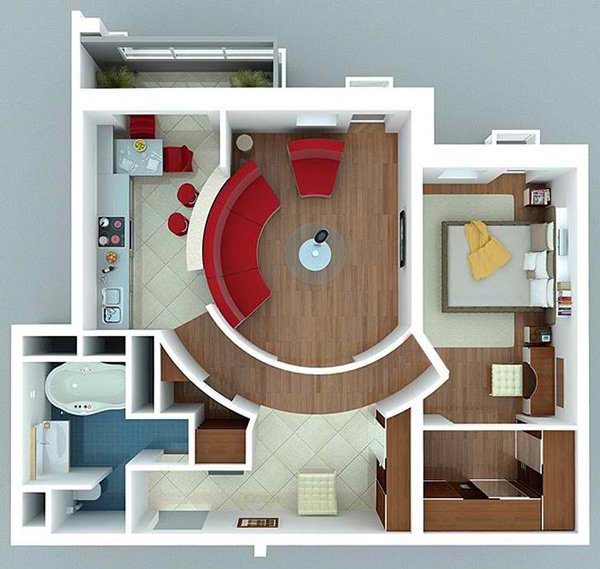 I love that curve seating in the large central living room! It gives a subtle futuristic touch to the space.0
20.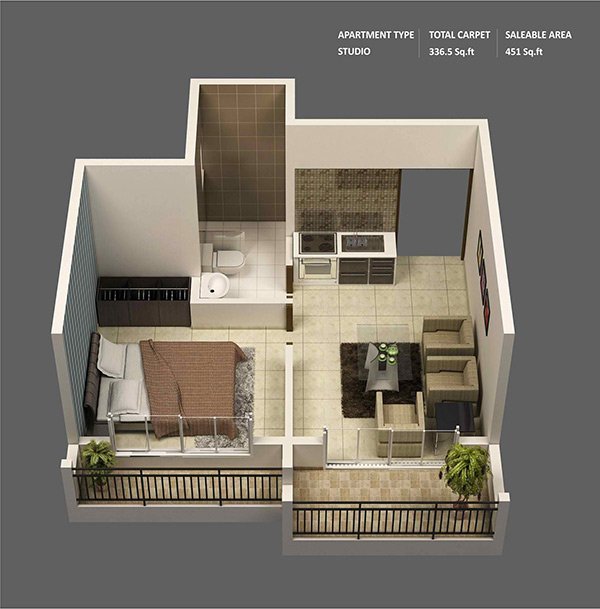 The exciting city of Mumbai isn't enough to live life fully. A cosy space like this for relaxation and living would be perfect!
A beautiful home depends on the floor plan because everything starts with a floor plan. That is why, you have to pick the right design really well to make sure that you will be living in a place where you can acquire utmost comfort. You can always draft your own plan but you have to always consult the experts. Doing this will guarantee you that your dream dwelling space will be achieved in no time!