20 Charming Nurseries with Beautiful Floor Lamps
Add some floor lamps to your nursery to illuminate your little one's space.
If you're expecting a baby in your household, it surely gets you inspired to start planning for nurseries or for play areas for them – even when they aren't even born! This is because shopping things for their own space is so cute and fun! Choosing the right crib, the right changing table and the list goes on and on. In considering the items that you will be adding to the nurseries, there are a couple of things to really think about, and the books for expecting Mums will surely help you – even the internet!
Today, we will be showing you 20 Charming Nurseries with Beautiful Floor Lamps because not only does the adults need them when they need to read something while watching the baby, but sometimes it is needed in cleaning the baby. You will be seeing a couple of pretty spaces below that I think you'll really like because they are cute and somehow fancy. Enjoy the list guys.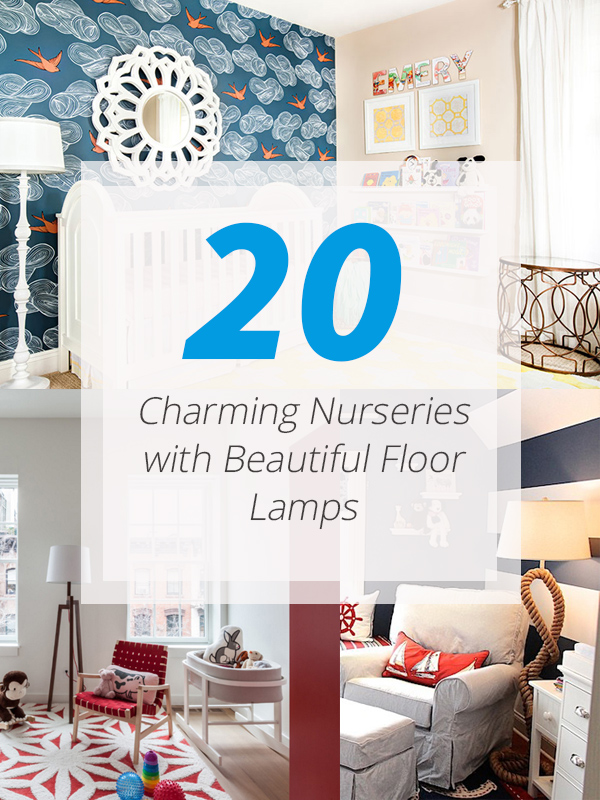 1. Beverly Hills Summit Drive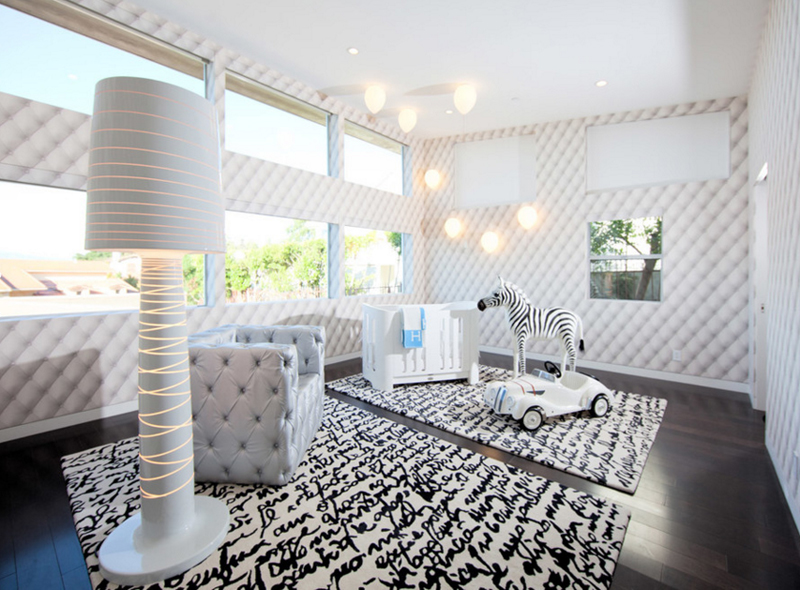 Talk about beautiful floor lamps! Not only is this beautiful but rather unique! The design may seem simple, but at the angle of this photo, you can definitely see how special this floor lamp is! Aside from the floor lamp, this nursery is quite a charmer too – the furniture and decors in here is minimal but it's already perfection!
2. Cosmopolitan Classic Boy's Nursery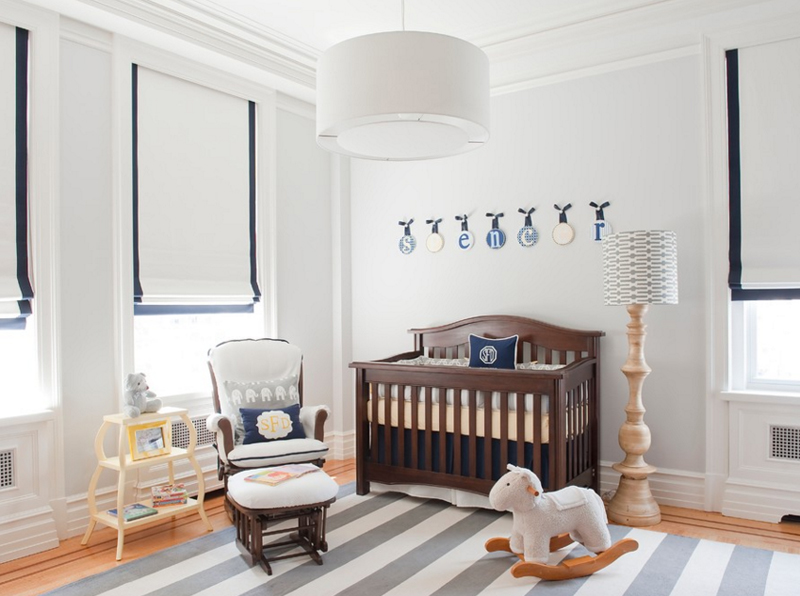 Don't you agree that this nursery is in fact a simple one – but the details on the floor lamp, the decor on the wall that spells the name of the baby and the striped carpet already tells us that this is another work of love for the baby who would be using the space.
3. Doran's Nursery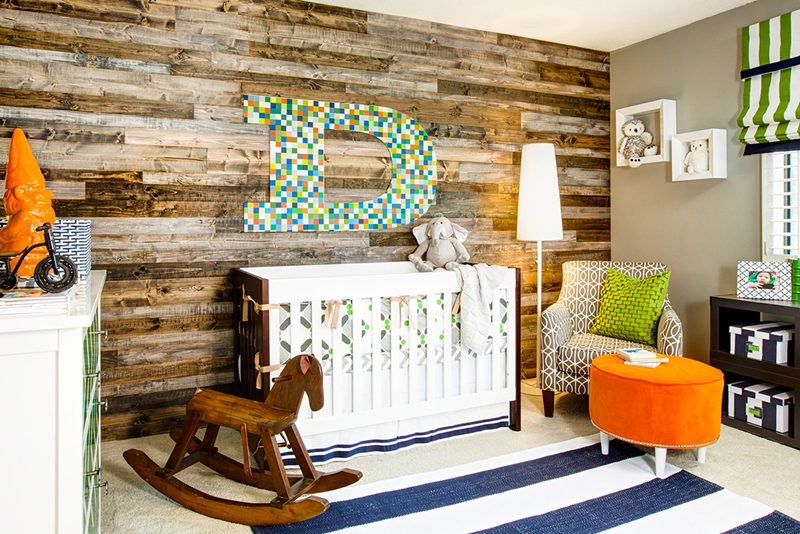 Large letters or monograms are common with adults, but most especially for kids nowadays. Their parents (especially their mothers) an designers usually want this added to the things of the baby or in the room itself – not only does it suggest ownership of the item or space, but it sure looks cute seeing the initial or even the entire name of your baby on the wall.
4. Galaxy Gazer Nursery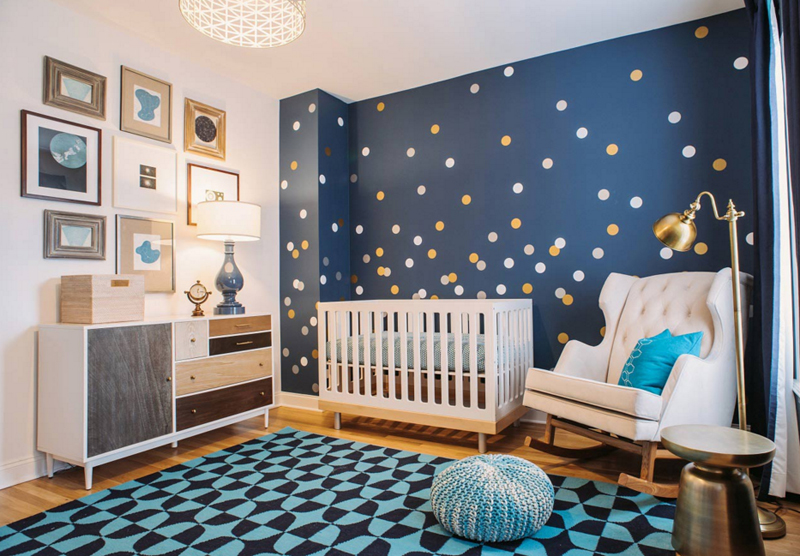 I totally love the accent galaxy wall in this nursery! I love the color blue and the way that they actually did the circles on the wall to make it look like stars on a blue sky. The use of neutral colors of the furniture made the wall really stand out. The added bronze floor lamp sure made this room look expensive and classy aside from really being mother and baby-friendly.
5. JJ Quarter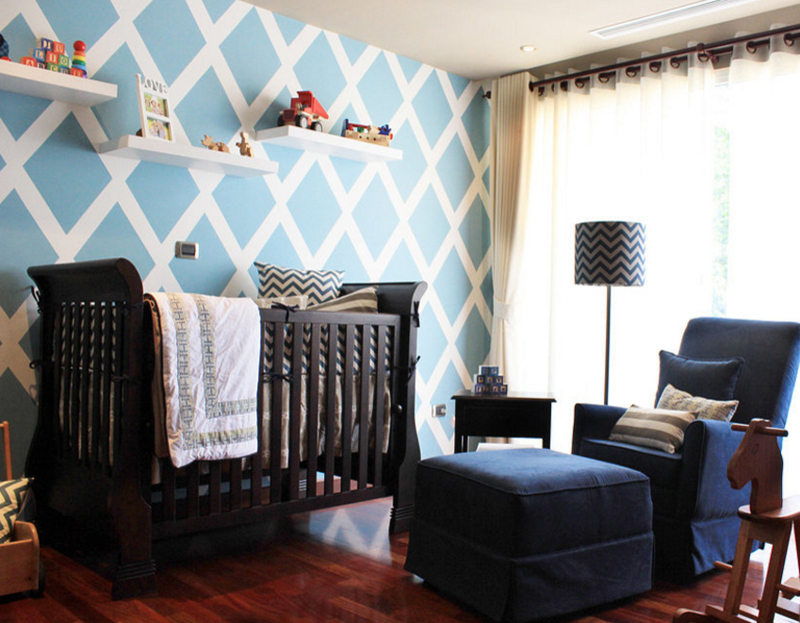 Another blue nursery that I also think is wonderful! The accent wall look really easy on the eyes and somehow match with the zigzag prints on the floor lamp and pillow on the crib. Additional seating like this blue arm chair and ottoman is best for breastfeeding moms!
6. Kylie's Nursery Lilac and Coral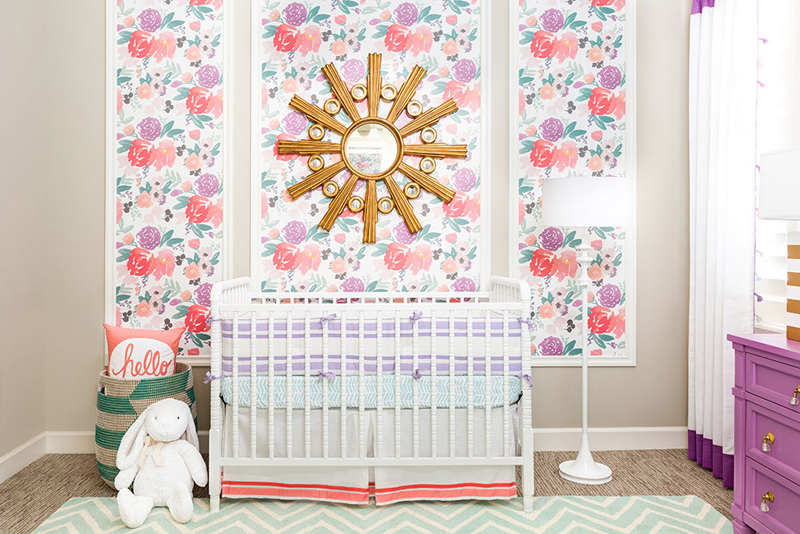 This beautiful nursery is for a beautiful Kylie. The details of this nursery is really ideal for a baby girl and even if Kylie and other babies do not appreciate these things just yet, it's nice to know that parents go out of their way to make their baby's space be a haven for rest for them.
7. Mayfair Luxury Nursery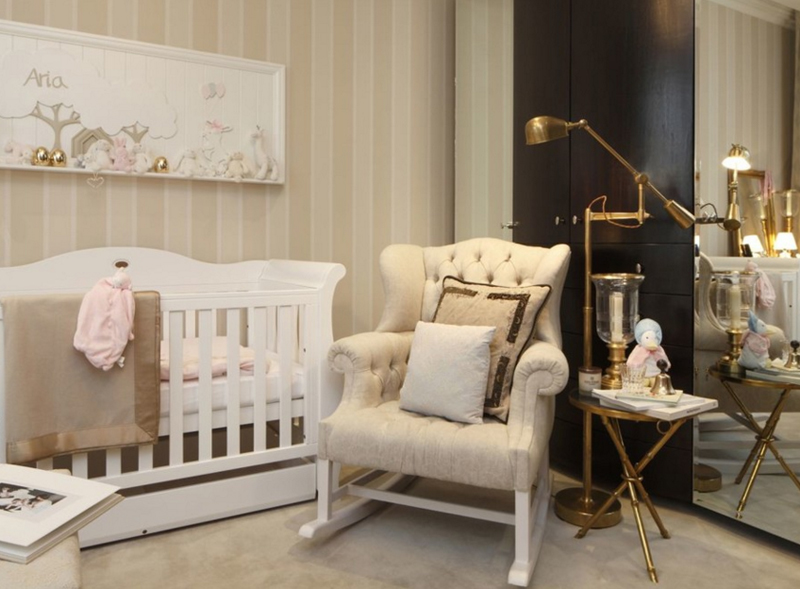 This is the second nursery in this list with a bronze floor lamp that sure looks vintage and all that, but it definitely brings out the beauty of the space since it is basically all whites and beiges. This lamp match with the small table just beside it. How do you like having one of these comfortable rocking chairs in your house? Pretty cool, right?
8. Tyler's Nursery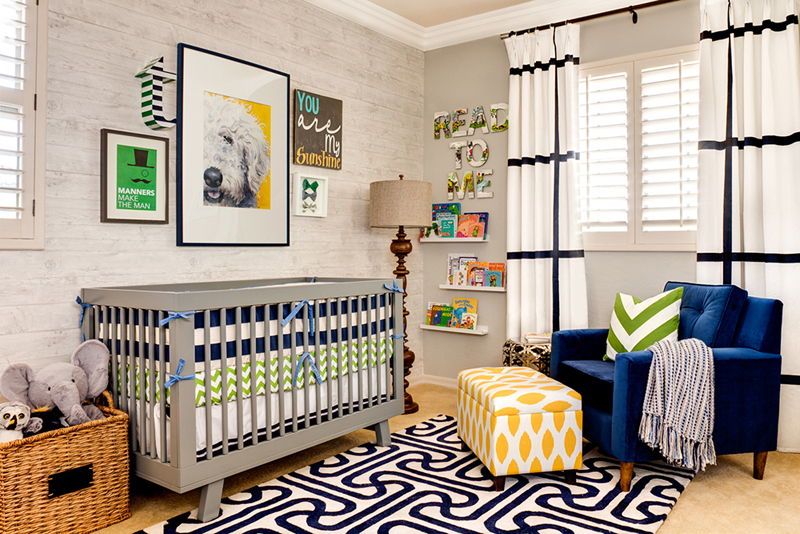 Notice the way this nursery was arranged and designed? I love how they actually made it somehow ideal for either a baby girl or a baby boy. We see a lot of colors in here, although truth be told that it's the large blue armchair that surely dominated this cute space.
9. West Village Children's Room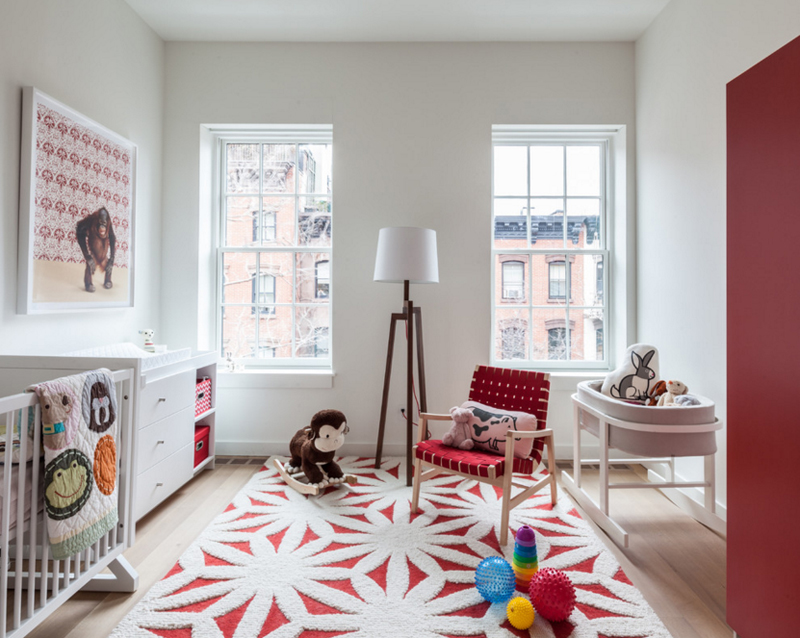 I would make a gamble and say that this nursery is actually for a girl! I mean, look at the reds and pinks in here! Of course, we enjoy looking at spaces like this not knowing what really happens after a day with a baby in here. I love the floor lamp and the red chair in this nursery too, how about you?
10. Back Bay Penthouse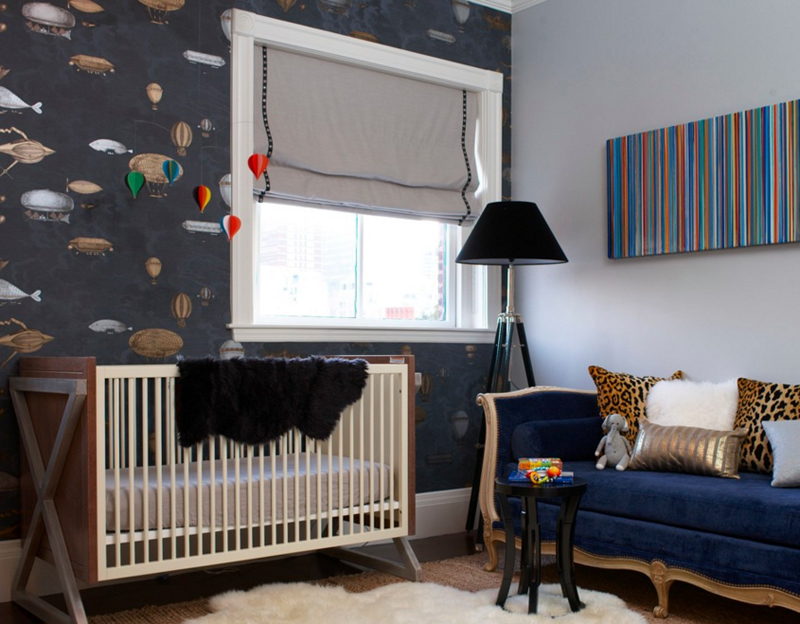 Have you noticed that the leg of this floor lamp is somehow similar to the one before this. It looks like a tripod for a camera; the color of this floor lamp sure is nice because it's black – although we know that there are very few lamps with designs made for kids, with this color, you can surely use this one for the living room or this could have been already used and was transferred to this nursery for further use.
11. Bloomfield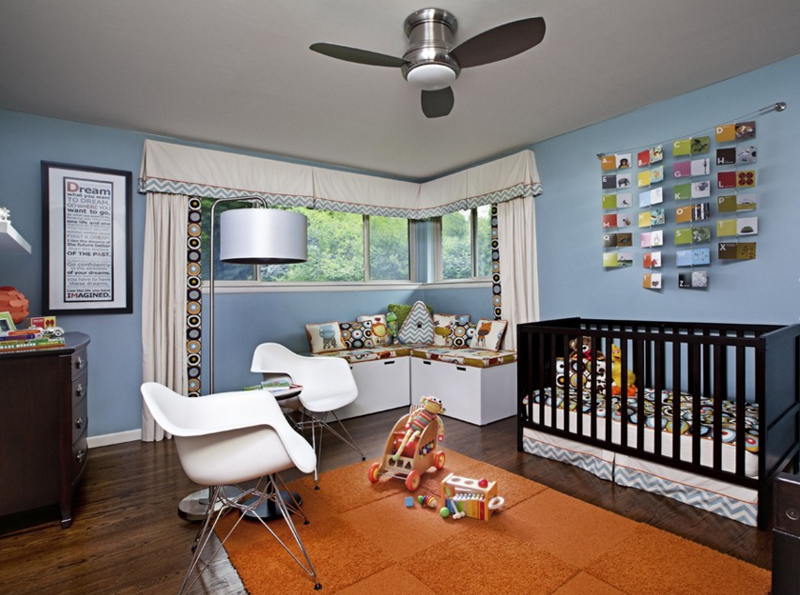 The drum floor lamp in this Bloomfield nursery complements well with the dark colored furniture in this space, except the white arm chairs of course, but it still makes them stand out. This cute nursery sure has more things than most of the nurseries in this list – I think the kid who uses this room is a toddler already.
12. Chicago Nursery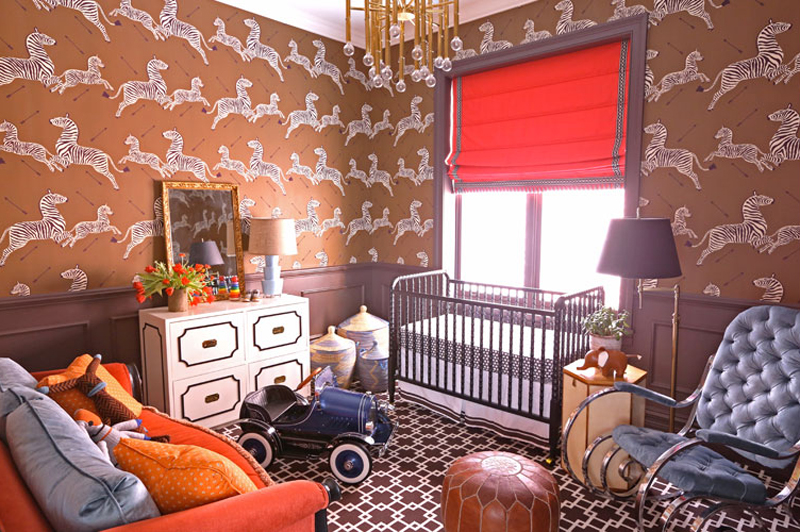 I do not really find the wallpaper in this nursery fun at all. I think nurseries should be fun and somehow educational for the kids using it, but because of the wallpaper plus the printed carpet too – this space would cause stress instead of comfort for the kid and the parent coming in here to take care of the baby.
13. Emery's Nursery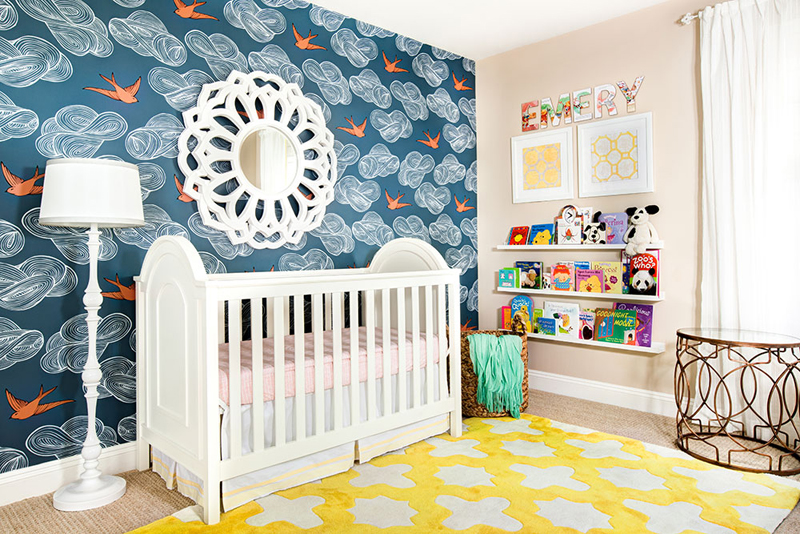 Emery's nursery sure looks fun and pretty! The blue and yellow combination plus the added white furniture, floor lamp and sunburst mirror created a more contemporary nursery; from the look of the decorations used in here, we know that this space sure is child-friendly.
14. Family Craft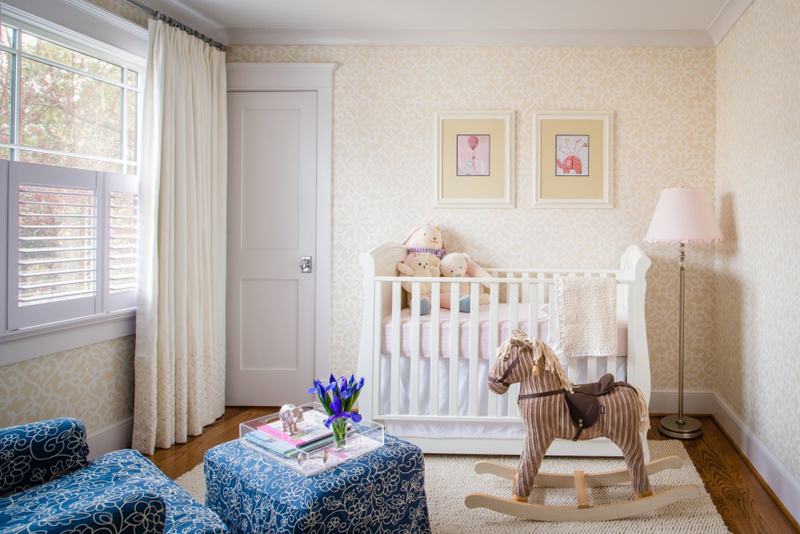 This small bedroom converted into a nursery sure has the most subtle colors used (except the blue arm chair and ottoman) in it – with the wallpaper, the color of the floor lamp and the drapes too; still, this nursery is one of the cutest and most calm space in this list. If I were the parent of the nanny of the baby staying in here – I think I'll be zen all the time.
15. Foxy Orange Pops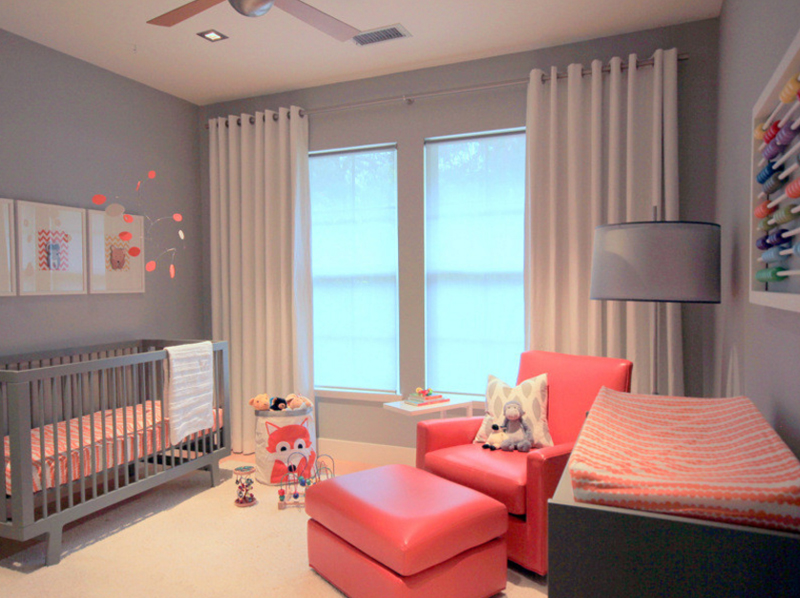 The colors in here sure is foxy! From the name of this space in itself, you know how fun it is. I heard my sister say one time, 'I rarely meet people who actually loves the color orange'; which is also true for me – how about you? The furniture inside this nursery is really pretty; I think any kid (girl) would love this one.
16. Hollywood Hills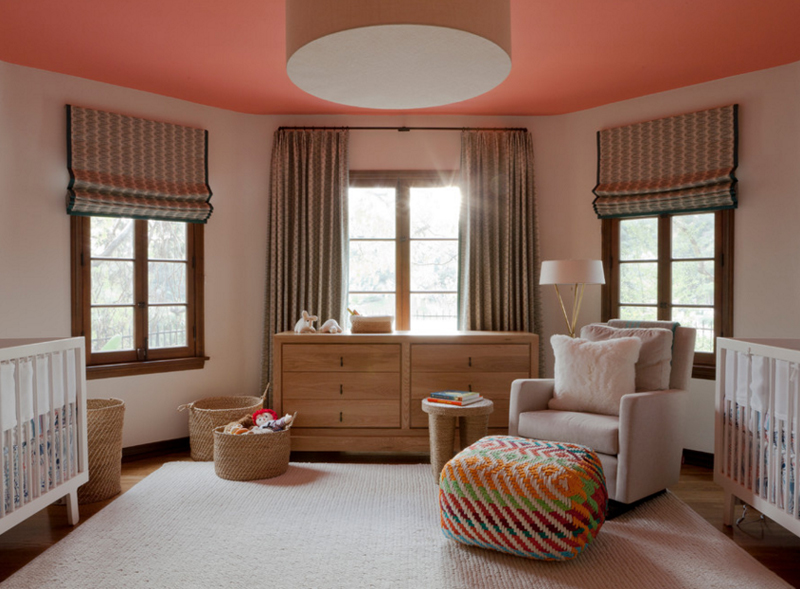 Having a twin sister makes me enjoy spaces like this one – something intended for twins or siblings who have very small gap in their age. This nursery might need a little bit more color of decorations, but I think it is also pretty in its neutral tones. The color of the ceiling surely complements with the colorful ottoman.
17. Sophisticated Getaway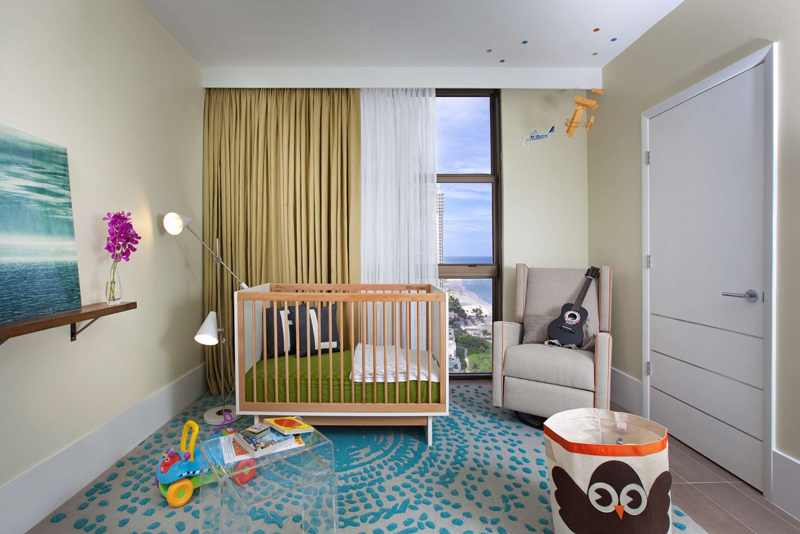 For people living in high buildings or condominiums like this one makes me love how they create contemporary to modern bedrooms or nurseries for their kids because not only do they have minimal nature exposure, but well, the mere view of the outside surely is not so-child-friendly. What do you think?
18. Terrace Hills Nursery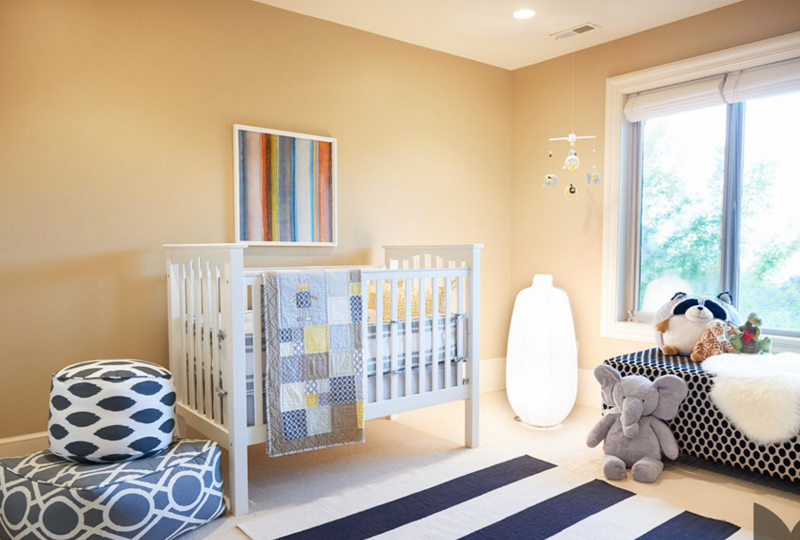 I know you might wonder why I added this picture in this list. The design of the lamp surely is very different from the ones in this list – believe me, I even wanted to add a nursery that had a sundae for a floor lamp – but of course, I just wanted to show you guys that some nurseries really use those cute lamps that is not-so-adult-like; but I think that it's really refreshing.
19. Tudor with Southern Flair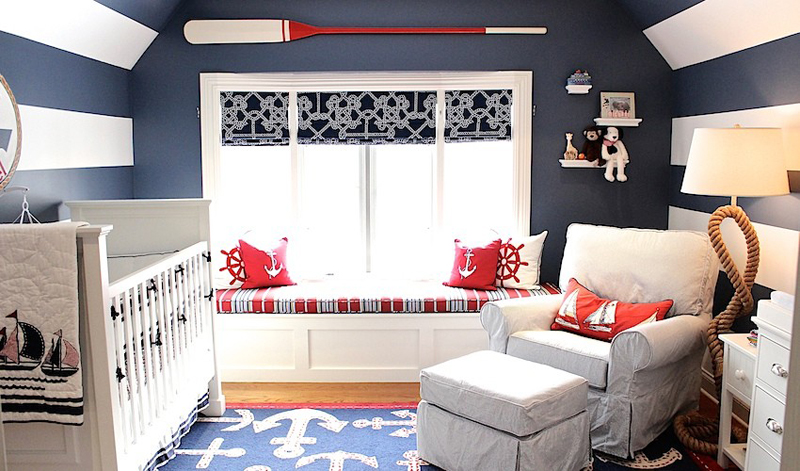 Talk about a nursery that you can easily convert as a toddler's bedroom because of the current theme or design of this space! The blue walls and naval themed stuff in here sure is cute and fun for the kids. Do you think so too?
20. Westminster Nursery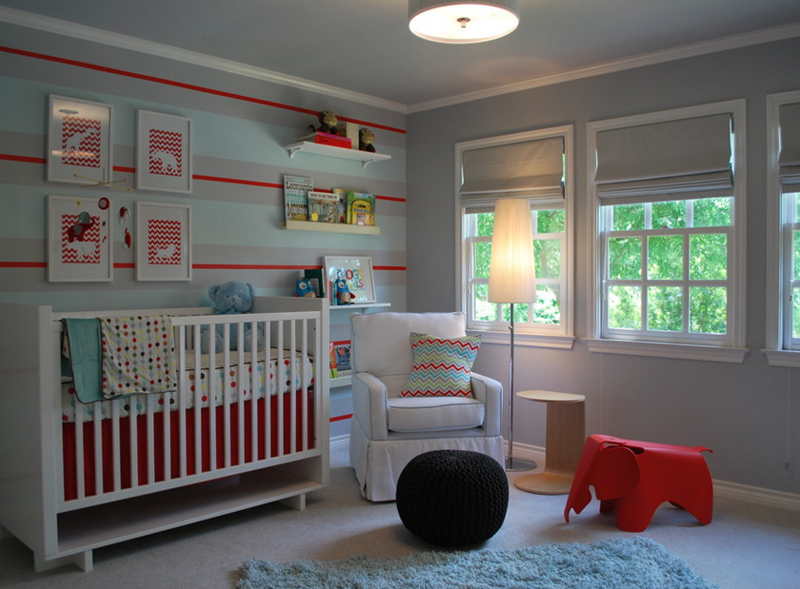 Finally, for the last photo in this list, take a look at this Westminster nursery! The striped walls for me surely completes the look of this nursery because you actually try to imagine if all the walls in here was similar to the grey wall by the window – too dull; so the accent wall sure added drama to this space too.
Well I think that this list was fascinatingly charming! If you don't agree at my hyperbole, I'm sorry. I'm sure that there are other nursery photos out there that might interest you more – but this is really neat for me. The color combinations are nice. If you are into floor lamps, you could try other styles of these kind of lamps that will look good in your space. Don't forget to share this list guys – especially if you enjoyed them!