20 Whimsical Ceiling Ideas of Nurseries and Toddler's Rooms
In designing a nursery room, we can consider the entire space as our canvass in creating an artwork. That starts from the flooring to the ceiling. Yes, you can do whatever you want as long as it is stylish, creative and appropriate to the nursery. I have seen many cute nursery and until now, I always fall for their beauty over and over again. There is something in nursery rooms that we cannot see in other area of the house and that is the cuteness overload and with the idea that a little bundle of joy would be staying in the room.
In fact, it is the thought of having a baby in the house that excites everyone. That is why we would decorate a nursery with all our heart. So, if you are looking for ideas on what to do with the ceiling, I have collected some interiors which have awe-inspiring ceiling designs. When you are inside these spaces, you will feel like you are in a totally different whimsical world!
1. Long Island Residence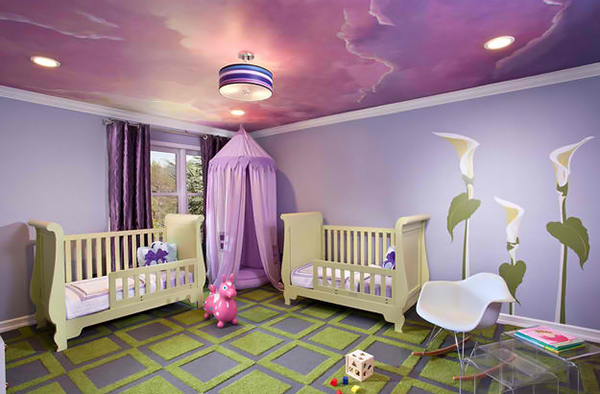 Who wouldn't fall in love with this room? That purple sky would bring your little one to fantasy world!
2. Nursery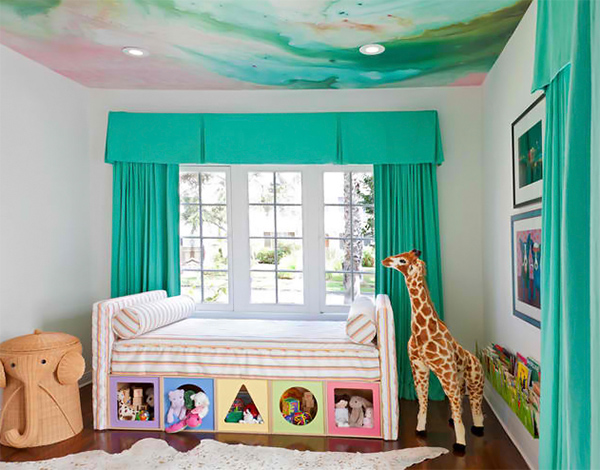 If the previous ceiling was a purple sky, this one is full of colors! It signals an even more exciting adventure!
3. Bedroom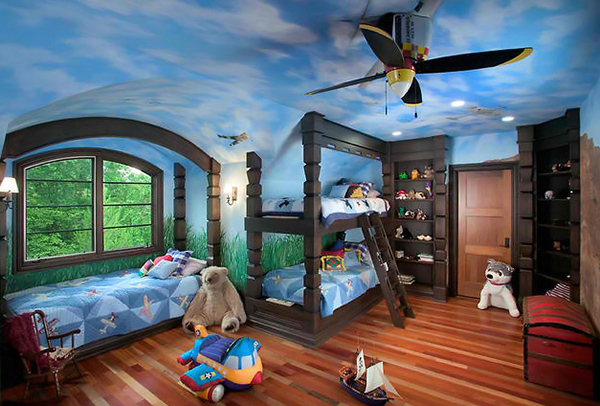 I'd guess every sleeping time would send the little kids to the sky as they have that feeling of being under it all the time even if they are indoors!
4. Private Residence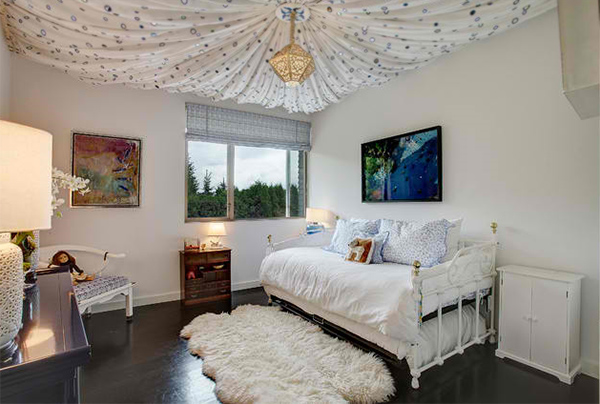 Aside from wall murals, even a fabric like this would be a perfect ceiling.
5. Bedroom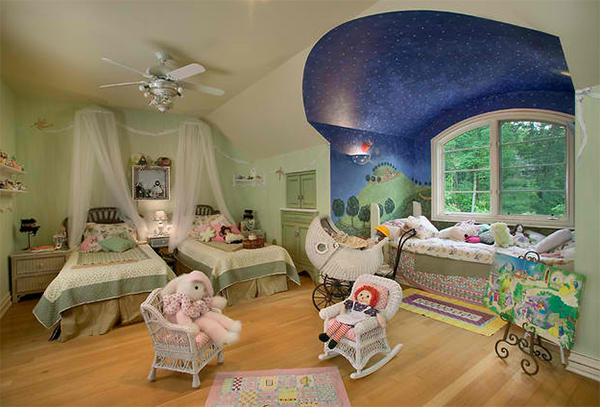 You actually have an option. You can just add a lovely ceiling sky mural on one part of it and still give the room a whimsical feel.
6. Simple airplane theme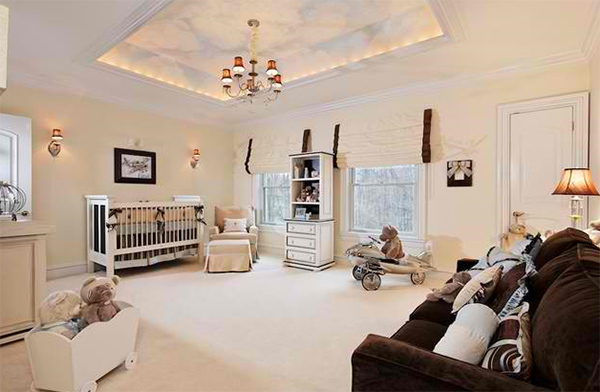 If you have a ceiling like this, you can always add that cloudy feel with lightings on it.
7. OPaL Custom Homes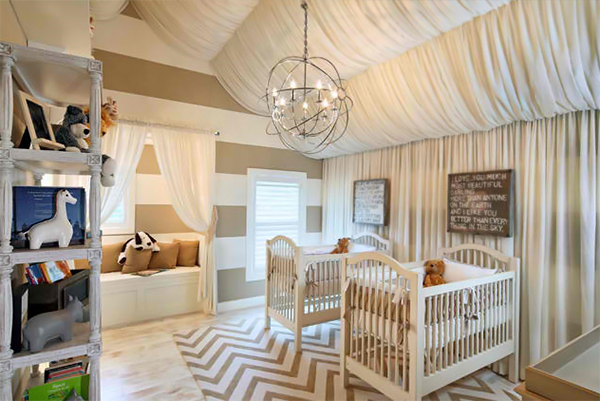 Look at how a fabric can totally change the look of a nursery. Very pretty indeed!
8. Baby Girl Nursery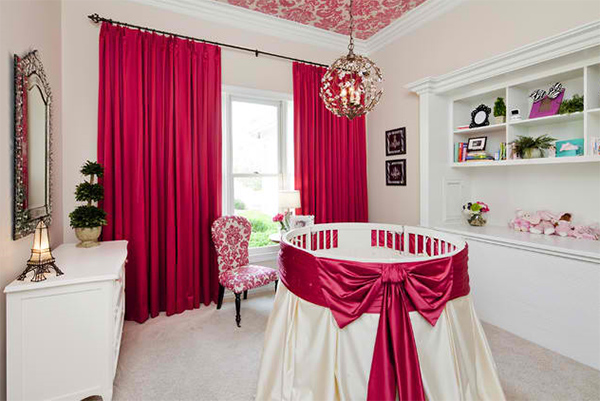 If you are tired of seeing cloudy ceilings, why not be different with a damask ceiling for that subtle royal ambiance?
9. Magical Baby Girl Nursery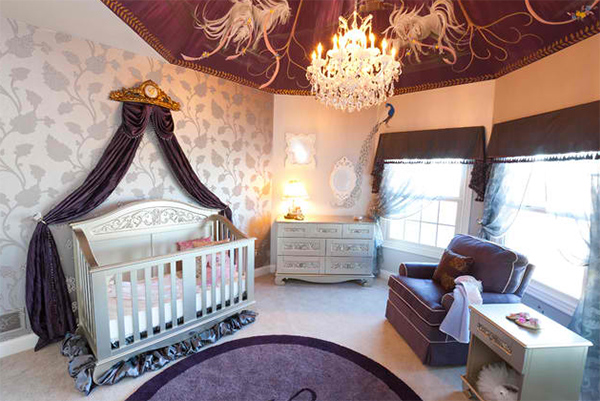 A nursery that is royal and magical. On the ceiling are white unicorns, sparkles and shimmer of white Swarovski crystals on the chandelier.
10. Lauren and Miranda's Colorful Nursery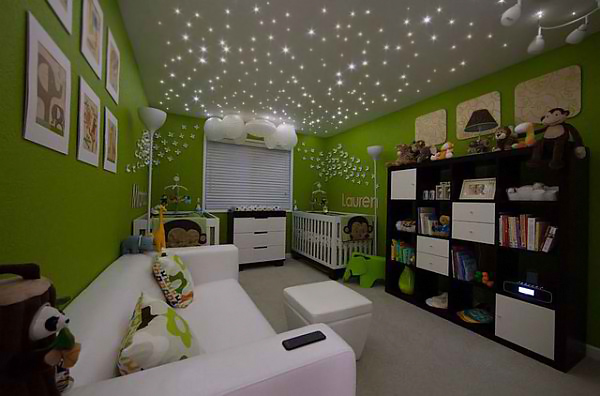 The green walls of this nursery is very refreshing especially with the added stars on the ceiling!
11. French Country European Style Home
Luxurious nursery with a gorgeous ceiling in silver. What I love here are the obvious textures reflected from the items in the bedroom.
12. Baby Boy Blue Nursery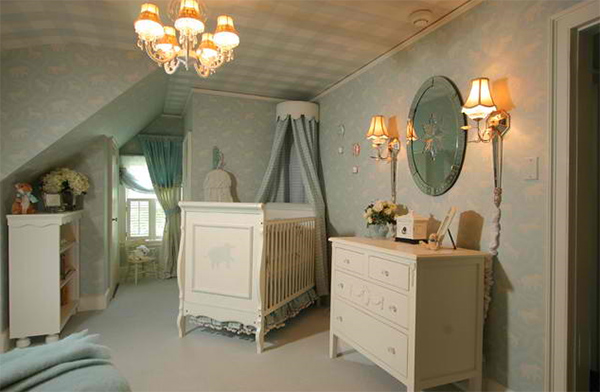 Want to go simple? Try a checkered ceiling like this one for a subtle charm.
13. Baby Blue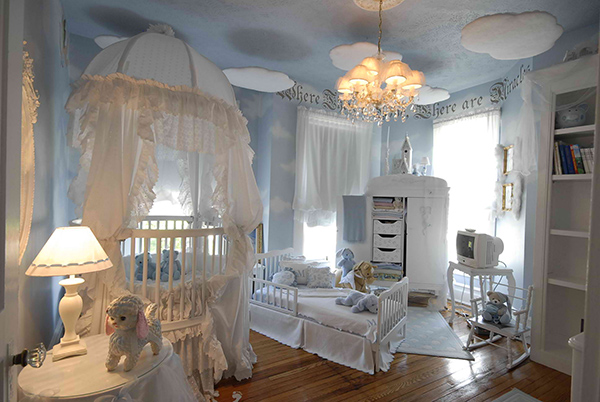 Baby blue is lovely for little ladies too and could be a perfect backdrop for a sweet girl's room. Don't you just love the clouds on the ceiling? I adore it!
14. Princess Nursery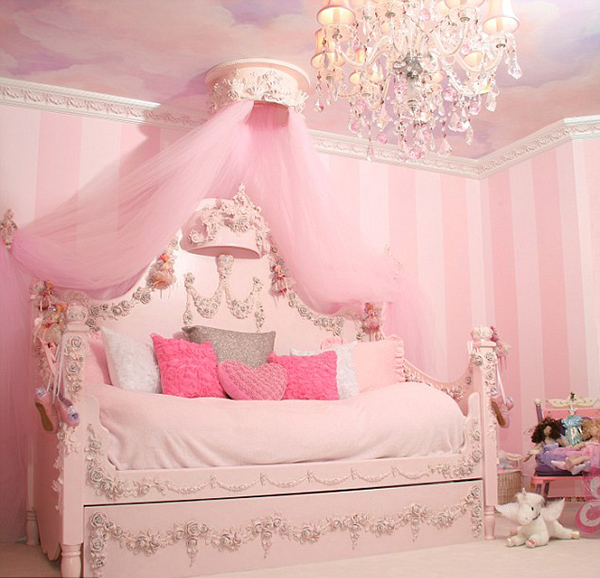 The pink skies are just perfect for this princess nursery with a Princess Rose Daybed that features hand carved rose garland embellishment and Swarovski rhinestones. Fit for a princess indeed!
15. Fantasy Nursery Room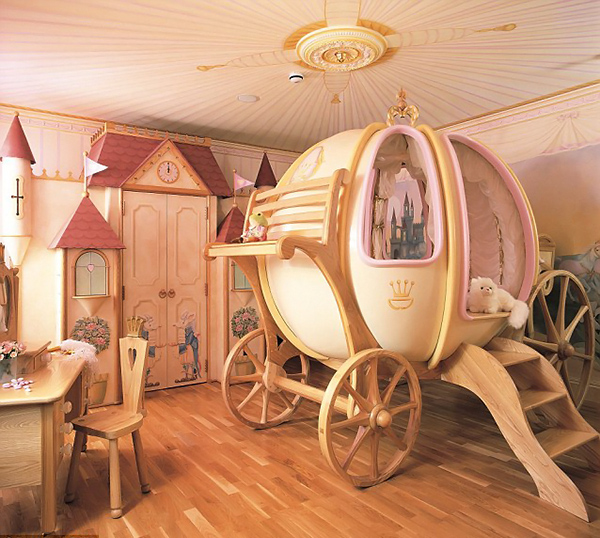 Let a custom designed Fantasy Coach adorn a bedroom with matching decorative ceiling and lightings.
16. Circus Friends Nursery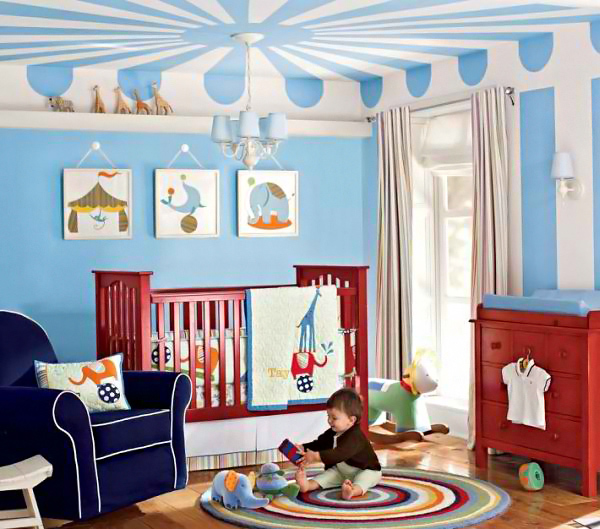 Create a fun filled nursery with a circus theme. Complete the look with a tent ceiling design.
17. Nursery Room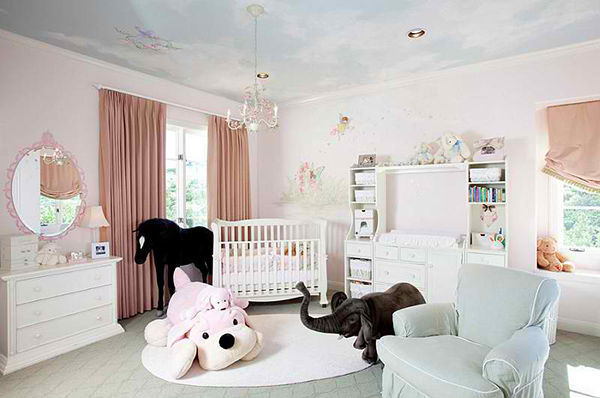 Another heavenly nursery with large animal stuffed toys in it.
18. Pirate Nursery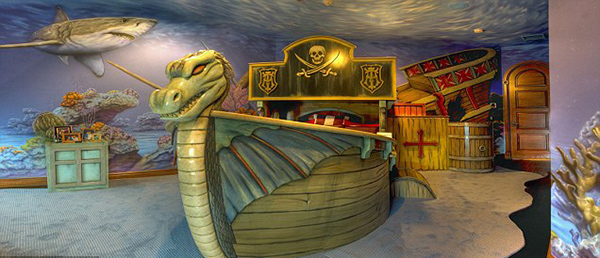 That stunning Sunken Viking Ship Bed paired with a deep sea mural from wall to ceiling would lullaby your child to adventure land!
19. Elegant Under the Sea Nursery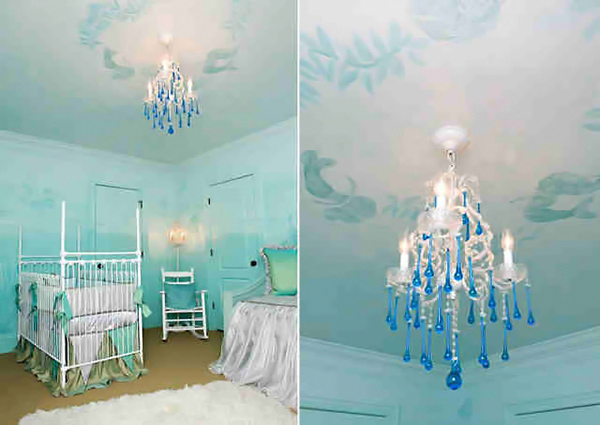 Once you hear of an under the sea bedroom theme, what comes to your mind are fishes, seaweeds and other sea creatures. But this one showcased mermaids like the ones on the ceiling.
20. Residential Harper Ave.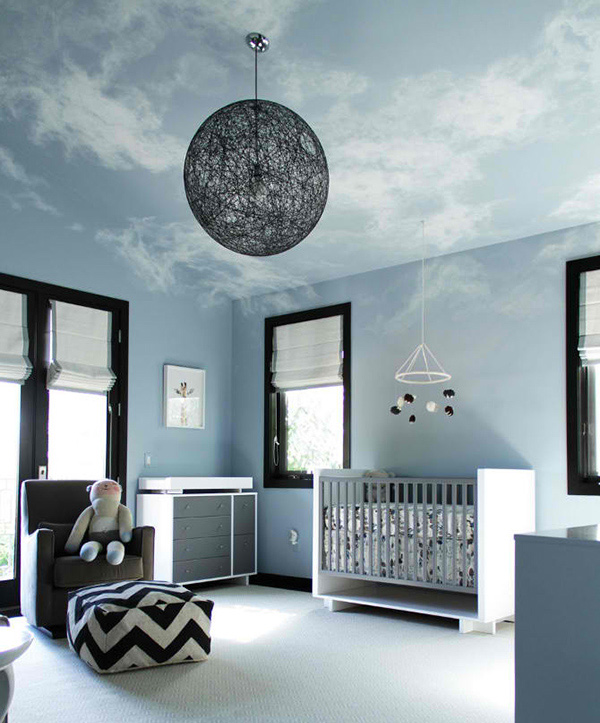 The ceiling looked like smoking with a hand-painted clouds on it. Very pretty isn't it?
Totally whimsical indeed! I'm sure you agree with me that these nursery rooms are overloaded with cuteness especially with how their ceilings were designed. I'm pretty sure that if are done adding a whimsical ceiling design to your nursery, you are even more excited for you newborn! Well, we are always excited to welcome a new member of the family! Take some time to look into other lists we have too that feature lovely items for your little ones!