20 Tropical Bedroom Furniture with Exotic Allure
Get a relaxing bedroom with a vacation-feel by adding tropical bedroom furniture.
Tropical interiors are such a breath of fresh air especially for us who lived in the city. There are some people who resort to this kind of style for their interiors, simply because they want to escape the busy life they have outside their homes. This style is mostly seen in the bedroom. It is because it evokes the feeling of relaxation and makes time seem to slow down, like when you are out on a vacation in an island just sipping on your favorite cocktail. So, yes, it is a good choice for a bedroom style when you are up for endless tranquility and exotic feel. What else can give the beauty and ambiance of tropics than getting bedroom furniture that are topical-inspired and of course adding greens and exotic plants for decoration?
Let us start with the materials usually seen and used in tropical bedroom furniture. When we talk about tropical inspired or island-inspired furnishings we often imagine wicker, rattan-made furniture, bamboo set and rich dark wood with exotic carvings or designs. It has an emphasis on the outdoors, and a lot of love in nature. It has a laid-back approach and gives significance on the exotic touch. When it comes to decorations, tropical-themed spaces focuses on the lovely and vibrant colors but not too loud or overpowering. These colors when incorporated to your bedroom will help energize the space. An addition of potted palm tree to the bedroom's corner will give an instant tropical feel too. Good thing about tropical furnishings is that you can mix and match it with any modern or contemporary pieces to make it look rich and unique as well as it is casual. Furniture with a touch of ocean colors or earth colors may it be modern or not can bring a tropical vibe. Colonial dark shades furniture can also give that island notch in your space. Check out this 20 tropical bedroom furniture with exotic allure to give you more ideas about the best furniture to use in decorating a tropical-inspired bedroom.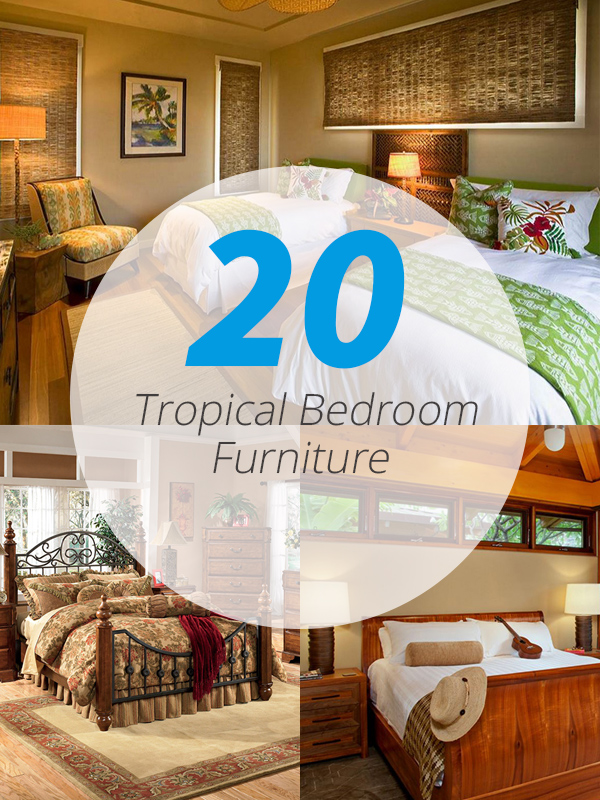 1. Bamboo Living Homes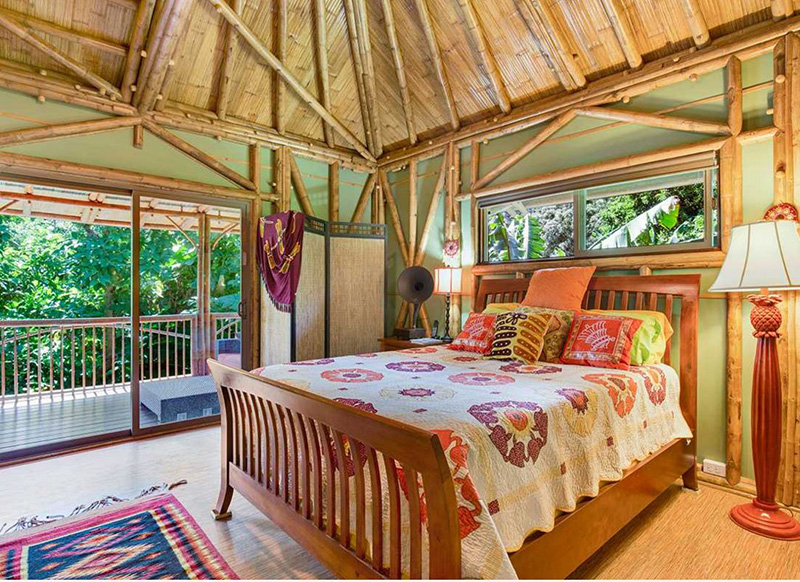 Get that endless summer feel and relax all day long with this tropical bedroom setup. The bed has its rich wood tone that contrasts beautifully with the bright colors coming from the pillows and beddings.
2. Beach Front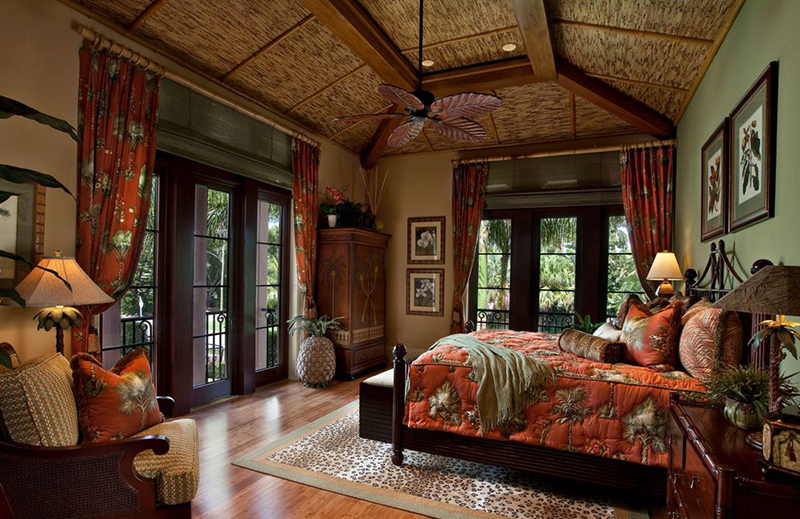 This is a stunning tropical bedroom design! The bamboo furniture matches the bamboo shades creating a cohesive and stylish look. The leopard print carpet is a surprising touch that adds interest to the whole style.
3. Hawaiian Cottage Style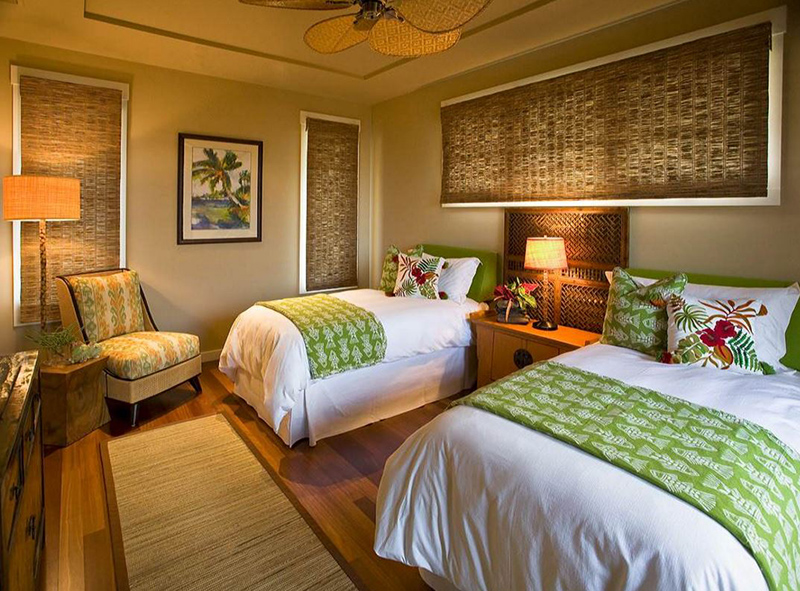 This stylish tropical bedroom design has both contemporary furniture and tropical-inspired furnishings. The twin bed both has apple green upholstered headboards that are quite surprising in a tropical bedroom. So a rattan headboard was displayed at the back of the wooden nightstand to give the space a beautiful tropical touch, which makes a unique backdrop and accent by the way. Woven blinds cover the windows while a matching woven carpet runner adorned the floor giving that unified look even with contemporary pieces.
4. Tropical Bedroom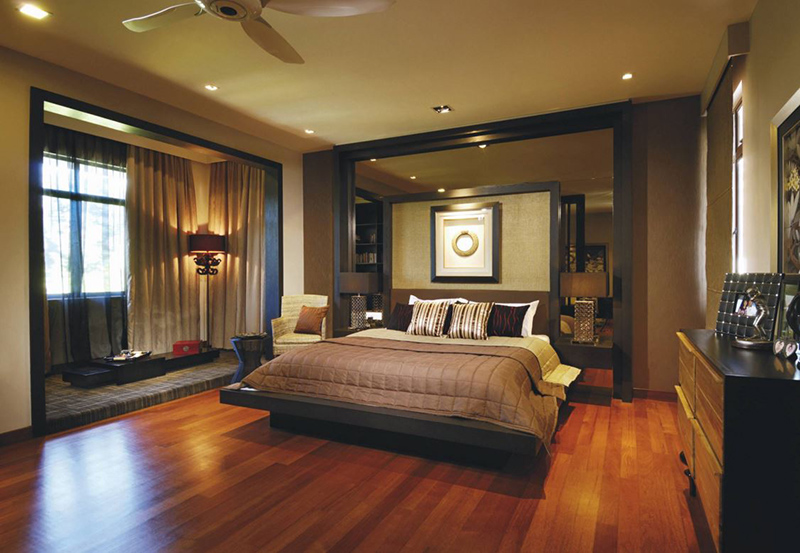 In this tropical bedroom design no green plants were used in the decoration rather it leaned towards a masculine side and focused on giving the space a dark and cozy vibe. The furniture used dark stained wood that brings drama and character to the entire design.
5. De' Shea Interiors, Inc.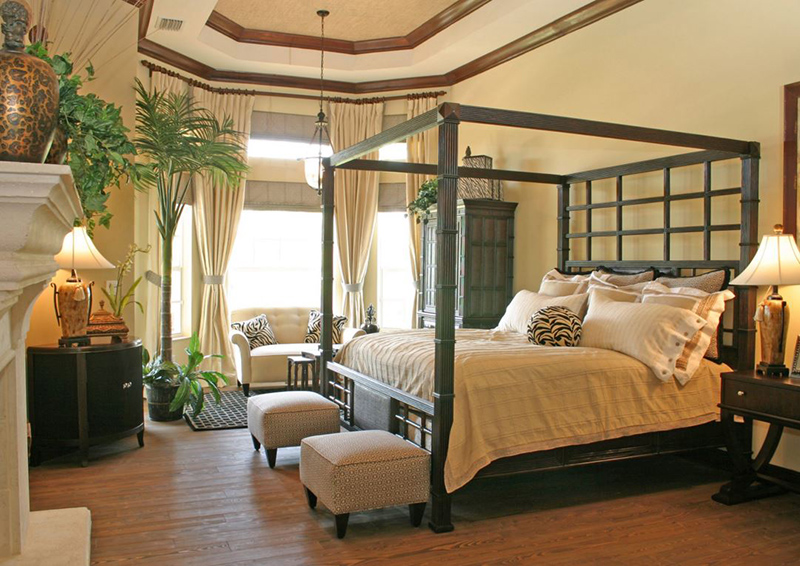 I love the vibe of this room! It gives me a safari feel that is sophisticated and casual at the same time. The exotic plants make it inviting and homey, the canopy bed in dark wood creates a striking statement and the animal prints that serve as accent is a perfect finishing touch.
6. Turks Bedroom
Tropical design is not always warm and earth colors. It can also make use of the water colors or the hues that represent the ocean or sea. This tropical bedroom design brings in the balance of cold and warm hues. The blue bed is no doubt the focal point of this space. It brings coolness and airy feel together with the matching blue pendant lights above it. It is chic and stylish. Adding rattan and solid wood furniture lends warmth and coziness to the room.
7. Beach Condo Renovation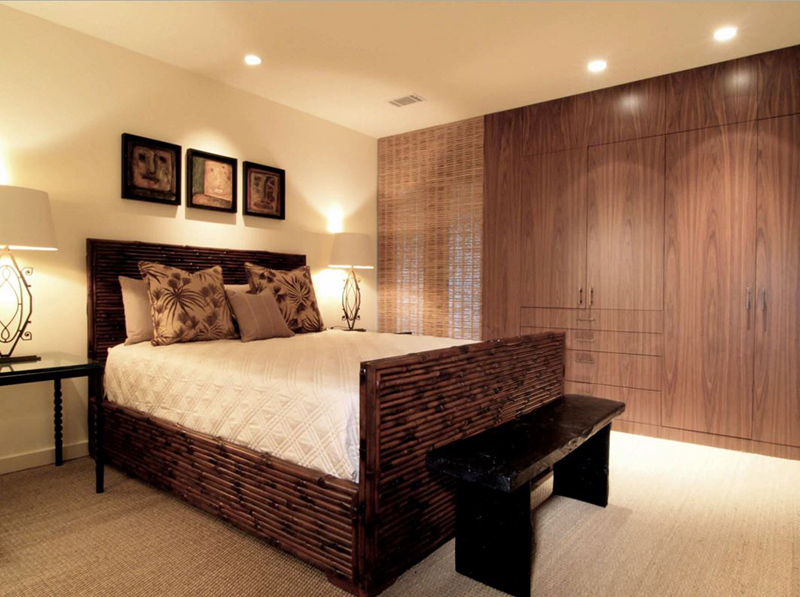 Bring a whimsical touch with this bamboo bed in your own space. It exhibits natural beauty and sophistication. Match it with wooden closet in a lighter wood tone, woven window treatment and twig-inspired table lamp for accent to give you a cozy and a delightful ambiance.
8. Intracoastal Treasure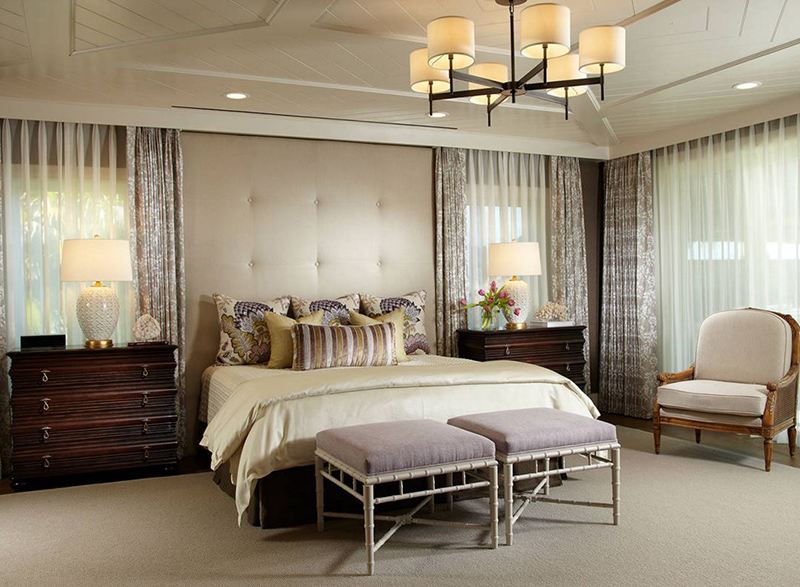 This tropical master bedroom design is filled with neutral colors. Beige grace in this bedroom. The rich wood tone on the bed and the dressers bring enough warmth to balance the whole scheme. The upholstered wall served as the headboard for the king size bed is a stunning statement in this room.
9.Hualalai Modern Mix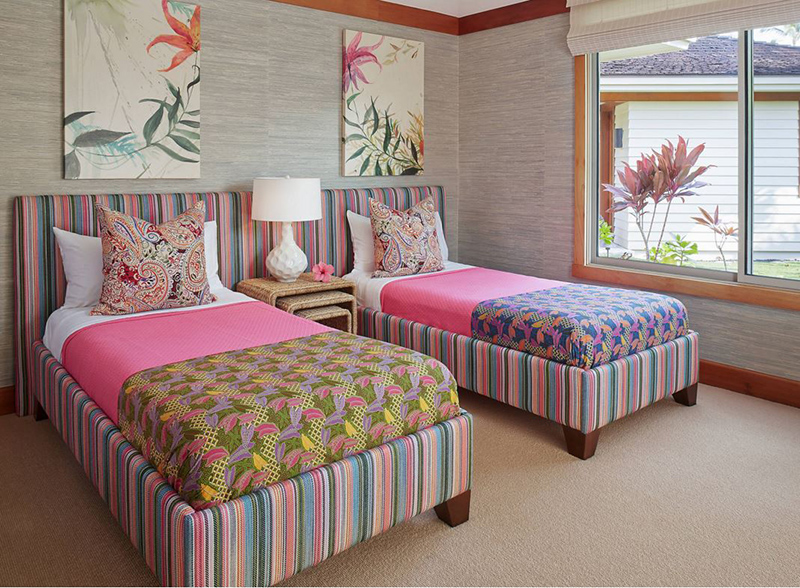 This is a modern and chic approach in creating a tropical bedroom. Striped bed frame in vibrant colors make this space pop and fun. The gray textured wallpaper accentuates the wall arts that reflects the colors on the twin beds giving a cohesive look.
10. Bayview Grand Condo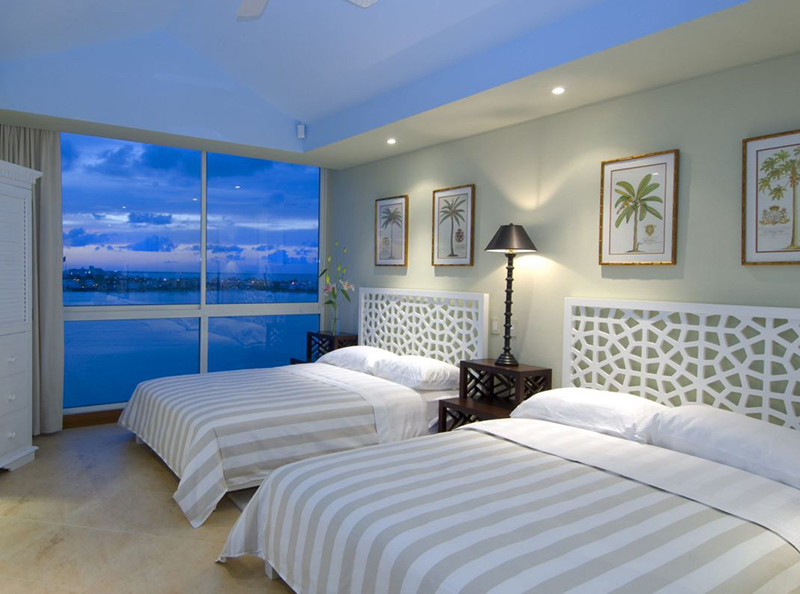 Soft celadon walls and soft blue ceiling covers this room. To match the soft hues gracing here, majority of the big furniture were stark white. The stylish morocco headboard is my favorite statement in this bedroom. The side tables in rich wood colors add balance to the soft and light colors around. The tree wall arts add fun and color to the space.
11. Herlong & Associates Architects + Interiors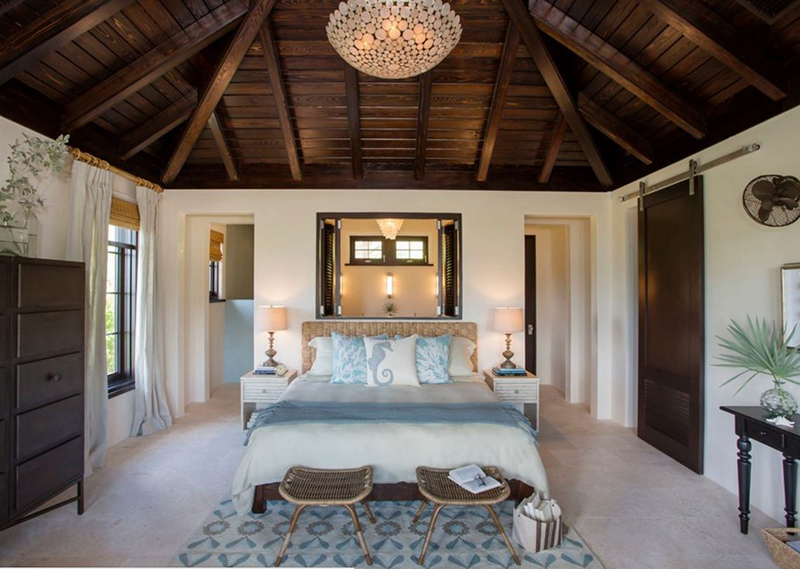 The beautiful contrasts of warm and light hues are incredibly done in this bedroom design. The layout is outstanding. This villa is full of sophistication and luxurious flair. The woven bamboo headboard creates a soft, beautiful, natural focal point with texture. The rich color of wood on the ceiling, and the rest of the furniture pop beautifully against the light beige walls and floor. The soft blue on the bedspread, pillows and area rug lends a soft, cool feel in the whole space.
12.Helen Green Design
The rich, wood colors of the curtain rod and four poster beds create a lovely definition in this room. it sure adds warmth and coziness. The distressed metal on the bench at the end of the bed brings interest and character. The navy blue and coral blended beautifully in this lovely space.
13. Mauna Kea Home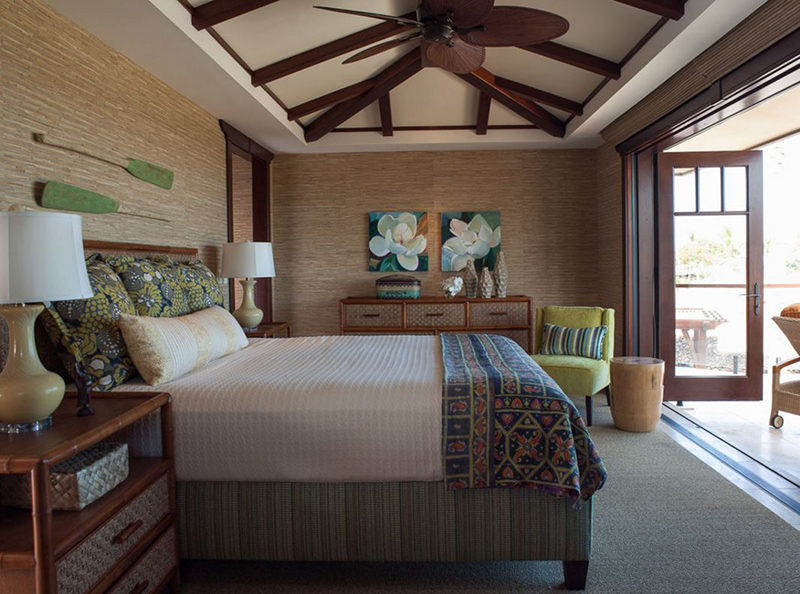 Add a sophisticated and unique touch to your bedroom by covering your walls with textured wall coverings. The striped bed frame in different colors matches the throw on the chair and the colors on the pillows creating a unified look. The lovely woven bamboo dresser and nightstands bring an exotic-island feel in this room.
14. Hawaii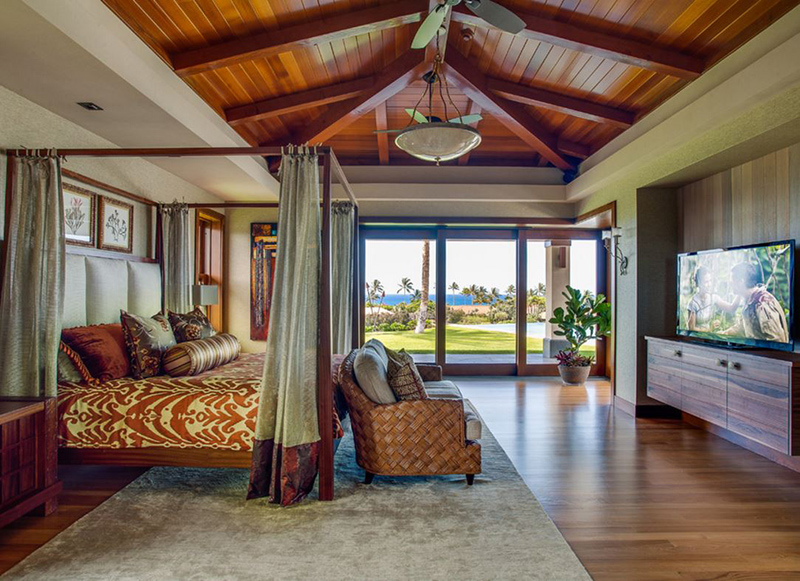 I love the furniture and the ambiance in this tropical bedroom design. The canopy bed, the woven loveseat at the end of the bed, the floating wooden cabinets and the nightstands are exuding warmth and drama to the whole space.
15. Papali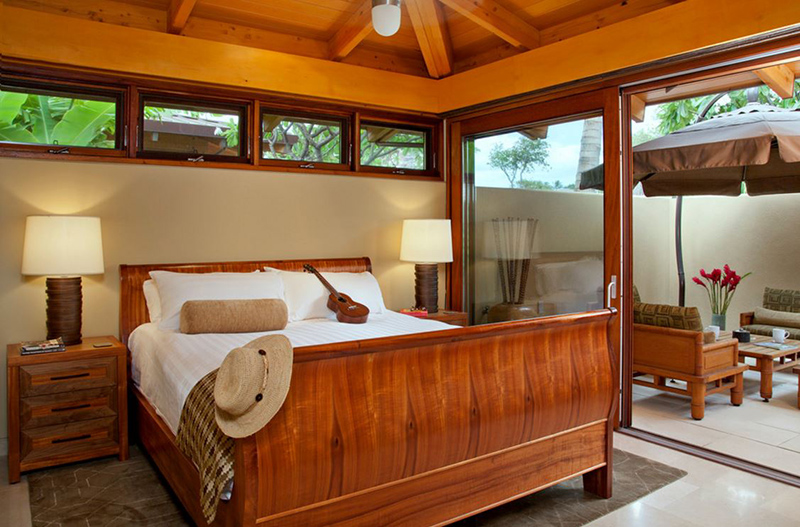 The orange-wood color of the furniture and the ceiling give an exciting and warm touch to this room.
16. Pacific Breeze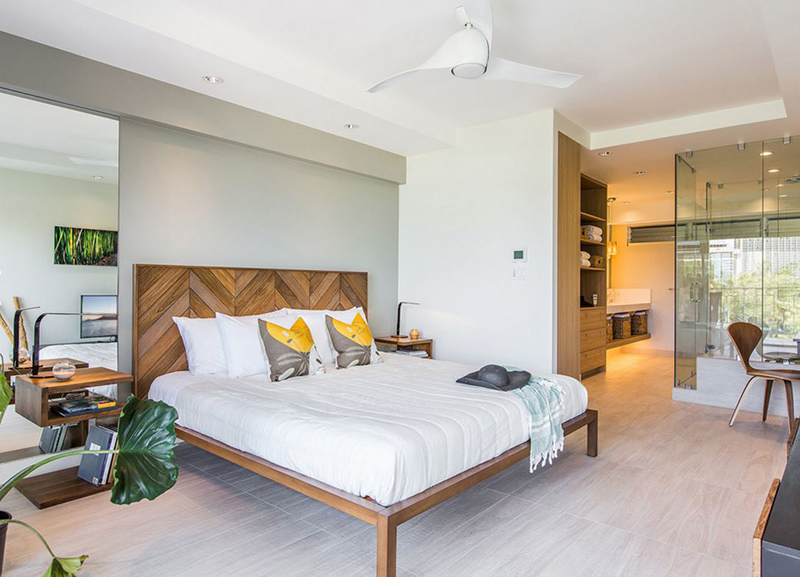 This design is a light, airy and contemporary approach to a tropical bedroom. Adding a wooden bed frame with a stylish exotic headboard in a modern interior can instantly bring a tropical flair.
17. Perrone Construction Custom Homes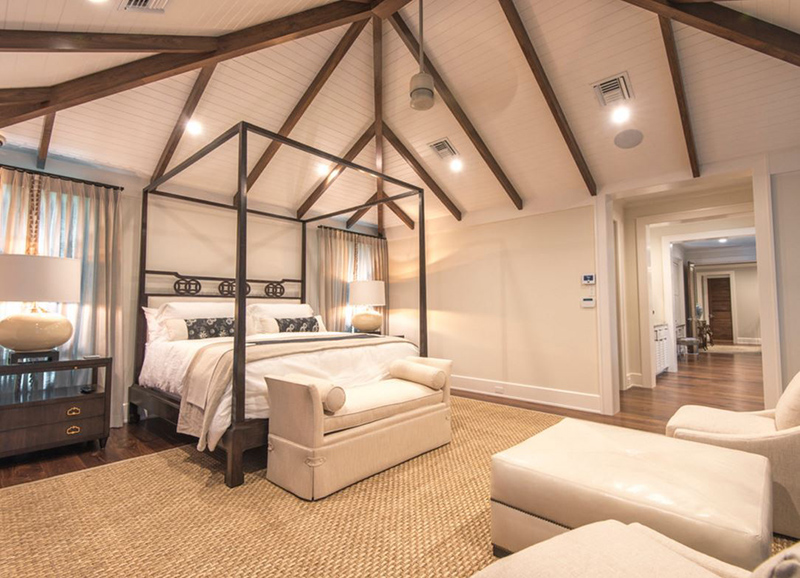 I love the calm atmosphere in this tropical bedroom design. The dark wood on the ceiling, bed frame and nightstand give a dramatic touch to the space. The woven area rug brings an island feel to this room.
18. Vera Customizable Bedroom Set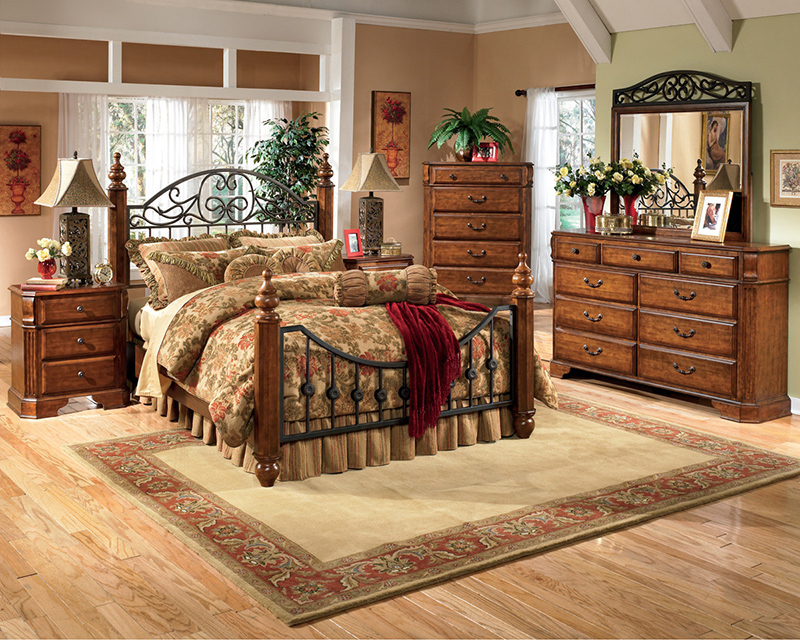 The bedroom set has a timeless beauty and will definitely look good in a tropical bedroom design. The beautiful combination of metal and wood brings a unique touch to it, giving you style, warmth and character.
19. Lotus Construction, LLC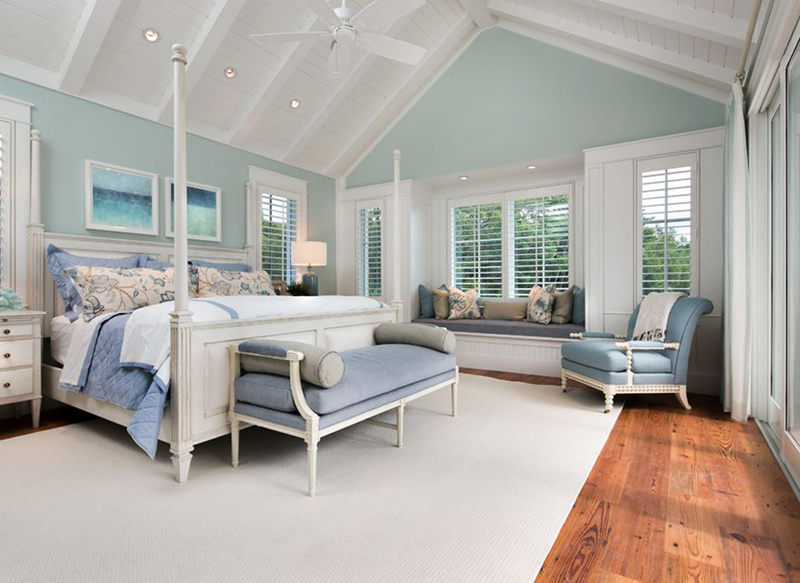 Add a chic and fun flair to your tropical bedroom with cool, soft blue walls and medium tone hardwood floors. Make it more inviting and cozy by using different shades of muted blue over the white furniture for a beautiful and soothing contrast.
20. Aden Panel Customizable Bedroom Set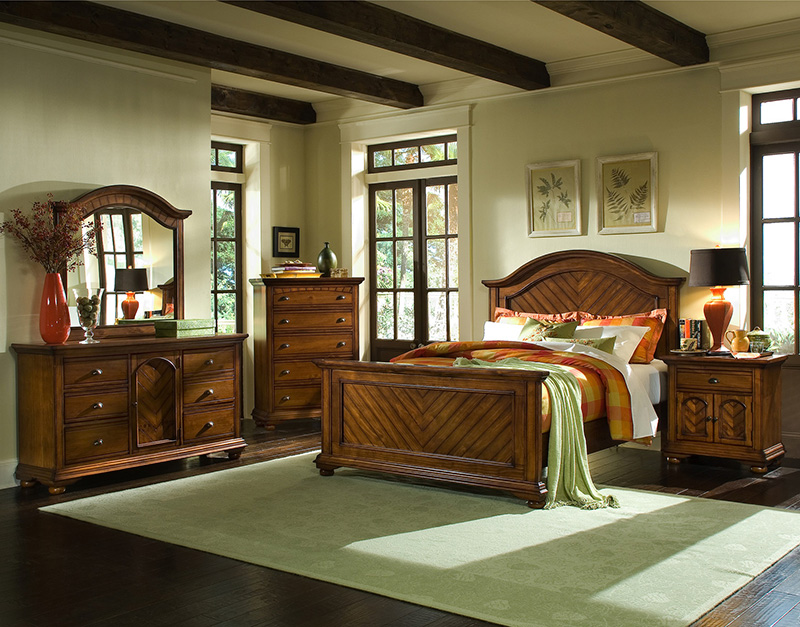 Admit it, bedroom set is one convenient way to get a perfect look in a room. In this collection, the stunning carving on the bed frame, and nightstand bring an exotic feel that fits any island-inspired space. Its rich wood color is a great way to add warmth and coziness to a room.
I love tropical designs! The exotic materials, unique patterns and amazing colors that work together to get the perfect island touch are so beautiful. The easiest way to bring the tropics to your space is by adding exotic plants, tropical plants as wall arts, or playful ethnic patterns on your pillowcases or bedspread. The best furniture to use for this kind of look is the ones you just saw. White wooden bed, colonial of dark shades, a combination of wood and metal, bamboo, even rattan will do the trick. Accents are pretty much a no-brainer for tropical themed bedroom. Even animal-printed accessories can make it feel an instant-island getaway. I hope you get inspired with this beautiful 20 tropical bedroom furniture.